There are many online reservation and table booking systems available for restaurants. Each online reservation solution varies when it comes to the features it offers and its price. Of course, most reservation management or table booking systems for restaurants are seamlessly implemented on restaurant websites, and all of them strive to provide the best possible customer experience. Restaurant reservation software and programs can offer a variety of features, from SMS, email and/or push notifications to booking widgets enhancing the frequency of online reservations. Some table reservation systems for restaurants also tag guests who have not shown up in the past, so you can control who to give reservations to, now that tables are scarcer (and more sparsely arranged) than before.
A good dining reservation system not only enables online booking of tables and specific food by guests but also helps restaurateurs to manage workflow and the timing of orders in the kitchen. Restaurant booking systems and services come in the form of both apps and online platforms, and it is up to the restaurateur to choose the best reservation software according to their specific needs. Below, you can find a comparison of the top restaurant reservation and booking systems available on today's market.
What Makes a Good Restaurant Reservation System?
The first and foremost aspect of a restaurant booking management system, also called an engine, is the features that it offers. The richer the features, the more control the restaurateur has over their business, which is generally a good thing. Restaurant reservation management solutions often feature monitoring of floor activity, guest distribution and dining preferences for every table. They can also have built-in guest loyalty programs based on data provided by the customer. However, some restaurants may not necessarily need all of the features offered by a given restaurant reservation management system, which brings us to the next point: cost.
It is important not to skimp on useful features on account of cost, as these features may be precisely what brings the customers in and earns your restaurant its profits. Another thing to watch out for is hidden or excessive fees, which usually pertain to installation, setup or SMS fees. If you have high numbers of reservations, these fees may cripple your business, so make sure to read the fine print. Some table booking software is free but has significant drawbacks compared to paid options. If it suits your needs though, it's worth giving it a shot.
The Upmenu.com system allows you to take orders online as well as at the table. This provides customers with a more convenient way to order their food. Additionally, it can help make the ordering process more streamlined and easier for you to track.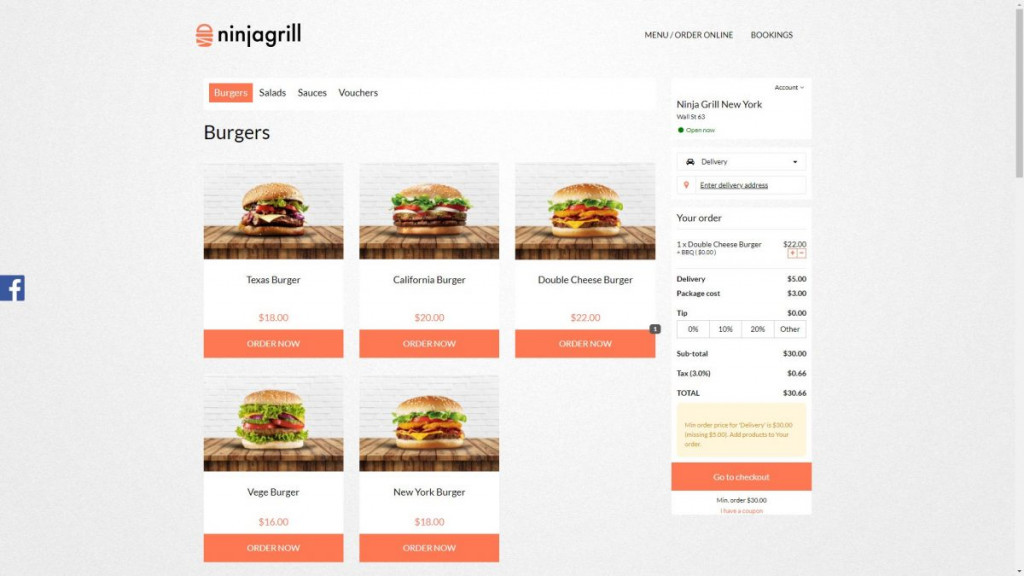 Finally, it is of paramount significance to verify whether a given restaurant reservation management platform, app or website can be integrated seamlessly with your restaurant's website. The leaders in the business will definitely accommodate all custom-made websites, and moreover, will make table booking easy and convenient for your visitors.
Top 4 Dining Reservation Management Software for Restaurants
The top platforms, apps, websites or services for restaurant table booking management are currently (in no particular order):
Eat App
Tablein
Tock
Wisely
It's time to sharpen your steak knives, because we're about to dissect these reservation management solutions and software so you can find the one that's right for your restaurant.
Eat App
Eat App is a cloud-based platform accessible via various devices (like tablets, desktops, smartphones). It is also one of the easiest restaurant reservation systems to use. It features a great table management tool as well as a guest database and customer relations management (CRM) features. All of the above help your staff as they work from day to day and enhance profits.
With Eat App, setting up your floor plan is easy, and party sizes can be controlled directly through the app. When it comes to integration with your website, the Eat App widget is exceptionally easy to implement and shows guests which tables are available in real time, so that they can make their reservations directly from your website or social media pages.
Eat App also provides great support for restaurant chains or branches. So if you own more than one restaurant, or your restaurant has several branches, this is a perfect fit. In addition, Eat App offers POS, phone and payment integrations, which allow you to collect more information and be a better business.
The complete table management system costs $119/month, and for $209/month, you have POS integration included.
TableIn
TableIn is a good dining reservation management system for smaller restaurants. The software automatically assigns tables and includes an interactive schedule, in the form of a calendar or logbook, displaying all reservations. It also sends reminders to guests, which decreases the likelihood of no-shows.
Unfortunately, TableIn does not have table management or advanced features like POS integration. On the flip side, it is comparatively inexpensive, priced at $75/month up to 150 bookings, with a $0.25 fee for every additional booking (on a per month basis). TableIn also has a premium plan at $115/month, offering unlimited bookings, free installation, live support and updates.
Tock
Tock is a restaurant reservation system that allows restaurateurs to take reservation deposits and prepayments, so revenue is earned even if the customer doesn't show up. It also makes it possible to fill sudden cancellations and gathers your guests' preferences, so that you know exactly what they want before they are even seated. Tock can also be seamlessly and automatically integrated with LinkedIn, Instagram and Facebook profiles.
There are 3 plans available to you if you decide to go with Tock. The Intro plan is a free monthly plan with a 3% prepaid fee. It does not include table management software. The Plus plan starts from $199/month with a 2% prepaid fee. Plus includes a complete table management and reservation system. Finally, there's the Pro plan, which is tailored for high-volume restaurants. It has 0% prepaid reservation fees and starts at $699/month.
Wisely
Wisely isn't just a booking management system, it is also an operations and marketing system, offering reservation, waitlist, marketing, table management and other features. It also integrates data from various sources, to provide you a full picture of your business. When you are in control of data in the way that Wisely makes possible, you can build more intimate relationships with your guests. Basically, you will get to know what they like with Wisely.
Wisely comes in two primary packages, and custom software and branded apps are also available. The Operations Software package charges $200 annually per location, per month. Alternatively, you can pay monthly based on the number of tables served: free up to 300 tables, $150/month for 301-800 tables, and $220 per month for over 800 tables. Then there's the Growth Software package, for which the annual fee is $215/month or $260/month when billing is on a monthly basis. Branded apps cost anywhere from $40,000 to $50,000, and custom software is subject to a quote from Wisely.
Choose the Restaurant Booking Management System That's Right for You
In the end, your choice of restaurant reservation management system will be dependent on the type of business you run. If you don't need to pay extra for features you don't need anyway, don't. There are also many options to choose from that are not listed here for lack of space, so don't hesitate to do your own research and shop around.