67% of restaurant owners use social media advertising, 53% support local initiatives, 42% pay for Google positioning, and 32% use advertising in magazines. Ads bring the best results when combined with special offers and discounts. That's why you need a promotion engine.
Certainly, you offer various promotions to customers of your restaurant. If you are also selling food online, it is important that your online ordering system enables you to also configure such promotions.
Otherwise, you will lose the biggest advantage of online ordering, namely, increasing the number of orders and saving time. Your customers will prefer placing orders by telephone to benefit from your promotions. Your employees will have to spend more time on answering phones and taking orders.
Additionally, customers are not too happy when promotions do not apply to an online food ordering system. They want to order online! It's simple and quick. Failure to offer promotions in this channel may be considered unfair by customers. Hence, they will choose a restaurant that offers such promotions.
What is a promotion engine?
Promotion engines enables you to configure special offers in the online ordering. The more advanced the system, the more complex the promotions you can create.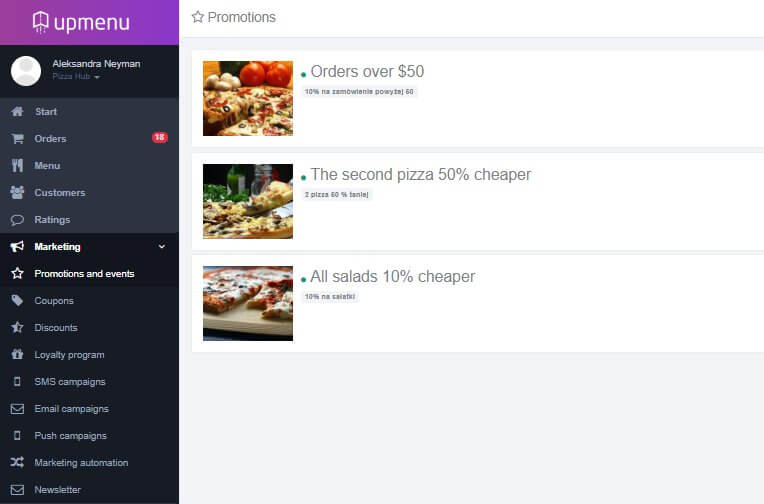 How do promotions work in the UpMenu system?
Creating promotions in the UpMenu system is very simple. You specify the promotion conditions and decide whether it is to be offered as a voucher or whether the special offer is to be applied automatically when the customer places the order.
You can also use it as a permanent discount applied to a specific customer. There are many options.
Discounts in the promotion engine
Discount for certain products
If you wish to increase sales of either particular products or entire product groups, they can be covered by a promotion. Offer a discount for single items in the menu or entire product groups. The choice is yours!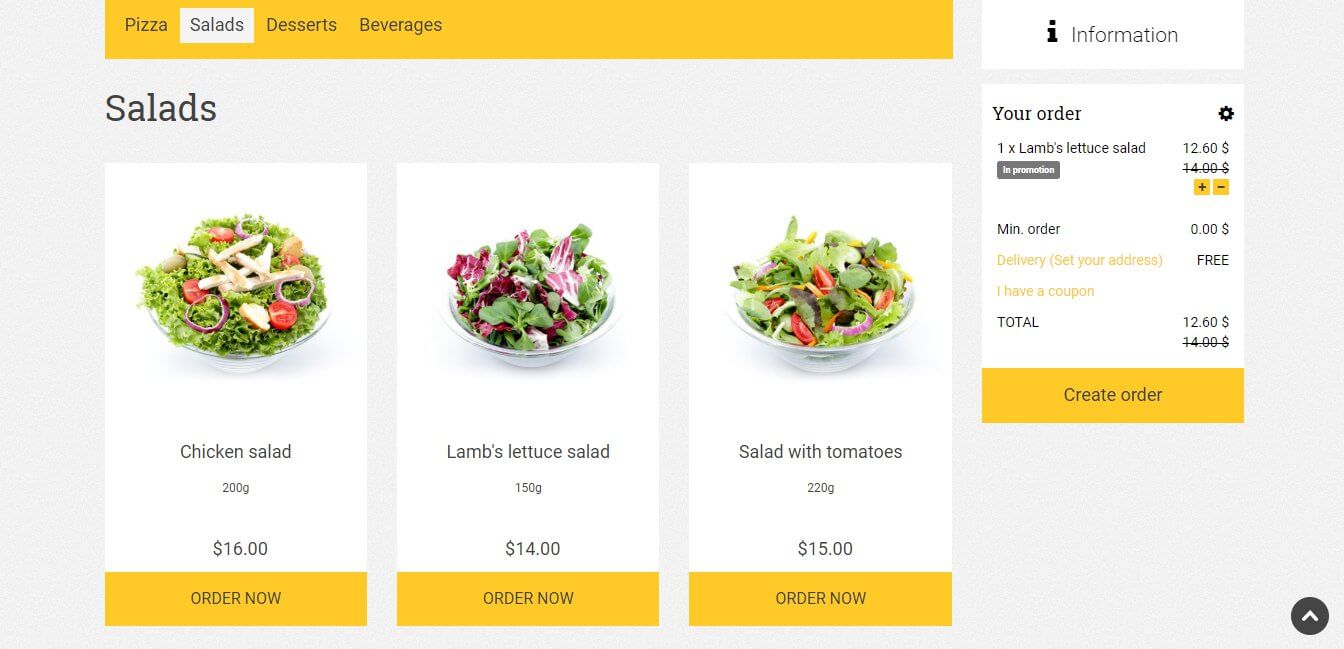 Discount for the second product
Setting promotion engine for additional products is a great idea for increasing the value of your customer cart orders. As a result, they will simply order more.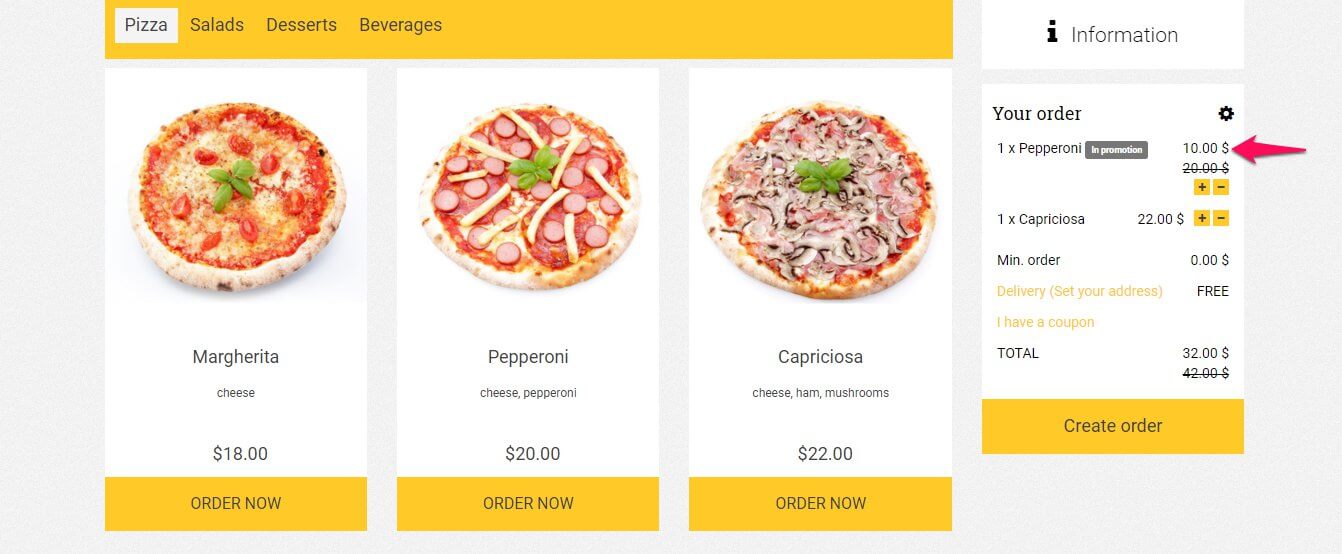 Discount for orders exceeding a specific amount
In this case, the mechanism works similarly to promotions for the second product. Setting a promotion for orders exceeding a specific amount will make your customers order more!
Additionally, the UpMenu system enables you to combine such promotions in any way you wish! For instance, you can set a promotion for the second product but only if someone is ordering two pizzas.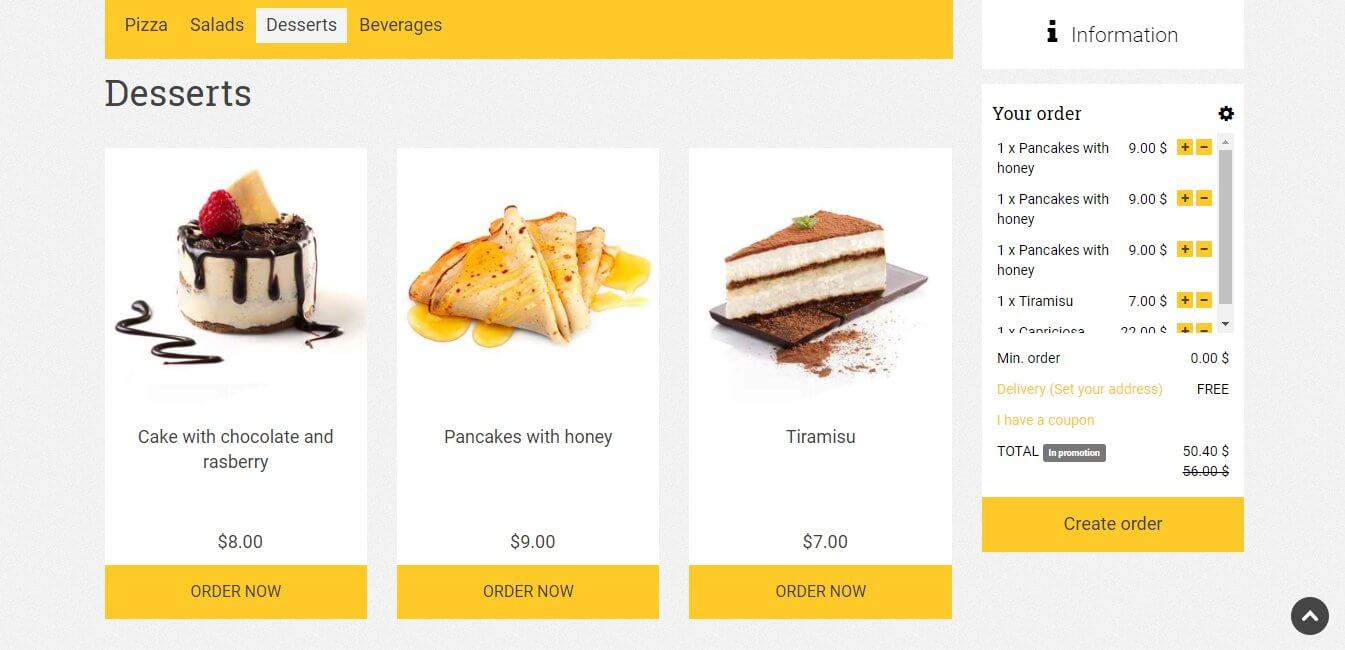 Benefits of having a promotion engine
Every promotion has one key goal – to increase sales. With the online food ordering system, you can increase your profits. What are the other benefits of configuring online ordering promotions? 
Your customers will be happier to order online – promotions offered with orders made on a website and through the restaurant mobile app will attract them and show them that you are aware of their needs.
You will increase the loyalty of your customers – loyal customers place more orders and you will earn more.
Save your time and the time of your employees – the promotion engine in the UpMenu system enables you to set a particular promotion quickly.
Your telephone line will be less busy and your employees will no longer have to explain why a given promotion does not apply to online orders, which can now easily be collected through the online food ordering system.
FAQ
️ What is a promotion engine?
A promotion engine is a software application that enables you to customize and manage promotions for your products. It is responsible for all backend processes for your promotions, collects data about placed orders, and applies appropriate price discounts according to set rules.

A promotion engine by UpMenu also supports coupon codes, loyalty points, payment updates, etc.
️ How much is promotion engine costing?
Promotion engines are usually sold as a service with monthly fees, or payment dependent on a count of processed operations. With UpMenu, you receive a promotion engine as a part of an online food ordering system.
Furthermore, you won't be charged with additional payments no matter how many promotional actions you perform.
Conclusion
The UpMenu system will help you utilize all the benefits, that a good promotion engine offers in a quick and easy way.
Contact us! We will be more than happy to help you launch online orders and increase your sales with a promotion engine!
Learn more
Ghost Kitchen – the future of food selling?
Restaurant loyalty programs software