Restaurant SEO consists of long-term activities. Search engines drive 10 times more traffic to shopping websites than social media. (source) If you run online ordering, this is very important information! What does this abbreviation mean and why should it be included in the glossary of every restaurant owner?
What is Restaurant SEO?
Search Engine Optimisation (SEO) covers activities undertaken on your website and beyond it. The purpose of such activities is to elevate the website to the top of the search results. Why is this important? Because as many as 72% of internet users interested in food and cooking websites visit only the top three (source). The more visits, the bigger the probability of acquiring customers and making more money.
The number of visits is even more important due to the increasing trend of ordering food remotely. People look for convenience. They want to find your website and place an order quickly. If you force them to scroll search results, you can forget about them becoming customers for long. That is why you need seo for restaurants.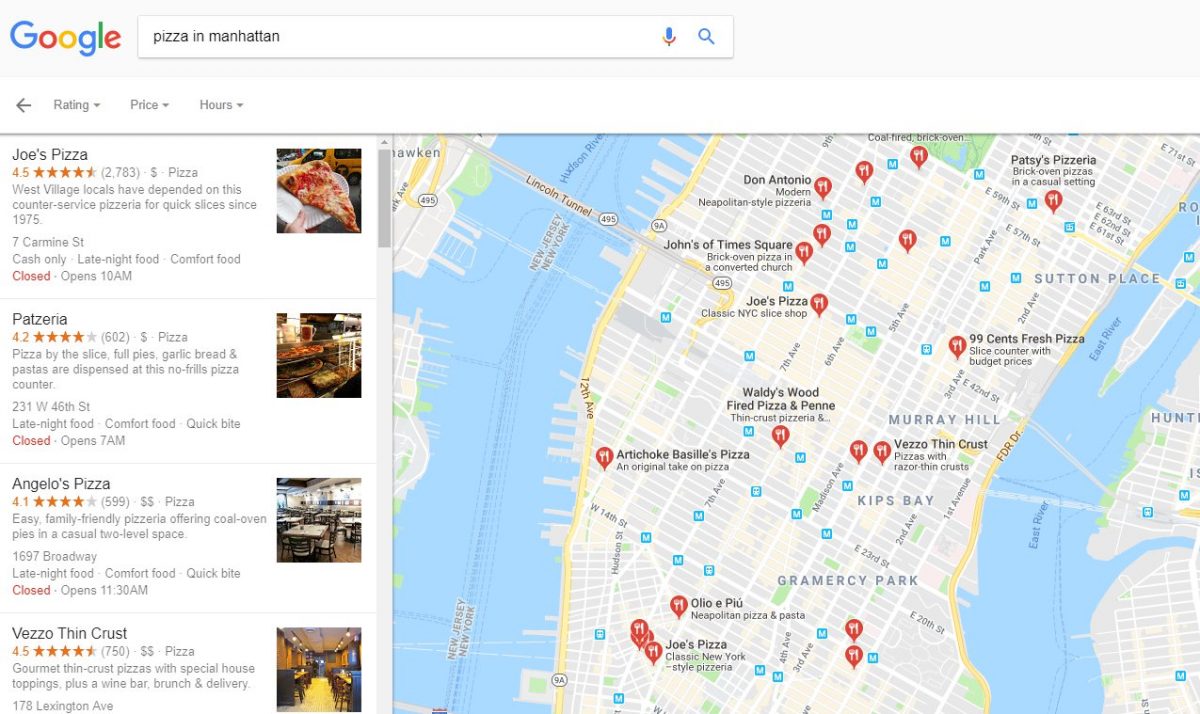 How does restaurant SEO works?
How does positioning work? A user enters a phrase in the search field such as "vegan restaurant" and the search engine robots try to display results that match the enquiry best. How to make your website display at the top? Follow the three key tips for restaurant SEO
3 main aspects of the restaurant SEO
Keywords
Keywords are the words that describe the content on your website the best.
We divide keywords into several groups:
General phrases (e.g. restaurant).

Long-tail phrases (e.g. vegetarian and vegan burgers in New York City).

Branded phrases (e.g. Pizza Hut)

Question-phrases (e.g. where can I find a good Italian restaurant in New York City?)

Regional phrases (e.g. restaurant in New York City)
When preparing a restaurant SEO strategy, choose one of the above groups. General words are more often searched for, so they are more competitive (harder for positioning). Long-tail phrases are less often searched for but easier for positioning. Furthermore, it seems that they increase the probability of using a given service.
When you enter a phrase in the search engine, such as "vegan ramen in New York City", you are looking for a website that offers this dish exactly and only in New York City. You have already decided so, if you find a website of a restaurant that offers meat-free ramen in the city of your choice, you will most likely go there.
The case is different when you enter a general phrase, such as "restaurant". Even if you visit the first search result, you will most likely not choose that restaurant because you still don't know exactly what you want. You will close the website and continue your search. This is why it is worth positioning your website with long-tail phrases.
How to pick keywords for restaurant SEO? Think about the services you offer. Then, use tools available online (e.g. ubersuggest or answerthepublic) for assessing how often customers search for a given phrase and in what format. Analyze and observe the results and test various solutions.
Final tip: remember to include keywords in the title and one sub-title. Place them in the text carefully but never spam! Google doesn't like that.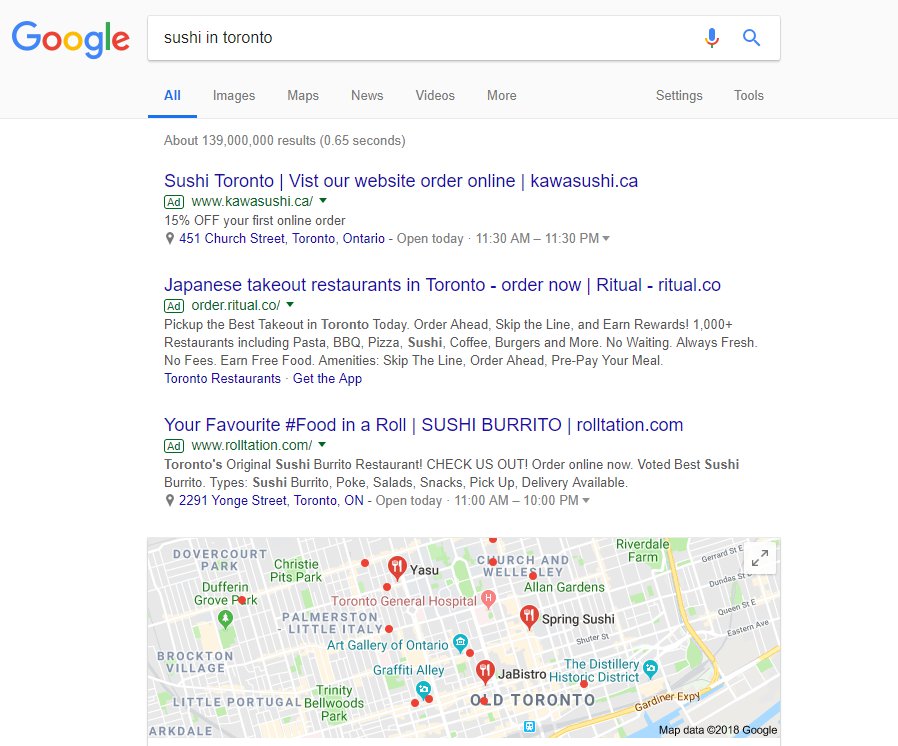 Title, URL address, and meta description
Each search result is composed of three elements: title, URL address, and meta description. They don't all look the same and this is an opportunity for you so go ahead and use it! This is the next tip how to optimize your website for search engine.
In these times of huge competition, you have to use every available element to draw the attention of customers. This is why you should be sure that the title of your website informs users about what it contains. It cannot be too simple, and it has to encourage people to visit your page. Meta description should be brief and on point – one sentence and a call-to-action will be sufficient. The title or meta description cannot be too long or end with several periods.
Optimise the URL address of your website. If you are selling homemade pierogis, your address should include "homemade burgers", instead of a string of numbers or characters that mean nothing.
A well-edited search result should notify the customer about what's behind it. It should also be shorts and comprehensive, while encouraging the user to click (don't forget about keywords!).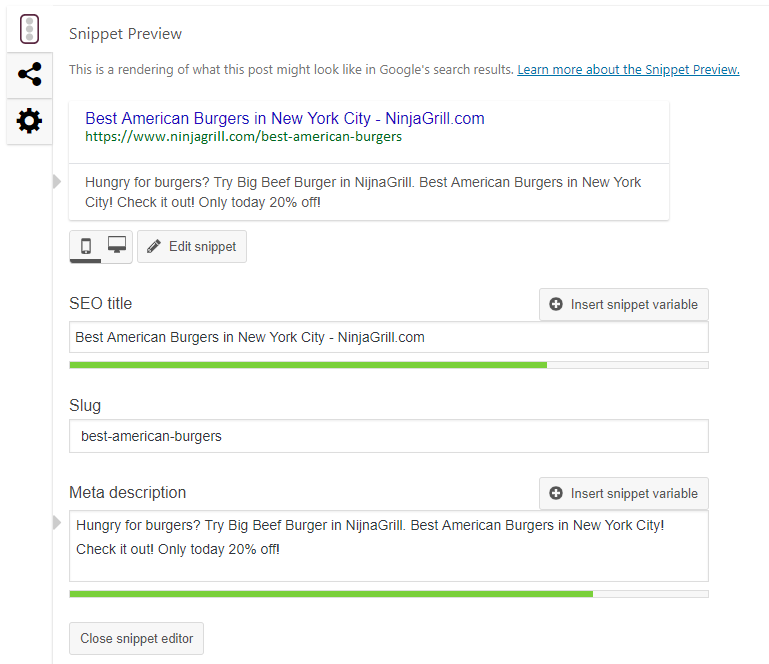 Security certificate
No https certificate for the restaurant website is an error which may cost you in lost customers. Currently, customer awareness on the internet is very high. They are not willing to disclose their data and even if they do, they want to be sure it's safe. A security certificate provides such a guarantee. 
On the one hand, it increases the prestige of a company. It also increases the trust of customers who see you as a reliable entrepreneur. On the other hand, an SSL certificate is one of the factors taken into account by search engine robots when positioning a website for restaurant SEO. Hence, it has an impact on displaying your website in search results.
Conclusion
75% of customers don't even scroll the first page of search engine results. (source) That is why it is so important that your website is positioned as high as possible.
The above three tips are just the starting point for your activities. You should also ensure quickness of loading, adjust it for use on mobile devices, and start activities that aim at acquiring links from external portals. Restaurant SEO is a long-term project that never ends.
FAQ
What is online marketing for restaurant?
Online marketing is every action performed on online communication channels to raise brand recognition, customer loyalty, and generated earnings.

Restaurants usually use online marketing to drive more customers to their dine-in locations or market online ordering options.
Online marketing often utilizes social media communication, e-mail campaigns, blog posting, press releases, and influencer cooperation
---
How to create SEO-friendly marketing plan for a restaurant
Restaurant online marketing plan
Create a website

One of the most important aspects of creating a website nowadays is optimization for mobile devices. Your website should automatically scale to smaller resolution screens because almost half of the internet traffic comes from smart devices.

The design should fit your brand, and be user-friendly because for most users it will be the first way of contact with your business.

Publish your menu online

Getting your menu online is crucial, you can post it on social media, your own site, and 3rd party platforms. Thanks to online marketing your menu carte can reach more customers than ever.

Utilize Social Media

Creating profile for your restaurant on most popular social media (Facebook, Instagram, Twitter, and Google) should be your first step after creating own website. Using these platforms you can reach a vast amount of customers and direct them to your restaurant website.

Social Media also provides you with an opportunity to communicate with customers, learn about their needs, and acquire feedback.

Create a recognizable brand

Design a brand logo with the use of the company's color scheme, and publish engaging content to raise your brand recognition. Create original content that catches the "essence" of your business.

Optimize for search engines

Employ on-site and off-site SEO procedures to enhance organic traffic. Search engine optimization will help increase entries from users genuinely interested in your product.

Develop customer database

Build information base about your customers, website visitors and targeted audience to determine which marketing efforts are most effective. Adjust your strategies according to collected data.
Learn more
Restaurant marketing ideas and trends for 2020
The best Facebook page ideas for restaurants