Having a website for your restaurant is essential in the digital age. It allows restaurant owners reach a wider audience, create an online presence, and provide important information to potential customers.
In this guide, we will walk you through the steps of creating a professional and effective restaurant website. From choosing a domain name to designing and organizing your content, we will provide you with the tools and tips you need to succeed.
Is this website free? Yes. Our free plan comes with a free restaurant website builder with pre-built templates and free web hosting.
So let's get started on creating a website that will help your business thrive.
Step 1: Register for your free account on UpMenu
To create a restaurant website, start by registering for a free account at UpMenu. After signing up, confirm your email address and login to your dashboard.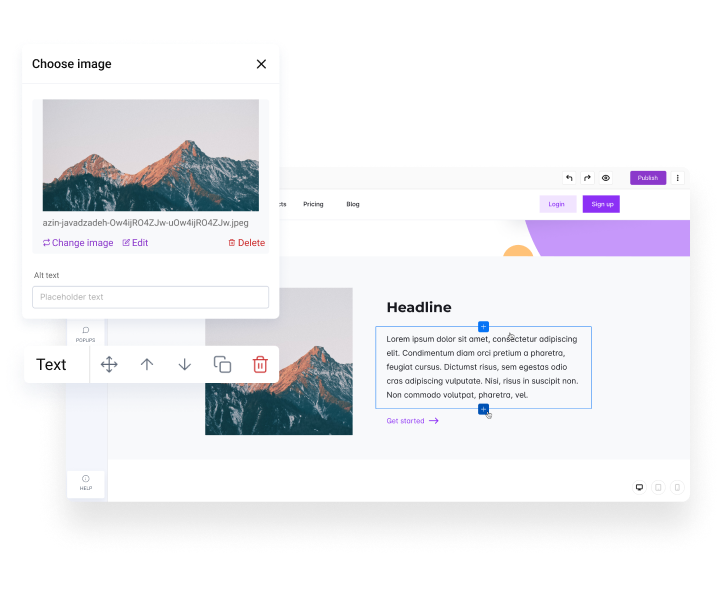 Restaurant Website Builder
Create FREE restaurant website in minutes
Choose from 50+ restaurant website templates to craft a site that turns visitors into customers
Step 2: Choose your website template
Choose from 50+ restaurant website templates and select one that perfectly fits your brand or type of cuisine. Looking to build a site from scratch? Simply delete all of the elements from chosen theme and start building a new website using the UpMenu web builder.
If you are not familiar with building websites, you can customize a template that has already been built. Find the template that fits your branding, select the Preview option to have a look at the demo and click Activate and start editing it.
Step 3: Customize the template to fit your brand
Start from the Design section and adjust the website colors. You can set 7 main colors for elements like headers, text, background, frames, buttons and links or pick a ready made color pallete for your entire site.
Select your font that best suits your current branding. You can set various fonts for headers and text or choose a pre-made combination of fonts.
Set the style of your navigation section and footer. Go to Settings and more tab on the left side to upload your restaurant's logo. In Additional settings you can change the buttons from solid rectangles to rounded ones or implement animations on your pages.
Step 4: Setup navigation
Default page navigation is provided on the template, however you can add as many pages as you need. Pages about promotions, news, special events, and even your contact page can be included.
In the Settings tab you can set your Meta Title and the Description of each web page to improve your SEO (Search Engine Optimization – website ranking in Google search results), so clients can easily find your business on Google and Google maps.
If you are not familiar with basics of SEO, simply add this to the meta section:
Meta Title: Restaurant Name – Type of cuisine + Restaurant City
Example for Home page: John's Pizza – Pizzeria Manhattan
Example for Menu page: Menu – John's Pizza – Order Online
Meta Description: We've been serving the best pizza in Manhattan since 1980. Visit John's Pizza or order online with delivery.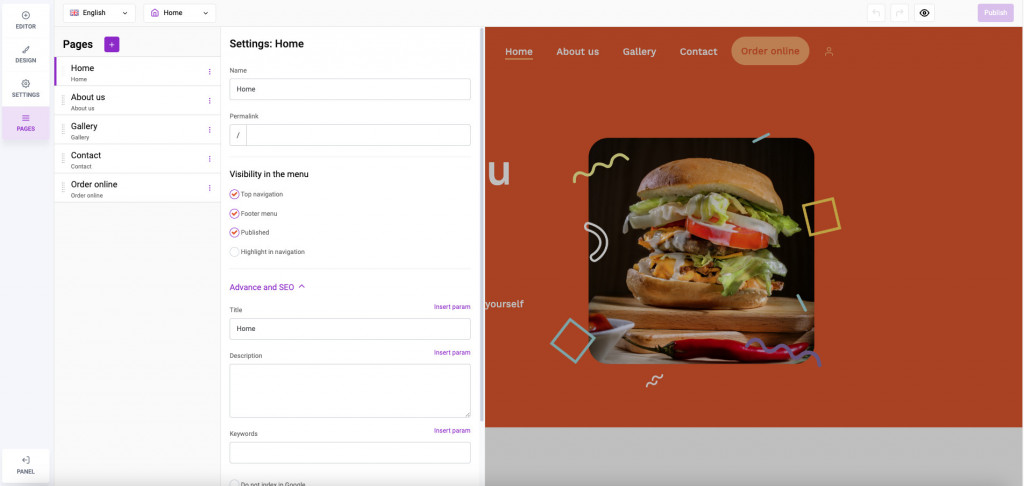 Step 5: Add content (text & images)
This is the most creative part of designing your new website. Replace the text and images from the template or create a restaurant website on your own using the Editor option. Use pre-made content or a blank page canvas to make eye catching visuals that'll help attract new customers.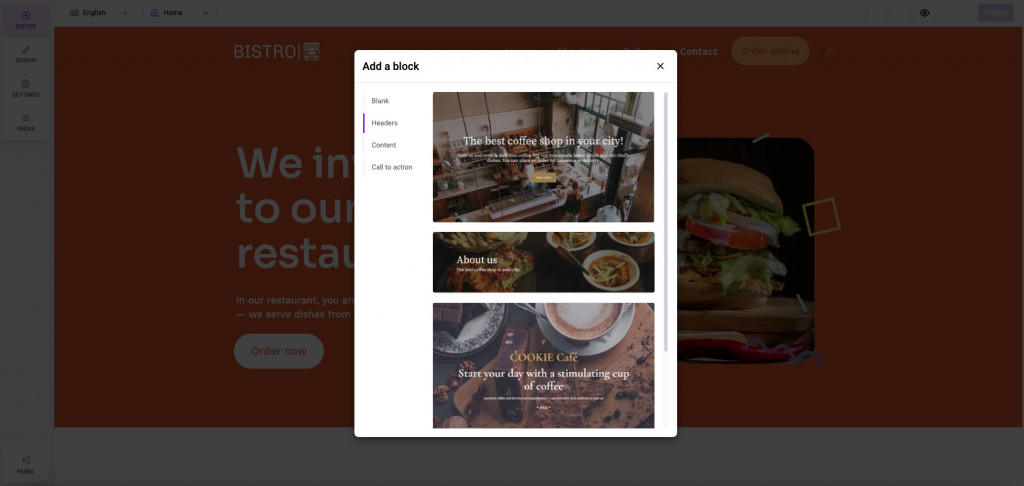 When creating a website for your restaurant business, make sure you don't make spelling mistakes as this will make your site look unprofessional and give a bad first impression to potential and new customers.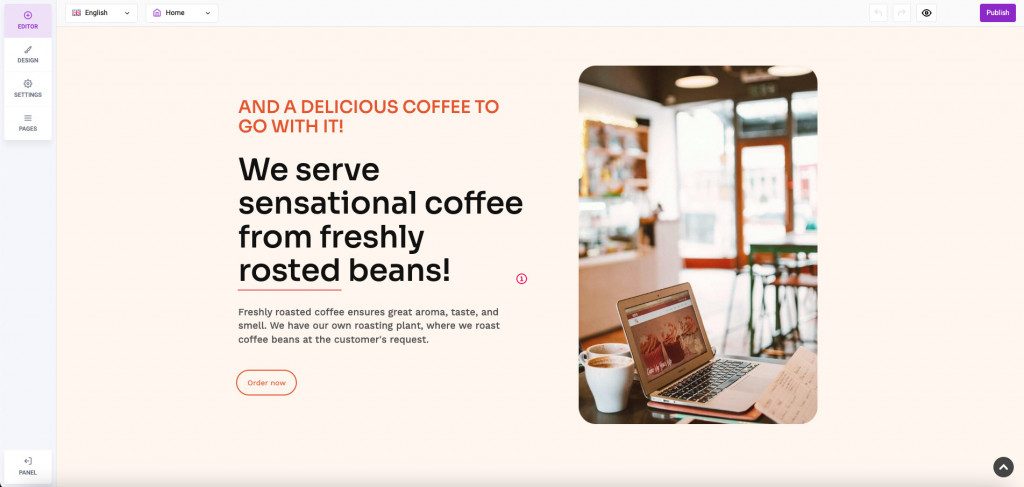 A good practice when writing content is to focus on what makes your business stand out. It might be a giant 100cm pizza that most restaurants don't offer. Also, don't forget to include contact information and any social media links to allow your customers to reach you quickly and easily.
After creating your page, make sure to save your changes and check your page on a mobile device to make sure your website and screen sizes look good on every device.
Step 6: Setup online ordering
Before your site goes live, consider setting up online ordering for your clients. It may sound complicated, but UpMenu lets you do so in just a few simple steps. At your dashboard go to the Menu section. In this separate page, add your dishes, a beautiful photo of each, and your prices to build your online menu.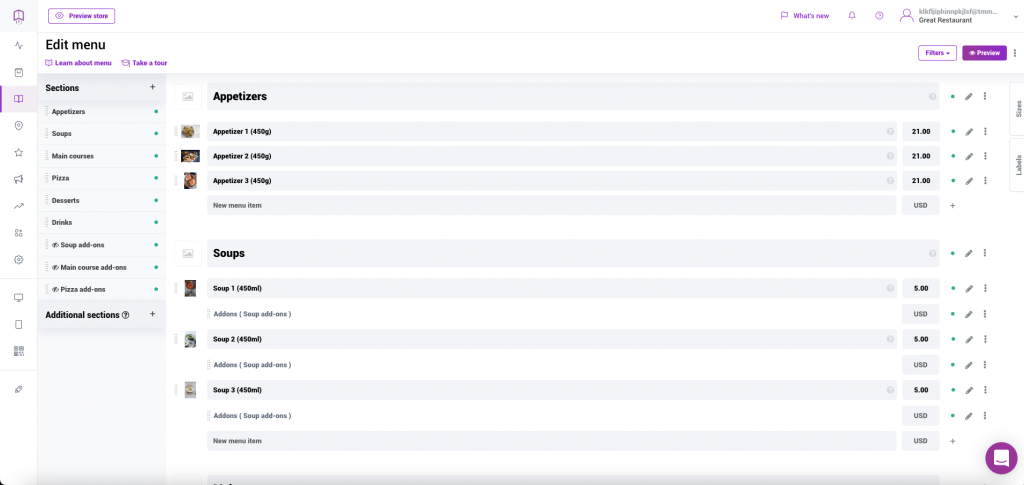 Don't forget to set your restaurant's delivery zones as well. You can create a radius in the form of a circle or custom shape for your delivery zones. For each zone you can set price for delivery. Doing so let's clients know if you're able to deliver their meals to their front door.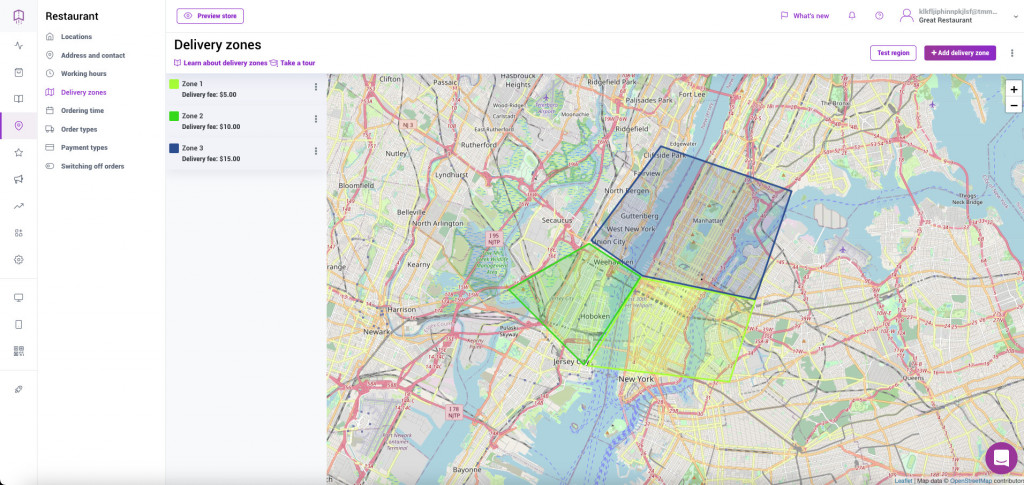 Finally, provide your most important contact information to your restaurant and set the opening hours. Additionaly you can add online payments for customers. And now you're ready to manage reservations and start selling food online.
Read full guide: How to set up online ordering system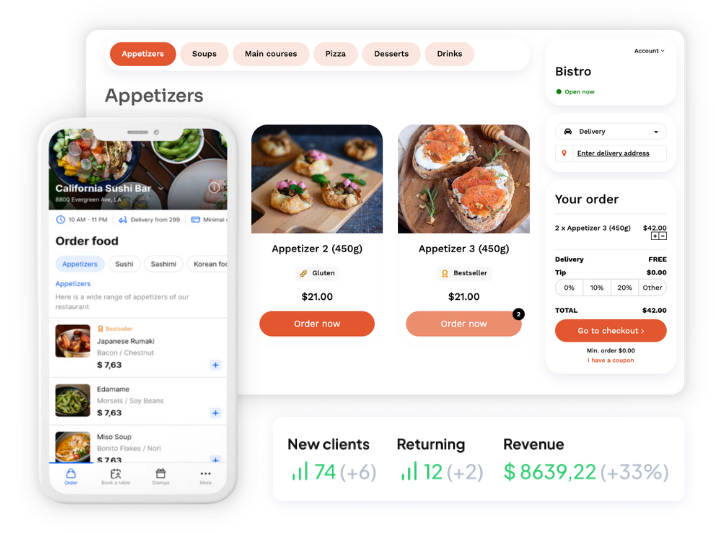 Start selling food online
Set up commission-free ordering for your restaurant's website in minutes. Boost revenue while saving on third-party fees
Step 7: Find a website address and buy domain (if you don't have one)
What is a domain name and address?
A custom domain name is a unique string of characters that identifies a website or a group of related websites on the internet. It is used to access web content by entering the domain name into a web browser. For example, the domain name for Google is www.google.com.
How do I buy a domain?
Choose a domain name that is short, memorable, and represents your brand. Check name availabilty using one of recommended providers below. If the domain name is available, provide your personal and billing information to pay for it.
After you have purchased the domain, you can use it to set up your website live.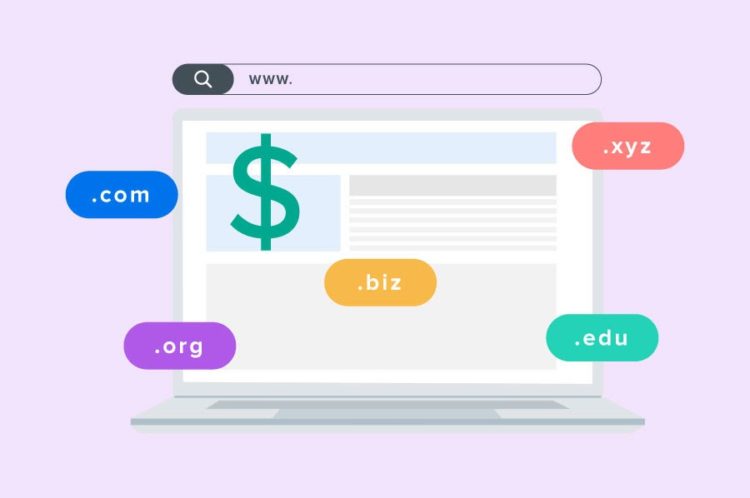 (Source: DreamHost)
List of recommended domain providers
There are many domain registrars that you can use to purchase a domain name from. Here is a list of some popular and reliable domain registrars:
GoDaddy
Namecheap
1&1
OVH
Network Solutions
Hover
Bluehost
Name.com
Dynadot
Domain.com
Google Domains
We highly recommend doing some research and comparing prices and features before choosing a domain registrar. It's also a good idea to read reviews from other users to get an idea of the quality of service provided by the registrar.
Step 8: Connect your domain and publish your website
You're now ready to make your website go live and to start receiving online orders. Go to the Shop settings section and select the Domain tab. Insert your domain adress, and the system will generate DNS records that will connect your domain with UpMenu servers.
To provide these DNS records, you have to go back to your domain provider. If you don't know how to do so, you can ask our Support team for assistance or your domain registrar service.
And you're set! Your website now has online ordering! Now all you need to do is promote your website at your restaurant, on your Facebook page, or any other social media accounts to reach out to potencial clients.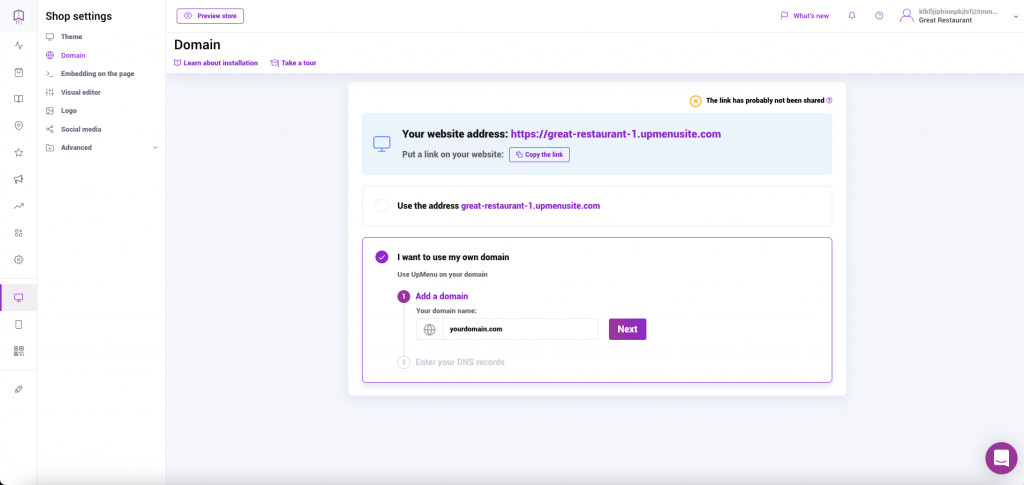 Step 9: Promote your website
Getting the word out about your website is the the most important marketing strategy to get clients to visit your page and to place online orders. People search for restaurants using the internet, so make sure they find your page. Here are a few tips to help you get seen:
Optimize your website for search engines: Use relevant keywords and phrases in your website's content, and make sure your website is mobile-friendly to improve its ranking on search engines like Google. Double check to make sure your site shows up in Google.
Use social media: Share your website's first page on social media platforms like Facebook, Instagram, Twitter, and other social media accounts to reach a wider audience. You can also use social media to interact with customers, share updates on menu changes, inform clients of your best dishes, and offer special promotions.
Use email marketing: Collect email addresses from customers and send them newsletters with updates about your restaurant, special offers, and new menu items.
Run online ads: Consider running online ads on platforms like Google Ads or social media to reach potential customers who are searching for restaurants in your area.
Whether you have a new restaurant or have been in the game for years, promoting your website online is the best way to get seen by your clients.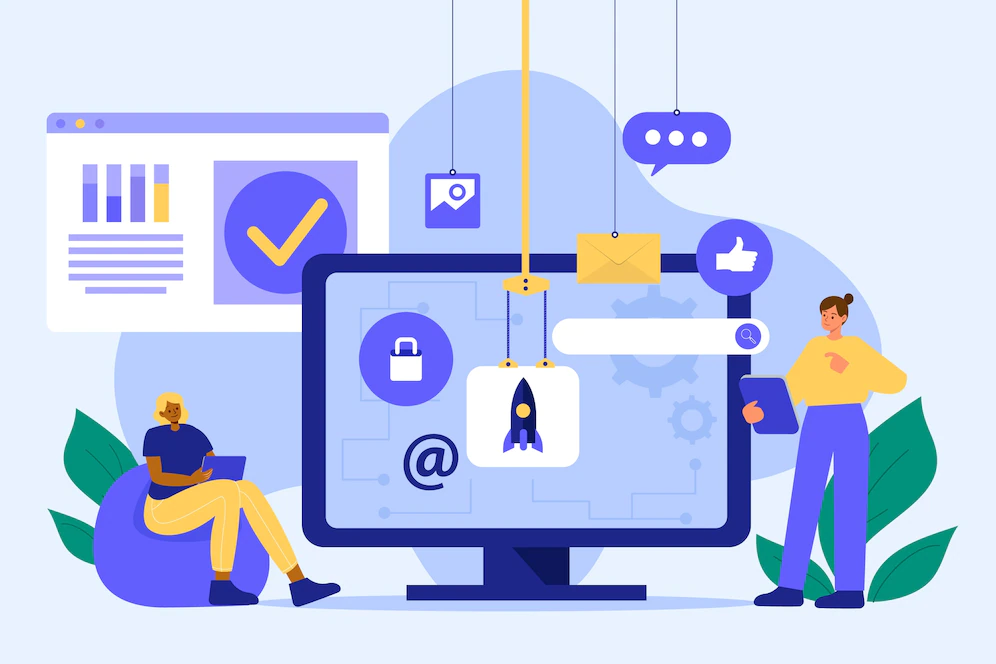 (Source: Freepic)
Why do restaurants need websites?
Nowadays, a website is the key to success for businesses of all types, including restaurants.
Professional websites help the businesses increase sales and save money from third-party aggregators. They also offer convenience for customers, allowing them to view menus, make online reservations, and even order takeout or delivery online.
In addition, a well-designed web page can help restaurants stand out from other businesses. With just the table reservations and online food ordering option, you're ahead of other restaurant websites. This option is key if you're looking to make a name for yourself in the industry.
Marketing and advertising
Websites let restaurant owners advertise to a larger group of people than just those who are nearby. Clients can easily search for restaurants in their area, or find specific types of cuisine.
Restaurant websites help businesses establish an online presence, which is crucial, knowing the fact that more than 60% of U.S. consumers order delivery or takeout once a week (Source: Lightspeed). Customers often research restaurants before dining out, and a restaurant website lets them learn more about a business and helps them make informed decisions.
A restaurant website is also the perfect place to list important information such as the restaurant's online menu, hours of operation, contact details, and even who the head chef is. This can save time and effort for both the restaurant and its clients. Another great feature is keeping website visitors up to date with news and promotions.
Convenience for customers
A restaurant website allows diners to have a look at the restaurant's menu and specials, making it easier for them to decide on what to order.
Clients can also make reservations through a restaurant's website, which can save them the trouble of calling and possibly having to leave a message.
Many restaurants also offer online ordering for takeout or delivery through their website, providing added convenience for diners.
A more professional image
A well-designed and informative website can help restaurants look more professional as well. This builds credibility and trust with potential clients and is great for presenting a cohesive brand image, including the restaurant logo, branding colors, and overall aesthetic.
Competition
In a crowded market, having a restaurant website can help your business stand out and compete with other restaurants. Many consumers expect businesses to have a website, which makes them more likely to choose a restaurant that has one.
If a restaurant's competitors already have websites, it is important for the restaurant to have a website as well in order to stay competitive. To outperform the competition, consider having your own online ordering system that lets diners place orders online. With UpMenu, you can build your own website in minutes, and have all the tools of web editor and content management system.
Building a website yourself vs with an agency
Building a restaurant website yourself can be a rewarding and cost-effective option. It allows you to have complete control over the design, content, and functionality of your website, and you can tailor it specifically to your needs and preferences – without any prior design skills.
Building a website yourself can be a great learning opportunity, however, it requires time, effort, and some technical know-how. We'll explore the advantages of building a website yourself and discuss whether it's the right option for you.
Control and flexibility
One of the main advantages of building a restaurant website yourself is the control and flexibility you have over the final product. When you hire a professional web designer, you are limited to their skills and vision. However, when you build a website yourself, you have the freedom to customize it exactly as you want and make changes whenever you see fit.
Cost saving
Another benefit of building a website yourself is how much you save. Hiring a professional web designer can be expensive, especially if you want a custom page. By building a one yourself, you can save money on design and web development costs, which can amount to several thousand dollars.
Improved search engine optimization
Having a page is essential for any business, but it's also important to make sure your restaurant site is optimized for search engines. By building one yourself, you have the opportunity to optimize your website for search engines and improve your rankings, which can lead to more organic traffic and clients.
How much does it cost to create a website?
There are three main ways to build a web page: use a page builder, WordPress, or hire a web designer. Which method you choose will have a huge impact on how much your page costs. For example, creating content can be free with a web builder, but it can cost over $5,000 if you're using a graphic designer or web developer.
Web page builders are usually the cheapest way to build a website. While WordPress is technically a free, open-source platform, you have to pay for hosting, themes, plugins, and even professional help from a developer, which can increase your total cost.
Hiring a web designer is the most expensive option, but it's the best choice if you need absolute control over the build and customization of that site or that offers the highest levels of complex functionality. But don't worry – UpMenu has everything you need to build your professional restaurant website, totally for free!
| | Yourself | Agency |
| --- | --- | --- |
| Web Designer/Developer | $0 | $5000 |
| Domain | $13 | $13 |
| Hosting | $0 | $140 |
| Total | ~ $13 | ~ $5153 |
(Source: Report from WebsiteBuilderExpert)
Do you need technical skills?
Creating websites might sound like a lot of programming and various technical aspects that seem difficult. With UpMenu, building a web page in our editor is simple and fast, and most importantly, you do everything visually, so you can see the effects of your work right away. 100% no-code for easier management of your restaurant site.
Even if you don't know how to start designing a web page, you don't have to worry because you can use ready-made templates. Just provide your site text, photos, adjust colors to fit your brand, and you are ready to go with your first website.
What are the must-haves of good restaurant websites?
Before you create your restaurant website, prepare some photos of your business, and dishes from your restaurant menu. Think about what makes your business stand out, what promotions you have for clients, and a description along with the history of your establishment. This information will help you build your site faster and make sure all the most important elements are highlighted. Use our checklist to design your own professional web page.
Checklist
Logo
Menu photos
Prepare images of your restaurant and dishes (or get some from free stocks like Unsplash, Freepic).
Unique selling proposition
Think about what makes your restaurant business stand out
Pages to have on your site (Homepage, About Us, Promotions, Menu, Contact)
Online ordering option
Table reservations (if you have onsite ordering)
Promotions
A good restaurant website should have several key features in order to be effective, including a clear and user-friendly design, is easy to navigate, and has high-quality images. It should also provide important information about the restaurant, including the menu, location, hours of operation, and contact details.
A great restaurant website should offer convenient features for customers, such as online ordering, table reservation and takeout or delivery options. By incorporating these elements, a restaurant can create a web page that will effectively attract and retain customers, and ultimately contribute to the success of the business.
Key takeaways
Setup your website with an online ordering system that allows your customers to place orders directly online.
Use high-quality images to showcase your restaurant and its dishes.
Include important information about your restaurant, such as its menu, location, hours of operation, and contact details.
Offer convenient features for customers, such as online table reservations and takeout or delivery options.
Use paid advertising platforms like Google and Facebook. You can hire us to do that.
Keep your website up-to-date with the latest information about your restaurant, including promotions and events.
Use social media and other online platforms to promote your website and attract more customers.