Running a restaurant isn't easy – especially when you're busy juggling everything at once. From taking food orders over the phone, to managing your team, marketing your business, and everything in between. You didn't open a restaurant business because you love all the extra work. Luckily for you, there's a solution.
Instead of running everything yourself, turn to an online ordering system to help take the load off your back. But what exactly is an online ordering system and what are the benefits of implementing one?
In this guide, we'll show you how to set up online ordering system specifications so that you're able to take online food orders directly from your website and mobile app.
What is an online ordering system?
An online ordering system for restaurants is a system that allows customers to place food delivery orders from a restaurant via the internet. This can include a website or mobile app that allows customers to browse menus, place orders, and make payments.
As for restaurant owners, an online ordering system lets you manage and process incoming online food orders, track sales, create marketing campaigns, design your online menu, and so much more.
An online food ordering system can be a great way for customers to place orders quickly and easily, and for restaurants to manage orders and increase efficiency. Here's how to set up online ordering system specifications in 10 easy steps.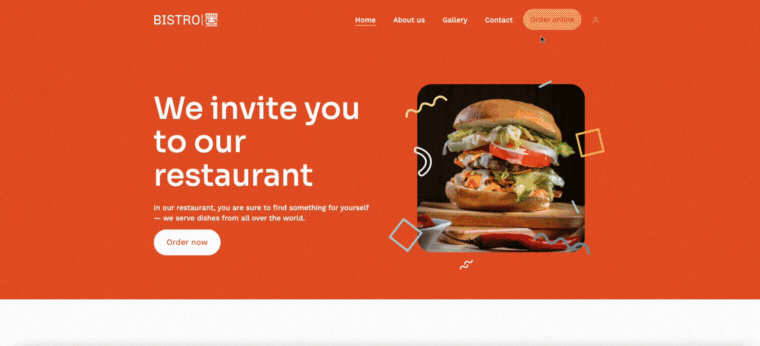 Step 1: Sign up with UpMenu
Ready to get your own online ordering system? Start by setting up an online account with UpMenu. Register for a free account using your information to get started.
Once you've done so, follow the in-system instructions, which will show you how to set up online ordering system options, allowing clients to place their orders online.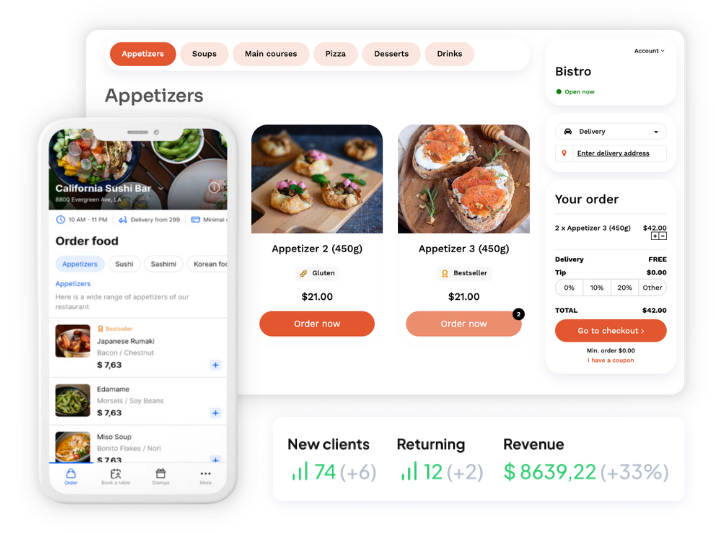 Your own branded online
ordering in 5 minutes
Launch commission-free online ordering on your own website in 5 minutes and grow your revenue, build loyalty and protect margin from third-party aggregators.
Step 2: Add menu items and prices
Choose your menu design to fit your brand before you start adding dishes. This step is necessary if you have already restaurant website (If you don't have one, just go through below steps).
Ready to start accepting online orders? Add your food items, their prices, descriptions, and pictures to your online menu so clients can order their meals online.
When you add your dishes into the system, they'll be available for online ordering, so make sure your pictures are high quality. Also, check that your descriptions are clear so clients know exactly what they're ordering.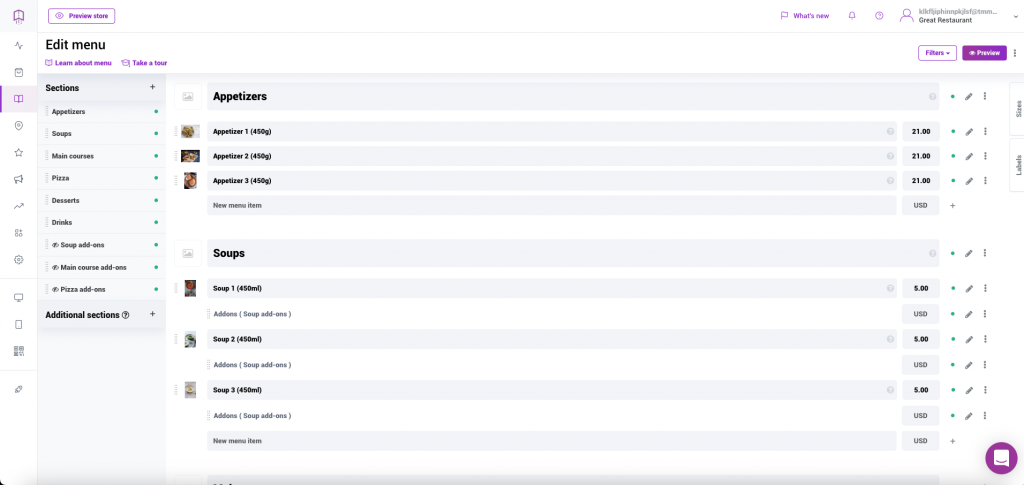 Step 3: Set up delivery zones
Does your restaurant offer delivery? If so, then you need to inform clients about your delivery zones. When customers order online and select the food delivery option, they need to know if you're able to deliver to their location.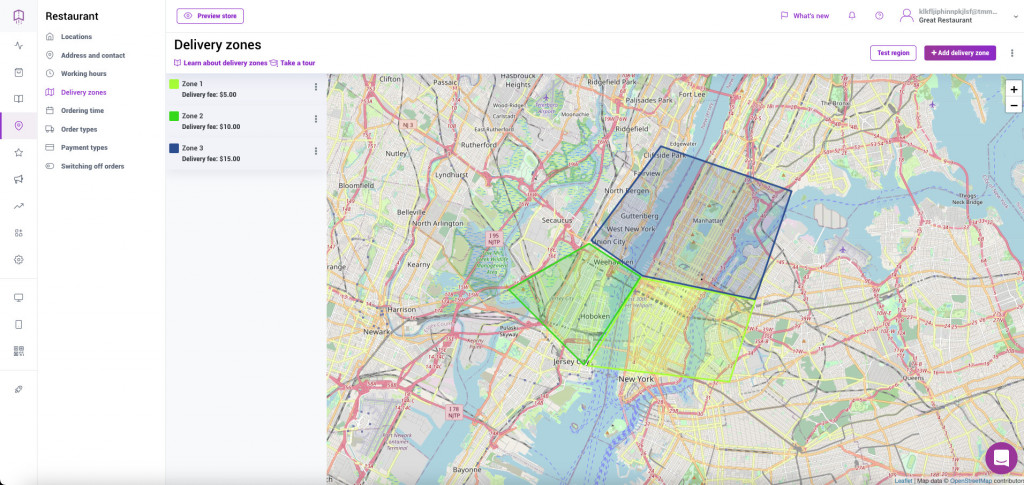 Use UpMenu's delivery zone creation tool to show clients the areas in which you're able to offer online food delivery. Additionally, you can include extra fees for your delivery service, depending on the zone.
Step 4: Add information about your restaurant
When you're setting up an online ordering account, make sure to include key information pertaining to your restaurant.
Restaurant address
Add your restaurant address to help clients reach you directly.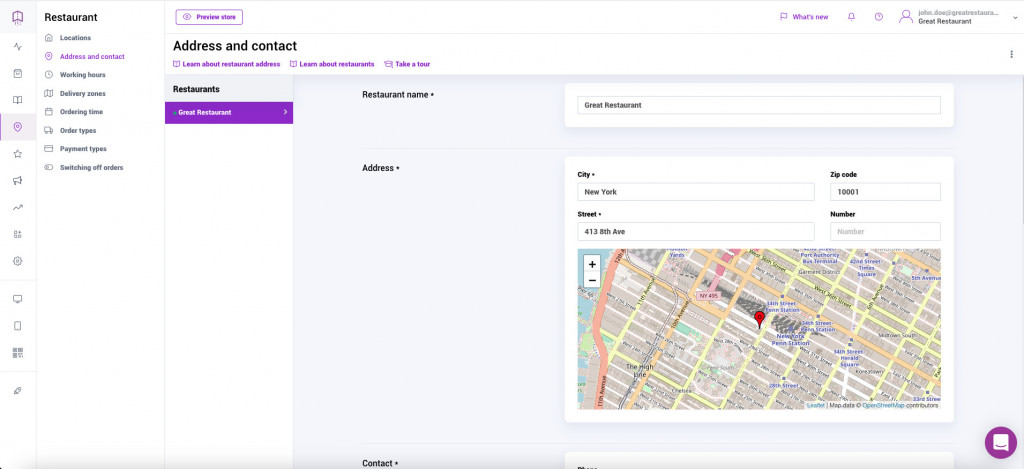 Contact details
Add contact details to let customers easily contact with you.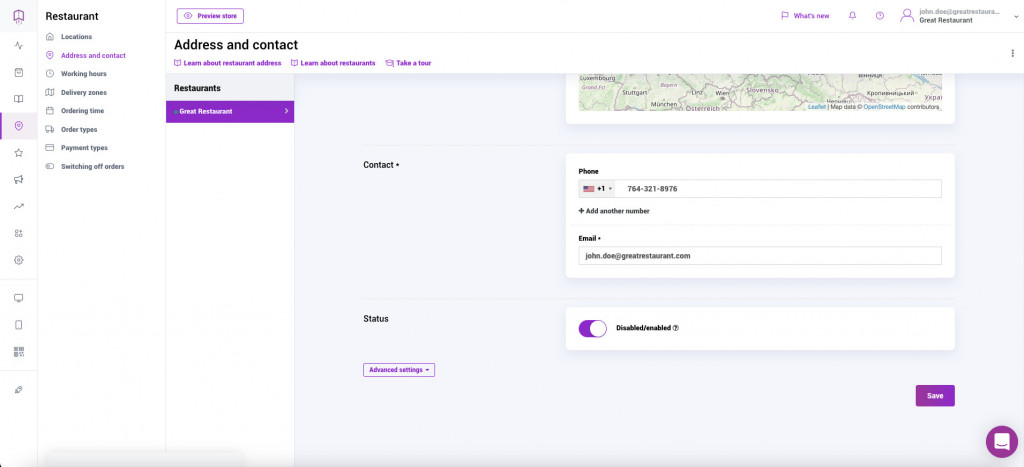 Working hours
Add restaurant working hours, you can set different hours for delivery, pickup or booking.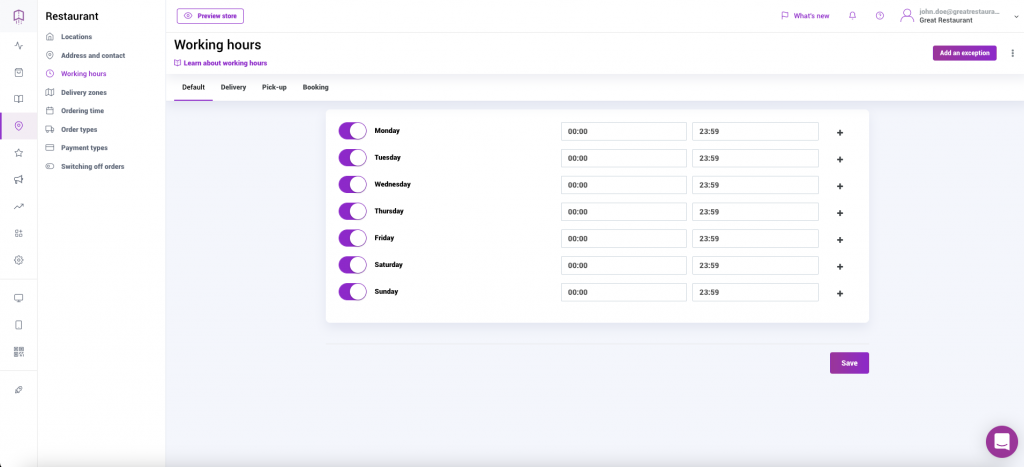 This information will appear on your own website you've created in UpMenu.
Step 5: Set up online payments
When setting up your account, make sure to add your payment methods so clients have a seamless ordering experience without any unpleasant surprises.
UpMenu has pos system integrations, allowing you to process payments without having to install any third party platforms.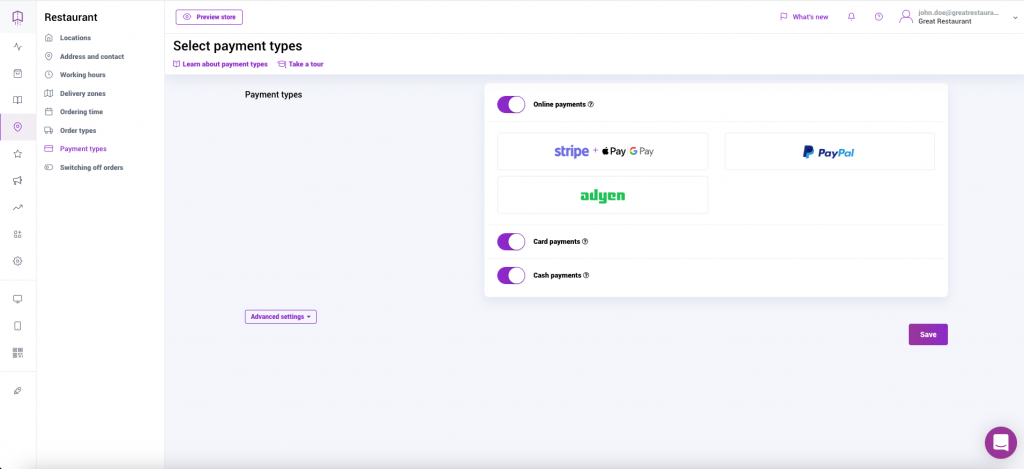 Step 6: Build your website
An online ordering platform isn't complete without your own website. Design your branded website with the UpMenu restaurant website builder so customers can find everything they need in one spot.
Choose from over 40+ restaurant website templates to make your website your own, without having to look for third party online website builders. If you have your own website, you can skip this step.
If your restaurant already have a website, just go to next step.
Step 7: Add online ordering to your website
Link your online ordering page to your branded website you've created in UpMenu to give clients an easy online ordering experience. More customers choose to order food online, and UpMenu makes it easy for both clients and you.
No need for two separate apps – a customer simply places an order from your website's online ordering section. If you have a separate website or wordpress site, you can link your online ordering platform to it as well.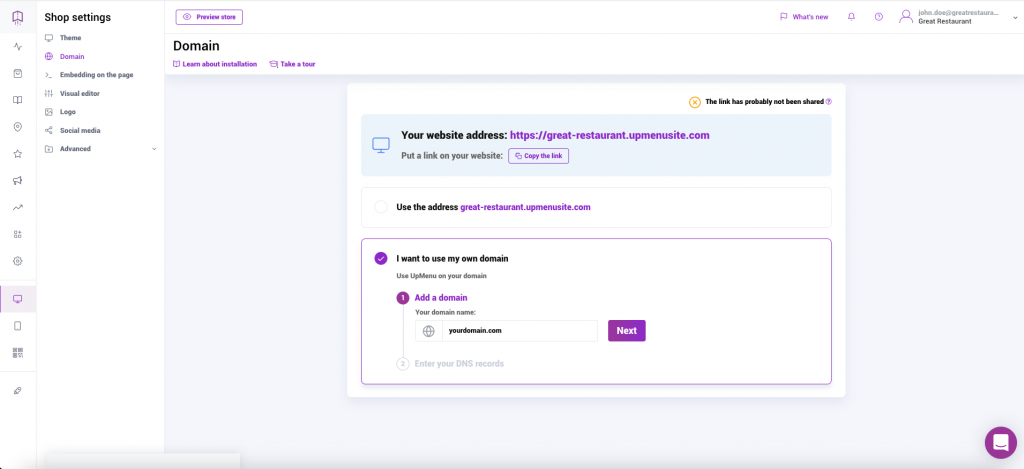 Step 8: Set up your mobile application
Your happy customers are your best customers. Keep them close to your restaurant with a branded online ordering app. Set up an online ordering app with a restaurant app builder and design it to fit your branding.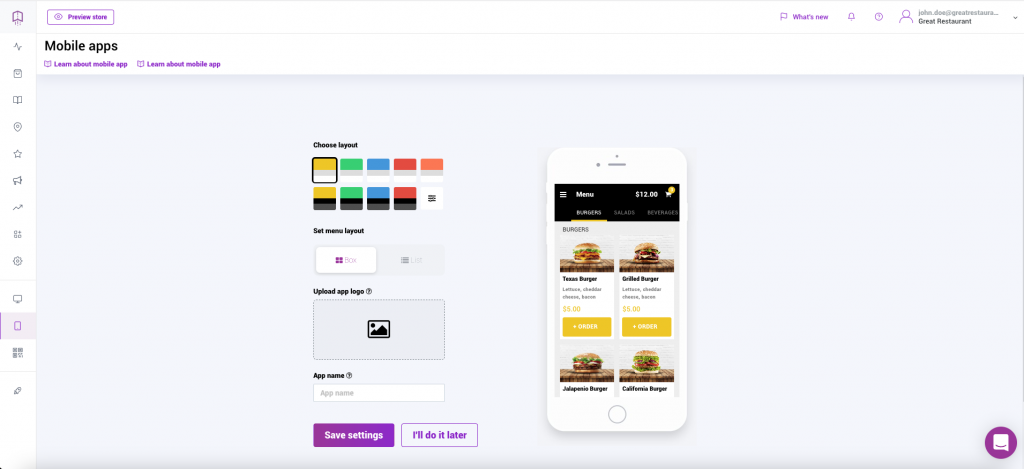 Make sure to upload your logo, pictures of your menu items, and information clients need for quick and easy online ordering.
Step 9: Set up tableside ordering
If you offer in house dining, then implementing a tableside ordering option for your customer base who prefer to dine in would greatly benefit your business. Just like online ordering for food, clients place online orders directly from their table using the QR code.
This option is beneficial for restaurants with a high volume of in house customer traffic. In UpMenu, set up your number of tables and generate and print your QR codes. Next, put the codes at the appropriate tables.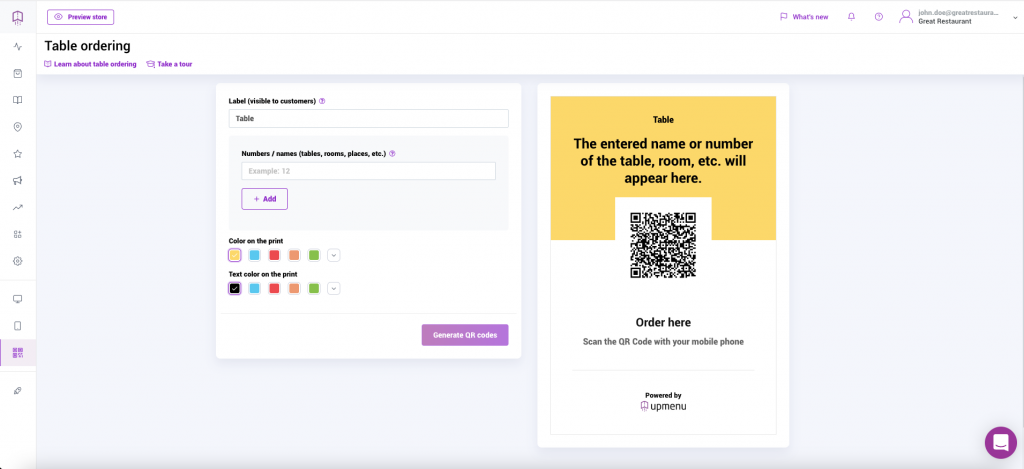 That way, a customer places an order using the QR code at their table, and your order management system recognizes which one it came from.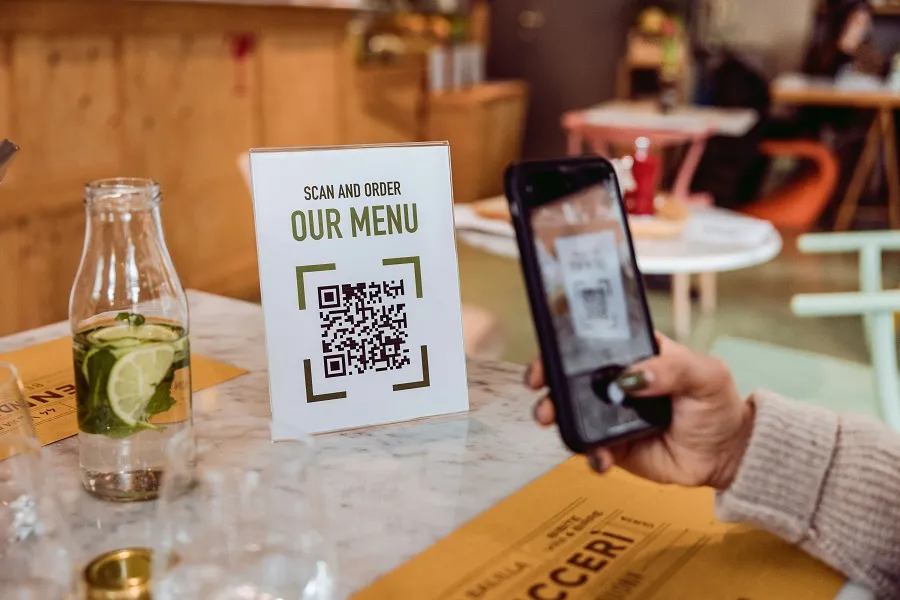 (Example of QR Code Menu in restaurant. Source: GettyImages)
Step 10: Promote your online ordering system
Now that your online ordering platform and website are all set, you're ready to start getting the word out about them. Start by sharing your link to your ordering page on social media, encouraging clients to order online for quick and easy food ordering.
Additionally, consider printing out leaflets with a link to your online ordering page, placing stickers with your website on packaging when you deliver food, and updating your Google Business page with a link to your website. Don't forget to directly link your online ordering page to the buttons on your social media websites for quick ordering.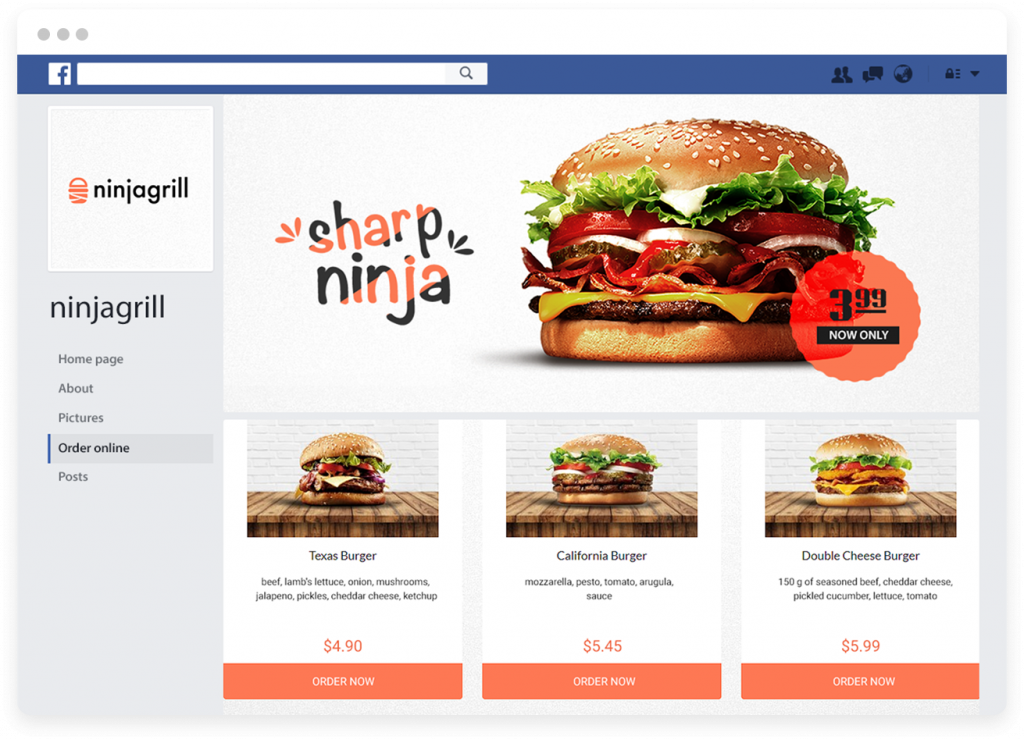 Online ordering system key features
Now that you know how to set up online ordering system specifications, you're ready to move on. Now let's get you familiar with key features that'll help you to better run and manage your business.
Restaurant website ordering
Restaurant website ordering allows customers to place online orders from your website. That means fewer call in orders and more time for you to focus on other tasks at hand.
Clients can easily find your menu items, check prices, delivery zones, and place their online orders with just a few taps. Simply link your ordering page to your wordpress website and you're done.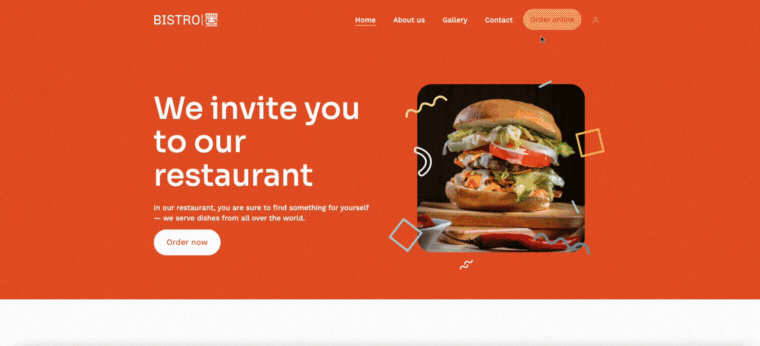 What if I don't have my own website? You can build your website completely for free or hire us to do that. Learn more about how to create a restaurant website for free!
By keeping existing and new customers on your website, you make it easier for them to place orders quickly and easily, while you're able to manage orders and increase efficiency.
iOS and Android mobile app
A restaurant ordering app allows customers to place online orders without having to install third party apps.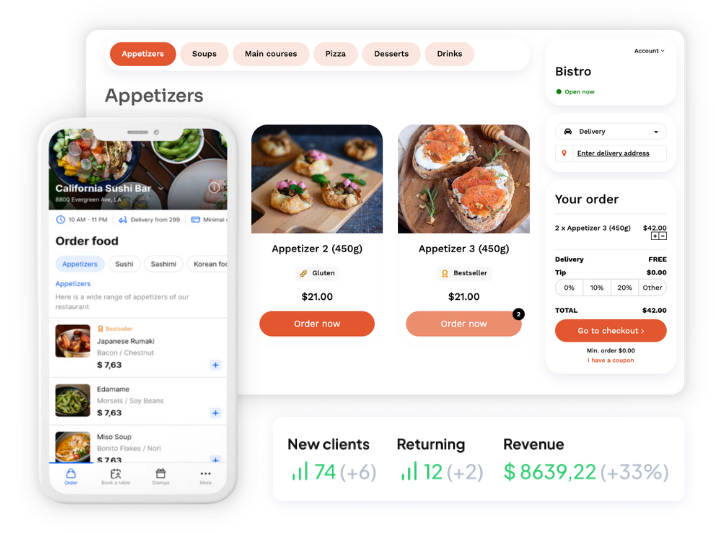 Your own branded online
ordering in 5 minutes
Launch commission-free online ordering on your own website in 5 minutes and grow your revenue, build loyalty and protect margin from third-party aggregators.
UpMenu's ordering app includes everything your clients need for a streamlined food ordering process. This includes having a list of your food items, prices, payment options, and much more.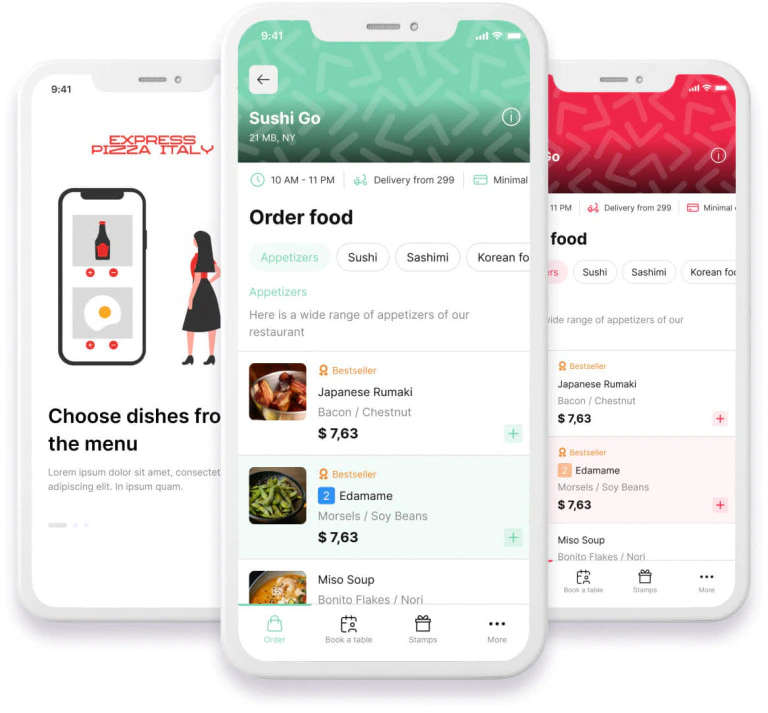 And best of all? You're able to design your own app to match your business' branding. That way, clients become more familiar with your app. Plus no tech skills are required to get set up.
Online payments
Aside from accepting food orders, your online ordering system comes with an online payments feature. This lets clients process orders directly via the app.
Hungry customers simply place their orders through your branded app, pay, and either pick-up or have their meals delivered directly to them.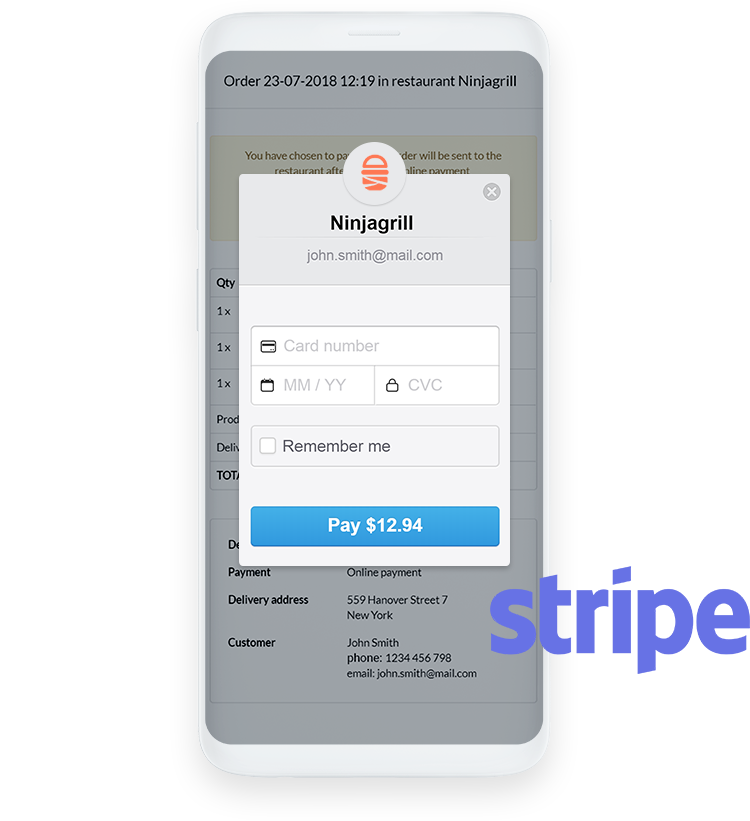 Website builder
The UpMenu website building platform allows you to create an interactive restaurant website that makes discovering your business so much easier for your clients.

They're able to find everything they need to know about your restaurant, including the type of cuisine you offer, your delivery zones, reviews, contact information, and of course your photo gallery, composed of your food items.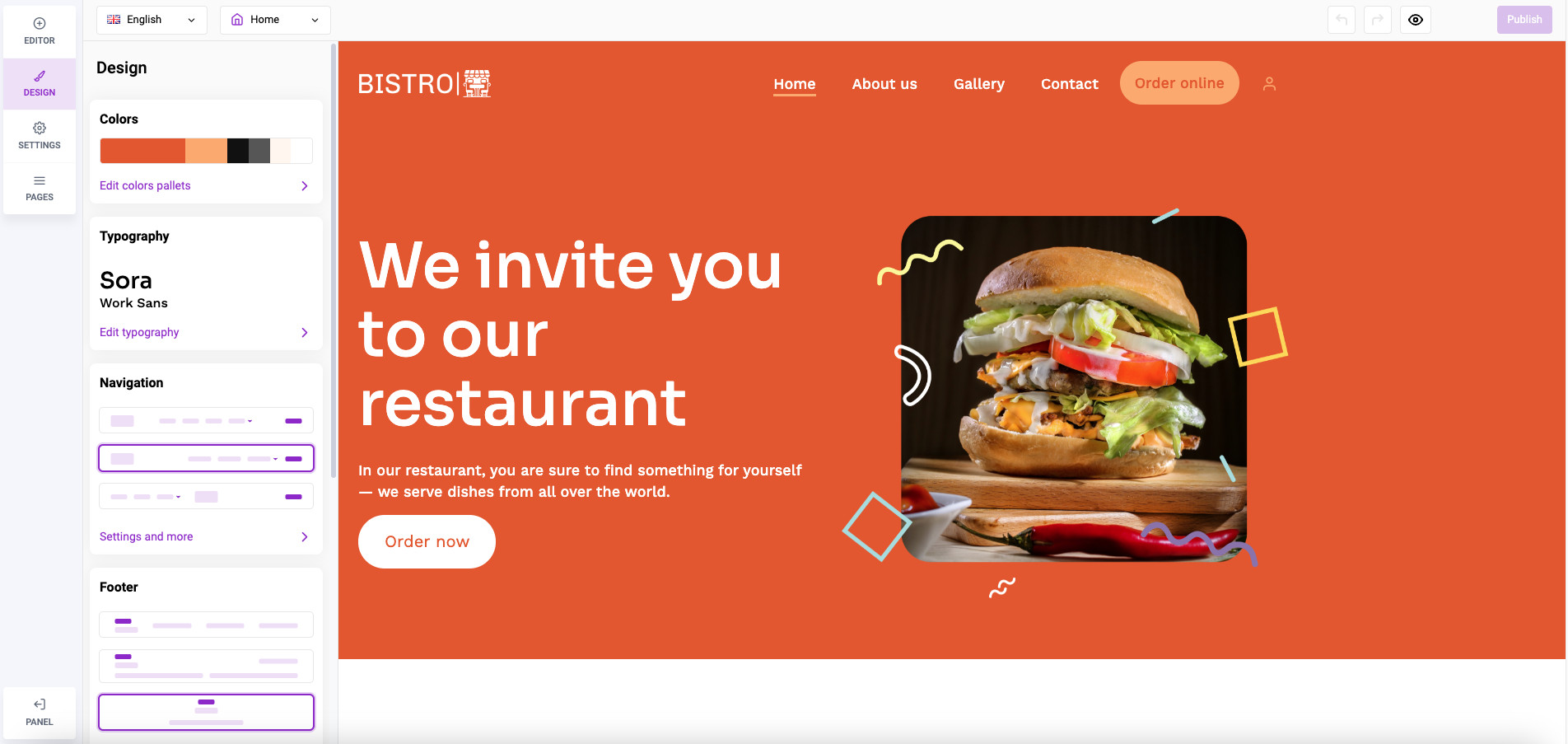 Additionally, the website builder comes with over 40+ layout templates to help match your website to your branding and online ordering app.
Promotions & coupons
Looking to launch a promo offer at your restaurant? Create promotions and coupons, which encourage clients to order food from you. Use your online ordering system to launch SMS messages informing clients about your latest deals and watch those food orders start coming in!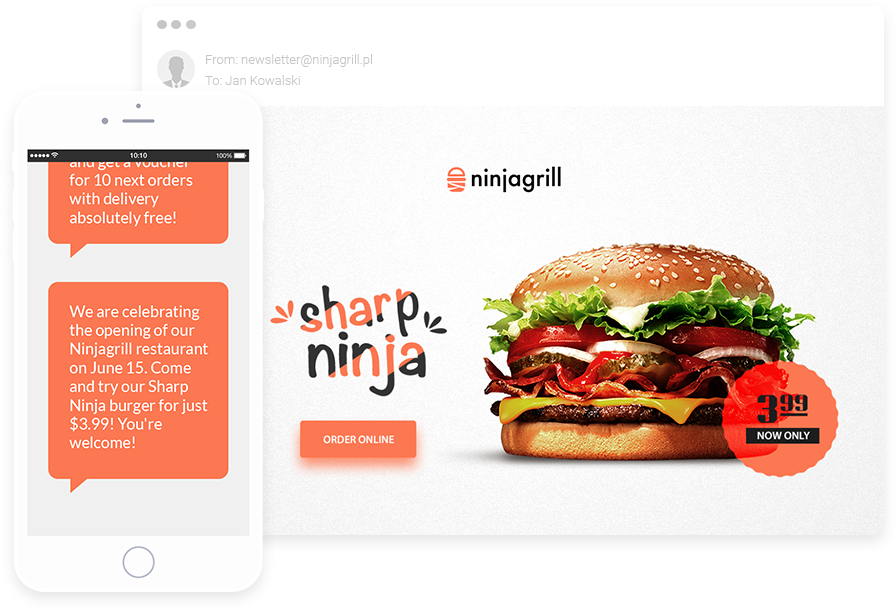 Loyalty program
A loyalty program is the most powerful tool for tying clients to your restaurant business. Only the best online ordering systems come equipped with this feature, which allows restaurant clients to earn points and stamps for each purchase and dollar spent on food orders.
Customers can redeem these points and stamps for prizes such as discounts on their next meal, or even get them entirely for free.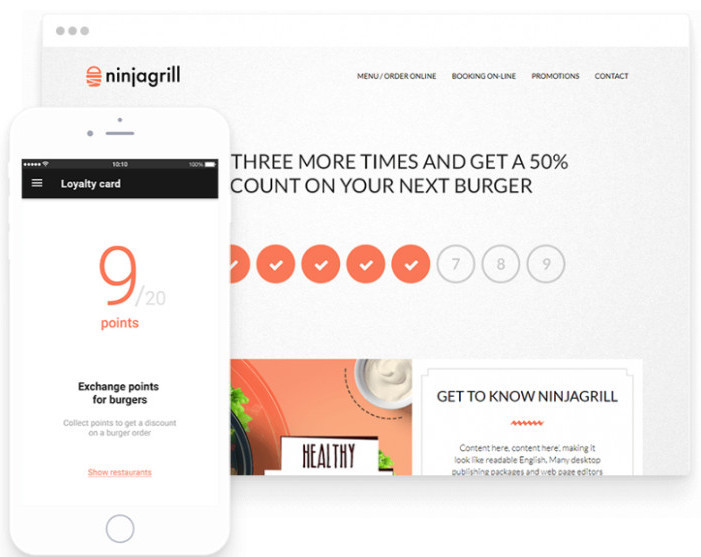 POS Integration
Another useful option only more advanced online ordering systems come with is pos integration, which allows you to process customer orders online. But UpMenu takes things a step further. There's no pos integration app or third party app that needs to be downloaded – everything you need to process payments is in one system.
Marketing tools
All the extra marketing tools you need to get more table reservations, food orders, and more revenue are in one spot. Stand out from other local restaurants by launching marketing campaigns that get clients through your doors.
Create promotions, launch SMS, email, and push marketing campaigns, or go all out by setting up marketing automation which will send automated messages to your customers – all from your UpMenu online ordering system.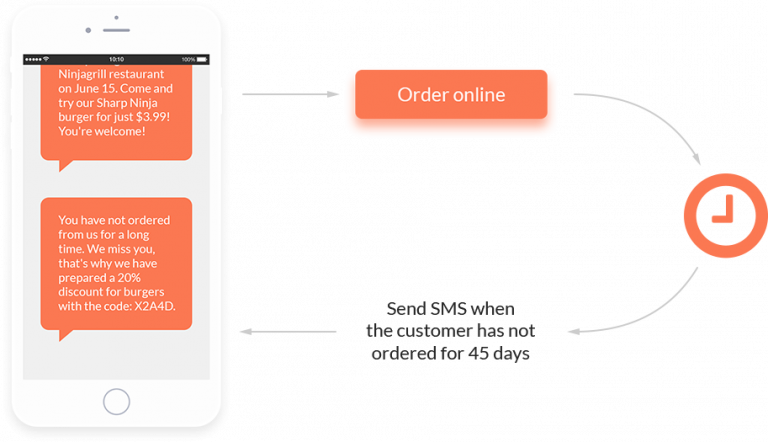 How can an online ordering system benefit me?
Introducing an online ordering system to your daily operations is great to free up much of your valuable time and streamline the food ordering process in your restaurant – but that's just scratching the surface.
Save on commissions
Not all online ordering systems are made alike. Most charge huge commission fees, which means you're not making as much profit as what you're seeing in the system. With UpMenu, all your profits go right into your pocket – all you pay is a flat monthly fee.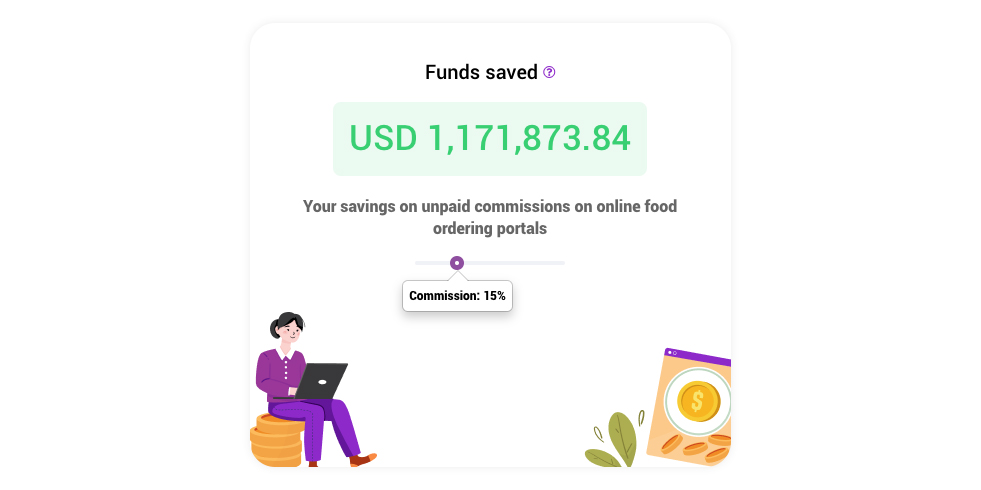 (One of our clients Sushi Kushi saved over $1M on food portals commissions)
Marketing benefits
With a fully-featured online ordering system like UpMenu, all of your marketing campaigns are at the tap of a button, which means no third party apps needed, and you're in control of everything. Plus, you gain access to a number of great features that help keep your clients in the loop about your latest deals.
All the customer data in one spot
With UpMenu, you have total control over your customer base. With a built-in customer CRM (customer relationship management system), you're able to track how often clients place online food orders, how much they spend, etc. And most importantly, you own your customers' data.
Improved customer loyalty
Customers love being rewarded for their loyalty, which is why they prefer to order from restaurants that reward them for being regular clients. With a loyalty program in place, you save time, improve customer loyalty, and even increase food order values significantly.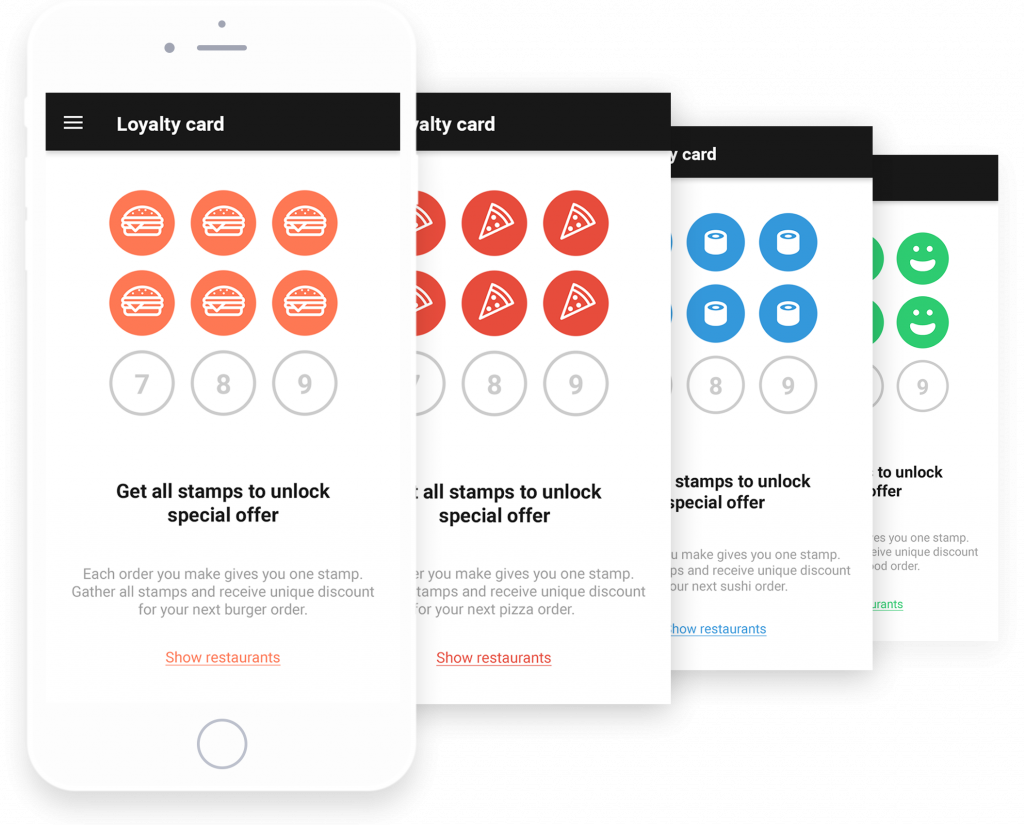 And best of all, loyal customers are more likely to leave you positive reviews and tell their family and friends about your business, which can turn into more clients.
Fewer ordering mistakes
When it comes to online ordering, mistakes can happen. But when you implement a restaurant online ordering system, that number goes down to practically zero.
Clients simply download your branded app, select what they'd like to eat, choose either food delivery, pick up, or to eat in house and place their orders. No more having to take orders over the phone, which would have left room for error.
No more costly errors
How do you know how many existing customers your business has? Or how much profit you've made in the last 3 months? Without knowing this data, creating marketing campaigns and promotions can be a shot in the dark.
Your online ordering software changes that completely. With UpMenu, all the data you need is conveniently stored in one app, so you know exactly how your business is doing.
More sales and increased revenue
Your very own online ordering system from UpMenu is perfect for increasing your number of sales and revenue – without having to get third party online ordering programs involved. Marketing campaigns are all built-in, which allow for targeting current clients in your database.
By launching effective and trackable marketing activities, you know exactly how your restaurant business is doing, without having to guesstimate.
Need more reasons why you should set up an online ordering system? Read more about benefits of online ordering for restaurants.
Key takeaways
With UpMenu, your online ordering platform is yours to keep. You own your clients' data, your online ordering app, and all the profits you make.
A reliable online ordering system is easy to set up, comes with a lot of useful features, and doesn't require multiple third party apps. Everything you need is in one spot.
Your online food ordering system needs to have a branded mobile app option so clients can download for quick food ordering.
You need to have a properly set up online menu so customers know exactly what they're ordering.
Promoting your online ordering system is essential in order to get clients to start placing food orders through your website and mobile app.
What software do restaurants use to take orders?
Restaurants can use a variety of software to take orders, including a pos system, online ordering system, or a mobile ordering app. With UpMenu, there's no need for third party services and separate online ordering platforms, which is why restaurants choose UpMenu.
Which ordering app is best for restaurants?
The best restaurant ordering app is one that allows for full customization, pos systems integration, and is easy to use. With UpMenu you have that, and much more. There's no limited access to data, no need for third party delivery services, and no high commissions, just flat monthly fees.
Which model is best for an online food ordering system?
The best online food ordering system model is one that allows for in house food ordering and online ordering via branded app. In UpMenu, you have both options, without the need for third party online ordering platforms.