In today's day and age, we're becoming more and more reliant on technologies to help make our lives less complicated, and the restaurant industry is no exception. Business owners are starting to see the benefits of online ordering for restaurants as diners, especially millennials, are becoming more tech-savvy and expect their favorite restaurants to offer the right solutions for them.
Online table reservations, online ordering options, and food delivery are now the new norm. However, if your restaurant only takes phone calls for table and food ordering, you're reaching only some of your younger, new customers.
Restaurants that need to implement online ordering platforms will begin to fall behind the competition that has a solid online presence and uses food portals for taking online orders. So if you're looking to succeed in the restaurant industry, focus on the needs of your prospective customers by implementing a reliable online ordering system. But what exactly are the benefits of online ordering for restaurants?
How online ordering for restaurants is changing the game
We live in busy times. In a world where every second counts, convenience is king. When diners can order food online from their favorite restaurant, they tend to do so more often because the establishment meets their needs.
Here are the numbers to back up this statement:
60% of restaurant clients in America order food delivery or takeout online

at least once a week

31% will order at least twice a week

more than 30% of all orders are prepaid online
This data shows that clients who can order and pay through an online ordering system or mobile app prefer to do so rather than call to place an order.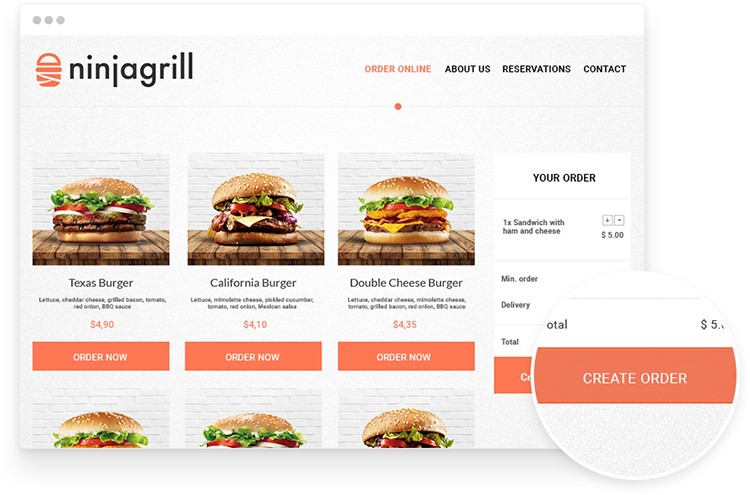 More than just food ordering
Maintaining your business' cash flow is the top priority for a restaurant owner or manager. The more online food orders come in, the more profit you make.
When you put your menu online, you make your restaurant available for mobile ordering. So getting your restaurant into the online world is the perfect place for attracting new customers – but the benefits of online ordering for restaurants don't end there.
Marketing benefits of online ordering for restaurants
A reliable food ordering system comes equiped with a promotion engine, an integrated customer database, and multi-channel campaign management, which help to attract new customers, promote your offers and streamline restaurant operations.
2. Customers data ownership
How about encouraging customers to make an online order? Create and launch an offer or include add-on deals to orders with just a few clicks. Need to check on customer data to see who to send promotional campaigns to? Two clicks in your online ordering system, and you're there. How's your campaign performing? It's all in your ordering system for restaurants. The benefits of online ordering for restaurants go beyond just taking food orders. With a reliable system, you're much closer to your clients and understanding their needs.
3. Better customer loyalty
Loyal customers are a telltale sign that you're business is on the right track. Regular customers spend up to 67% more than one-time clients, so having a loyalty system to manage relations with them is key.
When looking through online ordering systems, you have a list of restaurant marketing features to keep an eye out for. Many online ordering systems lack advanced customer loyalty capabilities that help you save money on expensive media advertising, so make sure you're not caught without that.
4. More Orders from your website
With an online system, you can reach a demographic group that is ready to order online and highly suggestible to your offers.
During peak hours, many restaurants report a conversion rate of 40% or more – meaning that 40% of your website visitors will more than likely place an order.
This statistic is desirable when you consider that the "typical" conversion rates for other e-commerce industries are about 2.35 percent.
5. Larger average check size
Customers who order online tend to spend more than they would if they were dining in your restaurant. 20% of customers who order online say that they spend more when ordering from an online menu rather than on-site.
Additionally, customers have more time to browse your entire menu online, which gives you more opportunities to upsell or cross-sell. Over 34% of orders placed through an online food ordering system are worth $50 or more, while most bills for walk-ins will be less than that.
6 . Fewer ordering mistakes
There's no room for error when it comes to ordering food online. Unlike phone orders, the customer is responsible for what they order. This rules out any miscommunication that would occur over a phone order.
Another feature no restaurant business can be left without is marketing automation. This feature in your online ordering system allows you to set your daily specials and promotions in advance. Then, once they go live, the system launches your offer directly to your customers.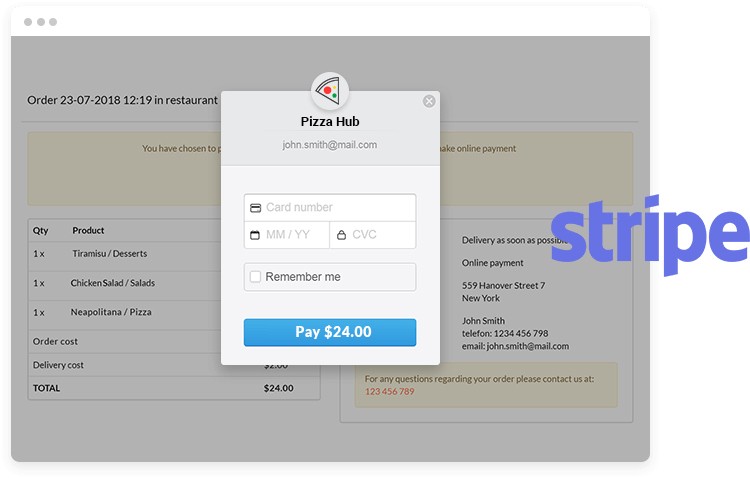 7. Reduce Costly Errors
Ordering mistakes are one of the greatest causes of food waste and profit loss for restaurants. The busier the restaurant, the more room for such errors to occur. Sure, mistakes happen; after all, we're human. But if they stack up, these mistakes can deal a strong blow to your reputation and restaurant operations.
Let's say an order comes in on the phone. The employee that takes it is already busy with dine in customers and bringing food to the table. All it takes is a single distraction, and the phone order might be misheard, or the prepared food might be taken to the wrong table, and you've got a mixup.
The client usually catches the mistakes; by then, it's too late to do anything. Delivering food to the wrong client, missing items on order, or simply not jotting down customer requests can cost you new customers, and getting them back with free food won't fix that. Plus, other customers are made to wait.
Your kitchen staff are busy preparing food, and now everything is backed up. You'll be lucky if the customer leaves, but if they decide to leave you a negative review online, your restaurant business is going to get hit hard.
Online ordering systems prevent such situations from ever occurring. If an order is placed incorrectly, then it's not your fault.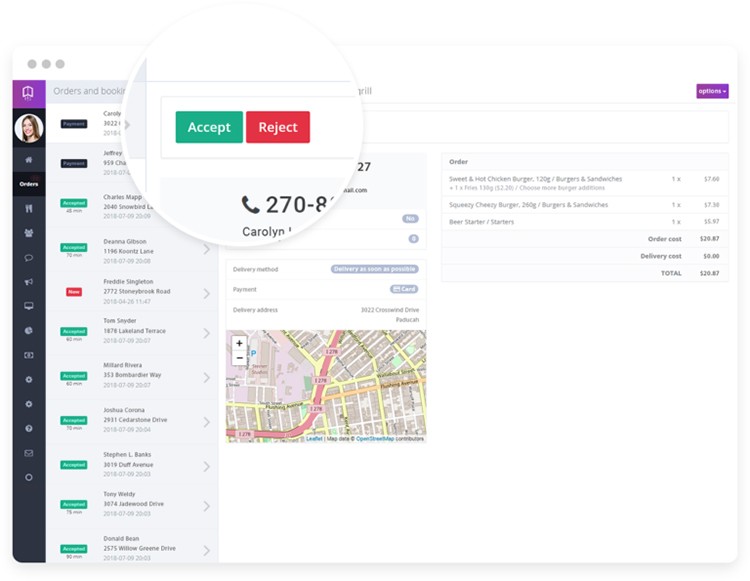 8. Marketing automation
One of the most significant advantages of online ordering systems is the ability to automate the online food ordering process. That means no more taking food orders and payment info over the phone.
Your staff can focus on other tasks like tending to clients who prefer to dine in. Ordering food from your online menu frees up your staff and keeps those food takeout and pickup customers happy with the quick ordering process.
9. More benefits
Convenience: Customers can place orders at any time, from anywhere.

Increased Efficiency: Automated order processing can save time and reduce errors compared to manual ordering systems.

Improved Customer Experience: Customers can view menu items, promotions, and make informed choices from their device.

Real-time updates: Customers can track their order status in real-time, reducing wait time and increasing customer satisfaction.

Increased Data Insights: Online ordering systems can collect data on customer behavior, preferences, and spending patterns.

Easy Menu Management: Restaurants can update their menu items, prices, and promotions quickly and easily.

Contactless ordering: Online ordering enables customers to place orders without having to interact with restaurant staff, reducing potential exposure to COVID-19.

Increased Reach: Restaurants can reach a wider audience through online ordering platforms.

Reduced Operating Costs: Automated ordering systems can help restaurants reduce labor costs, as well as costs associated with paper-based ordering systems.
What key features of online ordering for restaurants should I look for?
For a comprehensive online ordering system, UpMenu is your best option. This subscription-based online ordering system helps you increase sales, reduce costs, and eliminates blunders caused by taking orders over the phone. No commission fees and no third-party online ordering platforms that own your customer list.
With UpMenu, you have your own online ordering system that you design to fit your branding. In the past 12 months alone, UpMenu has processed over 2.3 million online orders. That's a lot of satisfied diners.
Easy integration with your website
UpMenu is a web app that integrates with your website via an HTML widget. Payments are processed through Stripe, a secure online payment system trusted by millions of people and businesses across the United States.
Predictable pricing
Because UpMenu is based on a subscription model, your budget will be predictable, giving you a distinct advantage over third-party ordering systems whose payment models are based on taking a commission from your sales.
Powerful marketing tools
UpMenu also strengthens your marketing initiative. For example, you can notify your customers of promotions and specials, schedule promotional pricing by day and time, and offer your best customers more of what they love best through a loyalty program.
Data-driven forecasting
Over time, the data you collect will enable accurate demand forecasting, helping you manage your business more efficiently from end-to-end.
Branded mobile app
You will also have the option of your own branded mobile app for a low monthly add-on price – as opposed to the tens of thousands of dollars you would otherwise have to invest if you wanted to develop an app from scratch.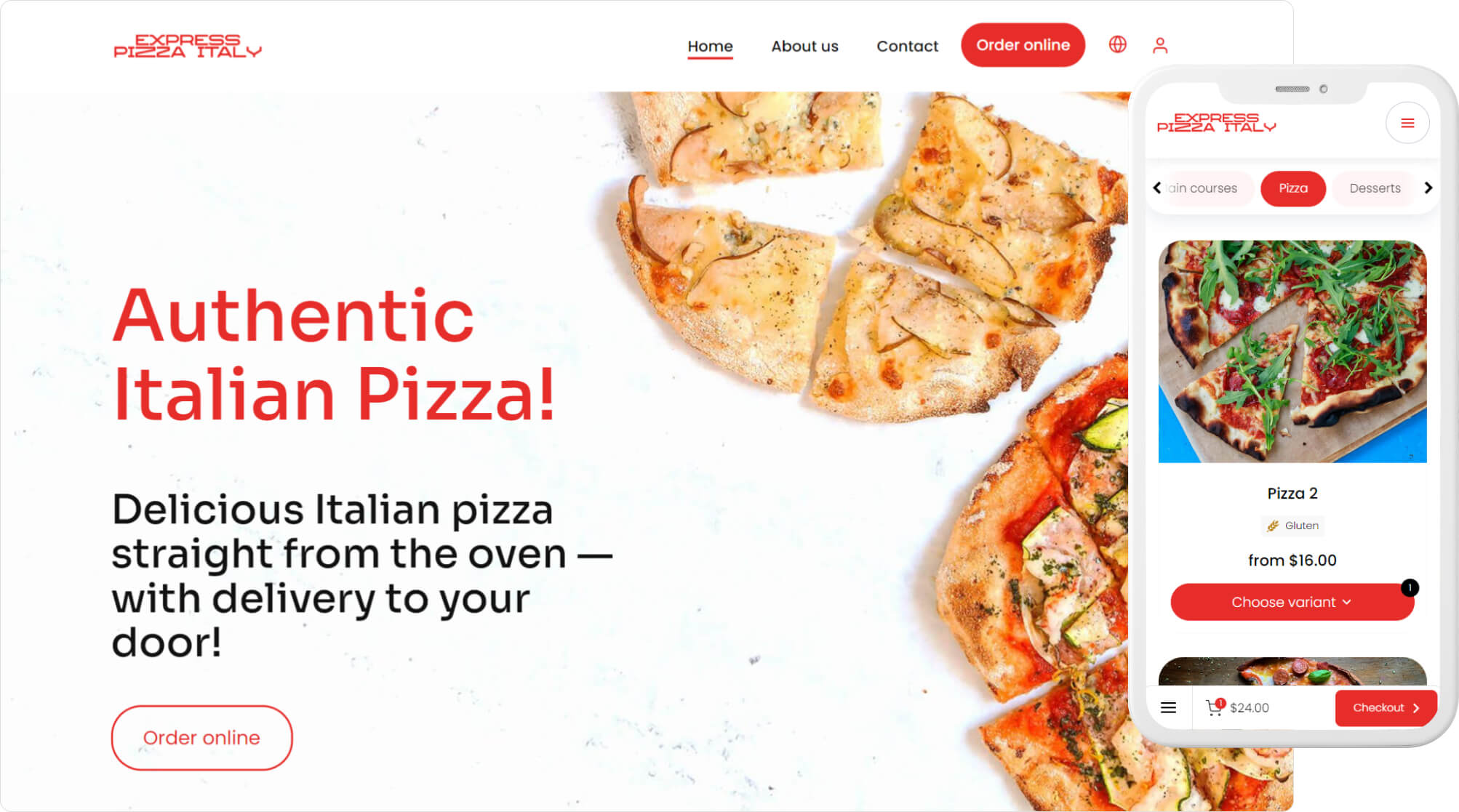 Designed for all types of restaurants
UpMenu is perfect for fast-service restaurants, food trucks, pizza restaurants, casual dining, catering companies, and restaurants catering to local businesses.
With all these benefits and advantages at stake, the question is, can your restaurant afford not to have an online ordering system?
Reach out today to learn more or to schedule a free trial.
Key takeaways of an online ordering system
Running a restaurant business means you've got to keep everything in working order. From making sure to deliver food on time to maintaining customer loyalty – you've got to keep everything in check. When you add an online ordering system to the equation, it changes everything.
Customers enjoy the convenience of online ordering

and quickly change their ordering habits from phone orders to ordering online.

Marketing features such as

customer communication systems, loyalty programs, and promotion engine tools increase the number of online orders.

Automating

the online food ordering process gives you and your team more time to focus on other tasks instead of taking phone calls.

No commission fees, unlike other food portals.

UpMenu allows you to create your own online ordering system without commission fees.

Reduce errors

caused by human factors thanks to the comprehensive online ordering system that will ensure accuracy in the fulfillment of orders.

More earnings from each food order

thanks to the easy implementation of menu engineering and upselling principles.

Traffic forecasting

utilizes collected data about users ordering from your restaurant site.
Hungry for more?
Take your restaurant business even higher with our guide to helping you make more revenue with UpMenu. And if you need some inspiration for creating your own restaurant website templates, you can find them here.