The multi-restaurant online ordering system launch seems difficult and expensive. After all, the system must manage several dozens or more restaurants and still be user friendly for both the customer and employees of the chain.
The UpMenu online food ordering system makes it possible to launch online sales for your restaurant chain without incurring huge development, maintenance, and update costs. You will only pay a small monthly subscription fee.
At the same time, you can launch sales on the restaurant website and your own mobile app, which is also adjusted to the needs of a multi-restaurant online ordering system. So, what are the possibilities of the UpMenu system for multi-location restaurants?
Multi-restaurant online ordering system – Everything in one place
The administrative panel of the UpMenu system will become your management space for sales in the multi-restaurant online ordering system. This is where you will find all the important statistics and information regarding online orders for your restaurant chain, displayed in real-time.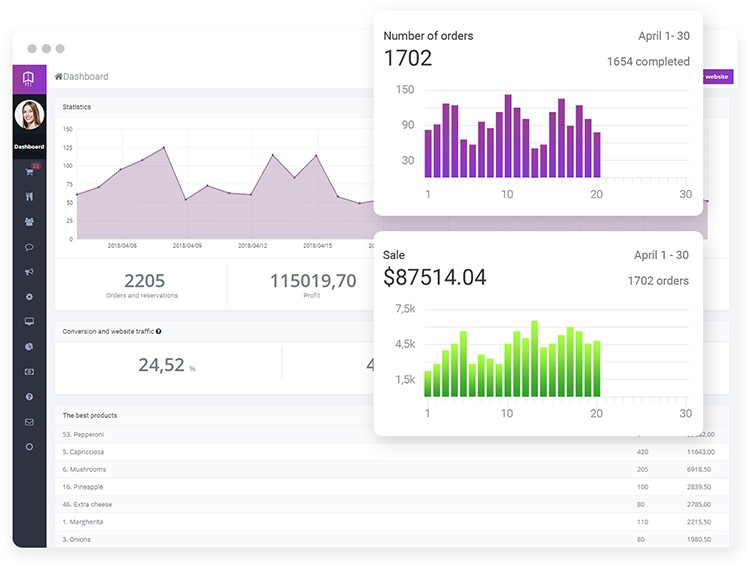 You can decide who has access to certain information. You can choose what information your employees and managers of particular locations will see. This will help you in keeping delivery service across various locations up to standard.
Improved customer ordering experience
That's great, but how will the customers benefit from such solution? The multi-restaurant online ordering system also offers simplicity for placing orders by customers.
They can order restaurant food in a matter of clicks.
When a customer wishes to place an order and accesses your restaurant website or downloads the mobile app, they will see a list of locations. After clicking the location of their choice, they will see the menu. It's that simple.
Introducing an online food ordering system in multi location restaurants is a great way to boost your sales and revenue while building a loyal customer base.
Sell more thanks to marketing tools
The multi-restaurant online ordering system also offers a range of marketing tools. You can use them as you wish in single locations or across all locations in a chain.
Loyalty programs
Create advanced promotions, launch a loyalty program, provide discount vouchers to your customers. You decide where and how they will be valid and for how long.
This will make it possible to impact sales across the entire chain or at particular locations. You can conduct more promotional activities in restaurants that have poor sales results and organize occasional promotions in locations with better sales.
Moreover, you can set up long term discounts for regulars, that will be shared across your entire chain or be accepted at a single location. This will encourage your patrons to spend even more on restaurant ordering.
The restaurant ordering system by UpMenu also lets you run a reward system. When your customers order food through a website or app, they will be awarded a digital stamp. After collecting a set number they receive a discount or even free food order. This is a great way to grow a loyal customer base.
Don't forget to utilize your social media pages to inform your customers about active promotions, discounts, or loyalty programs.
Additionally, the UpMenu multi restaurant food ordering system gives you the opportunity to launch online ordering directly on your Facebook page. Moreover, food orders from the social media page will be redirected to your system.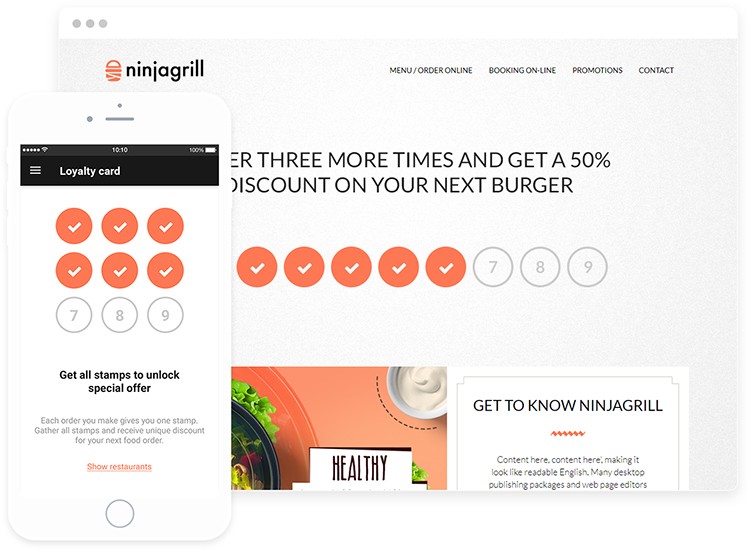 Email, SMS, and push campaigns
For each of your locations, a database of customers who have given marketing communication consent will be developed automatically. You can send email and SMS campaigns to them or push notifications if they use the mobile application. Campaigns can be sent to customers of one location or the entire chain. 
To accomplish your goal and reach out to a greater audience, you can utilize a number of email marketing tools available in the market and speed up your promotions along with the least efforts.
Find out more about the promotional features of the UpMenu system in this article:
 The best features of an online food ordering system.
Easy management of delivery zones
For managing food delivery services at a restaurant chain, it is important to be able to set delivery zones quickly and easily. After all, you have to handle multiple restaurants!
The UpMenu multi-restaurant online ordering system will let you literally draw the delivery zones on a map. Each restaurant can feature several delivery zones with different minimum order values and delivery costs.
This will allow optimizing the costs of food delivery service and generate bigger profits for multiple restaurants.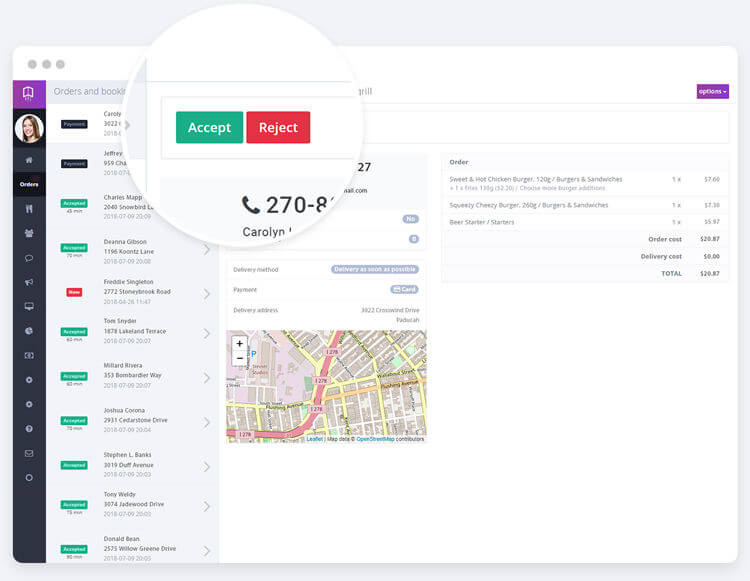 One restaurant website and one restaurant mobile application
To sell effectively thanks to the multi-restaurant online ordering system all you need is a restaurant website and/or mobile app. After accessing the menu on your website or downloading the mobile application for restaurants, customers can choose the location where they want to place an order from a list of all available restaurants.
This is just one extra step for them on the short path of order placement, while you earn and save a lot of money.
One restaurant website and one mobile app doesn't only mean lower development costs. It also means no additional costs for updates and advertising. Furthermore, you can be sure that your brand will be consistent, and this is very important when creating your image.
Simple menu management
One of the major benefits you will gain when launching a multi-restaurant online ordering system is quick and easy management of the menus across the entire chain.
You can have the same menu for the entire chain. Or it can vary. And, it can be even completely different. Regardless of which, the UpMenu system will help you configure the solution while saving you time and money that you would otherwise spend on IT professionals.
Additionally, you can quickly manage the menu at particular locations at any time. Even if the menu is the same, each location can have the same or different prices. You have full freedom of control.
Everything is done so that you can plan and organize your restaurant resources faster and easier. Regardless of the price policy, you apply across the restaurant chain, the UpMenu multi-restaurant online ordering system will help you optimize costs and earn more.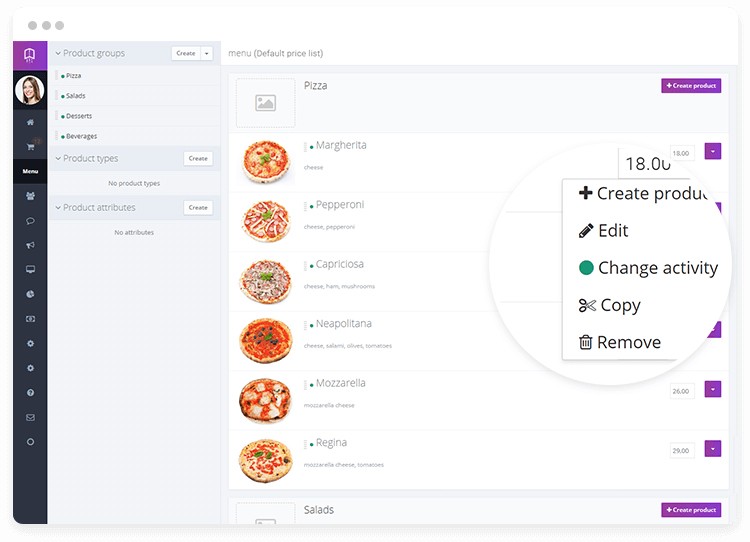 Conclusion
The UpMenu restaurant ordering system will help you organize your sales across multi location restaurant brands. This is not only a solution designed for single locations, thanks to its functionality, it will also be ideal for multiple locations.
The multi-restaurant online ordering system will help you optimize costs and make business decisions based on your online sales results. Launch an online food ordering system across your restaurant chain, organize the work more efficiently and earn more!
Learn more
Restaurant mobile app complete guide for 2020
The 23 best restaurant website templates
Online food ordering system – the ultimate 2020 guide
Online pizza ordering system – keep up with the competition!