If you're looking to start your own online bakery business, this guide will cover the legal and practical considerations for building your business from scratch.

This includes researching food regulations, obtaining a business license and permits, setting up a website using bakery website templates, doing market research, and promoting your baked goods to your target market. With our information and resources, you'll be well-equipped to sell your products online effectively.
What is an online bakery?
An online home baking business refers to a company that primarily operates through an online store, selling baked goods to customers via a website or mobile app.
Step 1. Research food regulations and obtain the necessary legal licenses
Food regulations refer to rules and principles that oversee food items' manufacturing, distribution, and commercialization. These laws issued by the health department safeguard customers against unsafe food products while guaranteeing they are healthy, hygienic, and correctly labeled.
The initial step is to evaluate the regulations in your locality. Then, your state and local health departments can provide further details regarding your region's food laws pertaining to online bakeries.
Cottage food laws
The regulations of bakeries vary significantly across states, so it's essential to conduct research before opening an online bakery. Check your state's Department of Health website for "cottage food laws" and look for the necessary food safety certification you'll need to operate your home bakery.
What should I know about cottage food laws?
Cottage food laws are designed to support small, local food businesses and encourage entrepreneurship while ensuring consumers' safety. (Source: Forbes)
There are two types of Cottage Food Operations, class A can sell home-kitchen prepared foods directly to the public. Class B can sell home-kitchen prepared foods directly to the public or indirectly through restaurants and food markets. (Source: CDPH)
Typically, in states that allow for at-home food production, you just need to label products with the weight or volume, your name, address, the words "this item is home produced" and all the ingredients in order by weight. (Source: Pick Your Own)
What is a food license?
A food license is a legal authorization granted by the government or other regulatory authorities that permit individuals or organizations to operate a food business in compliance with established food safety and hygiene standards. The license ensures that the food products are safe and free from contamination and the business operates in accordance with the law.
Do you need a license to sell baked food online?
In most states, you can bake and sell cookies, cakes, brownies, and other baked treats from your home bakery, but a license is required. Each state has specific rules and guidelines regarding the following:
Products that can be sold online 
The selling methods 
The labeling requirements 
Sales limits
What are the areas which require licenses or certificates?
Licenses or certificates are typically required from the local government for the following areas:
Food hygiene standards
Health and safety regulations
Fire safety protocols (i.e., sprinkler system, fire extinguisher)
Sales privileges
Food handling procedures
Catering operations
Once you know the legal requirements in your state to start an online bakery, you can move to the next step. 
Remembering that laws and regulations can change over time is crucial, and staying updated and informed about any modifications that might impact your online bakery business is advisable. In addition, you can consider consulting a food law specialist for advice on licenses and other business documents.
Step 2. Determine your niche 
Identifying your niche or specialization is one of the first steps in starting your bakery business plan. A food niche is a distinct category within the food industry that serves a particular customer base with specific dietary requirements or preferences. Consider your favorite restaurants or other online bakeries and their distinguishing features – such as their target audience, business name, marketing strategy, and food they offer.
You can have a bakery specializing in one or various quality baked goods. Think about what can make your business stand out from others and what could be your unique selling point for getting more happy customers and revenue. Before starting your small business, check if people in your area want what you plan to sell. If another bakery or similar business entity already offers something similar in the area, consider what you can do differently to stand out.
What are some great bakery niches?
Gluten-free cupcakes
Vegan products
Chocolate baked goods
Sugar-free cakes
Items made with organic, local ingredients
Custom-made cakes for special occasions
Brownies
Decorated cupcakes
Cheesecakes
Bagels and muffins for offices
Seasonal specials
Regional desserts made with ingredients from the local farmers market
After learning about the local market, ask potential customers for their honest opinion and figure out how you can provide something they need but need help finding elsewhere. For instance, if you're targeting corporate clients, make sure you're located in an area that's convenient for them, and offer the kind of snacks they prefer, such as muffins, pastries, bagels, or donuts, cupcakes, and croissants.
It's important to remember that your selected niche should be something you can produce.
Step 3. Calculate your costs
Before creating a new bakery business, writing a business plan is always recommended. Although establishing an online bakery is generally cheaper than a physical store, some financial aspects remain. You need to consider various costs, such as email marketing tools, taking part in local events, an online platform for your business, and a way to distribute baked goods.
To manage those costs, it's recommended that you create an average profit margin calculation in order to track gross and net profits to figure out exactly how much it costs to run your business.
What costs need to be considered while starting an online bakery?
Purchase kitchen equipment
Cost of cookware and baking tools
Ingredients necessary to start
Business Insurance for home bakeries
Sales tax
Costs of required licenses and permits
Business registration cost
Compensation for you and your employees
Setting up a limited liability company (optional)
While calculating your costs, look for ways to minimize them. For example, you can buy cookware and baking tools in bulk instead of one by one. Another idea is to purchase your ingredients in large quantities from farmers' markets or wholesale suppliers instead of grocery stores.
Step 4. Think about the logistics 
As we know, the majority of baked goods are perishable. That's why a key factor in analyzing while thinking about how to start an online bakery is to think about the logistics. Consider the following aspects while planning your bakery business:
How will you store your ingredients and ready-made products?
How much time does it take to bake your goods?
What will be your working hours?
On which days should you purchase ingredients?
How will goods be delivered to customers?
Additionally, it's essential to prepare for storing raw materials and baked goods to accommodate potential fluctuations in demand. 
Step 5. Decide on financing your bakery
Think about financing your bakery business. There are many forms of financial support worth considering, like obtaining grants, looking for private investors, or checking on government support. If you are looking for more options, check out our guide about opening a restaurant with no money.
Step 6. Register your business 
Apart from obtaining permits and licenses, you must register your business with the secretary of state's office. Before doing it, you must decide on business structure, as it directly influences your operations and taxes. 
If you want to register as a sole proprietorship, you must contact the county clerk's office.
Remember to obtain an Employer Identification Number (EIN) from the Internal Revenue Service. You can apply for it on irs.gov
EIN is then utilized for banking, tax, and other business-related documents.
Step 7. Create your brand
The next step to starting an online bakery is to create a brand that will differentiate you in the market and attract your target customers. Each brand is unique, and creating yours requires some reflection. Analyze what you plan to offer, and explore the market to ensure no similar offerings. There are various essential aspects to consider:
Determining your bakery's name is one of the most important aspects of starting a new business, as it helps your food business stand out from the competition and complements your branding.
Creating a logo for your food business is like making an official stamp representing your business. That way, when clients see your logo, they identify it with delicious baked goods and customer satisfaction.
Selecting colors that reflect your brand is critical, as it reflects the theme of your baking business. Darker colors make your brand appear more exclusive, whereas light, bubbly colors make it look more inviting for all types of customers.
Designing packaging is also essential, as packaging is the first thing your customers will see while receiving your goods ordered online. Creating packaging that matches the overall vibe of your home-based bakery is a great way to promote your business.
It's important to define your brand's values and principles. Nowadays, people are more inclined to patronize brands that share their values and social beliefs. 
Step 8. Create a bakery website
To build your restaurant's website, you can utilize the UpMenu website builder, which offers easy-to-use restaurant website templates and does not require technical expertise. Thanks to this, you won't need to create a bakery website from scratch. Instead, you can use our no-code drag-and-drop editor to attract more customers to the online bakery. Display your menu and photo gallery, and enable online orders through your customized bakery website to get more business.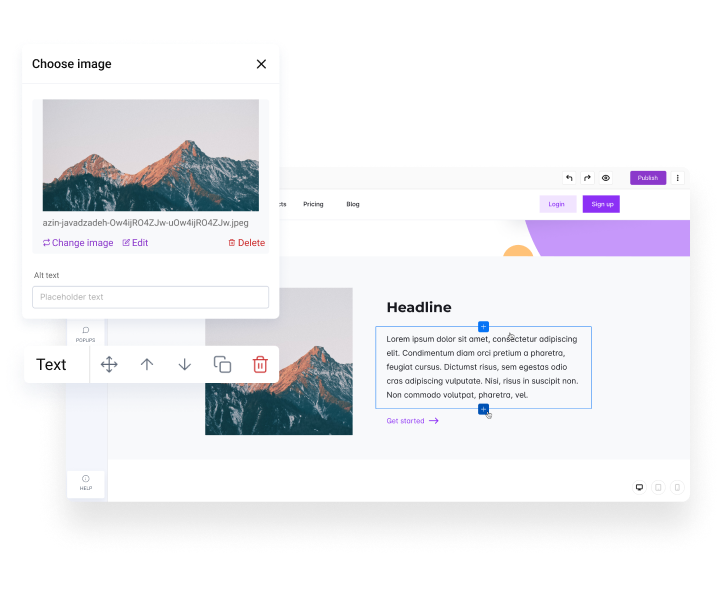 Restaurant Website Builder
Your own branded restaurant
website in minutes
Get a beautifully designed website that converts online visitors into customers and keep them coming back.
What are the key elements of a bakery website?
Homepage: The homepage serves as the initial introduction to the bakery website. It should have an attractive design, high-quality images of delicious baked goods, and clear navigation options to help visitors explore the website.
Menu: A dedicated menu page should display the bakery's product offerings. It should be well-organized, visually appealing, and provide detailed descriptions of each item. Categorize the products into sections such as bread, cakes, pastries, etc., and include prices for transparency.
Online Ordering System Integration: As we mentioned, integrating an online ordering system allows customers to browse the menu, select their desired items, customize options (if applicable), and place orders directly through the bakery website.
Specials and Promotions: Highlight any special offers, discounts, or seasonal promotions on the website. This can encourage customers to try new products or place larger orders. Prominently display these offers on the homepage or create a separate page dedicated to promotions.
About Us: Provide an "About Us" page that shares the bakery's story, history, and values. Include information about the bakery's expertise, baking techniques, sourcing of ingredients, and any unique selling points. This helps build trust and creates a personal connection with customers.
Contact Information: Make it easy for customers to contact the bakery. Include a contact page with the bakery's address, phone number, email address, and any social media profiles. Consider including a map or directions to the physical location if applicable.
Testimonials and Reviews: Display positive testimonials or reviews from satisfied customers. This adds credibility and reassurance to potential customers. Consider integrating customer review platforms or showcasing testimonials directly on the website.
Online Gallery: Showcase high-quality images of your bakery's products in a dedicated gallery section. This allows customers to visually explore the offerings and entices them to place orders. Ensure the images are appetizing and well-lit.
Mobile-Friendly Design: Optimize the website for mobile devices to provide a seamless browsing and ordering experience for customers using smartphones or tablets. This is particularly crucial since many customers prefer ordering food on the go.
Social Media Integration: Integrate social media buttons or links to the bakery's social media profiles. This encourages customers to follow and engage with the bakery on platforms like Instagram, Facebook, or Twitter, where you can share updates, promotions, and mouth-watering images.
Delivery and Pickup Information: Clearly outline the bakery's delivery and pickup options. Provide information about delivery zones, minimum order requirements, delivery fees, and estimated delivery times. Include a pickup option for customers who prefer collecting their orders in person.
Contact Form: Include a contact form on the website, allowing customers to submit inquiries, feedback, or custom orders directly. This helps streamline communication and ensures you can address customer queries effectively.
Step 9. Create your bakery menu (descriptions, photos)
The next step is to create your bakery menu. Depending on the niche you decide to operate in, think about the quality of the ingredients you will use and the goods that will distinguish your bakery from the competition.
What factors are important when creating a bakery menu?
Descriptions – thoroughly describe your baked goods, making them sound delicious for your target customers, but avoid exaggeration. Remember to include all necessary information, such as ingredients, allergy warnings, and expiration dates. Put yourself in the customer's shoes and consider what you want to know before purchasing a baked good, then make sure you include all that information in your product descriptions.
Attractive photos – remember that photos sell. Take high-quality photos of your baked goods, pay attention to aspects like lighting and background, and capture your items from multiple angles and in different settings. Check our food photography tips for more information.
Optimize menu with menu engineering method
It will be helpful to use menu engineering to build a profitable menu. Once you decide on the baked goods you will offer, you must decide on menu pricing.
Step 10. Acquire the necessary equipment and supplies for your bakery 
Ensure that you have all the necessary equipment to prepare your baked goods. Depending on what you are going to offer, you might need the following:
Piping bags
Tins for cakes or muffins
Decorating tips
Tins for bread
Wrappers for cupcakes
What are the important aspects of your home-based online bakery?
Adequate storage space, prep areas, refrigeration, and ovens to ensure that unknown foods do not contaminate the ingredients used in your baked goods. This is crucial to prevent allergen cross-contamination.
Your refrigerator and freezer must have thermometers.
Remember that some states' cottage food laws may require you to keep your bakery equipment separate from your personal kitchen equipment, so you may need extra space
If pets are allowed in your home, they must not enter the business kitchen. You may need to install doors to prevent entry to the kitchen from the rest of the house. In some cases, you may be required to live without indoor pets.
The baked products ready for sale must be appropriately labeled per local regulations, including the preparation date, bakery address, ingredients, and allergen information.
Step 11. Think about packaging and delivering your products
Packing your baked goods has a major impact on your customer's satisfaction. Imagine the situation in which you receive your package, open it, and inside, you find a destroyed cake. This would cause your negative opinion of the bakery, which with a high probability, you would share online. That's why it is crucial to ensure safe delivery and appropriate packaging. 
Selecting appropriate packaging must balance the need to maintain freshness and protect the items while also being cost-effective. Compared to other online products, packaging may require more imagination and investment for baked goods. 
Regarding delivering your baked goods, you also need to decide if you want to rely on external delivery services or if you plan to offer your own delivery service. Delivery speed might be a crucial aspect of your business success. 
Last but not least comes the delivery cost. You can use a food ordering system like UpMenu, and use the option to set up:
Free delivery 
Minimum order value for free delivery 
Delivery fee depending on the delivery zone 
Step 12. Start selling food online 
Start selling online through your bakery's website by implementing a food ordering system.
Setting up online sales for your bakery is a quick and easy process that can be completed in just 5 minutes. The steps include:
Selecting a menu template.
Adding products.
Setting prices.
Specifying delivery areas.
Activating the menu on your website.
Here you can check our guide on how to set up an online ordering system. Remember that beautiful photos of your baked goods are the most important in an online bakery business.
What are the essential bakery website features from the customers' perspective?
The ability to browse a bakery menu
Pricing
Option to place orders
Comfortable payment methods (cash, card, online payments)
Easy website navigation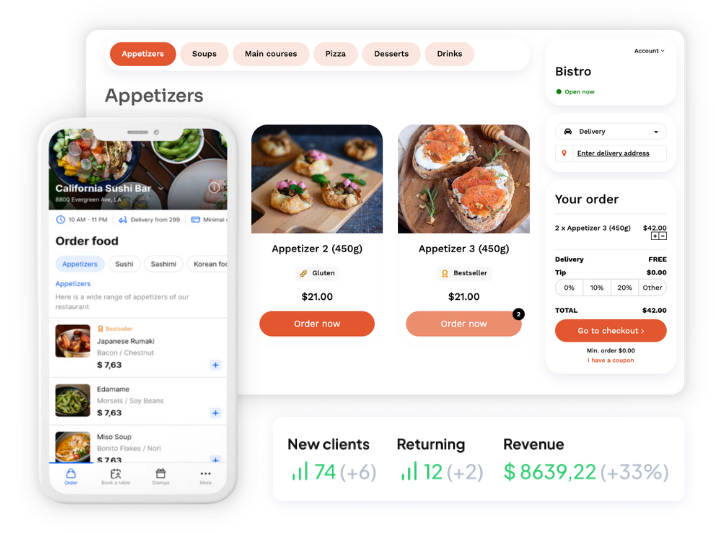 Your own branded online
ordering in 5 minutes
Launch commission-free online ordering on your own website in 5 minutes and grow your revenue, build loyalty and protect margin from third-party aggregators.
Step 13. Promote your online bakery
You need to promote your online bakery to start selling your baked goods. Here are the possible ways to attract your target customers.
Social media channels are vital to promoting your online bakery. Create social media profiles on Facebook, Instagram, Pinterest, YouTube, and TikTok. Include your landing page or website URL in the bio section of all your social media platforms. Share pictures of your baked goods, tweet about promotions, create baking instructions videos, and encourage your followers to share your posts.
Word of mouth – ask your loyal customers to spread the word about your bakery to their friends and family. Word-of-mouth marketing is the most trustworthy way to promote your business, as your customers promote it directly to family and friends rather than you doing it yourself.
SEO – SEO, or Search Engine Optimization, refers to improving a website's visibility and ranking on search engines such as Google, Bing, and Yahoo. This means ensuring that your website appears for relevant search terms related to your business, such as "vegan cupcakes," "online bakery," or "sugar-free brownies with home delivery" when people search for them on Google.
Special offers – consider implementing special promotions and a loyalty program for your customers. Use the UpMenu marketing tools for that purpose.
Participate in events – consider showing off at special events. The more you show your high-quality baked products, the more likely you attract customers who may contact you later for customized orders.
Newsletter – sending a newsletter with exclusive updates on behind-the-scenes bakery news, subscriber-only specials, and other related information is another marketing tool.
Learn more how to promote your online bakery:
Key Takeaways
Check the cottage food laws of your state and obtain the necessary permits and licenses.
Think about your Unique Selling Point and determine your niche.
Evaluate your costs before starting.
Think about the logistics. Consider your storage methods, time to bake your goods, your working hours, and delivering your products in good shape.
Consider different business structures, pros, and cons before registering your business.
Create your bakery website and its menu with descriptions and attractive photos of baked products.
Pay attention to the packaging, as it is one of the most important aspects.
Compare available online ordering systems and choose the one that suits your business needs.
Let customers know about your business. Share photos of your products on social media channels.
Use different marketing channels to reach out to your customers.
Frequently Asked Questions (FAQ)