Are you the one who always bakes a cake when someone from your family or friends has their birthday? Do you enjoy spending your free time in the kitchen and creating new recipes? If the idea of starting a bakery business from home ever crossed your mind, this article will help you decide. We will cover the steps on how to start a bakery. Let's dive into the details!
What is a bakery?
According to Merriam-Webster, a bakery is a commercial establishment specializing in creating and selling diverse baked goods, including bread, pastries, cakes, cookies, and other delectable treats. The core operations of a bakery entail the meticulous preparation, baking, and often artistic decoration of an extensive range of bakery products.
Below are the steps on how to start a bakery.
Step 1. Select the bakery format
To begin with, you need to decide on the bakery format. Do you plan to specialize in one type of baked goods? Will you offer, for example, cookies only, or do you plan to include sandwiches in your offer? How about offering coffee to go? Don't forget to consider the market trend and select a bakery format that suits your business goals and target market.
We can distinguish two main types of bakery formats:
Retail bakeries, recognized as the predominant type of bakery, primarily directly sell baked goods and bread to individual customers (B2C).
Wholesale bakeries sell not to customers but to restaurants, grocery stores, and cafes (B2B).
What are the types of retail bakeries?
The retail bakeries include
A counter service bakery: a bakery type that doesn't provide dining space for customers. Bakery customers come to order and pick up their baked goods.
Bakery cafes: they combine a bakery and a café
Specialty Bakery: a bakery that concentrates on a specific niche, for example, lactose-free or gluten-free baked goods or wedding cakes
Home Bakery: a type of bakery that operates from a residential kitchen. A home bakery focuses primarily on producing baked goods sold online or made available for local pick-up.
Online Bakery: An online bakery is a bakery business that operates exclusively through online platforms. Customers can conveniently place their orders through a dedicated website or mobile app, and the bakery delivers the products directly to customers' doorsteps. Here you can check how to start an online bakery.
Food Truck Bakery: a mobile bakery that operates from a food truck, allowing it to travel to various locations or events.
Pop-up Bakery: a transient or seasonal bakery that establishes temporary operations in diverse locations for a limited duration, typically capitalizing on specific events or festivals.
Step 2. Develop a comprehensive bakery business plan
Once you choose your bakery format, the second step is to prepare a detailed bakery business plan. As in the case of starting any new business, writing a restaurant business plan is a must.
A bakery business plan should include the following:
Executive summary.
Restaurant description.
Market analysis
Investment plan
Financial Projections.
Information about the team (employees, founders).
Marketing Plan
Company description of the vision for further development of the restaurant.
For more details on how to write a restaurant business plan, check out our helpful guide.
You must choose a business name while writing your bakery business plan. Make sure that a chosen bakery name is not used by other businesses yet. You can conduct research specifically for trademark filings through the U.S. Patent and Trademark Office for that purpose. This will help you gather valuable insights and ensure that your desired name or brand is not already trademarked or used by another entity.
How much does it cost to start a bakery?
Determining the exact cost of opening a bakery can be challenging, depending on several factors. According to ZenBusiness Inc., the startup costs for an online bakery can be estimated at around $25,000 to $30,000. However, it's important to note that the costs for a commercial bakery can be significantly higher, potentially exceeding $100,000.
The operational costs associated with running a bakery encompass various expenses and vary depending on the bakery type. These startup costs include, among others:
Rent or Lease Payments: from $2,500 to $ 7,000 per month
Licensing and Permits: usually from $500 to $4,500
Food and Beverage Costs: from $5,000 to $30,000
Equipment: from $10,000 to $30,000
Labor Costs: around one-third of total revenue
Utilities: from $1,000 to $2,000
A food ordering system, mobile app for a restaurant, Point-of-Sale System (POS): Depends on the software chosen by a bakery
Step 3. Secure financing for your bakery
When considering financing options for your bakery, exploring various forms of financial support is essential. Remember, each financing option has its own requirements and considerations, so carefully evaluate the pros and cons of each method. The options worth considering include
A traditional loan from a local bank
Small business loans, for example, the SBA Microloans
A business line of credit
Startup business grants
A business credit card
Additionally, check out our guide on how to open a restaurant with no money for inspiration.
Step 4. Identify an ideal location for your bakery
The next step is finding a bakery location that attracts your target customers and offers suitable infrastructure. Determining the best place to open a bakery depends on various factors. While making a decision, you need to take into account the following:
Foot traffic,
Demographics
Competition
Presence of a supportive community
Accessibility and parking
Infrastructure and Utilities
Zoning and Regulations,
Cost and Affordability
Step 5. Acquire the necessary licenses and permits
Once you choose a location for your bakery, focus on acquiring all necessary licenses and permits required to operate a bakery legally. Remember that there might be different requirements depending on the state or even on the city you plan to run your bakery business. Reviewing the local laws and regulations applicable to your new bakery business is essential.
The necessary licenses and permits may include
Business License
Employer Identification Number (EIN)
Food Service License
Sales privilege license
Food handler's license
Catering license
Zoning laws and permits
Seller's Permit
Health Permit
Building and Zoning Permits
Signage Permit
DBA (Doing Business As) registration
All bakery businesses (including home bakeries) need to be registered as legal companies. You need to choose a business entity that defines a business structure. You will have different legal responsibilities depending on the business entity you choose.
Business entity examples include:
Sole Proprietorships
Partnerships
Corporations
S Corporations
A Limited Liability Company (LLC)
While starting a bakery, remember to open a separate business bank account.
Step 6. Create a branding strategy for your bakery
To create a branding strategy for your bakery, you must think about what makes your bakery unique. What products do you offer? Who is your target audience? What are their needs? What is your bakery story? Try to answer these questions to create a unique brand identity. Think about using captivating visuals and building your bakery's online presence. Don't forget to create social media accounts to mark your bakery presence.
Step 7. Develop a bakery menu
The next step is developing your bakery menu that offers a variety of high-quality baked goods catering to your target customers' preferences. While choosing your bakery type, have you thought about a niche your bakery business will target? If you are thinking about specializing in, let's say, wedding cakes or vegan baked goods, remember to verify if there are other specialty bakeries or home bakeries that focus on similar baked goods.
Make sure that you have a competitive advantage over your potential competitors. While pricing your menu items, don't forget about the rules of menu engineering to build a profitable menu.
Once you created your bakery menu, you can prepare an online menu. In UpMenu, you can choose from a variety of ready-to-be-used menu templates. You select a template for your retail bakery, add menu items with prices, descriptions, and photos, and your customers can start ordering online. Here you can read more on how to make a restaurant menu.
Having your online menu created, you can create a QR code menu in your bakery to enhance the customer experience. Generate QR codes and display them on tables. Customers can conveniently access your bakery menu and place orders by scanning the QR code.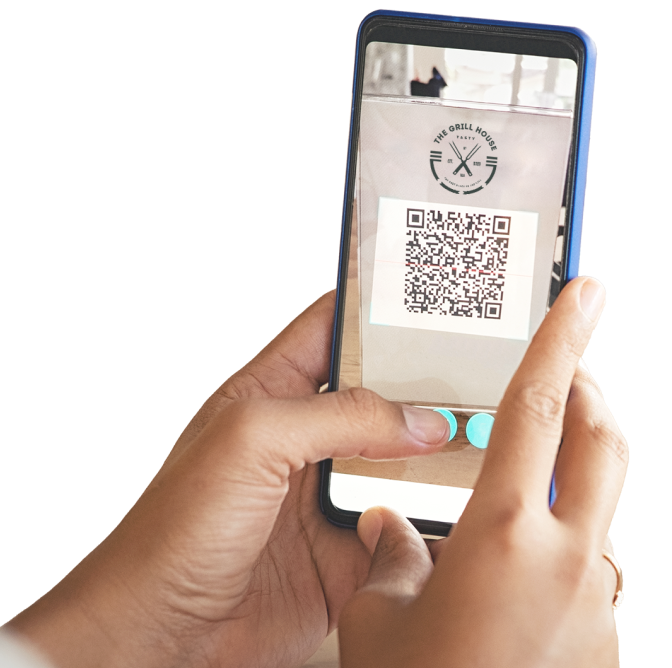 In-store QR Code Order & Pay,
direct from the table
Enable ordering and paying direct from the table to give limited service staff more hands, improve safety and increase average order size.
Step 8. Buy bakery equipment
To start selling freshly baked goods, you must buy your bakery equipment. Depending on the products you will offer, and the size and type of your bakery, you might need different equipment. Below you will find a list of examples of equipment necessary for a retail bakery:
Commercial Oven
Mixer
Proofer
Refrigerators and freezers
Sheeter or Dough Rolle
Scales and Measuring Tools
Work Table
Baking Pans and Trays
Decorating tools
Display Cases
Bakery smallwares (e.g. mixing bowls, spatulas, whisks, pastry brushes, piping bags, bread knives, aprons)
Step 9. Decide on your bakery layout
The next step is organizing your bakery kitchen. The commercial kitchen space always needs to have the following sections:
cleaning,
storage,
food preparation,
meal cooking.
Bakery cafes and bakeries with a front-of-house area typically include a service station where they serve and deliver food to customers. While organizing your bakery layout, consider the available space and the placement of water and gas lines.
If you plan to have a front-of-house area, remember to optimize your bakery floor plan, as it is essential for efficient operations and maximizing productivity.
Step 10. Recruit and hire a bakery team
Depending on your bakery type and size, you will need to recruit and hire a different number of employees. Small businesses usually have one or two skilled bakers. You might also need additional staff for mixing ingredients, washing the dishes, and other tasks that don't require baking experience. If you plan to specialize in baking cakes for special occasions (weddings, birthdays, etc.), you also might need to hire cake decorators in your baking business.
Step 11. Promote your bakery
To attract customers and increase the brand visibility of your own bakery, you need to promote it. Use different advertising methods, for example:
Create social media accounts
Post on social media,
Create a bakery website
Prepare flyers
Publish an advertisement of your bakery cafe in a local newspaper
Create promotions and offer coupons to encourage customers to visit your bakery
Discover more with 47+ restaurant marketing strategies & ideas.
Step 12. Open your bakery
You found your ideal bakery location, bought equipment, hired staff, and started promoting your bakery business. Now it's high time for a grand opening. Make sure that people get to know about it. Invite your friends and their families to your bakery's grand opening and consider marketing activities to promote your baking business. How about offering free samples of your baked goods? You can also prepare extra promotions and discounts for your bakery customers.
Step 13. Create your bakery website
Once you open your bakery, remember that in today's world, it's important to build a strong online presence. We recommend creating a bakery website by using an intuitive restaurant website builder. Adding a menu and customizing a website is a simple process. Thanks to that, you will improve brand recognition among your potential bakery customers.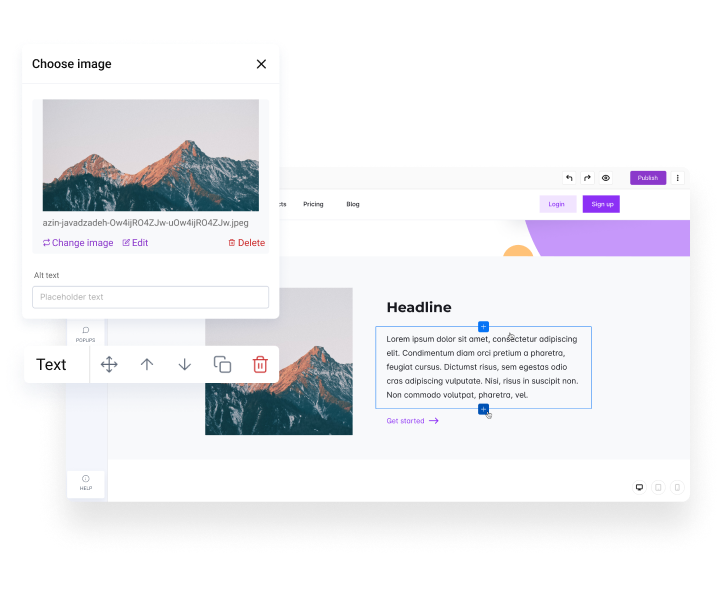 Restaurant Website Builder
Your own branded restaurant
website in minutes
Get a beautifully designed website that converts online visitors into customers and keep them coming back.
If you need inspiration, check the best bakery websites & designs examples.
Step 14. Start selling online
When deciding on creating your bakery website, consider implementing a food ordering system to help you increase sales and turn your bakery into a profitable business. Setting up your bakery's online ordering system is a simple process. You activate online ordering on your account, add your menu items, and you are ready to start accepting your first online order.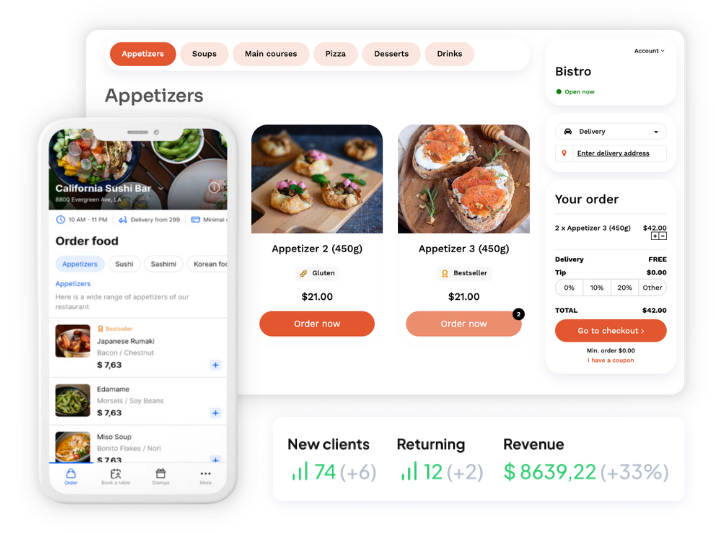 Your own branded online
ordering in 5 minutes
Launch commission-free online ordering on your own website in 5 minutes and grow your revenue, build loyalty and protect margin from third-party aggregators.
A checklist on how to start a bakery
Key Takeaways
Start with choosing a bakery type. The options include, among others, counter-service bakeries, food truck bakeries, bakery cafes, specialty bakeries, home bakeries, online bakeries, and wholesale bakeries.
Writing a bakery's business plan is a starting point for operating a small business
Choosing a bakery location directly influences the success of your small business
There are different ways to secure the business finances of a successful bakery, for example, you could apply for a business loan or use a business line of credit
No matter if you start a retail or wholesale bakery, you need to get all licenses and permits to start your business in the bakery industry
Create your menu and set prices by observing other bakeries and local restaurants. Consider the food costs while setting up prices for your baked goods.
Use different restaurant marketing tools to promote your business
Create a bakery website and start selling online
Frequently Asked Questions (FAQ)
Owning a bakery's profitability is influenced by location, market demand, competition, cost management, pricing strategy, and overall business efficiency. Generally, bakery profit margins tend to be relatively low, averaging from 4% to 9%. The reason for that is, among others, the high cost of ingredients used to prepare baked goods and the high competition level.
To ensure the profitability of running a retail or wholesale bakery, start with writing a business plan. Don't outsource writing a business plan to an external company, instead, ask local vendors about their experience. While preparing a business plan, focus on financial matters like opening a bakery startup capital, operating costs, and financial projections for consecutive months. This will help you to evaluate the profitability of your bakery.
It might be challenging, but yes, you can start a bakery with no money. Starting a bakery is quite expensive and requires investment, especially at the beginning, because you need to buy equipment and ingredients for preparing your products, among other things.
If you have no savings, the solution is to apply for a loan from the bank. You can also check whether there are any special financial support programs for opening a local business in your city.
It's essential to keep in mind that each financing option comes with its own set of requirements and considerations. Take the time to thoroughly evaluate the advantages and disadvantages of each method before making a decision.
Check out our article on
how to open a restaurant with no money
for inspiration.