Yes, we have all been experiencing some rough times nowadays. A lot of restaurants are struggling, but the brighter days are definitely upon us! Let us not forget that spring time is just around the corner, and that might be a perfect time of the year to let some fresh air into your business. There are many ways to improve your numbers and gain new customers. Here are some of the best marketing techniques for restaurants, that will boost your profits for sure!
Google Business Should Become One of Your Friends!
Your business profile will be free of charge and can serve as a great local "business card". Your restaurant can appear on Google browser and Google Maps. What is more, you will have a possibility to present your offer in a visually pleasant way. And, of course, people will be able to rate your business, so therefore, your future customers will see those five-star reviews! (let's face it – your restaurant definitely serves the best food in the area, right?!). We advise adding reservation links to your Google Me Business thing – that way, customers can be assured that a table will be waiting there for them. Trust us – this particular marketing strategy of a restaurant will definitely do good for your business.
PR is important!
If you were googling some marketing strategy examples in a restaurant, you might have come across some PR guidelines. Public relation is something in what you might want to invest. If you run a chic and hot spot in the city, you might want to know what journalist are looking for. Let them "gossip" and spread the good rumors about your restaurant, make people curious. Curiosity will bring the customers to you! Create an experience and campaigns that are based on local events. Remember – PR is all about the image. Don't forget about the promoters – they can help too!
Social Media is a Must
Did you know that there are over 1 million photos being posted on Instagram daily? And the best time to add a post about food is Friday at noon? Social media are powerful and if you decide to run a business, you need a good social media expert. Do not neglect posting news, because while some people are waiting for new posts, there are those who might seem to ignore it, but eventually, if you post something regularly, your business – subconsciously – will stay in their heads. They will be familiar with the name of your restaurant. Restaurant strategies will always have some social media ingredient in it.
Do Not Underestimate the Power of Social Media
The subject of social media is so complex, that we need to dig deeper! If you need more marketing strategy examples to use in your restaurant, we advise you to hire someone to take a good care of your social media. Running your own business might get a bit overwhelming sometimes, and then one might forget to add a new post on Instagram and Facebook. There is nothing more discouraging, when you look up a restaurant, you want to see their recent photos (preferably pictures of food and interior), but all you see are some pictures that were added a million years ago. Remember, a good restaurant strategy involves recent updates of your restaurant's social media accounts.
Instagrammers Are Your secret Warriors!
We have some other marketing strategies of a restaurant to share with you. Make sure the food your restaurant serves not only tastes good, but also looks good! There is a huge portion of customers, that take pictures of food before they even take their first bite. Click! And it is added on their Instagram, and your restaurant is probably tagged to it too! And that is great! You never know how many new people might see the post and get hungry only by looking at the mouthwatering food. So, next time they will decide to dine out or order a home delivery – they might want to check out a restaurant, that their friend recently visited.
Not Only Good-Looking Food is Instagrammable!
If you find some influencers to collaborate, they will add a post about visiting your restaurant every now and then – that would be great. But you can also invest in the interior. Try to come up with something, that would attract more people, to take pictures and put them out there on social media. Like a cool Pac Man machine or dedicate a piece of a wall and cover it with some beautiful flowers. This would make a perfect scene for selfies! People love taking pictures, and they love posting them. Give your customers some cool background for their photos and it will pay off!
Put Some Effort in Online Services
We live in XXI Century and a that a lot of things are going on online these days. Make sure to update and possibly upgrade your website. Another marketing strategy for a restaurant would be to try some online reservation platforms and do not forget about your online menu! Many people like to browse restaurant's menu before they visit, so they know which dishes you offer and what are the prices. And remember – website should be easy to navigate! Also – let your customers be able to leave a comment and rate your business. What is more, it is always nice to respond to online reviews.
Online Delivery is Something Very Crucial These Days!
Just like looking up the menu, address and other info, people love to use internet to order food. If you start offering online delivery, you will definitely gain new customers. Believe it or not – some people find it stressful to talk over the phone, or they simply do not like it. Online delivery option will solve all of the problems of those shy customers. Their food is just a click away! As you can probably see, the Internet covers a lot of marketing strategies of a restaurant.
With Upmenu, you can take orders online and at the table. This is a great way to give customers a convenient way to order food. Additionally, it can help simplify the ordering process and make it easier for you to track orders.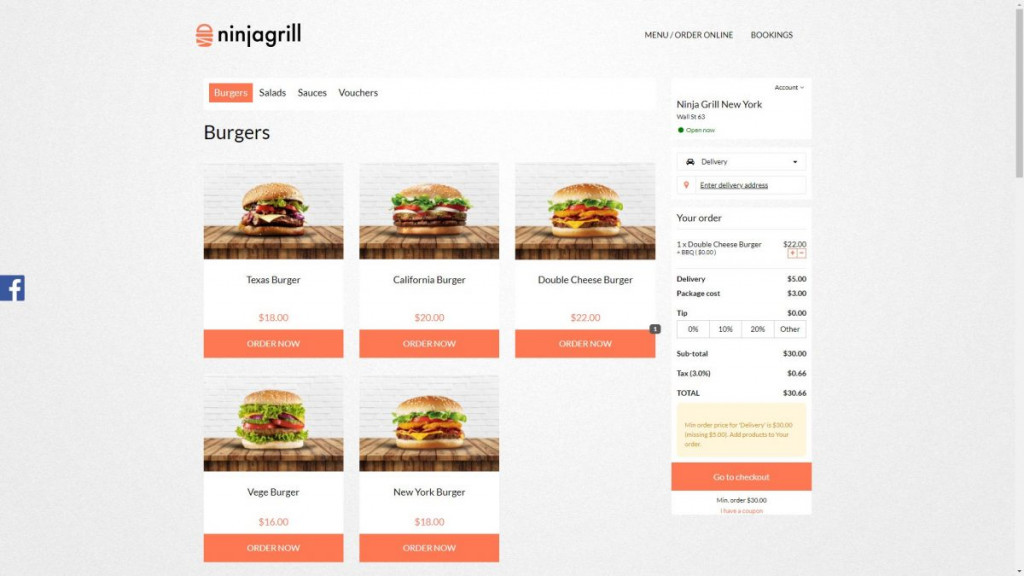 Let Us Get Back to Social Media Again
Instagram and other social media platforms are the key to your restaurant's success. If you provide great food and impeccable customer service, people will want to come back to your restaurant. But if we are to give you some marketing strategy examples in a restaurant, we need to mention social media here. People post pictures of insanely awesome looking food and interior, they tag your restaurant's name and there you go – free ad right there. But sometimes you need to help your luck a bit. Try to cooperate with some influencers, who have many followers, and if they post something good about your restaurant – then you can definitely expect some new customers coming your way. Influencers might cost you a bit, but that would definitely be a good investment.
Coupons, Discounts and Other Special Offers
Coupons and discounts are definitely among some of the best marketing techniques for restaurants. People love to pay less for food and drinks, and they love freebies. It was proven, that when a waiter came with a receipt and brought a candy with it, he or she got a better tip. And if they came back with another candy, saying "oh, it is only for special customers", people tipped them even more. Same goes with discounts and coupons. Invest your time and prepare some discount options, maybe some lunch specials. Every now and then, you can add a freebie to a meal or offer discounts on desserts on a particular day of the week. Remember to let your customers know about those discounts. Update your online website, so a new or a returning visitor will be aware of that. Or you can give away coupons for a free drink or a dessert for their next visit. Customers will love that for sure!
Advertising is everything!
Okay, so we mentioned social media as a main source of an ad campaign, but do not forget about local ads as well. If you need other marketing strategies for a business that is a restaurant, then we have something important to say – advertising is a must. Once your social media scene had been taken care of, the next step is targeting other local media. A radio and a local newspaper are something worth checking out. While the younger clientele is all about online services and such, do not forget about those elderly people, who might not even have a Facebook or an Instagram account. You need to reach out to them somehow too! Invest in a nice ad at the radio station and at your local newspaper. They will be sipping their morning coffee and reading about news – and there you go – your restaurant's ad will be there, so they know where to go for lunch today! Maybe add a coupon? That might encourage new customers!
Email Newsletters Are Going to Be Sent Out
So, we established, that an up-dated website is a must if you run a business. It is a key marketing tool. Add a possibility to receive an email newsletter with any news regarding your restaurant. Perhaps a new dish is about to join the menu, or a free soup is to be added to every meal over the weekend. Make your customers to stay in the loop so they know what is going on in their favorite restaurant.
Create a Homy Environment for Your Staff and Customers
Ask your staff to take notes and ask about loyal customers birth dates. You do not have to ask the year they were born in. Just a day and a month. Some people (especially ladies) do not like to reveal their true age. Take notes, if they mention their dog or a family member – next time they come back, ask about their pet or nephew John, who was going to Hawaii – many customers will feel special that you remembered those details. They will feel comfortable and willing to come back more often. Just do not be too nosy – you will feel where the barrier is. If they want to talk – great, if not – give them their space. But if you send your customers a Birthday card with a coupon for a free dessert or a discount on the entire meal – they will appreciate it a lot!
Do Not Forget About the Kids!
What is the main strategy of a restaurant? Advertising! And what if your restaurant will be known as the one that offers a nice area for the little ones? If you have a lot of families dining at your restaurant, it might be a good idea to invest some space and little money in creating a kid's area. Check your budget, and if you can afford a person who will be there for those kids, to take care of them or at least come up with some activities – then parents will be thrilled! They will automatically want to come only to your restaurant and they will tend to spend more money and time there! The kid's area might be there for the entire week long, but if you need to hire a guardian – you may first start with the weekends and see how it goes.
Show Off Those High-Quality Ingredients
Nowadays, people are more aware of what a healthy meal is. They want to know, if the food they are about to eat, was made out of good and fresh ingredients. So why not using this particular marketing strategy of a restaurant, and show your customers the ingredients that you choose to buy. You can make a nice display of fresh fruit and veggies, somewhere in the restaurant. Let them see those mouthwatering fruit and those colorful veggies. If the quality of products is on a high level, then the meals will come out extremely delicious. Keep the bar high up! Every now and then, throw some pictures on your restaurant's IG account, that there was a produce delivery at the kitchen, and all you got are those high quality products.
What is Up with Those SMS Messages?
We have mentioned the two types of customers already – younger generation of social media enthusiasts, and those a little bit older ones, who tend to trust different means of communication, right? To some customers you can send an email with a reminder regarding their reservation or notify them about any upcoming events and discounts. Do not forget to reach out to those, who are not social media savvy. A simple SMS will do the trick. Some of the marketing strategies for your restaurant business will involve sending your loyal customers SMS messages with some important info, like their reservation details. You need to be able to contact your dear clients, so they know and feel important.
Did you remember about Yelp?
Yelp is a definite social networking site. A great source of reviews for local businesses. You need to be on Yelp. Just like other strategies for a restaurant business, Yelp is definitely a site you want to be featured on. Photos, contact info, one-to-five-star review options and other features – Yelp is a perfect platform when it comes to any business, and restaurants especially. Make sure to get your business there!
Let us Talk About Freebies One More Time
Order a bunch of customized pens or other cool gadgets and be ready to hand them out to your customers. They will love it! And – it will be a good marketing strategy of your restaurant, since its name will be on every freebie. It might seem as a bit of an investment, but if you order in bulk – those things will not be as expensive as you think. You do not need to go too overboard, start with pens. There are many online websites, who can come up with a cool design for your company. Trust us – your customers will love it!
Show Your Clients Who Works in the Restaurant
People like to get to know the staff that works at their local eatery. Sometimes they have their favorite waiters or waitresses, and sometimes they like to get to know all of the staff. Introduce your staff to your customers on your website. Let them know their names. If you wish to add some small details – do so! Make it friendly and cheerful. Let your dear clients know, who stands behind the success of your business. Team work!
There are plenty of different marketing strategies and techniques for a restaurant business. In many cases, in order to succeed, you need to combine many of those strategies. But do not get discourages, sometimes it pays off right away, and sometimes you need to be a bit patient. Eventually you will see the great outcome of those marketing strategies for a restaurant that you own.