In today's competitive dining landscape, where culinary choices abound, restaurant owners constantly seek innovative ways to attract and retain their valued patrons. This quest for customer loyalty has given rise to the ever-evolving realm of restaurant loyalty programs, also known as customer loyalty programs or rewards programs.
In this article, we will explore some creative restaurant loyalty program ideas that have taken the dining experience to new heights, ensuring that loyal customers remain satisfied and delighted.
Let's dig deeper into this topic!
What are restaurant loyalty programs?
Dining reward programs are strategies that reward customers for coming back. When you join, you earn rewards, points, or stamps for each visit, purchase, or each dollar spent. These rewards can include discounts, free items, or exclusive offers.
The primary goal of restaurant loyalty programs is to build strong, long-term relationships with customers, boost customer retention, increase the frequency of visits, and drive revenue.
Restaurant loyalty rewards program usually includes the following components:
Joining: Customers become loyalty program members, usually through a mobile app, website, or a physical card.
Earning rewards: Customers get bonus points or rewards for each purchase or visit. These points add up over time.
Different tiers or levels: Some programs have tiered structures where customers can unlock higher levels with more significant benefits as they accumulate points.
Incentives: Loyalty members get incentives like discounts, free food (like a free coffee or a free beverage), or special offers as a "thank you" for loyalty.
Personal touch: Many programs use data to personalize offers and recommendations based on customer preferences and behavior.
Staying in touch: Restaurants often send messages through email, text messages, or their app to tell members about cool deals and bonus rewards, for example, free meals.
8 Best Restaurant Loyalty Programs
We made a restaurant loyalty programs list of 8 rewards programs for restaurants worth consideration for the best software for your dining establishment.
UpMenu
Toast
Punchh
Beam Impact
Paytronix
Loyalty Gator
Spoonity
Glue Loyalty
Below is information on each customer loyalty program mentioned on the list.
1 .UpMenu
UpMenu is an online ordering system dedicated to restaurants. It offers many features, including
Pricing
UpMenu offers 3 paid plans to choose from:
Basic for $49/month per location,
Standard for $89/month per location,
Premium for $169/month per location
UpMenu also offers a free plan and a 7-day free trial.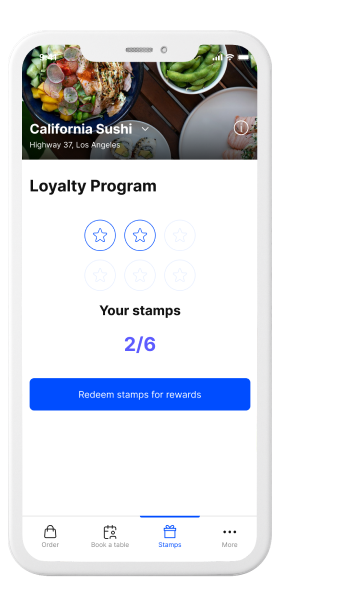 Create a Loyalty Program for Your Restaurant
Boost customer loyalty and transform one-time restaurant guests into regulars with an easy-to-implement loyalty program
2. Toast
Toast Loyalty is an integrated restaurant rewards program seamlessly incorporated into the Toast POS system. It allows diners to earn rewards and simplifies the process of earning and redeeming rewards, enhancing the overall dining experience for customers.
Pricing
Toast Loyalty is an additional feature available for $50 monthly when integrated with the complete Toast POS all-in-one restaurant platform.
3. Punchh
Punchh is a customer engagement and loyalty platform that transforms business relationships. With Punchh, companies can create personalized loyalty programs, analyze customer data, and drive customer retention and growth. Their platform is trusted by renowned brands worldwide, helping businesses leverage data-driven insights to enhance customer experiences and drive revenue.
Pricing
Punchh does not disclose its pricing details or tiers openly, and interested users are required to request a demo.
4. Beam Impact
Beam Impact is a socially conscious platform that empowers consumers to make a positive impact through their everyday purchases. By partnering with businesses, Beam Impact allows users to earn impact points when they shop at participating stores and donate them to a cause they choose. This innovative platform bridges the gap between commerce and social responsibility, encouraging conscious consumerism and philanthropy.
Pricing
Beam Impact's website indicates that brands collaborate with Beam through a paid partnership model. However, specific pricing details are not publicly disclosed on their website.
5. Paytronix
Paytronix provides loyalty and guest engagement solutions for businesses. Their loyalty platform enables businesses to create and manage highly customized loyalty programs tailored to their brand and customer base. With Paytronix, businesses can offer rewards, promotions, and personalized experiences that drive customer loyalty, increase visits, and boost revenue.
Pricing
Paytronix does not display pricing information on its website. To obtain pricing details and learn more about their offerings, interested parties are encouraged to request a demo from Paytronix.
6. Loyalty Gator
Loyalty Gator is a comprehensive loyalty and rewards platform designed to help businesses enhance customer engagement and loyalty. Their platform offers a range of features, including customizable loyalty programs, mobile app integration, and data analytics, to help businesses create personalized and effective loyalty initiatives. Loyalty Gator empowers businesses to increase customer retention, drive repeat visits, and boost overall revenue through targeted rewards and incentives.
Pricing
Loyalty Gator offers 3 paid plans to choose from:
Bite – it costs $59 per month
Snack – it costs $88 per month
Meal – it costs $179 per month
7. Spoonity
Spoonity provides loyalty and engagement solutions specifically tailored for restaurants and eateries. Their platform enables restaurants to create and manage customer loyalty programs, facilitating personalized experiences and rewards. With Spoonity, restaurants can strengthen customer relationships, drive repeat visits, and harness valuable customer data for data-driven decision-making.
Pricing
There are 3 paid plans to choose from: Basic, Plus, and Pro, but specific pricing details are not publicly disclosed on their website.
8. Glue Loyalty
Glue Loyalty is a versatile customer loyalty and engagement platform designed to cater to the unique needs of various businesses. Their platform offers many features, including customizable loyalty programs, digital gift cards, and robust analytics tools. Glue Loyalty empowers businesses to build strong customer relationships, drive customer retention, and enhance overall profitability through effective engagement strategies.
Pricing
Glue Loyalty offers the following plans
First Look, which is free
Growth that costs $28 per month
Autonomous Club that costs $127 per month
Autonomous Club+POS Integration that costs $159 per month
How to select the ideal restaurant rewards program?
Choosing the right restaurant rewards program can enhance your dining experience and save money. Below, you can check some criteria to help you select the ideal food rewards program for your restaurant:
Dining frequency: Start by considering how often you dine out. Frequent diners may benefit from programs that reward based on the number of visits, while occasional diners might prefer programs with longer-term rewards.
Reward type ad rewards structure: Different programs offer various rewards, such as discounts, free items, or exclusive access. Select the program that offers the reward that appeals most to your customers' preferences and dining habits.
Membership requirements: Check if any membership fees or spending thresholds are needed to use the program in your restaurant before choosing one of the available food loyalty programs.
Technology and convenience: Consider whether the program offers a user-friendly mobile app or online platform for tracking rewards and making reservations. Convenient technology can enhance the overall customer experience.
Expiration and restrictions: Familiarize yourself with the program's policies on points or rewards expiration and any usage restrictions. Understanding these rules is crucial, as some programs have limitations.
Before choosing one of the restaurant customer loyalty programs available on the market, ask yourself the following questions:
Is the restaurant loyalty software user-friendly and easy to use, saving time on tracking and management?
Does the software offer automation features that run seamlessly in the background, allowing you to focus on restaurant operations?
Can you customize and create loyalty programs that align with your restaurant's branding and customer preferences?
What specific rewards or loyalty programs do you want to implement, and does the software support these options?
If you're using loyalty software, what issues or challenges are you experiencing with the current tool?
Are there areas where the loyalty program management process needs to be simplified or made more efficient?
Do your restaurant patrons value the loyalty program, or is there room for improvement?
Does the loyalty software offer features that enhance the customer experience and encourage repeat visits?
Benefits of restaurant loyalty programs
The main benefits of loyalty programs for restaurants are the following:
Loyalty programs foster customer retention.
Effective customer loyalty programs for restaurants are pivotal for retaining customers. You're motivating patrons to return by transforming dollars into points, with rewards unlocked after accumulating a specific threshold or making purchases at your establishment.
According to data provided by Invesp, it turns out that 83% of respondents said that they are more likely to keep using the services of certain companies when they have a customer loyalty program. This proves that it is a good idea to have a rewards program in a restaurant.
Restaurant rewards programs encourage larger orders.
A restaurant rewards program has a persuasive impact on motivating customers to order more. Customers who understand their purchases are linked to earning rewards or collecting loyalty points frequently choose additional menu items or opt for higher-priced options.
According to Invesp, almost half of consumers, 49%, acknowledge that they tend to spend more money once they've become members of a loyalty program.
Loyalty programs provide valuable customer data.
Loyalty programs can collect information about customers, like what they order, what they like to eat, how old they are, and where they live. You can examine which rewards members use the most compared to the least.
By combining this information with your sales data, you can identify correlations and make menu adjustments to boost sales. Your restaurant can also create personalized marketing for your customers, including sending push notifications, emails, and SMS messages about current promotions and information on how to earn more points and receive exclusive rewards.
Loyal customers act as advocates and refer new customers.
Loyal customers can bring new people to your restaurant. Their positive experiences and satisfaction often translate into enthusiastic word-of-mouth recommendations to friends and family, acting as powerful endorsements.
Also, these satisfied customers often leave positive reviews online, which can convince others to try your restaurant too. The loyalty of existing customers can serve as a compelling marketing tool, drawing newcomers through the doors and contributing to the restaurant's growth.
Loyalty programs have the potential to drive sales growth.
According to Fivestars Insights, around 20% of your customer base consists of loyal customers, yet this relatively small group generates a significant impact. They contribute to 80% of your overall revenue. The more loyal customers you have, the more repeat business is generated, which leads to increased restaurant sales.
Examples of incentives for rewards program
Here is the list of examples of incentives you can offer in your restaurant reward program. Use it as an inspiration to create your own unique loyalty scheme.
Free Meals like:

a free appetizer
a free drink
free kids meals
free birthday reward

Discounts:

get a $5 discount on your next visit after spending $50 at the restaurant
get a free dessert on your 5th visit
receive a 15% discount on your entire order on Wednesdays between 2:00 PM and 5:00 PM

Buy a pizza and get another 50% cheaper
Get free delivery on your fifth order placed online
Buy any 2 pizzas and get a cheaper one for free
Restaurant rewards program ideas
Below, you can find some examples of the restaurant loyalty programs ideas.
Points-Based Loyalty Program – It is a way for businesses to reward their customers for coming back. When customers join, they earn points for every dollar based on how much they spend. For example, they might get 1 point for every $10 spent. Once they collect enough points, they can trade them for things like discounts or free items. Customers can track their points on a card or an app, and businesses often send them special offers and promotions. It's a way to make customers happy and keep them returning for more.
Stamps-Based Loyalty Program – It is like a game where customers collect stamps on a card or their customer account when they buy something. For instance, a restaurant might give a stamp for each coffee a customer purchases. When the card is full of stamps, they get a free dessert, coffee, or a discount on their next visit. It's a fun way for customers to earn rewards and keeps them returning for more tasty treats.
Item-Based Loyalty Program – in this restaurant rewards program, customers are rewarded based on specific menu items they purchase. After enrolling in the program, customers select or are assigned certain items eligible for rewards, like a favorite coffee. With each purchase of these chosen items, customers earn points or stamps. Once they reach a set goal, such as buying five of the selected items, they can redeem their points for rewards, like a free item or a discount.
Online Rewards – An Online Rewards Loyalty Program in a restaurant encourages customers to place orders through the restaurant's website or app. Customers join the program and earn rewards, typically points, stamps, or discounts, for each online order they make. Once they accumulate enough points, they can use them to get discounts or free items when ordering online in the future. For example, customers who order online through the restaurant's website or app receive a one-time 15% discount on their first online order, or after placing 3 orders through a restaurant's mobile app, customers receive a discount on the fourth order placed via the app.
Subscription Rewards Loyalty Program – In this rewards program at a restaurant, customers subscribe to a special membership offering. For instance, a restaurant might offer a monthly "VIP Dining Club" subscription for $20. Members of this club gain access to exclusive menu items and enjoy a 15% discount on all their orders throughout the month. Such restaurant rewards programs enhance customer engagement and retention by providing exclusive perks and discounts to subscribed members, encouraging them to dine at the restaurant more frequently and enjoy unique benefits.
Promotional Loyalty Program – In this rewards program at a restaurant, customers are rewarded through special promotions and discounts. For instance, the restaurant may run a "Weekend Special" promotion where loyalty members receive a generous 20% discount on all dine-in orders every Saturday and Sunday. These exclusive promotions are communicated to loyalty program members, incentivizing them to visit the restaurant during specified times or for particular offers. This approach enhances customer engagement, boosts weekend traffic, and encourages members to enjoy discounted meals during the designated promotion periods.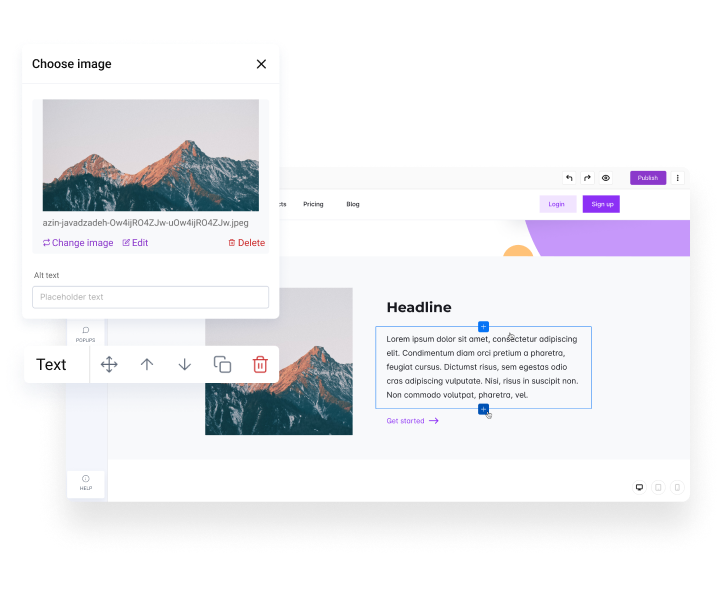 Restaurant Website Builder
Create FREE restaurant website in minutes
Choose from 50+ restaurant website templates to craft a site that turns visitors into customers
Examples of restaurant reward programs
Restaurant reward programs are popular and often used to encourage customers to more visits and orders. Below, you can check the examples of big restaurant chains that offer a reward program.
Starbucks loyalty program
Starbucks Rewards works in the following way:
Customers join Starbucks Rewards by creating an account on the app or website.
They earn 1 star for every $1 spent and redeem stars for free drinks, food, or merchandise at Starbucks stores.
Starbucks Rewards is not just accessible through smartphones; it also provides a prepaid card for purchasing items from Starbucks.
Starbucks sends personalized offers, birthday rewards, and notifications through the app.
Domino's Pizza
With Domino's Pizza customers earn points toward a free pizza with each online order. It works in the following way:
Customers enroll in Domino's Rewards online or through Domino's app.
They earn 10 points for every $5 or more spent on one order and can redeem points for free food.
Domino's communicates promotions and rewards through email and the app.
Points can only be redeemed for online orders at eligible US locations.
Hut Rewards
Hut Rewards is a Pizza Hut reward program. It works as follows:
Customers earn points for every dollar spent on their orders.
Once customers accumulate enough points, they can redeem them for free pizzas and other menu items.
Hut Rewards members also receive exclusive offers and promotions, making their pizza dining experience even more rewarding.
Are restaurant loyalty programs effective?
Yes, restaurant loyalty programs can work well. They're meant to make customers want to come back.
When they're set up and managed right, these programs can help keep customers, make them spend more each time they visit, get them talking about your restaurant to others, and let you learn useful things about your customers for better advertising.
But how well a loyalty program does depends on how it's designed and run and whether it matches what your customers like. So, if done right, these programs can be a win-win for both customers and restaurants.
Key Takeaways
Restaurant reward programs can boost customer retention by creating incentives for repeat visits.
They often lead to higher spending per visit, as customers aim to earn points rewards and take advantage of program benefits.
Loyal customers can become advocates, recommending the restaurant to others, which can attract new, potentially repeat customers coming to the restaurant.
Restaurant rewards programs provide valuable customer data, helping restaurants tailor marketing efforts and menu offerings.
When well-designed and managed, loyalty programs for restaurants can be a cost-effective marketing tool, strengthening customer relationships and driving revenue growth.
Frequently Asked Questions (FAQ)