Restaurant promotion is one of the key elements of marketing strategy. Whether your restaurant is struggling or not, it's always a good idea to keep a couple of fun restaurant promotion ideas at hand. I mean, how many of us can say 'no' to making some extra sales?
Restaurant promotion comes with some really cool benefits, like a boost in customer loyalty and satisfaction, increased brand awareness, and, most importantly, an increase in revenue.
In this article, we're going to go over some hints to keep in mind when planning a restaurant promotional event, as well as a list of 20 battle-tested restaurant promotion ideas that are sure to help you outshine the competition and win new customers.
What Makes for Good Restaurant Promotion Ideas?
For restaurant promotion ideas to be effective, you're going to have to follow a couple of rules.
Some promotions that other restaurants are using to a great effect may be counterproductive in your case.
So, in order for your restaurant promotion ideas to make sense, you're going to have to check a couple of boxes first. Here are a couple of things you should keep in mind before launching a promotional campaign:
Know Your Customers: Knowing your target audience is the first step to a successful restaurant promotion. If you're looking to win new customers and encourage repeat business, you have to make sure you know who your existing customers are!
Understand and Match Your Brand: Organizing a carnivore event in a Vegan restaurant is probably going to kill your business quicker than you can spell 'beef stock.' Before you go out of your way with any special offerings, make sure they match your restaurant type and style.
Define a Budget: Don't go on planning without setting a budget. It might be tempting to jump right into planning a complete restaurant Christmas remake to attract new potential customers, but you have to make sure to double-check whether you can afford it first.
Offline vs. Online Restaurant Promotions: Based on your customer data, you're going to have to choose what kind of promotion you should be running. It may not be that clear at first, but there are audiences that are very open to online promotions, while other audiences could not care less.
Team Communication: Can your team pull this off? In other words, if your team is already working extra hours, chances are you're not in a position to host a huge promotional event. You're going to have to see whether your team will be able to carry out your plan.
Evaluate the ROI: Analyze the return on investment (ROI) of your promotion to determine if it is worth continuing. If it's successful, consider expanding your offerings or offering them more frequently. Be data-driven!
20 Promotion Ideas for Restaurants in 2023
Below you're going to find 20 promotion strategies that will make sure your costumes spend a little bit extra the next time they're visiting your restaurant. Remember that in order to drive restaurant sales, you have to offer customers what they need. Be picky and choose the ones that will keep both you and your customers happy.
1. Offer Birthday Specials for Enhanced Customer Loyalty
Provide a special offer for customers on their birthday, such as a free dessert or discounted meal.
Organizing birthday specials can provide you and your restaurant with some juicy benefits, like increased revenue, enhanced customer loyalty, and positive word-of-mouth marketing (to name just a few).
To maximize the value of birthday specials, you might want to consider personalizing the offers and promoting them through various marketing channels. That said, sometimes all you need is to offer an extra birthday muffin or a free appetizer. See what works for your clients. There's probably no need to go all out with signature dishes.
If you pull it off, this can have a great effect on your customer retention and can encourage repeat business through a restaurant loyalty program if you have one set up. If you don't, you really should consider it.
Main Advantages of Organizing Birthday Specials
Encourage repeat visits: By offering a special treat to celebrate a customer's birthday, you show appreciation and create a memorable experience that is sure to foster loyalty and encourage your customers to come back again.
Increase revenue: Birthday celebrations often involve groups of friends or family members, which can lead to larger party sizes and higher sales. Birthday guests may be more likely to indulge in premium menu items, desserts, or alcoholic beverages.
Boost social media presence: Happy customers celebrating their birthdays may share their experiences on social media, tagging your restaurant and posting pictures of their special meal. This can increase your online visibility and potentially attract more customers.
Strengthen customer relationships: Offering birthday specials can help build a personal connection with your customers, making them feel valued and appreciated. This can lead to increased customer satisfaction and long-term loyalty.
Positive word-of-mouth marketing: Satisfied customers who have enjoyed a birthday special at your restaurant may recommend your place to their friends and family, which can generate new business.
Collect customer data: Importantly, encouraging customers to sign up for a birthday special mailing list or loyalty program can provide valuable data, such as email addresses and birth dates, that you can use for future marketing efforts
2. Launch Restaurant Social Media Contests to Increase Engagement
Social media contests are a great way to quickly create some online buzz and bring in new customers. By offering discounts, gift cards, free desserts, and drinks, you can entice people to share your special offer with their peers. This, again, is a great way to win new customers and convert them into loyal customers through your restaurant loyalty program.
Main benefits of social media contests
There really are endless ways to create a good social media contest. Just remember that the end idea is to make a fair offer. In this day and age, nobody is going to share stuff just for an extra cookie. Make it attractive and make it fair. Below are a few examples of social media contests for restaurants:
Increased visibility: Digital marketing strategies like SEO, social media marketing, and online advertising can increase your restaurant's visibility and make it easier for customers to find you online.
Improved customer engagement: Digital marketing allows you to interact with customers in real time through social media, email marketing, and other channels, improving customer engagement and loyalty.
Cost-effective marketing: Compared to traditional marketing methods, digital marketing can be more cost-effective, allowing restaurants to reach a wider audience with a smaller budget.
Targeted marketing: Digital marketing allows you to target specific audiences based on factors like location, interests, and behavior, improving the effectiveness of your marketing efforts.
Increased revenue: Digital marketing can lead to increased revenue by attracting new customers, retaining existing ones, and encouraging repeat business through loyalty programs and other incentives.
Real-time analytics: Digital marketing provides real-time analytics that can help you track the success of your marketing campaigns and make data-driven decisions to improve your restaurant's performance.
Remember to clarify all the rules so there's no doubt about how everything works. It's a good idea to explain the basics, such as how to tag people. Remember, many of your customers may not always be tech-savvy. You'd be surprised how many customers are lost to technological difficulties!
3. Offer Gift Cards to Encourage Repeat Business
Offer restaurant gift cards for purchase and provide incentives for customers to buy them, such as a bonus gift card for a certain amount purchased.
Offering gift cards at your restaurant can boost revenue, attract new customers, and encourage repeat business. These versatile gifting options can introduce your place to new people and help build customer loyalty.
Branded gift cards also enhance brand awareness and can be used to drive sales during slow periods. Modern gift card systems can integrate with your existing point-of-sale system, simplifying management and allowing you to collect valuable customer data for targeted marketing campaigns.
Brands like Starbucks offer a whole range of gift cards for almost any occasion. That way, customers have an easy way of preparing appealing gifts, whatever the celebration might be.
All in all, adding restaurant gift cards to your offer can be a simple way to drive more business and build customer loyalty.
4. Organize a Review Contest and Garner Five-Star Reviews
Ask customers to leave a review of your restaurant on social media or review sites such as Yelp or Google Reviews for a chance to win a prize.
According to Onlinedegrees, 77% of consumers 'always' or 'regularly' read online reviews when browsing for local businesses, 89% of consumers are 'highly' or 'fairly' likely to use a business that responds to all of its online reviews.
How to Start an Online Review Contest:
Set clear objectives: Determine the goals of your contest, such as increasing the number of reviews, improving your online reputation, or boosting customer engagement.
Choose a platform: Select the review platform(s) where you want to encourage customers to leave reviews, such as Google , Yelp , TripAdvisor , or your restaurant's Facebook page.
Create contest rules: Establish clear and simple contest rules, including eligibility criteria, entry methods, review guidelines, contest duration, and the criteria for selecting winners.
Determine the prize(s): Offer attractive and relevant prizes to incentivize customers to participate in the contest. This could include gift cards, free meals, discounts, or even branded merchandise.
Promote the contest: Use various marketing channels to promote the contest, such as social media, email marketing, in-store signage, and your restaurant's website. Make sure to clearly communicate the contest details, rules, and prizes.
Monitor and respond to reviews: Keep track of the reviews coming in during the contest period and respond to them promptly and professionally. Thank customers for their feedback and address any negative reviews constructively.
Choose and announce the winner(s): After the contest period ends, select the winner(s) based on the criteria you established in the contest rules. Announce the winner(s) on your social media channels, website, and through email marketing.
Evaluate the contest's success: Analyze the contest results to determine its effectiveness. Look at the number of reviews generated, the overall sentiment of the reviews, and any changes in customer engagement or online reputation. To do that, you can use a dedicated restaurant feedback system.
Follow up: Send a follow-up email to all participants, thanking them for their participation and feedback. This can help strengthen your relationship with customers and encourage them to return to your restaurant.
5. Offer Takeout Specials to Boost Online Sales
Offer special deals or discounts for customers who order takeout or delivery. You can quickly reach your customers and advertise takeout specials through
restaurant SMS marketing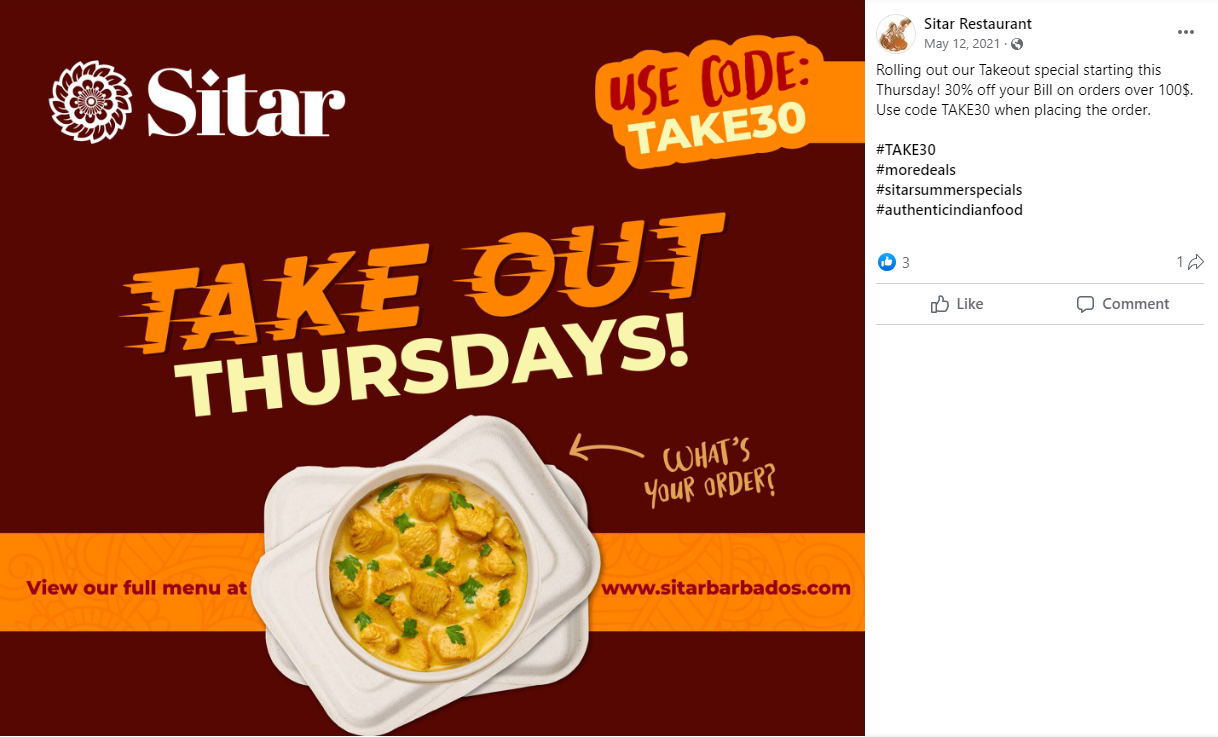 You can also boost your takeout specials sales and create even more buzz around your restaurant by encouraging customers to take photos and share their reviews on social media. Be open to new restaurant promotion ideas and mix them up for the best results.
6. Offer Interactive Experiences to Boost Customer Interest
Offer interactive experiences like 'build your own pizza' or salad stations, where customers can customize their dishes using interactive tableside ordering. This adds an element of fun and creativity to the dining experience.
An interactive
tableside ordering
system can also encourage your customers to order extra toppings for their pizzas or patties for their burgers. It's a simple way to influence the amount your customers spend while also giving them extra control over the food they eat.
7. Create a Pay It Forward Campaign to Build a Positive Restaurant Image
Create a
Pay It Forward
campaign where customers can purchase an extra meal or drink for someone in need. A very cool way of collecting funds for the campaign is by adding a QR code to the original post, like in the example below.

This could be a meal for a homeless person or a drink for a first responder or healthcare worker
. Customers can purchase the extra item along with their own order, and the restaurant will then donate the items to the chosen recipients. This promotion not only allows customers to make a difference in their community but also creates a
positive image for the restaurant and can generate publicity and social media buzz
. The restaurant can promote the campaign on its website, social media accounts, or through
restaurant email marketing
. This is a great way to show customers that the restaurant is committed to giving back to the community and can also
attract customers who are interested in socially responsible dining.
8. Establish a Happy Hour to Boost Your Sales in Off-peak Hours
A happy hour for a restaurant is a promotional event that typically takes place during off-peak hours. The goal of happy hour is to
drive traffic during a slower time of day and increase sales
while also providing a fun and social atmosphere for customers to enjoy.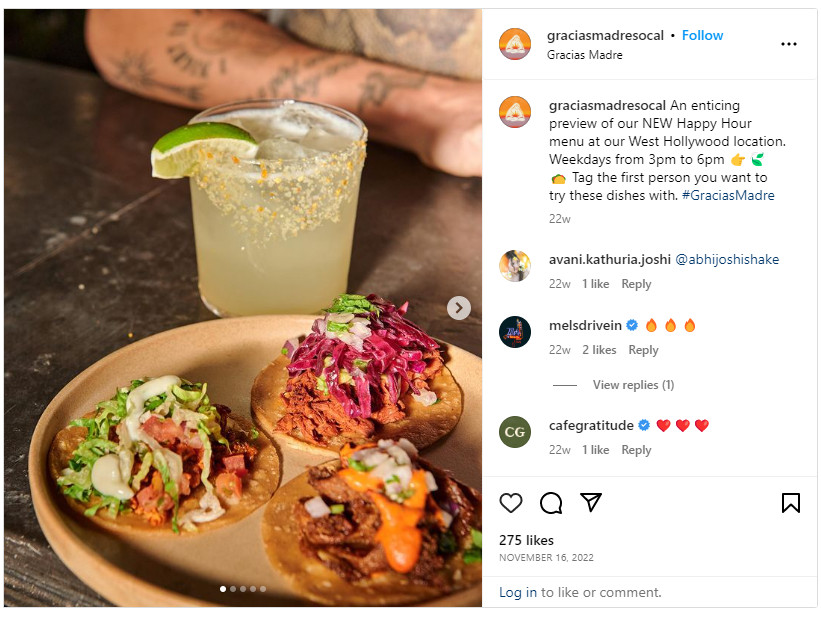 Restaurant owners typically choose menus that offer simple and delicious foods and promote them with appealing photos.
During happy hour, restaurants typically offer specials on selected food items and drinks, such as half-price appetizers, discounted beer or wine, or signature cocktails at reduced prices.
Happy hour specials can vary depending on the restaurant's cuisine, location, and customer preferences. Some restaurants also offer additional promotions during happy hours, such as live music, trivia nights, or contests.
How to establish restaurant happy hours:
Pick the right time: Figure out when is the slow time and choose accordingly. Typically, happy hour runs during non-peak hours, such as weekdays from 4 pm-6 pm.
Choose the drinks and food specials: Offer discounted prices on selected food items and drinks. Consider having a rotating selection of specials to keep things interesting for your customers.
Promote your happy hour: Let your customers know about your happy hour specials through social media, email marketing, and in-store signage.
Train your staff: Make sure your staff is trained on the happy hour specials, pricing, and any restrictions. You might want to encourage them to upsell customers during happy hour by suggesting additional items or upgrades.
Create a happy hour atmosphere: Consider playing upbeat music, dimming the lights, or offering special seating arrangements to create a fun and festive atmosphere for your customers.
Monitor the success of your happy hour: Keep track of your sales during happy hour and adjust your specials and promotions as needed. Solicit feedback from customers to make sure they are enjoying the specials and the atmosphere.
9. Offer Catering Discounts to Boost Your B2B Sales
Offering catering discounts for large parties or events can be a great way to increase your B2B sales. By providing special pricing for catering orders, you can encourage businesses to choose your services over competitors.
This approach can be particularly effective for businesses that frequently host events or meetings with food service. To make this strategy work for you, consider offering tiered discounts based on the order size.
For instance, you could offer a 10% discount for orders over $500, a 15% discount for orders over $1000, and so on. Promote your catering discounts through targeted advertising and outreach to local businesses to ensure your message reaches your intended audience.
Depending on who you're catering for, your customers might not be too crazy about a discounted price but may be looking to pay extra for solid service that offers high-quality food and arrives dead on time. Make sure you ask all the questions you think might help you cater to the best of your ability.
10. Arrange Charity Events to Foster a Positive Brand Image
Hosting charity events at your restaurant offers numerous benefits, including enhancing your brand's reputation and showcasing your commitment to supporting local causes.
It's a great opportunity to attract new customers while strengthening relationships with the existing ones. Additionally, such events foster a sense of community and goodwill (particularly during the holiday season!), helping you build a network of local supporters who may become regular customers or generate positive word-of-mouth marketing.
Advantages of Organizing Birthday Specials
Positive brand image: Hosting charity events can help improve your restaurant's reputation and demonstrate your commitment to supporting local causes
Community engagement: By supporting local charities and causes, you can help foster a sense of community and goodwill. This can help you build a network of local supporters who may become regular customers or spread positive word-of-mouth about your restaurant.
Increased publicity: Charity events can generate media coverage and social media buzz, helping to raise your restaurant's profile and attract new customers. Don't be afraid of contacting the local paper. Perhaps they would want to chip in and get some extra kudos?
Networking opportunities: Charity events often attract influential community members, business leaders, and potential partners. It's a good opportunity for you to establish new B2B contacts that might prove very lucrative for your restaurant business in the future.
Unique customer experience: Hosting a charity event can provide your guests with a unique and memorable dining experience that combines great food with a meaningful cause.
To maximize the advantages of organizing charity events, choose a relevant cause, plan the event carefully, and promote it effectively through various marketing channels. Engaging your staff, community, and local media can help ensure the event's success and generate lasting benefits for your restaurant.
11. Organize Themed Nights to Boost Customer Loyalty
Main advantages of organizing themed nights:
Choose a theme: Some popular theme ideas include cultural nights (Italian, Mexican, etc.), decade-themed parties (the 80s, the 90s, etc.), or special occasions (Valentine's Day, Halloween, etc.). Choose wisely and make sure not to offend your customer base!
Plan your menu: Develop a special menu that fits the theme, incorporating new dishes and drinks or modifying existing ones to suit the occasion.
Decorate the venue and dress the staff: Transform your restaurant space with themed decorations, table settings, and lighting to create an immersive atmosphere that aligns with the chosen theme. Encourage your staff to dress according to the theme, whether it's wearing themed accessories or full costumes.
Entertainment and activities: Incorporate themed entertainment or activities into the event, such as live music, dance performances, trivia, or games.
Gather feedback: After the themed night, collect feedback from your customers to understand what worked well and what could be improved. Use this information to refine and enhance future themed nights at your restaurant.
Themed nights can become a regular experience that entices your loyal customers to keep coming back and new local customers to try out your offer. You can organize community events, host restaurant anniversary parties, and offer different menu specials to make your event really special.
12. Reward Your Customers for Bringing a Friend to Boost Sales
Offer a special deal for customers who bring a friend to dine with them. By offering a special deal for customers who bring a friend,
you can encourage them to invite others to try your restaurant or business.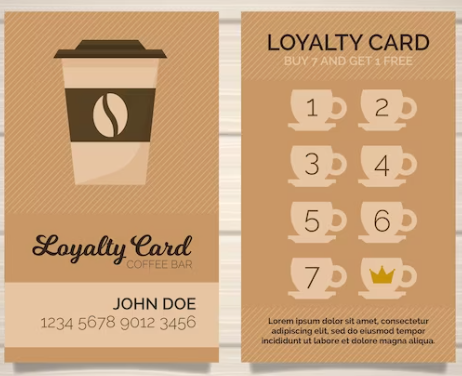 This is also a great opportunity to retain your new customer through your
restaurant loyalty program
. You can offer extra on-site stamps to both the customer and the friend they brought. That way, you can entice both of them to get started on your restaurant loyalty program!
13. Put Together Contests and Giveaways to Boost Brand Awareness
Host consistent contests and giveaways on social media or in-store for a chance to win a free meal or gift card. Contests and giveaways can offer significant advantages for restaurants,
including increased brand awareness, attracting new customers, and fostering customer engagement.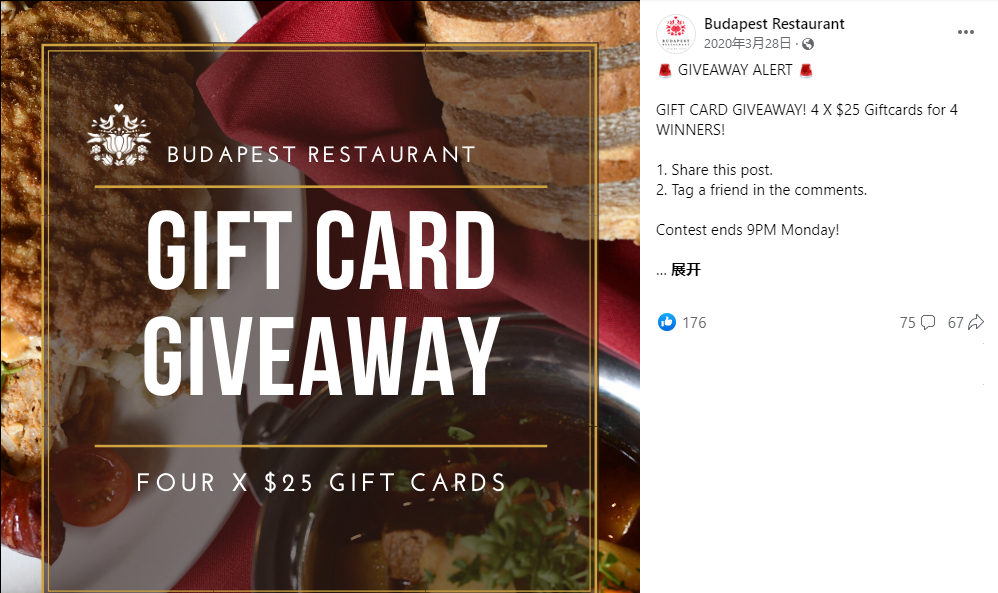 By hosting contests on social media platforms, restaurants can
grow their following, collect valuable customer data, and boost sales.
Additionally, these promotions can enhance customer loyalty, generate word-of-mouth marketing, and
create shareable user-generated content.
Carefully planned and promoted, these contests and giveaways are a sure way to contribute to a restaurant's overall success and help build stronger connections with customers.
14. Offer Seasonal Dishes to Create a Festive Atmosphere
Organizing holiday specials can be an effective way for you to attract new customers and retain the existing ones. Holidays are a time when people often want to celebrate with family and friends, and dining out is a popular way to do so. People generally love the festive atmosphere of seasonal holidays, so it's a great way to give potential customers what they need while also capitalizing on the trend.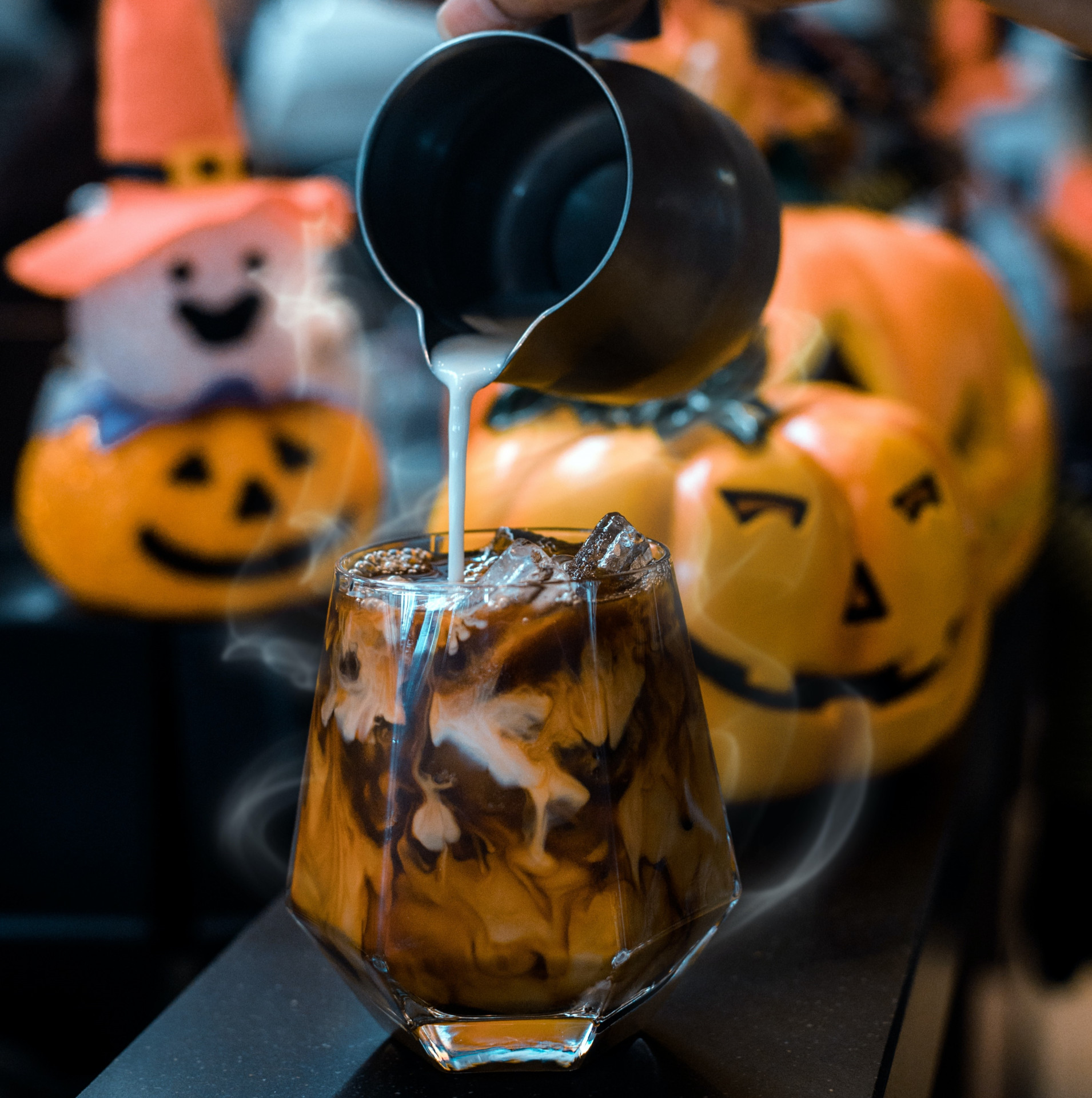 The truth is, the restaurant industry is overloaded with holiday promotions. Many restaurant owners stop at decorating their restaurant, so it's pretty easy to outshine them by offering new menu items, discounted drinks, and perhaps even organizing holiday-themed special events.
Key Steps to Keep in Mind When Creating Seasonal Dishes
Use fresh, seasonal ingredients: Emphasize locally sourced, in-season produce, meats, and seafood to ensure the highest quality, freshness, and flavor. Seasonal and local ingredients are something to boast about on social media!
Balance flavors and textures: Design seasonal dishes with a mix of flavors, textures, and colors that complement each other and are appropriate for the time of year. For example, incorporate lighter, brighter flavors in spring and summer and heartier, warming dishes in fall and winter.
Offer variety: Include a diverse range of dishes that cater to different dietary preferences and restrictions, such as vegetarian, vegan, gluten-free, or dairy-free options.
Update your menu regularly: Rotate your seasonal dishes to keep your menu fresh and interesting and encourage customers to return for new experiences.
Pair dishes with seasonal beverages: Offer beverage pairings that complement your seasonal dishes, such as wines, cocktails, or craft beers that are appropriate for the season.
15. Hold Business Lunches to Create Networking Opportunities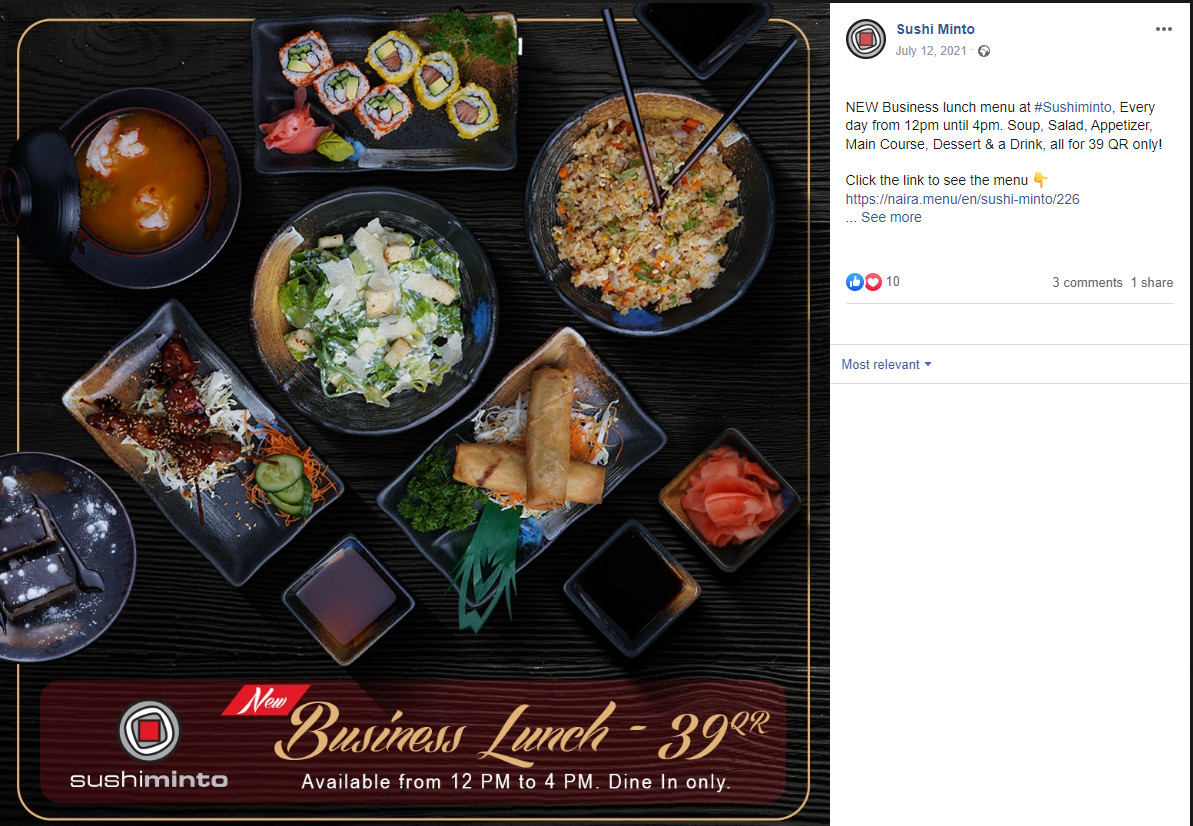 One of the key aspects is offering a well-balanced and efficient menu tailored to the needs of business professionals. The menu should include various options that cater to different dietary preferences and restrictions while also considering the time constraints that business guests may have.
Main Advantages of Holding Business Lunches
Attract new clients: Business events can introduce your venue to new clients and companies who may not have been aware of your services. A successful event can lead to repeat bookings or referrals, helping to grow your client base.
Enhanced reputation: Delivering high-quality services and experiences for business events can bolster your venue's reputation in the corporate community, making it a preferred choice for future events and gatherings.
Networking opportunities: Hosting business events can provide valuable networking opportunities with professionals and decision-makers from various industries. This can lead to potential collaborations, partnerships, or new business opportunities.
Showcase your venue's capabilities: Business events allow you to demonstrate your venue's ability to accommodate different types of gatherings, such as meetings, conferences, or workshops. This can help you attract a diverse range of clients and bookings.
Foster community relations: By hosting local business events, your venue can build relationships within the community and position itself as a key supporter of local enterprises
Provide exceptional service with staff who are attentive, professional, and well-informed about the menu and any potential allergens. This will help ensure a smooth and enjoyable dining experience that leaves a positive impression on your business clientele, encouraging them to return for future events and recommend your restaurant to colleagues.
16. Invite Guest Chefs to Cross-promote & Win New Customers
Invite guest chefs to come and prepare special dishes or menus for a limited time. This is a great way to add variety to your menu and attract new customers.
This approach can be particularly effective for small businesses looking to expand their customer base and generate buzz around their establishment. By collaborating with guest chefs, you can offer a fresh perspective on your restaurant's menu and create a unique dining experience for everyone
Main Advantages of Holding Business Lunches
Exposure to new culinary techniques and ideas: Guest chefs can bring fresh perspectives, techniques, and ideas to your kitchen, which can inspire your staff, foster creativity, and potentially improve your existing dishes.
Increased customer interest: Hosting guest chefs can create excitement among your existing clientele and attract new customers who are eager to experience a unique culinary event or sample dishes prepared by a renowned local chef.
Networking opportunities: Collaborating with guest chefs can help you build relationships within the community and create opportunities for future partnerships, events, or even mentoring opportunities for your staff.
Limited-time menu offerings: Guest chefs can help create exclusive, limited-time menu offerings that can generate buzz and encourage customers to visit your restaurant to experience these one-of-a-kind dishes.
Cross-promotion and marketing: Hosting guest chefs allows for cross-promotion between your restaurant and the guest chef's establishment, expanding your reach and visibility among each other's clientele.
Community engagement: Inviting local guest chefs can foster a sense of community and collaboration within the local culinary scene, showcasing your restaurant's commitment to supporting local talent and promoting a vibrant food culture.
17. Organize Pop-Up Restaurants to Attract New Customers
Organizing pop-up restaurants is an innovative and exciting way to attract new customers to a restaurant. Pop-up restaurants are temporary dining experiences that can take place in various locations, from warehouses to parks, and offer a unique and exclusive dining experience.
Hosting a pop-up restaurant in a different location or venue is a great way to attract new customers and generate buzz.
One of the main advantages of organizing a pop-up restaurant is that it provides an opportunity for a restaurant to showcase its creativity and culinary expertise and to experiment with new menu items and concepts.
It's also a great opportunity to find new customers and get them going on your restaurant loyalty program!
How to organize your pop-up restaurant project
Define your concept: Develop a unique and engaging concept that sets your pop-up apart from the competition. Consider factors such as the cuisine, theme, and ambiance you want to create, as well as the target audience you aim to attract.
Showcase your best dishes: Craft a concise and focused menu that complements your concept, making sure to consider dietary preferences and restrictions. Keep in mind that a smaller menu is often easier to manage in a temporary setup.
Choose the best location: Select a suitable location for your pop-up restaurant, considering factors like accessibility, visibility, foot traffic, and proximity to your target audience. Possible venues include empty retail spaces, art galleries, rooftops, parks, or even partnering with an existing restaurant or bar during off-hours.
Secure necessary permits and licenses: Research and obtain any required permits or licenses, such as food service permits, liquor licenses, or temporary event permits, depending on your location and the nature of your pop-up.
Plan your logistics: Coordinate the necessary equipment, furnishings, and supplies needed for your pop-ups, such as tables, chairs, cooking equipment, and tableware. You may need to rent or borrow items depending on the chosen venue and its existing facilities.
18. Introduce Sustainable Practices to Improve Your Reputation
You can improve your restaurant's reputation and drive new business by demonstrating your commitment to social responsibility. Sustainable practices involve minimizing negative impacts on the environment and society while maintaining economic viability.
There are plenty of ways for you to introduce sustainable practices, from reducing food waste to sourcing local and organic ingredients and using recyclable utensils. That way, you can not only reduce your environmental footprint but also appeal to customers who prioritize eco-friendly and socially responsible businesses. This can ultimately lead to increased customer loyalty and a positive reputation in the community.
In addition to the environmental benefits, sustainable practices can also result in cost savings for restaurants, as they can reduce waste and improve efficiency.
19. Launch a Restaurant Photo Contest for Extra Engagement
Few restaurant promotions go as viral as a good, old photo contest!
Launching a restaurant photo contest can be an effective way to engage customers and increase brand awareness on social media. The aim of a photo contest is to encourage your customers to take pictures of their food, drinks, and dining experiences and share them on social media using a specific hashtag or by tagging the restaurant's account.
This will lead to increased social media engagement and provide your restaurant with user-generated content you can use in your marketing efforts. Make sure you set a fair prize!
20. Consider Live Music Events to Diversify Your Customer Base
Host live music events or hire musicians to play during peak hours. Introducing live music events can be a great way to diversify your customer base and create a unique dining experience. Live music can enhance the ambiance of a restaurant and
attract a new group of customers, such as music enthusiasts or those looking for a fun night out
.
Keep in mind that organizing live music events can be rather tricky. You might drive some of your customers away by choosing the wrong band. If you do decide to go with a live music event, make sure you know what you're doing because inviting a random post-punk band might spell you real trouble.
Key Takeaways
Restaurant promotions are a great way to entertain your loyal customers and bring new traffic to your restaurant.
Some of the best restaurant promotions include engaging your customer audience in a fun, approachable manner.
You should always keep your restaurant and your target customers in mind when picking a restaurant promotion
Being consistent with your promotions is a good way to keep your customers engaged.
A strong online presence is key to a successful online restaurant promotion campaign.
Creating a schedule can help you remain consistent with your restaurant promotion campaigns.
Frequently Asked Questions (FAQ)