Restaurant review sites and apps aren't new in the food service industry. However, they've played a significant role in helping would-be customers find their next place to eat since the early 2000s and continue to do so. In this article, we'll cover the 10 best restaurant review sites and apps your restaurant should be on for you to attract more clients and earn more revenue.
What are restaurant review sites and apps?
Restaurant review sites and apps allow users to access and exchange information, ratings, and reviews on food service businesses like cafes, bars, or restaurants. They act as online communities where people may share information, viewpoints, and suggestions regarding a specific business. These platforms offer various options and features to improve the dining experience for patrons and restaurant operators alike.
Potential diners look for restaurants on restaurant review sites and apps, and base their search on reviews, cuisine type, ratings, location, and amenities. After they've found the right spot and tried the food, it's their turn to leave a review. Customer feedback takes into account many factors including:
Food quality
Customer service
Atmosphere
Amenities
Price
Cleanliness
Why do restaurants need to be on restaurant review sites & apps?
Apps and restaurant review sites offer a variety of crucial functions for food service businesses. The following are some significant benefits that restaurants receive from using these platforms:
Visibility: restaurants receive exposure to potential consumers when featured on well-known restaurant review websites and apps.
Social Proof and Credibility: Positive reviews and high ratings on review websites and mobile applications raise a restaurant's credibility.
Customer Feedback and Insights: From the comments and reviews left by customers on these platforms, restaurants can learn about consumer preferences, pinpoint areas for development, and make wise business decisions by tracking and examining the evaluations.
Reputation Management: As a restaurant owner, you want to focus on collecting great reviews to help maintain your reputation online. Restaurants can respond to criticism, address issues, and demonstrate their dedication to customer happiness by participating in customer reviews.
Competitive Advantage: Restaurants may monitor apps and review sites to keep an eye on their rivals, which allows them to differentiate themselves, improve their services, or capitalize on certain strengths.
Marketing and Promotion: By using these platforms as marketing tools, restaurants may spread the word about their menu items to a larger audience.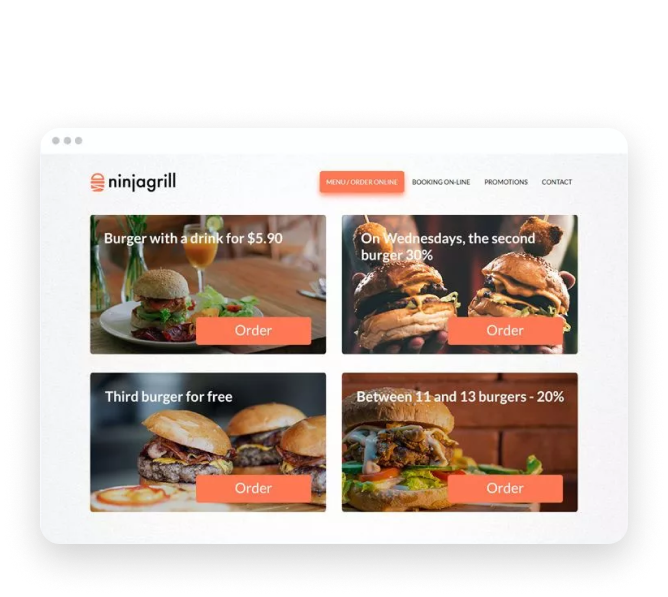 Conduct effective marketing
from one place
Run targeted promotions and increase revenue with restaurant marketing.
How can I encourage customers to submit reviews?
Encouraging customers to submit reviews about your restaurant can benefit your online reputation and attract new customers. Here are some strategies to encourage customers to leave reviews:
Deliver Outstanding Customer Service: Consistency is the cornerstone of obtaining positive evaluations. Customers are more likely to feel inclined to provide comments and leave reviews after a positive experience.
Ask for Reviews: Teach your staff to invite diners to post a review if they had a good experience at the restaurant. Encourage them to highlight any particular review sites, like Google, Yelp, or TripAdvisor, where you'd like to boost your visibility.
Display Review Prompts: Invite customers to give reviews by posting signage or table tents at your restaurant or by the cash register. Give them clear directions on how to do this, including the review sites you favor in the process.
SMS and Email Marketing: After a consumer visits, use email marketing or SMS marketing campaigns to follow up with them, thanking them for choosing your restaurant and politely asking for a review. To make it simple for customers to post reviews, provide links to your preferred review platforms.
Offer Incentives: Consider providing a modest reward for guests who submit reviews, such as a coupon for a dessert free on their subsequent visit. However, be sure to adhere to the rules of the review sites and refrain from offering incentives for favorable ratings or transgressing any terms of service.
Introduce a Loyalty Program: reward customers for their reviews with the help of a loyalty program. Set a number of points that customers can earn for each review they leave, which they can use to redeem discounts and free meals at your restaurant.
What is the top food review site?
When rating restaurants, customers have a variety of sites and apps to choose from, so make sure your restaurant business is present on a variety of restaurant review sites and apps. When it comes to finding the best one, it all depends on the features you need. Here are our top 10 picks for restaurant review sites:
UpMenu
Yelp
TripAdvisor
Google Maps
OpenTable
Zomato
Foursquare
Michelin Guide
Eater
HappyCow
1. UpMenu
UpMenu is a food ordering system that allows restaurant owners to collect customer reviews and feedback via the restaurant feedback system. In addition, restaurants can use the UpMenu to automatically send restaurant feedback forms to gather customer reviews on popular platforms like Google, Facebook, and TripAdvisor.
Additionally, UpMenu's marketing tools help you reach customers and encourage them to provide feedback, allowing you to gather more insights, improve your restaurant's offer, respond to reviews, and so much more.
2. Yelp
Yelp is a popular restaurant review website that links customers to nearby restaurants, cafes, and bars. It enables users to read and write restaurant reviews, obtain in-depth information about various places, and search for and identify companies in their neighborhoods. Yelp offers services across many different businesses, but its restaurant evaluations helped it become renowned.
Yelp allows users to leave reviews and rate businesses, providing feedback on their experiences. Yelp restaurant reviews, impressions, and customer recommendations help local restaurants stand out from the competition and help potential customers decide where to dine.
3. TripAdvisor
TripAdvisor is an online travel resource and restaurant review site that offers information, testimonials, and suggestions for various travel-related businesses, including lodging, dining, attractions, and more. Having access to a wealth of materials and suggestions from other travelers enables users to plan and reserve their travel arrangements.
The site is well-known for its user-generated restaurant reviews and ratings. Travelers can share their experiences and provide feedback on hotels, restaurants, and attractions they have visited. These reviews and ratings help other users make informed decisions when planning their trips.
4. Google My Business
Google My Business is a free online tool provided by Google that allows businesses to create and manage their online presence on Google and earn Google reviews. It is also one of the top restaurant review sites that help businesses enhance their visibility on Google Search and Google Maps, making it easier for potential customers to find and connect with them.
Customers may rate and leave Google restaurant reviews directly on Google My Business profiles; however, you need to claim your restaurant page to respond to them. In addition, these online reviews may impact other potential clients and enhance the restaurant's online reputation in general.
Learn more about Google Business Profile
5. OpenTable
OpenTable is an online restaurant reservation platform that allows diners to book reservations at participating restaurants. It provides a convenient and user-friendly way for customers to find and secure a table at their desired restaurant.
OpenTable's platform allows users to make online reservations with local businesses and leave online restaurant reviews and ratings, which helps to boost the restaurant listing. In addition, everyday customers, food bloggers, and food critics can share feedback on their dining encounters to assist would-be restaurant goers in making knowledgeable restaurant selections.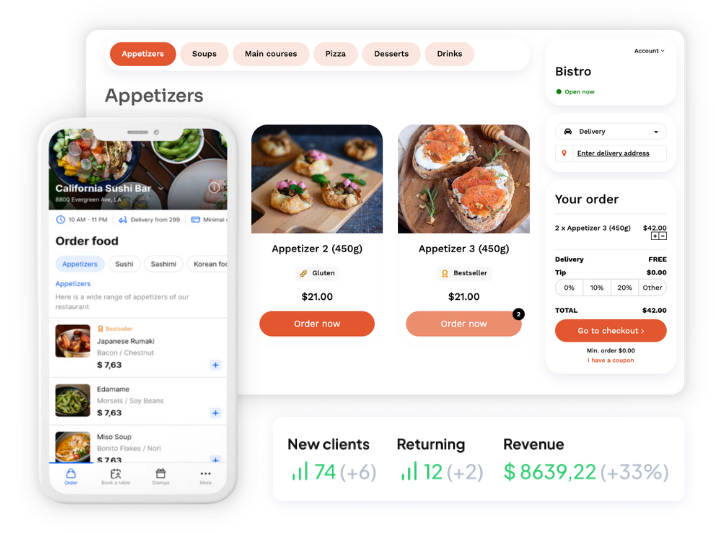 Your own branded online
ordering in 5 minutes
Launch commission-free online ordering on your own website in 5 minutes and grow your revenue, build loyalty and protect margin from third-party aggregators.
6. Zomato
Zomato is a website and mobile application that offers details, opinions, and suggestions on restaurants, cafes, pubs, and other eating venues. Zomato was first introduced in India but is now accessible in many countries.
Zomato allows users to review restaurants and leave star ratings, share their dining experiences, offer feedback, and find information on the restaurant business. In addition, users can browse reviews left by other customers, which can assist them when choosing the right restaurant to dine at.
7. Foursquare
Foursquare is a location-based social networking platform that allows users to find local bars, restaurants, cafes, shops, and other businesses in the restaurant industry. It integrates geographical information with user feedback, restaurant guides, and recommendations to offer tailored advice and encourage people to explore their local area.
User-generated tips, ratings, and restaurant brand reviews are included in Foursquare. Users can read reviews, find business information, post advice for other customers going to the same place, and make recommendations and stories about their experiences in the restaurant online. People can use this user-generated content to find hidden treasures and make informed judgments.
8. Michelin Guide
The Michelin Guide is a respected and significant publication for rating the highest quality restaurants. Similarly to Zagat reviews, it has grown in popularity over the years. As a result, it has become one of the most renowned culinary directories worldwide and is regarded by professional food critics as the go-to source for finding some of the best restaurants in the world.
The Michelin Guide uses professional inspectors to visit and anonymously rate eateries. On a scale of one to three stars, restaurants are graded, with three stars denoting excellent cuisine and sustained excellence. The star grading system in food is highly appreciated and seen as honorific.
9. Eater
Popular food magazine Eater offers a variety of articles about restaurants, culinary culture, business news, and gastronomic trends. It runs as a digital media company with a website and social media accounts, distributing interesting and educational podcasts, videos, and articles.
Eater offers reviews of restaurants and suggestions for where to eat, directing readers to renowned restaurants with good reviews and showcasing distinctive dining experiences. These evaluations created by local experts frequently concentrate on certain cities or areas, presenting the regional dining scene and suggesting local favorite restaurants.
10. HappyCow
HappyCow is a website and mobile application that offers resources and information to vegetarians, vegans, or looking for plant-based food options and allergy-friendly restaurants. In addition, it acts as a resource for anyone searching for vegan- and vegetarian-friendly restaurants, cafes, and other eating places worldwide.
HappyCow lets users post comments, ratings, and reviews regarding their dining encounters. This user-generated input enables others to make well-informed restaurant selections.
Key Takeaways
Having a strong, positive presence on popular restaurant review sites helps you attract more clients.
Use email and SMS to encourage clients to leave you reviews.
Customers take into account many factors when writing reviews – not just the food quality and customer service.
Use tools like UpMenu to send incentives to clients for reviews and share them directly onto your website.
The more positive reviews you have, the more clients you'll attract and the more revenue you'll make.
Frequently Asked Questions (FAQ)
The most popular restaurant review app can vary depending on the region and user preferences. However, some of the widely recognized and popular restaurant review apps include:
Yelp: One of the world's most well-known and popular restaurant review applications is Yelp. It offers a comprehensive platform for users to look up restaurants, read and post reviews, and learn more about different businesses.
Google My Business: this review app allows businesses to collect online reviews and rankings for local eateries. It has a sizable user base and offers a practical platform for customers to read reviews and search for restaurants.
TripAdvisor: this is a well-known travel website with reviews and restaurant suggestions. It provides various user-generated content, such as reviews, ratings, and images, to assist users in choosing where to eat.
OpenTable: OpenTable offers restaurant reviews and ratings in addition to its restaurant reservation service. It offers users the ability to make reservations and gives customers the chance to submit evaluations and feedback following their dining experience.
When encouraging your guests to leave reviews, focusing on the most widely used and effective review apps in your region is beneficial. Here are some top recommendations:
UpMenu: Although not a traditional feedback system, UpMenu is one of the best restaurant review sites for collecting customers' reviews and sharing them on your website. Plus, with built in incentives like the loyalty rewards system, SMS marketing, and email campaigns, earning more reviews is a whole lot easier.
Yelp: Yelp has a large user base and can significantly impact your restaurant's online reputation. Encouraging guests to leave reviews on Yelp can help boost your visibility and attract new customers.
Google My Business: Since many people rely on Google Maps for finding and exploring local businesses, encouraging guests to leave reviews on Google My Business can enhance your online presence and attract more customers.
Maintaining your restaurant's reputation and demonstrating that you value customer feedback requires that you respond to a negative review in a kind and professional way. Here are some pointers for writing a considerate reply:
Take a Moment: Before answering, pause to collect your ideas and feelings. Even if the review is unfavorable or unwarranted, it's crucial to answer coolly and professionally.
Thank the reviewer: Start your response by thanking the reviewer for their input and mentioning that you appreciate them sharing their opinions and experience.
Express regret: Acknowledge that the reviewer may have had a bad experience. Even if you think the circumstances were out of your control, showing empathy and compassion can help a lot.
Be Specific: Address the particular issues raised in the review. If necessary, include precise information to show that you thoroughly understand the problem and your attempts to solve it.
Offer a Resolution: If at all possible, provide a resolution or answer to the issue raised in the review. This can take the shape of an explanation, a payment, a free lunch, or any other suitable action to make things right.
Encourage Additional Communication: Request direct contact with the reviewer, by phone or email, to continue the conversation. This displays your readiness to have a productive discussion and settle any unresolved issues.