Creating a food delivery app like Uber Eats might sound like a challenge for most restaurant owners, but in reality, it's easier than you think. You don't need any coding skills, it's cheaper than hiring a development team, and doing so comes with several benefits for your restaurant.
In this guide, we'll show you step-by-step how to create a delivery app with no-code that'll make online ordering and the food delivery service easier for your clients.
What are Food Delivery Apps like Uber Eats?
Before you begin looking at how to create a delivery, you first need to understand how they work. Third-party food delivery apps allow users to order meals from local food providers and have it delivered to their location via delivery drivers.
Users can also check on their order status, pre-order meals, and pay via the customer app, which makes food ordering and delivery service more convenient.
These food ordering apps are used by restaurants worldwide in the food delivery market and have become integral to how clients order their meals online.
Examples of Your Own Branded Food Delivery App Like UberEats
Follow below steps to get an app like these
Why Your Restaurant Needs a Branded Food Delivery App
If delivery apps like Uber Eats already exist, then why do restaurants need their own branded food delivery applications? The answer is simple – to save money with their own logistics network and have more control over their business.
In our article on Uber Eats commissions, we compared the fees and features of Uber Eats to other apps in the food delivery industry.
But how much does Uber Eats charge restaurants? This third-party food delivery model can charge restaurant owners up to 30% on commission fees from each sale, which significantly impacts revenue.
Unlike third-party food delivery services like Uber Eats, a branded food ordering app gives you access to your customers' data, allows you to update order status, control everything up to the delivery process, and lets you run marketing activities independently, which increases revenue and improves the customer experience.
| Systems | Third-party app (like UberEats) | Your own branded app (like UpMenu) |
| --- | --- | --- |
| Commission | 15% – 30% | Flat monthly fee (from 49$) |
Third-party online food delivery apps like Uber Eats charge a delivery fee for the delivery agent and a 15% to 30% commission fee on each order. This doesn't include payment processing and marketing fees.
With your custom food delivery app, you simply pay the delivery person. The rest of the money you make goes right into your pocket.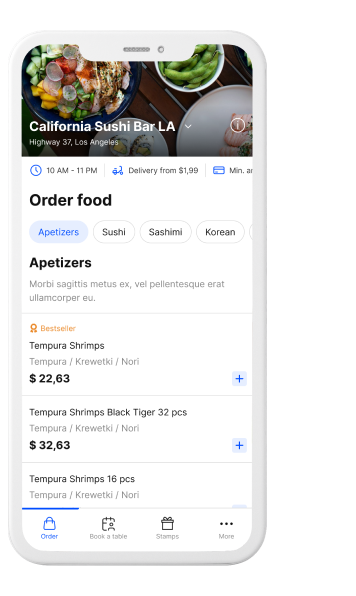 Your own branded ordering
mobile app that drive loyalty
Easy-to-use native iOS and Android ordering apps that put your restaurant right in your customer's pocket.
Benefits of Having Your Own Food Delivery App
Owning your food delivery platform comes with several benefits for your restaurant, including:
Protecting your margin from third-party delivery services: your food delivery application eliminates the need to pay commission fees to third-party order delivery systems, as well as additional marketing fees that can eat up your profit margins.
You own the customer data: with your custom food delivery mobile app, you own all of your clients' data, including their contact details, order history, and other information.
More orders: clients prefer to order food directly from their favorite restaurants, and not some third-party system that charges a hefty delivery fee and other additional costs. That means you can expect a whole lot more orders.
Customer loyalty: with your own food delivery app, you can improve customer loyalty via the loyalty program. Automatically reward clients for their purchases and improve communication and feedback.
Control delivery: with your own delivery app, you're in control of the delivery process and you choose who delivers outgoing food orders.
More customer reviews: by having your own branded food delivery app, clients are more likely to leave you reveiws, as doing so via an app is straightforward and only takes a few taps.
Key Features Food Delivery Apps Must Have
A reliable food delivery app isn't just an ordering system. In fact, that's just one of many features a reliable system should offer. Here's a list of the following features your restaurant can't be left without:
Online ordering
Digital Menu
Payments
Loyalty Program
Order Taking App
Push Notifications
No-code customization
Rating & Reviews
Coupon codes
Online ordering
With this option, clients can place their food orders directly through the app without having to call you.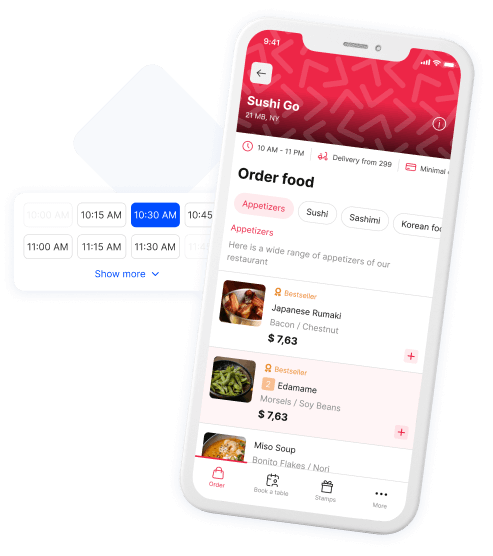 Digital Menu
Payments
Loyalty Program
Order Taking App
Push Notifications
No-code customization
Rating & Reviews
Coupon codes
Restaurant App Builder vs. Software Development Company: The 2 Ways of Building an App
When deciding between using a restaurant app builder or a software development company to create a food delivery app, there are several factors to consider, including cost, customization, and support.
There are two ways of building an app:
Using a Restaurant App Builder: a restaurant app builder gives you control of everything. Develop a food delivery app with the help of an easy to use drag-and-drop option and no coding skills. Most app builders are inexpensive and charge either a one-time or monthly fee, which saves you a lot of money on development cost.
Hiring a Software Development Company: these companies can create a food delivery app made to order. That means once they develop food delivery app features, you can only make changes to them with their assistance.
Plus, food delivery app development can become very expensive.
| Building Your app | Restaurant App Builder | App Development Company |
| --- | --- | --- |
| Who builds the app? | You via an app builder | A hired development team |
| How much does it cost to build a food delivery app? | Prices start from $49 per month | Hundreds, if not thousands of dollars |
| How long does it take to design? | ~1 hour | Weeks, if not months |
A software development company is a better option if you own a restaurant franchise business model and require heavily customized features for your delivery app. If you need an easy-to-use solution, go with a restaurant delivery app builder.
Step 1: Get access to a food delivery app builder
Create an UpMenu account to get started. UpMenu is an easy-to-use restaurant delivery app builder that offers customizable options to help you create an impressive app without coding.
Once you've signed up to UpMenu, input your information and go through the onboarding process.
Step 2: Customize your food delivery app
Once you've set up your account, you're ready to customize your app. Click the "Mobile App" button to design your delivery app to fit your branding. Choose your layout, upload your logo, and add your app name to get started.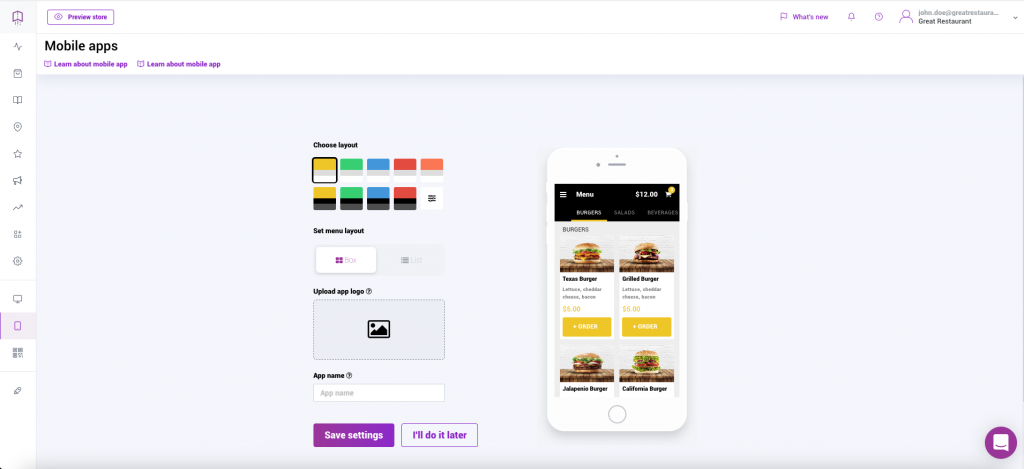 Add Your Delivery App Name
Your app name allows customers to find your branded app in the Google Play Store and App Store, so make sure to use the name of your restaurant.
Upload Your Delivery App Icon
When uploading your icon, make sure it has a resolution of around 400px by 400px and is in .png format. Your logo works as your app icon, so make sure it's the right size and that your clients can quickly identify it.
Add Your Colors
Ensure your app's color scheme matches your restaurant's branding. That way, when clients download your app, they can be sure it's the right one. Plus, an ordering app that matches your restaurant's branding makes your business look more professional.
Step 3: Set up Your Digital Menu
Once you've designed your food ordering app, select the "Menus" icon from the panel to create your online menu. Here, you can group your menu items into a food category, making viewing the online menu quick and easy for clients.
Step 4: Set up the address and working hours
Under the "Restaurant" icon on the toolbar, you'll find the "Working Hours" and "Address and Contact" sections. In the first section, you can add your working hours so clients know exactly when you're open. In the second section, add your business location so customers know where you're located for dining in or order pickup.
Step 5: Set up delivery zones
Under the "Restaurant" button on the toolbar, select the "Delivery Zones" button. Here, you can design your delivery zones on Google Maps in proximity to your restaurant. Doing so lets customers know where delivery workers are able to deliver orders and at what price.
Delivery zones are visible to your customers in the restaurant app, as well as delivery costs, which are calculated automatically based on the customer's address.
Step 7: Set up a loyalty program (optional)
A restaurant loyalty program is designed to increase customer retention by up to 63%. For each purchase clients make, they're rewarded with stamps and points, which can be redeemed for a free meal, discount, or any special reward you come up with.
Step 8: Publish Your App
After you've set up your online food delivery app, the last step is to publish it onto the App Store and Google Play Store. Doing so puts your business in front of your target audience and allows them to download your app for quick food delivery services.
Step 9: Promote Your Food Delivery App
Once your app is available to download you need to get the word out about it to your target audience. Doing so gets them to download your app, which increases your number of food orders.
Here are three great ways to promote your food delivery app:
Print QR codes
QR codes are the perfect way to get your in-house clients to download your app for online ordering. Under the "Mobile App" section in UpMenu, scroll down the page until you see the QR code.
Once you print it, display it in your restaurant so food delivery app users can keep your restaurant right on their phones.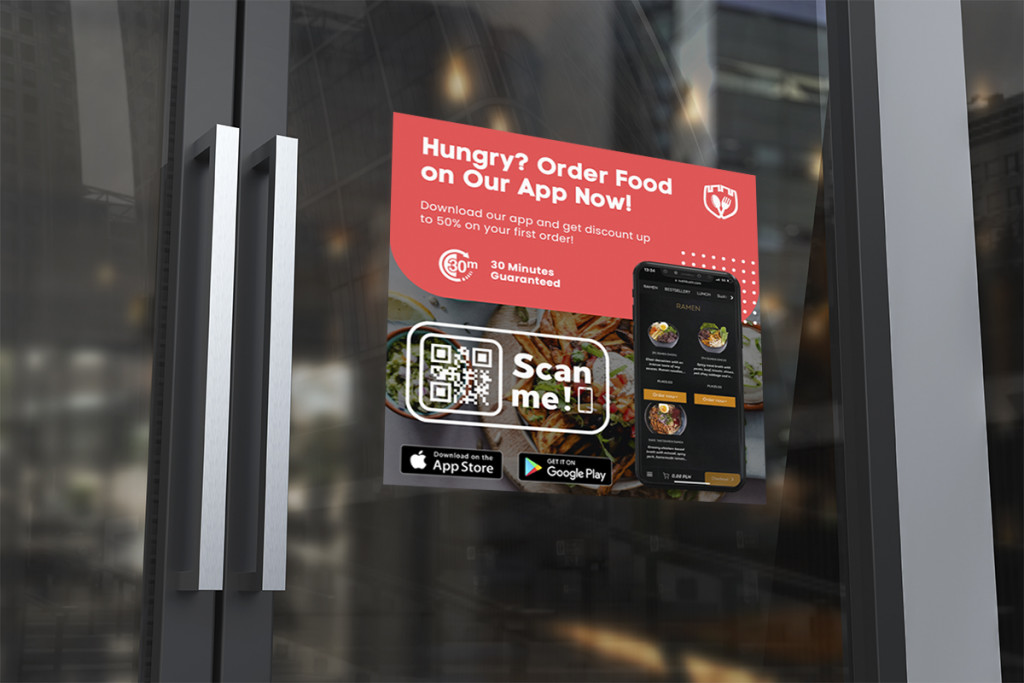 Send an Email & SMS Campaign
Reach your current clients and let them know about your online ordering app. Send them an email or SMS via UpMenu, letting them know how quick and easy it is to use the app to order delivery.
Final Thoughts
Third-party food delivery apps can charge even up to 30% on commission fees. Build a food delivery app to protect your bottom line.
Build your food delivery app with an app development company once you have a franchise business model.
If you're not a franchise owner, creating your own branded app is your best option to save on app development fees and a long estimated delivery time.
Building your own app takes roughly 1 hour, and once it's ready, it goes live on both the Apple Store and Google Play Store.
Promote your app so clients can order directly from your restaurant and get their food delivered to them, while you save on hefty commission fees from third-party food delivery apps.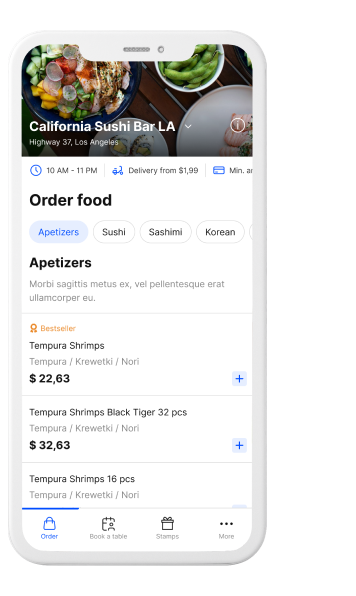 Your own branded ordering
mobile app that drive loyalty
Easy-to-use native iOS and Android ordering apps that put your restaurant right in your customer's pocket.