What is Uber Eats?
Uber Eats is a food delivery service that allows users to order food from local restaurants using the mobile app or Uber Eats website. The service is available in many cities worldwide and delivers food using Uber delivery partners.
Users can track their delivery in real-time and pay for their orders using the payment method linked to their Uber account. But exactly how much does uber eats charge restaurants for their services?
How does Uber Eats work?
It works by connecting customers with local restaurants through the mobile app or website. Customers can browse through menus and place an order for delivery or pickup.
Once the order is placed, the restaurant receives it and staff begin preparing the food. Restaurants can either have their own delivery drivers, (which may lower the delivery adjustment fee) or work with Uber Eats drivers.
These Uber delivery partners are independent contractors who use their own vehicles to pick up the order from the restaurant and deliver it to the customer.Payment for the food is made through the app or with the driver, and customers can also leave ratings and reviews for the restaurant and delivery experience.
Alternatives to Uber Eats: How to save on commissions?
There are several alternatives to Uber Eats when it comes to online food ordering that may have lower service fees for businesses. Some options include:
UpMenu
DoorDash
Zomato
GrubHub
Caviar
| System | UberEats | UpMenu | DoorDash | Zomato | GrubHub | Caviar |
| --- | --- | --- | --- | --- | --- | --- |
| Commissions | Starting from 15% | No commission fees | Starting from 15% | Starting from 10% | Starting from 10% | Starting from 30% |
| Free Trial | Yes | Yes | Yes | No | Yes | No |
| Customer data ownership | No | Yes | No | No | Yes | No |
| Your Own Branded Mobile App | No | Yes | No | Yes | No | No |
| Your Own Website With Ordering | No | Yes | No | No | Yes | No |
| Control Over Marketing Activities | No | Yes | No | No | No | No |
| Delivery Service | Yes | No | Yes | Yes | Yes | Yes |
You can also consider setting up your own delivery service or using a third-party provider. This can help get you a lower delivery fee and give you more control over the delivery process.
Additionally, if you're looking to save on the third party delivery fee, you can negotiate the total cost of commissions that Uber charges and other delivery services to see if they can lower their fees.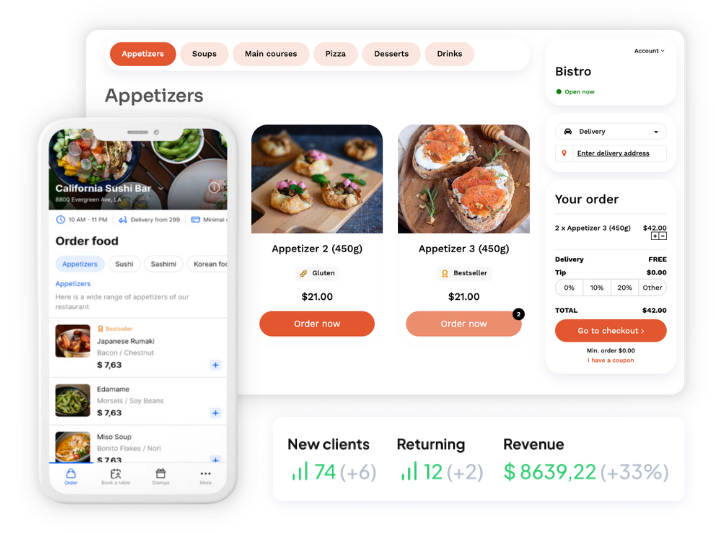 Start selling food online
Set up commission-free ordering for your restaurant's website in minutes. Boost revenue while saving on third-party fees
4 Tips to Reduce Uber Eats Restaurant Fees
Take orders directly from your website: build your own branded restaurant mobile app and restaurant website with an online ordering option and save money on commissions.
Promote your online ordering option: get the word out about your online ordering option with the help of restaurant marketing software, so clients on Uber Eats order directly from your restaurant website.
Avoid sales commissions: treat your Uber Eats account as an additional source of online orders, not your main one. Use a commission-free online ordering system and save hundreds per month.
Negotiate commission fees: get in touch with an Uber Eats representative and ask if your business is qualified for a lower Uber Eats commission rate so you can avoid having to raise menu prices to cover those growing fees.
How Does Uber Eats Calculate Fees for Restaurants?
Uber Eats' fees for restaurants are calculated based on a commission system. The restaurant pays a percentage of the total order value to Uber Eats for using its platform to reach customers and facilitate delivery.
How much does Uber Eats charge restaurants commission fees can vary depending on the agreement between the restaurant and Uber Eats, and they can also vary by location. In general, the standard Uber Eats commission rate is 30% of the total order value (not including sales tax and driver benefits fee).
However, some restaurants may be eligible for a reduced Uber Eats commission rate, such as the ones that join the Lite plan. In addition to the commission fee, Uber Eats fees for restaurants also include the platform, thus increasing Uber Eats' cost. These can include:
Delivery fee: Restaurants may be required to pay a fee for each Uber Eats' order delivery made by a driver.
Marketing fee: Restaurants may be required to pay a fee to participate in Uber Eats' marketing campaigns or promotions.
The costs can vary depending on the location and agreement with the company. It's recommended to check with Uber Eats for more information about the delivery fee and service fee and how they can impact your restaurant's bottom line.
What is Uber Eats' Commission Rate?
Commission rates for restaurants vary depending on the region but generally range from 15-30%, which doesn't include payment processing costs and service fee. This means that for each order placed through the platform, Uber Eats charges a percentage of the total sale as a commission.
Additionally, restaurants may also need to pay an additional delivery fee to the Uber Eats drivers. Here's a breakdown of what you can expect to pay:
Lite: The Lite plan offers a lower Uber Eats commission rate of around 15% of the total order value, compared to the standard rate of 30%. This plan is a low-cost way for many restaurants to save money and join the Uber Eats platform.
Plus: The Plus plan comes with a significantly steeper commission rate at 25% of the total order value.This plan offers more exposure to potential clients on the Uber Eats app.
Premium: The Premium plan takes a 30% commission fee from the total order value, places your business higher in the Uber Eats app, and matches extra ad spend up to $100.
Although each plan comes with benefits for your restaurant, there are other factors that also increase your costs, like the 6% fee for pickup orders and the 2.5% order processing fee + $0.29 per order.
How much does Uber Eats charge restaurants on average?
On average, Uber Eats takes anywhere from 15% to 30% on commissions alone. However, there are other Uber Eats fees for restaurants to look out for as well, such as processing and marketing fees, which can significantly eat up your revenue from each order.
| Plan Type | Order From Uber Eats (Monthly) | Average Order Value | UberEats Commission Rate | Uber Eats Processing Fees | Total Orders Value (Monthly) | Remaining Revenue (Monthly) |
| --- | --- | --- | --- | --- | --- | --- |
| Lite | 100 | $50 | 15% | 2.5% + $0.29 | $5000 | $4124.71 |
| Plus | 100 | $50 | 25% | 2.5% + $0.29 | $5000 | $3624.71 |
| Premium | 100 | $50 | 30% | 2.5% + $0.29 | $5000 | $3374.71 |
Uber Eats vs. Grubhub vs. Doordash commissions
These food delivery systems allow regular and new customers to order food online from restaurants. Each company can charge restaurants a commission fee for each order placed through them.
The commission fee varies for each company and can also depend on the individual restaurant's agreement with the company. So how much does uber eats charge restaurants in comparrison to other systems? In general, GrubHub and Uber Eats charge a fee of around 20-30%, while DoorDash's commissions can be as high as 40%.
It is important to note that the commission fee is not the only expense when using these delivery apps, as they also charge additional fees such as marketing and delivery fees, which make restaurants lose money.
| Delivery Systems | Uber Eats | GrubHub | DoorDash |
| --- | --- | --- | --- |
| Commissions | 15%-30% | 15%-25% | 15%-40% |
Which is cheaper: Uber Eats or DoorDash?
When it comes to food delivery services, DoorDash tends to have higher commission fees than Uber Eats, which can be as high as 40%, while the Uber Eats commission rate is around 20-30%.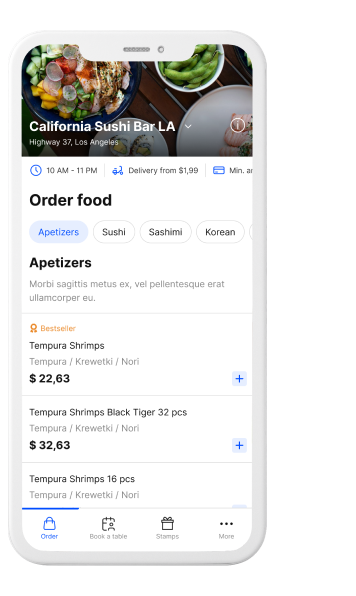 Create a mobile app for your restaurant
Boost customer loyalty with native iOS and Android ordering apps that put your restaurant right in your customer's pocket
Why are Uber Eats' fees so high?
Uber Eats is a high demand platform, which means that it has a large user base and a lot of competition among restaurants. Here's a breakdown of Uber Eats' cost:
Competition among restaurants: high commissions and additional fees due to restaurants having to pay more to reach a larger customer base and stand out from the competition.
Their own delivery fleet: Uber Eats' fees are so high due to having their own team of drivers who deliver orders directly to your clients, which significantly increases expenses.
System infrastructure: Uber Eats is a subsidiary of Uber and uses the same infrastructure and technology as Uber, which is costly to operate.
Uber marketing fees: Uber Eats indirectly markets itself when promoting restaurants, which significantly increases fees.
What makes up Uber Eats' Order Cost?
How much does Uber Eats charge restaurants? With each delivery service, businesses need to pay a commission fee, delivery fee, service fee, and marketing and promotions fees (if applicable). As a result, restaurants charge more for their food in order to cover these costs.
How do restaurants get paid from Uber Eats?
Restaurants get paid through a variety of methods, depending on their agreement with the platform. Generally, when an order is placed through the Uber Eats app, the restaurant will prepare the food and then hand it off to a Uber Eats delivery driver.
Split payments with the driver: the order is delivered to the customer and a percentage of the total is paid as commission to the delivery person and the rest to the restaurant.
Your own delivery method: some restaurants have agreements with Uber Eats to handle their own delivery, in which case the restaurant would collect payment directly from the customer, but would still have to pay a service fee.
Restaurant accounting: How to document Uber Eats fees
To document fees, it's best to keep track of the financial transactions between your restaurant and the platform. Here are a few steps you can take to document these fees:
Keep a record of all orders placed through the platform, including the date, time, order total, and any fees charged by Uber Eats.
Track your daily, weekly, or monthly payments from Uber Eats, and make sure to document the amount and date of each payment.
Take note of any additional fees and charges, such as delivery fees or commissions, and keep records of these fees separately.
Keep all invoices and receipts of payments for your records and for tax purposes.
It's also a good idea to regularly review your records to ensure that all fees charged by Uber Eats are accurate and that you're receiving the proper payments.
Do restaurants lose money with Uber Eats?
The Uber Eats restaurant fees definitely impact businesses. The platform charges a commission fee for every order placed through its app. The commission fee can vary depending on the restaurant's agreements, but it is typically around 30%.
Restaurants may also be charged additional fees for things like delivery, marketing, or other services provided. Although these apps are in high demand, delivery apps like Uber Eats can hurt your restaurant in other ways as well.
As a result, restaurant owners are losing hundreds if not thousands of dollars from their revenue each month in commissions and other fees.
"As for restaurants, many hate Uber Eats. Why? Because rather than charging consumers the full cost for on-demand food delivery, they shifted a large cut onto restaurants. This only adds to our skewed perception of food costs, now also distorting the reality of what food delivery costs. Devious little devils."
– Joelle Parenteau, Why Uber Eats Is A Necessary Evil
Necessary evil: The 4 main disadvantages of Uber Eats
High fees: you're required to pay commissions of up to 30% on each sale, which means costs increase endlessly. The more money you make on orders, the more Uber Eats takes.
No control: your customer data isn't owned by you, and you have little control over your marketing activities.
You can lose everything: if you decide to quit using Uber Eats, you lose all of your online orders and your listing in the app.
No marketing freedom: you cannot market to users who order via Uber Eats because you don't own their data.
Is Uber Eats worth it for restaurants?
Uber Eats can provide restaurants with a valuable source of additional revenue, as well as increased visibility and exposure to new customers. It also allows restaurants to expand their delivery range and reach customers who may not have previously been able to access their food.
However, there are also downsides to partnering with them. How much does Uber Eats charge restaurants depends a lot the chosen plan and location of the business. Restaurant owners don't own their customer data or marketing, which means they're entirely reliant on the system.
If a restaurant owner decides to leave Uber Eats, all of their online orders and marketing activities will be lost. Plus, marketing on the platform is done within the app, so once your business is off of the platform, you cannot reach those customers, and they cannot order your menu items off the app. In that case, it might be wise to understand how to get more Uber Eats orders and push on.
Whether or not Uber Eats is a good option for your restaurant will depend on your specific circumstance, goals, and priorities. Always make sure to read the fine print when looking for third-party food delivery services, and evaluate the pros and cons before committing.
Final Thoughts
Uber Eats can take up to 30% on commissions from each food order.
Don't use the platform as your main source of online food orders. Marketing fees and commissions will drastically reduce your earnings, hurting your restaurant. Instead, use an online ordering system that gives you more freedom and takes no commissions.
Build your own online presence with the help of a branded website and mobile app to reduce commissions.
Promote your own online ordering page to clients who order via Uber Eats so they can order their meals directly from you.