In the past few years, the rise of third-party delivery services has revolutionized the way we order food. The demand for convenient meal delivery from restaurants was already on the rise, but with the onset of the COVID-19 pandemic, this need skyrocketed to new heights. In the face of this situation, many restaurant owners find themselves confronted with a challenging decision: should they invest resources in developing their own way to deliver food or partner with a third-party service?
This ultimate guide aims to provide comprehensive insights into third-party delivery apps and their impact on the restaurant industry. It will equip you with the knowledge to make informed choices in the evolving world of third-party food delivery services. Consider both pros and cons before using third-party or in-house food deliveries.
What is a third-party delivery service?
A third-party delivery service functions as a facilitator, connecting consumers with restaurants or businesses to efficiently deliver goods, predominantly food. These services serve as intermediaries, assuming responsibility for the logistical aspects of the delivery process. By collaborating with third-party delivery companies, restaurants can extend their reach and provide customers with convenient delivery options without relying solely on their delivery staff.
Typically, these third-party services operate through user-friendly mobile applications or websites, enabling customers to explore menus, place orders, and track deliveries in real time. Once a restaurant receives an order, the third-party service coordinates with a delivery driver who visits the restaurant collects it, and transports it to the customer's designated location.
Third-party delivery apps bring convenience to both customers and restaurants. Customers benefit from a vast selection of food choices from multiple restaurants that are delivered to their doorstep, whilst restaurants that cooperate with third-party food delivery services can reach out to a larger customer base, directly increasing their sales. However, there are also cons of partnering with third-party companies, which we will discuss in this article.
Fast facts on food delivery apps and food online ordering
Restaurateurs have two primary choices when integrating delivery into their operations. They can either partner with a third-party delivery vendor, leveraging their services to streamline the delivery process within the restaurant, or develop their own delivery system through their website.
Let's start with food delivery app options they can choose from, and then we will cover developing their own delivery system for a restaurant.
While thinking about the best third-party delivery apps, what comes to one's mind are the most popular companies that offer food delivery services on behalf of restaurants. Below is a list of the 5 best third-party food delivery service providers.
1. Doordash

Doordash is a third-party app that allows customers to order food from their favorite restaurants easily. As a restaurant listed on DoorDash, you can use their reliable food delivery services. Customers enjoy the variety of cuisines on the app and the option to browse restaurant menus. Many local customers also enjoy the added benefit of DoorDash Pass, which provides free food delivery services.
DoorDash doesn't stop at restaurant deliveries. They also offer delivery grocery delivery.
According to RetailWire, during the fourth quarter of 2022, DoorDash experienced substantial growth, with a 40 percent year-over-year increase in revenues. Furthermore, the company achieved a remarkable milestone, reaching a record-breaking 32 million monthly users by the end of the year. In addition, the number of individuals with DashPass subscriptions surged to 15 million, showcasing an impressive rise from 10 million in the previous year.
Marketing tools to attract new customers
The option to reach new customers
No own branded restaurant app
On-demand delivery with DoorDash Drive
The pricing is based on a commission model. Depending on your package, there will be a 15% to 30% commission for deliveries and a 6% commission for pickups. Payment processing is included.
2. UberEats

Uber Eats is a third-party delivery app operating in over 45 countries worldwide. Uber Eats was launched in 2014 as an extension of Uber, a renowned company known for its car ride services.
With Uber Eats, customers can experience the convenience of ordering food from their favorite local restaurants directly through the food delivery app. It offers a wide selection of restaurants and cuisines, catering to various tastes and preferences.
Widely recognizable brand in most major cities
Listing your restaurant among your competitors
Convenient delivery tracking feature powered by GPS technology
Uber Eats retains ownership of the customer data generated through the app
The pricing structure of Uber Eats involves a commission fee of 15% to 30% for deliveries and a 6% commission on pickup orders.
3. GrubHub

GrubHub is one of the most popular third-party apps founded in 2004. It offers two key services for restaurants: listing them on their platform and integrating their online ordering system onto the restaurant's own website.
Through the GrubHub marketplace, customers can easily browse menus, place orders, and choose between delivery or pickup from nearby restaurants. On the other hand, with GrubHub Direct, customers can order directly from a restaurant's website, streamlining the online ordering process.
Real-time driver tracking
The option to create a restaurant website with online ordering with GrubHub
Listing your restaurant among your competitors
GrubHub allows restaurants to offer cash payments as an option for their customers
GrubHub operates on a commission-based pricing model, with a commission ranging from 5% to 20% on both delivery and pickup orders
4. Delivery.com

Delivery.com is an online platform and mobile app that offers a range of services, including food ordering from restaurants, liquor stores, grocery stores, and even arranging laundry services. With Delivery.com, users can easily browse and order from a wide selection of establishments.
One of the standout features of Delivery.com is the group ordering feature, which allows users to split orders with others in their household or building.
Marketing tools to attract new customers
When using Delivery.com, your business will be listed alongside numerous other restaurants on the app.
Strong brand recognition among customers
Delivery.com operates on a commission-based pricing model. The standard commission charged per order is 15%. However, the delivery fees are determined by each individual restaurant's choice.
5. ChowNow
ChowNow is an online food ordering platform that was established in 2011. It provides two solutions for restaurants: ChowNow Direct and ChowNow Marketplace. Operating in major cities across the United States, ChowNow offers widespread coverage for restaurants and customers
With ChowNow, restaurant owners have the opportunity to create their own branded app, offering a unique and personalized experience for their customers. This includes providing food delivery services directly to their loyal patrons. The platform prides itself on transparency, assuring restaurant owners that no hidden fees are involved.
Ownership of customer data
It allows restaurant owners to create their own customized website and mobile app
If you opt for ChowNow Marketplace, your restaurant will be listed among your competitors
ChowNow operates on a subscription-based pricing model, starting at $139 per month. In addition, there is a delivery fee of $3.99 for each order and a credit card fee of 2.95% plus $0.20.
You can also check out articles on 10 Best Food Delivery Apps and 6 Best UK Food Delivery Apps.
Pros & Cons of Third-party Food Delivery Services
When deciding if you want to use a third-party delivery company or focus on developing your own food delivery channel, consider the pros & cons of third-party food delivery services.
Pros
Increased Reach and Customer Base: Collaborating with a third-party delivery app enables restaurants to access a wider customer base that may have been difficult to reach independently. These services boast extensive marketing reach and a large user base, exposing the restaurant to new potential customers.
Convenience: By partnering with a third-party delivery platform, restaurants can enjoy convenience in multiple ways. They can simply post their menu on the platform and let it handle the logistics of processing orders and coordinating drivers. Automated systems provided by the platform make creating an online delivery menu quick, easy, and efficient.
Convenient and Efficient Delivery Logistics: Third-party services handle the entire delivery process, including driver dispatch, order tracking, and ensuring prompt deliveries. By relying on their expertise, restaurants can free themselves from the complexities of managing an in-house delivery fleet, allowing them to focus on their core operations.
Access to Technology and Infrastructure: Many third-party apps offer advanced technology and infrastructure, such as user-friendly mobile apps and websites for seamless ordering and delivery tracking. Leveraging these platforms enhances the overall customer experience and streamlines the ordering process for restaurants.
Labor Cost Savings: Utilizing third-party drivers for delivery enables restaurants to save on the costs associated with employing and insuring an in-house delivery team. This cost-effective approach offers food business operators a stress-free delivery experience while eliminating the need to manage and cover expenses for dedicated in-house delivery staff.
Meeting customers' needs: Customers want to have the option to order online and have local delivery.
By leveraging the advantages of third-party delivery services, restaurants can tap into a larger customer base, benefit from efficient delivery logistics, and access technological tools that enhance the customer experience.
Cons
High Commission Fees: Third-party companies often charge a commission fee for each delivery order, typically ranging from 15% to 30% or higher. This can significantly impact the restaurant's profit margins, especially for smaller businesses operating on narrow margins.
Loss of Control over Delivery Experience: When relying on third-party services, restaurants surrender control over the delivery process. This may lead to issues such as inaccurate orders or delays, potentially affecting the overall customer experience and reflecting negatively on the restaurant. Restaurants may also face challenges in maintaining control over the quality and handling of their food once it leaves their premises. As the restaurant does not directly employ the delivery drivers, it becomes difficult to ensure consistent standards and oversee how the drivers handle the food during the delivery process.
Potential Brand Dilution: As third-party platforms fulfill orders, the restaurant's brand and control over the customer experience may be diluted. Customers may primarily associate the delivery experience with the third-party platform rather than the restaurant itself, potentially diminishing the overall brand perception.
Limited Customer Contact: When utilizing third-party delivery platforms, direct contact with customers through email or other means is typically not shared. As a result, restaurants may face limitations in reaching out to customers directly for marketing initiatives or loyalty campaigns.
Limited Data Access and Customer Ownership: Restaurants partnering with food delivery apps often have limited access to valuable customer data and insights. This restricts their ability to establish direct relationships with customers, ask for feedback directly, and engage in targeted marketing campaigns based on customer preferences.
Weekly Payment Schedule: With regards to credit card payments, instead of the typical 1–2 business day deposit timeframe, payments are consolidated and made on a weekly basis. Third-party food delivery providers handle payment processing on their own sites and deduct their commissions before depositing the remaining amount into your account. As this deposit occurs once weekly, it can create cash flow challenges for a restaurant business. The extended turnaround time may introduce additional stress for restaurants concerned about managing their finances effectively.
Dependency on External Factors: Restaurants relying on delivery apps are subject to the reliability and availability of the platform itself. Technical issues, system outages, or disruptions in the third-party delivery service's operations can impact the restaurant's ability to fulfill orders and serve customers, leading to potential business interruptions.
Restaurants must thoroughly evaluate the pros and cons in light of their unique business requirements, objectives, and available resources before making a decision to collaborate with a food delivery app. Each restaurant's unique circumstances, resources, and goals should be taken into account to make an informed decision.
How Third-Party Platforms Function
All third-party food delivery services function similarly. They provide user-friendly apps where customers can conveniently place food orders from your restaurant or shop. These orders are transmitted through a mobile device or direct integration with your point-of-sale (POS) system. Subsequently, the platform connects you with local delivery drivers who facilitate the prompt delivery of these orders.
Usually, both restaurants and their customers pay for third-party food delivery services, as the delivery providers charge a commission on each order from a restaurant and add delivery fees to customers placing orders.
Guidelines for Establishing a Partnership with a Third-Party Delivery Service Provider
Partnering with delivery apps can be a strategic move for restaurants looking to expand their reach and offer delivery services. Here are vital steps to consider when establishing a partnership:
Research and evaluate: Begin by researching various third-party food delivery services available in your area. Check their websites and the conditions to build a partnership. Consider their market presence, customer base, commission rates, delivery coverage, and reputation. Evaluate how well their services align with your restaurant's needs and goals.
Contact potential partners: Reach out to the selected third-party companies to express your interest in partnering. Check their onboarding process, terms and conditions, and requirements to cooperate. Ask questions to clarify how they work and what needs to be done on your side to start partnering with a third-party food delivery service.
Assess terms and fees: Take the time to carefully examine the terms and conditions outlined in the partnership agreement. Pay particular attention to commission rates, delivery fees, and any additional charges specified. Evaluate these fees in relation to your profit margins, ensuring they are reasonable and compatible with your business model. This analysis will help you make an informed decision about the feasibility and financial implications of the partnership.
Set up your partner account: Follow the instructions on the chosen platform's website to create an account. Check if they offer integration with your POS system, enabling streamlined order management.
Technical integration: If you choose to proceed with a particular third-party app, collaborate closely with their technical team to integrate their ordering system into your restaurant's operations. Work together to establish a smooth connection that synchronizes your menu, pricing, and availability with the platform.
Menu optimization and pricing: Engage closely with the delivery service to optimize your menu for online ordering. Focus on providing clarity, appealing descriptions, and appropriate pricing that aligns with customer expectations. Take into account any specific requirements or recommendations provided by the platform to further enhance the overall customer experience. By fine-tuning your online menu, you can effectively showcase your offerings and attract more customers to place orders through the platform.
Choose your preferred order-receiving method: Specify your preferred method for receiving orders, whether it's through the dedicated app provided by the third-party food delivery service or via integration with your existing point-of-sale (POS) system. This ensures seamless communication and efficient order management, allowing you to streamline operations and provide prompt service to customers.
Provide staff training and establish effective communication: Conduct thorough training sessions to equip your staff with the necessary knowledge and skills to efficiently process and fulfill orders from the food delivery app. Additionally, establish clear and effective communication channels with the service provider to promptly address any potential issues.
Start receiving orders: Initiate receiving and preparing orders as they come in. Once you have prepared the order, simply await the delivery driver's arrival assigned through the third-party service app. The driver will pick up the order from your location and deliver it directly to your valued customer, ensuring a smooth and convenient delivery experience.
Monitor and evaluate performance: Maintain regular monitoring of your partnership with the third-party delivery app to assess its performance. Analyze relevant data points, including order volume, customer feedback, delivery times, and overall customer satisfaction. By continuously evaluating these metrics, you can gauge the impact of the partnership on your business. Make necessary adjustments and improvements as you identify areas for enhancement, ensuring an optimized partnership that aligns with your business goals and customer expectations.
Keep in mind that each third-party delivery service may have its own unique procedures and requirements. Adapt the outlined steps according to the specific platform you choose. By strategically partnering and fostering effective communication, you can harness the full benefits of collaborating with food delivery apps, ultimately enhancing your restaurant's delivery capabilities.
What are the alternatives for third-party delivery services?
Online ordering and delivery present significant opportunities for small businesses. It's important to note that while using third-party online ordering and delivery services can be one approach to meeting customer demand, it's not the only option available.
If you use a POS system, check if it is integrated with an online ordering system. Some point-of-sale software provides integrated features that allow businesses to manage their own team of in-house drivers efficiently. These features include maps-based dispatch and driver smartphone apps, streamlining the process of coordinating deliveries and ensuring effective communication within the team.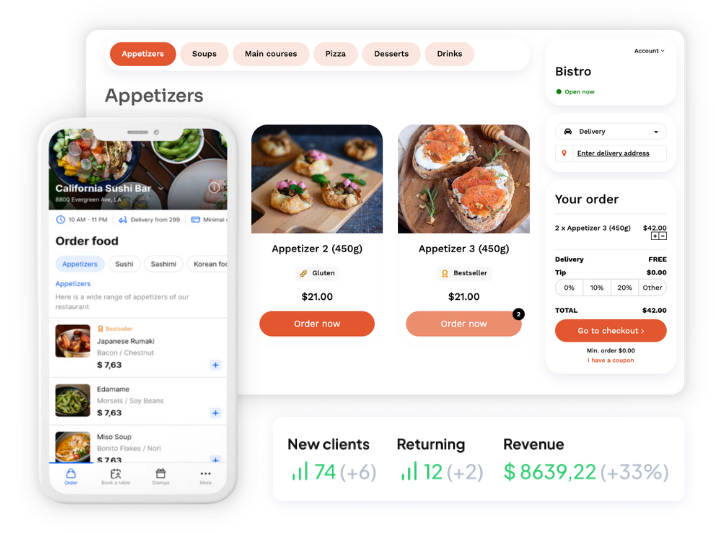 Your own branded online
ordering in 5 minutes
Launch commission-free online ordering on your own website in 5 minutes and grow your revenue, build loyalty and protect margin from third-party aggregators.
If you are not using a POS, you can also look for an online ordering system that enables you to offer direct online ordering from your restaurant. If you don't have a restaurant website, look for a restaurant website builder. These tools help restaurants create a website in a few simple steps.
You can choose from various professional restaurant website templates, and add your content, menu, photos of your dishes, and contact data. Then, you add online ordering to your website, and that's it! Your customers can order food online directly from your own restaurant website.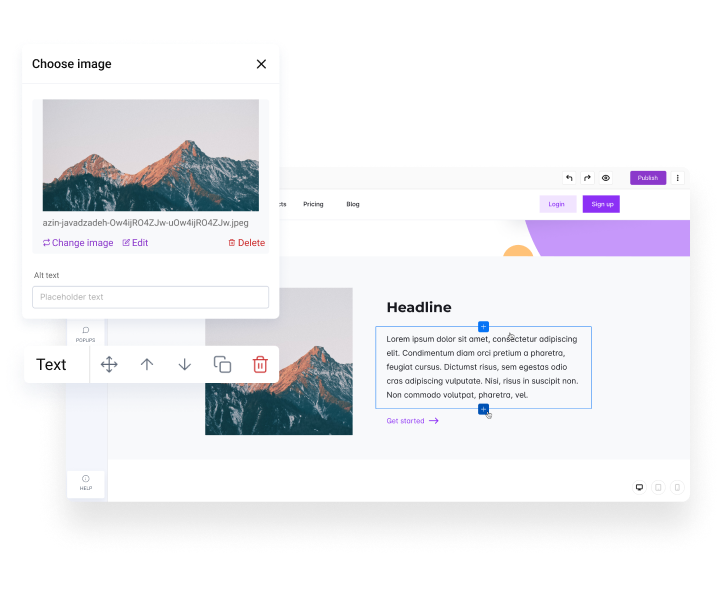 Restaurant Website Builder
Your own branded restaurant
website in minutes
Get a beautifully designed website that converts online visitors into customers and keep them coming back.
Numerous independent restaurants adopt a combination approach by utilizing both third-party platforms and their own in-house online ordering systems. By doing so, they can leverage the benefits of third-party reach while, simultaneously, encouraging customers to place future orders directly with the restaurant. This is often facilitated by including coupons or flyers with third-party orders, offering enticing discounts or freebies to incentivize customers to order directly from the restaurant in the future.
Developing your in-house delivery service
If you are considering developing your own delivery service for your restaurant, it requires thorough analysis, budgeting, and planning. To help you decide, below you will find some essential considerations and critical factors to consider.
1. Drivers and vehicle expenses
To deliver your food, you will need to buy vehicles, pay for gas and insurance, and hire at least one own delivery driver. An additional option is to compensate your own drivers for using their personal cars for deliveries.
Alternatively, you can consider hiring external couriers and paying them for deliveries only. A good option is also looking for an online ordering system integrated with delivery companies. For example, when using the UpMenu system, you can use its integrations with Stuart, Wolt, and Shipday. Thanks to this, you can cheaply and permanently hire couriers for deliveries.
2. Staffing for Delivery Preparation
If your restaurant receives more than 35-40 online orders daily, hiring a dedicated employee might be necessary to coordinate receiving orders and ensure the food preparation and delivery process. Hiring a dedicated delivery staff member ensures efficient order management and helps maintain quality control throughout the delivery process. If you use an online ordering system, ensure that the person responsible for receiving orders is properly trained to ensure coordinated handling of online orders.
3. Space for High-Volume Deliveries
Make sure you set aside a dedicated area in your restaurant to handle many delivery orders efficiently. This designated space will help you stay organized and manage the high volume of orders smoothly. A specific area for handling deliveries can streamline your operations, make order processing more manageable, and ensure effective kitchen staff and delivery team coordination. It's all about creating a convenient and efficient setup to handle many delivery orders easily.
4. Efficient Food Storage
When it comes to food delivery, you want to make sure your food stays fresh and delicious. That's where efficient food storage comes in. It's all about having a system to keep your food organized, maintain quality, and meet safety standards during transportation. By storing your food properly before delivery, you can ensure it stays in top-notch condition until it reaches your hungry customers. So, remember to handle your food carefully and keep it fresh throughout the delivery process.
5. Smart Packaging for Delivery
When delivering food, the right packaging makes all the difference. You want to ensure your delicious meals arrive in perfect shape and taste amazing. That's why choosing the right packaging materials is super important. It protects your food, prevents any spills or leaks, and ensures it stays at the right temperature. Great packaging keeps your customers happy and makes the delivery experience awesome. So, invest in packaging that keeps your food safe and tasty until it reaches your hungry customers!
6. Payment methods
When paying for your in-house deliveries, you want to keep things simple and secure. That's why it's important to set up a smooth payment process. Give your customers different options like cash, card, or online payments, so they can choose what works best for them. By offering multiple payment types, you make it convenient for everyone.
Key Takeaways
The increasing demand for convenient food delivery has driven the rise of third-party delivery services
Factors such as cost, control, customer experience, and brand identity should be carefully evaluated when deciding between a third-party delivery service or developing an in-house delivery channel
Partnering with a third-party service can expand the customer base, offer convenient delivery logistics, provide access to advanced technology, and benefit from existing infrastructure support
Restaurants should be mindful of potential drawbacks, including high commission fees, loss of control over the delivery experience, potential brand dilution, limited access to customer data, and dependence on external factors
Restaurants should weigh the pros and cons, aligning with their specific business needs, goals, and available resources to make a decision about partnering with third-party delivery apps
The industry of third-party food delivery constantly evolves, with emerging platforms and changing consumer preferences. Restaurants need to stay updated and adapt their strategies accordingly.
Using an online ordering system is the other alternative restaurants should consider selling food online. By implementing their system, restaurants can offer customers the ability to order directly through their website, granting them more control over the delivery process and enhancing the overall customer experience.
Developing an in-house online ordering system provides customization, branding control, and direct customer relationships
Many restaurants use a combination approach, they utilize both third-party delivery platforms and their direct online ordering