Delivery-only restaurants, ghost kitchens, and virtual restaurants appeared on the market during the pandemic due to government limitations imposed on traditional restaurants in all countries affected by COVID-19. Like many other industries, the restaurant industry found itself in a very difficult situation and had to look for new solutions so that as many restaurants as possible could survive these challenging times. If you are wondering how to start a delivery-only restaurant and what are its pros and cons, check out our comprehensive guide. Let's dive into the details!
What are delivery-only restaurants?
Delivery-only restaurants, also known as ghost kitchens or virtual restaurants, are dining establishments that concentrate exclusively on preparing and delivering food to customers. Delivery-only restaurant concepts don't offer dine-in or on-site seating arrangements. These businesses predominantly operate through online ordering platforms, collaborate with third-party delivery services, or have in-house delivery drivers. Delivery-only concepts give restaurateurs a low-risk opportunity to experiment with new markets and cuisines, requiring minimal overhead and capital investment.
How does the delivery-only business model function?
Delivery-only restaurants are places that function in a way that food is made in these restaurants and then delivered to people. They don't have a place for customers to sit and eat like traditional restaurants. Instead, people order their food online, and the restaurant either works with delivery companies that provide third-party delivery services or have its own delivery people to bring the food to customers. The delivery-only model offers more flexibility than a traditional brick-and-mortar model.
What are the advantages of delivery-only restaurants?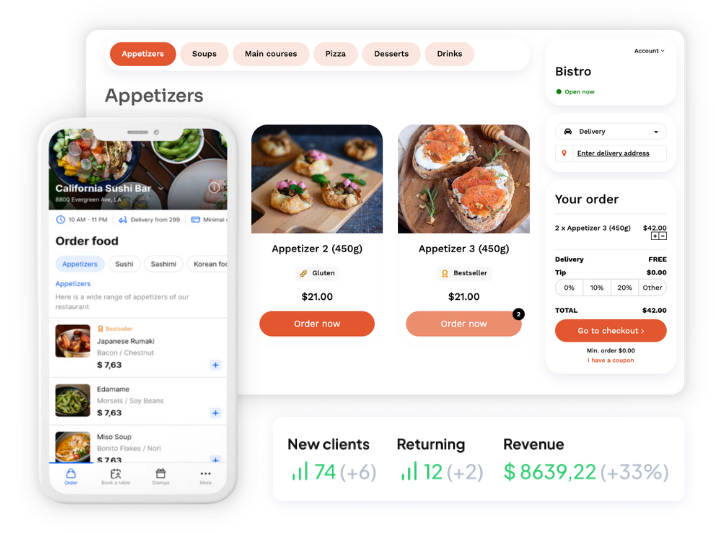 Your own branded online
ordering in 5 minutes
Launch commission-free online ordering on your own website in 5 minutes and grow your revenue, build loyalty and protect margin from third-party aggregators.
Lower costs than running a traditional restaurant – there is no need for a dine-in space for guests, which lowers the restaurant costs. Moreover, delivery-only restaurants usually use shared kitchens and rent them, for example, for hours. The initial costs of starting delivery-only restaurants are reduced by eliminating the need to invest in equipment and furniture for guest tables. Furthermore, virtual restaurants don't need to hire waiters.
Flexibility to experiment – delivery-only restaurants can experiment with different cuisines and menus. For example, if a given menu item is less popular than others, a delivery-only restaurant can quickly remove or replace it. Thanks to that, delivery-only restaurants can quickly adapt to customers' changing needs and the market demand for given products. The practice of building a good restaurant menu is strongly connected to menu engineering.
The possibility to build a strong brand – delivery-only restaurants can build a strong brand thanks to offering online ordering directly from their restaurant websites. They can also promote their brands through third-party delivery services like Uber Eats and DoorDash.
The growing demand for food delivery apps – the statistics show that there is a growing demand for food delivery apps. Customers use these third-party delivery apps more often than they used to, and the trend will continue to exist in the following years. It is an excellent opportunity for virtual restaurants to use market demand and customer interest to increase their revenues from delivery orders.
What are the challenges of delivery-only restaurants?
Limited customer experience – contrary to brick-and-mortar restaurants, delivery-only restaurants don't have a physical dining room or direct personal interaction with customers. This can have an influence on the problems with creating long-term relationships with customers. To minimize this risk, restaurants can create a loyalty program to encourage their customers to become repeat customers.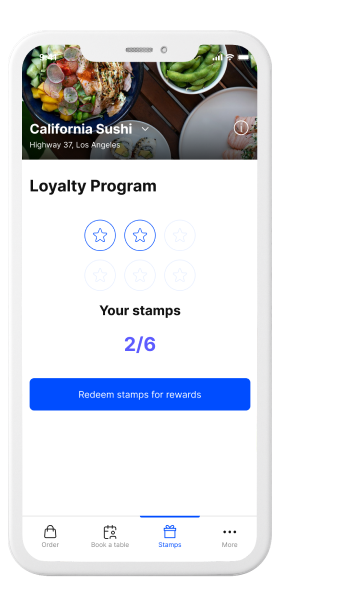 Customers who join the loyalty program often return and spend more
Get up and running quickly with our easy-to-implement loyalty program.
Dependency on third-party delivery platforms – Virtual restaurants often work with at least one third-party delivery company for order placement and fulfillment. On the one hand, these food delivery portals are well-known and often visited by customers. On the other hand, they charge restaurants high commission fees, and there is a risk of losing a brand identity, as customers tend to associate their food delivery experience more with the third-party service rather than the restaurant itself. This may reduce brand recognition and customer loyalty for the delivery-only restaurant. That's why it is vital to build a solid online presence. A restaurant can create its website by using a restaurant website builder.
Competition in the market – The virtual restaurant market is very competitive, as there are many virtual restaurants trying to get customers' attention. The growing number of ghost kitchens can make it hard to stand out and get loyal customers. To differentiate a ghost kitchen from others, having a unique brand, good food, and fast and reliable delivery is essential.
Potential logistical challenges – Managing delivery logistics can be complicated, especially when it's really busy or in places with many orders. Making sure deliveries happen on time, keeping the food fresh during transportation, and coordinating with delivery staff or outside services need careful planning. Customers can get upset and leave bad restaurant reviews if something goes wrong in the delivery process.
As you can see, running a delivery-only restaurant has advantages and challenges. If you made up your mind and want to try this delivery-only model, below you can check the steps necessary to start.
Step 1. Think about your restaurant concept
To begin with, you need to determine the type of cuisine you plan to offer. Consider your target customers and the competition in your delivery area. For example, if many delivery-only restaurants offer pizza, burgers, or chicken wings, but there is no Mexican restaurant in the surroundings, consider offering tacos and burritos.
If you are running a brick-and-mortar restaurant, and a virtual restaurant will be your second business, to reduce costs, you can plan your restaurant concept to use the same ingredients in your traditional restaurant and delivery-only restaurant. Additionally, you may also be wondering how to open a restaurant with no money, which is a viable option.
Step 2. Make a delivery-friendly menu
Design a menu that is suitable for delivery. Consider factors like food packaging, transportation, and quality. Ordering food and getting a broken package, spilled sauce, or cold food is no fun. Don't choose complicated menu items that need to be put together or divided into many containers for delivery, and always remember about customer experience and satisfaction.
Step 3. Create your brand
You won't have a traditional restaurant with a visible restaurant name on the storefront, so you need to focus on creating brand recognition among potential customers. Start with creating a logo and choosing a restaurant name. Think of other visual elements influencing brand recognition, like putting your restaurant logo on food boxes and paper napkins.
Create social media accounts for your restaurants to be in contact with your target customers. Post on social media platforms referring to current promotions and discounts. Don't forget to share appetizing photos of your menu items. Here you can check our food photography tips to take attractive pictures for your restaurant menu.
Step 4. Create a restaurant website
As we already mentioned, building a robust online presence is a must. Apart from using social media channels, you should create an easy-to-use and visually appealing website where customers can place orders, view the menu of your ghost kitchen, and find essential information about your restaurant. Remember that it also has to be optimized for mobile devices. For that purpose, you can use a restaurant website builder, choose one from the variety of ready-to-be-used restaurant website templates and add your restaurant menu.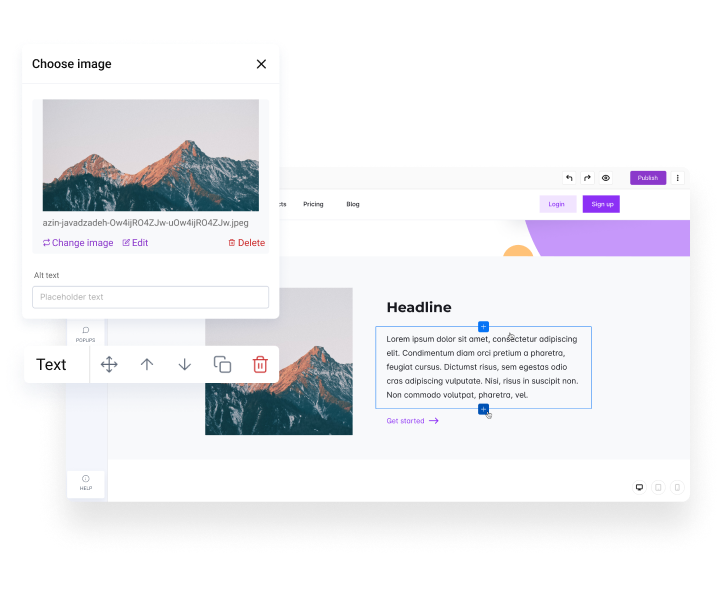 Restaurant Website Builder
Your own branded restaurant
website in minutes
Get a beautifully designed website that converts online visitors into customers and keep them coming back.
Step 5. Get the necessary licenses and secure kitchen space
You must get the necessary licenses and permits to run your virtual restaurant. They can vary from state to state, so make sure you comply with the local legal requirements for running a ghost kitchen. Check out our article on how to open a restaurant to read more about licenses and permits.
Moreover, you need to find a suitable kitchen space by renting a commercial kitchen or utilizing shared kitchen facilities. Commercial kitchens usually provide flexible rental options based on hourly, weekly, and monthly rates. Thanks to that, you can choose the precise amount of time you need, which helps you to save money by paying only for the specific duration you require.
Step 6. Recruit and hire employees
The next step is recruiting essential staff members. For sure you will need chefs and cooks. If you want to offer your own food delivery, you must also consider hiring delivery personnel. If you want to use the third-party delivery service, we move on to the next step.
Step 7. Select your delivery service partners
You must select a delivery partner if you don't plan to have your own delivery team. Conduct market research to find reliable partners that align with your business goals. Some third-delivery service providers might be more popular than others in large cities, the others will instead operate in small districts. Consider the costs of partnering with a given food delivery company and where a given company provides food delivery services to make the best choice for your virtual restaurant.
Step 8. Create a marketing strategy
The next step is creating a restaurant marketing plan to promote your new restaurant among as many consumers as possible. Focus on encouraging new customers to become repeat customers of your virtual restaurant. Examples of marketing activities you could use include:
Here, you can also check restaurant marketing strategies and ideas.
Step 9. Start selling online
Following the steps described above, you can start running your virtual restaurant. Use a food ordering system to launch your restaurant's online sales in just a few minutes. You can install it on a new or existing restaurant website. You just need to add your menu items, create your delivery zones, and enable the food delivery option. Here you can check how to set up an online ordering system.
Key Takeaways
Delivery-only restaurants are relatively new restaurant concepts in the food industry that help to reduce operational costs
The delivery-only business model gives you more flexibility than a traditional brick-and-mortar model
The start-up costs of virtual kitchens are lower than in traditional restaurant concepts thanks to no need for having a dining area for customers
A starting point is to choose a restaurant concept
Add to your virtual restaurant menu multiple dishes taking into account aspects such as food packaging, transportation, and quality
As in the case of starting any new business, you need to create a brand
Delivery-only kitchens can use both a food ordering system and a third-party delivery app, but take into account that third-party apps are usually more expensive
Don't forget about the necessary licenses and permits before opening a virtual kitchen
Find a suitable commercial kitchen space. You can use shared kitchen facilities.
Recruit and hire employees for your ghost kitchen. If you already run a brick-and-mortar restaurant, you can hire existing staff in your virtual restaurant concept.
Select carefully your third-party delivery partners
Create a marketing strategy to increase the number of delivery orders in your restaurant and attract new customers