Opening a restaurant usually requires lots of investment in equipment, location or marketing activities. When you are starting up a restaurant business, the access to funds is often difficult. However, there are creative ways to open a restaurant with little money. So, if you want to open your eatery, but lack proper finance, don't give up on your dreams! You can go through the process of opening a restaurant with almost no money.  In this article, we sum up the costs of starting a restaurant and present some money-saving solutions on how to open a restaurant.
What are the costs of opening a new restaurant?
It can't be denied that business in the gastronomy industry can bring long-term success. That's why many people aim at starting a restaurant. However, launching your eatery brings the association of spending lots of money, especially at the beginning. Of course, before your restaurant starts bringing profits, you need to make some initial investment. Anyway, there are some ways of getting money for opening a restaurant that you may find helpful at the beginning of your business journey.
Calculating startup costs
Starting a restaurant always requires some expenses. Even organizing the opening day involves spending some money. Future restaurateurs often wonder how much money they exactly need to open a restaurant. How to get started without breaking the bank? The best solution is to take an individual approach because every business widely differs. You should estimate the average opening spendings on the grounds of your business size.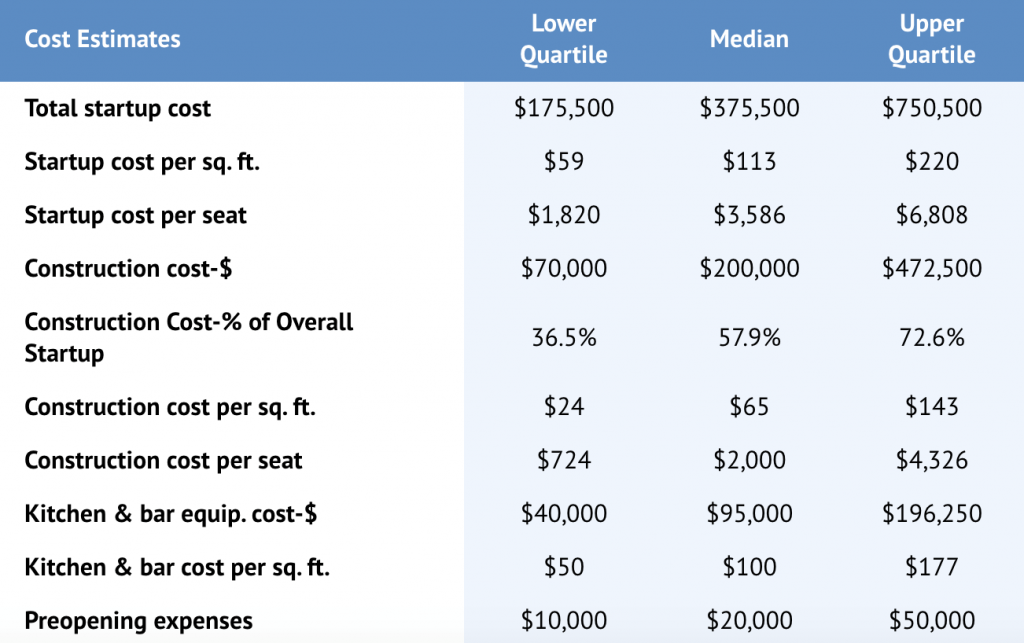 According to the survey by Restaurant Owner, the initial income usually ranges from $175,500 (refers to the small restaurant) to $750,500 (an average high cost) which is quite a wide scope. Keep in mind that this is only the average calculation. It may vary depending on the business model of the individual restaurant. You'll need your own list and analyze the costs based on the individual scenario.
How to get financing for opening a restaurant?
How to open the restaurant without spending a fortune? Unless you're independently wealthy, have some investments or earnings from another business that you could flow into your new restaurant, you will probably need financing support to open your new restaurant.
What are restaurant funding possibilities?
Many restaurateurs don't have enough money to meet start-up costs. They take advantage of the funding possibilities which is is a popular way to get extra cash for a startup or expanding your business. These are the most common funding options for restaurant owners:
Banks and traditional loans
SBA-guaranteed loans
Grants
Online lenders
Food incubators
Investors
Crowdfunding
Apply for traditional bank loan
If you're a first-time restaurateur, the traditional bank loans may be limited for you. There are slim chances you will get financial support from banks easily especially if you haven't opened your restaurant yet. Banks are reluctant to provide restaurateurs with credit for opening the first premise because they consider it too risky.
When you don't have a background in the restaurant business, you may not be able to pay a loan back. To get a bank loan you are supposed to prove a positive cash flow, which is impossible if you haven't made any revenue so far. In order to qualify for a credit without, you need to meet certain conditions. When applying for a loan for a first restaurant, here's what might help you to get qualified:
Additional financial security, e.g. a collateral
Advance payment
Previous restaurant experience
A perfect credit score
Take an SBA loan
Entrepreneurs look for different financing ways. One of them is looking for the possibilities of restaurant loans. You can apply for a loan through a lender directly or take advantage of the Small Business Association (SBA) loan programs that enable leaders, organizations and institutions to help small enterprises. Obtaining funding through restaurant loans may become a great option when you open your food business.
How to prepare a business plan?
If you decide on this way of getting financial support, remember to prepare a detailed business plan. Before you start looking for loan opportunities, you should develop a business plan to prove that are aware of what is necessary to run the business successfully. The plan should explain how exaclty you are going to earn money to repay the loan. Don't forget to include the required information.
Make sure you provide the details of your personal and business income tax returns.
Include all the details referring to a location, budget, the value of assets invested.
If you don't prepare a convincing business plan or have a bad credit, the traditional banks are unlikely to finance your restaurant pursuits. However, there's a chance that other banks may look beyond the credit score and offer you financing at a much higher loan instalment.
Find the investor
Although it is not an easy way to obtain finance, finding an investor can be a profitable solution. Sometimes banks may not be willing to finance your startup. Even though don't give up on your dreams if you have a great idea to open your restaurant business.
Many startups founders look for financial support. It is easier when your enterprise brings in some innovation or stands out from the competition. That is why you should prepare the detailed plan to convince them that your business is worth putting money into.
How to persuade an investor to help you open a restaurant?
When you find the right investor, the next step is persuading them to cooperate with you. There are many startups founders who look for financing support. There are even more foodservice businesses that look for financing. It is easier when your enterprise brings in some innovation or stands out from the competition.
How to convince the investor to go into business with you? Typically, the investors will pay attention mostly to the potential of your concept. That is why you should prepare the detailed plan to convince them that your business is worth putting money into. How to persuade the investor to choose you? Convince him that your business offer is the best.
Prepare a convincing business plan
Before you contact the potential investor, you'll need a solid business plan, as in the case of applying for a loan. In this way, you will prove that you have a background in the industry and your concept is worth investing. Remember to include the financial estimation of start-up expenses and sales projections. In this way, the investor will see you have a clear vision of the investment.
Pitch your idea
Focus on expanding your network. By getting new acquaintance it will be easier to reach the local investors and arrange the meetings. How to prepare for a meeting? Besides showing the detailed business plan, you need to sell your idea. Focus on the strongest points of your idea and present the pitch to demonstrate your business and presentation skills.
Show your expertise
Decide on the type of restaurant, do the research on your target audience and prepare budget details. In this way, you will show you have sufficient experience in the industry. You can mention your qualifications as a business owner. If you don't have much experience in running an enterprise, think about your other assets, e.g. being a skilful manager who is great with numbers and can succeed as a restaurant host.
It will add up to your business experience and can be a background to open your restaurant.
Get the funds via crowdfunding
Crowdfunding can become a great solution that will help you open a restaurant. Crowdfunding is associated with getting lots of money. The well-known platforms: Kickstarter, Indiegogo, FoodStart, GoFundMe, or Angellist are the areas where entrepreneurs can pitch their business ideas online.
What are the main assumptions of crowdfunding? It's a way of getting funds by collecting money from people online in small chunks. In other words, if you can't manage to find the investor or get a loan in a traditional way, you can bring your idea closer to people online.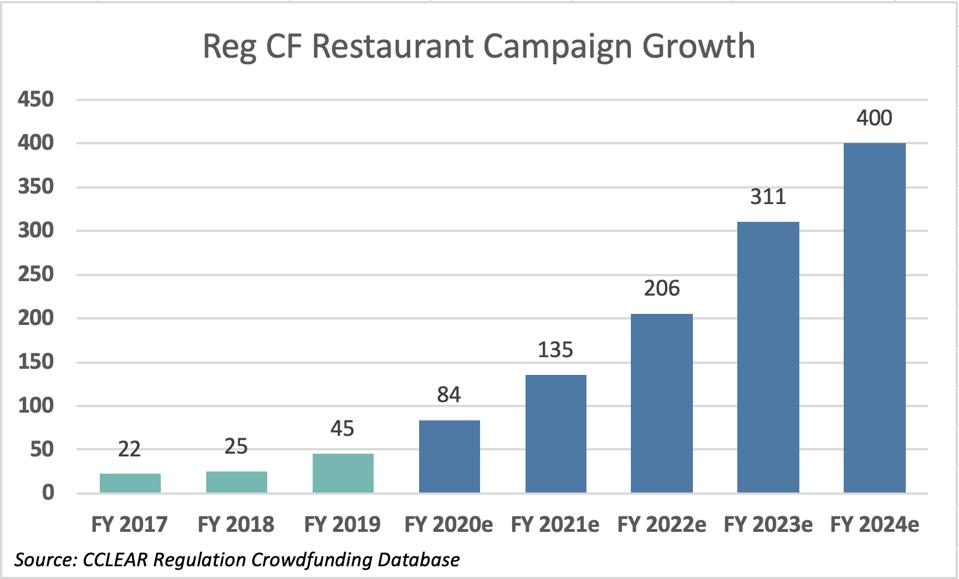 Crowdfunding is growing in popularity especially among the restaurant industry and foodservice businesses. As the reports show the gastronomy industry is the third most popular industry for investors and the tendency is not going to decrease. According to predictions by 2024, the sum of money invested online into l into restaurant enterprises is going to reach $170.
FAQ
What are the grants opportunities for a restaurant startup?
You have a wide range of possibilities for getting grants or licenses. Depending on the region you live in you can apply for many types of state grants. Choose the offer out of Grants.gov, FedEx Small Business Grant Contest, or look for local Food Incubators. Remember that finding Restaurant Incubator isn't the best solution for those who want to open their business fast, but rather are willing to devote time to learning.
What are the microloans?
They are short-term loans that secure a small sum of money for short periods of time. In microlending, regular people get the possibility to hit the market and make some investments. The risk is assessed based on your reputation on the site and your credit score. Even though the amount of most miro-loans is not sufficient to cover all the restaurant opening costs, it may significantly boost your finances for a startup.
What are the equipment loans?
You can obtain this kind of loan quite fast since the equipment is one of the most important areas of restaurant financing. The equipment loan will depend on the sort of restaurant you plan to open. Thus you can receive either a commercial lease or a loan that will help you purchase all necessary kitchen items. The advantage of this type of funding is that the equipment itself can be used as collateral for the loan.
What is SBA loan?
The U.S. SBA is a government organization that supports small enterprises. The loans, however, are not provided directly by the government. These are 3rd party personal loans plus the guaranteed allocation guaranteed delivered through the Small Business Administration. The qualified SBA lenders provide business owners with loans quickly and efficiently.
Ideas to open a restaurant with low budget
With every initiative, in the beginning, the commitment and enthusiasm are the greatest. So, if you have an idea for a food service business, don't wait for the opportunities endlessly – just take a step to starting a restaurant. Begin with something small, e.g. fast food restaurant, a bar or some alternative food service. Even if you haven't got the funds so far, you can decide on some of the low budget concepts. Only in this way, you will get vital experience.
Anything you will need is the Internet connection and the bunch of unconventional ideas. It will help you to stand out from the crowd and hit the target market. These low-budget alternatives will make your start easy. How to open a restaurant using alternative concepts?
Catering Business
Besides an infusion of cash, opening a restaurant involves a lot of planning. By starting with catering services, you will get familiar with effective management. You will control all the elements that need to be taken into consideration while running your own restaurant. Remember that every kind of eatery business experience brings you closer to the goal of running your own restaurant. Even providing food services at small family events requires planning the menu, setting up the pricing, implementing marketing activities, etc.
A website is a key marketing tool for any restaurant, but it is especially important for small, catering restaurants. A well-designed website can help boost your brand awareness to potential customers. Additionally, a website is a great way to showcase the menu and dishes that are available at your small catering restaurant. Upmenu.com can help restaurant owners create a professional looking website for their restaurants.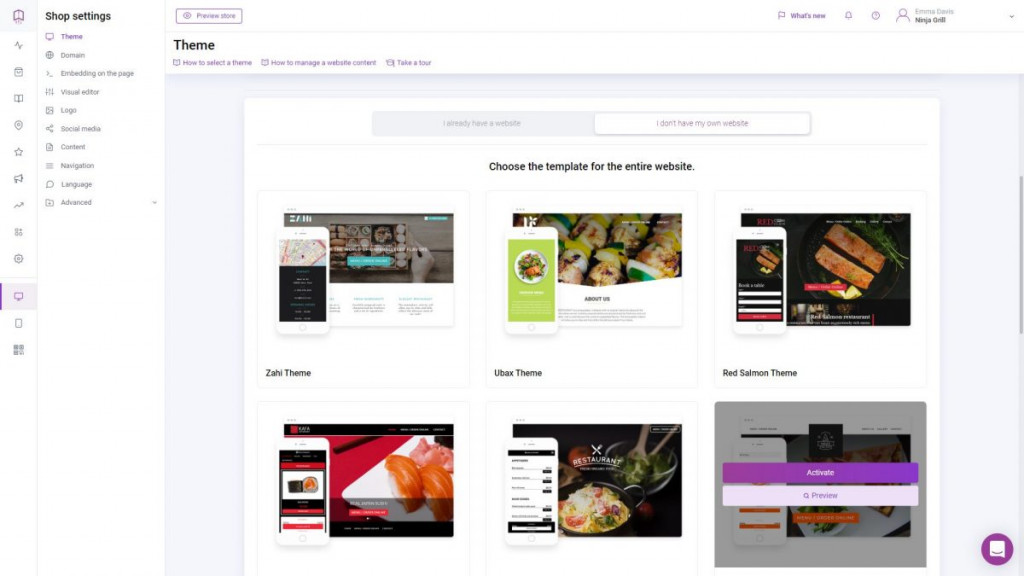 Food Trucks
This is an example of the low budget food service that can become an easy and cheap way to start a restaurant. Launching a food truck is much cheaper than opening a traditional restaurant. Sometimes even $5,000 will be enough to cover initial expenses. The maintenance of a food truck is also very cheap. There's no need to pay rent or huge electricity bills. Plus, you may choose the place. It means you to be located exactly where your target customers are often present.
What's more, street food has been growing in popularity. The stereotype that food trucks always serve unhealthy fast food is gone. Although mobile restaurants offer quite cheap and fast meals, they are prepared from high quality, ecological products.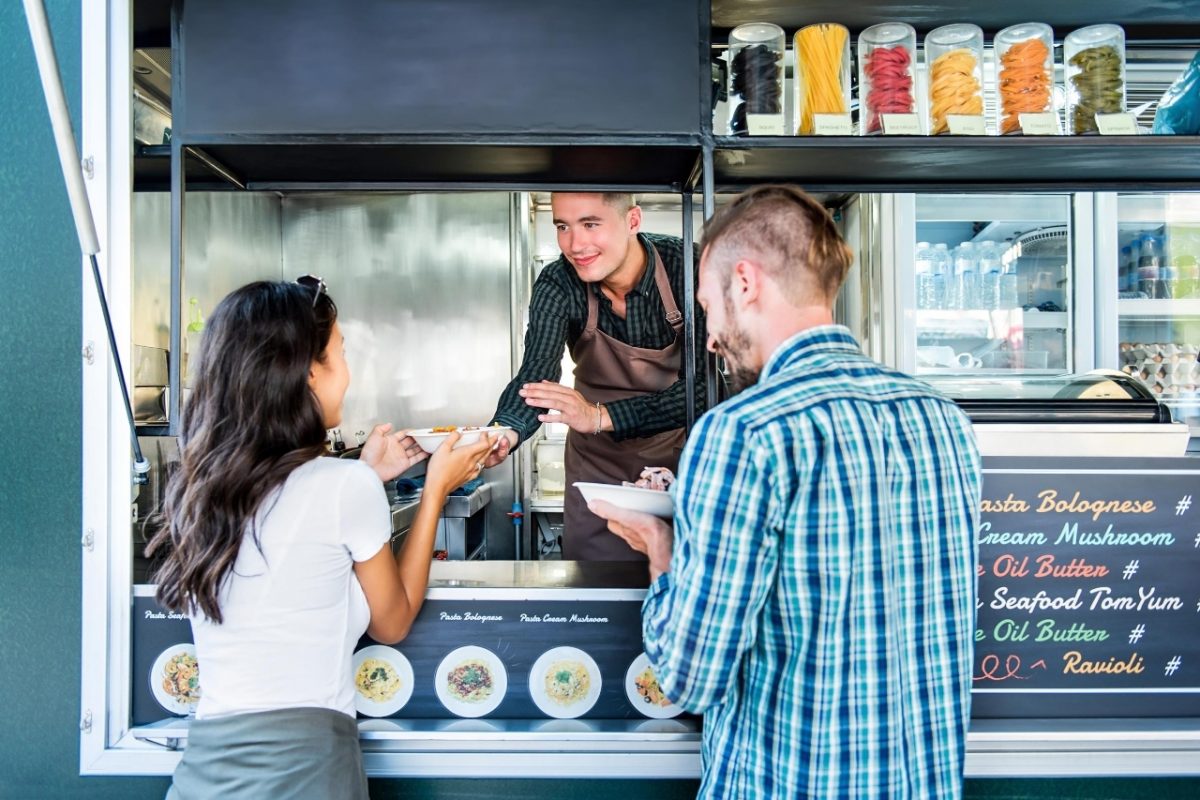 The happiness of your customers should be kept in mind at all times for the success of your food truck business. If they are satisfied with their experience, they will come back and tell others about your establishment. The QR code system offered by Upmenu.com is an excellent way for customers to access your menu quickly and easily. All they need to do is scan the code with their smartphone and the menu will appear. This is a great way to make ordering easy and hassle-free for your customers.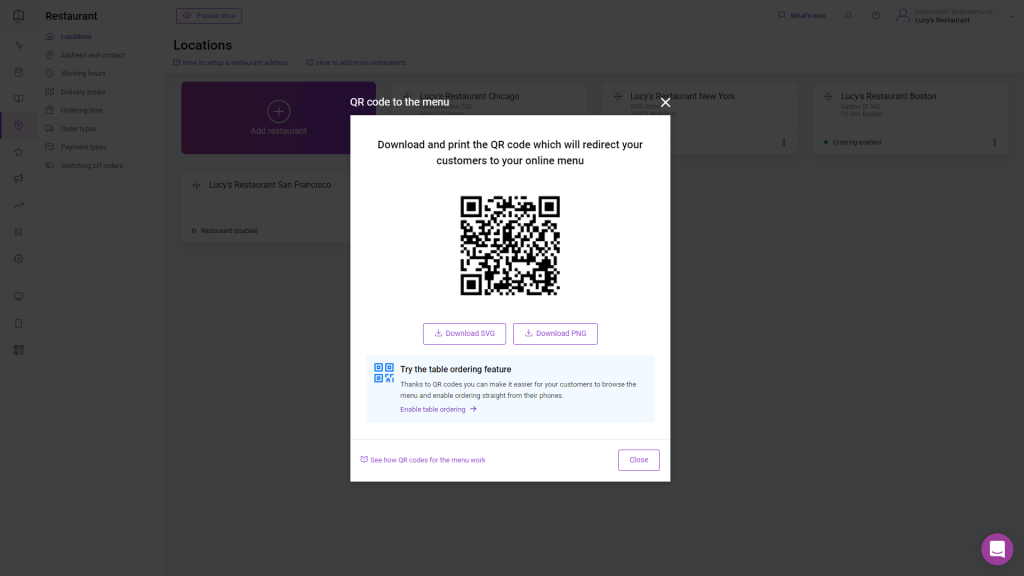 Pop-Up Restaurants
This is also the non-conventional restaurant concept that has become very popular in big cities. Pop-ups are temporary restaurants. You can find them functioning only in a specific time or part of the revenue, e.g. on the rooftop of the given location. Pop-ups usually take up the space of other restaurants during their off-hours. They pay a percentage of the profits of renting the location. Many chefs use this idea to promote their restaurant concept at the very beginning.
Delivery-only Restaurants
We can observe the rise of delivery-only restaurants. The main asset of the so-called virtual restaurants, dark or ghost kitchens is the low barrier to enter the highly competitive gastronomy industry. The popularity of virtual kitchens stems from the growing demand for food deliveries. These restaurants focus only on food delivery and takeout and don't provide dining-in services at all. 
If you decide in this type of nontraditional restaurant business model,  it will be essential to invest in tech-enabled platforms for online ordering. Find out how to open a restaurant as a ghost kitchen.
First restaurant – how to start with no experience?
How to open a restaurant without previous experience? You need to learn how to start your restaurant and whether it is the right business for you. Don't start with zero experience, but rather try to reach your goal with small steps.
In the beginning, try to launch your own business with no investment and make sure you want to do this. You will focus on all aspects you need take into consideration while running your first restaurant. Plus, you will earn some money, you can then invest in your final enterprise.
If you have no experience at all and would like to prepare to open a restaurant, consider the following options.
Start cooking for other people

 In this way, you will reach out to your very first customers. It will help you to come up with your first menu. Then, you can test your menu by checking out their opinions and tastes.

Get the job at the restaurant

You will get to know the gastronomy environment and see how restaurants operate daily.

If you're not a cook, you conduct extensive research on the competition

Look for inspiration! Go to the local restaurants and follow the current trends. It will help you to make a decision on the type of cuisine you would like to serve. Then it will be easier to create your vision for the restaurant business.
Tips on how to start a restaurant with no money
Starting up a restaurant is always a challenge. How to open a restaurant when the expenses are simply too high and you have bad credit? You don't have to spend millions on your new business. There are a lot of solutions for restaurant owners to reduce startup costs. Here are some steps to opening a restaurant with a low budget.
Find restaurant incubators
If you have no capital, the best solution may be to find restaurant incubators in your area. That's an opportunity for an easy restaurant start. Renting a kitchen or using a co-working space will help you to reduce the costs. What's more, you can meet a helpful community of professional chefs, who will be eager to give you advice. It may become your inspiration on what type of food you'd like to serve or what kind of restaurant concept to choose.
Create marketing plan
The opening of a restaurant involves not only expenses but also a lot of time and effort. If you can't invest much money, you can always devote some time to plan marketing activities. You don't have to pay for commercials. There's always an option to build your marketing strategy for free. Restaurant promotion is an extensive topic, that's why it must be carefully planned. After all, your customers will get the most information about your restaurant from your website. Remember – you don't have to launch an upscale restaurant.
What should you take into consideration while developing a marketing strategy?
Research your competition
Follow a few similar restaurants on the Internet and observe them
Define your target market and analyze their needs
Choose unique restaurant name and logo
Create content that will carry some value
Implement your marketing plan into life and take advantage of free online advertising. Make the most out of organic search potential and reach your target audience effortlessly. However, you'll need a great content strategy.
Restaurant marketing should be planned at least one month before the opening. Arranging your restaurant's presence online can be time-consuming. You will need time not only to set up a business Facebook page but also to build up the community and get involved with the customers. The best way to this is by creating a Facebook group for your restaurant.
How to run restaurant social media successfully?
Remember to update your social media or website pages regularly. That's a key to keep customers informed. They will rely it on for current information and will be willing to come back and follow your profile.
Think about how you can attract your customers and what type of content you want to create. If you want to keep your customers entertained, provide more light and humorous content that will bring some fun. Keep your audience engaged with your posts. Design simple infographics or use nice pictures. You can use Pinterest for inspiration and create a mood board for your restaurant (remember to follow rights reserved licenses).
Take advantage of technology while opening a restaurant
You can use QR codes to create an interactive menu for your customers to create a unique experience. By scanning the code, customers will be directed to your website. You may put there different kinds of content, e.g. the details about the ingredients or video tutorial with the recipes. Don't forget to choose the essential software for your restaurant. The proven software for the gastronomy industry will help you to save time and money in the future. If you plan to hire and manage staff the good POS system is crucial.
How to open a restaurant during a pandemic?
Is it a good idea to launch new restaurant during the pandemic? Is it safe to start a new business while the gastronomy industry struggles to survive the COVID-19 health crisis? Some may consider it a crazy idea. However, as on-premise dining shut down, the restaurant owners adjust to the reshaped customers' behaviour restaurateurs. Many of them open new revenues and try to be flexible by implementing new concepts.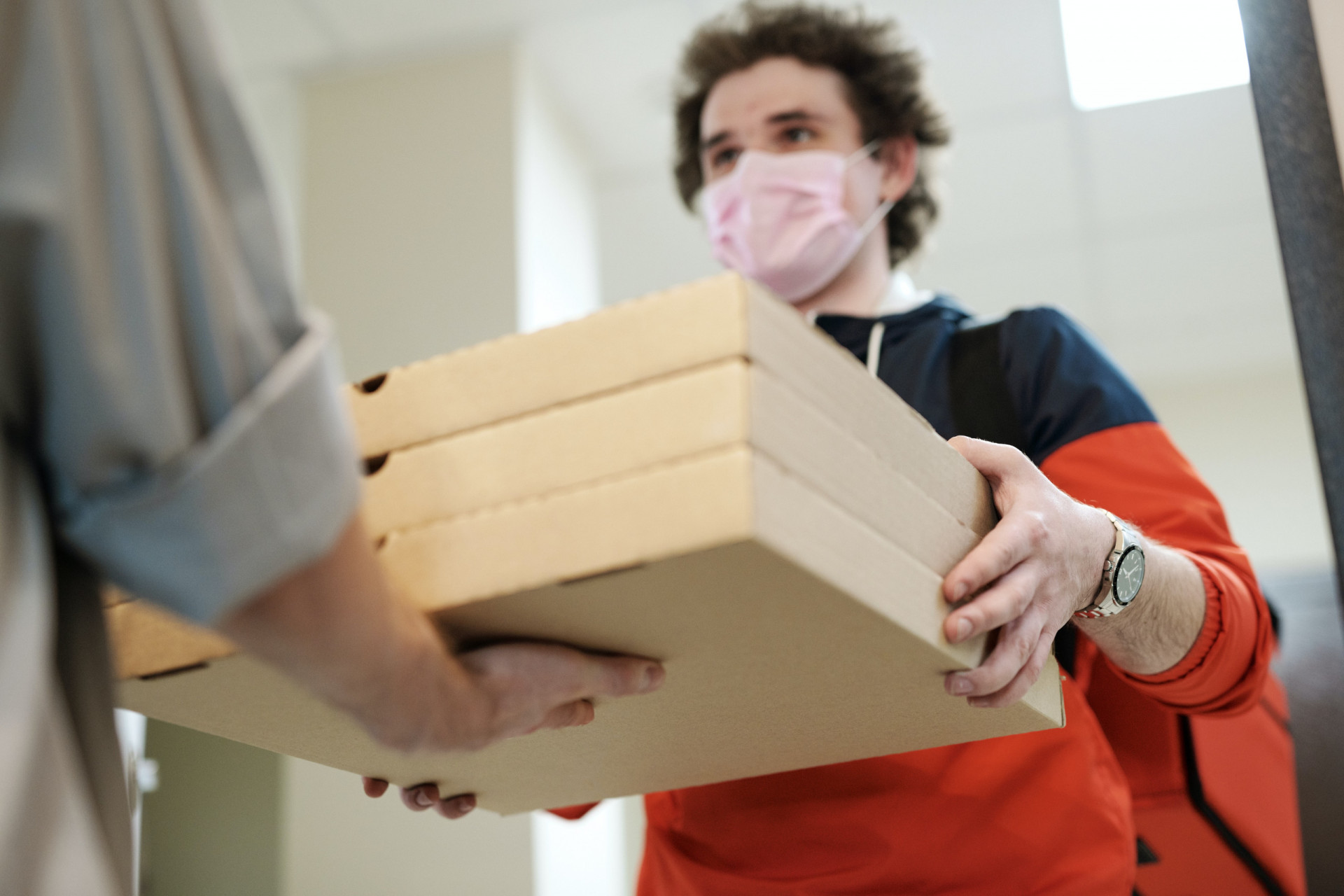 You can, for instance, switch to contactless delivery or run dark kitchens that are focused on online ordering, but they are not officially open to guests. Start your own business, trying to adjust to the "new norm". Try to think of the unique solutions that will help you to stand out from the competition. Find out how to follow sanitary rules and reduce the losses caused by the COVID-19 health crisis.
Summing up
There are some options for opening restaurants for those who would like to start their adventure in the restaurant industry but lack money. If your dream is to become the restaurant owner, but you lack money, you can start with small steps (a small restaurant) or choose alternative restaurant concepts (food truck). You can implement a creative concept for opening a restaurant.
Before you decide on opening any type of restaurant, remember to calculate all the expenses. Only if you are aware of the financial and legal issues, you can create a convincing business plan which is necessary while searching different funding possibilities (investors, grants, loans and more).
If you need a fully customized solution tailored to the needs of your restaurant, ask us a question! We are here to help you adjust to the current situation and stay ahead of your competition. 
Learn more
Find out how to create outstanding posts on your restaurant's Facebook profile,
Discover the best digital marketing strategies that will work out for your restaurant,
or learn how to increase traffic with mobile app for restaurants!