Opening a restaurant is an exciting idea that requires careful planning and execution. As a restaurant owner, you can create a unique dining experience for your customers, present your culinary skills, and build a great business.
However, starting a restaurant requires much more than just a passion for food and cooking. You must consider many things, like what kind of food you will serve, how much money you need, and who you will hire.
You might wonder, "How do I start my own restaurant from scratch?", "How to open a small restaurant with no money", "What are the steps to opening a restaurant?".
To help your restaurant idea come to life, we're created this complete step-by-step restaurant checklist and guide to help you learn how to start a restaurant.
Step 1. Decide on your restaurant concept
The very first step is thinking about your restaurant concept.
You need to consider and decide:
What type of restaurant do you want to open? A fine-dining restaurant, or casual dining?
What cuisine will you offer?
What are the startup costs?
What will be your signature dish?
What ingredients do you plan on using?
What the interior of your restaurant will look like, etc.
At this stage, you can take a piece of paper and create a solid business plan of all the ideas that come to your mind.
Examples of niches broken down into different categories:
Cuisine (e.g. Italian, Spanish, Thai, Korean, etc.)
Regional cuisine (e.g. New York cuisine, Kashubian cuisine, etc.)
Specialized cuisine (e.g. gluten-free, lactose-free, vegan)
Restaurant concept (bistro, fine dining, fast food, food truck, wine bar, café, etc.)
Type of food (pizza, sushi, dumplings, crepes, steaks, etc.)
Delivery method (delivery only, dine-in only)
Location (traditional physical location, virtual restaurant)
Remember to conduct market research. It doesn't have to be something big. The basics include visiting establishments with which you will compete in the area. List and analyze their weaknesses, strengths, offerings, prices, the number of orders they may receive daily, and their marketing strategies. Also, estimate the number of potential customers where you want to operate.
Protip: What should you keep in mind when opening your first restaurant?
Running a business is a marathon, not a sprint. Be prepared for years of hard work.
A business plan is your action plan. You write it for yourself. It's a living document that you update regularly.
A good chef is essential. People come to restaurants to eat well 🙂
Don't rely on random people. Build a team.
Be prepared to work 16+ hours, especially in the first few years.
Learn constantly. Read blogs and books about running a restaurant and marketing. Attend gastronomic conferences. Meet other restaurant owners.
Implement a restaurant opening checklist that allows you to better manage your business from day one.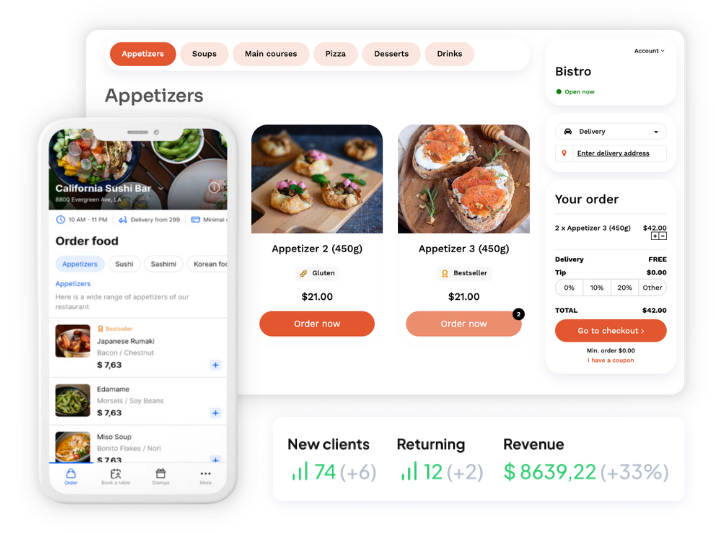 Your own branded online
ordering in 5 minutes
Launch commission-free online ordering on your own website in 5 minutes and grow your revenue, build loyalty and protect margin from third-party aggregators.
Step 2. Prepare a business plan for your restaurant
A restaurant business plan is a comprehensive document that outlines the strategies and objectives of a restaurant business. A restaurant's business plan is like a guidebook describing the operation's strategy behind the who, what, where, why, and how. Preparing a business plan is a critical initial step before opening a restaurant.
Key elements of a restaurant business plan
Executive summary: in this part, we briefly describe the project, give the restaurant's name, etc. The executive summary is written in points and should be at the end of the document.
Business description: this part includes vision, mission, business legal structure and restaurant concept,
Market analysis: here, you need to analyze the target market and your competition. It is recommended to do a SWOT analysis.
Cost Analysis/Financial Analysis: In this section, you present the restaurant costs associated with the initial investment and the spending plan for the first year of operation. It would help if you listed the costs, dividing them into 2 separate groups:

Investment costs (one-time start-up costs).
Operating costs (fixed monthly costs).

Financial projections include:

Profit and loss statement
Break-even analysis
Sensitivity analysis

Management information, which includes:
A marketing plan should include, among others:

Building a brand
Your restaurant's website
Selling food online
Ways to attract customers (both online and offline)

Description of the restaurant's vision for further development, i.e., setting short- and long-term goals and a description of how to achieve these goals.
Protip: What should you keep in mind when writing a restaurant business plan?
When should you write a business plan? In our opinion, always 🙂 Without a business plan, you're operating "in the dark" and risking failure.
You write a business plan for yourself!
A business plan is not a theoretical idea but a realistic plan (the more realistic, the higher the chances of success).
A business plan is a living document that you need to update constantly. In the first few months, work with it regularly every month.
Once you achieve financial stability in your restaurant, revisit and update your business plan calculations at least once a year.
Step 3. Secure financing for your restaurant
According to Sage, opening a restaurant costs roughly $275,000 if you lease a building and $425,000 if you own the property. This estimation does not include any potential franchise or consulting fees a restaurant may incur. As one can see, opening a restaurant isn't cheap, but there are some ways to secure your restaurant financing. Connecting investors is critical because it will only be possible to sustain your business operations with sufficient funding.
Option 1. Get a business loan
Some banks can provide you with a business loan. The important thing to remember is that you won't receive funds in one day. It may take a few weeks or even months, so don't hesitate to apply for it as soon as possible.
Where to apply for a business loan?
Option 2. Look for private investors
Another option worth considering is looking for potential investors. For example, venture capital companies and angel investors typically work with small business owners and invest in restaurants by purchasing a percentage of ownership at an agreed-upon valuation.
Tip: How to prepare for a meeting with a potential investor?
Turn your business plan into a pitch deck, a presentation for investors.
Practice your presentation (dozens of times).
Tell your story briefly and concisely.
Prepare potential investor questions and answers to them (e.g., How will the restaurant stand out in the market? What will be your competitive advantage? What will be the return on investment for the investor? When will the first profits appear?)
Option 3. Business Line of Credit
You will receive a maximum credit limit once approved for a business line of credit. However, you will only be required to pay back what you use.
How much does it cost to own a small restaurant?
According to the study by RestaurantOwner.com, the average cost to open a small restaurant is between $50,000 and $250,000. Costs included in the study are the following:
equipment, construction or renovation,
permits, and licenses,
inventory, marketing,
legal and accounting fees.
Option 4. Consider crowdfunding
Another option to take into account for restaurant funding is crowdfunding. You can get financial support from others using one of the following websites: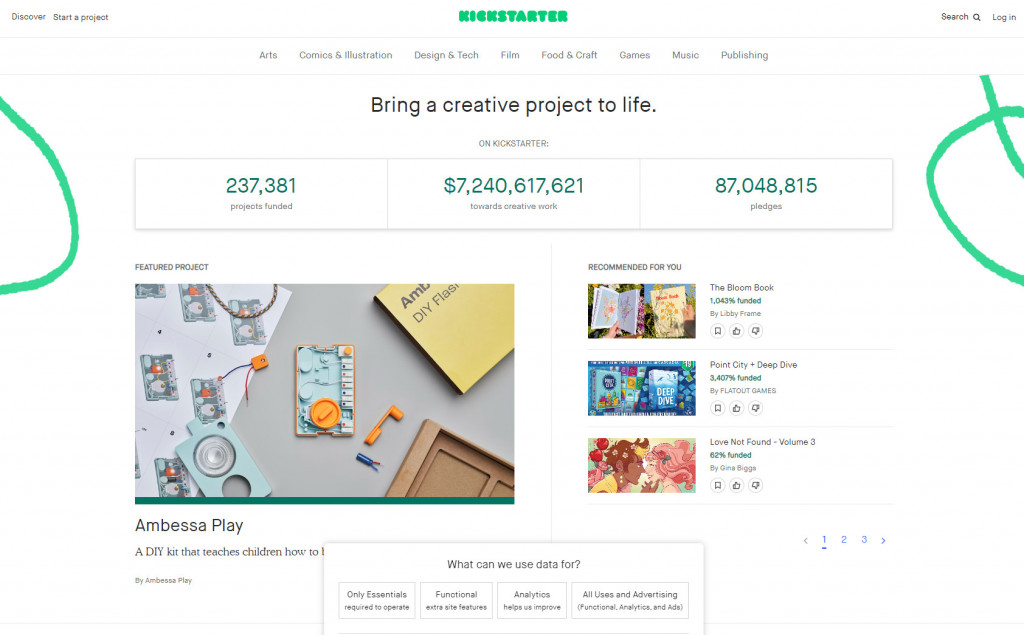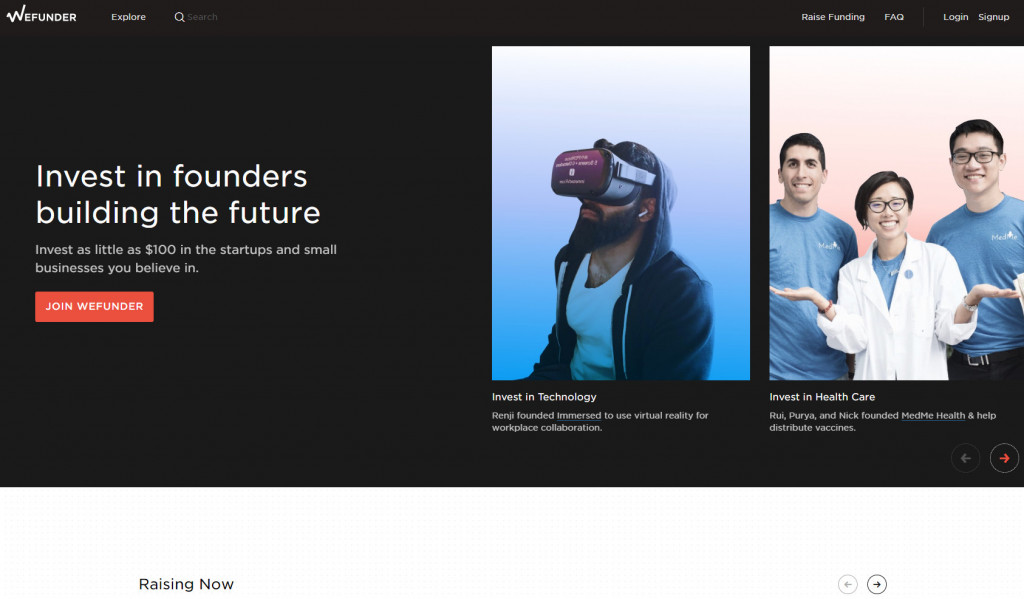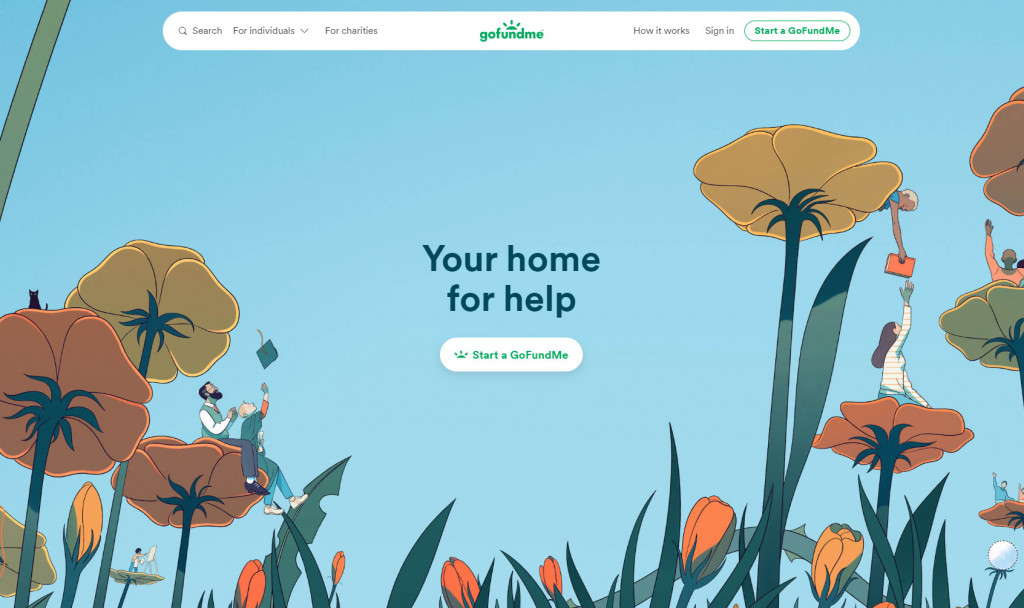 Option 5. Ask your family and friends (recommended)
As an aspiring restaurant owner, the safest route for gaining a small business loan is by asking family and/or friends for help. However, remember that combining personal and business relationships can be risky. Here is a brief description
about loans
, which can help you to decide which ones are right for you.
Protip: What should you keep in mind when looking for financing?
The cheapest money comes from savings and family.
Only start a business with a financial cushion.
When calculating the required investment, assume a worst-case scenario, e.g., that you will spend 50% more and earn 50% less.
Don't invest hundreds of thousands of dollars if you've never run a restaurant before, as it may end in disaster. Start with something smaller, like a food truck, for a few months and see if it's right for you.
Step 4. Location
Choosing a restaurant's location is one of the most important issues influencing a restaurant's success. Whether you open a physical location or want to create a virtual restaurant, your restaurant location is a critical factor in attracting your customers.
What factors take into account while choosing a restaurant location?
Demographics – target customer profile must match the restaurant location. For example, if a restaurant's target customers are students, it should be located near a university
Competition in the location – how many restaurants are in the neighborhood, what kind of cuisine they serve, etc.
Visibility and convenience – customers need to access your restaurant easily. If your restaurant is in the center, it will be easier to reach than a restaurant operating on the outskirts. On the other hand, the first option will be more expensive.
The state of the real estate market – is it a good time to buy a property, or would it be more advantageous to rent?
The local community and neighborhood – who lives or often stays in the immediate area? Is there no school in the area, for example? (If so, you'll have to consider that you won't be able to sell alcohol).
Building history and previous tenants – if you decide to rent the building, check who the previous tenant was. If the people who ran your business before you had a bad reputation, it can hurt your business and make it harder for you to succeed.
An alternative option is to open a virtual restaurant. A virtual restaurant is a restaurant that exists only virtually and does not function in a traditional form – with a dining room where guests can eat. A virtual restaurant can operate only online, offering online ordering and delivery, or as part of another restaurant.
Step 5. Obtaining necessary permits and licenses for opening a restaurant
Opening a restaurant obliges you to obtain the necessary permits and licenses. The licenses and permits required to start your restaurant will vary depending on its concept and the location where it is established. The costs associated with obtaining them will also differ. It is a good idea to seek legal advice when applying for restaurant permits and licenses to ensure you complete all the necessary steps correctly.
Types of permits necessary for opening a restaurant
Opening a restaurant typically requires obtaining several permits and licenses, depending on your location and the type of restaurant you plan to operate. Here are some of the common permits and licenses you may need:
Employer Identification Number (EIN)
Sign permit
Certificate of occupancy
Food handler's permit
Building health permit
Types of licenses necessary for opening a restaurant
When you open a restaurant, you typically need to purchase multiple licenses and follow food safety regulations, depending on your location and the type of restaurant you want to operate. Here are some of the common licenses required to open a restaurant:
Business license issued by the locality
Foodservice license
Liquor license
Sales tax license
Step 6. Create your restaurant menu
The next step is to create a restaurant menu. Depending on the restaurant type you are to open, think about the quality of the ingredients you will use, dishes, and/or add-ons that will differentiate your restaurant from the competition.
Optimize menu with menu engineering method
It will be helpful to use menu engineering to build a profitable menu. Once you decide on the dishes you are to offer, you need to decide on menu pricing.
What is important when creating your restaurant menu pricing?
Cost of goods sold: it is important to consider cost of sales (COGS) to ensure menu items are priced correctly and profitably.
Food cost: food cost is a percentage of a menu item's price that covers the cost of the ingredients and materials needed to prepare it.
Profit margins: profit margin is an essential factor to consider. Profit margin is the percentage of revenue that you keep after deducting all expenses, including food cost, labor cost, overhead costs, and other expenses.
Sales forecasting: knowing your potential revenue from food orders is essential when creating your menu pricing, as this helps you to evaluate the price of each food item on your menu.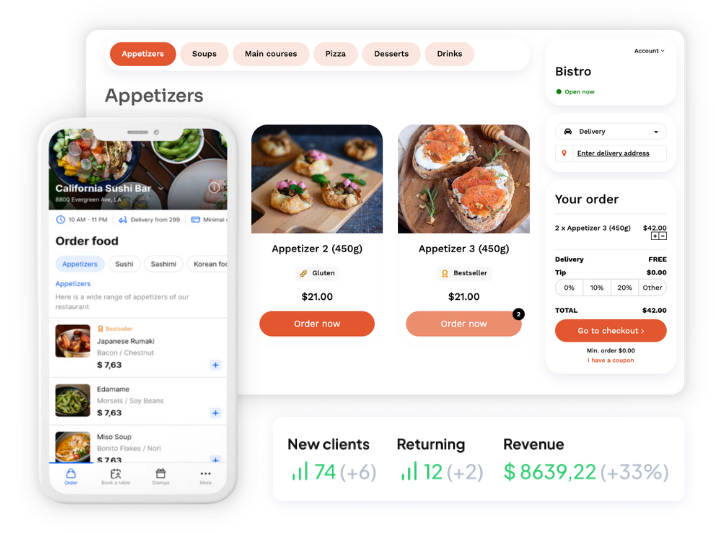 Your own branded online
ordering in 5 minutes
Launch commission-free online ordering on your own website in 5 minutes and grow your revenue, build loyalty and protect margin from third-party aggregators.
Create an online menu
While creating your paper menu, remember its online version. A common mistake is uploading a PDF file on the website. Don't do this! Such menus are hard to read for customers and don't look good. Instead, you can use ready-to-be-used menu templates. Remember that it is essential to design a visually appealing menu that features specific items with clear descriptions and, where possible, photos to entice customers.
Create a QR code menu
An additional attractive option is to allow guests to order using the QR code menu. The tableside ordering from UpMenu will help you generate a ready list of QR codes, which you can place on tables in your restaurant. Using QR codes to order food allows customers to place orders directly from their phones, saving time and making your staff more efficient.
Step 7. Create a layout and design for your restaurant's interior and exterior.
While making decisions about your restaurant layout and design, you need to consider front-of-house and back-of-house space. Check out the factors that directly affect your restaurant space's design.
List of dining room design factors to consider
The number of seats and seating arrangements (chairs, tables, etc.)
Furniture for the dining area
Atmosphere and decoration (candles, candle holders, vases, flowers, wall pictures, etc.). It is good to decide on one main theme and plan the decorations according to it.
Ease of cleaning and maintenance.
List of kitchen design factors to consider
Dishwashing and sanitation facilities: these facilities are essential for running your restaurant and should be easily accessible by your head chef and other staff.
Storage areas for non-perishable and refrigerated goods: make sure to have separate storage areas for both perishable and non-perishable goods. Additionally, you will be required to manage the expiration dates of both types of goods, so make sure you have easy access to them.
Spaces dedicated to food preparation: your food prep locations require space for hot plates, knives, cutting boards, and other essentials for preparing food, so make sure you have enough space to accommodate them all.
Cooking stations and appliances: cooking stations will require power outlets and lots of tablespace for meal prep, so make sure you have both available at each station.
Service areas for guests and staff: if you run a full service restaurant, your dining area should allow you to comfortably seat customers without making them feel packed. Additionally, your staff should have enough room to easily get around the dining area.
When choosing kitchen equipment, you can opt for new, more expensive equipment or buy used one. The disadvantage of the second option is that the equipment is more likely to spoil quickly. Therefore, it is worth calculating a more cost-effective option in the long run.
Step 8. Invest in your restaurant equipment
If you are not renting a commercial kitchen, purchase ovens, refrigerators, stand mixers, fryers, and commercial dishwashers. If you are to offer a special menu, you may need to buy special kitchen equipment. You also need to consider if you want to buy new or used equipment. Lease equipment can be a cost-effective solution for you. It is also necessary to purchase:
Seating for guests (tables, chairs, etc.)
Plates,
Utensils (e.g. knives, forks, spoons)
Glassware (e.g., drinking glasses, wine glasses)
Linens (e.g., tablecloths, napkins)
Towels (e.g., hand towels, dish towels)
Etc
Due to the pandemic, full service restaurants and those that offer delivery services experienced growth from online ordering. That's why it is also necessary to invest in technology that allows customers to enjoy your food outside of your restaurant.
Step 9. Start selling online
Today, over 50% of all food orders made in the food service industry are placed online.
Launch online sales from your own website using an online ordering system for restaurants.
Why sell from your own website and not just from third-party ordering apps?
If you plan to sell on platforms like UberEats or GrubHub, remember that these platforms charge 13-30% commission, so online sales on these apps should only be an addition, not the main sales channel.
Launching online sales takes just 5 minutes of work, which involves choosing a menu template, adding products, setting prices, delivery areas, and adding an active menu to your website.
To get started setting up your restaurant for online selling, grab our step-by-step guide on how to set up online ordering system.
Why does a restaurant need an online ordering system?
By adopting the UpMenu online ordering system, restaurants can gain an edge over competitors and expand their customer base. Streamlining the ordering process can lead to
a 31% increase in order value,
a 27% increase in monthly revenue from online sales,
saving 18 minutes on each order to provide a faster customer experience.
Why is it worth selling from your own restaurant website?
No commission fees
You pay a fixed subscription fee from several dozen to several hundred zlotys, instead of a 13-30% commission, which can cost tens of thousands of zlotys with high turnovers
Higher profit margin due to the lack of commission
Control over deliveries
Building your own customer database
Automatic collection of customer reviews
Marketing opportunities to increase sales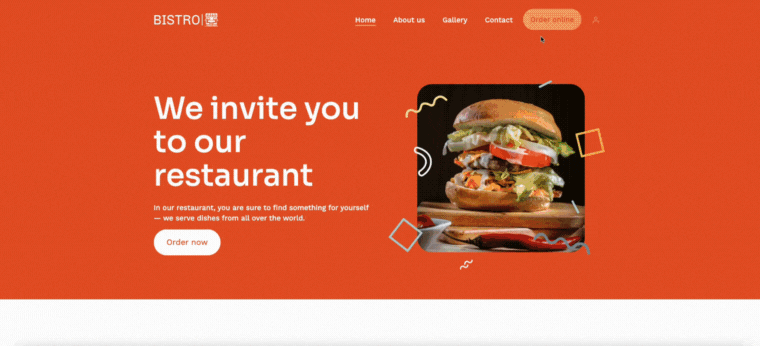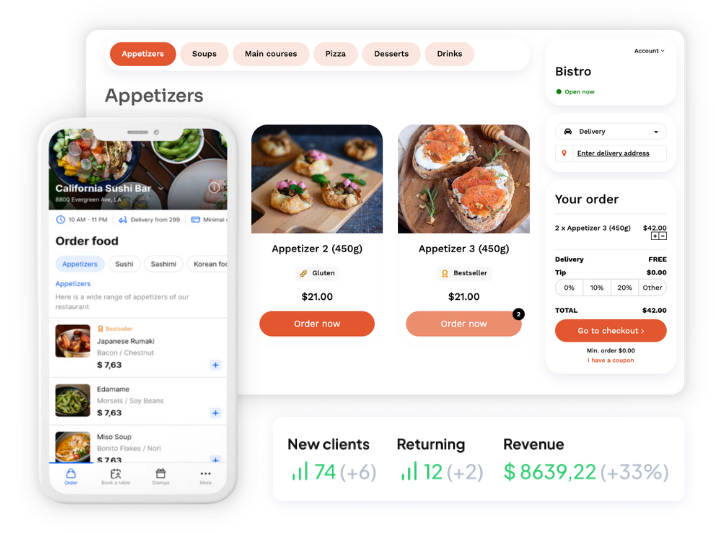 Your own branded online
ordering in 5 minutes
Launch commission-free online ordering on your own website in 5 minutes and grow your revenue, build loyalty and protect margin from third-party aggregators.
Step 10. Create a restaurant website
Nowadays, if you're looking to run a successful restaurant, it has to have its own website.
According to SinglePlatform, 80% of customers search for a restaurant online before visiting. You can use the UpMenu website builder to create your restaurant website. You don't need the technical knowledge to do this, you can use ready restaurant website templates.
We've prepared a step-by-step guide to help you get started on creating a restaurant website here.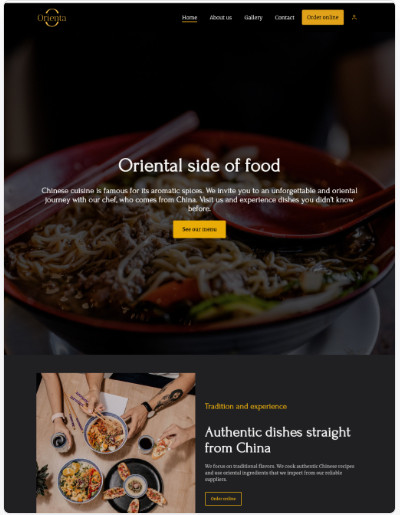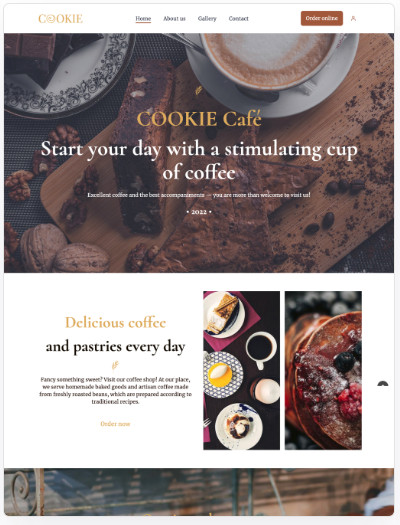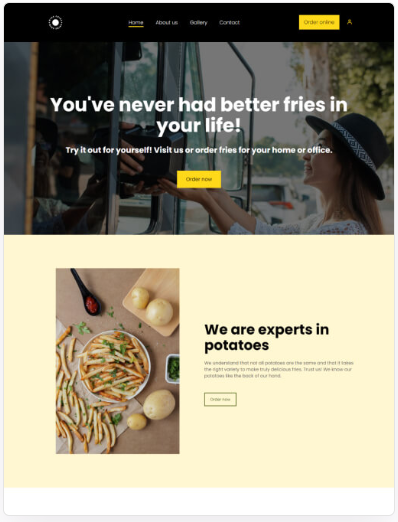 Why does a restaurant need a website?
70% of consumers say they are more likely to choose a restaurant that has a website. (Toast)
75% of customers use a restaurant's website to order food for takeout or delivery. (Toast)
86% of customers look up the menu online before visiting a restaurant. (SinglePlatform)
67% of customers say they are more likely to order from a restaurant that offers online ordering. (National Restaurant Association)
Step 11. Establish partnerships with top suppliers
Don't save money on products. Dishes prepared with quality ingredients will attract guests. Check the range of suppliers, test their products, and decide to work with the best.
What to consider when choosing suppliers?
Product prices
Quality of products and the presence of relevant certifications (e.g., HACCP, ISO, organic certificates)
Frequency of assortment delivery
Additional services (e.g., product washing)
Step 12. Hire qualified, suitable staff members for your restaurant
According to 7Shifts, the average job tenure of a restaurant employee is 1 month and 26 days. It is important to recruit and hire reliable, skilled employees. Proactively seeking out the right candidates can lay a solid foundation for training, retaining, and developing an exceptional team.
What kind of people you will need:
Chef and cooks
Waiters, bartenders
Manager/room manager
Staff responsible for dishwashing and kitchen cleanliness
How to look for restaurant employees:
Develop a comprehensive job description
Share the job posting through various channels
Conduct interviews with candidates
Make a competitive job offer to the selected candidate.
Provide your employees with necessary training
Be supportive of staff, provide them with ongoing assistance, resources, and training
Step 13. Promote and advertise your restaurant to potential customers
"A good restaurant doesn't need advertising and promotion" – this is one of the biggest myths.
Successful establishments, in addition to great food, have that "something else". That something else is broadly understood as restaurant marketing, the charismatic personality of the owner, a great interior design, a unique location, a well-managed social media profile, and sometimes it's an outstanding restaurant website.
When opening a restaurant, it is important to have a well-thought-out marketing plan and budget which will engage your desired customers. Advertising is essential for providing potential customers with basic information about your restaurant, such as its location and type of cuisine. Consider different restaurant marketing strategies.
Examples of marketing plan elements:
Hang a restaurant signboard before opening – even if you are at the stage of renovating the premises, you will start to build recognition for your brand
Promotional events for guests: consider giving out discounts to first-time customers in order to tie them to your restaurant for longer.
Weekly specials: Discounts on a particular menu item with offers such as a, "Buy a burger and get the second one 50% off," discount.
Social media strategy – create profiles on Facebook and Instagram, and then post pictures of all of your amazing dishes.
Email marketing strategy: collect customer emails in a CRM and use them to send automated discounts to customers which can help drive sales.
Building a restaurant website – if you haven't done so yet, check this guide on how to create a restaurant website
Create accounts on Yelp, TripAdvisor, and Google My Business: these help to increase your restaurant brand awareness among potential customers.
Plan soft and grand openings – described in this guide below.
Radio, tv, print: create localized advertisements to attract more local clients in your area.
Set up a stall outside your restaurant: By doing so, consider offering complimentary samples of some of your dishes to people passing by.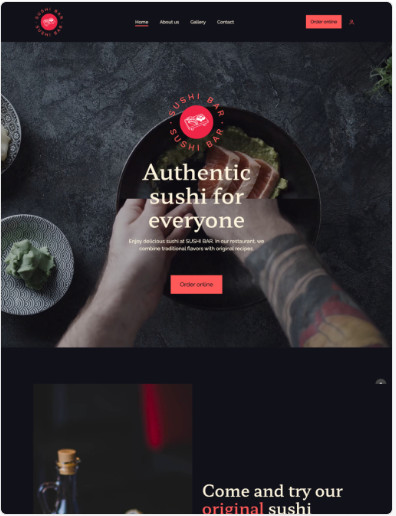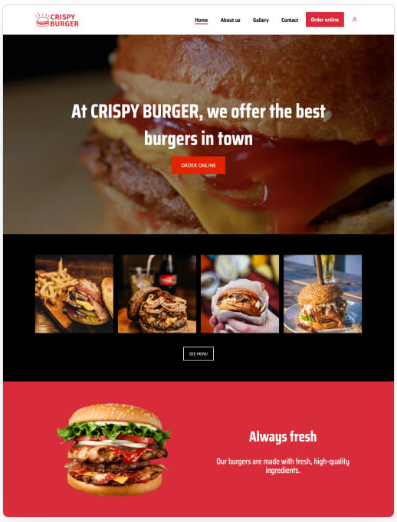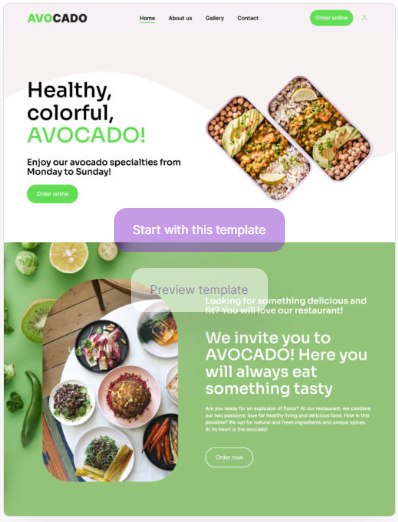 Step 14. Host a soft opening
A soft opening is a trial period before a restaurant's official grand opening when it is open to the public with a limited menu, shorter operating hours, and potentially lower prices. Usually, it is a day when restaurant owners, employees and neighbors' friends, and families come to the restaurant for the first time.
This event is not promoted to the potential customers, as this is the moment to test the restaurant's operations, menu, and staff and identify any issues that need to be resolved before the grand opening.
Step 15. Host a grand opening
Grand opening is the day of officially opening a restaurant. Once you hosted a soft opening and received your friends and family's reviews, you made some adjustments, and here comes an exciting day of opening the doors of your restaurant.
Consider hiring a popular band or musician for this day and offering discounts such as buy one get one free.
20+ Tips from restaurant owners (real ones)
To create this guide, we also analyzed the best advice for new restaurant owners provided by current restaurant owners. Then, we created a list of the most important aspects based on their answers.








Restaurant staff tips
"Surround yourself with good people. Pay them fair, treat them properly, and give them the opportunity to grow their rewards,"
"Go into it with love and passion, and understanding, be the best for your team, and create a team that is unstoppable, don't settle for less, your team is what will make you, you lead your team and give the best they deserve,"
"Be present. Listen to your employees carefully, as they're on the front lines"
"Respect your chefs and other workers"
"Pay your cooks what there worth, they will be loyal and committed to you"
"Value your people. Treat them they way you would like to be treated"
"Go for the best chefs especially for the start bcos the quality of food speaks the most"
Budget and costs tips
"Make a budget and stick to it. Food costs go up = menu prices go up, simple math. Labor issues? Sometimes it is cheaper to buy prepared things like sliced cheese,"
"Know and understand your costs"
"Stick to a budget. Increase prices if need be. Be prepared for no profit first year"
"Study and apply good accounting practices,"
"Actually take the time and real effort write your own business plan"
Guests
"Satisfied customers will be your best "walking advertisement. They gossip a lot & post everything on social media. Make sure to provide quality service,"
"If you desire to and love to create an amazing experience for people willing to trade their money to have an experience then you'll be successful no matter what anyone else says,"
"Treat every guest like they are a personal friend coming for the first time"
"Study your demographic and learn what they want it's not all about the food it's the atmosphere you provide. Find the unique niche that works for your area that no one else is doing and push it until it becomes a conversation piece for your locals"
General tips
"No one is going to care about your restaurants as much as you do, so monitor everything"
"Be prepared to work around the clock and all holidays"
"Work hard, don't let others run your business. No one will care more than you"
"Keep innovating and never get stagnant. Try new cuisines and treat your business like a child learning to walk"
"Seek to understand before correcting actions"
"Not all restaurants are the same. Being an entrepreneur is an honor. You must find your passion. It could be love of food, people or just being your own boss"
"Remember you're in the business of people. People come first"
Key Takeaways
Owning a restaurant, like any business, is a marathon, which means working for years, often for several hours a day.
If you're wondering how to open a restaurant, remember that the concept and niche are your starting points.
When opening a restaurant, don't act blindly. Write a business plan for yourself and work with it continuously.
Use savings and support from family or friends to finance the location. Look for grants, loans, and investors as a secondary option.
Remember to have a financial cushion for 3-6 months to sleep peacefully.
Choosing the right location for your restaurant is a key factor in its success.
Sell online from your restaurant's website. Don't rely solely on third-party ordering apss like UberEats
Build a website for your restaurant to build and promote your restaurant brand
Don't believe the myth that a good restaurant doesn't need promotion and marketing.
Organize both a soft and grand opening for your restaurant to allow time to correct mistakes.
Host both soft and grand restaurant opening
Frequently Asked Questions (FAQ)