The fast food industry is a big part of the food world, offering fast meals to thousands of people worldwide. If you love food and have an entrepreneurial mindset, starting your own fast-food restaurant can be an exciting idea. In this guide, we will take you through the important steps and things to consider when starting a fast food restaurant. Let's go into detail!
What is a fast food restaurant?
Fast-food restaurants are places where you can get food quickly. They serve meals that are already prepared and ready to eat. These restaurants focus on being quick and convenient, offering drive-thru or self-service options. The menu usually includes popular menu items like burgers, sandwiches, tacos, pizza, fried chicken, and other similar. The main aim is to serve customers fast, so they can enjoy their meal right away, either on the go or in the restaurant.
Below you will find all the steps to follow when wondering about how to open a fast food restaurant.
Step 1. Decide on the type of business you want to start.
The first step of starting a fast food restaurant is deciding on the business type. A business format may be different, and it is recommended to think of the following aspects:
Are you considering a traditional brick-and-mortar location or prefer a mobile option like a food truck business?
What type of food are you planning to offer? (You are not limited to burgers, pizzas, and french fries, you can also sell healthy fast food options like vegan or gluten-free sandwiches or poke bowls)
Do you plan to offer a drive-thru service for customers?
Will you serve traditional sit-down meals?
Will there be a dining room?
Will you serve customers primarily through a window, counter, or both?
Do you plan to play music in your fast-food restaurant? If yes, what kind of music?
Will your restaurant have seating for customers to dine in (if yes – what will be the seating?), or will it be more focused on grab-and-go orders?
Think about your target customers and how to meet their needs and expectations.
Step 2. Develop a business plan for your restaurant.
Creating a detailed fast-food restaurant business plan is crucial. Start with conducting market research, and analyze market trends and how competitors run their businesses. In this stage, you need to decide on the name of your business, describe your niche and target market as well as include the financial business analysis and financial projections. Think of all startup costs you must cover and place them in your fast food restaurant business plan.
Check out our comprehensive guide on how to write a restaurant business plan.
Step 3. Choose a suitable location
It is an important step that directly influences your business's success as it is connected with the number of customers you will serve. While choosing a restaurant's best location, take into account the following:
Foot Traffic: What is the average number of pedestrians in the area you plan to operate
Competition: Check the presence of other fast-food restaurants in the local market
Accessibility and visibility: Check if pedestrians and vehicles can easily access a place. Can it be easily noticed by both of them? Do you offer parking?
Costs: Evaluate the costs of running a business in a chosen location, including rent or lease costs, utilities, taxes, labor costs, and other restaurant

expenses. Make sure you can bear these costs.
Infrastructure and Zoning: Ensure there is necessary infrastructure (e.g., electricity, water, and sewage systems). Are there any restrictions? Can you run a delivery truck?
Growth Potential: Consider the potential for long-term growth in the area. Look for locations in neighborhoods that are developing or undergoing planned infrastructure improvements. These factors can attract more customers to your fast-food restaurant in the future.
As a fast-food restaurant business owner, consider locations near
busy streets
highways
shopping centers
Universities
Malls
Colleges
Also, consider choosing your establishment's location close to other fast-food restaurants.
Step 4. Obtain the necessary licenses and permits
Depending on the location, different regulations might vary from state to state or even a city. Make sure to check with your local authorities, such as the city or county clerk's office, health department, and zoning department, to comply with all required law regulations. The most common permits and licenses you may need include
Business License: allows you to legally operate a business within a specific jurisdiction.
Food Service License: confirms that your restaurant meets health and safety regulations and food handling, preparation, and storage standards. You can get it from the health department or relevant regulatory agency.
Building and Zoning Permits: these might be necessary if you are constructing a new building or renovating an existing one. Zoning permits ensure that your fast-food restaurant is situated in an officially designated commercial area.
Alcohol License: you need to obtain it if you plan to sell alcoholic beverages in your establishment
Signage Permit: To comply with local sign regulations, including rules regarding size, placement, and lighting, you may be required to obtain a permit if you plan to install outdoor signage for your fast food restaurant.
Employer Identification Number (EIN): you need to obtain it from the Internal Revenue Service (IRS) to hire employees. Establishing your restaurant as an official business entity is required for tax purposes.
Music Licensing: necessary if you plan to play music in your fast food restaurant.
Step 5. Complete the formalities
You need to create a business entity which refers to the management and ownership structure under which a business operates. The most common business forms include:
Sole Proprietorship
Partnership
Limited Liability Company (LLC),
Corporation
Cooperative
Nonprofit Organization
Moreover, some businesses need to file a DBA (Doing Business As). It allows businesses to use a unique name for branding purposes or when the owner wants to create a separate identity for a specific aspect of their business. Registering a DBA is usually necessary to maintain transparency, prevent customer confusion, and comply with regulations and obligations from creditors and regulatory agencies.
Other formalities include:
Opening a business bank account
Getting a business credit card
Step 6. Develop a marketing plan
The next step is to develop a restaurant marketing plan. It is essential for boosting a restaurant's visibility by effectively promoting its brand and the food you serve. It enables you to identify your target audience and enhance the customer experience through tailored promotions, events, and offerings catering to their needs and preferences.
How can I promote a fast food restaurant?
Use social media platforms like Facebook and Instagram to share food photos and offer exceptional customer promotions.

Promote your restaurant in local newspapers, magazines, radio stations, or TV channels

Create a fast-food

restaurant website

Build a

mobile app for your restaurant

Create a

loyalty program

for your customers

Use coupons, discounts, and other

restaurant marketing tools

Consider cooperation with influencers

Take part in local events and festivals
A well-designed marketing plan helps increase your restaurant's awareness and attract more customers. Check our guide on the best fast-food marketing strategies.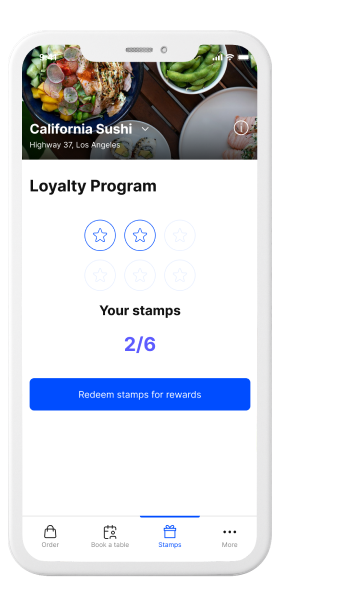 Customers who join the loyalty program often return and spend more
Get up and running quickly with our easy-to-implement loyalty program.
Step 7. Secure financing for your quick-service restaurant
Think of the capital required to start a fast food business, no matter if you are planning to buy a fast food franchise or open your own fast food business. Knowing the expected costs, you can explore different options to raise funds, for example, you may apply for loans and grants or open a credit line. You can also consider crowdfunding and asking your friends for help.
How much does it cost to start a fast-food restaurant?
According to the research conducted by RestaurantOwner, the total startup cost for a fast-food restaurant ranges from $175,500 to $750,500. The costs include, among others:
Renting or building a restaurant
Franchise fees (if you buy a franchise)
Cost of renovations
Cost of utilities
Cost of kitchen and restaurant equipment
Cost of food and ingredients
Marketing expenses
Labor cost
Insurance
Step 8. Design a menu
The next step is designing your fast food restaurant menu that appeals to your target customers. Firstly, you need to choose what type of cruise you will offer. What will be your main menu items? Will you offer any desserts? How about drinks? Do you plan to offer any special deals? How about combos? Ask yourself these questions to design your fast-food restaurant menu. You can also check our guide on how to make a restaurant menu.
Once you decide what kind of cuisine you are to serve and what your menu will look like, consider making a QR code menu. You can use a QR code menu builder and then print QR codes and place them, for example, on tables or windows and walls posters so that potential customers and passers-by can view your menu by scanning QR codes and checking your first food restaurant menu right on their phones.
Step 9. Find the food suppliers
Opening a fast food restaurant requires finding the food suppliers to run your restaurant smoothly. Focus on the quality of ingredients offered by different suppliers. Consider the following aspects while looking for a partnership with a given food supplier:
Will purchase in bulk lower the price?
Do they offer any discounts depending on the number of ingredients ordered?
What are the payment methods?
What are the payment terms?
Does the supplier care about the environment?
Choosing a food supplier is an important decision because it influences the taste and quality of the food you serve. Take your time to verify and compare different suppliers, and, if possible, consider trying to work with them on a trial basis before making a long-term commitment.
Step 10. Choose your cooking equipment
To start your fast-food restaurant, you must choose and purchase equipment. Below you can see a checklist regarding possible equipment you will need. Depending on your establishment size and the food you will serve, you might need different equipment, but in general, you will need the following:
grills
fryers,
ovens,
toasters,
microwaves
mixers
cutting boards,
knives,
slicers,
freezers
display cases
beverage dispensers
smallwares like

bowls,
cups
plates,
cutlery,
napkins,
straws,

sinks,
dishwashers,
mop buckets,
cleaning supplies
Step 11. Prepare your floor plan
While starting a new fast-food restaurant, you need to plan and arrange the layout of your restaurant's seating and facilities. Think about the following aspects of your new establishment:
What will the restaurant look like from the outside?
Will the outside look encourage people to come in and order food?
Will customers have somewhere to sit?
What will be the atmosphere of the place?
What will the music be like?
Where can customers go to pick up food?
Where will you have to drive to use the drive-thru?
What colors will be in the restaurant? Will the decorations and colors encourage eating?
What will be the lighting in the restaurant?
Step 12. Hire and train your staff
Building a competent team is a must to run your fast-food restaurant. Think about how you will look for your staff, how many employees you will need, and what training for your employees will be necessary. No matter what type of fast food you are planning to serve, you will probably need the following:
Head chef
Line cooks
Food runners, who bring food to diners
Counter staff at the cash register
Step 13. Host a soft opening
Once you followed all steps we described above, it's time to host a soft opening, which refers to a special phase before the official opening day, where a limited number of people like family, friends, or invited guests are welcomed. The main goal of a soft opening is to test and refine various aspects of the restaurant's operations, such as the service, staff training, menu, and overall customer experience. This helps a restaurant owner gather feedback, listen to customer complaints if there are any, identify areas that need improvement, and make necessary adjustments before the grand opening.
After making any necessary adjustments, a new restaurant officially opens its doors to all new customers. This is called a grand opening. Small business owners want to generate excitement and publicity for the new fast-food establishment, offering special deals, discounts, and promotions on that day. As a new restaurant business owner, you can consider creating a sample menu for that day, inviting local celebrities, etc.
Step 14. Create your fast-food restaurant website
While opening a fast food restaurant, don't forget that in today's world, it is vital to give the customers the opportunity to check a restaurant's offers online. That's why it is highly recommended to create a restaurant website. For that purpose, you can use a ready-to-be-used tool like a restaurant website builder, choose a fast-food restaurant template, add your products with their photos, and customize your website. It won't take long (just a few minutes) and will help you improve your brand recognition among your potential customers.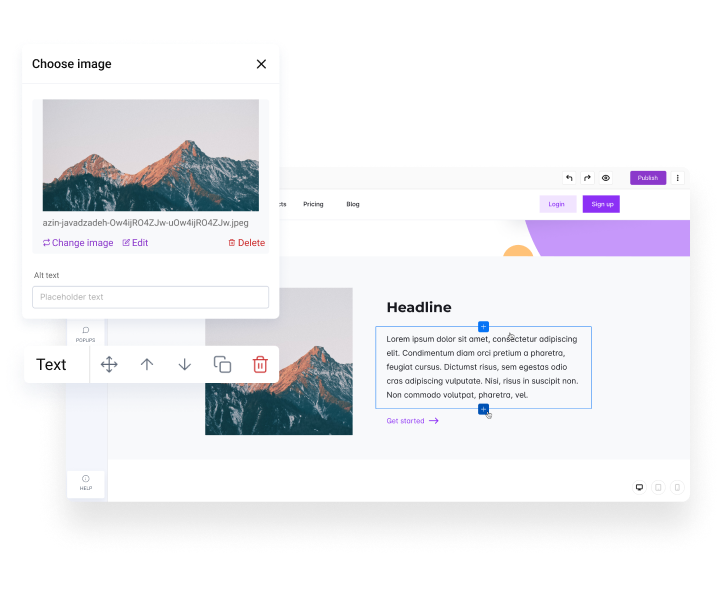 Restaurant Website Builder
Your own branded restaurant
website in minutes
Get a beautifully designed website that converts online visitors into customers and keep them coming back.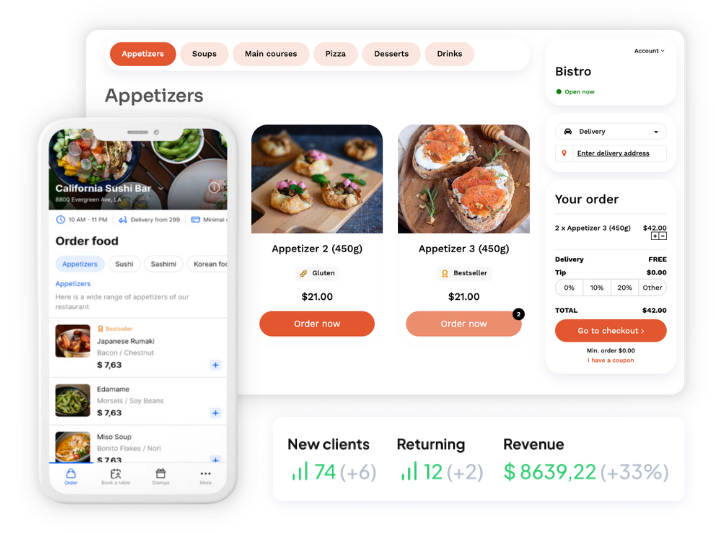 Your own branded online
ordering in 5 minutes
Launch commission-free online ordering on your own website in 5 minutes and grow your revenue, build loyalty and protect margin from third-party aggregators.
A checklist on how to start a fast food restaurant
Key Takeaways
Quick-service restaurants are eagerly visited by diners all over the world.
To start a fast food restaurant, you need to begin with a food concept attractive to your prospective customers

Writing a business plan that includes information about your target market, projected cost, and ongoing expenses is essential
Use our checklist to start a fast food business
Don't forget about your online presence. Create a restaurant website with an online ordering system.
Frequently Asked Questions (FAQ)
Profitability in the fast food sector can fluctuate based on various aspects, including company size, business model, general location, brand reputation, and costs associated with food and labor. Nonetheless, as a general observation, fast-food restaurants enjoy relatively higher profit margins when compared to other business categories. The average profit margin of fast-casual restaurants ranges from 6% to 9%.

While profit margins vary across fast-food chains, some significant players in the industry, like Burger King and McDonald's, achieve profit margins from 18% to even 20%. Well-established fast-food chains with recognized brands often have an advantage in terms of customer trust and loyalty. A positive reputation can attract more customers and result in repeat business, ultimately boosting profitability. Moreover, they have an extensive network of locations and economies of scale to maintain lower costs, contributing to their relatively higher profit margins. Conversely, small fast-food restaurant owners generally tend to have profit margins closer to 5%.
Managing a successful fast-food restaurant can be challenging, as it includes the performance of various tasks, among others, the following:
Recruiting, hiring, training, and leading cooks, cashiers, and other staff members

Creating employees schedules

Supervising the daily operations, like ensuring proper food preparation, maintaining cleanliness standards, managing inventory, and overseeing equipment maintenance

Ensuring that a customer gets the order quickly and it meets target audience expectations

Regularly meeting with the employees to make improvements in daily operations

Evaluating staff performance

Monitoring financial aspects of running a fast-food restaurant

Cooperating with marketing to promote restaurant's brand and attract customers

Keeping a close eye on market trends, customer preferences, and the competitive landscape

Managing administrative tasks, like processing payroll, managing records, and maintaining essential documentation