A food truck is like a restaurant on wheels. It sells food and drinks from a truck or trailer that can move around. Food trucks can go to different places and serve all kinds of people. They offer many different types of food, and they have grown in popularity in recent years. If you are wondering how to start a food truck, what is required, and what the costs are, check out our step-by-step guide.
What makes people start their own food truck businesses?
There are several reasons why people decide to start a food truck business, including:
Flexibility and Mobility: Food trucks allow food truck owners to bring their culinary creations to different locations. This flexibility makes it possible for them to participate in festivals, events, and other gatherings where they can reach their target market.
Affordable Startup Costs: When you check the startup costs of a traditional brick-and-mortar restaurant and compare it to starting a food truck, you can see that the costs are lower. It is an attractive business model when you have limited funding options.
Culinary Creativity and Innovation: Food trucks allow small business owners to experiment with different recipes and flavors, enabling testing different cuisine types and checking what customers expect and prefer.
Direct Interaction with Customers: Food truck owners interact with their customers directly, which enables them to build strong relationships with them.
Niche Marketing and Specialized Offerings: Food trucks can focus on specific groups of people and their food preferences. They can offer unique and specialized dishes that are not easily found elsewhere. By doing so, food trucks can attract loyal customers who appreciate their distinct offerings, making them stand out from their competition.
Entrepreneurial Autonomy and Independence: As a food truck owner, you are your own boss, you set up your own business, create your menu and change it anytime you decide. You can observe trends and react fast to meet your customers' needs.
Community Engagement and Event Participation: Food trucks become an important part of the local community. They join in neighborhood events, help with local projects, and add to the exciting food scene of the area. Food truck owners enjoy being involved with the community and receiving its support, which feels really good for them.
A possibility to test a new concept: A food truck is an interesting business concept that allows you to verify whether you are ready to run a restaurant at low startup costs. Many food truck owners start with a food truck, test different cuisines and dishes and see if the restaurant industry is for them.
Are food trucks profitable?
What are the food truck startup costs?
Determining the startup costs for a food truck business involves considering multiple factors, including location-specific expenses and one-time costs that may vary. In general, the monthly maintenance and operational costs of a food truck business can amount to several thousand dollars. These costs encompass various aspects, such as
Food and beverage expenses,
Labor costs
Licenses and permits,
Truck-related expenses
Marketing and promotional expenses
Insurance
Commissary fees
Be prepared to encounter unexpected costs that may appear while running your business.
What are the biggest challenges food truck owners face?
Long working hours: Food truck owners often work long hours, including late nights and early mornings, managing various tasks involved in running the business.
Food waste: Food trucks need to work on minimizing waste. If a planned location doesn't work out as expected, it is a good idea to cooperate with shelters to donate unused food.
Influence of Weather and Environmental Conditions: Dealing with the impact of seasonal changes and different weather conditions (like rain, snow, extreme heat, etc.) requires adaptability.
Competition: The increased competition on the food truck scene also requires a quick reaction from food truck owners. Observe what other food trucks offer, consider implementing changes in your menu, and offer incentives to food truck customers (for example, discounts, promotions, loyalty program)
Zoning restrictions and laws: Dealing with the process of obtaining permits, licenses, and complying with various regulations to start a food truck can be challenging. Depending on the location, there may be different zoning restrictions, parking regulations, and other legal requirements.
Limited Staff and Multitasking: Food truck owners usually need to take on mple roles, such as cooking, serving customers, handling finances, marketing, and administrative tasks. It can be very demanding, especially during peak hours.
Equipment and Maintenance Costs: The cost of equipment maintenance and repairs (e.g., the truck, refrigeration systems, cooking appliances) can be significant. To ensure uninterrupted operations, you should invest in your food truck equipment and manage all the maintenance expenses that appear.
If you think about how to start a food truck business, check below the steps to opening a food truck.
Step 1. Start with Market Research
To begin with, you need to check if there is a demand for your offer. To do this, you need to conduct market research and check the following aspects:
Demographic profile of the local population
Current food t businesses in the area
Established restaurant concepts in the area
Peak times on busy streets when potential customers are commuting
Suitable locations for food truck operations and sales
Step 2. Create a Food Truck Concept
Once you have conducted your market research, it's time to think about food truck ideas and select one. Search for good food truck names, and think about the branding, logo, colors, etc. Remember that being unique is the key to attracting your potential customers. Having a well-planned concept and an attractive logo can greatly influence your customer's choice to buy from your food truck or not.
Step 3. Write a Business Plan
Conducting market research and creating a food truck concept are essential to be able to write a business plan. Writing a business plan is a moment when you focus on your business idea details.
Having a solid business plan is essential when entering negotiations with potential investors or lenders. It helps you be prepared to answer questions about your food truck's growth, target customers, competition, startup costs, and financial projections for both the short and long term. Here you can check our guide on writing a food truck business plan.
Before writing your food truck business plan, make sure to consult our comprehensive guide about how to write a restaurant business plan, which includes a list of over 40 crucial questions to consider.
Step 4. Secure Financing for Your Food Truck Business
A detailed food truck business plan is a must if you need to look for financing for your business. You will probably need a business loan if you don't have enough personal savings that could fund your business bank account.
Apart from applying for a bank loan, you can consider asking your friends, checking the crowdfunding options, opening a business credit card, etc. Check out our comprehensive guide on how to open a restaurant, where we described different ways of securing financing for a restaurant.
Step 5. Get the necessary food truck permits and licenses
To start a food truck, you will also need to obtain the necessary permits and licenses. The examples include the following:
Employer ID Number
Seller's Permit or Sales & Use Tax Permit
Business License
Certificate of Liability Insurance
Hawker's Permit/Vendor's License
Food Truck Permit
Fire Department Inspection and/or Permit
Food Handler Permit and/or Food Manager's Certificate
Restroom Agreement
Health Department Permit or Food Service License
Remember that to start a food truck, you also need parking and driving licenses:
Vehicle Registration
Commercial Driver's License
Parking or Zoning Permit
Proof of Insurance
Remember to check with your local authorities (including local health department and local motor vehicle department) to ensure you have all the required licenses and permits, as they may vary depending on a state or even on a city.
When liaising with the DMV (Department of Motor Vehicles) to arrange for your parking permits and registration, it's important to inquire about any parking restrictions and limitations applicable to your city. Additionally, check if overnight parking is permitted.
Step 6. Get a food truck
A crucial factor when thinking about how to open a food truck is getting a food truck vehicle. If you are wondering how to get a food truck, consider the following to make your choice:
Lease or Ownership: Firstly, you need to decide if you want to have your own food truck or you could consider a flexible arrangement in the form of leasing or renting a food truck from leasing companies or other food truck owners. The second option will significantly lower your food truck starting costs.
New or Used Vehicle: You have two food truck purchase options can either you can buy a brand-new food truck from food truck vendors or consider buying a used food truck from previous owners. The second option will be much cheaper.
Customizations: In this option, you could take into account converting a commercial vehicle into a food truck. For this purpose probably, you will need professional customization and modifications to meet mobile food facility regulations.
Finding a Reputable Food Truck Dealer: Selecting a reputable food truck dealer is crucial to buy a reliable vehicle. Take your time to compare different options, taking into consideration factors such as the dealer's reputation, customer satisfaction, and how well they meet the specific needs of your food truck business.
Step 7. Buy food truck equipment
To start a food truck, you need to purchase cooking equipment. In order to ensure smooth food truck operations, you will need the following items:
Cookware and Appliances: Cookware comprises different pots, pans, and other vessels used for cooking and food preparation. Other equipment includes ovens, stovetops, grills, blenders, food processors, microwaves, and toasters.
Warmers and Holders: for example, soup kettles, countertop food warmers, and fry dump stations.
Food Preparation Tools: including, for example, Chef's Knife, cutting boards, mixing bowls, measuring cups and spoons, work tables, cookware, kitchen utensils, and kitchen thermometers
Serving Supplies: including napkins, cups, food trays, plastic cutlery
Cooling and Storage: help to keep menu items at safe temperatures and prevent from spoiling. These items include

Prep tables
Refrigeration Unit,
Walk-In Cooler or Freezer
Shelving and Storage Containers
Ice storage containers or machines
Cooling Equipment,

Cleaning and Maintenance: including handwashing sinks, compartment sinks, waste receptacles, floor mats, recycling containers, floor cleaning supplies, trash cans, sanitizing chemicals.
Step 8. Hire qualified staff
When it comes to hiring employees for your food truck, the process is more complicated than hiring staff for a restaurant. In addition to obtaining the necessary licenses and permits as a business owner, your employees must also acquire a mobile food vendor badge. It is necessary to know that obtaining a mobile food vendor badge typically takes around four months.
Step 9. Buy food and ingredients
To start a food truck, you need to purchase food and ingredients necessary to cook your menu items. As a food truck owner, you need to focus on building strong business partnerships with your food suppliers. If you plan to serve food during festivals and other events, remember that in such a case, you will need more ingredients and supplies than while working on an everyday basis. A successful food truck business requires careful planning and keeping an eye on stocks of individual ingredients for preparing meals from the food truck menu.
Step 10. Create a marketing and branding strategy
A branding strategy is crucial for food trucks. Brand recognition can be increased by putting a strong emphasis on social media presence. Promoting your food truck business in social media channels is a must. That's why you need to create social media accounts for your food truck.
You need to regularly update your location and share photos and videos of your delicious offerings. Check our guide on restaurant marketing strategies and ideas for inspiration.
How to promote a food truck
Focus on social media – In today's world, running social media channels is a must. A food truck fan page is a great place to share information with the target market about the current offer, promotions, discounts, and participation in different events like festivals. Many food truck owners also use their social media to inform their food truck customers about their food truck's current location.
Create a restaurant website – use a restaurant website builder, choose a restaurant website template, customize your website, and start selling food online directly from your website.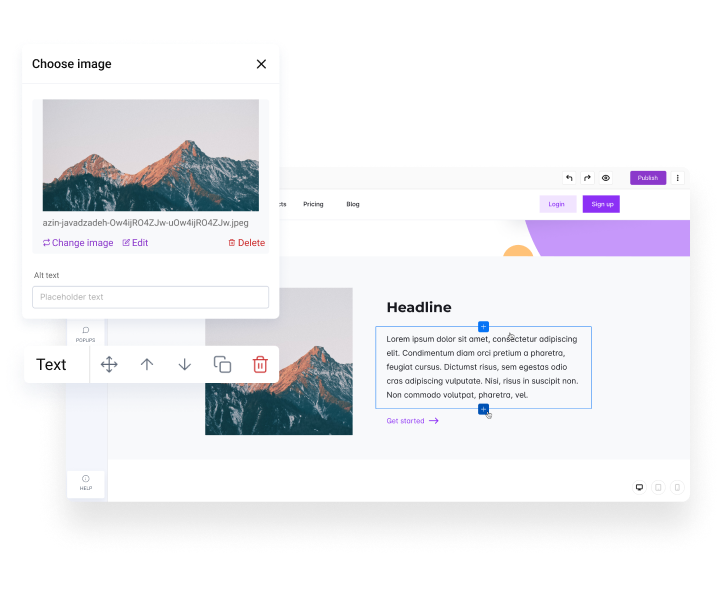 Restaurant Website Builder
Your own branded restaurant
website in minutes
Get a beautifully designed website that converts online visitors into customers and keep them coming back.
Add your food truck website to review pages like Yelp – It's important to create a food truck profile on websites like Yelp to gather reviews about your restaurant. Remember to set up a Google Business Profile for restaurants to collect food truck reviews on Google too.
Start cooperating with food bloggers – it's a great idea to invite them to come to your food truck, try your food, and write about it. Remember that positive word-of-mouth helps to build a strong reputation and attract new customers to your mobile business.
Offer discounts and consider creating a loyalty program – use incentives to encourage your food truck customers to buy food more often. Observe the upselling and cross-selling techniques used by local food trucks for inspiration. Creating a loyalty program is a popular tool used in the food industry to convert your one-time restaurant clients into regular customers.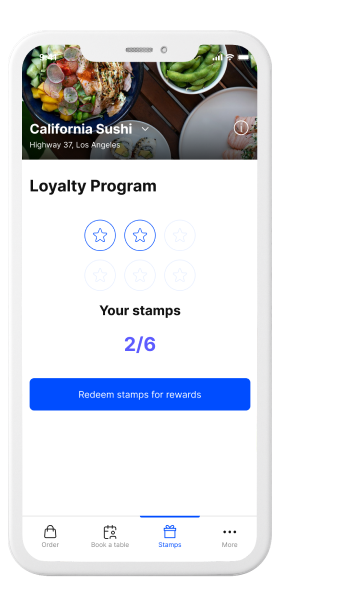 Customers who join the loyalty program often return and spend more
Get up and running quickly with our easy-to-implement loyalty program.
Step 11. Conduct a Trial Run
Once have your food truck with all necessary permits, licenses, ingredients, and equipment, it's high time to make a trial run. You can invite your friends and family and serve them your food to make sure that everything is working correctly. Ask them about their thoughts and opinions to improve your business operations.
Step 12. Launch Your Food Truck Business
After making a testing run for your family and friends and implementing improvements based on their suggestions, you are ready to launch your food truck business. Get your food truck open with a simple menu to test it and see the interest of potential customers. Listen to your customers and what they think about the packaging, menu items you offer, and your pricing. Consider collaborating with other food truck owners and gathering data on food truck business operations. Look for ideas for business improvements and participate in festivals and other upcoming events.
Step 13. Experiment with Locations and Timing
Instead of selling all the time in one location, test different places. Maybe it will turn out that at certain times it will be better to move to another place to increase your sales, e.g., by 30% compared to your permanent location. Don't be afraid to test, experiment and compare your financial results to choose the most financially advantageous locations and working hours and succeed in running your business.
Flexibility: food trucks have the possibility to change their menus and working hours depending on the market interest.
Mobility: food trucks can move from one place to another, they are not limited to selling in one location.
Freedom: A food truck business owner has control over all aspects of running their business. It directly refers to the flexibility in modifying the food truck operations, for example, changing a food truck menu, schedules, location, etc.
Virtual kitchen: Food trucks can host multiple brands if the owner isn't limited to one specific brand. This allows for more flexibility and the ability to generate additional revenue.
Tax deductions: Food truck owners have the advantage of being able to deduct certain expenses on their taxes that are not available to other business owners. These deductions can include the cost of the food truck itself and rental fees for storing the truck. This can directly help reduce a food truck startup costs and makes starting a food truck a great option to consider.
Step 14. Start selling online
Currently, more than 50% of food orders in the food service industry are placed online. Embrace this trend by implementing a food ordering system on your restaurant's website, allowing you to tap into the growing market of online sales.
Getting started with launching online sales for your restaurant is simple, you just need to: choose a menu template, add your products and set prices, define delivery areas, and activate the menu on your website. To assist you in setting up your restaurant for online selling, we have a step-by-step guide on how to set up an online ordering system to get started smoothly.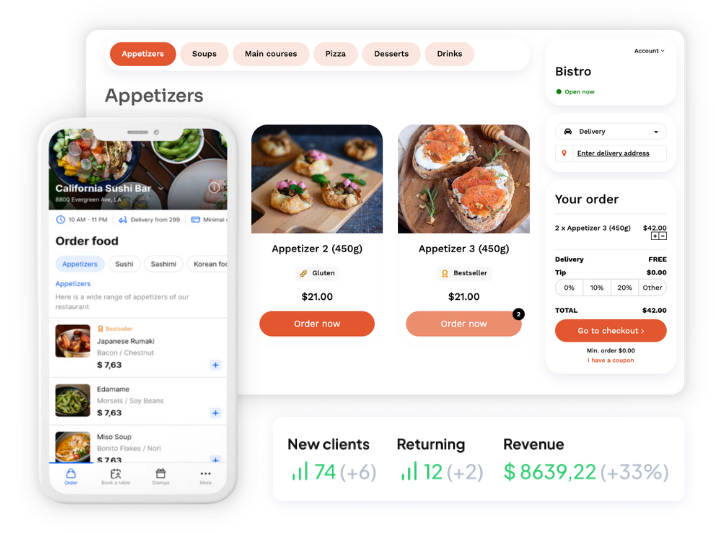 Your own branded online
ordering in 5 minutes
Launch commission-free online ordering on your own website in 5 minutes and grow your revenue, build loyalty and protect margin from third-party aggregators.
Step 15. Consider Expanding Your Fleet
The last step is to expand your food truck business. Once you build and promote your concept and start earning money from the food truck, you can think about expanding your fleet or opening a new food truck with another cuisine.
You might also consider opening a brick-and-mortar restaurant while continuing to sell food from your food truck. Keep your eyes open, observe the food trends, and meet a demand fo given menu items.
A checklist on how to start food truck business:
Key Takeaways
Flexibility and mobility are one of the most important reasons why people decide to start a food truck
The average annual food truck revenue in the US is between $250,000 and $500,000
You need to count with unexpected costs that may appear while running a business in a food truck industry
Food truck owners face different challenges including, among others, long hours, food waste and the influence of weather and environmental conditions.
Observe what other businesses in the food truck industry do and learn from the other's experience
Follow our checklist when opening a food truck
Frequently Asked Questions (FAQ)