Welcome to the exciting world of food trucks, where culinary creativity meets on-the-go convenience. Food trucks have gained immense popularity recently, offering unique dining experiences and mouthwatering delights that tantalize taste buds on street corners and at events. This article explores 25 of the best food truck ideas, themes, and concepts redefining how we enjoy delectable cuisine. From gourmet grilled cheese to crepe truck crepes and funnel cakes, prepare for a flavorful journey showcasing food trucks' vibrant and diverse culinary landscape.
Why is it Worth Start A Food Truck Business?
Thinking of venturing into the food truck industry? Brace yourself for a host of benefits and thrilling possibilities that come with it. Check out these five irresistible reasons to dive into the food truck business:
Flexibility: A food truck business allows you to set your schedule and pick your preferred spots. As you do not have a brick-and-mortar location, you can take your tasty creations to different neighborhoods, events, and festivals, reaching diverse customers while adapting to their ever-changing cravings.
Lower Operating Costs: Starting a food truck business won't break the bank like traditional restaurants. With lower initial investments and operational expenses, it's an inviting option for passionate entrepreneurs looking to make their mark without emptying their wallets. Check out our article on how to start a food truck business and find out how much do food trucks make.
Mobile Customer Reach: Hit the road and bring your culinary delights to your customers. Explore various locations, hop on the trendiest events, and expand your customer base. The possibilities are endless as you adapt to new street food markets and build a devoted following.
Unleash Creativity: Your own food service business is a playground for culinary innovation and creative expression. Let your imagination run wild with diverse menus, fusion flavors, and unique concoctions. Showcase your skills, leave an indelible mark, and create unforgettable dining experiences.
Community Connection: Engage directly with your customers in an intimate, laid-back setting. Forge personal connections, receive instant feedback, and cultivate a loyal community following. Building relationships is a breeze as you become a local favorite on wheels.
In summary, starting a food truck journey brings flexibility, low startup costs ability, mobility, creative outlets, and community compared to running a traditional brick-and-mortar restaurant.
How to Create Unique Food Truck Ideas?
Here are some critical steps to guide you in creating great creative food truck ideas:
Identify Your Passion and Expertise: Explore your culinary passions and expertise to uncover your unique flavor profile. Let your enthusiasm guide crafting a business venture that genuinely excites you.
Research the Market: Conduct thorough research to identify market gaps, emerging trends, and customer preferences. Analyze different types of food trucks to find opportunities for differentiation and innovation.
Define Your Target Audience: Thinks about their demographics, preferences, and eating habits. Tailor your concept to fulfill their desires and create a personalized dining experience.
Brainstorm Unique Concepts: Let your creativity flow and brainstorm ideas, themes, and concepts that align with your passion and target audience.
Test and Refine: test your food truck concept through surveys, taste tests, or pop-up events to gather valuable feedback. Refine your ideas based on customer insights, ensuring they connect with your audience.
Consider Logistics and Practicality: Consider factors such as ingredient sourcing, space requirements, cooking equipment, and regulatory compliance. Ensure it's feasible for a mobile operation.
Develop a Compelling Brand: Create an emotional connection with your audience through a cohesive brand experience.
Plan Your Menu: Balance creativity with practicality, offering dishes that can be prepared efficiently in a mobile kitchen.
Test, Adapt, and Innovate: Launch your food truck with a soft opening, gathering feedback and monitoring sales. Continuously adapt and innovate based on customer responses, introducing delicious food and experiences to keep customers engaged.
By following these steps, you can develop a great food truck concept that combines your passion, market demand, and a unique dining experience that sets your food truck apart.
25 Best Food Truck Ideas, Themes, and Concepts
Discover 25 real-life innovative food truck ideas, concepts, and themes that have successfully entered the grand opening phase. From delectable menus to captivating culinary images, these food trucks are ready to tantalize taste buds and make their mark on the streets.
1. Fire & Ice Cream Truck
One of the popular and easy food truck ideas is running an ice cream truck. Beckie Jacobs, the visionary founder, and owner, possesses an unwavering dedication to the craft of ice cream. Her commitment extends beyond passion as she strives to create and serve the absolute finest ice cream experience to all. She serves ice cream sundae cones and ice cream sandwiches.
2. Urban Hotdog Company
It is a hot dog truck that revolutionizes the classic favorite hot dogs with a fresh and innovative twist. From its mobile kitchen, catering services, and brick-and-mortar location, this food venture offers an impressive selection of over 20 unique hot dogs, sausages, fries, and more.
3. Roxy's Grilled Cheese
Roxy's is a gourmet grilled cheese truck known for crafting exceptional grilled cheese sandwiches that are the epitome of comfort food indulgence. With a passion for quality ingredients and culinary creativity, Roxy's takes the classic grilled cheese sandwich to new heights, offering a delightful blend of flavors and textures that leave taste buds craving more.
4. The Lobster Roller
Hailing from Gloucester, MA, The Lobster Roller is dedicated to delivering the finest New England lobster rolls and homemade clam chowder. With a focus on fresh local ingredients, they bring the authentic flavors of the sea to their delectable creations, offering a taste of coastal New England that will transport you to the shores with every bite.
5. HFS POKE TRUCK
The HFS Poke Truck is a Hawaiian poke bowl truck that brings the flavors of Hawaiian Style Poke Bowls directly to their San Diego community. With a rotating menu featuring their most popular menu items, they provide locals a taste of the islands. As a boat-to-table operation, they ensure the same fresh-off-the-boat quality that has delighted chefs and restaurants since 2006 is delivered to their valued customers.
6. The Rush Coffee
The Rush Coffee is one of the mobile coffee shops offering different coffee shop drinks to its customers. You can enjoy the delightful experience of freshly made, hand-crafted coffee tailored to your preferences.
7. Wraps & Kebabs
It is the premier Halal Authentic Egyptian food truck in NYC. With a dedication to history, food culture, quality, and mouthwatering flavors, this kebab truck offers a delectable range of Egyptian and Middle Eastern dishes. Their menu is a treasure trove of deliciousness, from succulent lamb to flavorful chicken kebabs, delightful beef kebabs, and the beloved spicy Egyptian sausage.
8. Capelo's Barbecue
This bbq truck has been on the move for over a decade, satisfying cravings with mouthwatering Southern Barbecue. They pride themselves on their deep knowledge and experience in the craft of barbecue. Partnering with Golden Gate Meat Co. in San Francisco, they locally source high-quality meats and expertly smoke them using only wood-fire on our state-of-the-art commercial smokers.
9. Mr Shawarma
It is San Diego's pioneering Halal Shawarma Truck. As the first of its kind in the city, they bring you an authentic Middle Eastern shawarma experience like no other. They craft everything from scratch, using freshly sourced spices to marinate their delectable creations. Everything is 100% Halal, ensuring a truly exceptional dining experience.
10. Fresh Catch Seafood Shack Food Truck
It is a family-owned business, serving the community for over 20 years! Its mouthwatering selection of fried or grilled seafood features various options such as fish, shrimp, oysters, crab legs, and much more. With a passion for quality and flavor, they take pride in delivering the finest seafood dishes to satisfy your cravings.
11. Bunz Gourmet Burgers
Bunz Gourmet Burgers, the home of juicy burgers, has been delighting San Pedro since 2014. Building on their success, they have expanded into mobile food service. Keep an eye out for the Bunz Gourmet Burgers food truck as it hits the streets of San Pedro and walks across the vibrant neighborhoods of South Los Angeles. Get ready to experience burger perfection on wheels!
12. Woofbowl
It is an innovative company driven by creativity and a strong sense of community. With a mission to create exceptional dog treats, they aim to enhance the bond between pets and their owners. As an advocate for furry friends, Woofbowl also fosters connections between people by promoting social interactions at dog parks and beyond.
13. Flourish Plant-Based Kitchen
Get ready to indulge in comfort foods like never before with this plant-based mobile truck. They cater to health-conscious customers who seek delicious dishes with plant-based ingredients. Each mouthwatering creation is crafted from scratch using the freshest and highest quality ingredients.
14. Eighty 8 Donuts
It is a sweet food truck and eateries in Portland and Sugarloaf Mountain. They specialize in serving hot and fresh gourmet bite-sized donuts to satisfy your cravings for a sweet treat. Their passion lies in constantly innovating and bringing exciting new flavors to the community, forging connections, and creating lasting friendships.
15. Downtown Fingers
Prepare yourself for a great culinary experience as Back Of House and Front Of House unite to bring you Denver's ultimate Fried Chicken Food Truck. Combining their expertise and passion, this dynamic duo crafted a menu showcasing the best fried chicken delights.
16. The Mobile Farmers' Market
They bring farm-fresh, California-grown fruits and vegetables directly to communities across the vibrant San Francisco Bay Area. At their core, they champion the belief that equitable access to nourishing food is a fundamental right.
17. Say Cheese Curd Company
Say Cheese Curd Company, a family-owned business fueled by a love for cheese, has delighted customers since 2010. Specializing in cheese curds, they take their mobile food truck on a culinary journey across Central Wisconsin and Southwest Florida.
18. The Rollin' Stone
Drawing inspiration from pizza's Italian heritage, they import premium flour from Naples, Italy, ensuring an authentic culinary experience. Their commitment to quality extends to making fresh dough and sauces daily, while their menu features wood-fired pizza, a blend of traditional toppings, and enticing daily specials.
19. Churro Co.
A journey rooted in a shared appreciation for traditional Mexican food led to a moment of culinary inspiration. Years of planning, taste testing, and exploration brought two visionaries to a captivating realization one fateful night. As they reminisced about the flavors of home, a resounding "Churros!" echoed through the air, igniting their passion to bring this beloved treat to the world.
20. The Traveling Kitchen
Embraced by the community, this mobile taco truck has captured the hearts of Louisville locals. With a menu that beautifully combines the vibrant flavors of Asia and Mexico, each bite is a harmonious fusion that dances on your palate.
21. The Crepe Truck
This food truck offers an array of delectable sweet and savory crepes. With a menu that spans from luscious dessert crepes to savory creations, each bite is a compelling experience. Made with fresh fruits and vegetables, these crepes are tailored to perfection, allowing you to savor flavors precisely as you desire.
22. Waffle Cakes Food Truck
It is a waffle truck that satisfies your cravings with the irresistible taste of unique Liege Belgian Waffles, courtesy of Waffle Cakes. Serving hungry customers across the greater Denver Metro area, their fleet of food trucks, including the Waffle Cakes food truck and their convenient Waffle Cakes cart, brings these mouthwatering creations directly to you.
23. Indian Street Cravings
Indian Street Cravings is a mobile Indian food truck business that serves Indian street food. Embark on a culinary adventure as Indian Street Cravings brings the vibrant flavors of Indian cuisine to the streets of Boston.
24. Rebel Lobster Truck
With deep roots in Maine and Minnesota, they are driven by a passion for crafting mouthwatering lobster rolls and spreading positivity. If you enjoy street food and look for lobster rolls, you will be impressed by the number of choices, from New England-style roll to the indulgent filling of succulent North Atlantic lobster meat.
25. The Bubble Tub
Step into a world of vintage charm and celebration with The Bubble Tub, a French truck that goes beyond the ordinary bar experience. Whether it's a special event, company picnic, backyard brunch, or holiday gathering, this one-of-a-kind mobile bar offers a unique and unforgettable experience. Located in the Oklahoma City area, The Bubble Tub is available for private functions, providing a delightful and stylish addition to your festivities.
What's next?
As you can see, many different food truck ideas can inspire you and let you find your own unique food truck business concept. There is a huge variety of clever food truck ideas – starting from healthy food truck ideas, through the ones based on cuisine types (Mexican, Italian, Halal, etc.) to easy food truck ideas that concentrate on very simple dishes.
Before starting a food truck, don't forget to create a food truck business plan that will help you determine your target market, direct competition, and projected financial forecasts, including investment and operating costs.
Once you open your food truck, remember about your online presence. Consider using a website builder to create your food truck website. A website builder is an intuitive tool that lets you choose one of the professional ready-to-be-used restaurant website templates, customize them and add your food truck menu. It's a kind of business card on the Internet. Potential customers tend to check the restaurant website and browse its menu before visiting it, so we strongly recommend considering creating your restaurant website.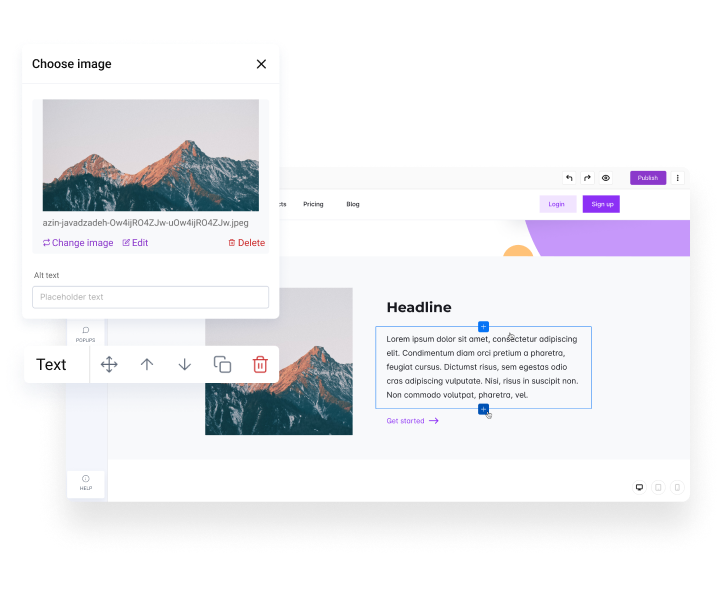 Restaurant Website Builder
Your own branded restaurant
website in minutes
Get a beautifully designed website that converts online visitors into customers and keep them coming back.
Having this done, you can launch an online ordering system from your website. You can maximize your digital presence and expand your customer base by leveraging online ordering software. Customers can conveniently place orders from any device with just a few clicks. Check this article to learn more about how to set up an online ordering system for your restaurant.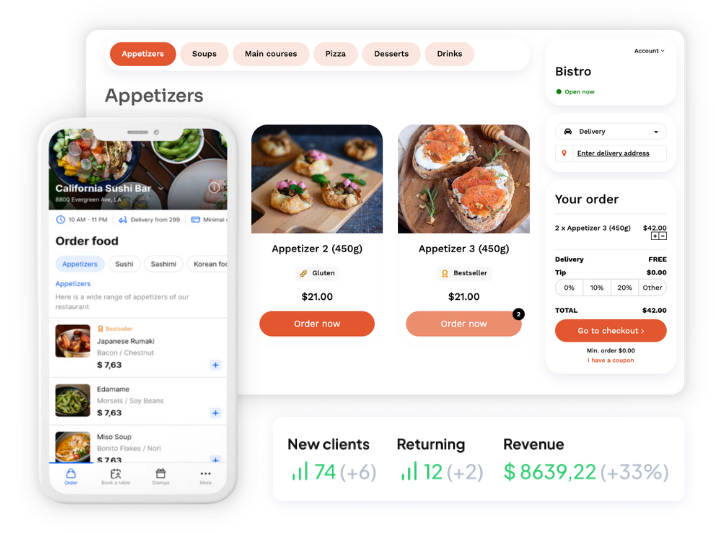 Your own branded online
ordering in 5 minutes
Launch commission-free online ordering on your own website in 5 minutes and grow your revenue, build loyalty and protect margin from third-party aggregators.
Key Takeaways
Successful food trucks often thrive by offering a creative and unique concept that sets them apart from the competition. A distinct idea or theme helps capture the attention and curiosity of potential customers.
The right food truck idea appeals to a specific target audience, allowing you to build a loyal customer base. By understanding the preferences and demands of your target market, you can tailor your menu and concept to cater to their tastes.
Food truck concepts offer flexibility in terms of schedule and location. This adaptability allows you to explore different markets, attend events, and adjust your offerings based on customer feedback and market trends.
A well-defined food truck concept provides branding and marketing opportunities. It allows you to create a unique identity, develop a compelling brand story, and craft engaging visuals that resonate with your audience.
Food trucks provide a platform for culinary innovation and experimentation. You can create exciting menus, explore fusion cuisines, and introduce new flavors. This allows you to stand out and attract customers seeking unique dining experiences.
Food trucks have the advantage of direct customer interaction in a casual and intimate setting. This offers an opportunity to build personal connections, receive instant feedback, and cultivate a loyal community following.
Frequently Asked Questions (FAQ)
When it comes to promoting a food truck and getting the word out about your delicious menu items, here are some practical ideas to consider:
Using popular social media platforms like Instagram, Facebook, and Twitter to showcase mouthwatering food photos, share updates on your locations, and engage with your audience

Registering your food truck business on online food truck directories and platforms that allow customers to discover and locate your truck easily

Partnering with local businesses, such as breweries, coffee shops, or community centers, to host joint events or promotions

Investing in vibrant and visually appealing signage for your street food business

Participating in food festivals, farmers markets, and community events where you can serve your food and reach a large audience

Collaborating with local food bloggers and influencers

Implementing a

loyalty program

where customers can earn rewards or discounts for repeat visits
You can also check our food truck marketing ideas for inspiration.
Determining the most profitable food truck item can vary depending on various factors, including
location

target audience

market trends
However, some generally popular and profitable food truck items include
gourmet burgers

specialty tacos

artisanal sandwiches

fusion cuisine dishes

unique desserts
It's essential to conduct market research, analyze customer preferences, and consider your own food truck concept and expertise to identify the most profitable menu items for your own food truck business. You can maximize profitability and success by offering dishes that stand out from traditional food service businesses and cater to the demands of your mobile truck's audience.