If you've had a great time at a local bar and thought about running your own successful drinking place, you might wonder how to open a bar in your area. Running a successful bar can be a great idea, but you need to do market research and be aware of the licenses and permits you need to obtain before starting a bar. In this guide, we will explain the steps necessary to follow when wondering how to start a bar.
What is a bar?
A bar is a social gathering place where alcoholic beverages are served for consumption. People come to bars to relax, socialize, and enjoy their drinks. We can distinguish different types of bars, including bar concepts like
A wine bar,
A sports bar
A craft beer bar,
A cocktail bar,
Pub,
A neighborhood bar,
A lounge bar
How much does it cost to open a bar?
The cost of starting a bar can vary widely depending on factors such as:
location,
concept,
design,
size,
licensing requirements,
equipment.
While specific costs can vary greatly, according to Sage, the costs of opening a bar usually range from $100,000 and $850,000,000. If your plan involves opening a specialty bar like a wine bar, brewpub, or microbrewery, you might find that your costs are comparatively lower, typically ranging from $25,000 to $100,000. This is partly because obtaining beer and wine licenses is generally less expensive and more straightforward than acquiring permits that include hard liquor.
On the other hand, the cost of opening a nightclub can range from $240,000 to $840,000, taking into account expenses such as equipment, lighting, air conditioning, and other necessary investments, in addition to the costs associated with obtaining alcohol permits.
How profitable is opening a bar?
The key factors that determine the profitability of opening up a bar are careful planning, efficient execution, and consistent management. Bars can be highly profitable due to their ability to apply significant markups on alcohol prices, often ranging up to 500%. As a result, bars can achieve impressive gross profit margins, which can reach as high as 80%.
Below you will find all the steps to opening a bar.
Step 1. Decide on a bar concept
To begin with, start deciding on your concept of a bar. Brainstorm and write down all ideas that come to your mind. What kind of bar do you want to open? Is it to be a craft beer bar or something more sophisticated like a wine bar? How do you want your guests to feel when they visit your bar? Remember that your bar idea needs to be consistent with the chosen location, for example, if you open a bar close to the University, a pub or beer bar would be a good option.
Step 2. Choose a name for your bar
A nice part of the process that directly refers to your bar idea – choosing a name for your bar. Think about a name that is unique and consistent with your bar idea. Avoid all name ideas which are complex and too long. Remember that your bar name will not only be a sign above the promises but will also be presented on your marketing materials, website, and social media.
Once you have a bar name chosen, think about trademarking it. Thanks to that, your name and logo won't be used by other establishments. It's crucial, especially if you are thinking about building a chain of bars. Consider consulting a business attorney to guide you through the trademarking process.
Where to trademark your name and logo?
You need to register your trademarks with
USPTO
(the United States Patent and Trademark Office).
Step 3. Write a bar business plan
Any type of business requires preparing a business plan. No matter if you are opening a restaurant, bar, or coffee shop, it always connects with careful planning and writing a restaurant business plan. Thanks to that, you will be able to talk to potential investors and "sell" them your idea while looking to finance your investment.
A bar business plan is a document that describes the whole business idea and refers to market analysis, competition, financial projections, etc. You can check out our comprehensive guide on how to write a restaurant business plan.
Step 4. Establish a business structure
Another aspect of starting a bar is establishing its business structure. Depending on the legal structure you choose, there are differences in taxes, liability level, and risk level. The most common entity types are
Sole proprietorship
General partnership
Corporations
Limited liability corporations
Step 5. Secure financing your bar
While opening a bar requires a significant investment, there are strategies to secure financing for your venture. One integral approach is to connect with potential investors, as having sufficient funding is essential to sustain your business operations and ensure its long-term success. By securing the necessary financial support, you can navigate the costs associated with launching and running a bar more effectively.
As a bar owner, you need to make a list of all the startup costs. Thanks to that, you will be able to check how much funding you need for a bar purchase. If you are wondering how to open your own bar without money, you can check our article on starting a restaurant business with no money.
Step 6. Acquire the necessary licenses
To operate your bar legally, you need to obtain all the necessary licenses and permits. To serve beer, drinks, and food in your bar, you must keep an eye on all permits. Remember that there might be different regulations depending on the state.
Here is a list of the most essential permits and licenses for a bar owner:
Liquor License – it's crucial to get it, as, without a liquor license, you can't legally serve drinks and sell any alcohol. You must contact your state's Alcoholic Beverage Control agency to apply for a liquor license. Important note
Liquor licenses not only grant permission to sell alcoholic beverages but also specify the type of alcohol you are allowed to sell and establishes the permitted operating hours and days of your establishment. This license is crucial as it governs various aspects of your business related to alcohol sales and operations.
Food service License – if you think about serving food in your bar, you need to apply for Foodservice License. You need to contact your state's public health department for that purpose.
Registering with TTB (Alcohol and Tobacco Tax and Trade Bureau) – Before opening, all businesses that sell alcohol products are required to register with the TTB. Here you can apply for a Permit from TTB.
Other permits that might be necessary for opening your own bar include
Business License
Certificate of Occupancy
Music License
Sign Permit
Pool Table Permit
Dumpster Placement Permit
Fire Department Permit
Commercial liability insurance
Step 7. Find the ideal bar location
Choosing the bar location is crucial for your business. Consider the following factors before making a decision on the best place to open a bar:
Assess Demographics: Analyze the demographics of the area where you plan to open your business, ensuring it aligns with your target market and customer preferences. For example, if you plan to open a sports bar, ensure its location is great for college students and sports fans.
Visibility and accessibility: take into account the accessibility of your chosen location, considering factors such as transportation options and parking availability to ensure convenience for your customers.
Check the competition in your area: Verify if there are other bars in the area you plan your bar opening.
Budget for Rent and Utilities: Carefully consider the costs of rent and utilities in your chosen location, ensuring they fit within your budget and align with the expected revenue potential of your bar.
Understand Zoning Restrictions: what are the local zoning regulations and restrictions? Are there any restrictions that may impact your bar's operations, such as noise limitations or specific licensing requirements?
Step 8. Select a liquor supplier
As a business owner opening a bar, you need to look for liquor suppliers. Depending on the alcohol type you plan to offer, arrange meetings with different suppliers. Most of them have websites where you can check their portfolio.
When selecting a distributor, it's important to consider the following factors:
Minimum Purchase Requirements: an important aspect, as it directly influences your budget and inventory management.
Brand Selection: check the supplier's portfolio to ensure they offer the brands and products consistent with your bar's concept
Delivery Dates: what are the expected delivery schedules? Do they meet your inventory needs?
Payment Options and Discounts: what are the available payment methods? Are there any discounts for bulk orders?
Promotional Materials: does the supplier provide any promotional materials to boost your sales? Are there any brand ambassadors?
Step 9. Design your bar's layout
The next step in starting a bar business is taking care of the captivating and functional design for your bar's interior. Remember that the entrance is vital. It determines the first impression and whether the consumer decides to enter the bar or not.
Bar owners need to take care of the cohesion of the decor, the right chairs, tables, and furniture must harmonize with each other. You can decide to work with an interior designer who will help you with the preparation of the interior design and the selection of accessories. Depending on the nature of the premises, include TV, pool tables, etc. Don't forget about matching the music that will be played on the premises to the bar style.
While designing your bar interior, don't forget about compliance with space and electrical requirements.
Step 10. Buy necessary bar equipment
An essential step in opening any restaurant business is buying equipment. To start a bar and serve all the alcohol you plan, you need to buy the following:
Remember that this is an example bar checklist and it can be different depending on specific cocktail recipes, and the type of bar business you're operating.
Step 11. Hire and train your staff
Start looking for skilled employees with experience working in a bar before opening your establishment. Depending on the bar type, your staffing may be different, for example, you will need fewer employees in a small neighborhood bar than a cocktail bar. Job positions that may be necessary for your bar include:
Bar manager,
Servers,
Barbacks,
Bartenders,
Hosts/Hostesses
Security
Apart from conducting interviews and hiring new employees, it is crucial to develop a well-structured training program that establishes clear expectations.
Step 12. Promote your bar
To promote your bar, you need to develop a marketing strategy for the bar before and after it is open. As a bar owner, you need to know what competition does and think of ideas to attract customers. First of all, you need to spread the word among potential customers and then incentivize them to visit your existing bar and come back again.
There are various brand promotion ideas, for example:
Creating a Fan page and Instagram account
Offering extra drink (the one which is not included in your drink menu) to your social media followers
Creating a restaurant website
Running happy hours
Offering discounts for repeat customers
Organizing promotional events
Building a loyalty program
Organizing contests for the most active followers on Facebook and Instagram
Check our article on the best bar promotion ideas for inspiration.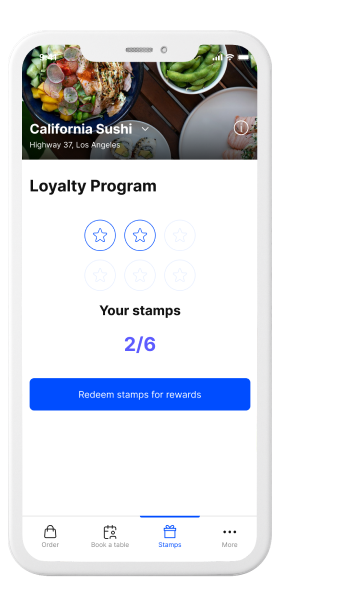 Create a Loyalty Program for Your Restaurant
Boost customer loyalty and transform one-time restaurant guests into regulars with an easy-to-implement loyalty program
Step 13. Open your bar
Having followed all the steps we described above, you are ready to open your new bar. Ensure proactive promotion prior to the event, for example, you can offer discounts on an opening day to encourage new customers to become loyal patrons.
A great option worth consideration is organizing a soft opening before you start running your bar on an everyday basis. During a soft opening, you will be able to test your bar's operations, check if any areas require improvements, and implement them before hosting a grand opening.
Before hosting a grand bar opening, make sure that you promoted your opening among the local community.
Step 14. Create your bar website
After opening your bar, it's essential to establish and maintain an online presence. Use a restaurant website builder to create a customized website for your bar. Select a bar template, showcase your menu items, and personalize the website to align with your brand.
Building a website is a quick and straightforward process. It's important to recognize that having a restaurant website directly enhances brand recognition and strengthens your connection with customers.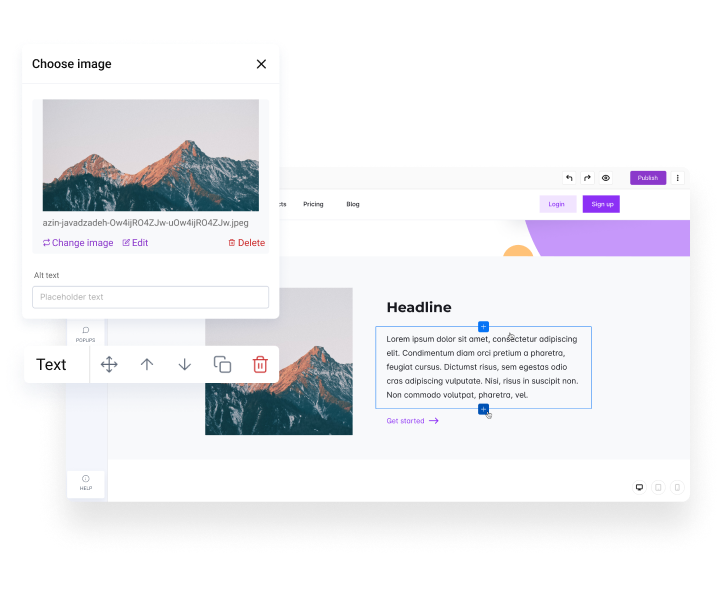 Restaurant Website Builder
Create FREE restaurant website in minutes
Choose from 50+ restaurant website templates to craft a site that turns visitors into customers
If you are looking for inspiration, check the examples of the best bar website designs.
Step 15. Start selling online
When considering the creation of your bar website, don't forget about the potential to boost sales by incorporating a food ordering system. With a simple setup, you can quickly launch your own commission-free food ordering system on your website in just 5 minutes.
This lets your customers conveniently place orders directly from your website, enhancing their experience and potentially increasing your sales. Sounds interesting? Check out our guide on how to set up an online ordering system.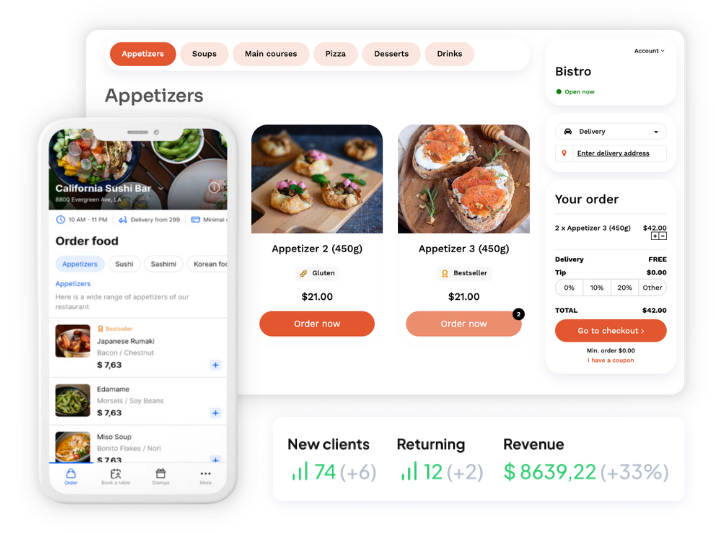 Start selling food online
Set up commission-free ordering for your restaurant's website in minutes. Boost revenue while saving on third-party fees
Step 16. Create a QR code menu
Creating a QR code menu is a great option to reduce the need for table service. Customers scan a QR placed on their table and are redirected to the restaurant menu. You can create your digital menu in just a few minutes and edit it when necessary.
Don't forget to add attractive photos of your drinks to increase sales. Check our food photography tips to take eye-catching photos.
Starting a bar checklist to start
Key Takeaways
When thinking of how to open a bar, remember that everything starts with a concept and choosing a name for a bar
Create a bar from scratch or buy an existing bar
A successful bar can achieve a huge gross profit margin, which can reach as high as 80%
As in case of other businesses, a business plan is a must
While choosing a business model, take into account differences in taxes, liability level, and risk level
Thanks to the financial projections included in your business plan you can evaluate the startup cost and secure funding
There are many different bar types, for example, sports bars, cigar bars, signature cocktails bars, and other alcoholic beverage bars.
Depending on a bar type, you might need different licenses and permits
Location is a key to your own bar success
Remember that the success of a bar business depends on its suppliers
As a restaurant owner, pay attention to all the details
Design your bar and buy all necessary equipment
Skilled and reliable employees can differentiate your establishment from other bars
Any new bar requires promotion. Use marketing strategies and check our promotion ideas to build brand recognition among customers
Start with a soft opening before holding a grand opening
Create a bar website and start selling online
Create a QR code menu to increase sales
Frequently Asked Questions (FAQ)