Coffee is one of the most popular beverages worldwide, and there is a great demand for great coffee shops on the market. If you are wondering how to start a coffee shop, check out our ultimate guide to find out the details.
What is a coffee shop?
A coffee shop primarily serves coffee-based beverages, along with a variety of other beverages and snacks. It is a place where people come to enjoy freshly brewed coffee, espresso, cappuccinos, lattes, etc. It's a cozy spot to relax, work, or meet friends while enjoying your favorite coffee. Some coffee shops also offer snacks and pastries.
How to start a coffee shop business?
We can distinguish three ways of opening a coffee shop including:
Starting a coffee shop from scratch
Buying an already existing coffee shop
Consider making an investment in a coffee shop franchise
How much does it cost to start a coffee shop?
The cost of opening a coffee business varies based on several factors, including the location, the type of coffee shop you plan to open, the local commercial real estate prices, and other relevant variables. According to Crimson Cup, the costs look as follows:
From $80,000 to $330,000 in case of a coffee shop with seating only
From $80,000 to $230,000 in case of a coffee shop with a drive-thru only
From $80,000 to $400,000 in case of a coffee shop with both seating and a drive-thru:
From $60,000 to $125,000 in case of a coffee kiosk or stand
From $50,000 to $175,00 in case of a mobile coffee food truck
Below, you will find a step-by-step guide about how to start a coffee shop business
Step 1. Start with market research
The very first step is checking if there is a demand for a coffee shop in your area. Conduct a careful analysis taking into consideration various factors, for example:
Are there other coffee shops?
Are they individual brands or franchise coffee shops?
Are you able to compete with them?
What is the number of potential customers in your area?
Will you offer something else apart from coffee (for example, sandwiches, cakes, croissants)?
If yes, will you make it on your own or buy ingredients, for example, bread from a bakery?
What is the foot traffic in the area you want to open your business?
Will it be a drive-thru coffee shop?
Ask yourself these questions before making your decision to start your independent business.
Step 2. Develop a solid business plan
Having analyzed the market, you can work on writing your coffee shop business plan. Remember to cover all elements of your restaurant business plan, including:
Executive summary
Restaurant description.
Market Analysis, Location Analysis,
Investment plan
Financial projections (expected monthly sales, fixed and variable costs, etc.)
Marketing plan
Company description
While working on your business plan, you need to identify all potential startup costs. Common startup costs for a coffee shop typically include:
Rental Space: it refers to the cost of renting or leasing a commercial space for your new coffee shop
Utilities: as part of your coffee shop business plan, you will need to include various utility expenses, including electricity, water, gas, and internet services.
Insurance: your business insurance is an important factor in safeguarding your coffee shop against potential risks and liabilities.
Licenses and Permits: another part of your coffee shop startup expenses are costs you need to incur to obtain licenses and permits necessary for a coffee shop business.
Furnishing and Equipment: When setting up your coffee shop, you should consider the expenses associated with transforming the coffee shop's physical space into an inviting and functional interior. The costs may include:

painting,
flooring installation,
lighting fixtures,
furniture procurement,
fixture installation,
signage creation
Staff Wages: here come all expenses related to hiring and training your staff, including

wages,
payroll taxes,
employee benefits,
training programs
Advertising: While creating your coffee shop business plan, you need to take into account your coffee shop unique marketing strategies and the startup costs you will spend on advertising.
Step 3. Find the ideal coffee shop location
Choosing the right coffee shop location can significantly impact its success. Consider the following factors to make up your mind:
Rent Cost: compare different coffee shop locations and their costs and ask yourself a question if you can afford it before making your decision. Take into consideration the following factors:

the lease length,
requirements for renovations,
potential rent increases over time,
insurance obligations, the amount of the security deposit,
ongoing maintenance cost
Target market location: where is your target market located? How close to your customers your coffee shop is to be located?
Coffee shop visibility: your coffee shop needs to be visible and easily accessible for potential customers
Foot traffic in the area: make sure there is enough foot traffic in the area you consider for the coffee shop start.
Competition: before choosing a location for your coffee shop, analyze how many independent coffee shops there are. Remember to include the competition analysis in your coffee shop business plan.
Previous tenants: if you are renting commercial space for your own café, find out who the previous tenants were. What was the opinion of the place they ran in this place? Were local residents willing to come there and use their services?
By carefully considering these aspects, you can make an informed decision that sets your coffee shop up for growth and profitability.
Step 4. Select coffee beans
You will serve customers coffee, so choosing wisely high-quality and flavorful coffee beans is crucial. Spend some time learning about coffee and tasting different coffee beans. Explore different coffee roasters to find the right coffee supplier if you plan to select one or focus on getting to know how to roast quality beans to make your own coffee.
Step 5. Design your coffee shop menu
Once you decide on your main product, it's time to create your menu. Remember to keep it simple and consistent with your branding strategy. Visit other coffee shops in your neighborhood and check out their menus. If you are serving food, include it in your restaurant menu, but remember that coffee is your main product, and you should focus on highlighting it.
We prepared a menu engineering guide where you can read about how to make a restaurant menu.
While creating your board menu, don't forget about the online restaurant menu. You can use a ready-to-be-used menu template to offer your products online.
In today's world, it's also recommended to create a QR code menu to boost your sales.
Step 6. Obtain all the necessary licenses and permits
As in the case of opening a restaurant, you need to get all licenses and permits required to operate your coffee shop. They may vary from state to state, so it's important to check with your local authorities to ensure you obtain all of them. Remember that it takes time to get them, so apply for them in advance. Below are some licenses and permits that are typically required to open a coffee shop:
EIN (Employee Identification Number)
Business License
Retail Food Service License
Resale License for Sales Tax
Health Permit
Signage Permit
Building Permit
Fire Safety Permit
Music Licensing
Step 7. Purchase the necessary equipment
Having high-quality coffee equipment is crucial for the success of any cafe or coffee shop. While specific equipment needs may vary, certain pieces are essential for every cafe. Below you can see an example checklist of coffee shop equipment:
Step 8. Set competitive pricing
Competitive pricing decides on your coffee shop's financial results. Check the pricing of other coffee shops in your area, and make use of menu engineering to determine the prices of your menu items and build a profitable menu. Keep in mind that developing an effective menu pricing strategy for your coffee shop may require some experimentation and adjustment. It takes time to find the right balance that maximizes both the profitability and popularity of your menu items.
Step 9. Design your coffee shop layout
To make your customers feel comfortable in your coffee shop, focus on creating a great design of both front and back-of-house areas. Think about the atmosphere you want to create. Is it to be a place for friends meeting or rather for families or coworkers? Depending on your vision, choose suitable decorations, chairs, and tables.
Step 10. Create a memorable brand identity
The next step is creating your coffee shop brand which complies with your company vision, mission, and core values. Focus on creating a memorable coffee business brand identity, starting with creating a brand name and logo. Think about developing a brand story, and don't forget about creating consistent visual elements for your coffee business.
Step 11. Develop a marketing strategy
To promote your coffee shop, you need to start by developing a marketing plan, which is a part of creating a coffee shop business plan. Having a restaurant marketing plan is vital as it keeps you aligned with your goals, maintains budget discipline, and prevents getting sidetracked by ineffective marketing campaigns. With a well-defined plan, you can stay focused on strategies that are tailored to your business, ensuring optimal use of resources and maximizing your chances of success.
Having your marketing strategy developed, you can start promoting your brand. The coffee shop promotion ideas could be, for example:
Offering discounts for repeat customers
Offering small free samples of your coffee and food,
Creating a restaurant website,
Building a loyalty program
Organizing contests for the most active followers on Facebook and Instagram
Check our article on restaurant promotion ideas for inspiration.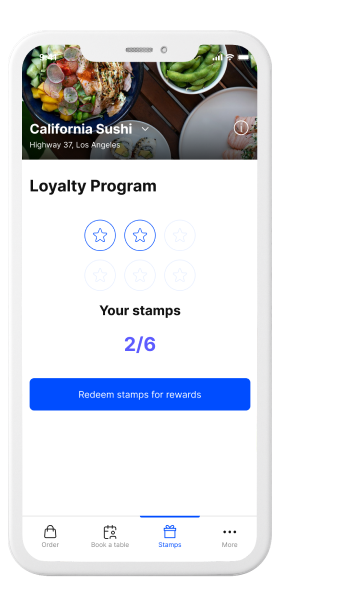 Customers who join the loyalty program often return and spend more
Get up and running quickly with our easy-to-implement loyalty program.
Step 12. Hire and train your employees
Start looking for talented baristas before opening a coffee shop, as the recruitment process may take some time. In addition to being knowledgeable about your offer, it is crucial for your baristas to receive comprehensive training on both the art of crafting exceptional coffee and the proper handling of coffee shop equipment. Take the time to train your staff, and it will more than pay off.
Step 13. Open your coffee shop
Once you hire and train your employees, it's high time to open your coffee shop. Make noise about this event, share the information on your coffee shop media channels, and invite your friends with their families. You can offer discounts on the opening day to turn your new customers into loyal customers. Another idea is to offer gift cards to boost future sales in your coffee shop.
Step 14. Create your coffee shop website
Once you open your coffee shop, don't forget its online presence. You can use a restaurant website builder, choose a coffee shop template, add your menu items, and customize your website. The process is quick and simple. Remember that a restaurant website directly improves brand recognition among your customers.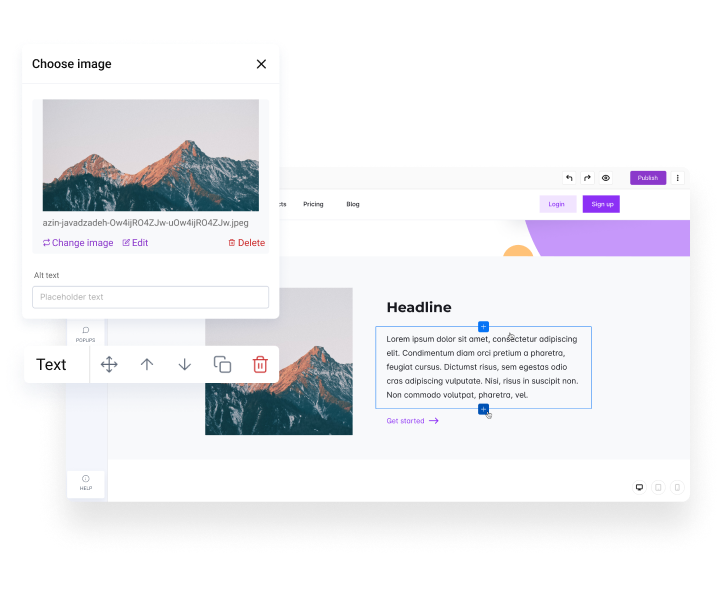 Restaurant Website Builder
Your own branded restaurant
website in minutes
Get a beautifully designed website that converts online visitors into customers and keep them coming back.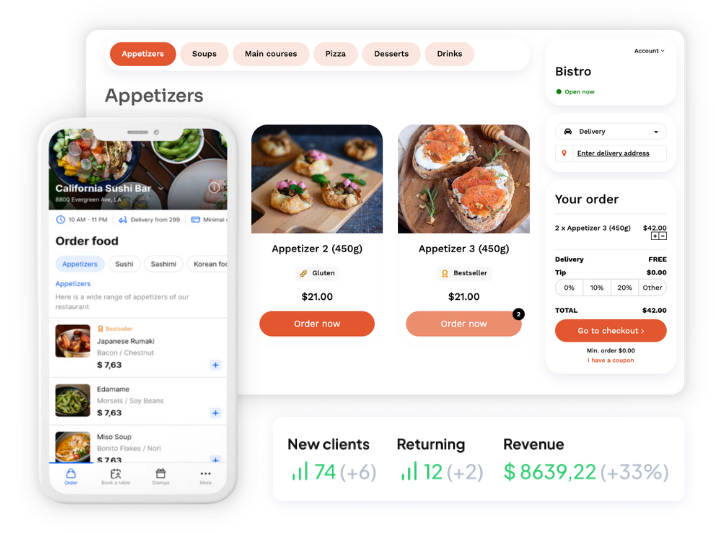 Your own branded online
ordering in 5 minutes
Launch commission-free online ordering on your own website in 5 minutes and grow your revenue, build loyalty and protect margin from third-party aggregators.
Step 16. Create a loyalty program
To incentivize customer loyalty, think about creating a loyalty program for your customers. A simple rewards program can help to turn your one-time coffee shop clients into regular customers. Loyal customers, on average, contribute to a 45% higher spending on food orders compared to other clients, so creating and implementing a rewards program in a coffee shop is an effective way to enhance customer retention.
Step 17. Stay updated with the latest trends
You did it, you started your coffee shop, congratulations! As a coffee shop owner, remember to stay updated with the latest trends in the coffee industry. Participate in trade shows, and subscribe to magazines and websites from the coffee industry. Remember that a successful business requires a business owner to react to changing trends in target customers' behavior. Keep a positive attitude, be open-minded, and stick to your coffee shop sales strategy.
A checklist on how to start a coffee shop
Key Takeaways
Starting a coffee shop requires careful market analysis
You have three options of starting a coffee shop: you can create it from scratch, buy a coffee shop that already exists or consider making an investment in a coffee shop franchise
Start with the coffee shop business plan to evaluate the coffee shop startup costs and prepare financial projections
The success of a coffee shop depends on the quality beans
Follow the checklist regarding licenses, permits, finding a coffee shop location and creating its menu and pricing
Focus on your coffee shop brand identity and marketing strategy to attract target customers
Create a restaurant website and start selling online
Observe local businesses to improve your coffee shop operations and profitability
Frequently Asked Questions (FAQ)
If you want to start a coffee shop with no money, you need to start by creating a coffee shop business plan. It needs to cover all coffee shop startup costs and financial projections, you need to know the exact amount of money you need for a coffee shop business, including:
the cost of renting or leasing a commercial space for your coffee business

utility expenses (eg. electricity, water, gas, and internet services.

the cost of obtaining necessary permits and licenses

the cost of coffee shop equipment

wages for your employees

Your coffee business insurance

The cost of promoting your coffee shop business
Here you can check how to write a restaurant business plan. A solid business plan is a must to open a coffee shop. Once you create it, you will be able to apply for business loans and/or financial assistance from investors. You also have the option to check the crowdfunding options for your coffee business, look for a co-founder, or use credit card financing. Check our article on how to open a restaurant with no money for more ideas.
The income of a coffee shop owner can vary depending on different factors, including
A coffee shop location – it is an important factor that influences a coffee shop's sales.

The number of customers visiting a coffee shop.

A coffee shop menu and pricing – it influences the average transaction value and overall revenue.

Operational Costs – depending on how coffee shop owners manage operational costs like rent, utilities, and staff wages, the coffee shop profitability is higher. The inventory management and equipment maintenance costs also have an influence on a coffee shop's profitability.

Marketing and Promotion – a successful coffee shop runs marketing activities that attract its target customers and boost sales.

Customer Service – depending on the customer service provided by a coffee shop's employees, customers more often tend to come back to the coffee business.

Competition – the number of other coffee shops in the area you operate has a direct influence on your coffee shop's profitability.
On average, an owner can make between $50,000 and $175,000 per year.
Running a cafe without any prior experience can be difficult, but it's not impossible. Having experience in the food and beverage industry or running other businesses can help, but it's not necessary. If you want to open a coffee shop without experience, consider:
Taking time to learn the basics of how to open a coffee shop

Surrounding yourself with experienced employees

Creating a coffee shop business plan that contains market research, competition analysis, and financial projections. Here you can check

how to write a restaurant business plan
Talking with other coffee shop owners to learn from their experience

Starting a coffee business with a simple menu and grow the business over time

Continuos self-development, looking for areas for improvement of your coffee business and willingness to adapt to continuously changing trends