Are you a coffee enthusiast with dreams of opening your own coffee shop, but you're looking for that perfect spark of inspiration to set your venture apart? In the bustling world of coffee culture, where every street seems to have a coffee shop, standing out can be a challenge.
We've curated a list of 25 unique coffee shop ideas, themes, and concepts that will not only tantalize taste buds but also create a memorable coffee experience.
How to Design a Coffee Shop?
Designing a coffee shop that captures the hearts of coffee aficionados and creates a cozy, inviting atmosphere is a key step in building a successful coffee business.
Theme and Concept: Start by defining a unique theme or concept for your coffee shop. Whether it's a rustic countryside cafe or a modern urban hangout, your theme sets the tone.
Layout and Flow: Plan an efficient layout that ensures smooth customer flow. Keep the service counter accessible and create cozy seating areas.
Color Palette: Choose a color scheme that reflects your brand and creates the desired ambiance. Warm, earthy tones or vibrant, energetic colors can make a difference.
Seating Options: Decide on the types of seating, including comfy sofas, bar stools, and communal tables. Match the seating to your target audience's preferences.
Lighting: Opt for adequate and flattering lighting. Consider natural light, pendant lights, and task lighting to create a welcoming atmosphere.
Coffee Bar: Invest in an eye-catching coffee bar that showcases your baristas and equipment. It's the centerpiece of your shop.
Menu Display: Display your coffee menu clearly and beautifully. Consider chalkboards, digital screens, or artistic menu boards.
Art and Decor: Incorporate art and decor elements that align with your theme. Wall art, local artwork, or unique decor pieces can add character.
Branding and Signage: Create eye-catching signage that reflects your brand. Ensure your logo and brand name are prominent.
Comfort and Amenities: Offer comfortable seating, free Wi-Fi, power outlets, and clean restroom facilities for an enjoyable experience.
Music Selection: Curate a playlist that complements your cafe's ambiance. Soft jazz, indie tunes, or your own coffee shop soundtrack can enhance the atmosphere.
Outdoor Space: If space permits, consider outdoor seating or a sidewalk cafe to attract passersby and offer an alfresco experience.
Accessibility: Ensure your coffee shop is accessible to all customers, including those with disabilities.
Greenery: Incorporate indoor plants or a small garden to bring a touch of nature into your space.
25 Coffee Shop Ideas and Concepts
Coffee shops are not just places for caffeine fixes; they are hubs of creativity, community, and comfort.
We'll explore 25 unique coffee shop ideas and concepts, each designed to breathe new life into your cafe and elevate your customers' experience.
1. Artisanal Coffee Lab
Concept: Transform your coffee shop into a laboratory of flavors, experimenting with unique beans, brewing methods, and exotic roasts.
Example: "Stumptown Coffee Roasters" in Portland, Oregon, offers a "Brewers Cup" series where they showcase limited-edition, artisanal coffee creations.
2. Coffee and Vinyl
Concept: Combine the love for coffee and music by featuring vinyl records and turntables for customers to enjoy while sipping their brew.
Example: "The Kind Grind" in California offers a vinyl record collection for customers to browse through while enjoying their coffee.
3. Coffee and Books
Concept: Create a cozy reading nook within your coffee shop, complete with a library of books for customers to peruse.
Example: "The Last Bookstore" in Los Angeles offers a coffee shop within its bookstore, inviting patrons to enjoy a good book with their coffee.
4. Coffee Tasting Flights
Concept: Offer coffee flights where customers can sample a variety of brews to explore different flavor profiles.
Example: "Blue Bottle Coffee" offers tasting flights that feature a selection of their single-origin coffees.
5. Coffee Art Gallery
Concept: Showcase local artists' work on the walls of your coffee shop, creating an ever-changing art gallery for customers to appreciate.
Example: "Cafe Grumpy" in New York City features rotating art exhibits and hosts art events for the local community.
6. Coffee and Cocktails
Concept: Expand your offerings to include coffee-based cocktails and espresso-infused beverages for a unique evening experience.
Example: "Doubleshot Espresso Bar" in Prague serves a variety of coffee cocktails, combining the best of both worlds.
7. Retro Diner Revival
Concept: Transport customers back in time with a retro diner theme, complete with vintage decor and classic diner fare.
Example: "Lula's Sweet Apothecary" in New York City offers vegan ice cream and a retro soda fountain experience.
8. Coffee and Dessert Pairings
Concept: Collaborate with local bakeries to offer curated dessert pairings that complement your coffee selection.
Example: "Four Barrel Coffee" in San Francisco partners with local pastry shops to offer artisanal pastries with their coffee.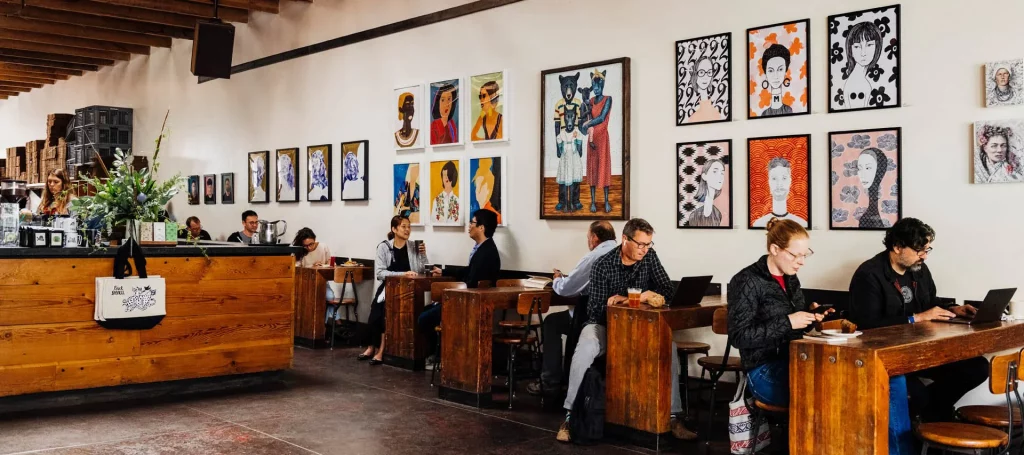 9. Coffee Shop Coworking
Concept: Create a coworking-friendly atmosphere with ample power outlets, free Wi-Fi, and dedicated workspaces for remote workers.
Example: "WeWork Cafe" offers a coffee shop experience within its coworking spaces.
10. World Coffee Tour
Concept: Highlight coffee beans from different regions and countries, allowing customers to explore global coffee flavors.
Example: "Blue State Coffee" offers a "World Tour" collection featuring coffees from various countries.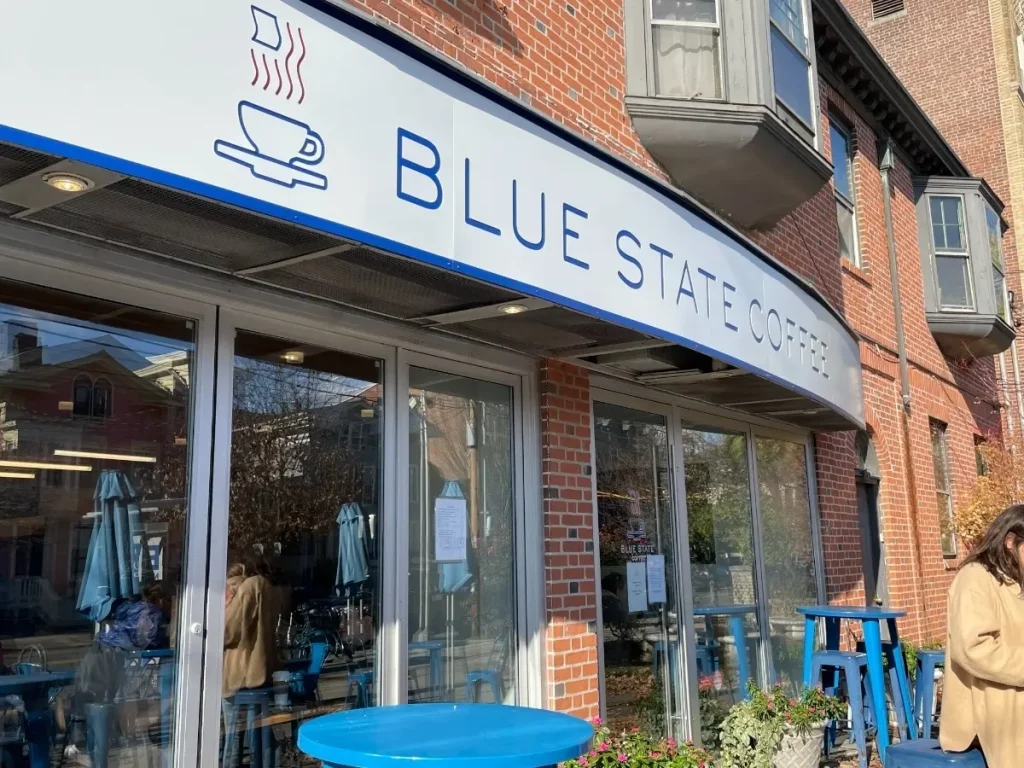 11. Coffee and Tea Fusion
Concept: Blend coffee and tea offerings, creating a menu that caters to both coffee and tea enthusiasts.
Example: "Alfred Tea Room" in Los Angeles combines a modern tea room with coffee options for a unique fusion experience.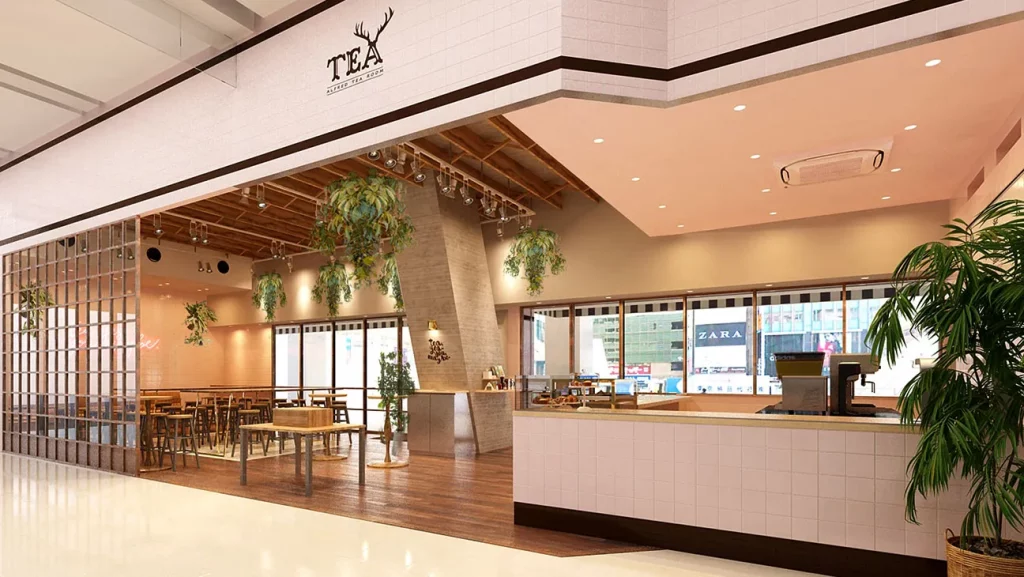 12. Coffee on Wheels
Concept: Take your coffee shop on the road with a mobile coffee truck or bike to reach different locations and events.
Example: "Brewbike" in Chicago operates a coffee bike on college campuses, serving coffee to students on the go.
13. Coffee Subscription Service
Concept: Launch a subscription service that delivers freshly roasted coffee beans to customers' doorsteps on a regular basis.
Example: "MistoBox" offers a subscription service that delivers carefully selected coffee beans from various roasters.
14. Coffee and Yoga Studio
Concept: Combine coffee and wellness by offering yoga classes or mindfulness sessions within your coffee shop.
Example: "Yoga-urt" in Los Angeles offers yoga classes and serves coffee, creating a holistic experience for patrons.
15. Coffee and Plant Shop
Concept: Integrate a plant shop within your coffee shop, allowing customers to enjoy coffee surrounded by greenery.
Example: "The Watering Can" in Toronto offers coffee and a wide selection of plants, creating a serene atmosphere.
16. Coffee Workshop Hub
Concept: Host coffee workshops and classes for enthusiasts to learn brewing techniques and coffee artistry.
Example: "Counter Culture Coffee" offers workshops on brewing methods, latte art, and more.
17. Coffee Pop-Up Experiences
Concept: Collaborate with local businesses for pop-up events that bring unique food, art, or products to your coffee shop.
Example: "The Coffee Bar" in Washington, D.C., hosts regular pop-up shops featuring local artisans.
18. Coffee and Board Games
Concept: Create a board game corner where customers can enjoy coffee while playing a variety of games.
Example: "Snakes & Lattes" in Toronto combines a vast collection of board games with a coffee shop.
19. Coffee Shop Theater
Concept: Host live performances, open mic nights, or small theater productions in your coffee shop to entertain your customers.
Example: "The Green Room" in San Francisco hosts live comedy shows and open mics.
20. Coffee and Pet-Friendly Patio
Concept: Offer a pet-friendly outdoor seating area where customers can enjoy coffee with their furry companions.
Example: "The Wild Detectives" in Dallas welcomes pets on its outdoor patio, creating a pet-friendly coffee experience.

21. Coffee and Chocolate Pairings
Concept: Partner with local chocolatiers to offer coffee and chocolate pairing experiences that delight the senses.
Example: "Dandelion Chocolate" in San Francisco collaborates with coffee shops for tastings and pairings.
22. Coffee Shop Podcast Studio
Concept: Create a podcast recording space within your coffee shop, inviting podcasters and influencers to record on-site.
Example: "Second Best Coffee" in Kansas City offers a podcast studio for content creators.
23. Coffee and Artisanal Soda Bar
Concept: Craft artisanal sodas and soft drinks in-house, adding a unique twist to your beverage menu.
Example: "Sparrow Coffee" in Chicago serves house-made sodas alongside its coffee offerings.
24. Coffee Shop Workshop Series
Concept: Organize a series of workshops on topics like coffee roasting, latte art, and bean sourcing for coffee enthusiasts.
Example: "Verve Coffee Roasters" offers workshops on various coffee-related subjects.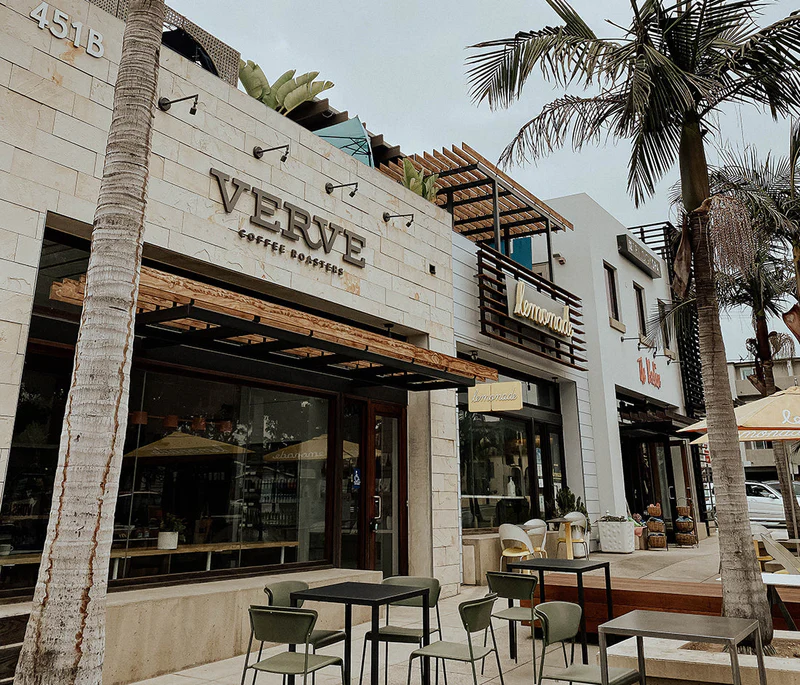 25. Coffee and Community Hub
Concept: Create a coffee shop that serves as a community hub, hosting events, meetings, and gatherings for locals.
Example: "The Crown: Royal Coffee Lab & Tasting Room" in Oakland offers a space for coffee professionals and enthusiasts to come together.
These 25 ice cream shop ideas and concepts showcase the limitless potential for creativity and innovation within the frozen dessert industry.
By choosing the one that aligns with your vision and market, you can create a memorable ice cream shop that stands out.
Key Takeaways
Uniqueness is Your Strength: Differentiate your coffee shop by embracing innovative concepts and offering something distinctive that sets you apart from the competition.
Ambiance Matters: Creating a welcoming and themed atmosphere can enhance the overall coffee shop experience and leave a lasting impression on customers.
Diverse Offerings Attract: Expanding your menu with creative collaborations, pairings, and activities can attract a wider range of customers and keep them coming back.
Community Engagement: Fostering a sense of community by hosting events, workshops, and gatherings can help build strong customer loyalty.
Adapt to Trends: Stay updated with coffee industry trends and be open to evolving your coffee shop's concept and offerings to meet customer demands.
Frequently Asked Questions (FAQ)