People love to eat pizza, and its popularity continues to grow. It's one of the most popular types of food that can meet different tastes and consumer preferences. In this guide, we will have a look at how to start a pizza shop. Let's explore the details in greater depth!
What is a pizza shop?
According to Merriam-Webster, a pizza shop, also known as a pizzeria, is a restaurant or take-out place that sells pizza. It is a place where customers can order and enjoy various types of pizzas, either for dine-in, takeout, or delivery.
The pizza industry exhibits a significant level of fragmentation, characterized by a multitude of independent pizzerias, regional chains, and global pizza chains vying for market share. This fragmentation creates favorable circumstances for new pizza shops to enter the market and carve out their own distinct niche.
Below, you will find all the steps on how to open a pizza shop.
Step 1. Develop Your Pizza Recipes
A starting point is developing your pizza cooking instructions. Be open to experimenting with different recipe variations and adding different ingredients to find your niche in the market. You don't have to prepare your pizzeria's menu right away, you'll get to that later, but testing equal recipes will help you decide what will be your pizzeria's style and what your brand will be. Remember to make notes about each step of preparing your pizza so that you can recreate it in the future.
Step 2. Select a style for your pizza shop
To open a pizza shop, think about different pizza business ideas. There are many pizza shop concepts to choose from, including, among others:
Traditional Full-Service Pizzeria offers different pizza options with dine-in, takeout, and delivery services.
Fast Casual Pizzeria: it has the quality of a traditional pizza shop and the speed of fast food restaurant
Gourmet or Artisan Pizzeria: specializes in crafting exceptional pizzas using premium ingredients, with a focus on delivering a unique and elevated dining experience
Slice Shop is a place specializing in selling pizza by the slice. Usually, there is no or limited seating, and customers buy a pizza slice to go
Food Truck Pizzeria: Mobile pizza trucks provide on-the-go pizzas, bringing the convenience of delicious pizza to diverse locations.
Virtual or Ghost Kitchen Pizzeria: don't have dine-in space; they offer delivery and/or takeout only
Take-and-Bake Pizzeria: offer pre-made pizzas with recipes on how to bake them. Customers buy pizzas, take home and bake them themselves
Pizza Buffet: offers unlimited pizza choices. Customers pay a set price and have the freedom to select from a wide range of pizza options alongside other menu items, creating a generous and customizable dining experience.
Delivery pizza shop: this is a specialized type of pizzeria that focuses on preparing and delivering pizzas directly to customers' preferred locations.
Apart from the pizza shop concept, you need to come up with a few pizza names and your service options. You can choose one of the following or a combination of them:
Step 3. Develop a comprehensive business plan
Opening any business, including starting a pizza shop, requires writing a solid restaurant business plan. To build your own pizza place, conduct market research, decide who your target customers will be, and describe your pizza concept and how you will differentiate your pizza shop from competitors. You also need to decide if you are opening an independent pizza shop or opting for a franchise. Moreover, you have to include financial analysis, which will be a helpful tool for your while looking for potential investors or applying for a business loan.
Your pizza shop business plan needs to include the following elements:
Executive Summary.
Restaurant description.
Market Analysis, Location Analysis.
Investment plan (Cost Analysis, Financial Analysis).
Financial Projections.
Team (Employees, Founders).
Marketing Plan.
Company description of the vision for further development of the restaurant.
Check out our comprehensive guide on how to write a restaurant business plan.
Step 4. Determine an ideal pizzeria location
Choosing the pizza shop location is an essential factor in determining your pizza profit margin. Take into consideration the following aspects while starting a pizza business:
What is the foot traffic in the area?
Is a place visible to the customers?
What is the accessibility of your pizzeria? Can it be easily accessible for both passers-by and vehicles? Are there any parking spaces available?
Are there any pizza shops in the area? Is there a competition in the place?
What are the customers' eating habits in the area? Will your pizza shop be an attractive option for them?
Step 5. Complete the formalities
Having created your pizza shop business plan and the location chosen, focus on the formalities. You need to register your pizza shop business and choose a business entity. The business forms include the following:
Sole Proprietorship
Partnership
Limited Liability Company (LLC),
Corporation
Cooperative
Nonprofit Organization
Remember that your choice of business structure will have an influence on how you file and pay taxes.
In order to register your business, you will need to obtain Employer Identification Number (EIN). You apply for it through the IRS Internal Revenue Service (IRS). This EIN will serve various purposes, including tax obligations, banking transactions, and credit-related matters. You also need to open a business bank account to keep your business finances separate from your private finances.
Remember the licenses and permits necessary to start a pizza business. You will need, among others, the following:
a food service license
a food handler's permit
a building health permit
a business license
As different regulations depend on a state or even a city, make sure to comply with your local law regulations to start a pizza shop.
Step 6. Secure funding for your pizza shop business
To start running your pizza shop, you will need to secure funding for it. Firstly, you need to realize what your startup costs will be and if you have any own financial resources. If you don't, there are different ways of financing your business, for example:
Applying for a small business loan
A business line of credit
Looking for private investors
Here you can check our article on how to open a restaurant with no money.
How much does it cost to start a pizza shop?
The cost of starting a pizza shop depends on many factors, including
Pizza shop type
Pizza you plan to sell (food costs)
Opening a new independent pizza shop or a franchise
Pizza shop location
Utilities
The cost of kitchen equipment
The size of the establishment
The cost of licenses and permits
Marketing costs
Labor costs
The initial investment for opening a pizza shop can range from $50,000 to $1,000,000 or even more.
Remember that there are different types of costs:
One-time costs like

renovations
kitchen equipment and appliances
furniture and fixtures (tables, chairs, cash registers, etc.)
licenses and permits
initial inventory (ingredients, beverages, pizza boxes)
marketing costs (creating a pizza shop logo, branding materials, menus, and website)

Recurring costs like

utilities,
monthly rent or lease,
food costs,
Business insurance,
employee salaries,
marketing expenses
Step 7. Design your pizza business menu
The next step is designing a pizzeria menu that suits your pizzeria's concept and target audience. Consider the following aspects:
What will be the character of your pizzeria?
What kind of pizza will you offer? Will it be Neapolitan Pizza, New York Style Pizza, Chicago Deep-Dish Pizza, or another popular pizza type?
Will you offer any starters in your pizza shop? If yes, what kind of starters will you offer?
How about other main dishes? Will there be any, or will your focus be on pizza only?
How about desserts? If you are thinking about opening a traditional pizza shop, you can consider offering classical Italian desserts like

Tiramisu,
Cannoli
Panna Cotta,
Gelato
Check out our detailed guide on how to make a menu.
While opening a pizzeria and designing your pizza place menu, consider making a QR code menu. Using a QR code menu builder, you can generate QR codes and place them on tables in your restaurant. Thanks to that, potential customers can view your pizza shop menu and place an order by simply scanning the QR codes with their smartphones.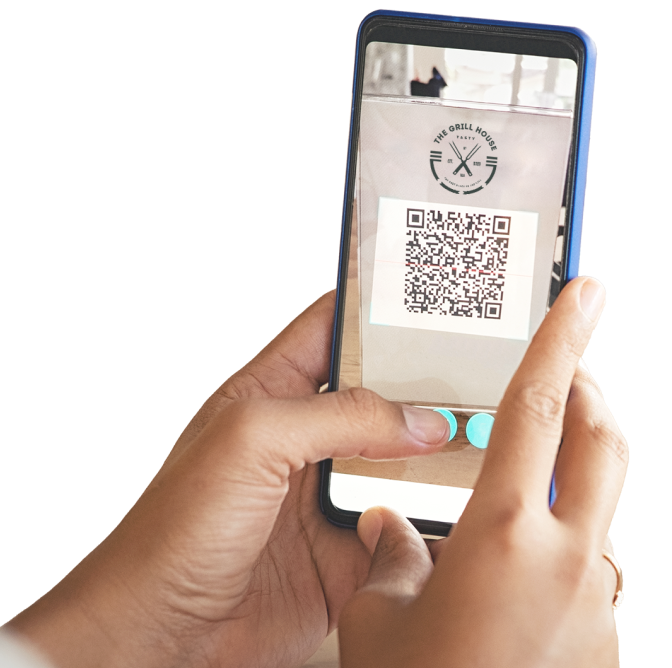 In-store QR Code Order & Pay,
direct from the table
Enable ordering and paying direct from the table to give limited service staff more hands, improve safety and increase average order size.
Step 8. Create a marketing plan
To start running a pizza restaurant, create a restaurant marketing plan. Think about who your target customers are, how they spend their free time and where you could promote your brand to reach them. How about the needs and expectations of your online ordering customers? Include marketing strategies regarding your brand's online presence to attract more pizzeria customers. Here you can check the best pizza marketing ideas.
Step 9. Acquire essential equipment for your pizza place
In order to start serving pizza to your customers, you need to buy kitchen equipment. Have a look at our checklist below regarding the kitchen equipment you will probably need.
When choosing kitchen equipment for your pizzeria, it is vital to take into account the unique requirements of your menu and production processes in your pizza business.
Step 10. Identify a reliable supplier
Finding a reliable supplier of fresh ingredients is an important aspect of a pizzeria business. As a pizzeria owner, take into account the following aspects while looking for a potential supplier:
The option of bulk purchasing
Quantity discounts
Payment methods
Payment terms
You can also read reviews about different food suppliers as well as talk with other pizza businesses' owners.
Step 11. Design your pizza shop layout
Before opening a pizzeria, take some time to design the interior. Consider the character of your premises when choosing furniture (tables, chairs), decorations, and lighting. Ask yourself what feelings you want to evoke in your customers and what the atmosphere should be like.
Focus on crafting an attractive and cohesive design for your pizzeria, ensuring a pleasant atmosphere for customers.
Step 12. Recruit and hire employees
Remember that people are vital to the success of any restaurant. Look for competent and experienced pizzaiolo to offer high-quality pizza in your restaurant. If you plan to offer waiter services, make sure to hire a wait staff who is open and friendly. In the case of offering pizza delivery, don't forget about recruiting delivery drivers. Remember to provide your employees with the appropriate training to offer the highest quality of service on your premises.
Step 13. Open your pizza shop
Once you finish all the steps we described above, it's time to open your pizza place. You can begin by hosting a soft opening to verify if your restaurant's everyday operations run smoothly. Invite your friends and family to ask them about their opinion on the food and service you provide. Thanks to that, you will be able to implement any adjustments in your pizza business.
Later on, you will be ready to host a grand opening. Make sure that people know about it. Think about offering special discounts or coupons. You can also give free samples of pizza to your customers. Make noise about this event by promoting it on social media as well as in traditional media channels like radio, tv, and/or local newspapers to attract more customers.
Step 14. Create your pizza place website
While opening a pizza place, it is crucial to realize the importance of allowing customers to explore your pizza shop's offerings online. Therefore, it is highly recommended to create a restaurant website.
You can use a tool like a restaurant website builder to achieve this. You choose a pizza shop template, add your menu items accompanied by enticing photos, and personalize your website to be consistent with your brand. This process is quick and will significantly enhance your brand recognition among potential customers.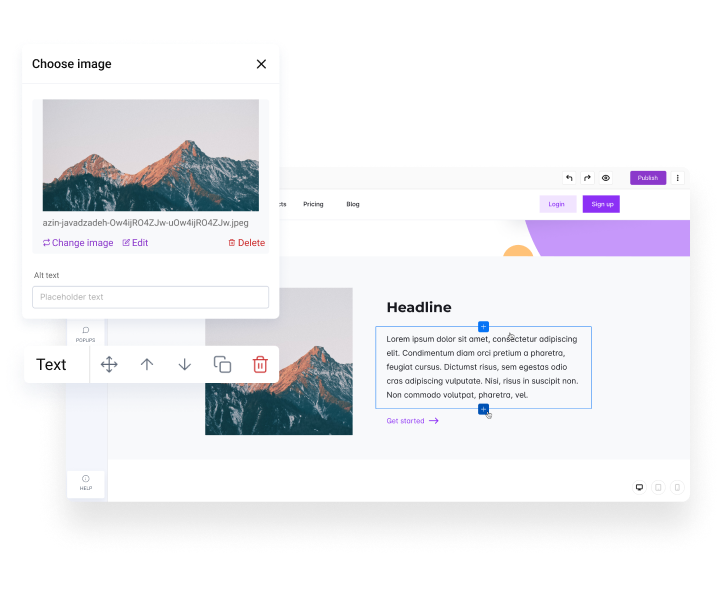 Restaurant Website Builder
Your own branded restaurant
website in minutes
Get a beautifully designed website that converts online visitors into customers and keep them coming back.
If you are looking for inspiration, check the examples of the best pizza websites.
Step 15. Start selling online
Once your pizza shop is up and running, it's time to broaden your sales channels and introduce online ordering through your restaurant's website. Using a food ordering system, you can effectively reach your potential customers.
Want to know more? Check out our guide on how to set up an online ordering system.
Offering online ordering makes things more convenient for your customers and helps you reach more potential customers. As a result, it can lead to more sales and growth for your pizza shop.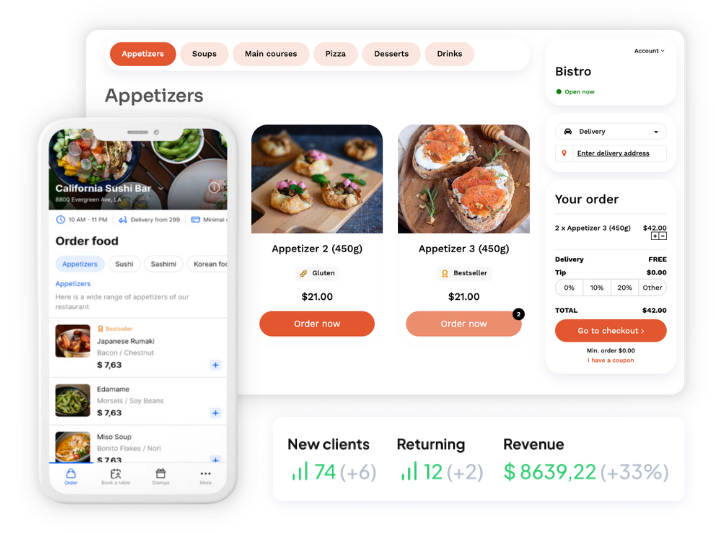 Your own branded online
ordering in 5 minutes
Launch commission-free online ordering on your own website in 5 minutes and grow your revenue, build loyalty and protect margin from third-party aggregators.
Key Takeaways
If you want to open a pizza shop, remember that you need to start with a pizza place concept
You can choose an independent pizza shop or opt for a franchise
Always think of your target market while writing your restaurant business and creating your menu
If you plan to serve Italian dishes, make sure you follow the correct cooking directions
Choosing your pizzeria location is one of the vital factors necessary to succeed in a restaurant industry
Depending on your business location and type, you might need different licenses and permits
If you open a sit-down pizzeria, focus on your business interior design
Opening a pizza restaurant requires buying all necessary equipment (eg. pizza ovens, prep tables) and hiring competent team
Any new business requires promotion. Use different marketing strategies to attract new customers
Create a pizza business website and start selling online
Create a QR code menu to increase sales