In the competitive world of pizza, understanding the financial aspect is as important as crafting the perfect pie. This article delves into the practical side of pizza-making – calculating and improving your pizza profit margin.
Whether you're an experienced pizza chef or a business owner, this guide will help you navigate the financial landscape of the pizza industry and boost your bottom line.
How Profitable are Pizzerias?
Pizzerias frequently demonstrate strong profitability, yielding attractive returns on investment for their owners. The level of profitability is shaped by a range of factors, including factors like geographical location, menu pricing, efficient operations, and customer demand.
Thriving pizza shops typically maintain a steady flow of customers, efficient processes, and adept cost control measures.
Although profit margins can fluctuate, effective management and attention to elements such as ingredient quality, menu variety, and customer satisfaction play a pivotal role in enhancing the overall profitability of pizzerias.
How to Calculate Pizza Shop Profit Margins
Determining the profit margins of your pizza shop is a crucial aspect of understanding your business's financial health. Profit margins provide insights into how efficiently your pizzeria is operating and whether it's generating sufficient revenue to cover expenses and yield profits.
To get the most up-to-date financial information on your business, consider implementing a restaurant analytics & reporting system. Here's a step-by-step guide on how to calculate your pizza shop's profit margins:
1. Gather Financial Information: Start by gathering all the relevant financial data for a specific period, usually monthly or annual sales. This includes total sales revenue and the cost of goods sold (COGS), which encompasses the expenses directly associated with producing the pizzas (ingredients, packaging, etc.).
2. Calculate Gross Profit: Subtract the COGS from the total sales revenue to calculate the gross profit. This represents the amount of money your pizza shop has earned after covering the direct costs of producing the pizzas.
3. Calculate Gross Profit Margin: To find the gross profit margin, divide the gross profit by the total sales revenue and multiply by 100. This percentage indicates the portion of revenue that remains as profit after accounting for the costs of production.
Use this formula to calculate your gross profit margin:
Gross Profit Margin = (Gross Profit / Total Sales Revenue) * 100
4. Factor in Overhead Costs: Besides COGS, your pizza shop has other operational expenses like rent, utility bills, labor, marketing, and administrative costs. Subtract these overhead costs from the gross margin to determine the net profit.
5. Calculate Net Profit Margin: To find the net profit margin, divide the net profit by the total sales revenue and multiply by 100. This percentage reflects the overall profitability of your pizza shop after accounting for both direct and indirect expenses.
Use this formula to calculate your net profit margin:
Net Profit Margin = (Net Profit / Total Sales Revenue) * 100
6. Interpreting Profit Margins:
Higher Profit Margins: Higher profit margins indicate efficient cost management, a strong customer base, and effective pricing strategies. It means your pizza shop is generating more profit from each dollar of sales.
Lower Profit Margins: Lower profit margins might signal the need to assess costs, pricing, or operational and energy efficiency. It could be an opportunity to identify areas for improvement.
Comparing Margins: Comparing your pizza shop's profit margins with pizzeria industry benchmarks or your own historical data can provide valuable insights into your performance and areas that require attention.
Example Pizza Profit Margin Calculation
| Pizza Order Type | Order Quantity | Average Value | Cost | Profit | Profit Margin |
| --- | --- | --- | --- | --- | --- |
| Margherita | 200 | $12 | $6 | $6 | ($6 / $12) * 100% = 50% |
| Pepperoni | 150 | $15 | $7 | $8 | ($8 / $15) * 100% = 53.33% |
| Hawaiian | 120 | $14 | $6.5 | $7.5 | ($7.5 / $14) * 100% = 53.57% |
| Vegetarian | 180 | $16 | $8 | $8 | ($8 / $16) * 100% = 50% |
| Meat Lovers | 100 | $18 | $9 | $9 | ($9 / $18) * 100% = 50% |
What is the Average Profit Margin for a Pizzeria?
The average profit margin for a pizzeria can vary widely based on factors such as location, business size, efficiency, and pricing strategy. However, as a general guideline, the average profit margin for a pizzeria typically falls within the range of 7% to 20%.
It's important to note that this range is just an approximation and can be influenced by several factors:
Type of Pizzeria: Different types of pizzerias, such as full-service restaurants, takeout/delivery establishments, and fast-casual joints, can have varying profit margins due to differences in operating costs and pricing strategies.
Location: Pizzerias located in high-demand areas or tourist destinations may have higher profit margins due to increased customer traffic and willingness to pay premium prices.
Operating Efficiency: Efficient operations, streamlined processes, and effective cost management can lead to higher profit margins by minimizing expenses.
Pricing Strategy: Pricing pizzas competitively while maintaining quality ingredients can impact profit margins. Premium ingredients and specialty pizzas might command higher prices and contribute to better margins.
Other Expenses: Having to pay rent, utilities, labor costs, and other overhead expenses can significantly affect profit margins. Managing these costs is crucial for profitability.
Volume of Sales: A high pizza sales volume can lead to economies of scale, potentially improving profit margins by spreading fixed costs over a larger revenue base.
Marketing and Branding: Effective marketing efforts and a strong brand reputation can attract more customers and lead to higher sales, positively impacting profit margins.
Seasonality: Pizzerias might experience fluctuations in profit margins based on seasonal demand. For example, summer months or holidays might see increased sales and better margins.
Delivery vs. Dine-in: Pizzerias offering delivery services or curbside pickup may have additional costs associated with delivery, affecting profit margins compared to dine-in only establishments.
How can a Pizzeria Increase its Profit Margins?
Increasing profit margins for a pizzeria requires a strategic approach that focuses on optimizing various aspects of the business. Here are some effective strategies to consider:
Menu Engineering: Analyze your menu to identify high-profit items and promote them more prominently. Adjust pricing for items with higher margins and consider eliminating low-performing items that may not be contributing significantly to revenue.
Ingredient Cost Management: Regularly review ingredient costs and explore opportunities to source quality ingredients at competitive prices. Negotiate with suppliers and consider bulk purchasing to reduce costs.
Portion Control: Implement strict portion control measures to prevent food wastage and ensure consistency in each dish's portion size.
Optimized Staffing: Align staffing levels with peak business hours to avoid overstaffing during slow periods. Efficient staff scheduling can reduce labor costs while maintaining quality service.
Streamlined Operations: Improve kitchen efficiency by organizing workstations, optimizing workflows, and reducing wait times. Efficient operations can lead to lower labor costs and higher customer turnover.
Value-Added Services: Offer add-ons like premium toppings, sides, or beverages that can boost the average check amount and contribute to higher profits.
Online Ordering and Delivery: Enhance your online ordering system and delivery services to cater to customer convenience. Consider implementing a dynamic delivery fee based on distance to cover delivery costs.
Upselling and Cross-Selling: Train staff to upsell and cross-sell pizza items effectively and with a high service speed. Encourage customers to try new dishes, sides, or desserts during the ordering process.
Marketing and Loyalty Programs: Create targeted marketing campaigns with marketing tools to attract new customers and retain existing ones. A loyalty program and special offers can encourage repeat visits and higher spending.
Optimized Pricing: Regularly review and adjust menu prices based on ingredient costs, competition, and customer willingness to pay. Incremental price increases can increase profit margins.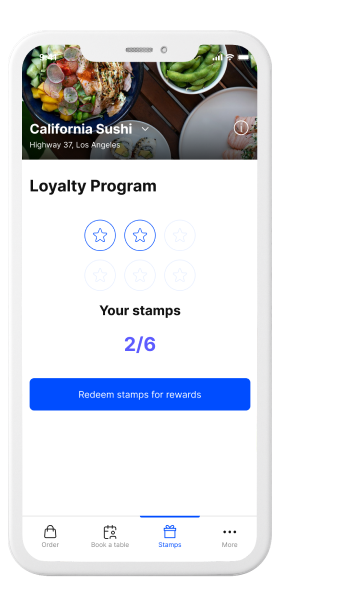 Customers who join the loyalty program often return and spend more
Get up and running quickly with our easy-to-implement loyalty program.
Key Takeaways
To calculate profit margin for your pizzeria, subtract the cost of ingredients and operational expenses from your total revenue, then divide by total revenue and multiply by 100 to get the percentage.
Effective management of ingredient costs, portion control, and operational expenses directly affects profit margins. Monitoring and minimizing wastage can significantly impact profitability.
Strategically design your menu by highlighting high-margin items, adjusting pricing, and eliminating low-performing dishes. Menu engineering can boost overall profit margins.
While it's important to offer high-quality ingredients and flavors, striking a balance between quality and price is crucial for maintaining competitive prices and healthy profit margins.
Consider offering value-added services like delivery, catering, or loyalty programs to increase customer spend and overall revenue, thereby positively impacting profit margins.
Invest in technology solutions like POS systems, inventory management tools, and online ordering platforms to streamline operations, reduce errors, and save costs.
Poor restaurant reviews and customer complaints can negatively impact even the most profitable pizzerias.
Frequently Asked Questions (FAQ)