We've tried and tested over 20 restaurant accounting software programs that are relevant in 2023 and picked the top 5, so you don't have to.
We've got all the information you need to make an educated decision, so sit tight and simply pick what you believe is right for your business.
Do I Need Restaurant Accounting Software?
Accounting is probably one of the dullest and most unrewarding parts of running a restaurant business. And so, good restaurant accounting software frees you to pursue the more interesting parts.
First, you need to figure out whether you need a full-blown accounting service, or perhaps you'd be satisfied with restaurant analytics software.
If you're just looking to keep track of the overall cash flow, organize receipts, and keep all of your finance in place, then there are dedicated restaurant solutions that are fully capable of helping you out.
These are generally a better deal than services that focus primarily on accounting simply because they come with additional restaurant-oriented features, like online ordering, a QR code menu, loyalty and marketing programs, and online reservations. In that case, there is no need to invest in a separate accounting solution.
Best Restaurant Accounting Software in 2023
Although the phrase 'best accounting software' might be somewhat murky, we do believe some solutions are simply better than others. Here's a quick tally for those of you who are too busy and don't have the time to go through the entire colossal wall of text:
Software
Best for
Key Features
Pricing


The best all-around restaurant solution
• All-encompassing restaurant solution
• Cash inflow and outflow data
• Tax tools
• Dedicated mobile app & website
• Restaurant online ordering system
• Marketing tools & analytics
• Loyalty programs
• QR code menu, tableside ordering
• Online reservation
• Integration with third-party applications, including POS
• Inventory tracking
• Receipt capture and organization
• Time tracking for employees and contractors
• Cloud-based access
• Restaurant-oriented features
$0 – $169/mo
The best overall accounting software for restaurants
• Unified accounting and operations platform
• Inventory management
• Food costing
• Point of Sale (POS) integration
• Payroll integration
• Labor scheduling
• Vendor management
• Extensive reporting and analytics
• Budgeting and forecasting tools
• Cloud-based access
$435 – $635/mo
The best overall accounting software runner-up
• Income and expense tracking
• Invoicing and payments
• Accounting reports
• Cash flow management
• Payroll capabilities
• Integration with third-party applications, including POS systems
• Sales tax calculation and tracking
• Inventory tracking
• Receipt capture and organization
• Time tracking for employees and contractors
• Cloud-based access
$30 – $200/mo
The least pricey option
• Income and expense tracking
• Invoicing
• Online payments processing
• Bank account integration
• Time tracking
• Project management
• Vendor and customer management
• Basic inventory tracking
• Financial and tax reporting
• Cloud-based access
• Unlimited users
$0 – $35/mo
The best for tax management
• Invoicing
• Receipt scanning
• Expense tracking
• Income tracking
• Sales tax tracking
• Payroll services (in selected countries)
• Double-entry accounting
• Reporting (profit & loss, sales tax, cash flow, etc.)
• Multiple currencies support
• Cloud-based access
• Unlimited collaborators
$0 – $379/mo
Keep in mind, however, that choosing accounting software is a long-term decision. We'd recommend you see the comparisons below as they will help you make a better choice.
Pricing: Offers a free option; pricing starts at $49
Restaurant specific: Yes
Mobile app: Yes
UpMenu is a robust restaurant solution that will be more than enough for keeping your restaurant's finances in check. While it's not a dedicated accounting solution, it offers a wide range of accounting services. You can use it to keep track of your restaurant's finances just as well as any other dedicated accounting software.
Importantly, you're getting a complete restaurant solution that gives you far more than any accounting service will.
A complete restaurant analytics solution for controlling your restaurant's finances
A dedicated online ordering system that saves you up to 30% on delivery fees
A restaurant website and mobile app
An online reservation system
A digital restaurant menu (QR code menu included!)
In-app tableside ordering
Marketing tools, including SMS and email marketing, loyalty programs, and gift cards (fully integrated with Google Analytics)
Google ordering
Customizable website and mobile app templates for those who like to be in full control
If you're looking to track your finances but also want to have a complete, all-encompassing restaurant solution, then you might give want to give it a try.
UpMenu Pros & Cons (for Accounting)
A comprehensive restaurant solution: Much more than just accounting software. UpMenu is a complete restaurant solution dedicated specifically to restaurant owners.
Accounting-Specific Features: UpMenu may lack some more advanced accounting features.
Free setup: Free setup is available for Standard and Premium options.
Intuitive design: UpMenu offers a very sleek, block-based design.
Competitive pricing: The best bang for the buck for any restaurant owner.
Key Takeaways
While not a dedicated accounting solution, UpMenu offers a wide array of financial features, including revenue tracking, overall costs, and even basic tax options. It comes with a lot of perks (there are actually too many to list them in this article) specific to restaurants and is a great choice for anyone looking to have a complete restaurant system in place.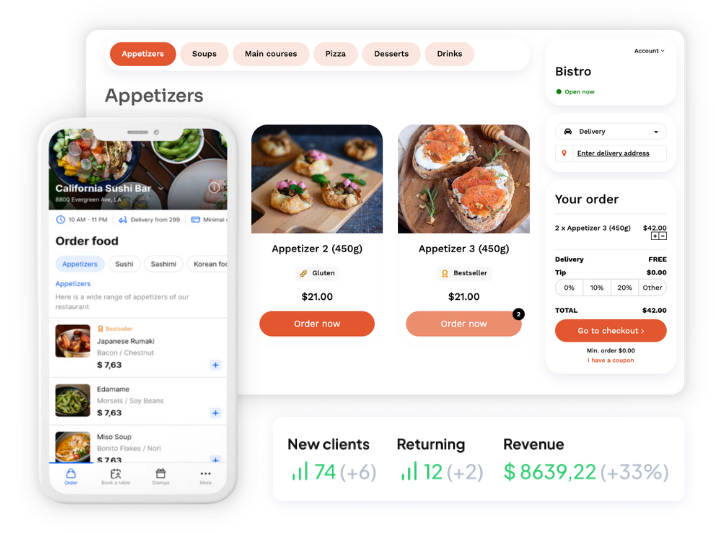 Start selling food online
Set up commission-free ordering for your restaurant's website in minutes. Boost revenue while saving on third-party fees
Restaurant 365 – Pricey, Complete Restaurant Accounting Software
Pricing: Starts at $435/mo
Restaurant specific: Yes
Mobile app: Yes
Restaurant365 [nofollow] stands as an all-inclusive, specialized accounting and operations solution built to simplify restaurant management. It offers a comprehensive suite of restaurant management tools, including accounting capabilities, customer relationship management, and inventory tracking.
Its accounts payable and accounts receivable functions are fully integrated with bank accounts, online ordering POS systems, and with food and beverage vendors. The cohesiveness provided by Restaurant365 ensures a unified and effective management approach.
Restaurant365 Pros & Cons
All-Inclusive Solution: Restaurant365 integrates operations, accounting, and reporting into a single platform, reducing the need for managing multiple systems.
Pricing: The cost of Restaurant365 is higher compared to simpler accounting softwares, which may pose a hurdle for small restaurants or those operating on a tight budget.
Tailored for the Restaurant Industry: Restaurant365 provides robust features like inventory tracking and food costing designed specifically for restaurant operations that generic accounting software may lack.
Learning Curve: Given its extensive features, some users might find the system a bit complex to navigate initially.
POS and Bank Account Integration: It integrates seamlessly with a variety of POS systems and bank accounts, allowing for real-time tracking of sales data and comprehensive financial reporting.
Limited Customization: There have been some reports of limitations in the customization of data fields and reports.
Cloud-Based: As a cloud-based solution, it provides the flexibility to access critical data anytime, anywhere.
Key Takeaways
Restaurant365 is a comprehensive solution for effective restaurant management. It integrates critical features such as customer relationship management, inventory tracking, and accounting capabilities. It's a cloud-based software that offers a seamless link between your bank accounts, POS systems, and vendors, making it an efficient choice.
Even though it might be more expensive and complex than some alternatives, the value it delivers through improved efficiency and comprehensive insights makes it a top accounting software choice. With its uniquely tailored set of features, Restaurant365 stands as the best overall choice for restaurants looking for an all-encompassing accounting solution.
QuickBooks Online
Pricing: Starts at $30/mo
Restaurant specific: No
Mobile app: Yes
QuickBooks is a versatile accounting software option used by a wide range of businesses, including restaurants. It has core operations functionalities, including tracking income and expenses, managing payroll, and integrating with POS systems. It's cloud-based, requiring just an internet connection for access.
Versatility: QuickBooks supports various business operations and can adapt to different restaurant needs.
Lacks Some Restaurant-Specific Features: Compared to Restaurant365, QuickBooks may not have as many restaurant-specific features, such as detailed food cost analysis to maximize profits.
POS Integration: It can integrate with several POS systems, facilitating real-time POS data management.
Custom Pricing: Depending on the chosen package and add-ons, the cost can increase significantly.
Cloud-Based: It offers flexible access to data anywhere, anytime, with an internet connection.
Limited Reporting Capabilities: It may not provide the depth of reporting capabilities required by larger restaurants.
Payroll Software: It includes robust payroll features, useful for managing employee compensation.
Key Takeaways
QuickBooks is a reliable and flexible solution for restaurant accounting. While it offers core operations, payroll software, and POS integration, it may lack in-depth restaurant-specific features compared to Restaurant365. Depending on your custom pricing package, it could also be less cost-effective. However, its accessibility and robust general accounting capabilities make it a solid runner-up to Restaurant365.
Zip Books
Pricing: Offers a free option; pricing starts at $15
Restaurant specific: No
Mobile app: Yes
ZipBooks is a streamlined accounting software suitable for small businesses, including those in the restaurant industry. This internet-based solution offers fundamental bookkeeping features, vendor management capabilities, and tools to track fixed assets.
ZipBooksPros & Cons (for Accounting)
Ease of Use: ZipBooks provides a user-friendly interface that is simple to navigate, making it an excellent choice for those new to accounting software.
Limited Restaurant-Specific Features: Unlike Restaurant365, ZipBooks may not offer advanced, restaurant-specific features that can help optimize operations.
Vendor Management and Fixed Assets: It includes features for tracking vendors and fixed assets, enhancing its utility for restaurant operations.
Basic Payroll Services: Its payroll services might not meet the requirements of larger, more complex operations.
Budget-Friendly: ZipBooks is known for its affordability, making it accessible for small businesses.
Less Comprehensive Reporting: The reporting capabilities in ZipBooks might not be as detailed as those in more specialized software options.
Unlimited Users: It allows for an unlimited number of users, a handy feature for growing businesses.
Key Takeaways
ZipBooks is a simple, budget-friendly software solution that could be a fit for smaller restaurants or food service businesses. While it offers basic bookkeeping capabilities, vendor management, and allows unlimited users, it might lack the advanced restaurant-focused features and extensive payroll services found in more specialized software like Restaurant365.
Despite these limitations, for businesses in need of a straightforward, cost-effective accounting tool, ZipBooks is a viable contender.
Wave
Pricing: Offers a free option; pricing starts at $8/mo
Restaurant specific: No
Mobile app: Yes
Wave is a budget-friendly, simple accounting software ideal for small-scale food service operations, including food trucks. It offers vendor management and fixed assets tracking functionalities and is primarily used as bookkeeping software. It's an online platform that allows unlimited users to access the system from any location.
Cost-Effective: Wave is known for being budget-friendly, making it a viable option for small businesses.
Limited Restaurant-Specific Features: Wave may not provide in-depth features tailored to the food service industry compared to Restaurant365.
Unlimited Users: It allows for an unlimited number of users, providing flexibility for expanding teams.
Limited Payroll Services: Its payroll services are relatively basic and may not be sufficient for larger operations.
Vendor Management and Fixed Assets: It helps track vendors and fixed assets effectively.
Lacks Comprehensive Reporting: It may not offer extensive reporting capabilities found in more specialized software.
Simple Interface: Wave offers a straightforward, user-friendly platform for basic bookkeeping needs.
Key Takeaways
Wave is a simple and budget-friendly accounting software suitable for small-scale restaurants and food trucks. It supports vendor management and fixed assets tracking, and allows unlimited users.
However, it may lack advanced restaurant-specific features and comprehensive payroll services. Despite its limitations, Wave's cost-effectiveness and ease of use make it a worthwhile consideration for small food service businesses.
Frequently Asked Questions (FAQ)
Restaurant accounting service is a type of accounting software specifically designed for the unique needs and challenges of the restaurant industry. It is an integral part of modern restaurant management. Its primary function is to simplify financial management by automating various accounting tasks such as tracking income and expenses, processing payroll, calculating and filing sales tax, and generating financial reports.
The average price of a restaurant accounting system can vary greatly based on the features it offers, the size of your operation, and the provider you choose. Small businesses might expect to pay anywhere from $10 to $50 per month for basic accounting software. More comprehensive restaurant-specific systems could range from $100 to $500 per month or more.
Restaurant accounting software typically includes features such as:
Basic accounting features

: This includes tracking income and expenses, invoicing, payroll processing, bank reconciliation, and financial reporting.

POS system integration

: Many restaurant accounting systems can integrate with POS systems, allowing for real-time updates of sales and simplifying the tracking of cash flow.

Inventory management

: This feature helps restaurants manage their stock levels, track their food cost, and prevent wastage.

Sales tax calculations and filings

: This can be a complex process, especially for restaurants with multiple locations. Many systems can automate this process, ensuring accuracy and compliance.

Expense tracking

: This feature allows for tracking of all expenses, from food costs to overheads, helping restaurant owners understand where their money is going.
By automating these tasks, restaurant accounting services save time for restaurant owners, allowing them to focus on other aspects of their business. Moreover, these services provide valuable insights into the financial health of the restaurant, enabling better decision-making. The biggest benefits of using such a system are improved accuracy, increased efficiency, and more informed management.
Despite these benefits, there might be some scenarios where a restaurant accounting system might not be worth it. For very small restaurants or pop-up businesses with minimal transactions and simple operations, the cost of the system might outweigh its benefits. In such cases, a more general, less expensive small business accounting software or even manual bookkeeping might suffice.
However, as the business grows, the complexity increases, and keeping track of financial transactions manually can quickly become overwhelming. Therefore, it's generally a good idea to implement a restaurant accounting system early on to facilitate smooth scaling of operations.