4. MarketMan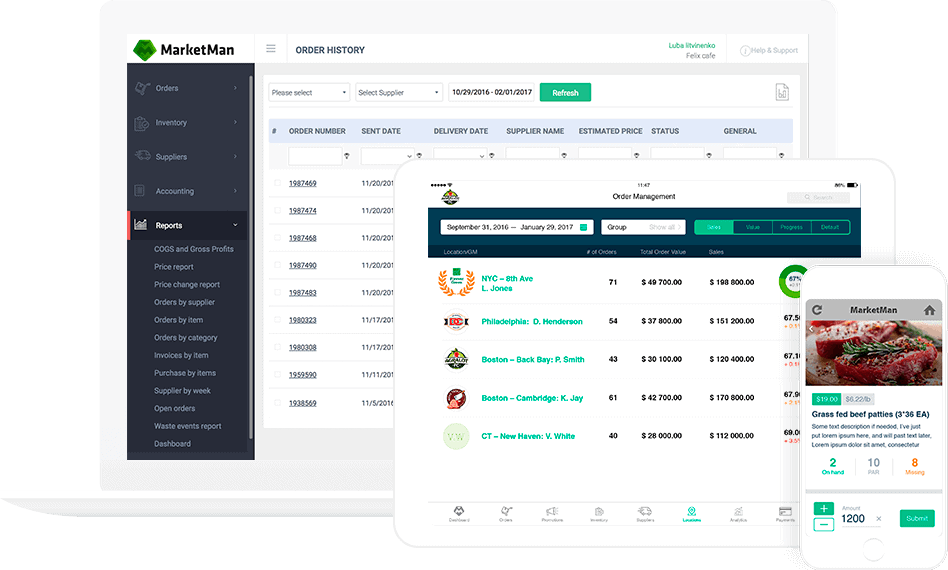 MarketMan is a cloud-based inventory management and purchasing software specifically designed for the restaurant industry. It provides a comprehensive suite of tools to help restaurants streamline their inventory processes, control costs, and improve operational efficiency.
5. BevSpot
BevSpot is a cloud-based software platform designed specifically for beverage management in the hospitality industry. It offers tools and features to help bars, restaurants, and other beverage-centric establishments efficiently manage their beverage programs, control costs, and improve profitability.
6. BlueCart
BlueCart is an online platform and mobile app designed to streamline restaurant and food service businesses' ordering and procurement process. It is a digital marketplace connecting buyers (restaurants) with their suppliers, allowing for efficient and centralized communication, ordering, and inventory management.
7. Orderly
Orderly is a restaurant inventory management software that helps streamline inventory tracking, purchasing, and cost control for restaurants and food service establishments.
8. MarginEdge
MarginEdge is a restaurant management software that provides comprehensive solutions for streamlining restaurant operations, including inventory management, accounting, and reporting. It aims to simplify workflows, increase efficiency, and improve profitability for restaurant owners and operators.
9. ChefMod
ChefMod is a restaurant purchasing and inventory management platform that aims to simplify and streamline the procurement process for food service establishments. It provides tools and features to help restaurants optimize purchasing, manage inventory, and control costs.
10. Peachworks
PeachWorks is a restaurant management software platform offering various tools and features to help restaurants streamline their operations, increase efficiency, and optimize profitability. It provides solutions for inventory management, recipe costing, labor scheduling, and more.
How to Choose the Right Restaurant Inventory Management Software?
Selecting the correct restaurant inventory management software is crucial for effective inventory control. The following actions will assist you in making the best decision:
Assess Your Needs: Evaluate your specific inventory management requirements. Consider factors such as your restaurant's size, menu complexity, number of suppliers, integration needs, and desired features (e.g., real-time tracking, recipe costing, purchase order management).
Research Available Options: Conduct thorough research on the available restaurant inventory management software. Look for software specifically designed for the food service industry and read reviews or seek recommendations from other restaurant owners or industry professionals.
Identify Key Features: List essential features you require in inventory management software. Consider features such as real-time inventory tracking, purchase order management, recipe and menu management, cost analysis, integration capabilities, and mobile accessibility.
Consider Scalability: Anticipate your future growth and scalability requirements. Choose software that can accommodate your business expansion and changing needs over time. Consider whether the software can handle multiple locations if you plan to expand.
Evaluate Integration Options: Determine if the software can integrate with your other systems, such as your POS (Point of Sale) system, accounting software, or online ordering platforms. Integration streamlines data flow, reduces manual data entry, and ensures consistency across different operational aspects.
Key Takeaways
Inventory management software helps streamline inventory-related tasks such as tracking stock levels, generating purchase orders, and managing vendor relationships.
Software enables real-time tracking of inventory levels, providing accurate insights into ingredient quantities, usage patterns, and costs.
Inventory management software helps control costs by identifying waste areas and optimizing purchasing decisions.
Software generates comprehensive reports and analytics, providing valuable insights into inventory performance and trends.
Frequently Asked Questions (FAQ)