Running and managing a restaurant involves ensuring all moving parts are in working order – and there's a lot of them. Managing orders, servers, kitchen staff, marketing activities, inventory levels, and revenue are the regular. To lessen the load, business owners turn to restaurant automation tools to free up their time, reduce labor costs, operational costs, and automate order management. But how exactly does automation in the restaurant industry work?
What is restaurant automation?
Restaurant automation streamlines and automates numerous day-to-day tasks, procedures, and operations through technology and software solutions. Increasing restaurant operations' productivity, accuracy, and efficiency entails replacing manual and repetitive tasks with automated technology.
What Are the Benefits of Automation in Restaurants?
The automation revolution can benefit restaurants in several ways, improving their operations. The main advantages of automation in a restaurant are as follows:
Enhanced Efficiency: Automation in restaurants boosts operational effectiveness and speeds up service, enabling restaurants to serve more customers in a shorter amount of time.
Consistency: Automated systems carry out tasks with a high degree of consistency and accuracy, which lowers the possibility of human error in taking takeout and delivery orders, billing, inventory management, and other procedures.
Increased Productivity: Restaurant automation simplifies processes, allowing staff and restaurant operators to concentrate on more crucial and beneficial jobs like providing customer service, and preparing meals.
Streamlined Ordering and Payment Processes: Automation technology makes customer ordering and payment easier and faster. Clients can place orders via a direct online ordering system and pay through mobile apps.
Enhanced Customer Service: Automation frees up employees to concentrate more on providing excellent customer service. The whole dining experience is enhanced by staff being able to give guests more individualized service, respond to inquiries, and make recommendations.
Fewer Staffing Shortages: With a greater reliance on technology, restaurant owners don't have to worry about staff shortages, as restaurant automation solutions can perform many other duties. This results in a more efficient business operation, all while keeping labor costs low.
What are the Best Tools for Restaurant Automation?
When it comes to restaurant automation technology, there are various tools available that can help the restaurant industry—each serving different aspects of restaurant operations. Here are some commonly used tools for restaurant automation:
1. Online ordering system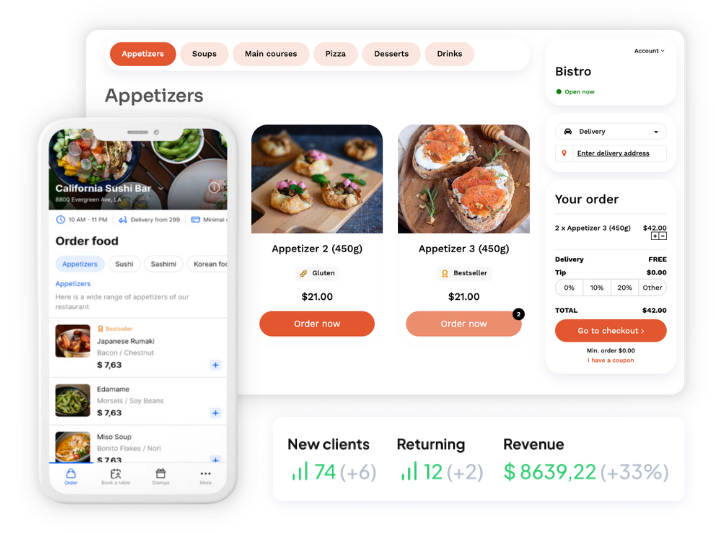 Your own branded online
ordering in 5 minutes
Launch commission-free online ordering on your own website in 5 minutes and grow your revenue, build loyalty and protect margin from third-party aggregators.
Customers can place orders for pickup or delivery remotely using an online ordering system and mobile app. By integrating with the restaurant's point-of-sale system, these platforms streamline order handling and reduce the need for manual involvement.
A direct online ordering system streamlines restaurant operations by automatically sending orders to the kitchen or designated prep area, reducing the need for manual order-taking and minimizing the potential for mistakes. Direct online ordering systems also capture customer data, including contact information and order history.
2. Restaurant Website Builders
Restaurant website builders are perfect for designing and building websites without learning complex technical concepts or coding. These builders include pre-designed templates, drag-and-drop capabilities, and automation tools to make creating websites easier.
Website builders provide a selection of expertly crafted themes that are suited for restaurants. These designs include menu displays, reservation forms, and a contact details section. Users can select a template that matches the branding of their restaurant and modify it to suit their needs by dragging and dropping components like text, graphics, menus, and widgets, thanks to website builder user-friendly interfaces.
3. Point of Sale (POS) Systems
Although many restaurants still process payments by hand, restaurant POS systems are becoming increasingly popular. Automating order administration, payment processing, and sales reporting requires using POS systems to keep everything in one place and organized. A self-service POS system can help simplify order processing, make menu customization simple, control inventory, and produce thorough sales reports.
Restaurants automate their order processing with solutions that often come with many other options, including order taking, payment processing, inventory management, employee administration, and reporting. These features are fully integrated into the most advanced on-site and mobile point-of-sale systems for restaurants, making running and managing a foodservice business much easier.
4. Self-Ordering Kiosks
Self-service technology isn't new in the restaurant industry. However, this form of automation is becoming the norm for most fast-casual restaurants and quick-service restaurants. With the help of the interactive restaurant's menu, customers can place their orders at self-ordering kiosks without assistance from workers, which also allows the business to operate with fewer staff members. These kiosks are especially helpful in quick-service or fast-food restaurants since they increase order accuracy and streamline the ordering procedure.
Kiosks display digital menus, making ordering easy for clients, thus streamlining the ordering process. Once an order is placed, artificial intelligence moves it to the digital ticket system without the need for human connection or intervention.
5. Kitchen Display System (KDS)
Kitchen Display Systems, or KDS software, is made exclusively for restaurants and other food service businesses to improve and streamline kitchen operations. The kitchen crew can now examine and manage incoming orders in real-time as digital displays replace conventional paper-based order tickets.
Thanks to this automated restaurant equipment, order preparation is significantly sped up, errors are reduced, manual data entry for orders is no longer necessary, and front-of-house and kitchen staff communication is improved. For example, pop-up alerts appear on the display when food orders are placed, and the kitchen staff knows what meals to prepare next.
6. Automated Feedback System
An automated feedback system for restaurants is a software solution designed to collect, manage, and analyze customer feedback and is one of the more popular tools for automation in restaurants. It streamlines the gathering of customer feedback and provides valuable insights to improve restaurant operations and customer experiences.
Customers can comment on their own orders' feedback section and rate their experiences in one spot. The more positive reviews you earn, the more clients you will likely attract to your restaurant. The secret to getting more reviews is as simple as asking clients for them. But you don't always have time for that, especially if you're packed. By introducing an automated feedback system, getting reviews is fully automated.
7. Inventory Management Software
Inventory management systems are designed to help restaurants efficiently track, manage, and optimize their inventory. These systems often come with a range of features to streamline inventory processes, maintain accurate stock levels, reduce food waste, and improve overall inventory control.
Automated inventory software can track and manage ingredient stock levels, automate reordering procedures, and provide reports for the best inventory control. As a result, accuracy is increased, and manual inventory tracking is no longer an issue.
8. Table reservation handling
Table reservation and management systems allow customers to reserve tables at a restaurant without calling the business beforehand. It simplifies the reservation process for customers and restaurant staff, ensuring efficient table management and enhancing the overall dining process.
These solutions not only allow for the systematic handling of restaurant reservations and table allocations, but also make the guest experience more streamlined, maximize table use, cut down on wait times, and raise customer satisfaction. Restaurant staff are also notified about the reservation and have time to prepare everything before the clients arrive.
9. Automated employee scheduling
Automated employee scheduling software manages work schedules for restaurant staff without needing paper calendars and other similar solutions. This practical and streamlined approach makes managing shift changes easier, tracking employee availability, and building staff schedules. In addition, it simplifies restaurant scheduling and reduces disagreements and mistakes.
Most of these solutions offer schedule patterns and templates that can be utilized repeatedly to save time and work. Scheduling is more effective when managers develop templates for various shifts or positions, which the system can use to build the schedule automatically. Additionally, these systems can analyze labor requirements, employee availability, and labor costs to create cost-effective schedules that align with the restaurant's needs.
10. Customer data management
Keep tabs on client preferences, and tailor customers' experiences thanks to customer relationship management (CRM) systems. When you have your own online ordering platform, this data is often collected automatically and can be used for targeted marketing campaigns, personalized promotions, and customer loyalty programs.
Information such as how many online orders a client has made, the food delivery services they chose, payment methods, and so on can be collected and stored within the CRM. With this data, you're able to find out where your customers come from, measure conversions, and create reports. Once you've done so, create customer groups and send targeted offers and specials to these clients.
11. Tools for Analytics and Reporting
Automated analytics and reporting solutions replace manual data analysis and offer practical methods for handling and analyzing massive amounts of restaurant data. These solutions assist business owners in gaining valuable insights, making data-driven decisions, and streamlining their operations for increased performance and client pleasure.
Analytics and reporting support making data-driven decisions, trend identification, and key performance indicator tracking, which streamline operations and increase restaurant efficiency, as well as provide information about sales, consumer behavior, and business operations.
12. Mobile Payment Solutions
With automated mobile payment solutions, customers can pay at restaurants using their mobile phones or tablets instead of cash or credit cards. This is usually done via mobile payment apps or the restaurant's management system, which securely stores payment data.
Customers use their mobile devices to scan the QR code at the table or download your restaurant app to place orders. Once they've ordered, they'll be prompted to pay, during which the payment app securely connects to the online payment processor. Behind the scenes, the mobile payment app or digital wallet securely communicates with the mobile payment processor, encrypting the payment information to ensure the security of the transaction.
13. Automated marketing features
Automated marketing features for restaurants refer to software solutions that are implemented in order to automate various marketing tasks. These tools help restaurants streamline their marketing efforts, enhance customer engagement, and drive business growth through various actions.
Marketing automation tools have been a game changer for many restaurant chains and single-location businesses. This restaurant technology allows businesses to send automated SMS and email messages, encouraging clients to order again, leave a review, or to take advantage of your latest promotions. In addition, more advanced systems monitor customer information in your CRM system and launch marketing efforts at certain times, such as when a client hasn't been at the restaurant in a while, to encourage them to return with tempting offers.
14. Customer Loyalty Management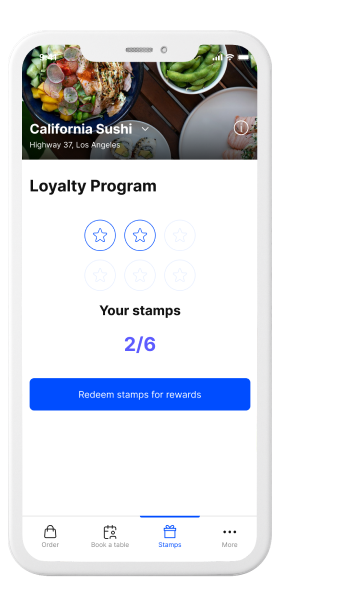 Customers who join the loyalty program often return and spend more
Get up and running quickly with our easy-to-implement loyalty program.
Customer loyalty management systems are designed to help restaurants build and manage customer loyalty by providing a range of features and functionalities to increase customer retention, drive repeat business, and earn more revenue.
These systems allow restaurants to create customized loyalty programs tailored to their specific needs. Creating point earning criteria, reward tiers, redemption options, and offers are all editable by the business owner. Restaurants can design programs that align with their brand identity and customer preferences. Once done so, a loyalty program is fully automated and distributes points and stamps with the need for intervention.
Upcoming Restaurant Automation Trends
The restaurant industry is on the verge of a technological revolution, with new restaurant trends in automation set to transform how eateries operate and interact with their clients. The rising desire for efficiency, convenience, and improved consumer experiences drives these improvements. As a result, restaurants may streamline operations, maximize resources, and provide individualized services that meet the changing requirements and expectations of today's diners by utilizing cutting-edge technologies.
Customer relations: Managing customer relations in the food industry is about to undergo a revolution thanks to artificial intelligence (AI) and automation technologies. AI-powered chatbots will handle reservations, make customized recommendations, and provide immediate and personalized customer care.
Contactless Ordering and Payment Systems: Although known throughout the food industry, contactless solutions are expected to become standard. Customers can place orders, make payments, and personalize their dining experiences thanks to mobile ordering apps, QR code menus, and mobile payment alternatives.
Data Analytics: Although already known throughout the food industry, restaurants will be able to customize their services, refine menu options, and implement business strategies by leveraging insights from client preferences, sales trends, and operational performance.
New Technologies: Voice-activated systems, virtual and augmented reality, and the Internet of Things (IoT) will automate inventory management, food safety procedures, and equipment monitoring, ensuring the best performance and minimizing manual work. Customers will also get an immersive preview of the restaurant's atmosphere and food items through virtual and augmented reality experiences.
Key Takeaways
Implementing automation in restaurants can help businesses in the food service industry grow exponentially
Restaurant automation solutions can streamline the entire process of running an managing a restaurant with just a few tools
Automated restaurants with customer facing displays save money and don't have to deal with labor shortages
A kitchen display system eliminates human error when taking food orders for clients
Full service restaurants can cut up to half of their manual processes and run with fewer employees by automating repetitive tasks with the help of restaurant automation
Frequently Asked Questions (FAQ)