Artificial Intelligence (AI) is changing the way we work, live, and interact with the world around us. The restaurant industry is no exception.
AI can provide restaurateurs with innovative tools to enhance their services, streamline their operations, and offer a better experience to their customers.
In this blog post, we will explore the world of AI in restaurants, provide examples of AI tools like ChatGPT and MidJourney, and offer 10 practical tips on how to utilize AI to boost your restaurant business.
What is AI in restaurants?
AI, or Artificial Intelligence, is a type of computer technology that can think, learn, and solve problems like humans do. It helps businesses, including restaurants, by making tasks easier, faster, and more efficient.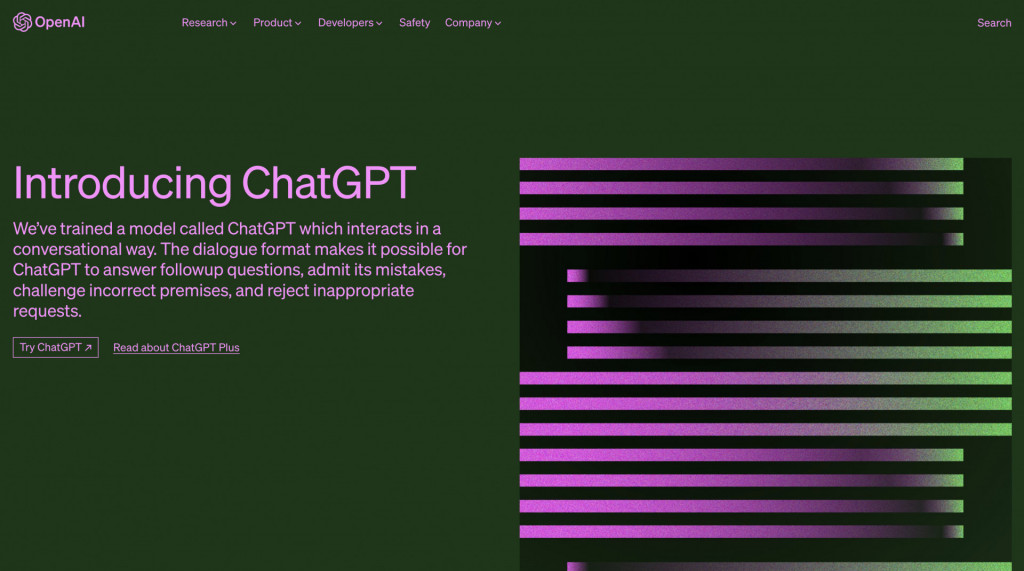 For example, suppose you own a fast-food restaurant, and a customer leaves a negative review online, complaining about cold food and poor service. Instead of spending time crafting a response yourself, you can use an AI tool like ChatGPT to help.
Or another example, imagine you own a pizzeria and you're struggling to respond to customer inquiries quickly. An AI tool like ChatGPT could help by automatically answering customers' questions about your menu, operating hours, or delivery options. This allows you to focus on running your restaurant while the AI takes care of customer communication, saving you time and improving customer satisfaction.
In summary AI is like your personal assistant with many different skills that can help you in many different ways. AI is like a Swiss Army Knife. Let's take a look at how it can help your restaurant.
AI tools for restaurants
Currently, there are two popular AI tools that you can easily implement in your restaurant:
ChatGPT. This is like having a conversation with an intelligent assistant that understands human language. You can chat with ChatGPT as if you're talking to a person and ask it to perform tasks for you. It can help with various aspects of your restaurant, such as creating menu descriptions, answering customer inquiries, and crafting promotional content.
MidJourney. This tool is an image generator. You can ask MidJourney to create custom images for your restaurant, such as menu photos, promotional banners, or social media posts. It uses AI technology to generate visually appealing and relevant images based on your input and requirements.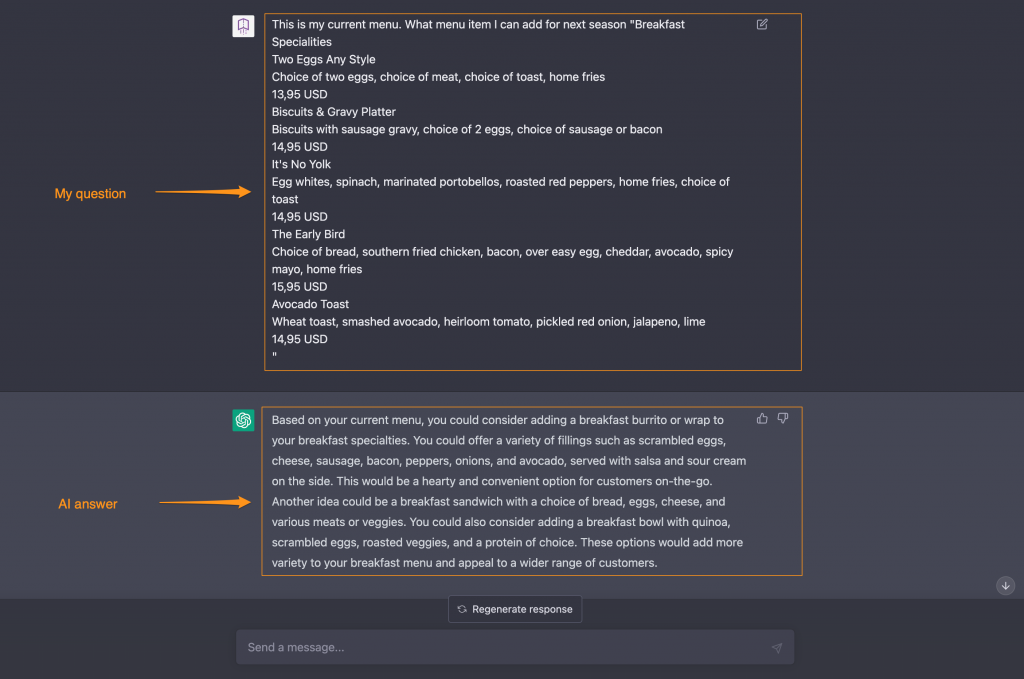 Benefits of using AI in restaurants
Faster work and lower labour costs

: AI can do tasks quickly, like answering questions or creating content, which saves you time and helps your restaurant run smoothly.

Better online presence

: AI can help you manage your restaurant's reputation on the internet by responding to reviews and creating engaging content for your website and social media. With better online presence and your own

restaurant online ordering system

you get more orders and increase revenue.

More customers

: AI can help you create special offers and messages just for customers to encourage to order in your restaurant

Improved guest service

: AI can help you understand what your customers want and provide them with better service, making them more satisfied.

Smarter decisions: AI can analyze information about your restaurant, like which dishes are popular, so you can make better choices for your business.
Get extra skills: AI can provide you with skills you never had a chance to acquire, learn, or buy. For example, it can help you with tasks like programming a website or executing marketing campaigns, even if you don't have the expertise in those areas. This allows you to improve various aspects of your restaurant business without needing to invest time and resources in learning new skills.
How to start using AI in your restaurant?
How to start using ChatGPT (4 steps)
Go to

https://chat.openai.com/

Click Sign up and create account

Confirm email and login

That's all. Now you can chat with AI just like with human
How to start using MidJourney (3 steps)
MidJourney are more complicated than ChatGPT but you manage it for sure.
Here you find quick start documentation: https://docs.midjourney.com/docs/quick-start
Go to Midjourney.com, select Join the Beta, or go directly to the

Midjourney Discord

.

Find a Newbies Channel

Use the /imagine Command to ask AI (for example write /imagine pizza capriciosa and AI will generate this image for you)

10 tips how to use AI in your restaurant
1.

Create a restaurant logo
AI tools can help you design a unique and eye-catching logo that represents your restaurant's brand and concept. They can generate multiple options, allowing you to choose the one that best fits your vision.
How to generate restaurant logo with AI?
Use MidJourney. Example prompt:
/imagine Pizzeria logo. Simple. Blue. Use California bridge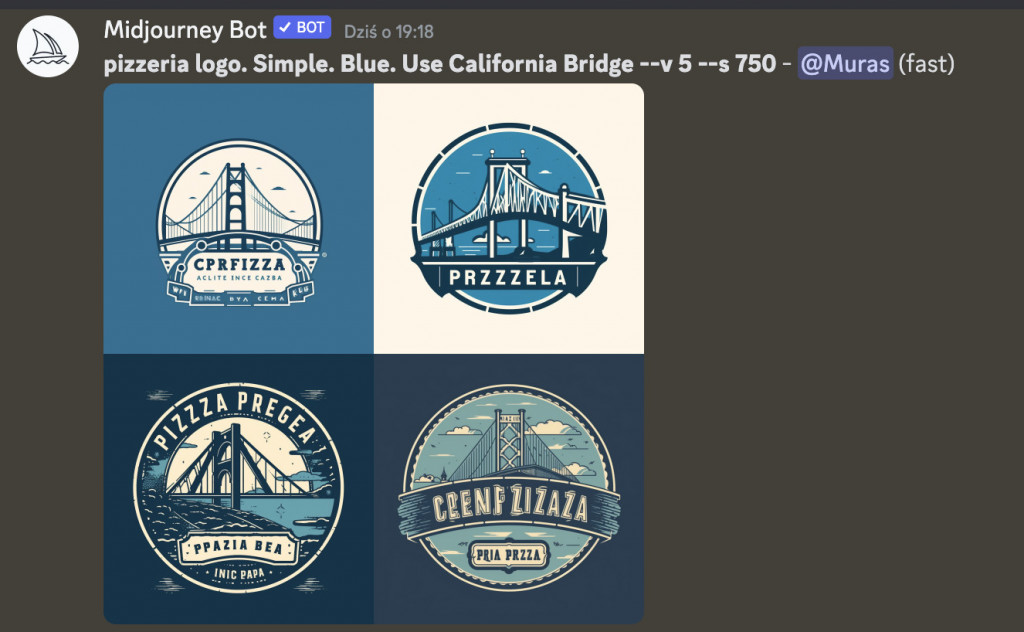 2. Create menu items images
AI-powered tools can generate realistic images of your menu items, ensuring they look appetizing and accurately represent the dishes you serve.
How to generate menu item image?
Use MidJourney. Example prompt:
/imagine Italian pizza taken out of the old oven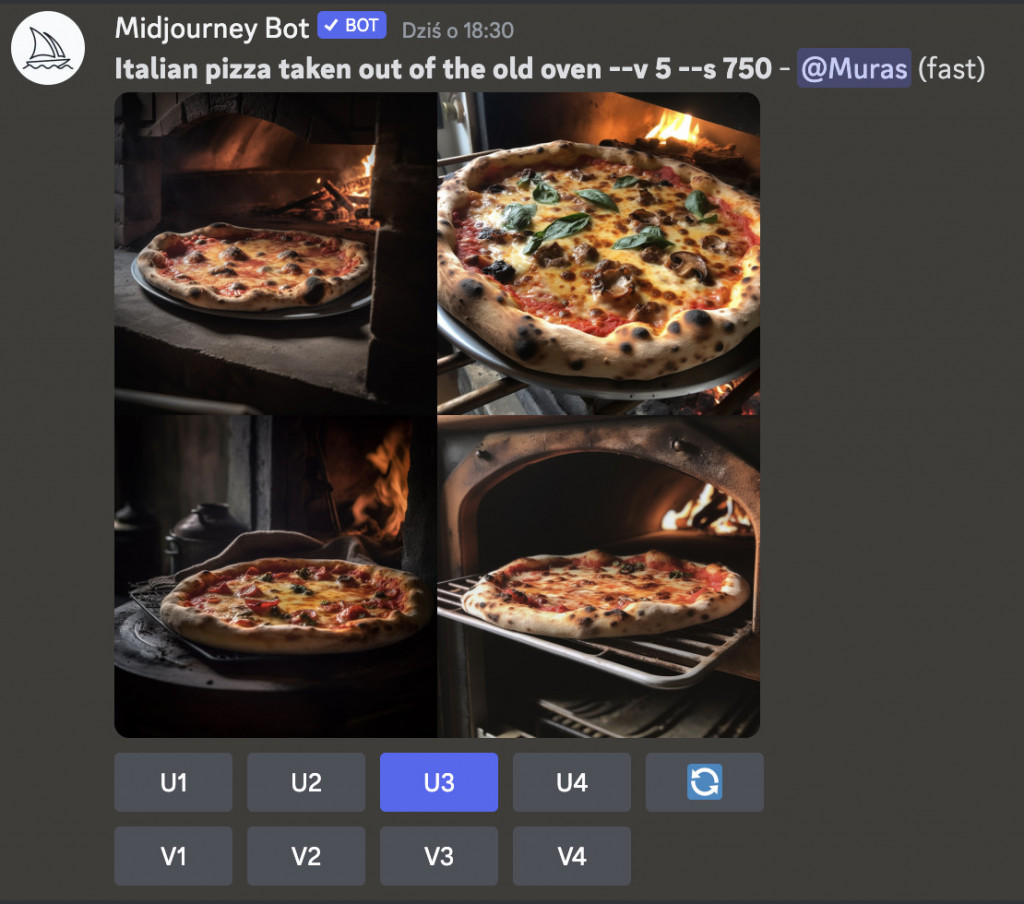 3. Create menu descriptions
AI can generate enticing and creative menu descriptions that highlight your dishes' unique qualities, making them more appealing to potential customers. How to create restaurant menu descriptions with AI? Use ChatGPT. Example prompt:

4. Get menu ideas
AI can analyze your menu data, such as sales, ingredients, and customer preferences, to help you optimize the menu for maximum profit and customer satisfaction.
Prompt to ChatGPT:
"Analyze and provide suggestions on how to optimize the menu at 'Bamboo Bistro' to increase customer satisfaction and profit. This is my menu: [you menu]"
5. Create promotions
AI can help you create promotion description and images to attract new customers. Use ChatGPT to generate promotion description and MidJourney to generate image.
6. Design SMS/Email/Push campaigns
AI can help you design and write engaging SMS, email, or push campaigns to keep your customers informed about your restaurant's latest news, events, and offers.
How to create text message with AI?
Use ChatGPT. Example prompt:
"Write an text message promoting a special event called Mothers Day at our restaurant Pasta & Wine. Use max 160 characters. Don't use special characters."

7. Write website content
AI can assist you in writing engaging and informative website content that showcases your restaurant's unique qualities and attracts customers.
8. Analyze customers reviews
AI tools can help you analyze customer reviews to identify trends, strengths, and areas for improvement.
By analyzing the data, you can make informed decisions to improve the overall customer experience.
How to analyze customers reviews?
Copy or download reviews from some period (eg. last month)
Prompt to ChatGPT:
"Analyze the customer reviews of my restaurant and provide insights on the main trends and areas for improvement. This is my reviews: [your reviews]"
9. Write answers for customer reviews
AI can assist you in responding to customer reviews quickly and efficiently. By automating responses, you can save time and ensure each review receives a timely, personalized response.
How to to write answers for guests reviews with AI?
Prompt to ChatGPT:
"Write answer for this review (max 3 sentences): [review]"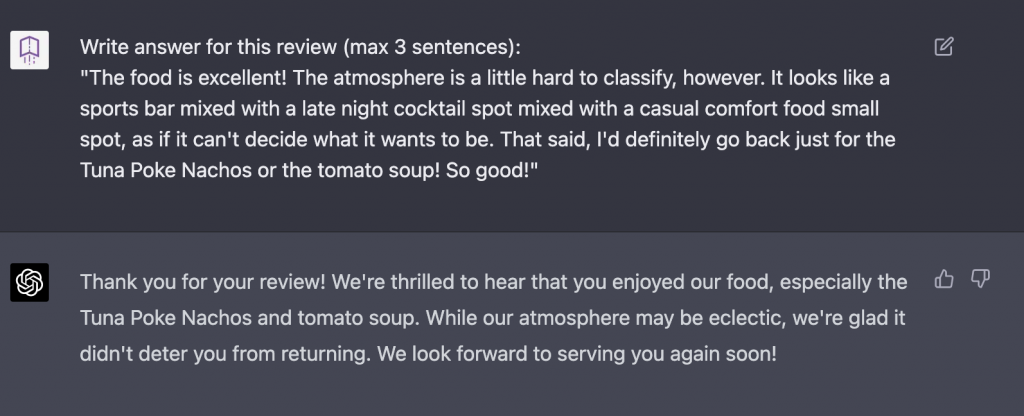 Key takeaways
AI is huge innovation like personal computer, internet and smartphone

AI will change we live and work. It will change everything

Restaurants that will learn how to use AI get przewagę konkurencyjną na rynku

AI can help you create an attractive restaurant logo, write enticing menu descriptions, and generate realistic menu item images.

AI in restaurant can help you boost sales, cut labor costs and do some jobs 100x more faster

Overall, using AI in your restaurant can save time, improve customer satisfaction, and increase profits.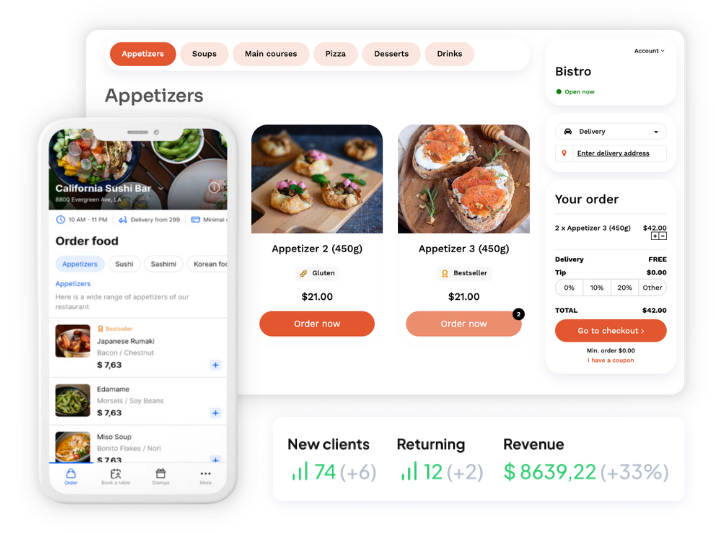 Your own branded online
ordering in 5 minutes
Launch commission-free online ordering on your own website in 5 minutes and grow your revenue, build loyalty and protect margin from third-party aggregators.