Being a restaurant owner in the Internet age is no easy job. Not only do you have to make sure your dishes are on point, but you also have to market them skillfully. Otherwise, you become your competition's side dish and get eaten alive.
In this article, we share some of the most effective ways to do digital marketing for restaurants. While reading this, make sure you keep your restaurant in the back of your mind so that you can pick the ones that best fit your business.
Restaurant Digital Marketing Benefits
Asking about the benefits of restaurant digital marketing is like asking about the benefits of watering your plants. Without digital marketing, your restaurant is probably just going to dry off, shrink, and gradually fade away.
The thing is, if you don't do digital marketing, you're very likely missing out on a lot of business. It doesn't matter how remarkable your food is if there are only five people who know about it.
Digital marketing can dramatically influence customers' perceptions and decisions and ultimately win you more revenue. Good digital marketing is going to take your restaurant to an entirely new level. Below are some of the main benefits for restaurant owners.
Main benefits of restaurant digital marketing
Increased visibility: Digital marketing strategies like SEO, social media marketing, and online advertising can increase your restaurant's visibility and make it easier for customers to find you online.
Improved customer engagement: Digital marketing allows you to interact with customers in real-time through social media, email marketing, and other channels, improving customer engagement and loyalty.
Cost-effective marketing: Compared to traditional marketing methods, digital marketing can be more cost-effective, allowing restaurants to reach a wider audience with a smaller budget.
Targeted marketing: Digital marketing allows you to target specific audiences based on factors like location, interests, and behavior, improving the effectiveness of your marketing efforts.
Increased revenue: Digital marketing leads to increasing revenue by attracting new customers, retaining existing ones, and encouraging repeat business through loyalty programs and other incentives.
Real-time analytics: Digital marketing provides real-time analytics that can help you track the success of your marketing campaigns and make data-driven decisions to improve your restaurant's performance.
What Makes for Effective Digital Marketing Strategies for Restaurants?
A lot of folks get it twisted. Effective marketing has little to do with budget; it's all about research and data-backed action-taking.
Below are some suggestions to keep in mind while planning to use one of the marketing strategies from this article.
Keys to Effective Marketing for Restaurants:
Know Your Customers: When planning a marketing campaign, make sure you pay attention to who your customers are. Are you addressing a pro-environment audience or free-range shooting cowboys?
Research Your Competition: See what your rivals are up to and learn from them.
Identify the Most Effective Marketing Strategies: Try, fail, and keep all the data. See what works for your business and double down on it.
Improve Your Product: Marketing is more than just pretty food pictures and fun social media contests. If your place is nasty and your food tastes funny, no amount of marketing is going to help you.
Focus on Metrics That Matter: The only reason for marketing anything is to increase sales. Monitor sales results and other associated metrics to see what's selling and what's not.
20 Digital Marketing Strategies for Restaurants in 2023
Below you're going to find 20 digital marketing ideas for your restaurant. 
1. Build a Restaurant Website and Sell While You Sleep
A responsive website design is a large piece of the whole puzzle. While your social media profiles make your restaurant more visible, an optimized and responsive website allows you to sell directly to your customers. That way, you avoid all of the murderous fees that come with most third-party food apps.
Another cool thing about having a restaurant website is that it allows your clients to schedule food deliveries. This means you are earning money in your sleep.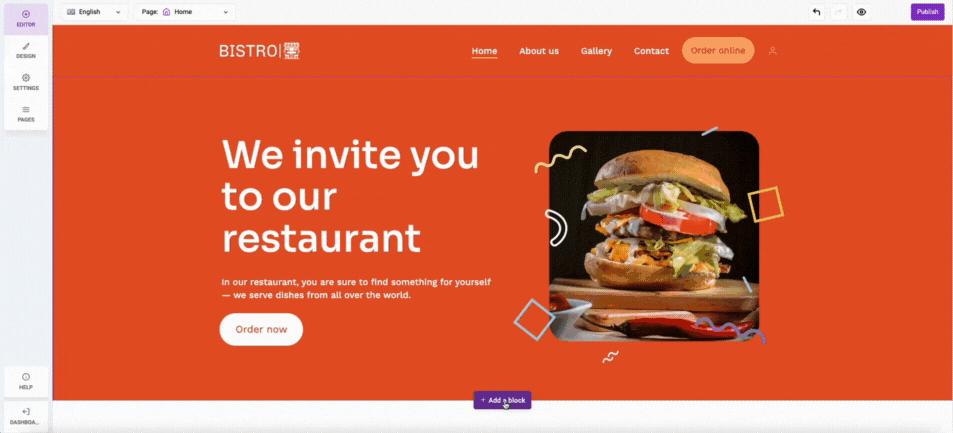 Make sure your website is easy to navigate, has high-quality images, and is mobile-friendly. There are many ways to go around building your website. Using a dedicated restaurant website builder will be the quickest and most cost-effective. That way, you avoid a lot of hassle dealing with designers, developers, hosting services, and all the extra technical stuff. You just get right to selling.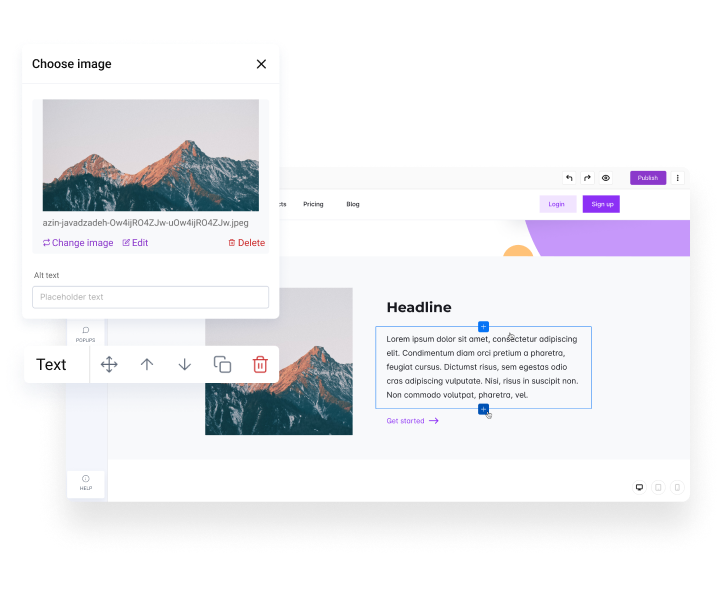 Your own branded restaurant
website in minutes
Get a beautifully designed website that converts online visitors into customers and keep them coming back.
2. Establish a Restaurant Online Ordering System to Reach More Customers
If you're not in a position to build an entire restaurant website, it's essential that you do establish an ordering system. For example, Uber Eats commission can cost you as much as 30% of your revenue!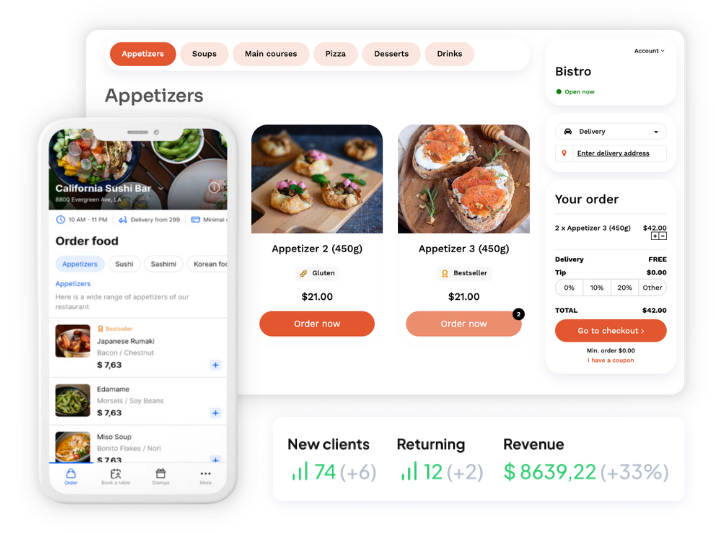 Your own branded online
ordering in 5 minutes
Launch commission-free online ordering on your own website in 5 minutes and grow your revenue, build loyalty and protect margin from third-party aggregators.
A lot of people are forced to use these massive ordering systems to remain competitive when it comes to online customers. And that's absolutely understandable, as it's better to use these systems than to be invisible.
That said, some platforms allow you to easily establish your own restaurant online ordering system, so you can reach new customers more easily commission-free.
3. Build a Restaurant Mobile App to Make Ordering Easier 
Develop a restaurant mobile app to provide your customers with an easy and convenient way to order food.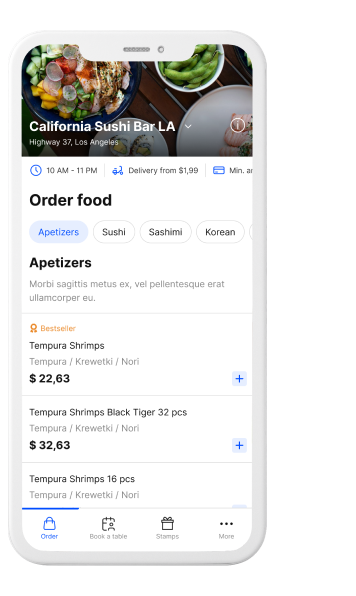 Your own branded ordering
mobile app that drive loyalty
Easy-to-use native iOS and Android ordering apps that put your restaurant right in your customer's pocket.
Mobile ordering is becoming increasingly popular, with more customers using their smartphones to order food. According to one survey, 60% of customers order delivery or takeout from restaurants using a mobile device. Restaurants often use mobile ordering apps like Grubhub or Uber Eats to reach more customers.
However, If you're looking to avoid the fees that come with these apps, you might want to build your own restaurant mobile app so that you can sell directly to your customers.
4. Use Restaurant Email Marketing to Reach Your Customers Instantly
Another great marketing tool is restaurant email marketing. Restaurant email marketing campaigns help keep your customers informed about new menu items, promotions, and events.
Restaurant Email Marketing Benefits:
Cost-effective: Email marketing is a relatively low-cost marketing channel, making it a great option for restaurants with limited marketing budgets.
Personalization: Email marketing allows restaurants to personalize their messaging and offers based on customer preferences, behavior, and purchase history.
Increased customer loyalty: Increased customer loyalty can lead to repeat business and positive word-of-mouth recommendations.
Promotions and special offers: Email marketing is one of the best ways to promote special offers, promotions, and events to your customers.
Trackable and measurable: You can easily monitor the effectiveness of your campaigns and make adjustments as needed.
Overall, email marketing is a cost-effective way for restaurants to reach and engage with their customer base, offering personalized promotions, menu updates, and event invitations.
By building a targeted email list and leveraging email marketing tools, restaurants can drive sales, build customer loyalty, and increase brand awareness.
5. Use Restaurant SMS Marketing to Send Special Offers
Use restaurant SMS marketing to send promotions and updates to your customers. SMS marketing is particularly effective because of its high open rates and instant delivery directly to your customers' mobile devices.
Restaurant SMS Marketing Benefits:
High open rates: Some studies indicate that over 90% of text messages are read within three minutes of receipt, making SMS marketing a top choice to quickly reach customers with time-sensitive promotions or updates.
High engagement: SMS messages have a high engagement rate, with many customers responding to text messages within minutes of receipt. This can lead to increased sales and foot traffic for restaurants.
Personalization: SMS messages can be personalized based on customer preferences, behavior, and purchase history, helping to improve the effectiveness of campaigns.
Opt-in only: SMS marketing is an opt-in-only channel, meaning that customers must actively sign up to receive messages. This means you get access to an audience that is likely to be interested in your offer.
SMS marketing is an effective way for restaurants to reach customers in a timely and personalized manner, offering promotions, reminders, and updates on menu items or events. With high open rates and quick delivery, SMS marketing can help drive sales, increase customer engagement, and build brand loyalty for restaurants.
6. Introduce Restaurant Loyalty Programs to Increase Client Retention
Create restaurant loyalty programs to encourage repeat business. Overall, loyalty programs can provide several advantages for restaurants, including increased customer retention and repeat business, valuable customer data and insights, increased customer lifetime value, differentiation from competitors, and positive word-of-mouth recommendations.
Restaurant Loyalty Programs Benefits
Increased customer retention and repeat business: Increase customer retention and encourage customers to return to the restaurant.
Customer data and insights: Gather valuable data, better understand your customers, and tailor your offerings accordingly.
Increased customer lifetime value: Loyal customers are more likely to spend more over time, leading to increased customer lifetime value for the restaurant.
Positive word-of-mouth recommendations: Loyal customers are more likely to recommend the restaurant to others, leading to positive word-of-mouth recommendations and increased revenue.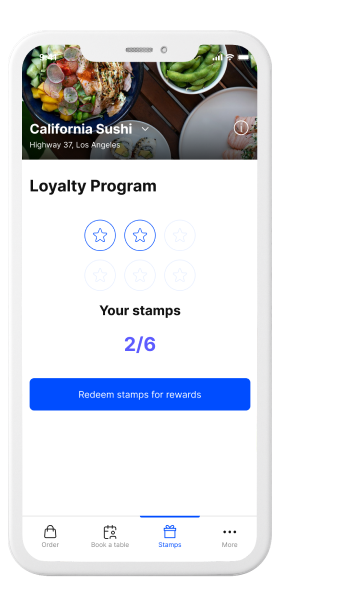 Customers who join the loyalty program often return and spend more
Get up and running quickly with our easy-to-implement loyalty program.
7. Use a QR Code Menu for Restaurants and Be Easier to Find
You can use a QR code menu for restaurants to direct customers to your website, social media pages, or online menu. 
What's more, QR code menus allow you to easily update your menus in real-time, making it easy to add or remove items or update prices. They can be easily customized and translated into multiple languages so that you don't have to print all the language versions. 
QR code menus can also provide valuable data and insights into customer preferences and behavior, allowing you to understand your customers better.
In summary, QR code menus offer customers a contactless and convenient way to access menus and make orders while providing restaurants with a cost-effective and flexible solution to update and promote their offerings in real-time. Additionally, QR code menus can also help restaurants reduce their environmental impact by minimizing printing and paper waste.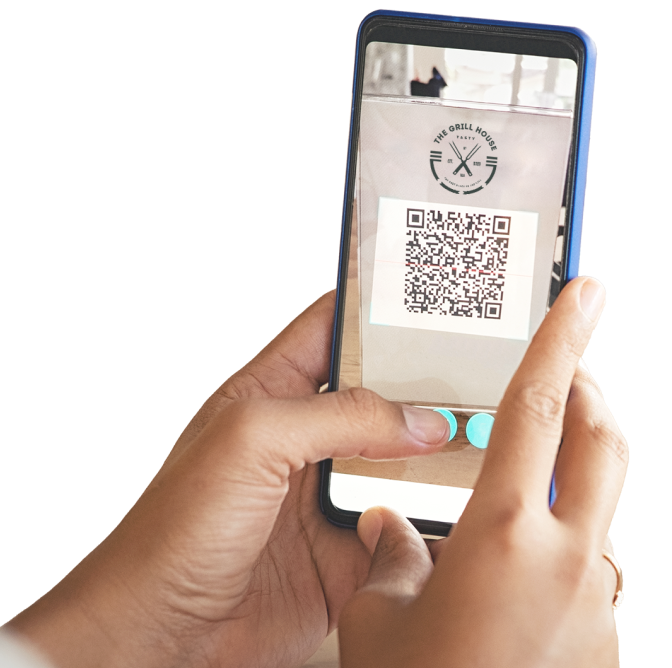 In-store QR Code Order & Pay,
direct from the table
Enable ordering and paying direct from the table to give limited service staff more hands, improve safety and increase average order size.
8. Start Restaurant Social Media and Multiply Your Revenue
Social media marketing is the one digital marketing strategy you really want to focus on. Without a social media presence, you're not competitive. That's why planning a social media marketing strategy for your restaurant is one of the absolute key steps.
Use social media platforms like Facebook, Instagram, Twitter, TikTok, and LinkedIn to promote your restaurant and interact with your audience. These online marketing channels make it much easier for your business to attract customers, increase customer engagement and boost your social media presence in general.
Keep in mind that you do not need to open up all of the above-mentioned digital channels. I'd highly encourage you to consider building a restaurant marketing plan to help you determine which social media platforms will give you the most bang for your buck.
How to Choose the Right Social Media Channels?
Identify your target audience: Start by identifying your target audience and understanding their demographics, interests, and behavior. This will help you determine which social media channels they are most active on and where you should focus your efforts.
Consider your business goals: Consider what you want to achieve through social media marketing, whether it's increasing brand awareness, driving sales, or building customer loyalty. Different social media channels may be better suited to different goals.
Evaluate each platform: Evaluate each social media platform based on factors like audience size, engagement rates, ad targeting options, and content format. This will help you determine which platforms are most likely to be effective for your business.
Look at your competition: Look at your competitors' social media presence to see which channels they are using and how they are engaging with their audience. This can help you identify potential opportunities or gaps in the market.
Test and measure: Once you've identified which social media channels you want to focus on, start testing different types of content and strategies to see what works best for your business. Use analytics tools to measure your results and adjust your strategy as needed
9. Get Listed on Google to Become More Competitive
Create and verify your business on Google My Business to enhance your local search visibility. According to one survey, 86% of consumers read online reviews for local businesses, including restaurants. Positive online reviews can lead to more customers and higher revenue, while negative reviews can deter potential customers.
Getting listed on Google My Business is crucial for all businesses, including restaurants. The benefits it provides are extremely valuable, including increased online visibility, improved search rankings, easy access to customer reviews, and valuable insights into customer behavior, allowing restaurants to better understand and connect with their target audience. In essence, this is how you get your business online.
10. Engage With Your Audience Through Content Marketing
If you've decided to build a restaurant website, you can consider publishing valuable content, such as blog posts and videos, to attract and engage your target audience.
Below you'll find a couple of content marketing ideas for restaurants.
Content Marketing Ideas for Restaurants
Recipe videos: Create short recipe videos that showcase your restaurant's signature dishes and share them on social media and your website.
Blog posts: Write blog posts that highlight your restaurant's story, unique menu items, or culinary techniques.
Food and drink pairings: Create content that suggests food and drink pairings, such as wine and cheese or beer and pizza.
Behind-the-scenes content: Share behind-the-scenes content, such as photos or videos of your chefs in action or the process of creating a new menu item.
Chef interviews: Interview your chefs and share their stories, expertise, and passion for cooking.
Local food scene coverage: Create content that covers the local food scene, such as reviews of nearby restaurants or profiles of local food producers.
11. Register on Restaurant Review Sites to Build Customer Confidence
Monitor and respond to online reviews on platforms like Yelp and TripAdvisor to improve your restaurant's reputation.
Review platforms can help you increase your online visibility and attract more customers. They can also help you build reputation, credibility, and trust with potential customers. In contrast, negative reviews can provide valuable feedback and insights you can use to improve your customer experience.
Online review sites also allow you to stay in touch with what's happening. By actively monitoring and responding to reviews, you can address customer concerns, thank satisfied customers for their feedback, and demonstrate your commitment to customer satisfaction.
Some of the leading review platforms
Yelp: Yelp is one of the most popular review sites for restaurants and other local businesses.
Google Reviews: Google Reviews is another popular review site. Reviews and ratings appear in Google search results and on Google Maps.
TripAdvisor: TripAdvisor is a popular travel review site that includes restaurant reviews and ratings.
Zomato: Zomato is a review site that focuses on restaurants and dining.
OpenTable: OpenTable allows customers to make reservations and leave feedback about their dining experiences.
Foursquare: Foursquare is a location-based review site where customers can leave tips and recommendations for restaurants and other businesses.
Facebook: Facebook allows customers to leave ratings and reviews for restaurants and other businesses on their Facebook pages. Reviews can also appear in Facebook search results.
Online review sites can provide valuable insights into customer preferences, trends, and behaviors. If you use this information to make informed business decisions and tailor your offerings to better meet customer needs, you will greatly benefit from it.
12. Optimize Your Website to Rank Higher on Google
Optimize your website for search engines so people can easily find you on Google. Unlike online-based SaaS businesses, you don't need to find for global keywords to make your restaurant visible. All you need to do is join the local restaurant marketing game.
Optimizing a restaurant's website for SEO offers several advantages. By improving your search engine rankings, you can increase your restaurant's online visibility, attract more potential customers to your website, and ultimately drive more foot traffic to your place.
Additionally, optimizing for local SEO helps your restaurant appear in search results for relevant local searches, such as "restaurants near me" or "best restaurants in [city name]." This can be especially valuable for restaurants that rely heavily on local customers. Overall, search engine optimization can help you increase your online presence, attract more customers, and drive more revenue.
SEO benefits for restaurants
You are easier to find: SEO can help restaurants appear higher in search engine results pages (SERPs)
Attract your target: SEO can help attract the right people to your website.
Cost-effective marketing: SEO focuses on organic search traffic rather than paid advertising, making it more sustainable in the long term.
Competitive advantage: If your competition has skipped SEO, you're going to appear higher in search results and get priority access to customers.
Valuable insights: SEO provides valuable data and insights into user behavior and preferences.
Influencer marketing can benefit restaurants in several ways. By partnering with influencers, restaurants can increase their brand awareness, credibility, and trust with a wider (especially younger) audience.
Influencer marketing can also provide targeted marketing, authentic content, social proof, and a cost-effective alternative to traditional advertising.
14. Go for Restaurant Video Marketing to Boost Organic Traffic
Use videos to showcase your restaurant, menu items, and events. Video marketing can greatly increase engagement, customer trust, and social media reach. It can also improve brand awareness SEO.
Importantly, video marketing can also help you differentiate yourself from your competitors. Making fancy reels showcasing your delicious food beats even the most professional pictures! And the cool thing is video marketing is extremely easy.
The best way for you to start video marketing is to use your phone to create short videos that showcase your restaurant and offer.
How to Start Restaurant Video Marketing in 5 Easy Steps
Plan your content: Decide what type of video content you want to create, such as a behind-the-scenes look at the kitchen, a showcase of a popular dish, or a tour of the restaurant.
Keep it short and sweet: Aim for videos that are no longer than 1-2 minutes, as attention spans can be short on social media.
Use good lighting and sound: Make sure your videos are well-lit and have good sound quality. Natural lighting is best, but if you're filming inside, try to use as much light as possible.
Showcase your brand: Make sure your videos showcase your restaurant's unique personality and brand. This could include showcasing your restaurant's atmosphere, staff, or values.
Share on social media: Once you've created your videos, share them on your social media channels, such as TikTok, Facebook, or Instagram. This can help increase engagement and reach a wider audience.
Overall, video marketing doesn't have to be complicated or expensive. With just a smartphone and a bit of creativity, you can create high-quality videos that showcase your offer.
15. Organize Online and Offline Events to Gain Fame
Promote and host events and collaborate with local organizations to promote your restaurant. Online and offline events can increase brand awareness, customer engagement, revenue, and community ties for restaurants. These events also allow you to showcase your offer and gain valuable insights into customer preferences and behavior.
Marketing Event Ideas for Restaurants
Happy Hour Specials: Host happy hour specials that offer discounted drinks and appetizers to attract customers during slower hours.
Chef's Table: Host a Chef's Table event where customers can watch the chef prepare a special menu and interact with them.
Wine Tasting: Host an event where customers can try different wines and learn about food and wine pairings.
Cooking Classes: Host cooking classes that teach customers how to make your restaurant's signature dishes or explore a specific cuisine.
Beer Tasting: Host an event where customers can try different craft beers and learn about the brewing process.
Pop-up Dinners: Host pop-up dinners in unexpected locations to create unique dining experiences.
16. Invest in Online Advertising to Get Noticed Faster
Use paid advertising on platforms like Google Ads, Facebook Ads, and Instagram Ads to increase your restaurant's visibility.
Online advertising can be an effective way for you to reach a wider audience and increase your revenue. Below are some of the best online advertising strategies for restaurants.
Online Advertising Ideas for Restaurants
Google Ads: Google Ads allows you to create search and display ads that appear in Google search results and on other websites. You can target customers based on location, interests, and behavior and pay for clicks or impressions.
Facebook and Instagram Ads: Facebook and Instagram Ads allow you to create targeted ads that appear in customers' newsfeeds and stories. You can target customers based on demographics, interests, and behavior.
Retargeting Ads: Retargeting ads allow you to target customers who have previously visited your website or social media pages with ads that remind them of their brand or offer promotions.
17. Offer Interactive Menus to Keep Your Customers Engaged
Create interactive menus that allow customers to customize their orders and provide feedback.
Interactive menus for restaurants are tableside ordering systems that allow customers to engage with the menu in a more dynamic and personalized way. They can be accessed through tablets, smartphones, or other digital devices. 
They may allow customers to create personalized dishes, such as a custom pizza or burger.
Interactive menus can also provide customers with personalized recommendations based on their preferences or previous orders. This data can facilitate ordering and payment processing.
Interactive menus offer a more engaging and convenient dining experience for customers while also providing valuable data and insights for restaurants. If you're looking to quickly build an interactive menu, check out UpMenu's QR menu builder.
18. Try Niche Marketing to Boost Social Media Engagement
Create targeted marketing campaigns for specific groups, such as vegans, gluten-free eaters, or fitness enthusiasts.
Use buzzwords like keto, vegan, and carnivore to stir interest among different groups of customers. Make sure you don't offend your customers by spamming meat pictures as a vegan restaurant, though!
Niche Marketing Strategies for Restaurants
Local or sustainable: Appeal to customers who prioritize locally sourced or sustainable food by featuring menu items that highlight local or sustainable ingredients and practices.
Vegan or vegetarian: Attract customers who follow a vegan or vegetarian lifestyle by offering a menu that is entirely plant-based or includes a wide range of vegan and vegetarian options.
Ethnic or regional cuisine: Specialize in a particular type of ethnic or regional cuisine, such as Italian, Japanese, or Mexican, to attract customers who are interested in trying authentic and unique dishes.
Family-friendly: Focus on providing a family-friendly atmosphere with kid-friendly menu items, activities, and promotions to attract families with young children.
Late-night or delivery: Cater to customers who want to enjoy late-night dining or delivery options by offering a menu that is available after hours, or that can be easily ordered and delivered.
19. Organize Social Media Contests to Gain Recognition
Host social media contests encouraging customers to share photos of your restaurant or menu items.
Social media contests can increase engagement, brand awareness, customer loyalty, and generate user-generated content and valuable insights for restaurants, making them a cost-effective marketing strategy.
Restaurant Social Media Contest Ideas
Photo Contest: Encourage customers to take photos of their meals and share them on social media with a custom hashtag. Choose a winner based on the most creative or visually appealing photo.
Caption Contest: Post a photo of a dish or a restaurant-related image and ask customers to come up with the best caption. Choose a winner based on the funniest or most creative caption.
Trivia Contest: Post a food-related trivia question and ask customers to answer in the comments section. Choose a winner based on the first correct answer.
Recipe Contest: Ask customers to submit their own recipes that use a specific ingredient or follow a certain theme. Choose a winner based on the most creative or delicious recipe. You may go a step further and feature the winning meal in your seasonal menu!
Share to Win: Ask customers to share a post on their own social media profiles to be entered into a contest to win a prize. Make sure to offer a fair price, otherwise customers might consider you a miser.
Instagram Story Takeover: Allow an influencer to take over your restaurant's Instagram story for a day and share their experience dining at your restaurant.
20. Use Podcast Advertising to Reach New Audiences
Advertise on food or restaurant-related podcasts to reach a highly targeted audience.
You can also sponsor podcasts related to your niche, like vegan, environment-focused, or health and fitness podcasts in general. It's a great way of reaching new audiences with little effort. The only challenge is choosing the right podcast.
Benefits of podcast marketing for restaurants
Increased brand exposure: reach a wider audience who may be interested in the restaurant's offerings.
Targeted marketing: Podcast sponsorship allows you to target specific demographics or customer segments, such as food enthusiasts or local residents.
Credibility and authority: Win credibility and authority by aligning your restaurant with respected and established content creators.
Valuable customer insights: Get valuable data and insights into customer preferences and behavior.
Cost-effective marketing: Podcast sponsorship can be a cost-effective marketing strategy, as it focuses on a specific and engaged audience rather than broad advertising efforts.
Bonus Online Marketing Strategies to Boost Your Brand Recognition
If you're still hungry for more, we've got you covered. Below you'll find an additional restaurant marketing idea. And since you've made it this far, we'll give you one of our favorites.
21. Share Cool Recipes to Generate Online Buzz
Share popular recipes from your menu on social media or your website to attract food enthusiasts.
Sharing photos and videos of your recipes is one thing. Sharing your recipes and encouraging your followers to re-create and share them on their social media is a whole new thing.
Benefits of sharing your recipes
Customer engagement: Increase customer engagement by providing valuable content that customers can use at home and share with friends and family.
Building customer loyalty: Build customer loyalty by providing a way for customers to recreate their favorite dishes at home and stay connected with the restaurant.
Driving website traffic: Drive website traffic by providing valuable and shareable content that can attract new visitors.
Building authority and expertise: Establish your restaurant as an authority and expert in its cuisine. This builds credibility and attracts new customers.
Generating revenue: You can go one step ahead and consider creating a cookbook or other merchandise related to the restaurant's cuisine.
Key Takeaways
Restaurant digital marketing is a non-negotiable factor in driving a successful restaurant business
If you're not on Google, you're not in business. 86% of consumers read online reviews for local businesses, including restaurants.
You should always keep your restaurant and your target customers in mind when picking your restaurant's digital marketing strategy
The key to a successful restaurant digital marketing strategy is consistency
If you can't afford to hire professionals at this moment, simply focus on those strategies that bring you the most revenue.
You can get the most out of your digital marketing strategies by creating a [restaurant marketing strategy].
Digital marketing allows you to reach a wider audience and increase your online visibility.
You can target your advertising efforts to specific demographics or customer segments, which basically means a better likelihood of conversion.
You can monitor reviews in real-time to see what people think of your restaurant. Engage with them customers in real-time and keep things under control.
Digital marketing is generally more cost-effective than offline marketing channels like print advertising or direct mail.
You can track and measure the effectiveness of your efforts in real-time, using analytics tools to monitor website traffic, social media engagement, and other key metrics.
Frequently Asked Questions (FAQ)