Asking customers for feedback through restaurant surveys can make your checkout system efficient, and help improve your menu, service, and overall guest experience.
But if the guest feedback survey questions are not well-written, you might not get the responses you need. So to gather feedback, ask the right restaurant survey questions that encourage honest and helpful customer answers. To help you do that, we've created a list of recommended restaurant survey questions and divided them into categories to help you get the survey responses you're looking for.
Keep your customer feedback survey brief with no more than 15 questions to receive the maximum number of completed surveys. Once you gather your customer's feedback, you can implement improvements and provide a better customer experience.
What is a restaurant survey?
A restaurant survey is a series of questions to gain meaningful customer feedback. When conducting restaurant surveys, it's important to have a clear goal in mind to earn valuable insights. For example, are you interested in learning what customers think about your food quality, your front-of-house team, the restaurant reservations process, or what they think of your restaurant business? Then create a restaurant questionnaire.
Benefits of conducting a restaurant survey
Obtain honest feedback: Restaurant surveys allow you to receive unfiltered customer insights and opinions.
Collect customer data: You can create targeted customer offers, discounts, and promotions by asking questions regarding their visits, favorite food choices, online ordering experience, and any other personal preference.
Service quality improvement: You can improve your menu and the quality of your customer service experience thanks to the answers you receive in the surveys conducted among customers.
Track improvements: If you conduct customer surveys regularly, you can check the impact of your actions on improving the customer experience.
Prevent negative reviews: It's a good idea to send restaurant surveys to customers and address their complaints before they post them on review sites.
What are the top two questions you need to ask to gain valuable insight?
What was the best part of your visit?
What was the worst part of your visit?
To gain insights into your restaurant's strengths and weaknesses throughout its operation, be sure to ask both questions during your survey.
Gather valuable information automatically with the UpMenu restaurant feedback system.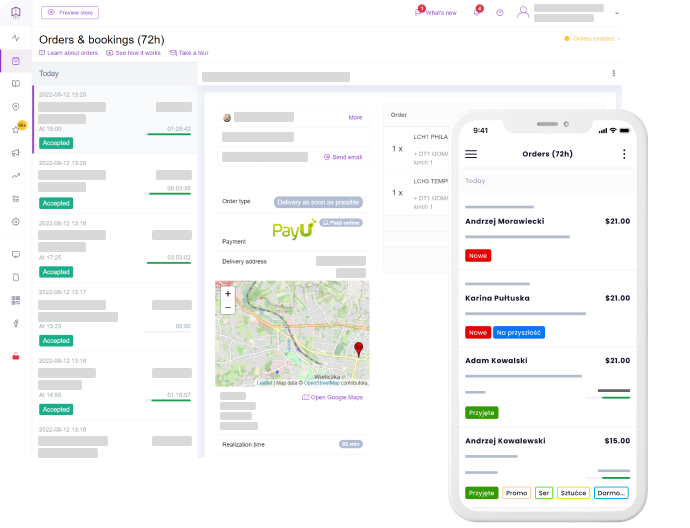 Your own branded online
ordering in 5 minutes
Launch commission-free online ordering on your own website in 5 minutes and grow your revenue, build loyalty and protect margin from third-party aggregators.
42. If you placed a food order online, how long did it take for your food to arrive?
This is an open-ended, vital question to ask customers who order food online if it was delivered on time. You can also give options, such as 30 to 60 minutes, 60 to 90 minutes, or over 90 minutes. The customers' response can help you determine if you need to improve your estimated wait time and make your food preparation and delivery process faster.
43. Was your order correct?
This is an important question to ask. If you are using a food ordering system generally, there are fewer mistakes than in the case of phone orders, but still, errors can happen. If so, determine the root cause to enhance the customer experience.
44. Was the food warm when you received it?
Especially while offering online ordering, you must ensure that food arrives in good shape and at the right temperature. Ideally, it should be warm. If you get negative feedback, rethink your delivery and food packaging methods. An alternative way of asking about the food's warmth and appearance could be the following question:
45. If you placed a food order online, how would you rate the taste and appearance of your food upon receiving it? Please rate on a scale of 1 to 5, where 1 is bad, and 5 is excellent.
What are good survey questions for a restaurant?
Asking the right survey questions can result in useful information that cannot be used to enhance your restaurant. Follow these rules while preparing restaurant survey questions:
Don't ask questions that limit responses to yes or no
Ask questions that encourage detailed responses
Keep a question simple. Don't use a group of questions in one question
Do not use questions that suggest a particular answer
Evaluate your survey's effectiveness through testing before sending it out
5 Tools for taking restaurant survey questions
We already know what kind of restaurant survey questions
to ask our guests. Now we need to determine how to receive answers to your questions. As you know, customers eating at a restaurant won't spend their time filling in questionnaires. Hence, you need to use other data collection methods.
1. Online ordering system
If your restaurant website has a food ordering system, check if collecting customer reviews is a built-in feature. In UpMenu, you can collect customer feedback on their orders and publish them on your restaurant website if you want to.
2. Restaurant mobile app
As in the case of collecting reviews placed on a restaurant website, you can also enable this option on your mobile app for restaurants. Customers can rate the order after its completion. In addition, you can use in-app messaging to send questions to your restaurant guests and show appreciation for their time in responding.
3. Restaurant loyalty program
According to QSRMagazine, individuals who enroll in loyalty programs tend to visit restaurants 20% more frequently and spend 20% more than they typically would have had they not joined. In UpMenu, you can create a restaurant loyalty program.
You can offer exclusive rewards to encourage your loyal customers to participate in restaurant surveys. This will make them feel valued and increase their engagement with your restaurant.
Why is it better to have loyal restaurant customers than acquire new ones?
A study by Harvard Business Review found that it costs between 5 and 25 times more to acquire a new customer than to retain an existing one.
Another study by Small Business Trends found that increasing customer retention by 5% can lead to an increase in profits of between 25% and 95%.
4. SMS texts or emails
One of the ways to get direct feedback from clients is by sending text messages or emails. Doing so allows you to receive survey responses directly from clients and makes collecting them easy.
5. Restaurant website forms
Another option worth considering is creating restaurant surveys and placing them on your website. You can promote this survey on your social media channels.
Free tools to create a restaurant survey:
Measuring Net Promoter Score (NPS) for a restaurant
Net Promoter Score (NPS) is a metric used by businesses to measure customer loyalty and satisfaction. It is based on the likelihood of customers recommending a company, product or service to others.
The NPS score ranges from -100 (all customers are detractors) to 100 ( all customers are promoters). A score above 0 is considered good, while anything above that is considered great or excellent.
Measuring the Net Promoter Score (NPS) is a commonly used method to determine customer loyalty and satisfaction in the restaurant industry.
Fast facts about NPS for a restaurant:
According to a study by CustomerGauge, the average Net Promoter Score for the restaurant industry in North America is 30.
A study conducted by Medallia found that a one-point increase in NPS for a restaurant can lead to an increase of up to 5% in revenue.
Another study conducted by Retently found that the average NPS for fast-food restaurants in the United States is 27, while the average NPS for casual dining restaurants is 39.
According to a survey by OpenTable, customers who give a restaurant a rating of 4 or 5 stars (out of 5) are 44% more likely to recommend the restaurant to others than customers who give a rating of 3 stars or below.
You can use NPS in your restaurant to check how many customers promote your business. If you notice any drops in your numbers then consider evaluating what may be the cause of this.
How to use the feedback you received
Once you've gathered guest feedback, you can start making changes. Otherwise, the effort put into the surveys is pointless. Of course, you won't be able to address every problem, and it's worth prioritizing them.
Pay attention to and solve serious problems related to the health of customers and the availability of the restaurant first: The examples of situations that could be of the highest importance include the following:

A customer cannot eat gluten. They informed the staff about it and then got a gluten-containing meal
A waiter serving the customer was rude
A customer in a wheelchair couldn't access the restaurant due to the stairs and lack of entrance for the disabled
Monitor patterns to identify potential areas for improvement: Check whether it's a trend or a one-off for issues and comments related to personal preferences before implementing improvements. Analyze guest reviews at regular intervals, e.g., once a week. Examples of situations that could result from personal preferences or signal a problem could be:

A customer says that the meal was too cold.
A customer reports that the restaurant was too dark.
A customer says that the music was too loud.
Encourage customers to complete the survey: Offer your customers something in return for answering your restaurant service survey questions, e.g., a voucher
Match the survey questions to your restaurant: Consider what areas you want to explore and create a questionnaire on this base.
Make sure to inform your guests about the modifications you've made based on your restaurant survey: This demonstrates that you value their feedback and are dedicated to enhancing their dining experience.
Respond to social reviews on your restaurant's social media channels: It is crucial to do this to ensure customer satisfaction and foster a sense of connection with your restaurant.
Key Takeaways
Conducting a restaurant survey gives five benefits, which include: obtaining customers feedback, collecting data about customers, preventing negative reviews, service quality improvement, and tracking these improvements.
The main groups of restaurant survey questions include general, food and drink, customer service, facilities, and technology questions.
Good survey questions are simple, encouraging and concern one topic at a time.
Having loyal customers is more profitable than acquiring new ones.
You can use an online ordering system for collecting customer reviews.
NPS is a commonly used method to determine customer loyalty and satisfaction in the restaurant industry.
Use customer feedback to solve serious problems regarding the health of customers and the availability of the restaurant first.
Identify areas for improvement by monitoring trends.
Inform customers about the improvements you make.
Frequently Asked Questions (FAQ)
Here are five excellent survey questions for restaurants that can help glean insightful client feedback:
How pleased were you with the quality of our food, on a scale of 1 to 10?

Was our selection of menu items to your liking?

How would you rate our staff's overall performance during your visit?

Was the restaurant atmosphere inviting?

Would you advise others to eat at our restaurant?