Pop-up restaurants are becoming increasingly popular in larger cities and towns and are making waves in the restaurant industry. They offer all kinds of food, from quick grab-and-go meals to fancy and expensive dishes. Pop-up restaurants are an excellent option for people who like to try new things and for chefs looking to step outside of working in a regular restaurant.
In this article, we will explain the pop-up restaurant business concept, how to open one, and what the day-to-day pop-up restaurant operations look like. We will also cover the advantages and disadvantages of opening this new business model.
What is a pop-up restaurant?
A pop-up restaurant is a new restaurant concept that is temporary. They are typically situated in unconventional spaces, such as private homes or existing restaurants. Pop-up restaurants may also operate during festivals or other events.
While pop-up restaurants became popular in Britain and Australia during the 2000s, they are not a recent trend. Pop-up restaurants have been around in the United States and Cuba as well. Customers often use social media platforms like Twitter and the blogosphere to track their movements and make online reservations to keep up with these transient dining establishments.
What is another name for a pop-up restaurant?
The other names for a pop-up restaurant are:
"temporary restaurants,"

"guerrilla diners,"

"underground supper clubs,"

"ephemeral eateries."
What are the advantages of opening a pop-up restaurant
Below, you can check the advantages of starting a pop-up restaurant
A possibility to test new restaurant concepts or menus before making a significant investment
Flexibility to move between cities with similar concepts or menus
An option to assess existing skills and techniques
Ability to try different pricing methods and check how customers react to them
A great option to experiment with different culinary ideas
Small losses if the concept is unsuccessful
Reduced start-up costs due to lower overhead and labor expenses.
What are the disadvantages of opening a pop-up restaurant
Working with limited resources and/or equipment,
Lack of possibility to determine food and labor costs
Working in unfamiliar locations.
Since you are "popping up," it is a continuous problem to have repeat customers
You need to focus on marketing efforts (eg. social media, community building) to attract customers.
Looking for ways on how to start a pop-up restaurant? Here are a few steps that'll help you get in the game.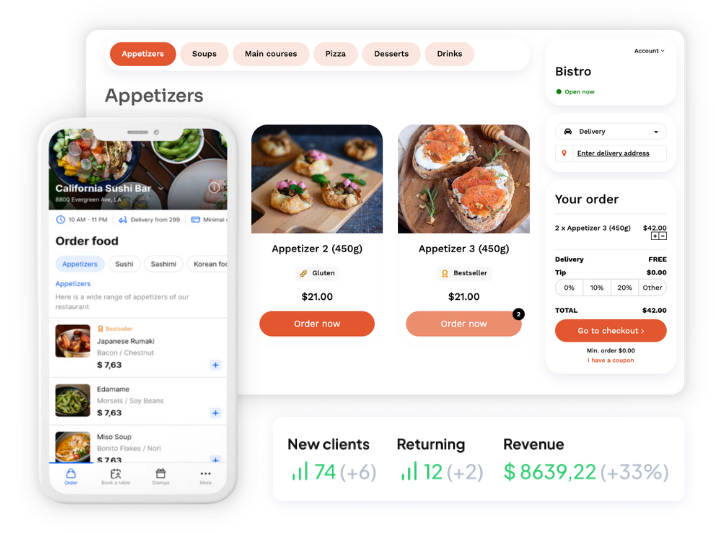 Start selling food online
Set up commission-free ordering for your restaurant's website in minutes. Boost revenue while saving on third-party fees
Step 1. Select a pop-up restaurant concept
To begin with, you need to select a pop-up restaurant concept you are interested in. Then, consider focusing on one menu item (eg. burgers) or a specific cuisine (such as Italian food).
As you brainstorm ideas, it's essential to research the competition and identify the potential to differentiate your concept from the existing ones. For example, a given cuisine type might be missing in your area, or there a new restaurant trend on the market that hasn't been tried in your area.
Write down all ideas that come to your mind, and look at the competition and trends so that you can create a successful pop-up restaurant concept that will cause enthusiasm among your potential customers. This is an excellent opportunity to build something unique and create a permanent restaurant in the future.
What are pop-up restaurant types?
The most common pop-up restaurant types are:
Collaborative Pop-Ups:

A chance for culinary artists to unite and create something unique.

Food Truck Pop-Ups:

A mobile culinary experience that will take your taste buds on a journey.

Art Installation Pop-Ups:

A feast for the senses that combines stunning visual art with delicious culinary creations.

Rooftop Pop-Ups:

A high-altitude dining experience with breathtaking views and exquisite cuisine.

Charity Pop-Ups:

A way to enjoy delicious food while making a difference in your community.
Pop-up restaurant concept examples
Here are a few examples of successful pop-up restaurants run by young professionals that are making waves in the food industry:
Where can I find information about pop-up events?
You can check the following websites for pop-up events details:
Step 2. Develop a business plan for your pop-up restaurant
Once you decide on your pop-up restaurant concept, the next step in starting any business is creating a business plan. It is a document covering the idea, vision, mission, market analysis, financial projections, etc. You can check our guide on writing a
restaurant business plan
and check a restaurant business plan sample.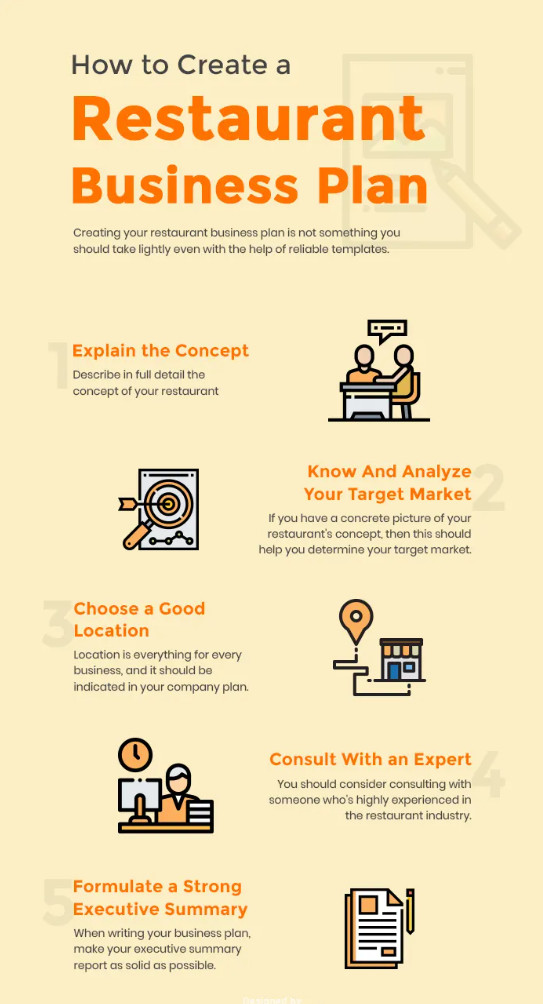 Step 3. Determine the location for your pop-up restaurant
Unlike traditional restaurants, there are no limits regarding choosing a pop-up location. It is possible to use the kitchen of an existing food business when it is closed. You can also start your pop-up restaurant in various non-traditional spaces, for example:
On a city rooftop
In a retail space that is temporarily vacant
In a park
In a warehouse
In an art gallery
Within an apartment complex
What should I consider while choosing a location for my pop up restaurant?
Check these factors while choosing a pop-up restaurant location:
Your restaurant style – depending on your pop-up restaurant concepts, you are going to serve different customer types
Possibility to open a pop-up restaurant in a given location – check if there are any law restrictions about it
Accessibility – is it easy to get to the chosen location? Is there any public transport? Is there any parking?
Consider your target market – who is your target customer? Who are you planning to serve food to?
Expenses – what is the rent cost? Will your projected sales cover all rent and utility costs?
Step 4. Research the legal requirements, licenses, and permits for your pop-up restaurant
Once you choose a location, you must research the legal requirements in a chosen area. Unlike a traditional restaurant, opening a restaurant with a temporary location, requires you to obtain special permits and licenses. The specific licenses and permits required will depend on the type of pop-up concept you have and where it will be located.
The necessary permits and licenses may vary depending on the state. So make sure to check your local requirements before starting a pop-up restaurant.
You can also check information on Get local assistance.
Examples of permits and licenses needed for opening a pop-up restaurant
Business license
Employee identification number
Food service license
Building health permit
Employee health permit
Seller's permit
Resale permit
Sign permit
Liquor license
Music license
Dumpster placement permit
Another aspect apart from obtaining restaurant licenses and permits is complying with tax and employer regulations that differ by state. Remember to:
Obtain the required tax paperwork either by handling it in-house or through the assistance of a third-party tax professional.
File for your DBA (Doing Business As), which is your unique trade name if applicable.
Obtain an EIN (Employer Identification Number) if you plan to hire employees.
Step 5. Develop a marketing strategy for your pop-up restaurant
Start with creating your pop-up restaurant marketing plan. You can check our list of restaurant marketing strategies if you are looking for inspiration.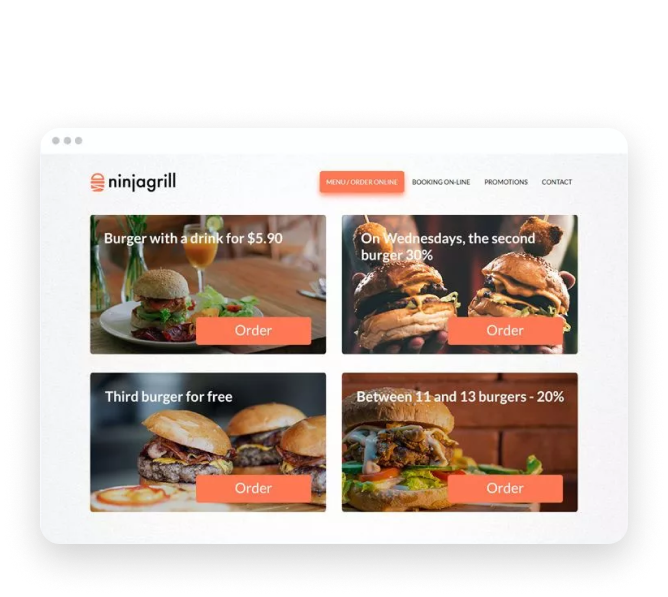 Restaurant Marketing Tools
Market your restaurant with ease
Increase orders by 70% using our all-in-one restaurant marketing tools, no expertise required.
Your pop-up restaurant offer and your target market will influence your branding, which concerns your:
Logo and color scheme
Decor and ambiance
Restaurant website,
Menu design,
Social media,
Plating,
Uniforms,
Packaging
How can I promote my pop-up restaurant online?
Show your daily specials on your restaurant website
Promote your special discounts and promotions on your social media channels
Enable ordering for the future on your restaurant website
Consider implementing tableside ordering to improve table turnover
Step 6. Determine sales projections and operating expenses for your pop-up restaurant to secure financing for your business
As we mentioned in Step 2, a part of a pop-up restaurant business plan is preparing the financial analysis and projections. Thanks to that, you can evaluate your restaurant's future income and the average restaurant profit margin.
The cost of opening a pop-up restaurant depends on factors such as
Pop-up restaurant location,
Restaurant concept
Menu
duration of the operation.
How much does it cost to open a pop-up?
Below, you can check the average costs of different fees, expenses, and operating costs that influence the total cost of opening a pop-up restaurant.
Rent – The restaurant costs of renting a space for a pop-up business can range from $500 to $5,000 per month, according to Finmdelslab.
Kitchen equipment and supplies – According to Finmdelslab, the cost of equipment and supplies such as cooking utensils, plates, glasses, a deep fryer, and ovens can range from $1,000 to $5,000, depending on the size of the operation and the supplies needed.
Permits and licenses – Obtaining permits and licenses for a pop-up restaurant can be costly, depending on the location, federal regulations, and type of operation, and can range from $500 to $2,000. (source: Entrepreneur)
Marketing costs – According to Finmdelslab, the cost of marketing and on social media accounts can range from $500 to $2,000, depending on the methods used, the social media presence you're looking for, and the size of the target audience.
Ingredients – The average cost of ingredients and overall food costs vary depending on the business menu and sourcing, but it typically accounts for around 30% to 40% of the total cost. (source: Finmdelslab)
Permits and licenses: new concepts like pop-up restaurants require special licenses and permits, which vary in price, depending on location and state.
To open a pop-up restaurant, you need to secure financing. It's great if you have your savings. If not, you can check our ideas about how to open a restaurant with no money and learn how to raise money for your business.
Step 7. Create a menu for your pop-up restaurant
Start creating your pop-up restaurant menu based on your unique concept. Write down all menu ideas that come to your mind, and think if you want to offer a full food menu or, for example, daily specials. Remember that your menu is a crucial factor that will influence your customer's decision if they want to visit your restaurant or not.
Check our guide on how to make a menu step by step. Don't forget about menu engineering to build a profitable menu for your restaurant. Remember to create both online and offline menus. To build an online restaurant menu, you can use ready-to-use templates for menus.
What is the disadvantage of pop-up menus?
There are several disadvantages of a pop-up menu, which include:
Limited menu offerings due to the limited kitchen space or resources.
Limited equipment and resources may directly limit menu offerings of a pop restaurant.
Difficulty in building a loyal customer base as restaurants are often temporary.
Establishing a new location for each event takes time and requires effort.
Managing food and labor expenses can pose a challenge for pop-up restaurants due to their short-term nature and the constraints of limited resources
Step 8. Choose a supplier of ingredients for your pop-up restaurant inventory
Once you have created a menu for your pop-up restaurant, you must choose suppliers of ingredients necessary to prepare your dishes. There are various inventory suppliers to select from, such as local suppliers, grocery stores, and warehouses. Each choice has its benefits and drawbacks, and it is crucial to carefully evaluate which option would be most suitable for your pop-up restaurant.
Numerous wholesale platforms in the food industry can be utilized for inventory sourcing. Additionally, depending on your location, you can find a variety of local retailers that offer the products you need.
Step 9. Create your pop-up restaurant website
The next step is creating a pop-up restaurant website. For that purpose, you can either hire a professional or use a restaurant website builder. Having a website for your restaurant is essential, so don't hesitate to check our guide on how to create a restaurant website.
Step 10. Choose an online ordering system for your pop-up restaurant
While running a pop-up restaurant, you can also offer online ordering for your customers. You can use a food ordering system with a flat monthly fee instead of using a third-party online platform, which has high commissions.
If you are wondering which online ordering system to choose, check our comparison of the 10 best restaurant online ordering systems.
Here is a guide on how to set up online ordering system.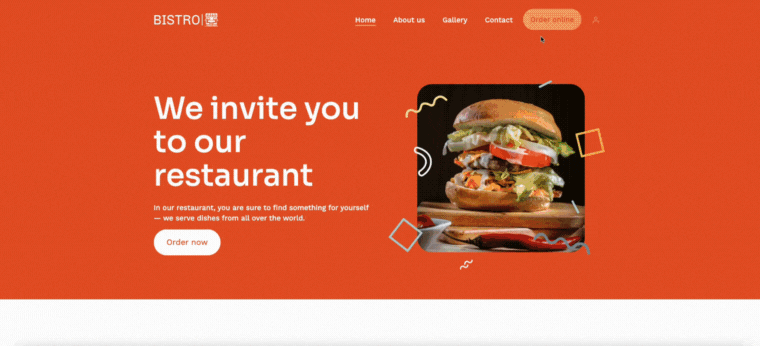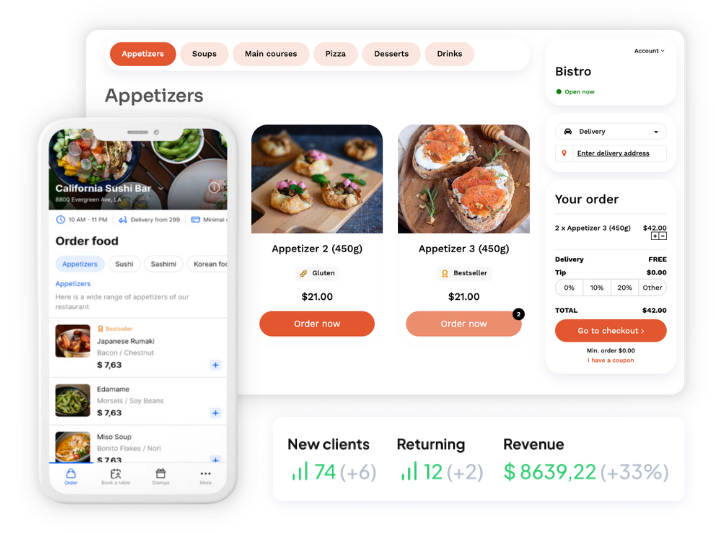 Start selling food online
Set up commission-free ordering for your restaurant's website in minutes. Boost revenue while saving on third-party fees
Step 11. Don't forget about the design and atmosphere
While creating your restaurant concept, remember to think about your pop-up restaurant design and atmosphere. What colors will you use? What style would match your restaurant menu?
If you are going to work in an existing restaurant, you won't have too much possibility to customize its interior. Contrary, in the untypical location, you will have the option to decorate it from scratch.
Step 12. Recruit and hire a pop-up restaurant team
Recruiting and hiring dependable, capable employees is crucial. Proactively searching for suitable candidates can establish a strong foundation for training, retaining, and cultivating an exceptional team. In addition, many owners may already have an existing network to tap into for hiring qualified waiters, managers, and assistant chefs.
When trying to build a team you can:
Check industry-specific Facebook groups
Ask your friends and colleagues
Check on the job sites like Culinary Agents
Step 13. Open your pop-up restaurant
The final step is opening your pop-up restaurant. You followed all steps, and you are ready for this adventure. We keep our fingers crossed for your success. Over time, your pop-up restaurant may turn into a permanent location. Feel free to test different concepts, and experiment with the menu. Find your way and make your dream come true!
Key Takeaways
Start with a pop-up restaurant concept. Think about different options, and don't be afraid to experiment.
Remember that a solid restaurant business plan is a must.
Choosing the location is crucial. Don't forget about the costs associated with starting a pop-up restaurant.
The necessary permits and licenses may be different depending on the state. Make sure you comply with all legal requirements.
Promoting your pop-up restaurant is crucial. Focus on creating your restaurant marketing plan and include promotion ideas to make a buzz about your restaurant.
Create a restaurant website with an online ordering system.
Frequently Asked Questions (FAQ)