The line between a successful restaurant's grand opening and an unsuccessful one can be really thin. A flop can have long-lasting consequences that can hinder your restaurant's reputation for a long time. On the other hand, a well-planned and executed grand opening of your restaurant can be a big marketing win, winning you numerous repeat customers on day one.
How to Ensure to Have a Successful Restaurant Grand Opening?
Before we get into 14 grand opening ideas for your restaurant, let's take a tiny step back and make sure you've checked all the boxes necessary to successfully execute each idea.
Follow these steps to ensure a seamless restaurant grand opening
Planning: Start planning your grand opening well in advance. This should include deciding on the type of event, setting the budget, identifying the target audience, and setting the date and time.
Choose the date carefully: Make sure your big event is not due on the same day as other local events.
Marketing and promotion: Use a mix of traditional and digital marketing methods to create buzz around your opening. This might include press releases, social media posts, email marketing, and local collaborations. Consider creating a unique hashtag for your event to encourage user-generated content and engagement.
Staff training: Make sure your staff is well-trained and ready to deliver excellent service. A grand opening is a first impression, so it's essential that your team makes it a great one.
Menu testing: Ensure your menu is well-tested and perfected before the grand opening. Feedback from taste tests can help you tweak your dishes to perfection.
Creating a unique experience: What sets you apart from other restaurants? Whether it's a unique menu item, exceptional service, or a standout interior design, make sure there's something that makes your restaurant special.
Follow-up: After the grand opening, follow up with guests through email or social media to thank them for attending, ask for reviews, and invite them back.
Remember, a grand opening is set not just to attract a large crowd on the opening day but to build a customer base that will keep coming back long after the event.
14 Best Restaurant Grand Opening Event Ideas
Every restaurant business is unique. The grand opening that might have worked for someone else does not necessarily have to work for you. Check in with your restaurant marketing plan and make sure the grand opening idea of your choice is in line with your target market.
1. Offer Discount Deals to First Customers to Maximize Footfall
Twenty, Fifty, or perhaps a hundred customers? Offer the first customers a special discount deal. This is a foolproof way of enticing customers to join you for your big grand opening day. If your budget allows it, offer a special discount for everyone who comes along for your big day.
Restaurant grand opening special deal ideas
Early bird freebies: Offer free welcome drinks or appetizers to the first set of customers that arrive on your grand opening day.
Exclusive discount card: Hand out discount cards to the first batch of customers that they can use on their next visit. This not only rewards early visitors but encourages them to return.
Percentage Off: Give the first 50 or 100 customers a certain percentage off their total bill.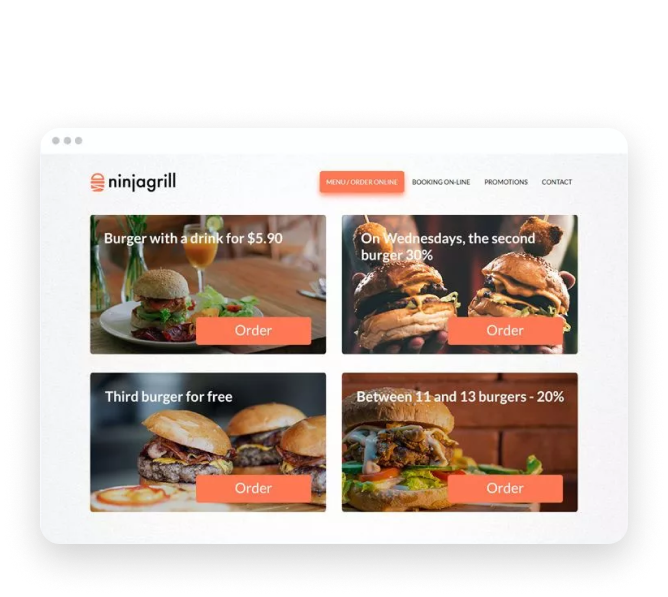 Conduct effective marketing
from one place
Run targeted promotions and increase revenue with restaurant marketing.
2. Retain Your Customers With a Restaurant Loyalty Program
The main goal of a grand opening is not to make a one-time statement. The whole idea is to make a lasting impression on as many people as you can and get them to keep coming back. One of the best ways to ensure this happens is by getting them onto your restaurant loyalty program. Offer special deals for returning customers that join you on your restaurant's grand opening to keep them coming back!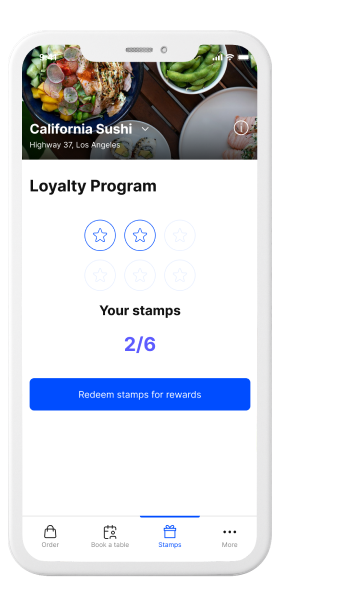 Customers who join the loyalty program often return and spend more
Get up and running quickly with our easy-to-implement loyalty program.
3. Set Up a Grand Opening Party to Generate Buzz
Hosting a grand opening party for your restaurant is an exciting way to generate buzz, attract potential customers, and establish your presence in the local community. It's an opportunity to make a strong first impression, engage with patrons, and gather valuable feedback. If done correctly, it's a launchpad for building lasting relationships and fostering customer loyalty.
4. Involve Social Media Influencers and Gather Their Audiences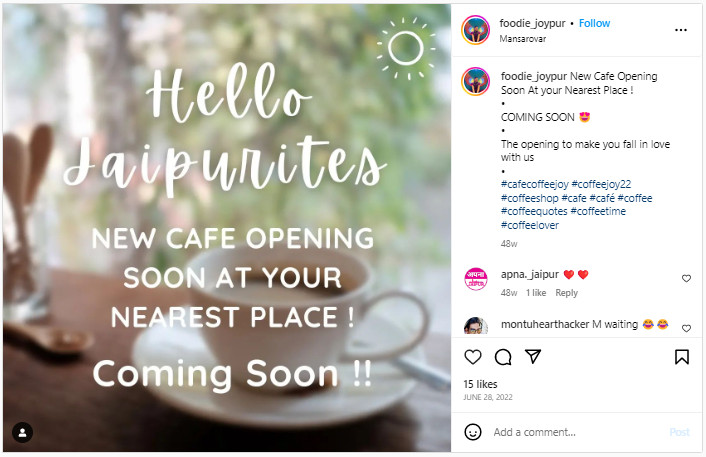 Collaborate with social media influencers and have them join you for your big day. Working with social media influencers comes with a lot of perks. They usually have loyal followers who trust their opinions and suggestions. You can invite influencers to join you on the grand opening day or perhaps contact a couple of them to share your social media post on their profiles for maximum reach.
5. Draw People In by Setting Up a Social Media Contest Before the Big Day
Consider setting up a social media contest before the grand opening event to create some healthy buzz before the whole thing takes off. This is a great way to ensure that people hear about you beforehand. We'd recommend that the prize be on-site rather than virtual. You can have more than one winner and offer a small treat, like a free dessert or coffee, available on-site on the grand opening day.
6. Encourage Customers to Visit With a Buy-One-Get-One-Free Deal
Whether it's free food or an additional drink, a Buy-One-Get-One-Free deal can help you maximize your customer turnout. Big time. It encourages group visits since people often prefer to come with a friend or partner to avail of the deal, making your big day more lively. It also gives more customers a chance to try out your food, increasing the likelihood of receiving valuable feedback and returning visits. Make sure you have a proper restaurant online reservation system in place.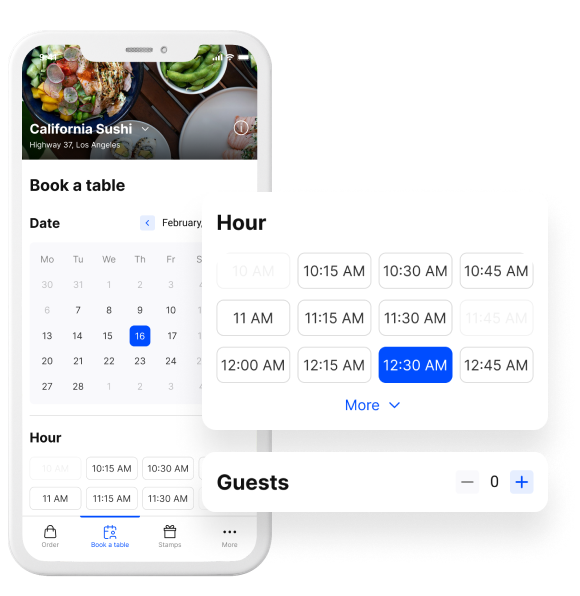 Start table reservation
in your restaurant
More on-site sales and fewer abandoned bookings.
7. Start a "Name Our Signature Dish" Contest to Engage Potential Customers
Set up a fun "Name Our Signature Dish" contest to ensure there's around of buzz around your restaurant before the big day even comes. Here's how it works:
Post an Eye-Catching Image: Post a tempting photo of a yet-unnamed dish or drink that will be one of your restaurant's specialties on your social media platforms.
Ask for Creative Inputs: Ask your followers to come up with an inventive and fitting name for the dish or drink. Encourage them to be creative and tie the name to the theme or concept of your restaurant.
Rules and Prizes: Let them know that the best suggestions will not only have the honor of naming the item, but they will also receive a voucher for a free dessert or coffee when they come in to dine. Mention that there will be multiple winners to encourage participation.
8. Organize a Charity Event to Make a Statement
Most restaurants make the grand opening day all about themselves. By turning your grand opening into a charity event, you can make a strong statement and distinguish yourself from other local businesses. You can start a fundraiser and support it with a limited menu to raise funds for a local charity. Invite friends, set up outdoor seating, and encourage people to join you for a higher cause.
Have local charities share your big event for maximum exposure. Make sure to promote the event on all your marketing channels, including the post-event follow-up thanking attendees for raising money together.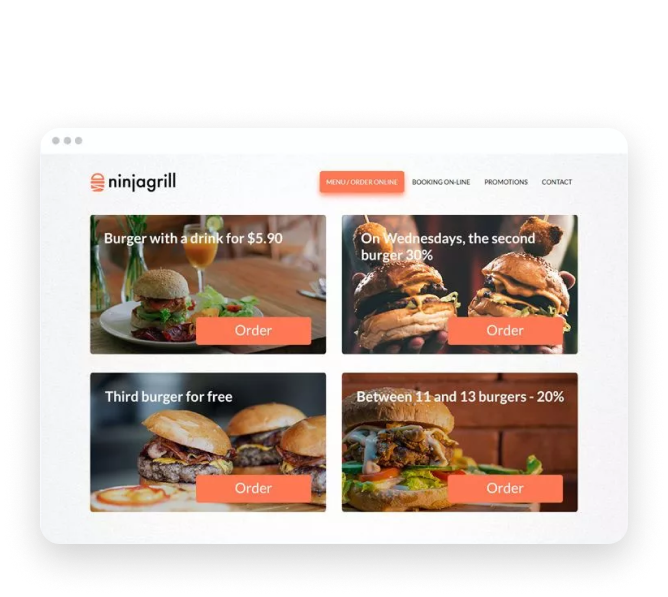 Conduct effective marketing
from one place
Run targeted promotions and increase revenue with restaurant marketing.
9. Organize a Soft Opening to Test the Waters
Organizing a soft opening for your restaurant allows you to test your operations and service in a real-world setting. It's a safe way to identify and rectify any hiccups or issues before the grand opening. It's also a great chance to gather early feedback on your menu, ambiance, and service from a limited audience.
10. Hand Out Discount Cards for Future Visits to Encourage Repeat Business
Hand out gift cards to encourage repeat business and give customers a tangible incentive to come back. This can be particularly valuable in converting first-time visitors into regular patrons. Customers holding discount cards are likely to return at different times, extending the momentum created by your grand opening. Gift cards for restaurants are powerful tools for driving customer loyalty and sustaining business long after the grand opening.
11. Offer Special Happy Hour Deals to Attract After-Work Crowds
Offer special happy hour deals for the people in attendance to keep them coming back. The offer should last anywhere from one week to one month. Decide on the discount you can realistically sustain for a given period of time. Think of it as a marketing instrument rather than a way to increase revenue right away. Focus on providing great service and food and build a strong, loyal customer base.
12. Launch a 'Tag a Friend Giveaway' to Maximize Your Reach
Set up a Tag-a-Friend Giveaway to promote your grand opening in advance. Encourage your followers to tag a friend in the comments of your post. Both the commenter and the friend tagged could win a prize, like a free meal or gift card.
The giveaway encourages social media activity and increases the visibility of your restaurant's grand opening event to a wider audience beyond your immediate followers. Each tag is a personal endorsement, which is more likely to generate interest. The prospect of winning a prize adds an element of excitement and fun around your event, enhancing the overall buzz.
13. Can't Go Wrong With a Ribbon Cutting Ceremony
A ribbon cutting ceremony may not be one of the most unique grand opening ideas, but it sure is a great way to get people's attention and attract customers. If your grand opening budget can sustain it, consider inviting a well-loved local celebrity and getting in touch with local media outlets for a press release. You might also consider inviting other small business owners to cross-promote. They get exposed to a hefty grand opening audience while you get more footfall. It's a win-win.
14. Encourage People to Visit with a Live Entertainment Event
Whether it's a local band, a DJ, or a magician walking around performing tricks, entertainment can turn your opening into an event. Generate excitement and get people talking by organizing a live entertainment event.
Consider sending out grand opening invitations to other local restaurant owners, and make sure to set up social media marketing campaigns to ensure a great grand opening of your new restaurant. Double-check that there are no other local community events on the same day as your grand restaurant opening.
Make sure you promote your big event on all of your marketing channels!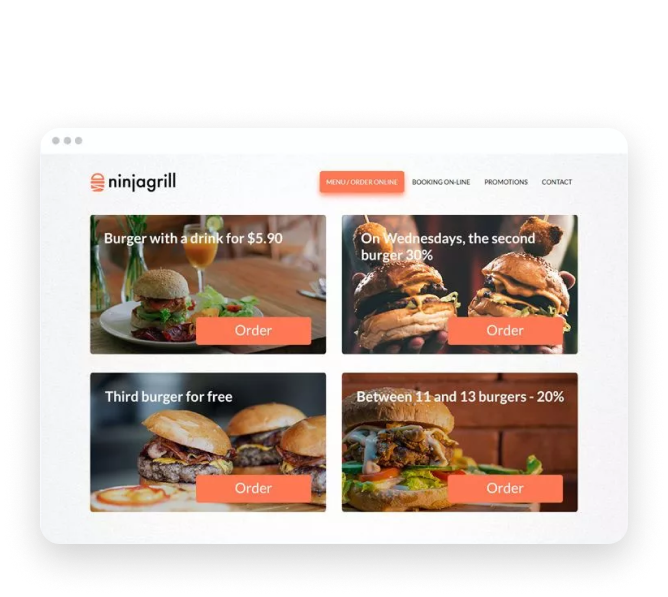 Conduct effective marketing
from one place
Run targeted promotions and increase revenue with restaurant marketing.
Key Takeaways
The primary goal of a restaurant's grand opening is not only to entice new customers to check out your offer but to win as many loyal customers as possible. Make sure to have a restaurant loyalty program already in place before launching your big event.
Carefully go over your budget and spend money wisely in accordance with your business plan. If you can't afford to place ads in the local newspaper, make sure to double down on your social media promotions.
Organize a social media contest before your grand opening to maximize footfall on the big day.
Last but not least, advertise the grand opening through all of your marketing channels and entice customers to register through your restaurant online reservation system.