A restaurant menu is a list of meals and beverages a restaurant offers customers. It usually consists of various options divided into menu categories, including soups, main dishes, desserts, etc., with their prices. This guide will show you how to optimize and personalize your restaurant menu to boost your sales.
What are the menu categories?
Menu categories are the different sections of a restaurant menu that divide menu items into specific groups. Examples of the most common menu categories include:
Appetizers
Entrees
Sides
Desserts
Beverages
Menu categories enable customers to find the dishes they are looking for easily. Moreover, menu categories assist restaurants in arranging their menu items in a structured and sensible manner, ensuring that all dishes are presented coherently and logically. If you are wondering how to make a restaurant menu, check out our helpful guide.
It's also important to note that there can be several menu types, including beverage menus (non-alcoholic beverage menu, wine list, etc.), a dessert menu, and a regular menu. Most restaurants have one or two menus; however, it depends on the restaurant entirely.
What are the 9 categories in a menu?
The number of a restaurant menu categories depends on factors such as:
the type of cuisine
dining style (fine dining, casual dining, fast food, etc.)
target guests
That's why the number of menu categories differs for various restaurants. However, the most common menu categories for most restaurant menus are:
Appetizers or Starters: these are often referred to as "first courses," which are small servings of food items that restaurants typically provide before the main course.
Entrees or Main Course: a main course is often served following the starter or appetizer. It is the meal's focal point and typically has larger portions than the appetizers. The main course is usually a dish that is high in protein (such as red meat, fish, poultry, or vegetarian options), and it could also include a variety of side dishes, sauces, or garnishes.
Side Dishes: extra food items that are typically served with a main course. They add variation to specific dishes and help to improve their flavors and textures. By providing depth and balance to the meal, sides can enhance the eating experience.
Salads: common food category because of their variety of tasty and fresh ingredients that can often be mixed and matched. Usually composed of leafy greens, they frequently function as appetizers, sides, or even main dishes.
Soups: common type of food because they provide hearty and tasty options to start a meal or make a light main course.
Sandwiches and Wraps: popular menu items in many restaurants, offering a convenient and versatile option for a satisfying meal. Most wraps and sandwiches contain bread, protein, vegetables, and condiments.
Desserts: sweet and indulgent dishes which are enjoyed as a final course or a standalone treat. It typically includes a selection of desserts that cater to different preferences and dietary needs.
Beverages: this list usually includes alcoholic and non-alcoholic beverages (soft drinks, iced tea, fruit juices, coffee, and water).
Specials: dishes that are not part of the "prix fixe menu", (static menu) and usually belong in a new category available for a limited time or on specific days, such as daily specials. These dishes can vary depending on the restaurant's concept, culinary style, seasonal ingredients' availability, and often their own "du jour menus" (temporary menus).
Helpful resources to help you create the right menu categories:
What are the benefits of optimizing menu categories?
There are several benefits of optimizing menu categories, including:
Improved sales: according to a study by the Cornell University School of Hotel Administration, strategically grouping menu items can increase sales by up to 27%.
Better customer satisfaction: a restaurant menu divided into categories can increase customer satisfaction. Technomic conducted a survey and it turned out that 80% of customers prefer menus that are easy to navigate, and 70% prefer visually appealing menus.
Reduced food waste: menu categories can be crucial in reducing food waste by offering a structured menu planning and ordering approach. By categorizing menu items into specific sections, such as appetizers, mains, and desserts, it becomes easier to control portion sizes. By offering daily specials or du jour menus, restaurants can create dishes using abundant ingredients or nearing their freshness peak.
Better menu pricing: menu categories help differentiate dishes, such as appetizers, mains, or desserts. Each category usually has different cost structures, ingredient requirements, and values. By categorizing dishes, you can set different price ranges for each category based on their complexity and ingredients.
Improved staff efficiency: categories in cycle menus and prix fixe menus help organize the kitchen workflow by grouping similar dishes. This allows kitchen staff to streamline food prep, efficiently manage ingredients, and optimize their work. Staff members can focus on specific food categories, ensuring they are well-versed in the food prep and requirements associated with those dishes.
How to display a restaurant menu
There are several ways to display your restaurant menu. We can distinguish the following:
Traditional paper menus: an à la carte and a table d'hote menu are two examples of everyday paper menus most restaurants offer. They're easy to read, are at hand, and are often the same year-round.
Digital Menu: digital menus are often found in fast food restaurants or franchises, have an easy menu setup process, and are often created with the help of a digital menu builder. Digital menus are also usually available on a restaurant's website or digital displays, making ordering quick and easy for clients.
QR Code Menu: this type of menu is usually available at each table and requires diners to scan the QR code menu to place their food orders. This option makes it convenient for both staff and clients, as there's no need for paper menus, and clients can order directly from their phones once they've scanned the code.
Menu Board: menu boards are great for presenting your dishes in a fun and creative way by including pictures or drawings, and they are easy to add items to. However, menu boards, such as fine dining establishments, don't suit all restaurant types.
Table Tent Cards: these are small, freestanding cards or signs placed on tables or in restaurants, cafes, bars, or other food service establishments. They are typically made of sturdy plastic and are folded to create a triangular or tent-like shape.
Chalkboard Menu: as the name suggests, this menu type is displayed on a chalkboard and is a popular and flexible option for restaurants, cafes, and other food establishments. Chalkboard menus are ideal if you have a cycle menu that you regularly update with new prices or menu items, as it's easy to do so.
Menu Apps: these are mobile applications designed to provide users with access to restaurant menus, online ordering, and other related features. These apps offer a convenient way for customers to browse menus and order food from their phones.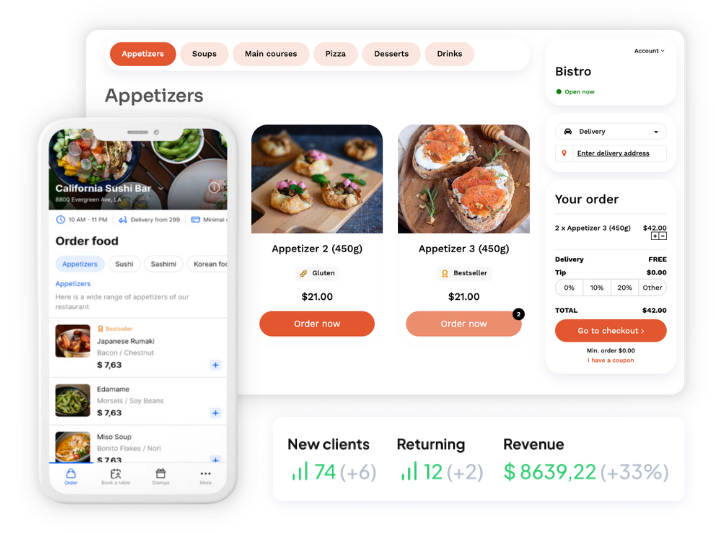 Start selling food online
Set up commission-free ordering for your restaurant's website in minutes. Boost revenue while saving on third-party fees
How to create and customize a restaurant's online menu
You don't need to be a designer or programmer to create your restaurant's online menu. When you register with UpMenu, you can use a restaurant menu maker to design your restaurant's online menu. Thanks to the menu management system, you can customize your menu anytime.
Choose a customizable menu template
There is a wide selection of menu templates to choose from. You can select one and publish it on your restaurant website with a food ordering system.
Add and personalize your restaurant menu categories
Once you choose your menu template, you can go to the 'Menus' tab and add your menu categories. You can personalize them by adding photos and menu category descriptions.
Add menu items to menu categories
Once you add a menu section, you can add menu items to it, by putting names of dishes and their prices. You can also customize menu items by adding menu descriptions and photos.
Customizing your menu items is optional, but we strongly recommend it. To increase your restaurant's sales, check out our food photography tips and how to effectively write menu descriptions.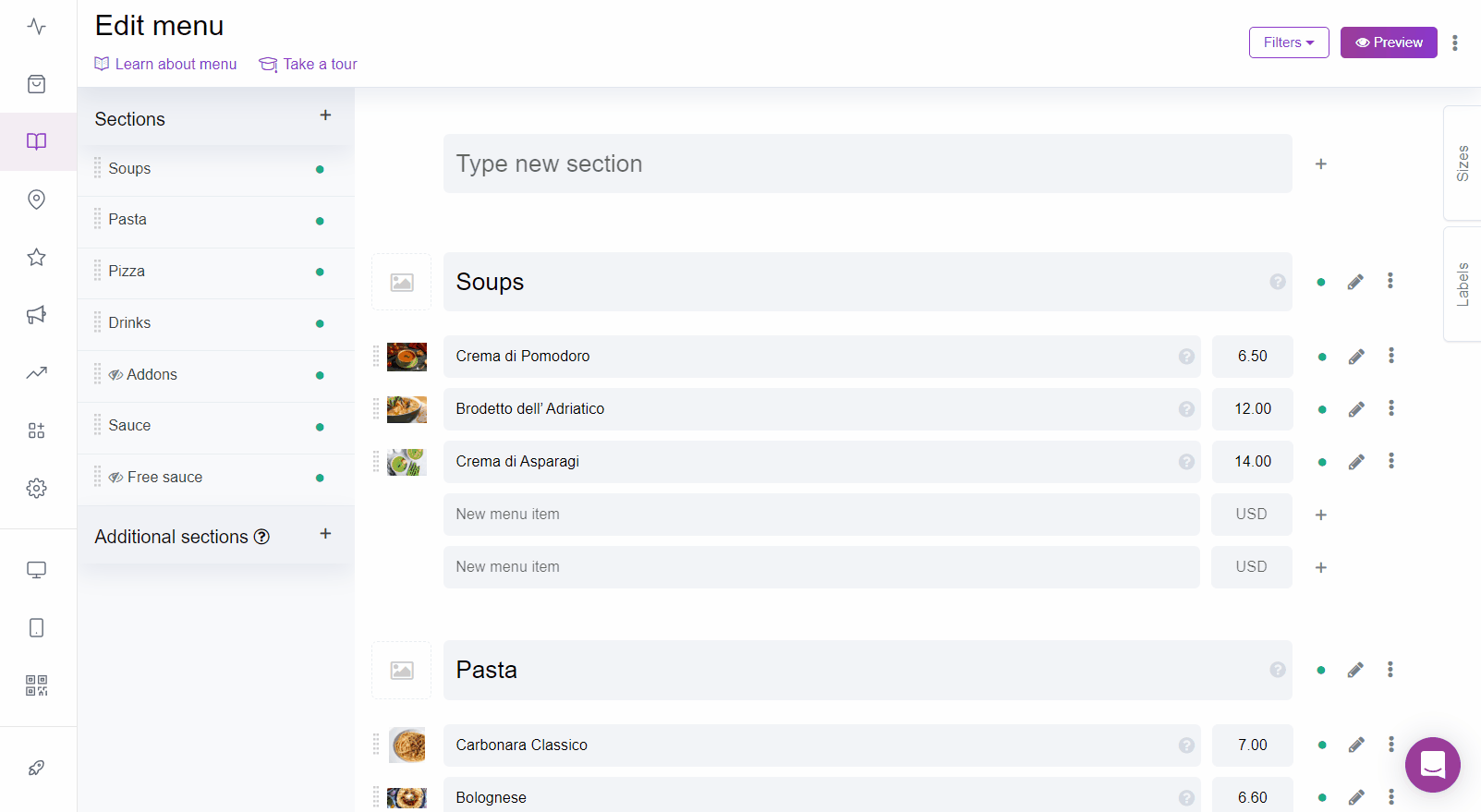 How to personalize your restaurant menu items
As mentioned above, customizing a restaurant menu is not only about personalizing menu categories, but you can also optimize your menu items. Check our tips below.
Tip 1. Add menu item labels
To enhance the visual appeal of your menu, consider adding menu item labels to your restaurant's menu items. It is also helpful to inform your customers about a given dish, for example, if it is a vegan, gluten-free, or vegetarian product. In UpMenu, you can use ready-made menu item labels. You also have the option to create new ones.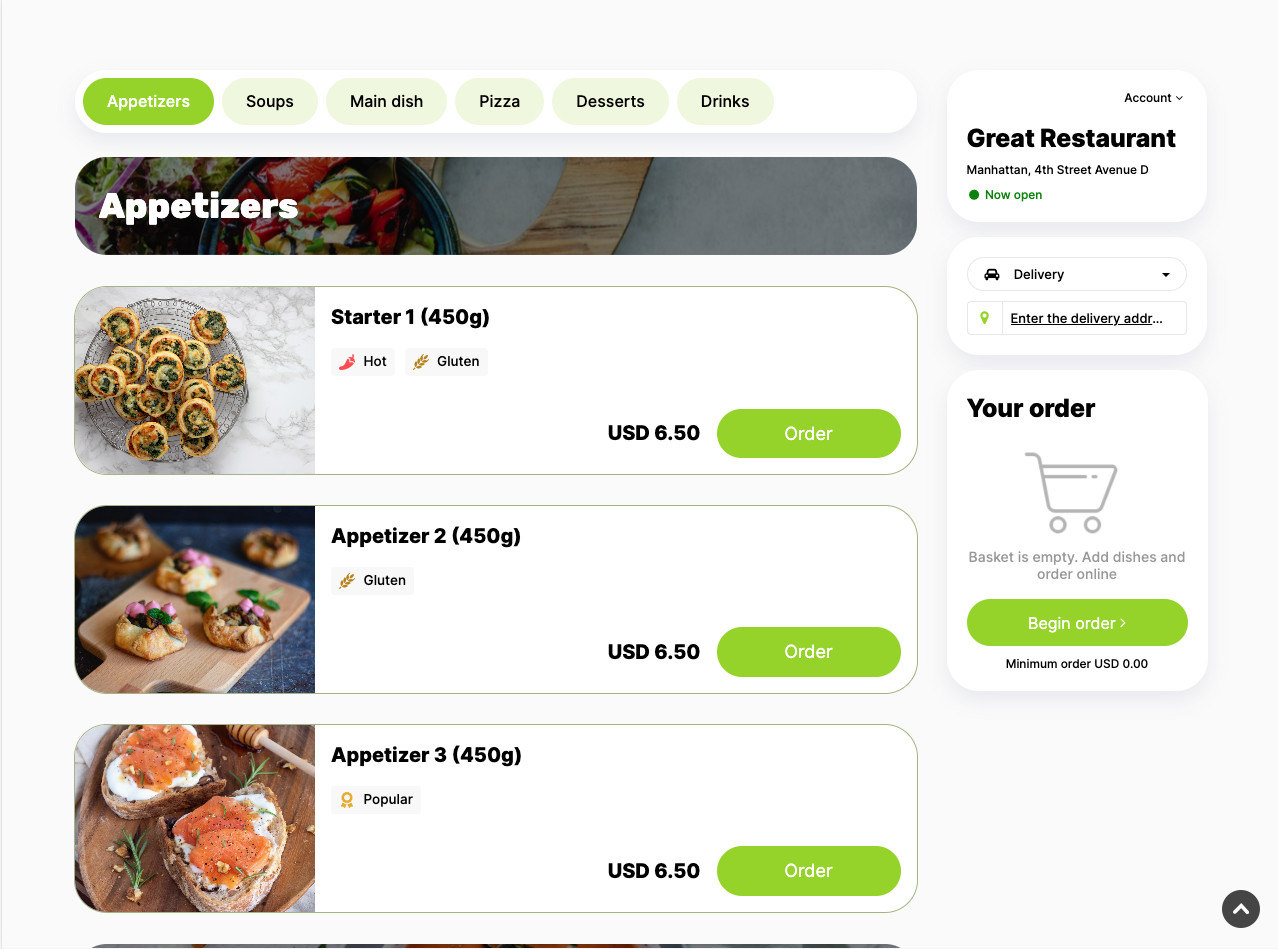 Tip 2. Consider adding different menu sizes
Depending on your restaurant's offer, another option to optimize your restaurant's online menu is adding different menu item sizes. Firstly, you need to create sizes, and once you do this, you assign them to the menu items they refer to.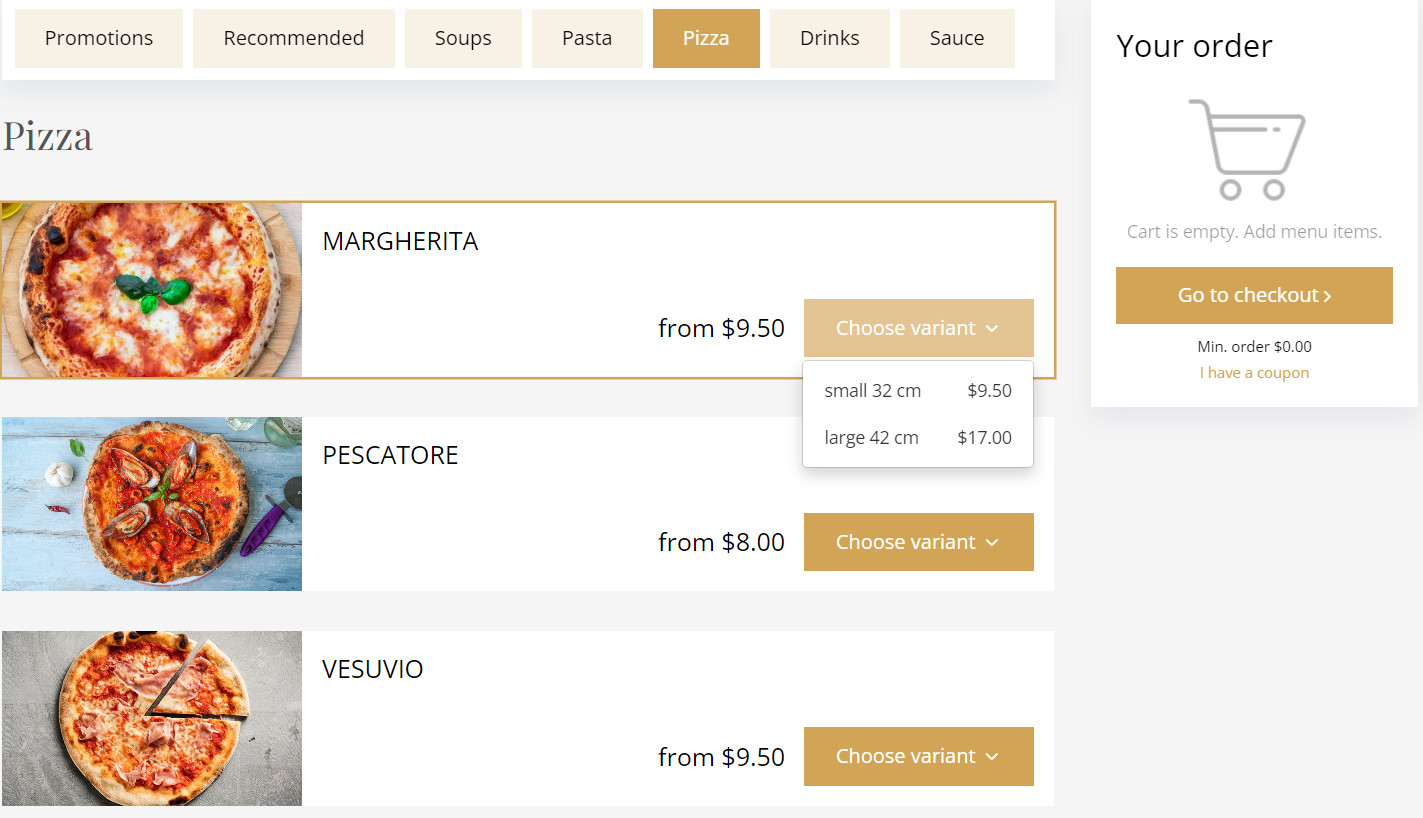 Tip 3. Offer a variety of choices and add-ons
To attract more customers to order online from your restaurant, consider providing your customers with more options for ordering from your restaurant. In UpMenu, you can use an advanced module for managing modifiers to meet your customer's expectations. You can offer different modifiers configurations, for example:
Adding free extras to products
Replacement options for default ingredients
Extras at different prices depending on the size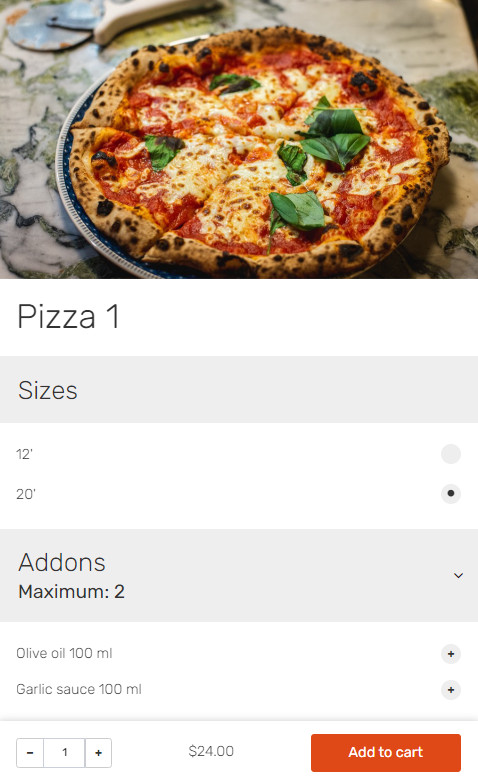 Tip 4. Don't forget about upselling recommendations
You can use upselling recommendations in your restaurant's online menu to increase your restaurant's revenue. For that purpose, you need to set up a modifier as a separate menu item instead of setting it up as an add-on to a given dish.
Tip 5. Set up menu items available for specific days and hours
Make your menu available for specific days and hours to keep it up-to-date. To do this, go to the 'Menus' tab on the side menu in the system and then edit the details of a given menu item. For example, in the advanced settings, you can choose times and dates when a dish is available. You can also hide it outside its availability hours.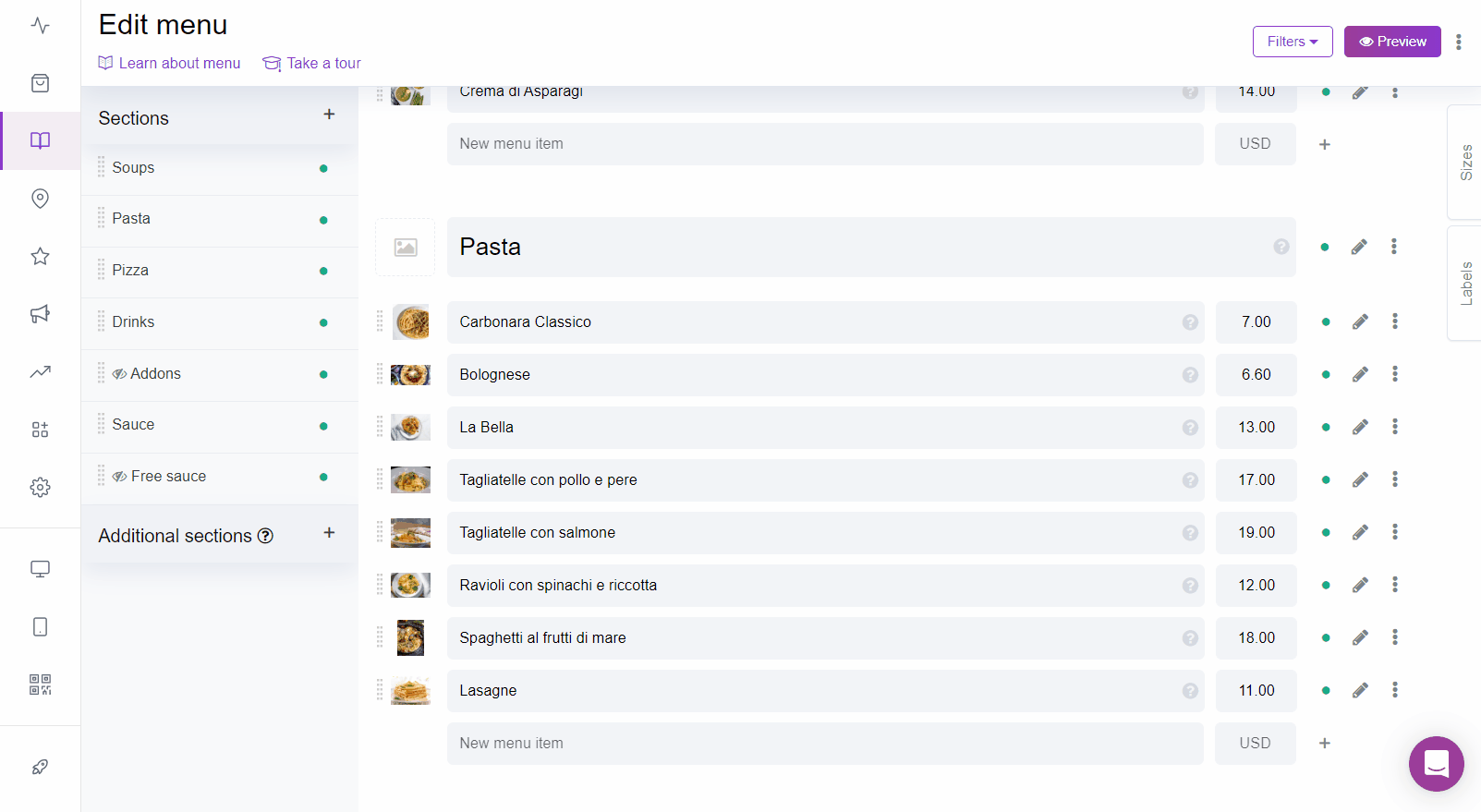 Tip 6. Hide menu items from the menu
When you run out of a menu item or the ingredients necessary to prepare it, you can disable it. Disabled products and/or menu categories will not be displayed on your restaurant's website. In UpMenu, you also have the option to disable the purchase of a menu item visible in the menu.
Tip 7. Enable half of the menu items
To appeal to pizza lovers, enable a "half-order" feature that allows you to sell your products in halves. This option is handy for pizzerias allowing customers to select two halves of a pizza.
Tip 8. Let customers make comments on menu items
In most online ordering systems, customers can comment on the order. In UpMenu, you can also let your customers leave a note on a menu item. It facilitates the ordering process and assists customers in personalizing their orders.
Tip 9. Set up age restrictions if necessary
In UpMenu, you can set up age restrictions on the following:
Menu items
Menu categories
You do this in the menu item or menu category advanced settings. Thanks to that, customers will be asked to confirm their age when they enter a menu. You can hide selected products or whole sections if there is no confirmation.
Tip 10. Manage multiple menus
You can manage many menus from different restaurants if you run a restaurant chain. UpMenu gives you the possibility to:
create one menu for all restaurants with the same pricing
create one menu for all restaurants with different pricing
create different menus for restaurants with different pricing
Tip 11. Enable showing Recommended products
In UpMenu, you can easily recommend chosen products. To do this, you need to go to Order Settings and, in Recommended Products, enable the 'Featured' section next to a given menu item. Thanks to this option, you will create a menu section with Recommended products.
Tip 12. Promote your online menu
To increase your restaurant's sales, use different marketing strategies to promote it. Check our guide on restaurant marketing strategies and choose the ones that best suit your business requirements.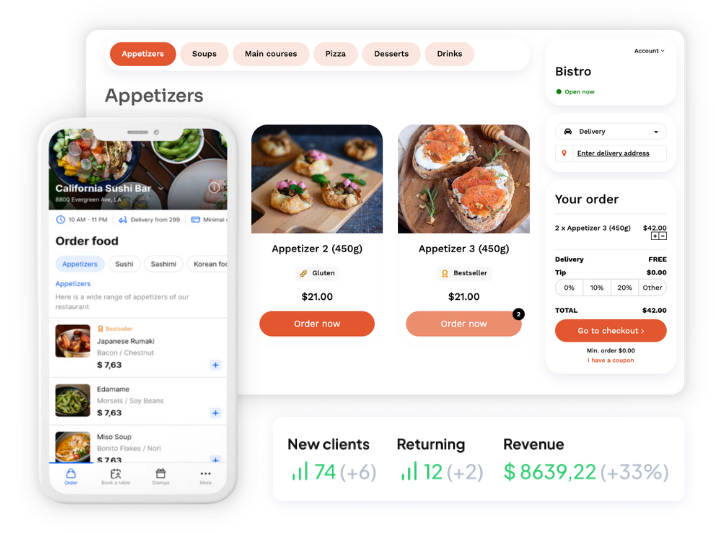 Start selling food online
Set up commission-free ordering for your restaurant's website in minutes. Boost revenue while saving on third-party fees
Key Takeaways
A restaurant menu is a great sales tool. Optimize it and personalize it to boost your restaurant revenue.
The number of menu categories differs depending on a restaurant type, cuisine, and target customers.
Use a menu management system to create and customize your menu.
Choose ready-to-be-used menu templates.
Don't forget about adding photos and menu descriptions.
Offer your customers a selection of choices and configurations of your restaurant menu.
Enable half of the menu items, if you run a pizzeria.
Update your restaurant menu and manage menu items availability regularly.
Promote your restaurant menu using different restaurant marketing ideas.
Frequently Asked Questions (FAQ)
The following are the seven most common types of menus seen in restaurants and other food-related businesses:
A la Carte Menu

: this menu includes individual dishes priced and listed separately, allowing customers to create a unique dining experience.

Fixed-Price Menu:

or a table d'hôte menu, offers a selection of dishes at a predetermined price. For each course, customers can select from a number of combinations.

Daily Specialties Menu:

these frequently-changing menu items are determined by the chef's creativity or the availability of ingredients. These menus are often subject to regular changes in price and dishes.

Cycle Menu

: a cycle menu repeats a set of menus over a defined time period, such as a week or a month. While maintaining efficiency in planning and manufacturing, it offers a range of cuisines.

Tasting Menu

: this menu features a series of bite-sized servings of various foods and is intended to highlight the chef's inventiveness and skill. It offers a culinary journey and frequently showcases the restaurant's specialty or seasonal dishes.

Buffet Menu

: a self-service table or stations are set up with a selection of dishes. Customers can choose from the offered alternatives and serve themselves.

Beverage Menu

: this includes alcoholic and non-alcoholic drinks, cocktails, wine lists, and specialty coffee selections.
There are typically three primary menu sections or categories on a standard menu:
Appetizers or Starters

: these smaller meals are meant to be consumed before the main course and are meant to pique the appetite. Soups, salads, dips, bruschetta, sliders, or cheese platters are all examples.

Main Courses or Entrees

: these are the key dishes that form the focal point of the dining experience and are made up of larger servings and a heavier ratio of proteins, vegetables, grains, and sauces.

Desserts

: the dessert category usually includes delicious cakes, pies, pastries, ice cream, puddings, and fruit-based desserts.
The concept, cuisine, target market, and desired level of menu complexity can all affect how many categories are on a menu. It is generally advised to offer a good variety. However, there is no established guideline for the precise number of categories. Here are some suggestions:
Clarity and Simplicity

: Keeping the menu simple and straightforward is crucial. Customers may need clarification and find it easier to choose if fewer categories exist. Therefore, aim for a simple menu arrangement that highlights the key areas.
Basic Categories

: a menu should typically comprise basic categories, including starters, entrées, and desserts. These groups serve as the basis for a satisfying meal experience.
Stay Focused

: focus on your restaurant when developing your menu. For example, you might have separate categories to emphasize certain specialties, such as a "Fresh Catch" category for a seafood restaurant or a "Gourmet Pizza" category for a pizzeria.
Seasonal or Unique Categories

: include categories that highlight seasonal or unique dishes. These categories can highlight special menu items available only during certain times of the year or when ingredients are in season.