In today's competitive restaurant industry, restaurant owners are constantly on the search for solutions that can speed up processes, reduce the risk of errors and save time. And solutions for creating custom menus for restaurants are no exception. Restaurant menus are what drive sales and increase order value, which puts them at the heart of every restaurant business. To make your menu design process easy, here are 10 of the best menu-making apps that will make your menu take off.
What is a menu-making app?
Menu-making apps are an innovative software solution that provides restaurants with a possibility to create, manage, and design custom menus. Thanks to menu maker apps, restaurants can easily customize their menu layouts, add, edit, and remove menu items, and adjust prices and menu descriptions. Additionally, you're able to insert images to make a digital menu more engaging and attractive to customers, all with just a few taps.
Menu maker apps are available in both web-based and mobile formats and can be used to create both digital and printed menus. Additionally, some menu-making apps offer advanced features such as inventory, recipe management, restaurant marketing tools, graphic design options, and online ordering.
Why do restaurants need menu-making apps?
Time-saving: Menu maker apps simplify the menu design process by giving you professionally designed templates that don't require any design skills or having to hire a graphic designer to prepare them.
Customization: Digital menu making apps offer many customization options and allow restaurant operators to create unique and complete menus that represent their brand.
Efficiency: Menu-making apps increase efficiency, lower the risk of errors, and make it easier for restaurant staff to update and maintain their own menu.
Cost-effectiveness: Apps for making menus can help restaurants reduce printing and menu design expenses while minimizing waste by enabling them to make digital updates to their menus rather than continually printing new ones.
Customer satisfaction: Menu-making apps help restaurants provide customers with a more seamless and enjoyable dining experience. By presenting precise and current menus with elaborate menu descriptions and pictures, customers can make well-informed choices regarding their orders, mitigating the chance of miscommunication or dissatisfaction.
What is a good app to create a menu?
There are a wide range of apps for making menus and menu engineering, but to help you find the right solution for you, we've listed 10 of the best menu-making apps.
UpMenu
Canva
iMenuPro
Adobe Express
MustHaveMenus
Visme
PosterMyWall
Flipsnack
Piktochart
Fotor
Key features comparison matrix
Choosing the optimal menu-making app for your restaurant entails careful deliberation of several factors. To help you make a well-informed decision, we've conducted an in-depth analysis of 10 diverse menu-making apps.
| Feature | UpMenu | Canva | iMenuPro | Adobe Express | MustHaveMenus | Visme | PosterMyWall | Flipsnack | Piktochart | Fotor |
| --- | --- | --- | --- | --- | --- | --- | --- | --- | --- | --- |
| Free trial | | | | | | | | | | |
| Additional costs | No | Yes, premium features cost extra | Yes, custom menu design costs extra | Yes, premium features cost extra | No | No | No | No | No | No |
| Paper menu templates | | | | | | | | | | |
| Online menus | | | | | | | | | | |
| Mobile version | | | | | | | | | | |
| Modifiers management | | | | | | | | | | |
| QR code menu | | | | | | | | | | |
| Marketing tools | | | | | | | | | | |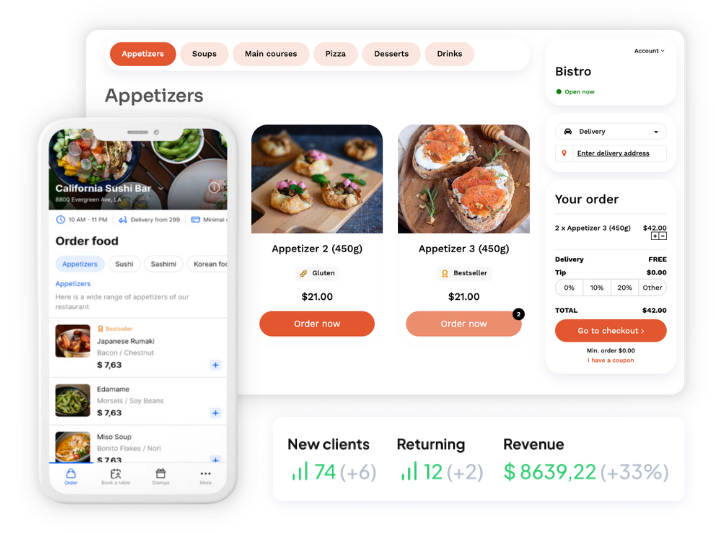 Your own branded online
ordering in 5 minutes
Launch commission-free online ordering on your own website in 5 minutes and grow your revenue, build loyalty and protect margin from third-party aggregators.
Pricing
Upmenu offers subscription-based services.
There are 3 plans to choose from:
Basic – $49

Standard – $89

Premium – $169
2. Canva
Canva offers a variety of visual content and design assets, including social media graphics, presentations, posters, flyers, logos, menu designs, and more. It is accessible to those with little to no design knowledge thanks to its user-friendly interface and large library of pre-designed templates, premium photos, drawings, icons, and fonts, which are included in the free plan.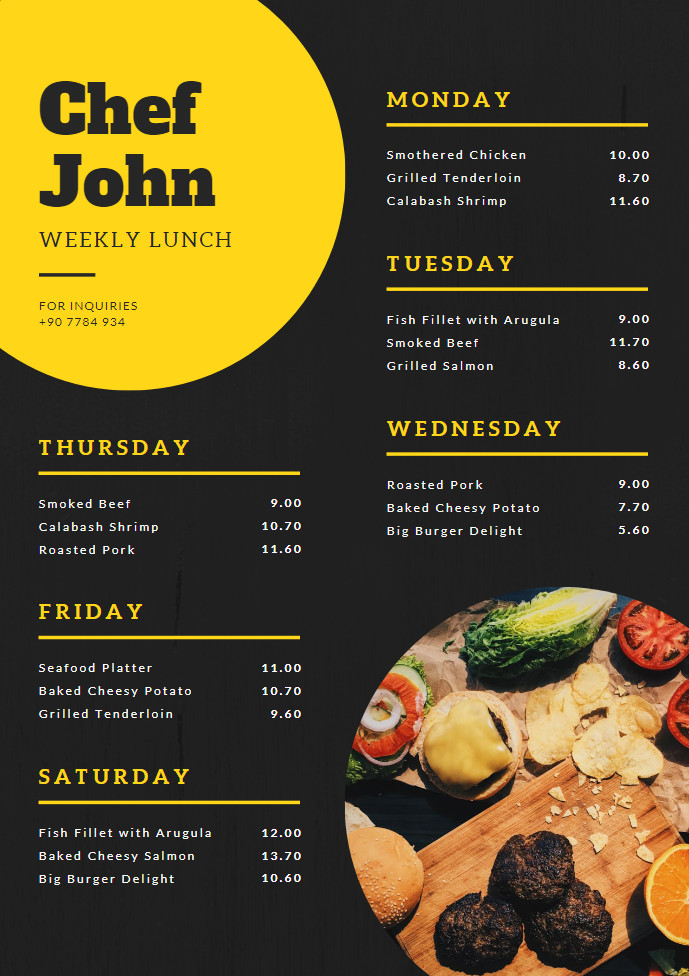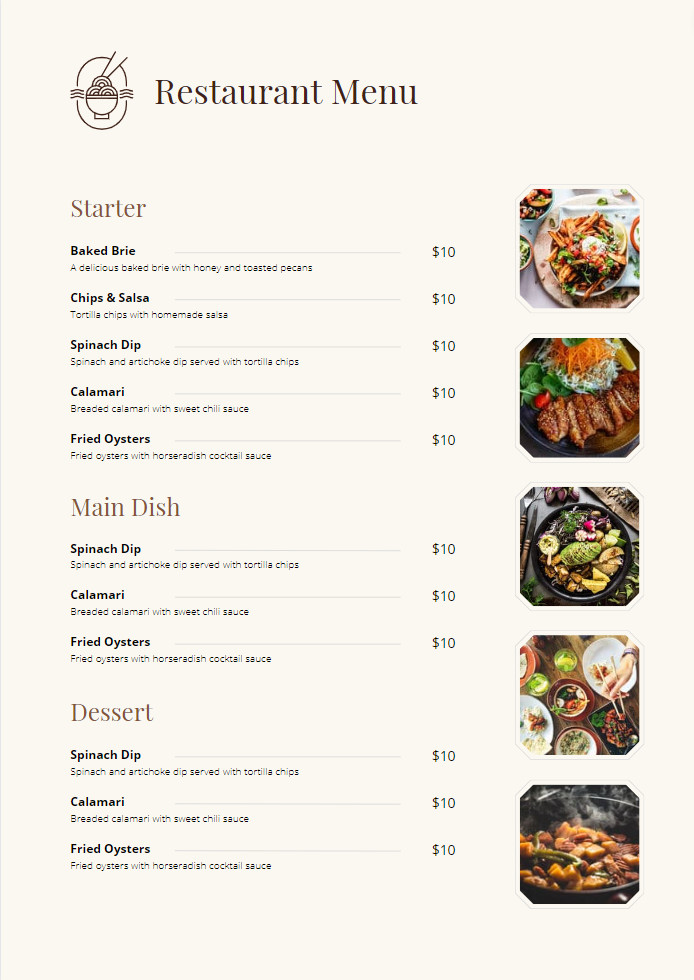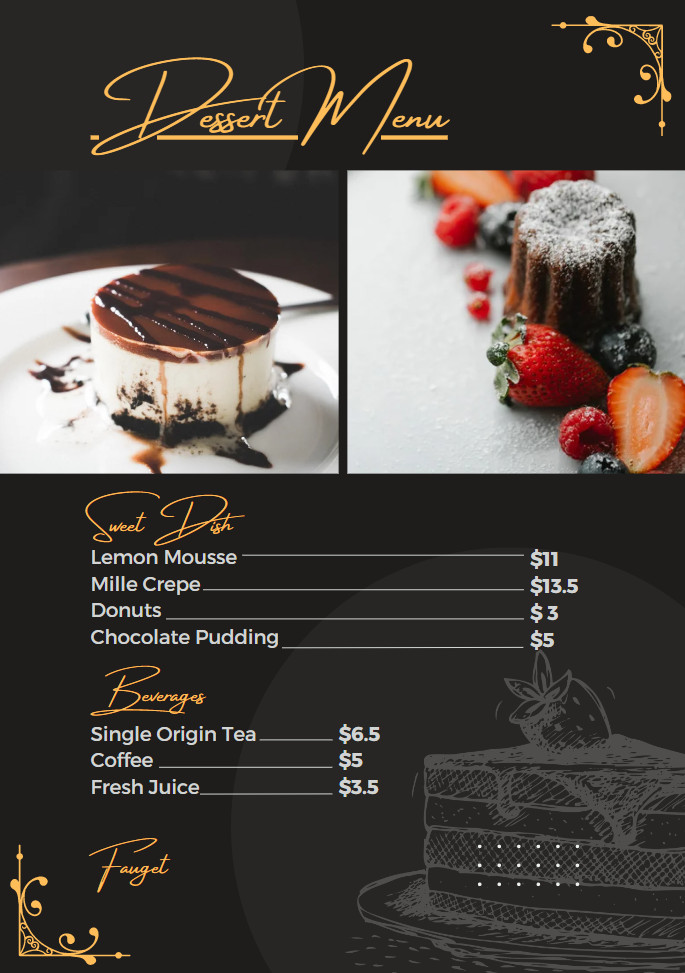 Pricing
You can use Canva for free, but if you want unlimited access to templates, use extra features like one-click background remover, or build your brand, it costs $119.99 per year per person.
3. iMenuPro
iMenuPro is an online menu design and management software that helps foodservice businesses including restaurants, cafes, and bars produce professional menus that are visually appealing. It offers a simple user interface and a number of features that allow you to build, update, and print menus with just a few clicks.
Pricing
The cost of using iMenuPro is $15 per month.
Pricing
The Premium version with all features costs $9.99 per month.
5. MustHaveMenus
MustHaveMenus is a web platform that helps restaurants and other foodservice businesses create and manage their menus. To assist businesses in efficiently showcasing their dishes, it offers configurable free menu templates, design tools, printing services, and a variety of other features.
Pricing
MustHaveMenus Pro version costs $24.92 per month.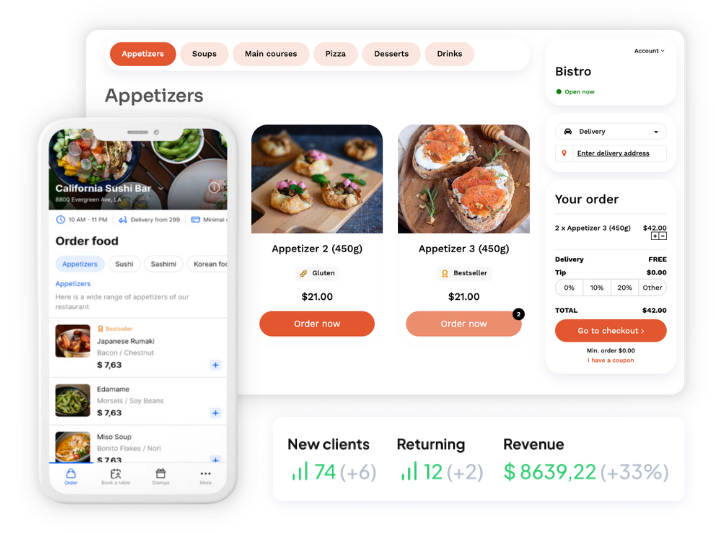 Your own branded online
ordering in 5 minutes
Launch commission-free online ordering on your own website in 5 minutes and grow your revenue, build loyalty and protect margin from third-party aggregators.
6. Visme
Visme is an online tool that allows users to produce a variety of visual information, such as infographics, reports, presentations, social media graphics, and more. It offers an intuitive user interface, a selection of design tools, and templates to assist users and organizations in producing visually appealing and compelling visual content.
Pricing
A starter plan costs $29.00 per month.
7. PosterMyWall
PosterMyWall is a web design tool that allows users to design and personalize a range of visual assets, such as posters, flyers, social media graphics, and more, using the online design tool and marketplace. It offers a user-friendly interface, a variety of design templates, photos, stunning typography, and other creative assets to assist users in producing designs that are aesthetically appealing.
Pricing
The Premium subscription costs $9.95 per month.
8. Flipsnack
Flipsnack is an online tool for internal communication. Users may create, distribute, and publish interactive digital publications like magazines, catalogs, brochures, and flip books using the platform. It offers a user-friendly interface and a number of tools to assist people and businesses in showcasing their material in an interesting and visually appealing way.
9. Piktochart
Piktochart is an online design tool used to create presentations, posters, reports, infographics, and other visual content. It offers a user-friendly interface together with a huge selection of editable design elements, templates, and tools to help people and organizations in efficiently communicating information through eye-catching designs.
Pricing
There is a free online menu maker plan for starters. The Pro plan costs $14 per member per month.
10. Fotor
Fotor is an online application for designing and editing photos that has many capabilities for enhancing and transforming pictures. It offers users a simple user interface and a number of editing tools so they may change the colors, add filters, add effects, and improve their photographs in other ways. Additionally, Fotor provides design templates and publishing capabilities for social media posts, collages, and graphics.
Pricing
There are three subscription plans:
Fotor Basic, which is free

Fotor Pro, which costs $8.99 per month

Fotor Pro+, which costs $19.99 per month
Key Takeaways
Choosing a menu-making app requires a careful analysis of advantages and disadvantages of a given tool.
Always check if there are any additional costs besides the pricing plan
Consider using a tool, which will enable you to create both paper and digital restaurant menus.
Only UpMenu provides you with the option to create an online menu with modifiers management module and comprehensive online ordering system.
Nowadays more and more customers look for a QR code menu. Choose a menu-making app that gives you the option to create it.
Frequently Asked Questions (FAQ)