The concept of ghost kitchens has been growing in popularity lately. With the rise of online food delivery platforms and changing consumer habits, ghost kitchens offer a unique opportunity for entrepreneurs and restaurateurs to expand their businesses and reach new customers.
If you dream of owning a brick-and-mortar restaurant but lack the capital to get moving, ghost kitchens are a good option.
From developing a concept and writing a ghost kitchen business plan to research food law and marketing your business, this guide will help you navigate the process of starting a ghost kitchen and setting yourself up for success.
What is a Ghost Kitchen?
Ghost kitchens, also called dark or cloud kitchens, are food prep facilities that prepare delivery-only meals in a physical restaurant.
These kitchens are like an online-only restaurant, with an in-house team making meals for online orders, which means there's no physical dining room. Instead, a ghost kitchen operates with the staff preparing food from the menus that can only be enjoyed through delivery service.
But a ghost kitchen isn't always a virtual delivery only kitchen. For example, several delivery-only restaurants may share kitchen facilities and spaces to run their business. It can function either as a standalone facility or as part of an existing restaurant brand.
For more information, check out the beginner's guide about ghost kitchens to learn how much to start a ghost kitchen and get into the ghost kitchen game.
Benefits of starting a ghost kitchen:
Adjustable menu

Reduced staff

Low overhead cost

Increasingly convenient

Quick opening times

Flexible

Improved margins

Expanded customer base
With lower overhead and upfront costs, a ghost restaurant can be a perfect way to increase your bottom line and allocate that revenue into your marketing budget to attract customers, help to perfect your delivery strategy, or pilot the new cheese and macaroni-themed menu you want to try. Plus if you're looking to start a restaurant with no money, then this option is perfect for you.
Here is your ghost kitchen checklist with the 12 easy yet effective steps to get into the ghost kitchen market
Step 1: Conduct market research
Market research is critical to a business strategy and success. Not only does it help drive sales, but it also helps maximize budgets and increase brand loyalty.
Before setting up your ghost kitchen, perform comprehensive market research to know your target customers and competition.
Define your market and ideal customer
Starting a business can be challenging, and making sure you perform your market research ahead is crucial to your business's success.
To conduct your market research, you must determine your target customers and understand who your competitors are. This will help you to understand the market and what customers look for.
Key points to target customers and research competition
Determine the demographic of your potential customers

Learn about behavior of a specific group of clients

Find out what your competition doing

Check your competitor's menu and marketing strategies
When you know what kind of customers you're catering to, it becomes much easier to customize your messaging to that specific audience.
Research the market
Understanding the demand for the delivery-only restaurant industry is vital for determining whether this business model will be successful in your area. First, check consumer behaviors and trends to see whether people want their food delivered directly to their doorsteps.
Research your targeted market to see what type of cuisine or food products are in high demand. This will help you choose your food niche and stand out.
Once you know the market, conduct surveys and focus groups, ask potential customers on social media, or use tools such as Google Trends to find out what's in demand within a specific market.
Tools to do market research
: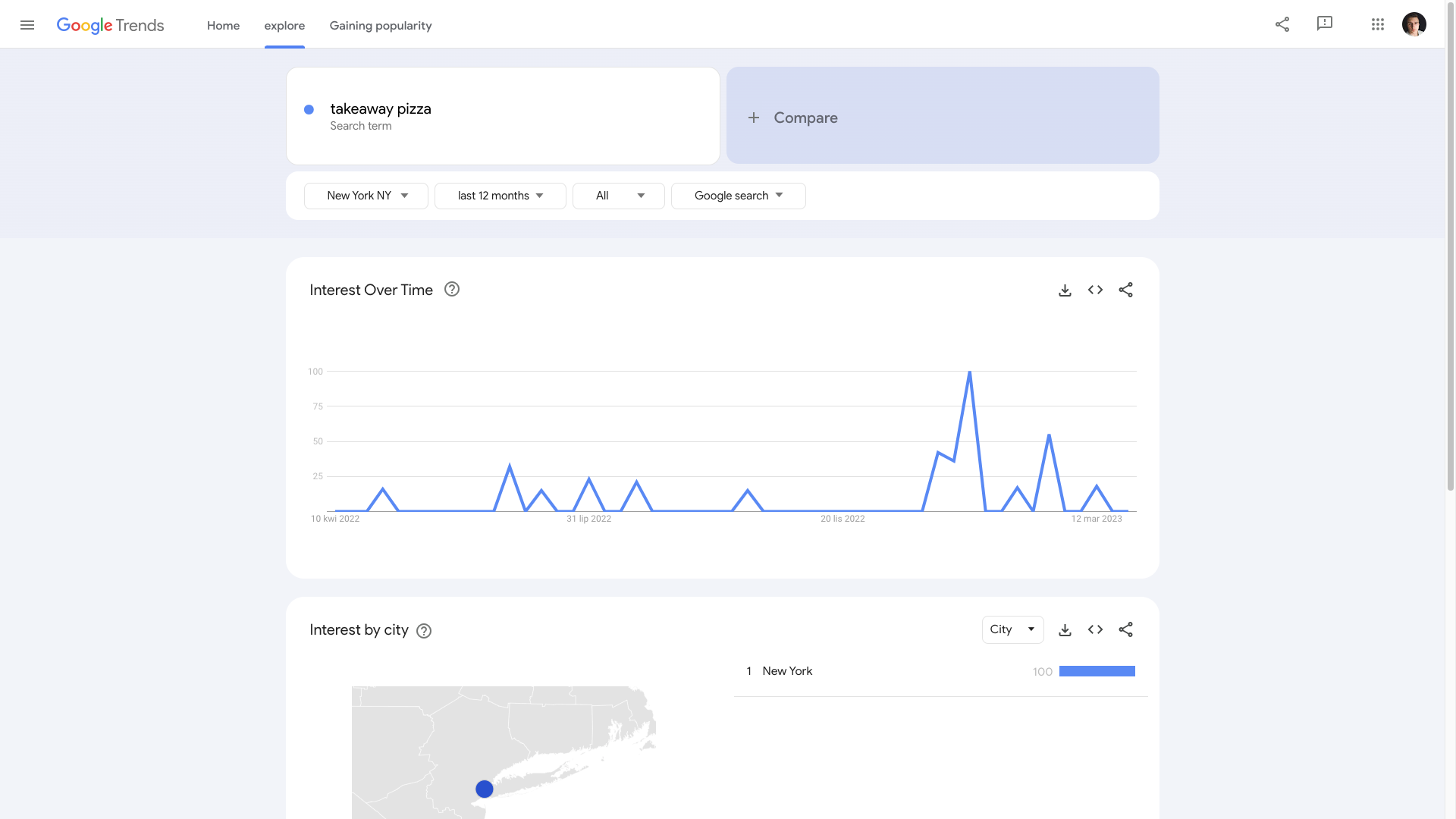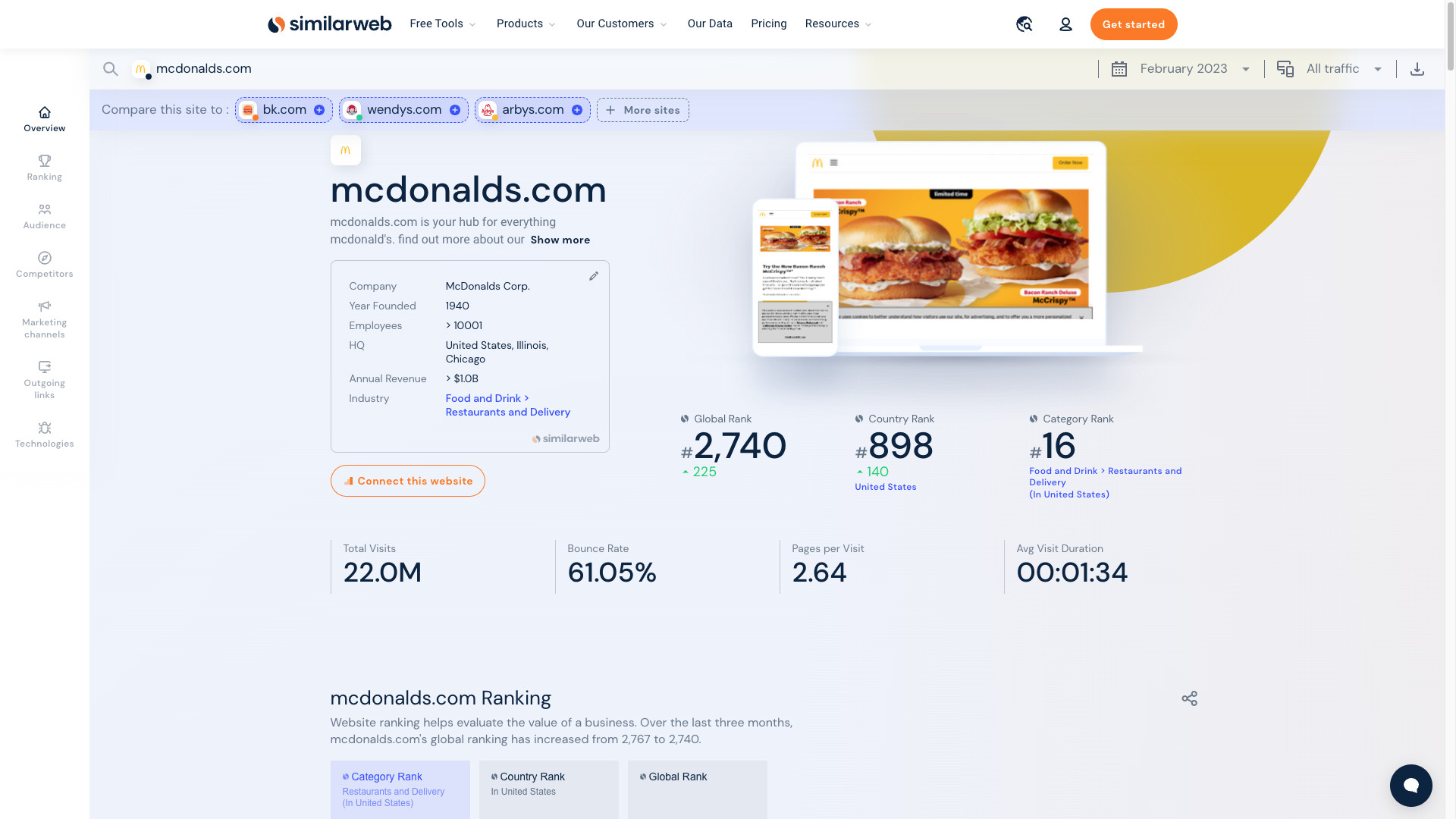 Create a strategy to differentiate your business from others
Once you know the market, competitors, and target customers, develop a unique strategy that differentiates your ghost kitchen brand from others in the market. Start by:
Identifying your target audience:

Understanding your customers will help you tailor your differentiation strategy to their needs and wants.

Analyzing your competitors:

What are your competitors doing? Analyzing your competitors will help you identify gaps in the market and areas where you can differentiate your business.

Defining your unique value proposition:

Your unique value proposition (UVP) sets your business apart. Consider what makes your business unique and valuable to your customers, and use that to craft your UVP.
Review your competitors extensively to figure out what they do and what makes them tick. This will help you create menus that deliver exactly what people want, improving customer service and their overall experience.
Some of the most profitable business strategies are built on differentiation: providing customers with products or services they value that competitors don't have.
Companies that help with starting Ghost Kitchens:
Step 2: Develop a business plan
Whether you're starting a new concept or your ghost kitchen facility is an extension of an established brand, you'll need a solid business plan to run your operations smoothly and efficiently.
Include relevant information about finances, labor, staffing, brand, menus, and more in your ghost kitchen business plan. Banks and investors require this data to decide how to fund and support your brand.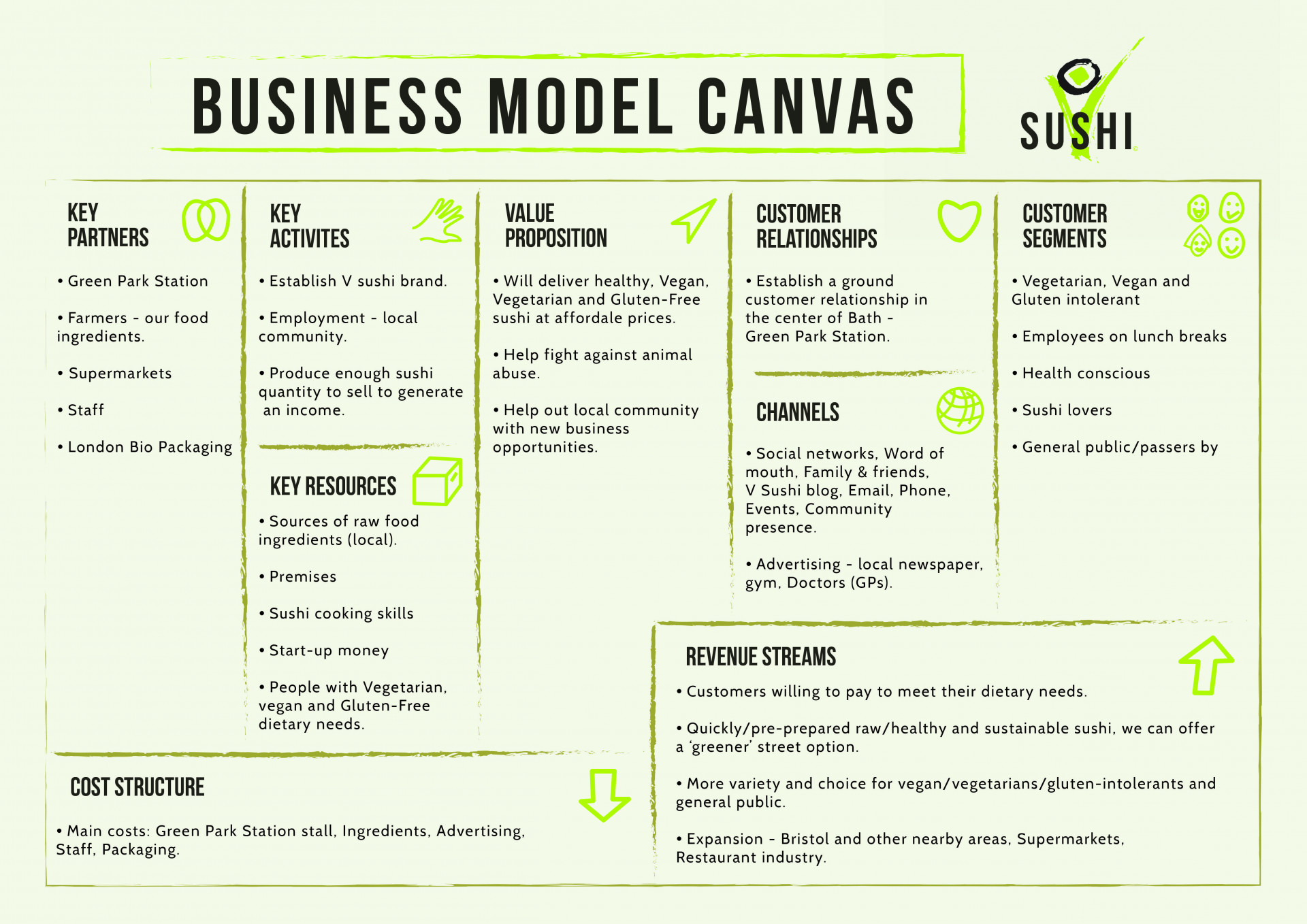 Define your business goals
Like other businesses, ghost kitchens and traditional restaurants must have objectives that enable them to scale in multiple ways.
Whether you're seeking more visibility on social media platforms for your dark kitchen, increasing profitability, or reducing customer churn, you need to set realistic "SMART" goals to help achieve them.
Here are a few examples of long-term SMART food business goals you can set:
Examples of food business goals (remember that business goals should be
SMART
):
Increase monthly net sales by 20% (it's an important metric for your ghost kitchen business)

Improve daily net sales by 10%

Develop more revenue streams, increasing sales by 50% such as

online ordering

on own

restaurant website

Improve top-selling products to boost customer retention by 15%

Test new items on your menu to improve upselling by 25%

Check service charges to boost average order value (AOV) by 5%
Calculate the cost of starting and running the business
Understanding how much money you need to start and run your restaurant business is crucial. Your ghost kitchen business plan only needs to include the cost of starting and running a business. Next, create financial forecasts to plan daily operating and sales expenses.
Make sure to get a comprehensive idea of how much money you need to start and run your restaurant business so you can forecast future earnings.
Major restaurant expenses:
Operating Costs

Commercial Kitchen

Insurance

Utilities

Marketing

Food Costs

Labor
Use the restaurant startup calculator from the official SBA website.
Step 3: Choose the right concept and food niche
Find your food niche
Choose the type of food or cuisine you want to serve to customers. This will play a critical role in determining your target customer and competition. This data will also be essential to select your own team with the right expertise.
If you plan to cater to a diverse customer range and make more sales, choose an in-demand cuisine that you're passionate about cooking and serving to customers. A successful ghost kitchen prioritizes food that is both profitable and easy to deliver.
Here are a few examples of easy-to-start food niches. You can read more about how to sell food online and different food niches in the blog.
Ethnic cuisines such as Mexican, Italian, or Chinese

Specialty cuisines like gluten-free or vegan

Gourmet cuisine

Regional cuisines such as New England or southern
Choosing your niche and concept can be an ideal way to leverage a specific target market and offer unique services and products to prospects.
Create a menu that stands out
Create an appealing menu that helps you stand out from your competitors. Your menu should be unique and attractive to your target customers. Research your competition, identify their strengths and weaknesses, and create a menu that fills any gaps in the market.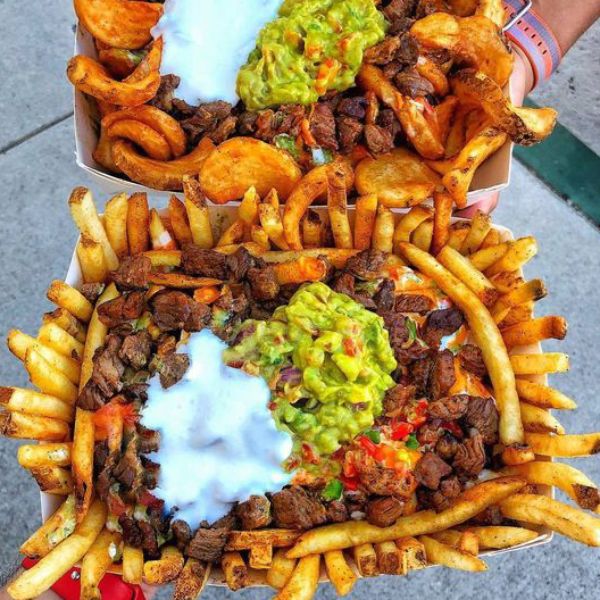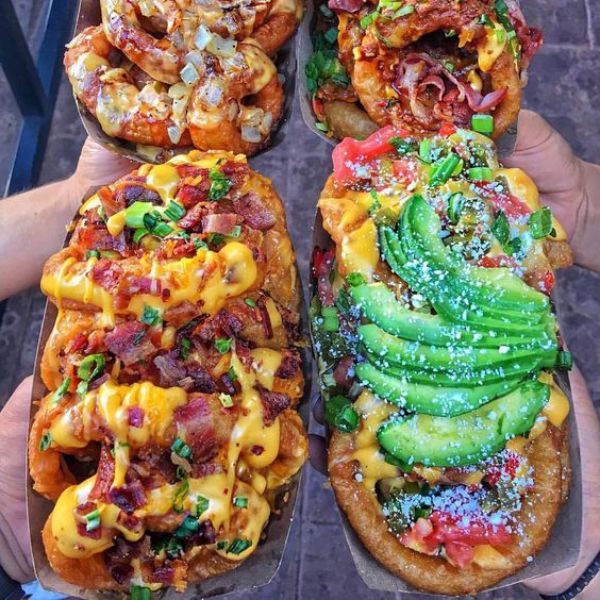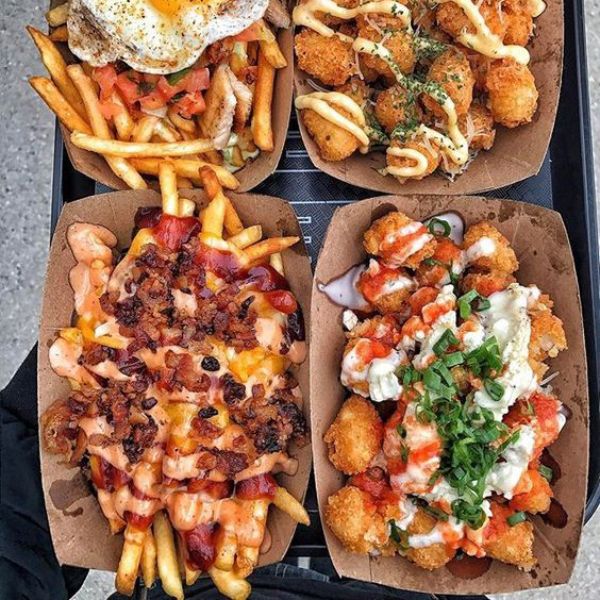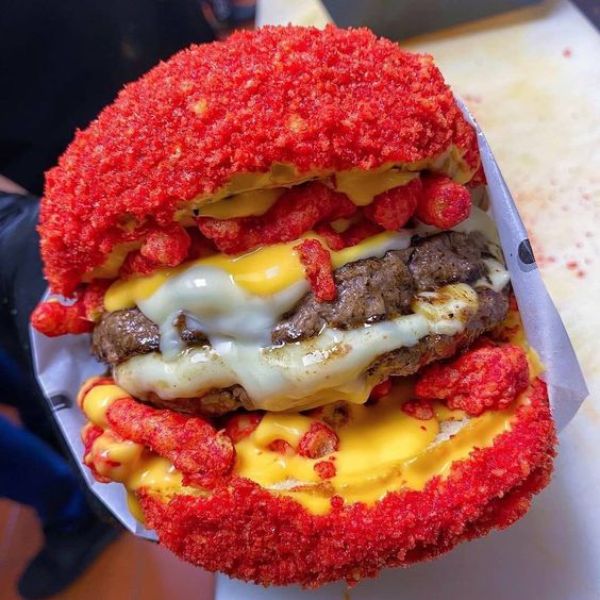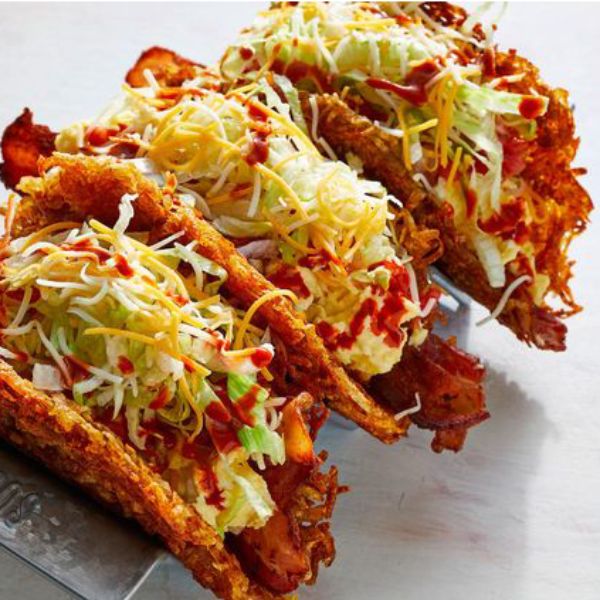 When creating your menu, make sure to focus on popularity and simplicity. Instead of creating a full-blown dark kitchen menu, offer customer favorites and some standard choices. Consider every item on the menu is suited for delivery.
Test your menu before launching
Check your menu and make changes when needed. Before opening your business and going live, make sure to check your menu with a small number of customers. This will help you know how well your menu is received and enable you to make necessary changes to improve its appeal and reach.
Here are a few ways you can try out your menu items for better results:
Ask your friends or family to check your menu and give honest feedback

Offer free tests of your meals on social media groups or other platforms
This may sound like a daunting task and a waste of money. However, it's always better to test your menu and be sure it's good than to start a business that fails to impress customers and closes in its first year.
Scale up your menu testing with a soft launch. This will allow you to check your menu in a controlled way. You can offer a small portion of your new menu to limited customers on a specific day.
Step 4: Find a kitchen location
It is important to find a kitchen space that fits your business requirements, such as size, cost, equipment, and accessibility. Consider a kitchen space with enough room for food preparation, storage, and a delivery hub.
Since you don't have a storefront, you won't have to worry about footfall. Instead, your business success will depend more on serving and customers finding you online.
Listed below are the three best options to decide from:
Option 1: Shared commercial kitchens
Shared kitchens are good for starting a food business as they are quite cost-effective and require minimal investment. You can easily rent a place in shared commercial-grade kitchens, saving enough money.
Moreover, the space will be licensed, saving you time and effort in acquiring relevant licenses and permits. However, you may have to purchase additional equipment based on your ghost kitchen needs. Also, these kitchen spaces fill quickly.
Here are a few sites where you can find shared kitchens:
Option 2: Rent commercial space
Commercial space can be a better option than renting a shared kitchen as it allows you to position your kitchen facility more strategically, attracting more customers and increasing brand visibility.
However, it may require long-term commitments and cost you more than shared commercial kitchen spaces.
Here are some sites where you can find ghost kitchens for rent:
Option 3: Set up your own facility
Creating your free-standing ghost kitchen facility allows you to customize details such as appliances, layout, and equipment per your business needs.
This way, you don't need to share storage or other spaces. However, setting up your own facility can be the most expensive option since it requires massive investment.
Step 5: Meet restaurant regulations and get licenses
Before you can launch your ghost kitchen and start selling your food online to customers, you need to meet all the food laws and regulations and obtain the necessary licenses like traditional restaurants to prevent disruptions.
The requirements in each state, county, and city vary so know which food and delivery laws and regulations are applicable in your area.
What permits do you need to start a Ghost Kitchen?
Preparing and serving meals to customers should be done safely and adequately with precautions that often require permits. But, unfortunately, most people ignore the legalities when starting a ghost kitchen business.
However, this is the most critical aspect of starting a delivery-only restaurant that lasts.
Here are a few permits you'll need to open a ghost restaurant:
What license you need to obtain
Based on your dark kitchen offerings, licenses may vary by state and local jurisdiction. Nevertheless, you'll need a business license and a food service license to operate legally in your location and the food industry.
How to get the necessary permits and licenses?
You can acquire the necessary licenses and permits for your ghost kitchen online or in person from the local government. These requirements are similar to those for a traditional restaurant, so you shouldn't have too much trouble since the system is already in place.
List of government websites to obtain licenses online:
Step 6: Find ingredients suppliers
Once you have created your ghost kitchen menu, research potential ingredient suppliers and food expenses for a complete inventory.
Connecting with suppliers can be challenging and daunting, especially for a new startup. But you can talk to other players in the restaurant industry to find reliable traders to help you source ingredients cost-effectively.
Nevertheless, you have three main options to get ingredients to prepare your food – each with its own pros and cons. Choose an option that best fits your brand.
Purchase From Grocery stores
Many home-based entrepreneurs and small startups head to grocery stores to buy their ingredients. This is because it's one of the easiest ways to obtain a wide range of products.
This may be a good idea if you don't expect to serve a large customer base at the get-go. But grocery stores can cost you an arm and a leg if you want to buy in bulk. So it's also important to ensure they don't sell you low-quality products just to eliminate inventory.
It'd be best to look into how others in the restaurant industry find wholesale distributors.
Work with local suppliers
A local supplier can be a good option if you want to get fresh and more flavorful ingredients at a reasonable rate. Working directly with local suppliers can help boost the local economy and minimize carbon footprints. However, they may charge you more for products and have a limited variety.
Find warehouses that sell bulk supplies
The best option for ghost kitchens looking to buy ingredients in bulk is a warehouse. You can get a large number of ingredients at the lowest cost possible. However, their ingredient quality can be lower than local suppliers.
Step 7: Create your brand
Creating a winning brand from scratch can be challenging. Before getting started, you have to weigh many things such as "what should my brand look like?" or "will it seamlessly resonate with my targeted audience?"
Your brand is a key aspect of your business, representing your values, personality, and what sets you apart from your competitors. It helps you connect with the world and ensures customers remember you.
Building a unique brand boils down to these four steps:
Choose a unique name, logo, and brand image that best represents your ghost kitchen business

Develop a brand strategy and voice that sets you apart from the competition. This should include your target market, unique selling points, mission statement, and values

Establish a consistent brand image across all platforms and marketing materials, such as business cards, social media, and a website. This helps to increase brand recognition and credibility with customers

Consider working with a professional branding agency or consultant to help you develop your brand. They can provide expertise, creativity, and a fresh perspective
You can use online software like
Canva
to create your food business brand design. This will save you money that you can spend on more important things like kitchen equipment, ingredients etc.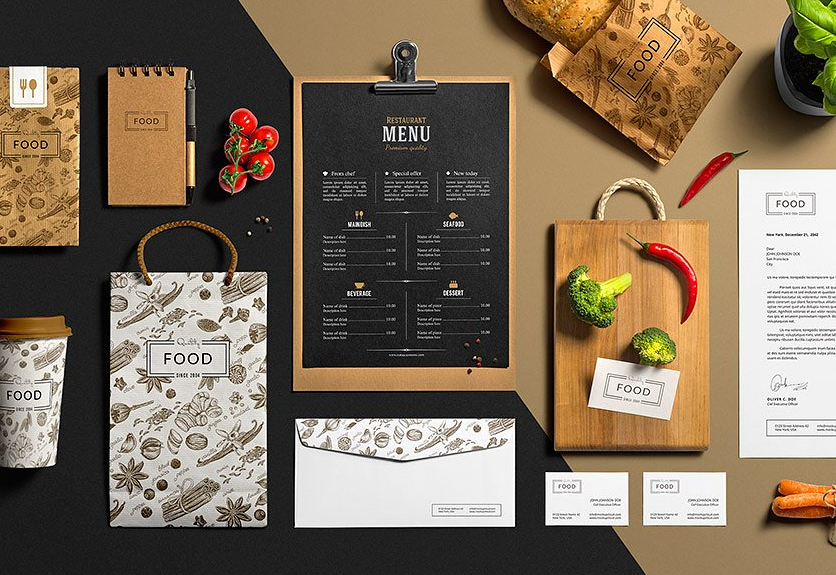 Step 8: Create your offer
Once you develop a unique brand, create an offer that attracts and pleases customers and helps you generate more sales and revenue. Creating an offer that entices your ideal prospects can be overwhelming and challenging.
Here's how you can create an irresistible offer that motivates customers to make a purchase:
Create an offer

: Whether traditional or ghost kitchens, their offer to customers is the service or products they sell. Create a unique selling proposition that makes your delivery-only food different from others in the market

Test and iterate:

It's best to run multiple offers simultaneously and bring changes based on the results and feedback. Iterative testing allows you to make evidence-based incremental changes to your products for better

Keep it simple:

If you want to keep your customers, simplify things including your offer. Avoid technical terms or use of jargon with customers as they say it's a silent killer of customer experience

Always be up-to-date with food regulations

: For a functioning ghost kitchen, you must remain compliant with relevant food laws and regulations, from inspections and business licenses to labor and health and safety laws

Price your offer

: Strategic pricing is the key to success and profitability. Make sure to price your offering based on your competition, target market, and costs

Food photography

: Restaurants with images and descriptions receive 70% more orders. Food photography can help you advertise your offer and increase sales. It'd be best to work with a professional food photographer to ensure that your images are appealing, align with brand values, and communicate the quality of your food
Creating an offer and strategically pricing it is increasingly important to your ghost kitchen's success. Follow these tips to create a winning offer that touches your niche market and helps you stand out from the competition.
Step 9: Build a restaurant website with online menu (your online-only storefront)
Having a good website can help potential customers discover and learn more about your ghost kitchen business. Besides increasing discoverability and SEO, websites give prospects an overall image of your brand and help them view menus and place orders.
Here are four things to keep in mind when building a ghost kitchen website with an online menu. For more information, read this comprehensive guide on how to create a restaurant website.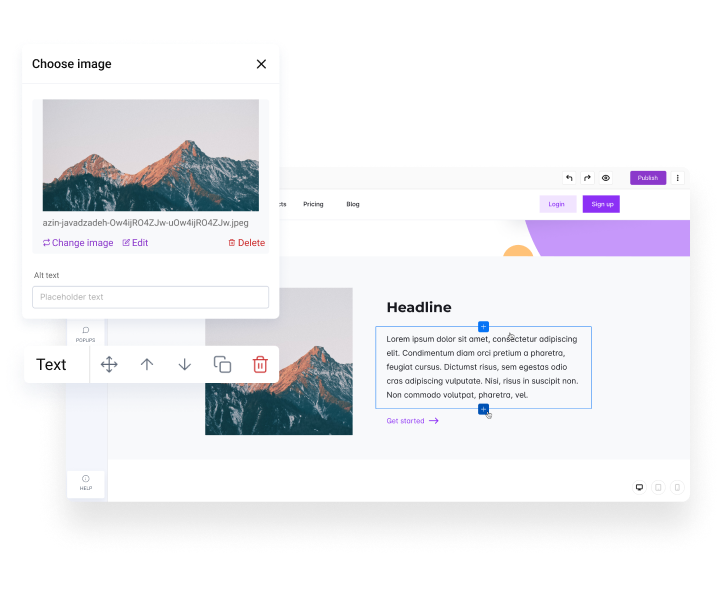 Restaurant Website Builder
Your own branded restaurant
website in minutes
Get a beautifully designed website that converts online visitors into customers and keep them coming back.
Design your own website or hire a professional
Should you hire a professional to build your restaurant website, or do you do it yourself? Creating a website has never been simpler or easier because e-commerce platforms let you set up and start in minutes. While it helps you save money, it takes more effort and time.
In contrast, professionals can provide added value. They ensure your website is easy to navigate and ranks better in SERPs. However, it's more costly than a DIY project.
Here's a cost comparison to help you choose between the two:
| | Yourself | Agency |
| --- | --- | --- |
| Web Designer / Web Developer | $0 | $5000 |
| Domain | $13 | $13 |
| Hosting | $0 | $140 |
| Total | ~$13 | ~$5153 |
Whether you're a new startup or an established business looking to sell your food online, UpMenu got your back. We cater to various business needs, from selling products to facilitating sales, marketing, and management. Try a restaurant website builder for free.
Select ready-to-use template
Predesigned restaurant website templates can help you provide a cool-looking, functional website. Choose a template that best fits your cuisine type and brand values. Also, you can customize your template to make it more visually appealing and truly yours.
Create page with drag & drop builder
Edit the template or use pre-made blocks to design your website easily. Add your brand logo and choose website colors, fonts, and navigation styles that align with your brand and provide a seamless user experience.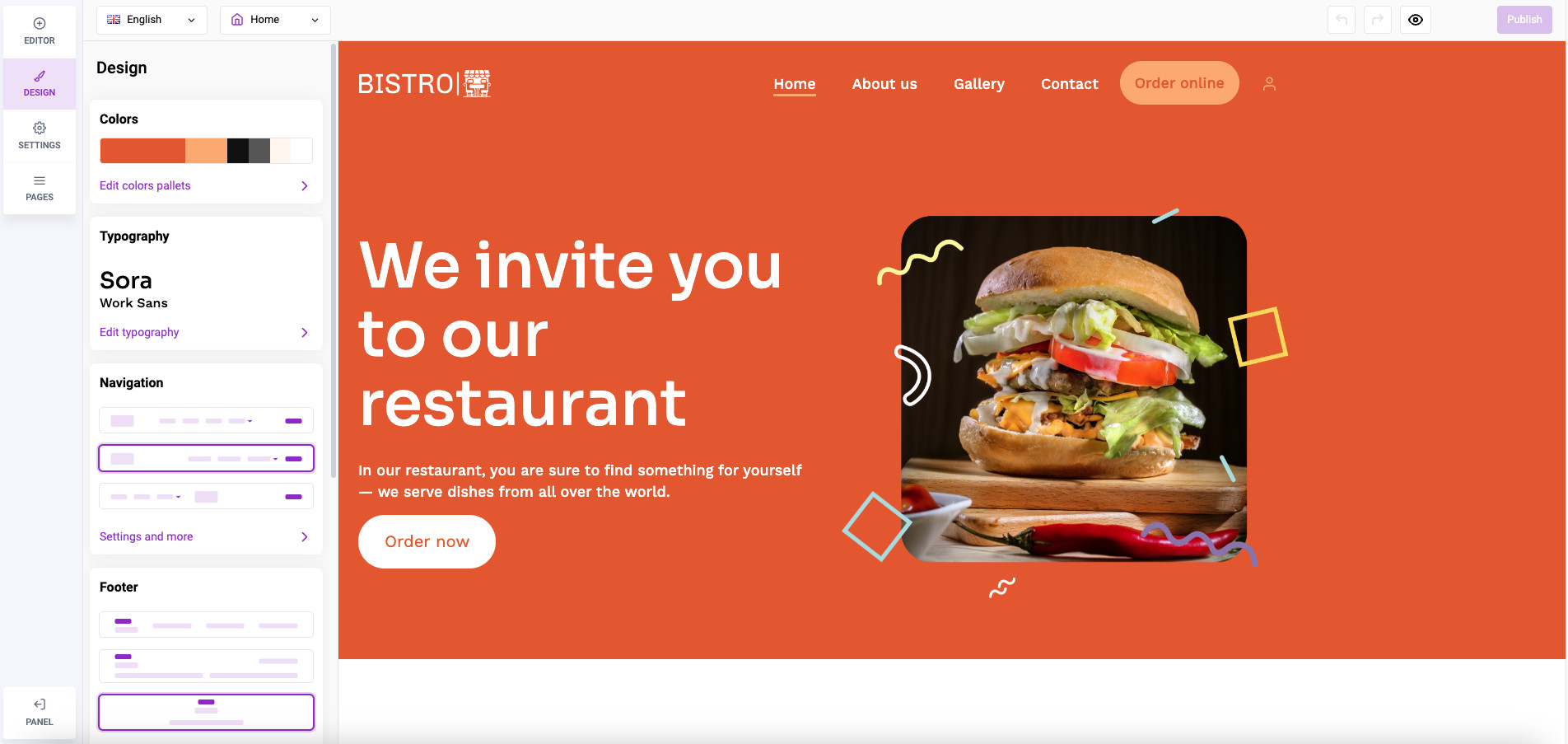 Add the website content
Content is king. It's an effective marketing strategy to attract and engage prospects. So start adding content to your website, such as product descriptions, meal photos, customer reviews, and a blog.
Create content collateral that provides value to customers and converts prospects into actual customers.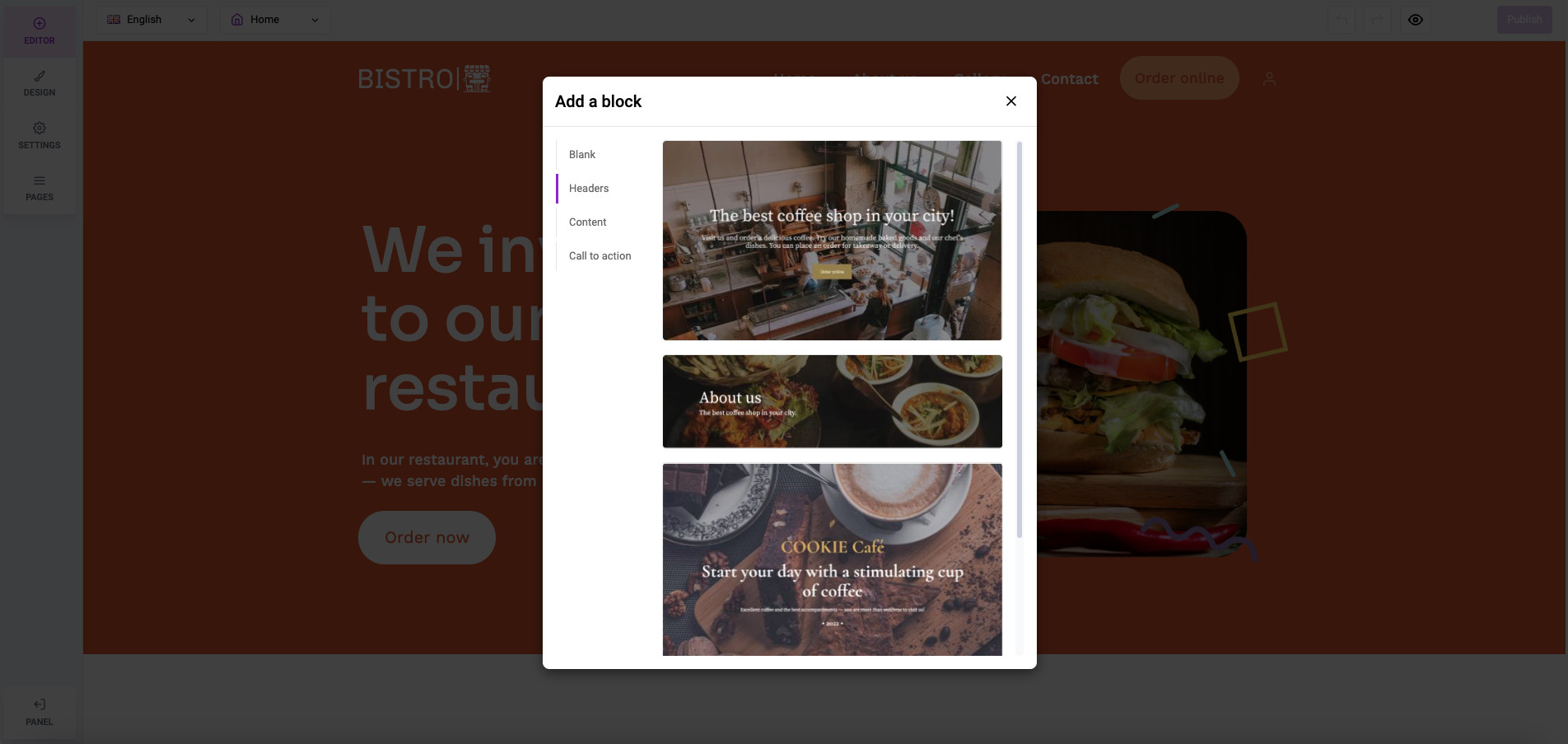 Step 10: Set up an online ordering system
An online ordering system lets customers place their orders quickly and smoothly using an app or a website and allows restaurant owners to seamlessly manage orders, design online menus, track sales, and improve efficiency.
Follow the steps to the T to create an online ordering system for your ghost kitchen. You can also read this extensive guide on how to set up an online ordering system for ease and convenience.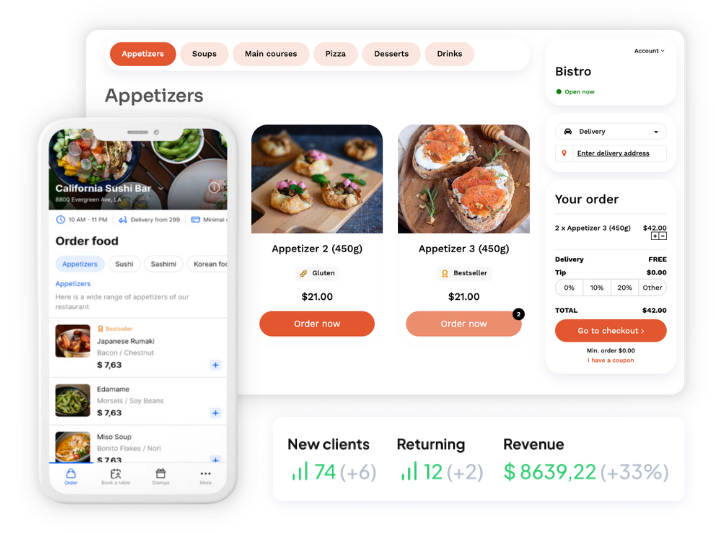 Your own branded online
ordering in 5 minutes
Launch commission-free online ordering on your own website in 5 minutes and grow your revenue, build loyalty and protect margin from third-party aggregators.
Set up an online menu
You must include products and dishes in your online menu to reach customers and sell products. Make sure to add food items, their images, prices, and unique descriptions that make customers order your meals.
Before adding products to your software, check their picture quality and descriptions so customers know what they are ordering. This is important to winning more business and getting plenty of orders online.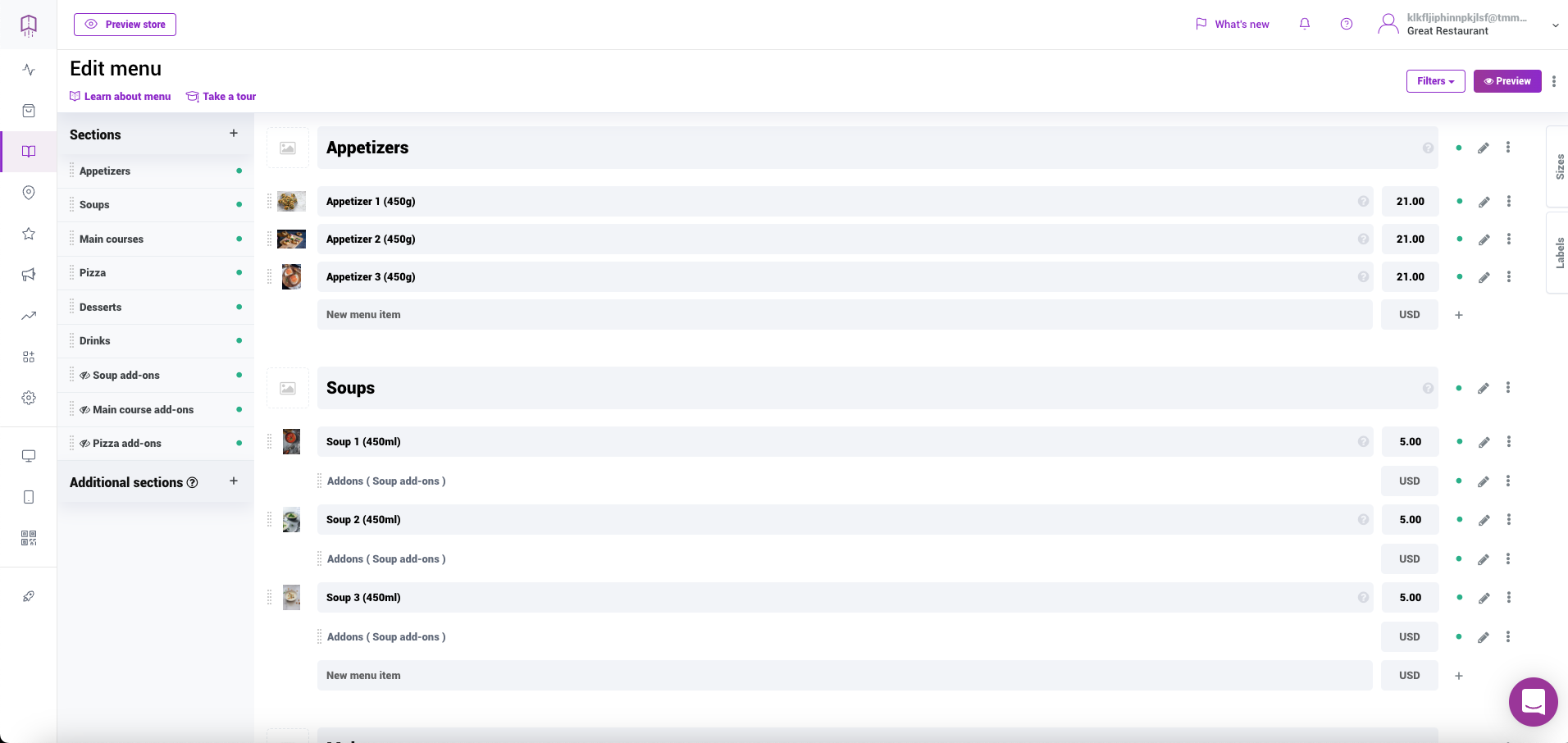 Provide business details
When creating an online ordering account, provide your ghost kitchen business details to create customer trust.
Here are a few things to include:
Your ghost kitchen address and name

Contact details, including email address

Working hours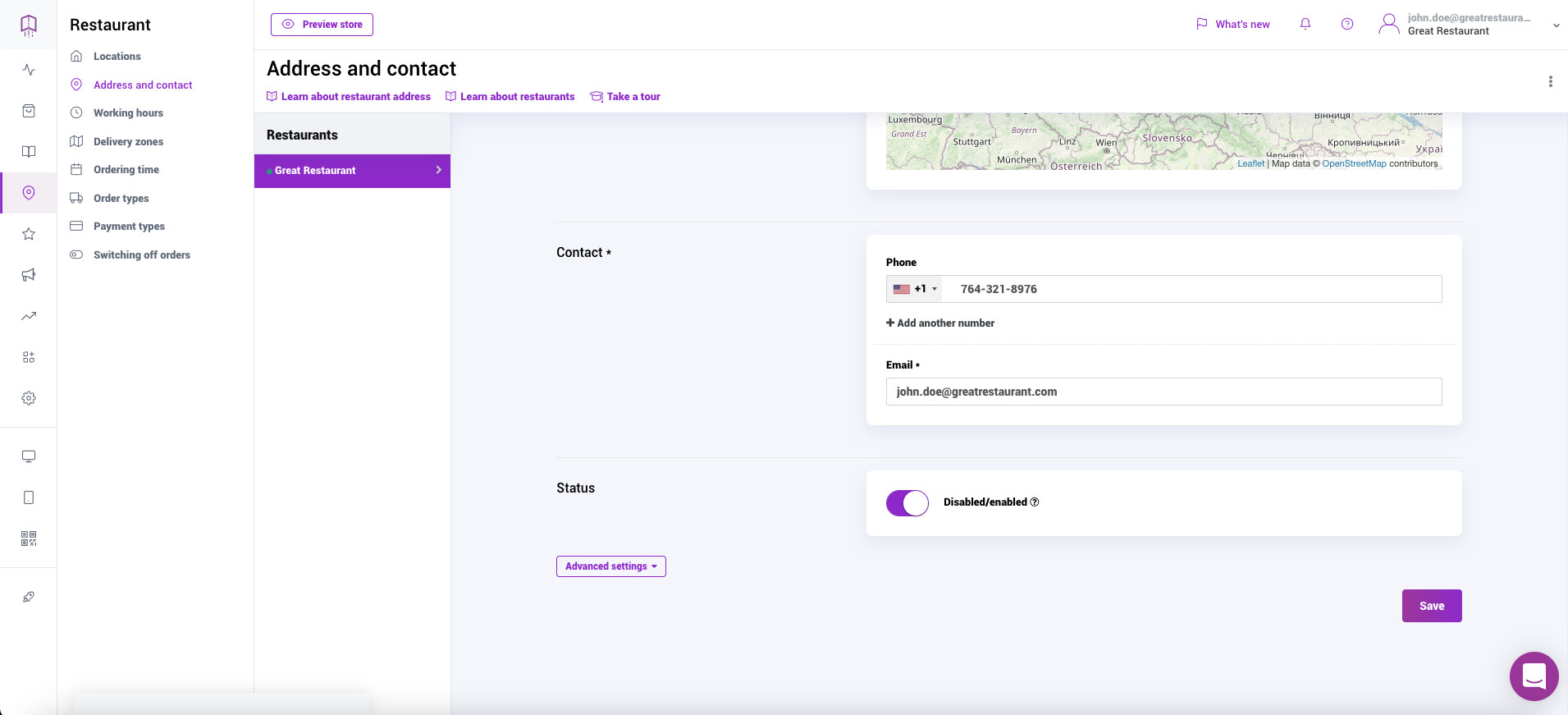 Setup payment methods
A secure payment method is crucial to your success if you're running a ghost kitchen. Add different payment channels so customers can make seamless purchases without unpleasant surprises and hiccups.
This means investing in a POS system that makes it easy for you to send receipts and customers to pay.
Choose an online ordering software with "POS integration" to process funds without installing third-party apps. Smooth payment methods can help your ghost kitchen become more functional and lead to success.
Setup delivery zones
Since ghost kitchens and dark kitchens offer delivery-only meals, you have to create delivery zones so customers receive their orders timely. When people order online from your business, they need to know whether you provide delivery services to their location or not.
When setting up delivery zones, consider this:
Determine areas you can efficiently deliver to

Additional costs related to deliveries outside defined zones
It'd be best to partner up with a delivery operations app to figure this out.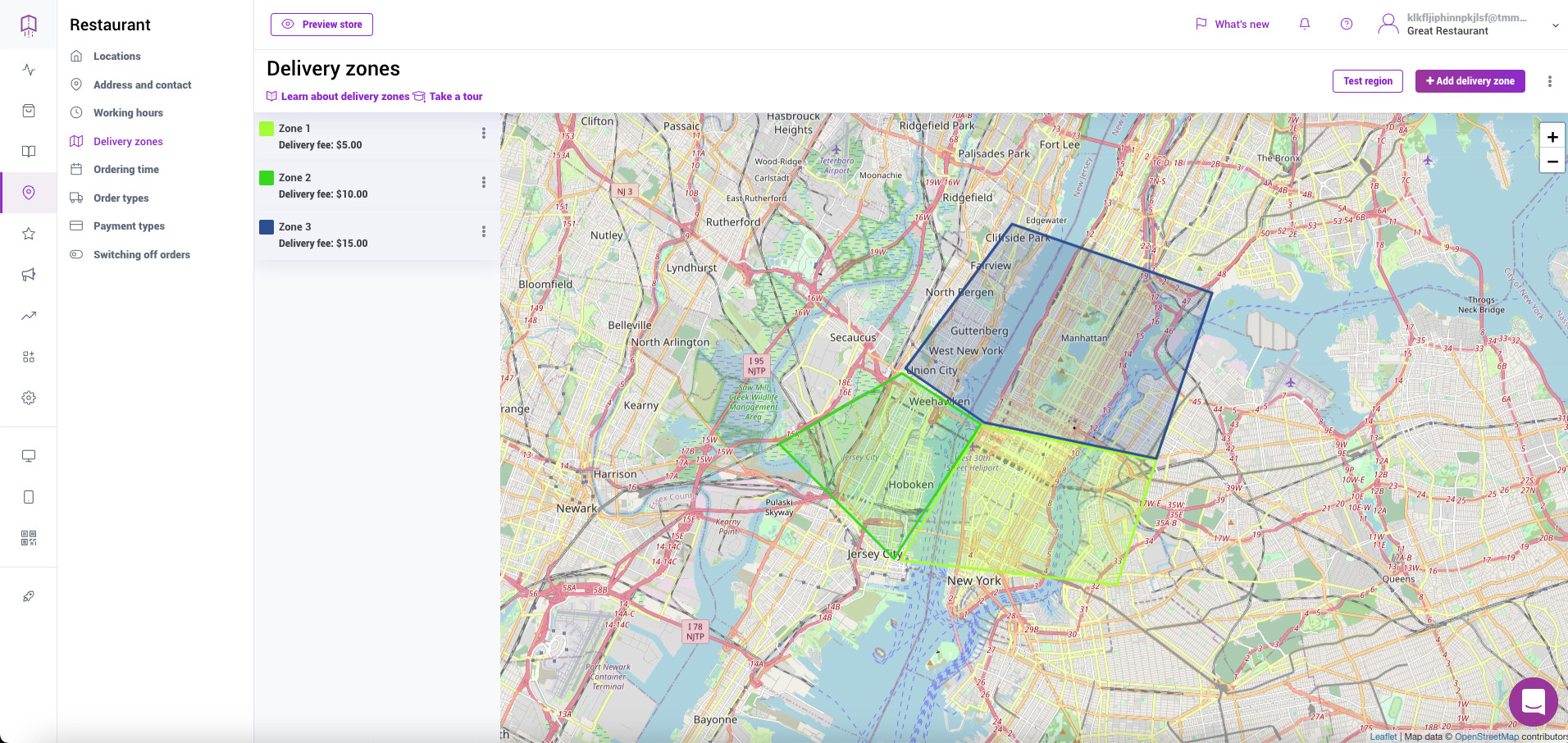 Self-delivery or external courier service
Determine whether you want to outsource your operations to third party delivery apps or perform them yourself.
While self-delivery provides more control and helps you build client relationships, an external delivery fleet can be efficient, taking the entire function off your hands.
Third-party delivery services
If you don't want to deliver yourself, use external couriers such as:
Stuart

MealShift

Shippr

Uber Eats

DoorDash

GrubHub
Step 11: Hire and train workers
As the restaurant owner, it's important that you have an effective team and restaurant management strategy. Since there's no storefront, you won't require a large staff. Instead, you can open your own restaurant virtually from home or start a ghost kitchen on Doordash with a few members, like a kitchen manager and chef, who can focus on preparing, processing, and delivering food.
Listed below are a few things to consider when hiring and training your labor:
Identify Positions You Need To Fill

: Based on your ghost kitchen concept, you may need to hire people for multiple positions, such as delivery drivers, customer reps, and kitchen staff (including chef and manager)

Create Job Descriptions And Requirements

: Develop detailed job descriptions for each position and identify the skills, experience, and qualifications required for each role

Advertise Open Vacancies

: Reach out to potential applicants through social media sites, word-of-mouth strategies, and job boards. Moreover, you can use recruitment portals like Poached or Culinary Agents to help you find the right kitchen employees

Interview Applicants:

Assess

resumes and cover letters you receive and conduct online or in-person interviews to evaluate the applicant's personality, skills, and suitability for the role

Choose The Best Talent:

Choose candidates that best fit the job descriptions, meet your requirements, and can excel in their roles

Train Your Employees

: Once you hire the team, provide them with comprehensive training so the staff can best meet customers' needs. It also ensures that your team will prepare delicious, quality meals your customers will love

Offer Ongoing Support And Development

: Encourage continuous learning and provide your staff with resources and support to help them achieve their goals and improve their skills
Step 12: Start promoting your Ghost Kitchen
Growing a dark kitchen business requires constant evaluation and strategy. If you plan to expand your own ghost kitchen business, invest your time, money, and effort in creating an effective marketing plan.
Work with local food apps, understand the tastes and needs of your audience, and then map out how you can take advantage of these avenues to create a solid business.
The right plan can help increase your online presence, reach new customers, improve engagements, partner up with a delivery platform and get more sales. In contrast, poor marketing leads to wasted resources and unnecessary costs.
Here are three powerful ways to promote your ghost kitchen:
Social Media
Since ghost kitchens don't have physical locations customers can visit, building a profile can take time and effort. But it's good that you don't have to worry about increasing foot traffic to your establishment.
You only need a marketing plan to get more online orders for your ghost kitchen business.
Build a strong online presence and the best way to do this is by marketing your business on social media sites. Create profiles on popular social media platforms with a wider reach like Meta (formerly Facebook), Instagram, Twitter, etc.
Spotlight your meal through videos and photos. Make sure to convey your food quality and brand values in digital messaging. Also, promote limited-time and special discounts and give coupon codes to new customers.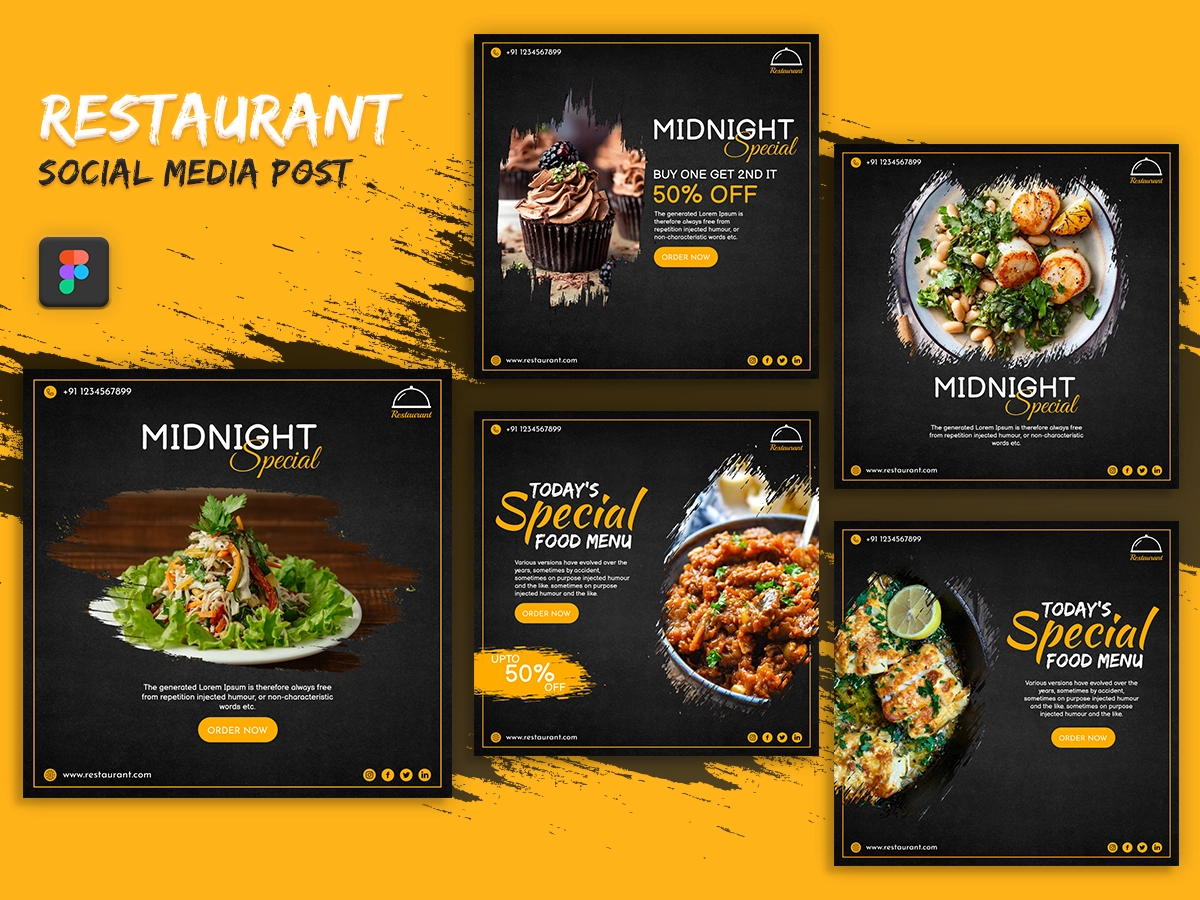 Offline marketing
Offline marketing can be an effective way to draw local audiences. It can help you build brand credibility and awareness and attract new patrons within the local community.
You can utilize word-of-mouth, marketing collateral (business cards, flyers, brochures), PR initiatives, direct mail, and rewards to attract and intrigue new customers. Choose techniques that best cater to your niche and align with your brand values.
Paid advertising
Paid advertising is one of the most effective ways to help potential prospects discover your business and offerings.
Using platforms like Facebook Ads and Google Ads allows you to target a particular audience to promote your products or services. However, since paid marketing can be expensive, it's best to use other marketing techniques if you're starting out.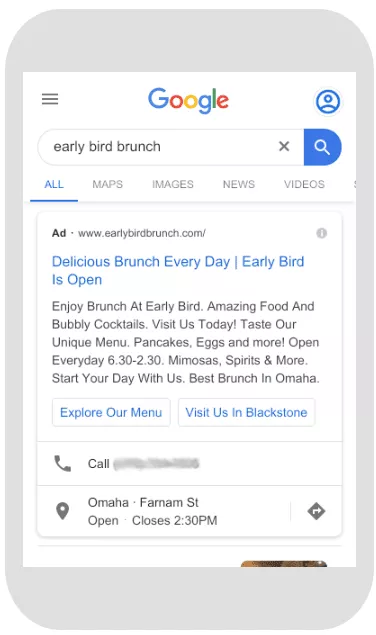 Other marketing examples
Email marketing

Influencer marketing

Content marketing

Good reviews on Google and Yelp

SEO

Asking for recommendations

Marketplaces (Uber Eats, DoorDash, GrubHub etc.)
Key Takeaways to start a Ghost Kitchen
Ghost kitchens (also called cloud or virtual restaurants) are restaurant facilities that operate exclusively for takeout and delivery-only orders, with no dining area or physical storefront

These kitchens have various benefits over traditional eateries, such as low overhead costs, redu

ced staff, quick opening times, and more

Before you set up a ghost kitchen business, create a unique concept, menu, and detailed business plan with source funding

Location plays a significant role in ghost kitchens. Choose a place with adequate space and can easily be accessed by delivery drivers

Make sure to adhere to all the relevant food laws and regulations in your area and have the required licenses and permits

Hire the right staff, including the kitchen manager and chef, and provide comprehensive training, so they align with your brand values and deliver quality services

Finally, you must develop a strong marketing strategy to increase your brand reach and get more sales and revenue. Follow this guideline to the T to know how to open a ghost restaurant the right way
Frequently Asked Questions (FAQ)