The online ordering industry is gaining popularity worldwide. The use of food delivery apps in the UK has also increased. As a restaurateur, you may feel overwhelmed by the multitude of options to choose from, so in this article, we will present the best online food ordering apps in the UK and show their pros and cons so that you can choose the best tool for your business.
What is a food delivery app?
A food delivery app is a mobile app that allows users to check a restaurant menu, place orders, and pay for food from local restaurants and have it delivered to their desired location. A food delivery app connects customers with restaurants, which offer either their own delivery service or use third-party delivery services.
Why do restaurants need food delivery apps?
Increased visibility: thanks to food delivery apps, a restaurant can attract more customers
Convenience: restaurants can offer their customers the possibility to order food from their restaurant without the need to visit it
Increased revenue: partnering with food delivery apps can boost restaurants' revenue by tapping into the thriving food delivery market. This is particularly beneficial for small or independent restaurants that need more resources to offer their own delivery service.
Customer loyalty: offering the option to order via food delivery apps helps to build customer loyalty.
Ease of use: food delivery apps are simple tools for customers and restaurant staff
Data analysis: food delivery apps give restaurants data and information about customers' ordering habits, preferences, and feedback.
What popular food delivery apps to use in the UK?
There is a wide range of food delivery apps available in the UK. Below is a list of the 6 best food delivery apps in the UK.
UpMenu
Just Eat
Deliveroo
Uber Eats
Food Hub
Scoffable
Key features comparison matrix
When deciding on the best food delivery app, there are multiple factors to consider. To assist you in selecting the most suitable solution for your business, we have compared 6 different food delivery apps. This comparison will help you determine which solution is the best fit for your restaurant.
| Feature | UpMenu | Just Eat | Deliveroo | Uber Eats | Food Hub | Scoffable |
| --- | --- | --- | --- | --- | --- | --- |
| Pricing model | Monthly fixed price starting from $49 | Joining fee £699 + commission fees + delivery fees | Commission based model | Commission based model | A fixed rental model | Commission based model |
| Commission fee | 0% | 14% | 20-30% | 15%-25% commission fee | 0% | 13.5% |
| Free trial | | | | | | |
| Delivery fee | 0 | Depends on the restaurant and customer location (usually from £0 up to £5) | Depends on the restaurant and customer location, but usually no more than £5 | Depends on the restaurant and customer location but usually ranges from £2 to £4 | Depends on the restaurant and the customer's location | Depends on the restaurant and the customer's location |
| Additional costs | No | £1.99 service fee (the payment processing fees and other services). | A service fee that depends on the order value | Tablet rental fees are optional | Standard transaction fee 3.4% + 20p | No |
| Customer data ownership | | | | | | |
| Minimum order value | No, but it might be set by a restaurant | Depends on the restaurant (usually £10) | Depends on the restaurant (usually £10) | No | No, but it might be set by a restaurant | No, but it might be set by a restaurant |
| Your own restaurant website | | | | | | |
| Your own restaurant mobile app | | | | | | |
| Marketing tools | Yes | Yes, but some of them (sponsored placements and targeted advertising) are paid extra | Yes, but some of them (sponsored listings, banner ads) are paid extra | Yes, but some of them (promoted placements, sponsored listings, and in-app advertisements) are paid extra | Yes, but some of them might be paid extra | Yes |
| Loyalty program | | | | | | |
1. UpMenu

UpMenu is an online ordering system that provides restaurants with mobile apps for ordering. In addition to ordering from the app, UpMenu enables restaurants to use its website builder for restaurants and create customizable restaurant websites with online ordering.
With UpMenu, you can easily establish a food ordering system on your restaurant's website and reduce the commissions associated with using other food delivery service apps. By utilizing this solution, you can also enhance brand recognition among customers who frequently order food from your establishment.
Furthermore, the choice of delivery and service fees lies with the restaurant itself, providing flexibility in determining the appropriate charges. The system is integrated with restaurant websites which allow ordering through mobile and desktop users.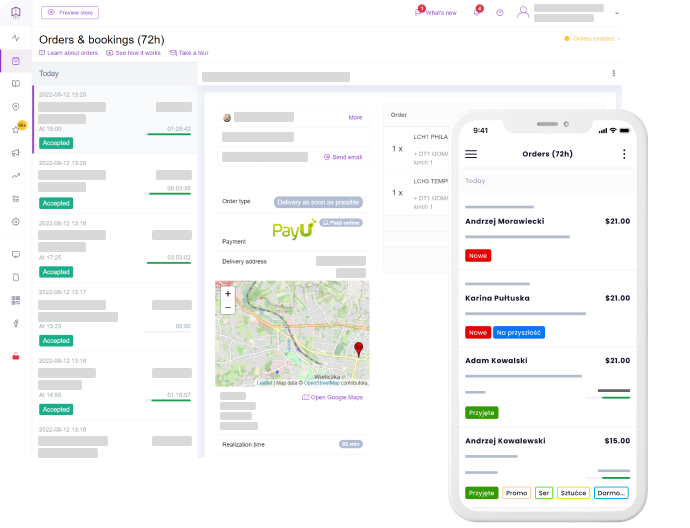 Your own branded online
ordering in 5 minutes
Launch commission-free online ordering on your own website in 5 minutes and grow your revenue, build loyalty and protect margin from third-party aggregators.
2. Just Eat

Just Eat is one of the most popular food delivery apps in the UK. It operates since 2001, and for the moment, it is present in over 20 countries worldwide. Just Eat serves an online food delivery market by connecting independent takeaway food establishments with their customers.
The platform allows customers to easily search for local takeaway restaurants, including traditional food options as well as fast food chains, place online orders, make payments, and select between pickup or delivery options.
3. Deliveroo

Deliveroo is a food delivery app with an online tracking feature founded in Great Britain. Apart from the UK, it operates on the international level in countries like France, Belgium, Ireland, Italy, Singapore, Hong Kong, the United Arab Emirates, Kuwait, and Qatar. Like the other UK food delivery apps, it connects restaurant owners with consumers, who can find on the platform nearby restaurants, which offer many food choices, including great breakfasts, romantic dining, fast food, and traditional food options. There are also gluten-free, lactose-free, and veggie-friendly options.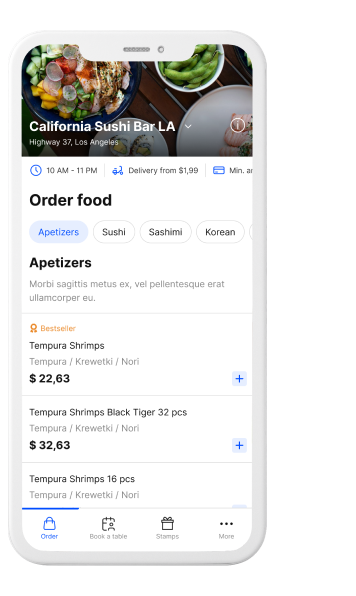 Your own branded ordering
mobile app that drive loyalty
Eeasy-to-use native iOS and Android ordering apps that put your restaurant right in your customer's pocket.
4. Uber Eats

Uber Eats is also a popular online food delivery business in the UK that allows its active users to order online food from selective restaurants. Food deliveries are made by self-employed couriers. Once customers order food online, they can track their status and see when an order is being prepared or picked up by an Uber driver and delivered. The average delivery time depends on many factors, where the most important one is the distance between the restaurant and the customer's location.
5. Food Hub

Food Hub operates in the food industry since 2017. This food app enables customers to have their food delivered from nearby restaurants. They can place orders for the same day for now or preorder.
6. Scoffable

Scoffable is a food delivery platform based in Scotland. It was launched in 2010 with just 10 restaurant partners. For the moment, it helps to boost sales of more than 600 restaurants and takeaways across Scotland.
Key Takeaways
The best option is an UpMenu food delivery app, as it provides all the necessary features of a restaurant's own branded app.
The key advantage of UpMenu is the possibility to customize the app
A restaurant may work on its brand recognition thanks to the customizable food delivery app
Most food delivery apps have a commission-based model, which increases the restaurant's operational costs
While choosing your food delivery app carefully check all the conditions and requirements to avoid hidden costs
Frequently Asked Questions (FAQ)