A restaurant website template can be a great assistance in creating a place on the internet for your establishment. 81% of customers check the website before they go to a restaurant. 94% are looking for feedback online. So, the desire to get to know the restaurant before visiting is immense. That's why it's so important to find suitable restaurant website templates to advertise accordingly.
If you don't have a system for ordering food online, change this as soon as possible! Customers won't always want to visit your restaurant in person. Will you lose them because of this? No – check our list of the top restaurant website templates and let them order something online!
1. Rosa2 – a best-selling WordPress restaurant theme
Rosa2 is sequel and successor to the best-selling restaurant WordPress theme, upgraded for the new Gutenberg editor. An attractive layout and photo sharing options give this template the title of a best-selling food template. In addition, you can place online orders and reservations directly on the online menu thanks to integration with UpMenu online ordering system.
Additional features make it easy to integrate Rosa2 with online ordering systems, and additional POS solutions. That makes it one of the best choices as a food delivery website template.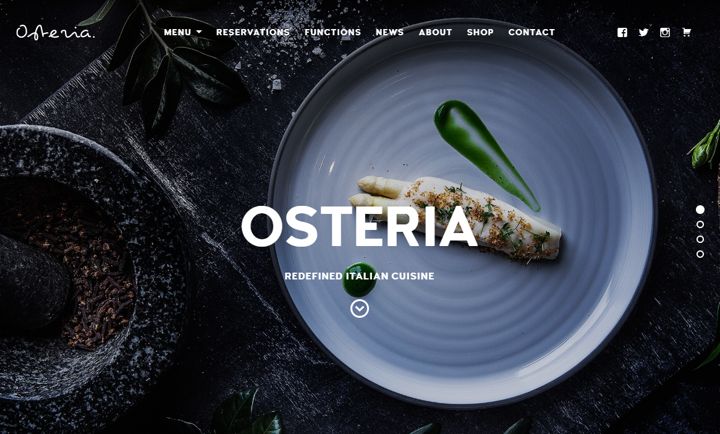 2. Osteria – restaurant in the spotlight
The Osteria template contains everything you need to convey the character of your restaurant on the website. You can customize it, so it works just as well in a family restaurant as in a large restaurant chain.
The online food delivery template is entirely optimized for mobile devices and allows you full customization of layout. Minimalistic design is one of the greatest restaurant theme ideas that highlight your products. A simple and clear organization supports easy navigation and great user experience.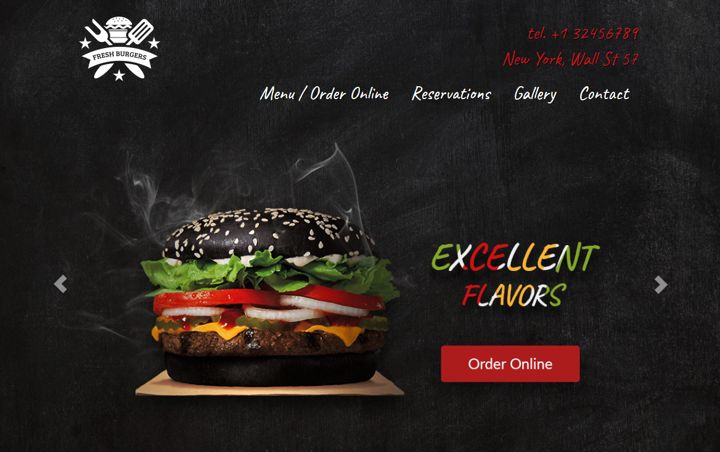 3. Aman – dark and dangerous restaurant website template
Dark colors, intuitive navigation, and fully adapted to mobile devices – all those words perfectly describe Aman – one of the best website templates. Show off your menu and let your customers order online thanks to integration with the food ordering system.
Aman is a food delivery website template that will perfectly match any kind of restaurant – gourmet, burger, or pizza place. Check it out now!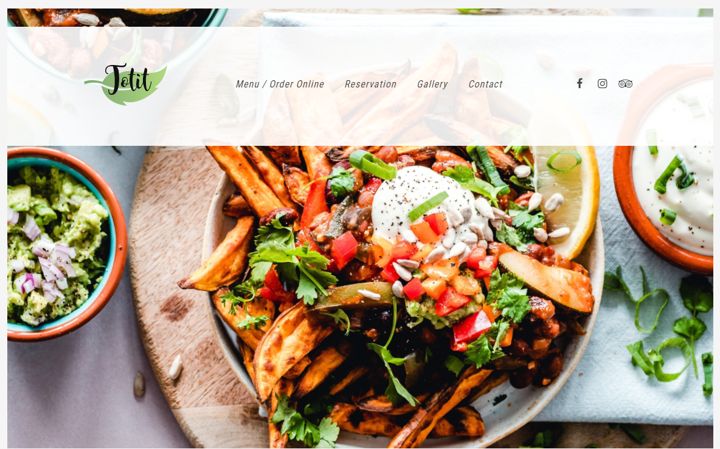 4. Totit – a fresh breeze for your brand
If you run a restaurant offering healthy or vegetarian food, then the Totit template will be a great match. Sell online thanks to a clear and friendly site built with this great diet website template. Match the colors to your brand identification and build the best image of your green restaurant on the internet.
Totit delivery template offers great functionalities thanks to integration with the UpMenu online ordering system. Let your customers order conveniently through your website and take advantage of additional marketing and work-management tools.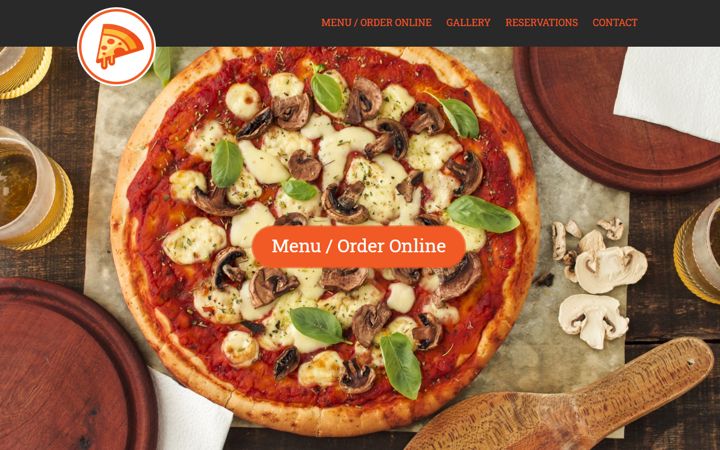 5. Desta – simple restaurant website theme
If you're looking for original restaurant themes ideas, then the Desta template will be a great match for you. It allows you to display products in an attractive way, it is adapted to mobile devices, and you can easily change its appearance. The large hero image on top of website is a great way to promote your main product which is a great fit for the food template. Perfect for various types of restaurants. Give it a try!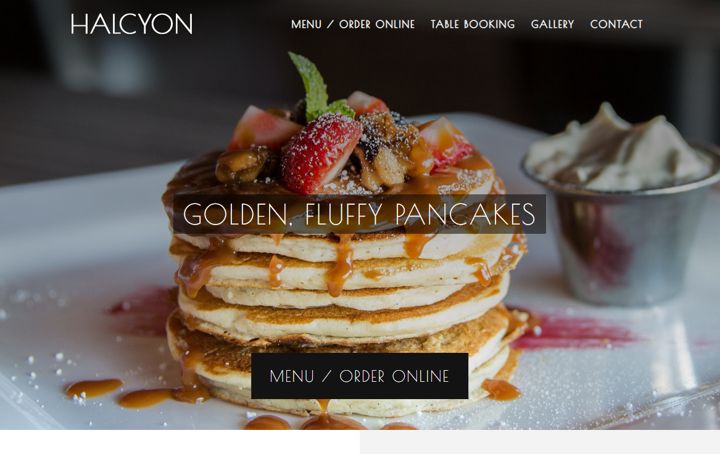 6. Halcyon – a little bit fancy restaurant website template
Do you run an elegant restaurant and want to reflect its atmosphere on your website? Choose from the best food websites Halcyon template and promote yourself as a fine-dining restaurant. Large layout blocks included in this restaurant template, create a great user experience. Include high definition images to enhance UX even further.
Easily match Halcyon with your brand image and offer an online ordering feature thanks to integration with the UpMenu system.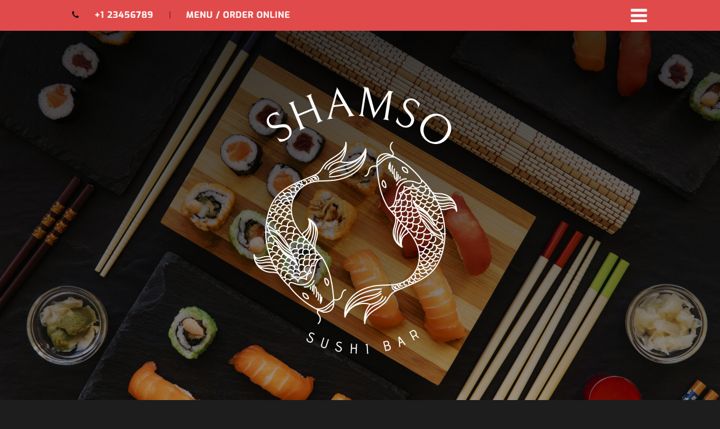 7. Shamso – oriental art
Are you looking for restaurant website templates for an oriental eatery? The Shamso theme will perfectly suit a restaurant serving sushi, or other Asian cuisines. The simple to use CMS will help you easily make changes to the appearance of the template and add your content and photos.
To make the most out of this restaurant template include your brand logo, photos of your brick-and-mortar location, and choose color scheme that suits them the best. Coupling of black and red is a classic color arrangement in templates for Asian restaurant templates.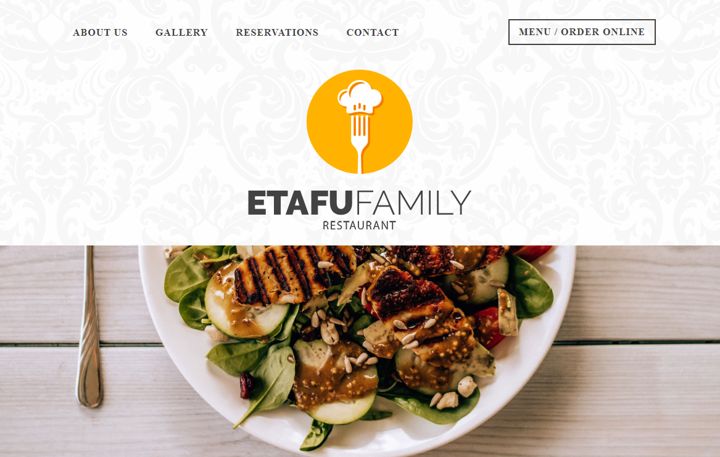 8. Etafu – just like mom's
Show everyone just how affordable and tasty your restaurant's cuisine is. The Etafu theme will perfectly match restaurants serving Italian or home cooking. A clear layout and intuitive navigation will positively affect the number of online orders. Use Etafu the best food delivery template to create a comprehensive website with an integrated online food ordering system.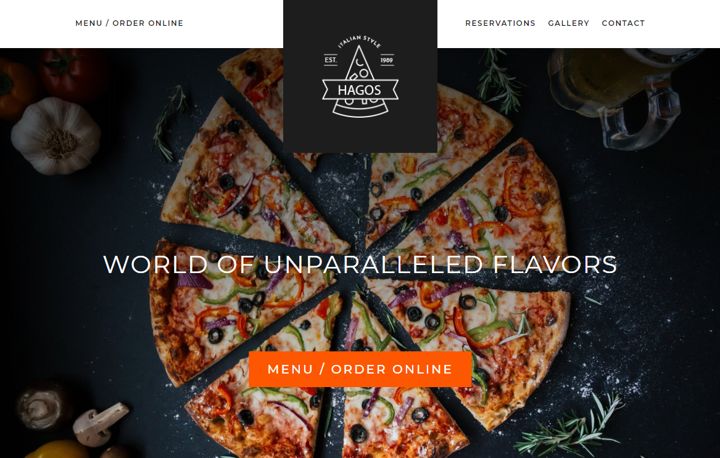 9. Hagos – Italian style
There are no better restaurant themes ideas than keep it simple. Hagos is a simple restaurant website template that goes perfectly with pizza places or Italian restaurants. The clear design will help your customers find the menu and then order easily. Adjust the template to suit your business and start selling online.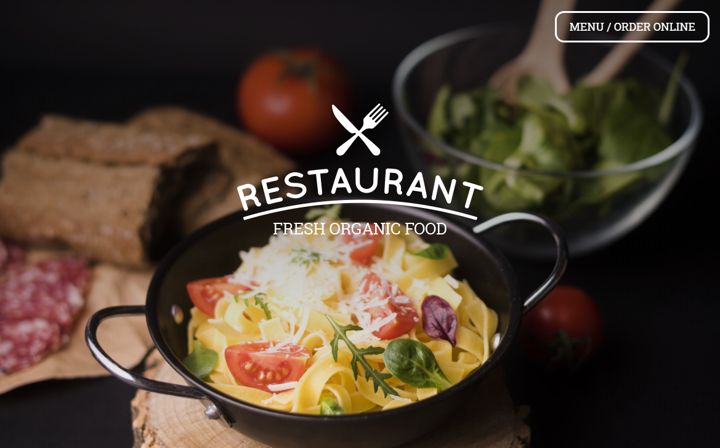 10. Timiro – one page restaurant website template
If you want your website to be primarily a point of sale, don't overcrowd it with a vast amount of content. Timiro is a one-page restaurant website theme that is easy to connect to an online ordering system. It's a perfect fit for restaurants offering Italian, French, or home cooking. You can also match it to other types of restaurants by adding the appropriate photos. Check it out yourself and don't forget about enhanced restaurant reservation features this template offers!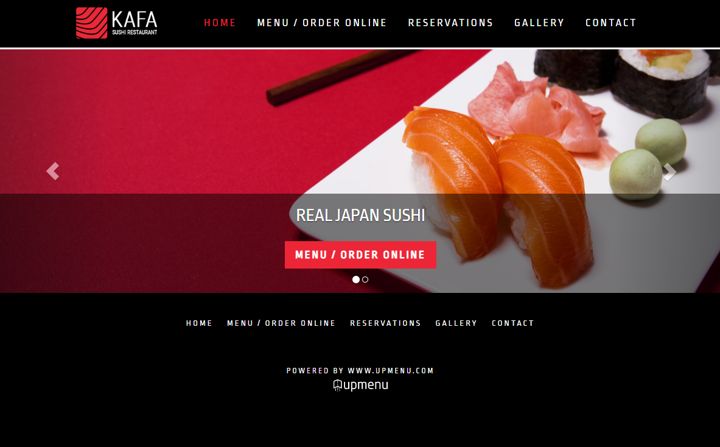 11. Kafa – not only sushi
Kafa is one of the most customizable restaurant templates because you can easily adapt this theme to different types of cuisine. All you have to do is change the colors and add photos of your dishes. The integrated food ordering system will help you sell online so, see how great it will fit into your restaurant.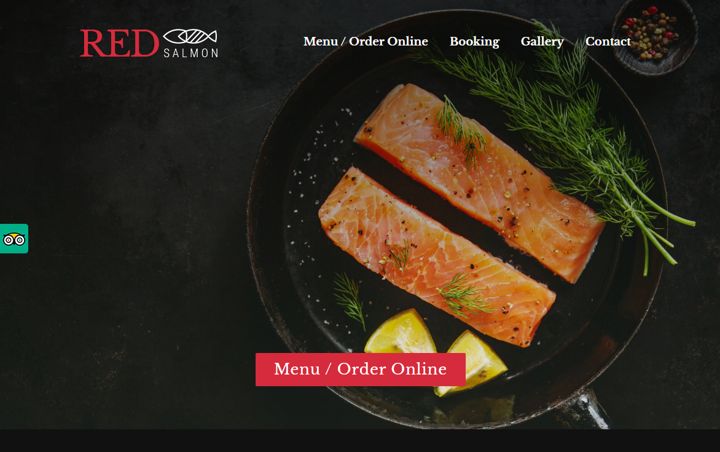 12. Red Salmon – fine dining on a restaurant website template
Building a website for a fine dining restaurant is not a simple task. Surely you have searched among many restaurant website templates. Use the Red Salmon theme to create your own place on the internet! Promote your dine-in location with additional features of this restaurant reservation template thanks to the integrated ordering system by UpMenu.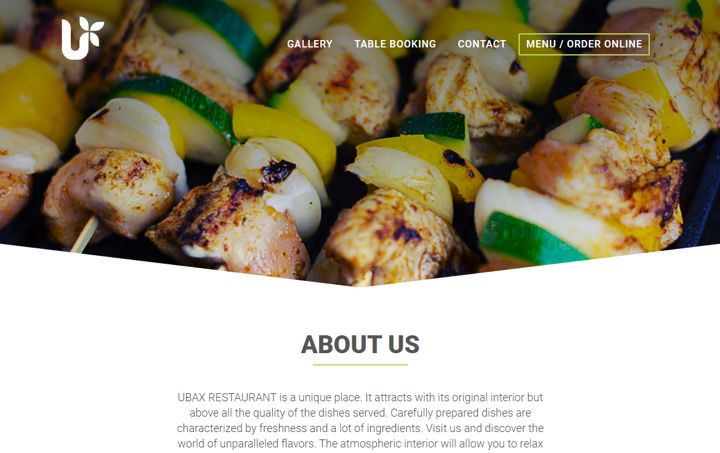 13. Ubax – diet website template
Another one of the greatest restaurants website templates with online ordering functionality, ideal for vegan or health food restaurants, is Ubax. Include the photos of your fresh dishes in this diet website template to acquire more loyal customers. Take advantage of additional marketing features included with the online ordering system.
Choose the Ubax theme and earn more!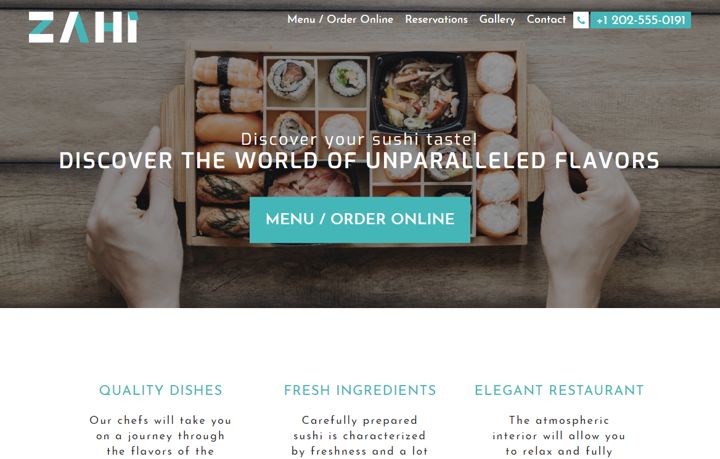 14. Zahi – make your food look good
Sushi dishes look great in pictures. That's probably why the Zahi theme is perfect to show them off! The ability to add a large photo in the header will definitely increase the conversion of online orders. Customers using the best website templates from UpMenu enjoy conversions of up to 40%!
Take advantage of WordPress restaurant website templates integrated with UpMenu to benefit from online ordering and additional features that help running a restaurant business.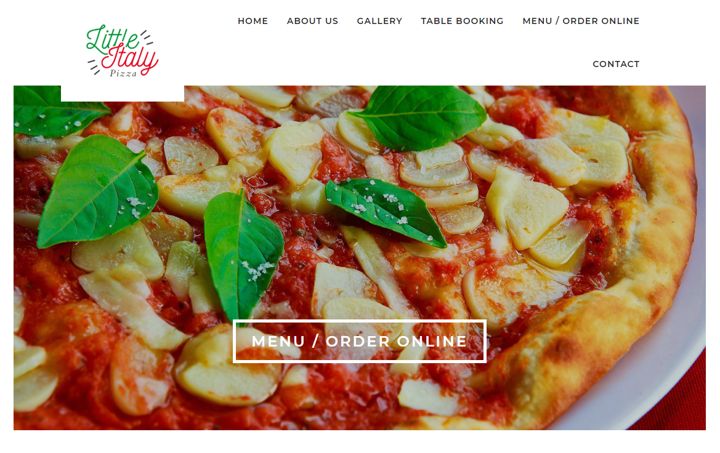 15. Little Italy – already hungry?
Make your customers feel hungry just by viewing your restaurant website. The Little Italy theme, thanks to the ability to add great photos of your dishes, really catches the eye. This theme works great as a template for websites offering delivery. Use it to sell more online.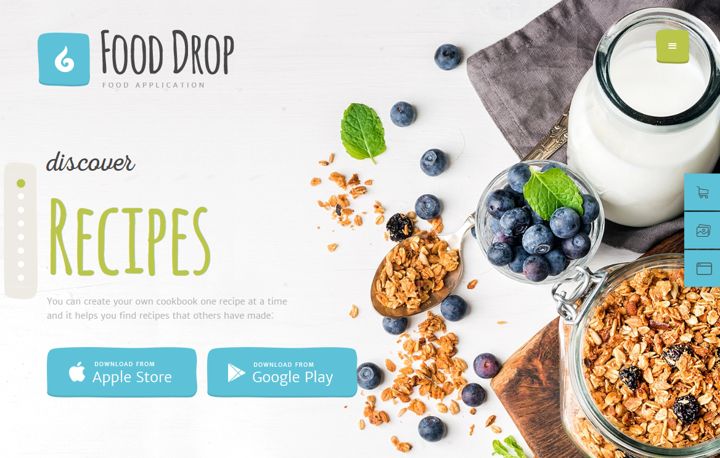 16. Food Drop – a restaurant website template focusing on content
This is a good solution if you want your website to offer more than just a remote food ordering system. With one of the best food delivery enabled website templates – Food Drop, you can also add a blog with articles or a cookbook. More content means greater traffic from organic searches, and that's exactly what makes this theme one of the best website templates.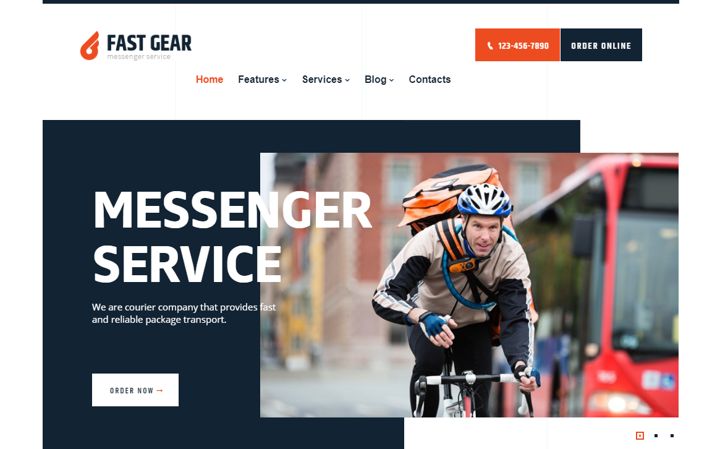 17. Fast Gear – courier services for restaurants
If your business is limited to food delivery only, try out the Fast Gear theme supplied by WordPress. Immediately after accessing the home page, your customers will learn what services they can expect. Besides a description of the deliveries and contact details, you can also add other elements to the website such as a blog and customer reviews.
All those features account for one of the best delivery templates in today's market.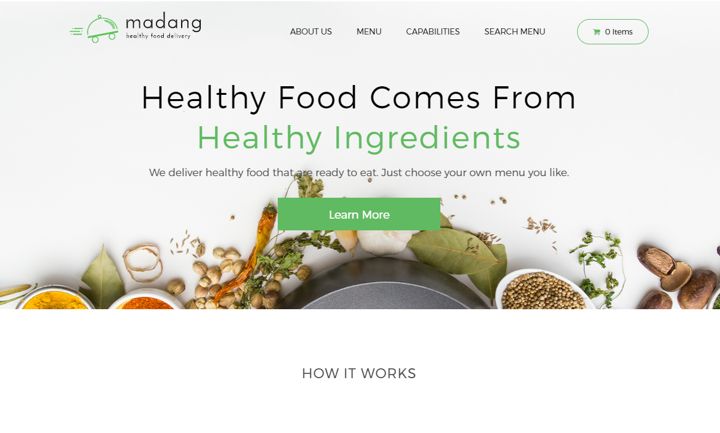 18. Madang – one of the health website templates
This option is the best for restaurants that promote a healthy lifestyle and dining. Madang offers several interesting features. First of all, the customer can choose a dish's ingredients. Secondly, they can limit search results, e.g. to diet or vegan meals.
Those features greatly impact the number of orders placed by customers seeking the healthiest cuisines. Therefore, expanding your customer base with great UX and components supporting healthy cooking ordering.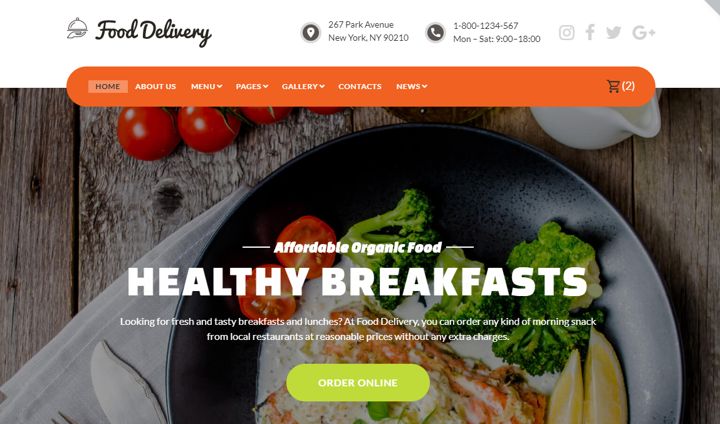 19. Food Delivery – a simple restaurant website template for any restaurant
Are you looking for a traditional template that is intuitive and user-friendly? Food Delivery is a food delivery template that offers everything that a restaurant website should come with: menu, photo gallery, contact details, information about your company, and reviews from customers.
Combine elements provided in this delivery template to create the best possible restaurant website. Online food ordering system from the UpMenu will be a great help at handling orders and expand functionalities of this food delivery template even further.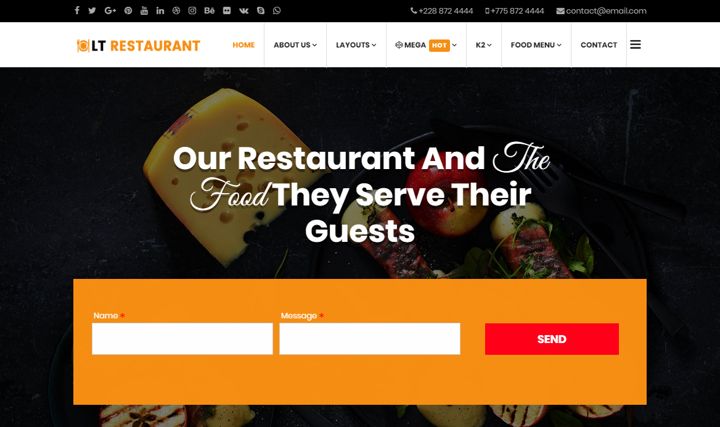 20. LT Restaurant – functionality in 4 colors
With the LT Restaurant template, you can create a fully-responsive website for your restaurant. The use of this restaurant theme is simplified by the drag&drop function that makes it possible to place a given element on a page simply by dropping it in any given area.
Customization feature of this restaurant template will help create great website for any type of cuisine.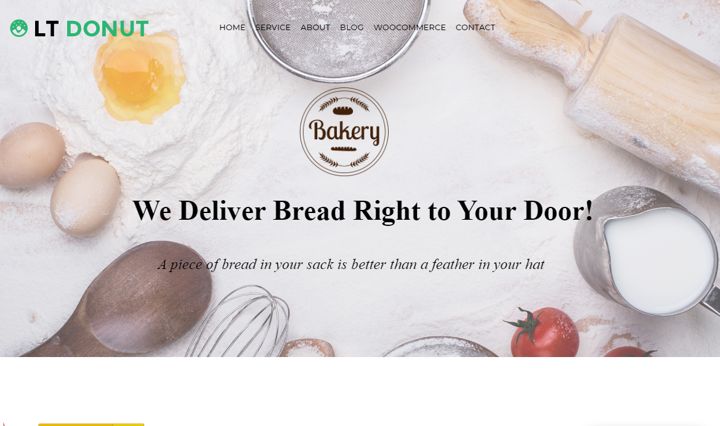 21. LT Donut – one of the sweetest restaurant website templates
If you manage a cake shop, check out one of the best food templates- LT Donut. Present photos of your delicious sweets in the foreground so that nobody can resist them. The character of the theme is emphasized by glittering colors. Adjust this delivery web template to gather even more customers.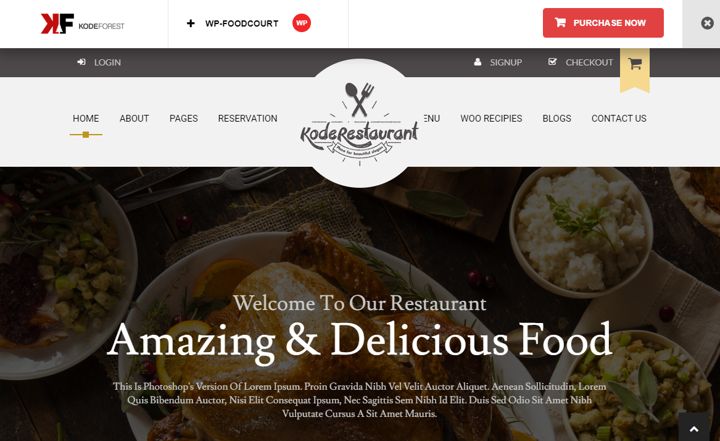 22. Food Court – show customers the quality of your dishes
A website is a place where you can create an image of the best restaurant in town. The Food Court template will make this easier for you. Introduce your customers to your talented chefs and their wide portfolios. Be closer to your clients and promote dine-in locations with restaurant reservation template functions. Integrate ordering system to allow both, deliveries and table bookin features.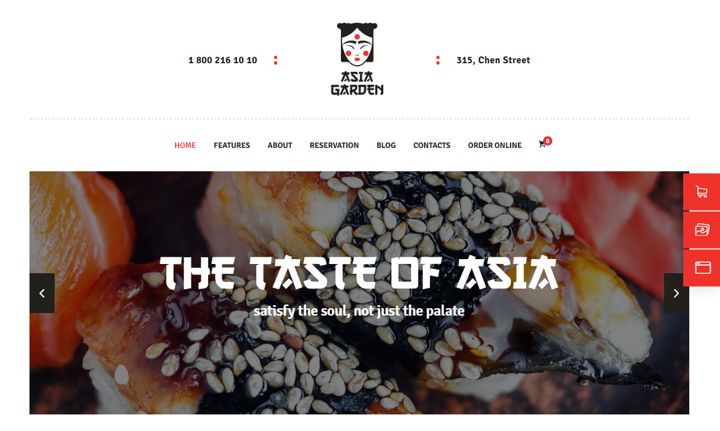 23. Asia Garden – innovative restaurant website template
Asia Garden is a great solution for bars, coffee shops, and restaurants maintained in the style of the Far East. You can add your own menu, an online food ordering system as well as a reservation system to this template.
Make the most out of this restaurant theme idea by customizing it to fit your business model and benefit from functionalities offered by restaurant reservation templates.
FAQ
❓ What is restaurant website template with online ordering?
Restaurant website template with the online ordering is a WordPress theme that enables the incorporation of an online food ordering system.

A template holds all information regarding the design and structure of a website and should allow modifications necessary for handling food orders.
❓ How to choose best restaurant website temaplate?
Choosing the website template, take into account the design and color scheme of website blueprint, those features can be modified but to a certain extent. Choose the template fitting an established brand logo and cuisine style.

Remember about online ordering compatibility feature, interactive menus enabling instant food ordering will drive more customers.
---
Conclusion
Restaurant website templates are a simple and effective method for your business to be visible online. Choose an original yet simple design that will reflect the true character of your company. Show your best side to your customers.
It is worth fighting for the clients who get to your website. 60% of customers order food delivery at least once a week. Let them do it easily and quickly thanks to a restaurant website template from UpMenu. Start your free trial today!
Learn More
Food delivery website the ultimate guide
Ideas for creating the best WordPress menu theme