As we all know, the restaurant industry got hit particularly hard during the 2020 covid-19 pandemic. Having to close down their indoor dining services, many restaurant owners found themselves in a situation where third-party delivery services like DoorDash were their only options.
For some time, services such as DoorDash seemed like a blessing for restaurants as they enabled them to generate some revenue until the return of customers for on-site dining.
However, even after the resumption of in-person dining, many people have grown dependent on the ease of using an app to receive food delivered straight to their doorstep. And for restaurant owners, this meant they were stuck with outrageous delivery fees and no way to fight back.
Philip Foss, a Chicago restaurant owner, wrote in Eater in January 2021 that "Delivery apps are destroying restaurants, from mom-and-pop places to chefs with Michelin stars. They're a terrible deal." And we couldn't agree more.
Now the question is how do restaurants free themselves from the hegemony of third-party delivery apps like DoorDash?
In this article, we're going to explore why DoorDash is so expensive, discuss whether you can do anything to avoid DoorDash fees, and what viable Doordash alternatives are there for restaurant owners to choose from.
Why Is Doordash So Expensive? Doordash Fees Explained
As of 2023, DoorDash owns over 60% of the US food delivery market share. Considering how dominant DoorDash is, one would expect it to be making a lot of profit. Well, as it happens, DoorDash has been losing money for the majority of its existence.
In fact, DoorDash has never been profitable, with the exception of the second quarter of 2020, when it generated a profit of $23 million. But back then, people were simply not allowed to dine outside or indoors, and food delivery was their only option.
According to a report by FourWeekMBA, "DoorDash is not profitable as its net losses amounted to over $1.3 billion in 2022, compared to $468 million in net losses in 2021."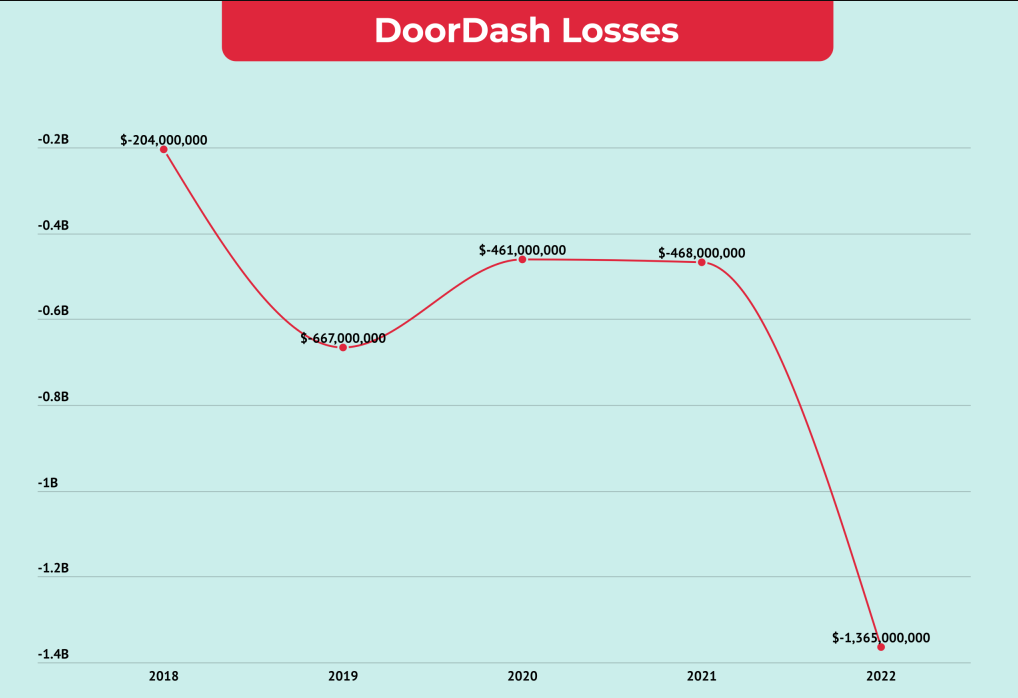 And so this might elucidate why DoorDash fees are as massive as they are. And DoorDash is no exception. Uber Eats, for example, has not yet been profitable.
Let's take a look at various fees and try to understand why many restaurants may struggle to meet increasingly higher fees for using the DoorDash app.
DoorDash delivery fees explained
Service Fees: DoorDash also charges a service fee for every order, which typically ranges from 10% to 15% of the subtotal, starting at $0.60 and increasing based on the order subtotal.
Delivery Fee: The DoorDash delivery fee can vary between $1.99 and $5.99 and may be different based on the restaurant you order from. DoorDash, like other delivery apps such as Uber Eats, may increase this fee during periods of high demand.
Small Order Fee: DoorDash small order fee is $2.50 and is charged if the order subtotal is below a certain amount.
Restaurant Commission Fees: DoorDash charges restaurants a commission fee of up to 30% on every order placed through the platform. This fee can be passed on to customers through higher menu item prices or fees.
It's worth noting that DoorDash fees can vary based on location, restaurant, and other factors. However, DoorDash also offers various promotions, discounts, and subscription plans that can help customers save money on their orders.
That said, no matter how you look at it, commission rates as high as this can drive any restaurant out of business. More and more restaurant owners are trying to find an alternate business model that would free them from third-party apps and their hegemony.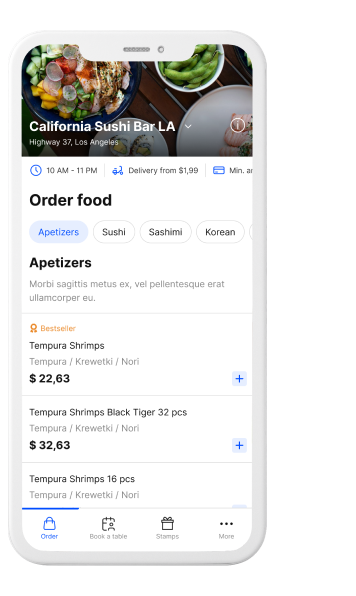 Create a mobile app for your restaurant
Boost customer loyalty with native iOS and Android ordering apps that put your restaurant right in your customer's pocket
Is Doordash Worth It? Doordash Alternatives for Restaurants
Uber Eats or maybe GrubHub? Restaurateurs are desperately searching for DoorDash alternatives to their overpriced services only to find that… there is no escape.
The problem is that neither delivery service profits from their business. This means that the total cost of their business is higher than their revenue. Restaurant owners who continue using these major apps hoping that things will improve are in for a rough ride.
The sad truth is that these companies know that as a restaurant owner, you have pretty much no choice but to acquiesce. And that's why you are paying the highest price. Below is a comparison of different food delivery apps and their pricing.
Food Delivery App

Commission
Your Own App

0%
DoorDash
15-30% delivery fee
6% pickup fee
UberEats
15-30% delivery fee
6% pickup fee
GrubHub
15-30% service fee
10% delivery fee

Postmates
15-30% service fee
0.80% up to $5.00 direct deposit fee
No matter which third-party service you choose, you're in for a bumpy one. And, as it happens, as your sales go up, so do commissions. If you're looking for ways on how to get more DoorDash orders, then you need to take one thing into account. The more delivery orders you get, the more you will have to pay in fees. No matter how you look at it, the more you grow, the more you pay.
The only way out of this mess is by taking matters into your hands and starting your own online ordering system and integrating it with a local delivery service like Stuart. There are platforms that offer simple, code-free solutions, already equipped with restaurant website and app builders.
Instead of paying over 30% in commissions, you can use the money to promote your services and outdo your competition. Sorry to say this, but by giving up all of the control to behemoths like DoorDash, your situation is unlikely to improve.
Luckily, there are a lot of options you can choose from. Learn more about the concept of delivery fees for restaurants and see what works best for you.
6 Tips to Lower DoorDash Delivery Fees for Your Restaurant
Tip 1: Offer In-House Delivery
One effective way to reduce delivery fees is by offering in-house delivery through your own staff or dedicated delivery personnel. By utilizing UpMenu's online ordering system, you can easily set up your delivery service and reduce reliance on third-party platforms. This gives you complete control over the delivery process, resulting in lower fees and better customer experience.
Tip 2: Encourage Pickup Orders
Another cost-saving strategy is encouraging customers to pick up their orders directly from your restaurant. By implementing curbside pickup or a designated pickup area, you eliminate the need for delivery altogether. You can build your own restaurant mobile app to allow customers to conveniently place their orders for pickup, reducing dependency on third-party delivery services and their associated fees.
Sounds interesting? Learn more about how to create a food delivery app in less than one hour without any technical skills.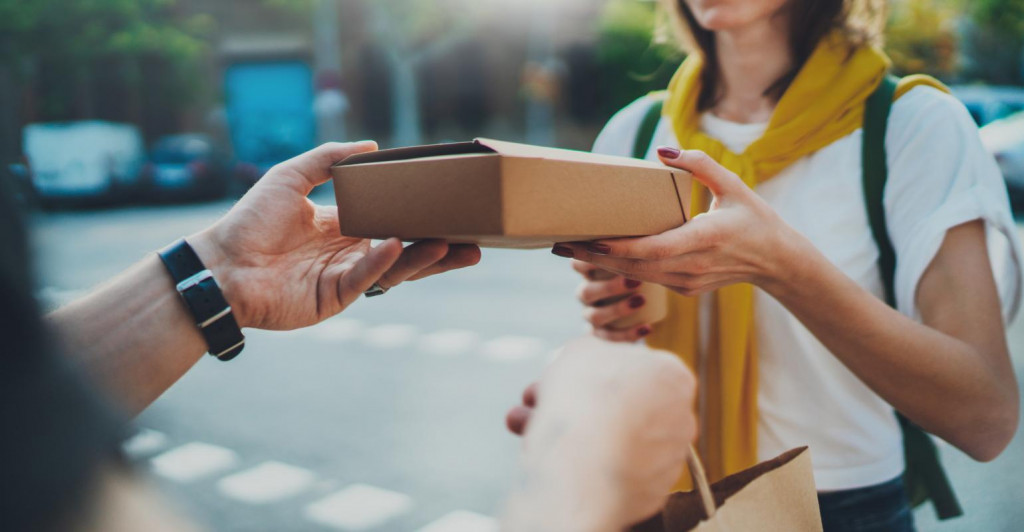 Tip 3: Use Alternative Delivery Services
Consider integrating with alternative delivery services like Stuart or Shipday, which are known to offer more competitive rates compared to DoorDash. UpMenu's integration capabilities allow you to connect with these services seamlessly, expanding your delivery options and potentially lowering your overall delivery costs.
Tip 4: Optimize Delivery Zones
Another effective way for reducing delivery fees is to optimize your delivery zones. You can minimize travel time and expenses by focusing on delivering to areas within a certain radius of your restaurant. With UpMenu's flexible settings, you can easily customize and define your delivery zones, ensuring efficient delivery operations.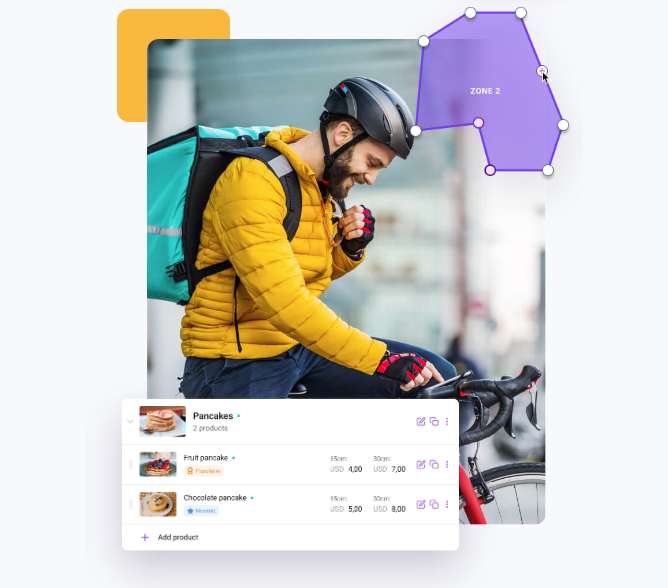 Tip 5: Implement Minimum Order Requirements
To make deliveries more cost-effective, consider implementing minimum order requirements. By setting a threshold, you encourage customers to order larger quantities or reach a minimum spend, which can help offset delivery costs. This approach also ensures that your delivery service remains profitable even with reduced fees.
Tip 6: Adjust Menu Pricing
To compensate for delivery fees, you may consider adjusting your menu prices slightly. By incorporating a small delivery fee into the pricing, you can cover a portion of the costs without impacting your customers significantly. Carefully analyze the impact of these adjustments on customer satisfaction and profitability to strike the right balance.
Key Takeaways
Third-party apps like DoorDash and Uber Eats have never been profitable, and it is unlikely that their commissions will decrease. They need them to stay in business.
Restaurant owners pay the biggest price because they are the ones who have no choice but to use these apps and pay extra fees.
Customers are unlikely to give up these convenient services. It is up to restaurant owners to find an alternate solution and establish an online ordering system separate from the mainstream third-party apps.
The only way to increase the number of independent restaurants is to promote solutions that give restaurants more control and allow them to build their own website and delivery app for a flat, subscription-based fee rather than a percentage-based one.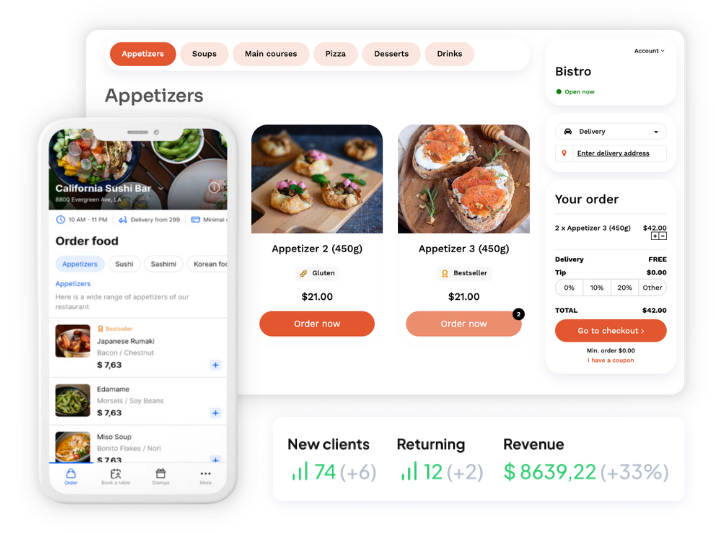 Start selling food online
Set up commission-free ordering for your restaurant's website in minutes. Boost revenue while saving on third-party fees
Frequently Asked Questions (FAQ)