Marketing automation software for small businesses, or even the bigger ones, should effectively support your interactions with customers. There is plenty to gain thanks to communication channels.  SMS campaigns equal to an open rate at the level of 98%. In email campaigns, this figure is nearly 25%.
However, creating and sending SMS or email campaigns is usually time-consuming. You have many obligations as an owner or manager of a restaurant or small business. Marketing is the last thing you normally think about on any given day.
The UpMenu online ordering system will help you make money selling online and not only that, this is a solution that will improve the functioning of the entire establishment. Thanks to new marketing features, you can manage the entire communication with your customers from one place.
What is marketing automation software?
Restaurant marketing automation is a feature of the UpMenu online ordering system that will help you organize your marketing with minimum sacrifice of time. The system will automatically send all the messages to your customers.
All you have to do is set marketing automation conditions once and the UpMenu system will send out campaigns each time those conditions are met.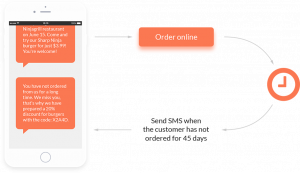 Use scenarios
Marketing automation software in the UpMenu system will enable you to contact customers automatically in pre-defined situations. The system will send any message you set when the customer meets the following criteria:
They did not order for some time;
They placed an order a certain amount of times;
They placed an order;
They rated an order;
They created an account.
Sending messages to customers who have not placed orders for some time is a great idea for mobilizing so-called "idle" customers. Perhaps they don't have any particular idea of what to eat and somehow they forgot about your brand, marketing automation will remind them about you.
When a customer has already ordered a certain amount of times, you can send them a text message with a discount code or simply thank them for ordering so often. Additionally, you can also thank the customer when they place an order or create an account on your website.
The choice is up to you with regard to the situations in which the system will contact your customers. The online ordering system gives you new possibilities for managing the marketing of smaller and bigger enterprises. You only have to set the appropriate automation once and forget about the rest.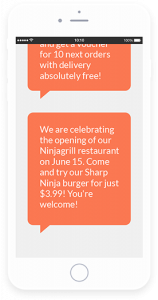 Benefits of marketing automation software
The online ordering system with marketing automation software will primarily generate time savings. So, instead of trying to keep in mind that you have to send messages to customers and doing it manually practically every day, you can set automation and forget about the rest.
Sending such messages will strengthen your relationship with the customers. This way, they become more loyal to your establishment and are more willing to place orders. This, of course, translates into your profits.
Loyal customers will also act as ambassadors for your brand. Moreover, they will recommend your products to family and friends, again contributing to your turnover improvement, making it the best scenario in marketing for business.
The UpMenu platform provides restauranteurs with the ability to offer discounts to customers without changing their prices. This helps to encourage online reviews, which can be beneficial for the business. UpMenu also allows restaurants to choose between a percentage discount or a fixed amount discount.
FAQ
What is marketing automation software?
Marketing automation software is a system designed to support your marketing efforts, by utilizing automatically generated text messages, discount coupons, push notifications, emails, etc.

The marketing automation system uses predefined criteria to generate and send messages targeted at the specified customer group.

Therefore, the whole process streamlines communication efforts and collects data essential for marketing analysis. You can review your operations and set the course for further actions.
Drawbacks of marketing automation software
Marketing automation software can be a great tool for managing and executing marketing campaigns. However, there are some potential drawbacks to using this type of software. One potential drawback is that marketing automation software can be expensive. The software itself can be expensive to purchase, and then there are often additional costs for things like training, support, and integration with other software systems.
Another potential drawback is that marketing automation software can be complex to use. The software can be difficult to learn and use, and it can take a lot of time to set up and configure the system. This can be a problem for small businesses that don't have a lot of resources to devote to learning and using the software.
Finally, marketing automation software can sometimes create more work for marketing teams. The software can automate some tasks, but it can also create new tasks, such as managing and monitoring the system, troubleshooting problems, and creating reports. This can increase the workload of already busy marketing teams.
Conclusion
Contacting customers by text messages or email is one of the best methods of restaurant marketing for building loyalty among them. Thanks to the UpMenu online food ordering system you can save plenty of time as you won't have to send campaigns manually and instead, you will be able to automate the entire process allowing you to devote more attention to the customers visiting your restaurants.
Learn more
Find out more about the features of the UpMenu system that will help you organize the work of your team and earn more – read the following articles:
Automated ordering system – streamline the ordering process
Best restaurant menu theme (2020) – Restaurant website creation guide