Automating processes is still a relatively new concept in the restaurant industry. There are great benefits that come with automation, such as reduced labor costs and saving time and money. But how do you automate restaurant processes where human interaction and hard work are so important? First, implement an automated restaurant ordering system.
You can't replace a human team, but you can improve their work efficiency and automate many tasks with this helpful tool.
Automation involves using technology to streamline daily processes or even completely take over certain operations. The easiest way is to automate simple tasks like data management – this is how an automated restaurant ordering system works.
How automated restaurant ordering systems are changing the game
The food delivery industry has undergone a dynamic change over the past few years. Studies show that over 60% of US consumers order food online at least once a week, and 30% say at least twice.
This trend has been steadily increasing, which is why the restaurant industry needs to adapt to technology-conscious customers. Without an automatic food ordering system, restaurant owners are forced to take orders by hand – which keeps them from doing other tasks.
Although it might seem like a minor inconvenience, you're burning up too many resources without automation tech in the restaurant. Taking food orders is only a tiny part of the food delivery process, but it can eat up your time.
At the same time, customers also expect more seamless food ordering methods. They want to place their orders, pay, and be on their way without making a phone call. In 2020, the value of food orders via mobile ordering systems reached $38 billion.
So how do you get your restaurant in on the action?
How can an automated restaurant ordering system automate your work
Automated online ordering systems reduce staff involvement in food order management. For example, with systems like UpMenu, your customers choose what they want to order on an interactive menu from your website, Facebook page, or mobile app.
In addition, clients can easily customize their orders, select add-ons, and view delivery options from your page.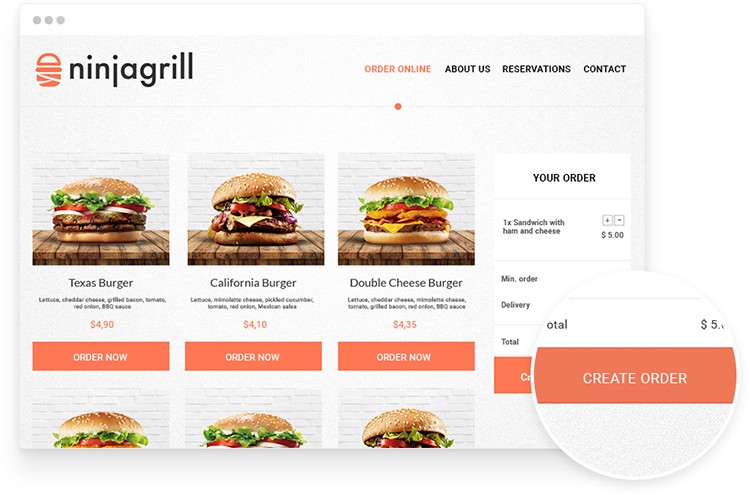 In UpMenu, food orders go to the order handling panel. Once the business receives an order, the customer is immediately notified about the estimated delivery time and status. The food ordering software can also be connected directly to a restaurant receipt printer which will immediately print the order details.
This way, you and your customer save time, and your employees can focus on other tasks instead of answering calls. An automated food ordering system also eliminates mistakes when taking food orders by hand.
What else can an automated restaurant ordering system do?
The UpMenu automated food ordering system makes order management a breeze – but the automation doesn't end there. With UpMenu, your marketing activities can be put on autopilot.
Are you seeing a dip in food orders, or are you going through a slow period? Put marketing automation to the test, which allows you to send customized email, SMS, and PUSH messages directly to clients based on pre-set circumstances.
Once your customers receive their orders, collect feedback in your restaurant online ordering system. Doing so builds a thorough database that lets you make data-backed decisions about your business.
And best of all, you don't need to be a tech marketing expert or hire one to run your restaurant's marketing. UpMenu is the perfect automation system for running your restaurant your way.
A digital customer database that builds itself
All the information about your customers, their payment methods, and orders are stored on the UpMenu dashboard. Detailed reports will inform you which customers order the most, which of your menu items are the most popular, and which ones are not selling.
You can use this information to prepare dedicated offers and change your menu items to serve clients precisely what they love. Adjust your menu to get the most out of your online ordering system and boost revenue in your restaurant!
Customers placing orders through the automated restaurant ordering system will also be asked to consent to marketing messaging. When they agree, they are automatically sent to the newsletter database. This lets you send clients your restaurant newsletter, which keeps them informed on your latest offers, happenings, etc.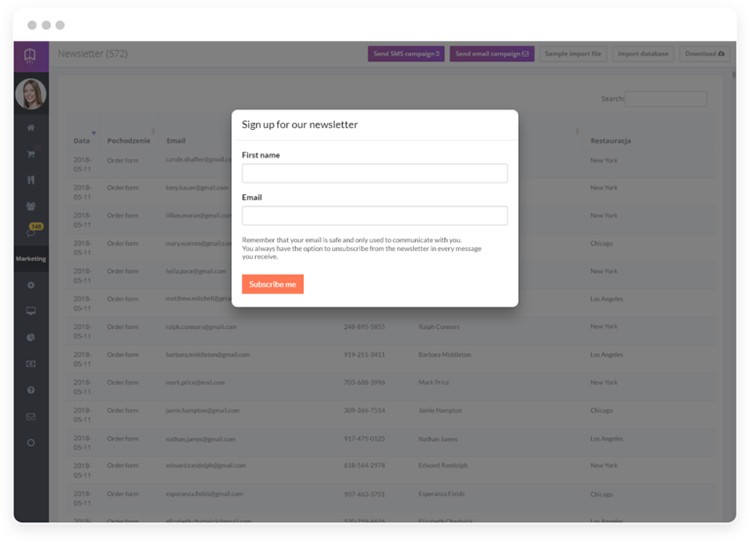 You can also use collected information to increase sales. UpMenu allows you to send email, SMS, and push campaigns to do just that. Looking to promote a buy-one-get-one-free special? Plan on hosting a special event and want to invite your clients? UpMenu's automation features will help you get the word out with friendly reminders.
Message blast automation
An automated restaurant ordering system lets you schedule an SMS or email messaging campaign based on several situations. This builds closer relationships with clients, which is essential when creating a loyal customer base.
Imagine a customer who hasn't ordered from your restaurant in a while. UpMenu will send them a message with the content you choose after a certain number of days.
Use this message type to bring them back to your restaurant. Encourage them with a special offer or tempt them with new, mouthwatering additions to your menu.
Collecting customer reviews
Your customers will also be asked for food, delivery, and price feedback. This gives you essential information that helps to improve or maintain a high quality of service. Customers have already left over 240,000 reviews through the UpMenu system — now that's a lot of feedback!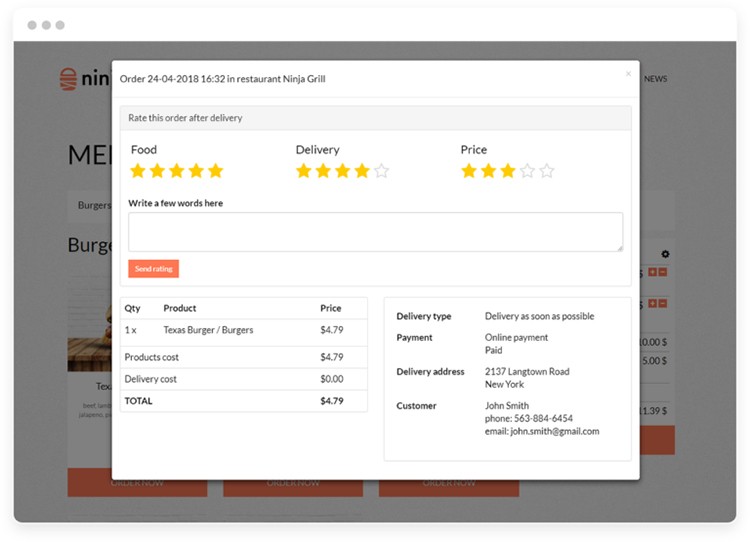 Your reviews are available on the dashboard of the automated restaurant ordering system. You can also respond to customer feedback, which helps improve their experience with your brand.
Building loyalty
When it comes to building customer loyalty, UpMenu is all about automation. With an automated loyalty program, restaurants can reward clients for their purchases with points, which can be used as a form of payment for getting promotions and discounts.
Looking to improve customer loyalty and increase food orders? Create customized discounts and promotions and activate them when your order dashboard looks empty.
Systems such as paper point cards and stamps can get lost, are not convenient, and can be used only on-site in restaurants. Most modern restaurants have switched to digital systems with features allowing for automatic loyalty point distribution and campaign editing.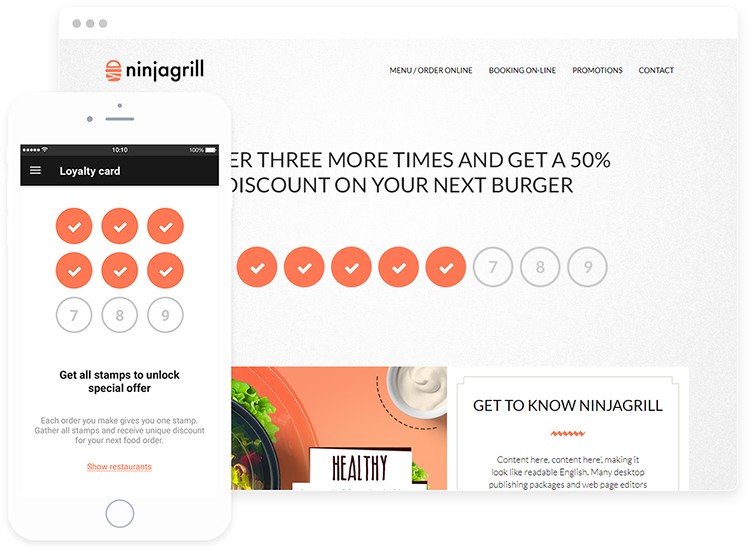 UpMenu's loyalty program is designed to work both online and offline. It allows you to reward customers for dining in your brick-and-mortar locations or when they decide to order food to go.
Find out more about the restaurant loyalty program and how automation technology helps restaurants provide top-quality service and turns one-time clients into regulars.
Easier table booking
Taking table reservations in your restaurant just got much easier for your clients and your team. With the UpMenu app, clients go to your page and book a table with just a few taps.
Once their booking is made, you get a notification in your automated food ordering system, and you're all set. Instead of taking reservations over the phone, clients can make their bookings without getting you or your team involved.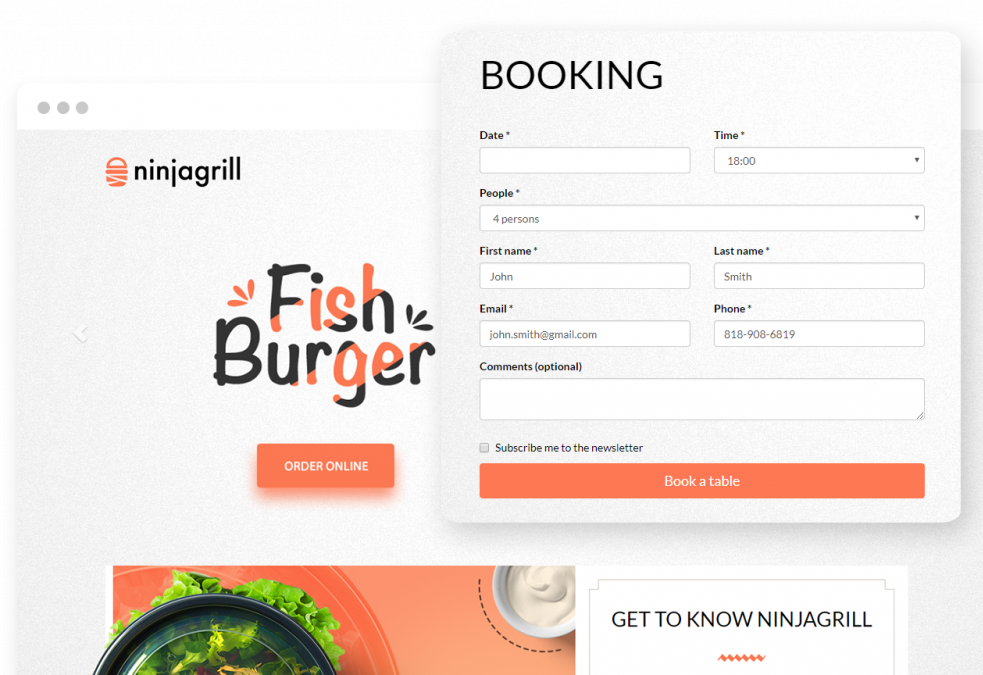 The process is very similar to online ordering for a restaurant. It'll not only take you just a few seconds to accept the table reservation, but all the data regarding the booking is also available in real-time. Your customers will also be instantly informed if they successfully reserved a table.
FAQ
What is an automated restaurant food ordering system?
An automated restaurant ordering system is a software solution for restaurants that lets clients instantly place orders through a website, mobile application, or even a social media brand page.
Online ordering for restaurants is essential for effectively developing digital sales channels. Restaurants that plan on going digital need this technology to attract more clients, increase the number of food orders, and earn more revenue.

Ordering systems send information about placed food orders directly to your app. With just a click, you can confirm food orders and determine the delivery time, accept online reservations of tables, and control everything.
How does an automated ordering system work?
A customer places an order on your website or mobile application. You receive the order details on the system panel. From there, confirm the order and determine the time of delivery.
Additionally, there may be specific client requests that you may have to address. Finally, your customer receives confirmation that their order has been accepted, as well as the estimated delivery time. Here's more information on how to set up online ordering system specifications.
Streamline your food ordering process
An automated ordering system is designed to help you save significant amounts of time and money, all while making the food ordering process faster and more convenient for your clients.
Over 60% of Americans order food online regularly. With an automated restaurant ordering system, you allow clients to create their food orders their way without having to jump through hoops.
Only with a food ordering system with marketing integration like UpMenu can you increase the number of food orders, grow customer loyalty, and boost your revenue.
With UpMenu, you can automate the food ordering process, create and schedule marketing campaigns, run a loyalty program, and take table reservations. You didn't start a restaurant to be stuck in paperwork – leave that to us.
Ready to learn more?
Get your know-how about the latest innovations and concepts in the restaurant industry from the UpMenu blog. Also, learn about ghost and cloud kitchens and virtual brands from our recent article Ghost Kitchen – the future of food selling?
Need some fresh ideas for your restaurant website? Find inspiration with our Best Restaurant Menu Themes selection, which will help you design your menu to match your restaurant's branding.
Looking to increase sales, attract more clients, and earn more revenue? Get your restaurant 101 with the most effective Menu Engineering practices.
Key takeaways
Running your restaurant your way isn't allways an option when creating marketing campaigns, building customer loyalty, and managing orders. Focus on your clients and leave the rest to UpMenu. Here's what you can expect from your automated restaurant ordering system:
Your own digital menu designed by you to drive more food orders,
Seamless food ordering experience for your clients,
Customer database that grows automatically,
Automated marketing messaging to boost food orders and table reservations,
Loyalty program designed to keep clients coming back to your restaurant,
Automated customer review requests to help you grow,
An easy to use table booking and management feature.