One-page restaurant websites are minimalist websites that offer a captivating and immersive user experience, providing all the essential information about the restaurant without overwhelming visitors with unnecessary clutter.
With striking visuals, a concise menu, easy online ordering for customers, and crucial contact details, best restaurant websites create an enticing virtual experience that mirrors the delight of dining in the restaurant itself. This article will show over 20 examples of the best restaurant website designs. Let's go for it!
What is a one-page restaurant website?
A one-page restaurant website is a specific type of website that compresses all crucial information about a restaurant into a single, streamlined web page. These websites, known as one-page restaurant websites, adopt a minimalist design approach, incorporating captivating visuals and interactive elements to create an immersive user experience.
Oftentimes, restaurant owners link their website to their Google Business accounts. Potential clients who use search engines to find restaurants often land on Google Maps in search of the business' physical location. From there, they can hit the link to the restaurant's website and are taken directly to its home page.
By concisely presenting the menu, location, contact details, and other essential information, these websites offer visitors a quick and straightforward way to explore the restaurant's offerings and encourage them to make reservations or visit the establishment in person.
What's the difference between one-page and multi-page restaurant websites?
The main differences between one-page and multi-page restaurant website templates are their structure and content organization.
As the name implies, a one-page restaurant website is designed on a single web page, consolidating all vital restaurant information in one place.
Everything is presented seamlessly on the same page, from the menu and location to contact details, reviews, and other relevant content. Visitors can conveniently scroll down to explore different sections, ensuring a visually engaging and easily navigable experience that is straightforward and concise.
Conversely, a multi-page restaurant website follows a more conventional approach, comprising multiple web pages, each focusing on specific aspects of the restaurant. Typically, these websites include separate pages for the home, menu, about us, contact, reservations, gallery, and other sections.
Visitors navigate between pages by clicking on navigation links or menu options to access different information.
While multi-page websites offer the advantage of accommodating extensive content and improved organization, they may demand more user effort to explore the entire site.
One-page vs. multi-page restaurant website – what's better?
When it comes to choosing between a one-page and a multi-page restaurant website, it boils down to what fits your specific needs.
If you prefer simplicity and a straightforward approach, choose a one-page website for quick loading and easy navigation. But, if you want more space for detailed content and better search engine visibility, a multi-page website might be the way to go.
Pick the option that best suits your restaurant's goals and appeals to your target audience.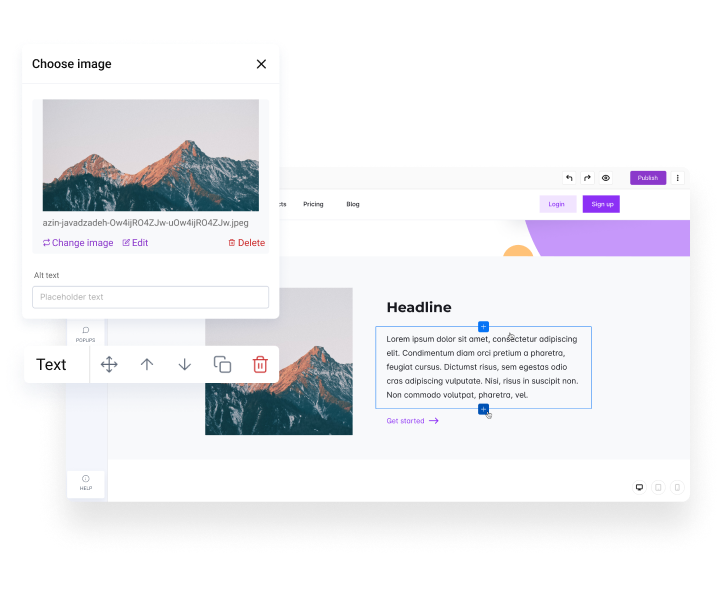 Restaurant Website Builder
Create FREE restaurant website in minutes
Choose from 50+ restaurant website templates to craft a site that turns visitors into customers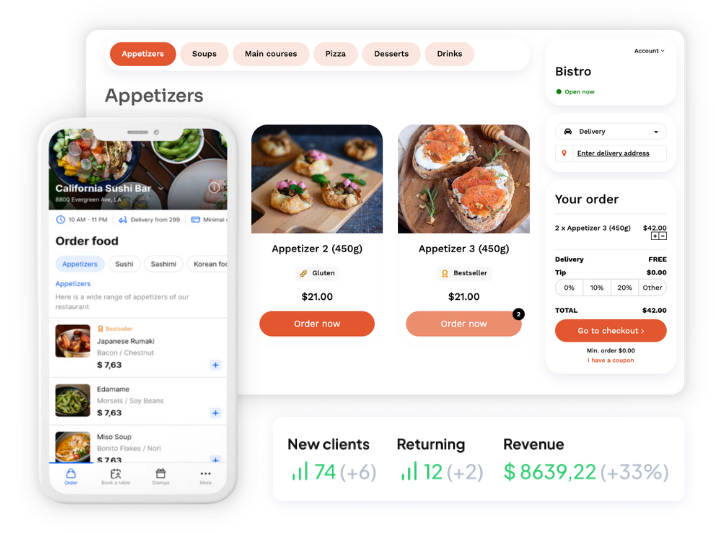 Start selling food online
Set up commission-free ordering for your restaurant's website in minutes. Boost revenue while saving on third-party fees
Key Takeaways
A one-page restaurant website offers a minimalist design that presents all essential information in a straightforward manner. This simplicity enhances the user experience and makes it easier for visitors to find what they need quickly.
Restaurant website designs with captivating visuals, interactive elements, and smooth scrolling create a more immersive and engaging experience for visitors, encouraging them to explore the site thoroughly.
The single-page structure reduces server requests, resulting in faster loading times. This quick response is crucial in keeping visitors engaged and preventing them from bouncing off the site due to slow loading. It also increases the online ordering conversion.
One-page websites are well-suited for mobile devices, providing a seamless and consistent user experience across different screen sizes.
The limited space on a one-page website encourages concise and impactful content. By focusing on essential information like the food menu, food delivery service, and restaurant location, restaurants can effectively convey their brand message and offerings to visitors.
Frequently Asked Questions (FAQ)