This restaurant has been our customer since 2015 and has been increasing its sales and profits continuously thanks to an online food ordering system available on the restaurant's website and with the use of a restaurant mobile app for Android and iOS devices
Brand characteristic
"Pizza taxi" refers to a New York-based corporation, Taxi Checker, with its name and the entire brand, creating a one-of-a-kind atmosphere. The American pizza that they serve is based on fresh ingredients – this is the restaurant's speciality! Ordered meals are delivered by cars that look like New York taxis. There are two restaurants in this chain, both located in Poznan.
Problem
This restaurant provides delivery services and was looking for a method that would help in organising their ownonline orders. Launching the UpMenu system turned out to be the perfect response to this problem and generated outstanding results.
Solution
1. Own online orders
Due to the fact that "Pizza Taxi" had already been offering its own online orders for three years, they could easily observe any increase in the number of orders and profit each year. The results are really impressive. Launching a new sales channel and obtaining access to comprehensive marketing tools also contributed to increased conversion, i.e. greater numbers of people visiting the restaurant website and placing orders.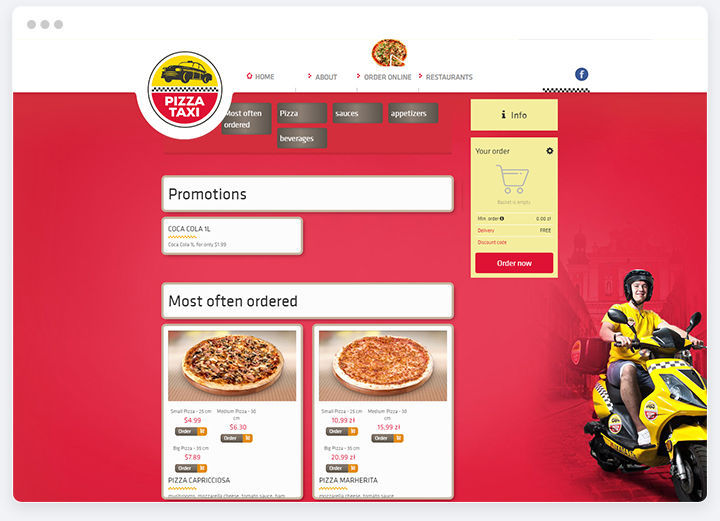 Online orders on the restaurant website
2. Mobile application for restaurants with online orders
In order to build awareness and loyalty among customers, "Pizza Taxi" decided to launch a restaurant mobile app available for iOS and Android devices.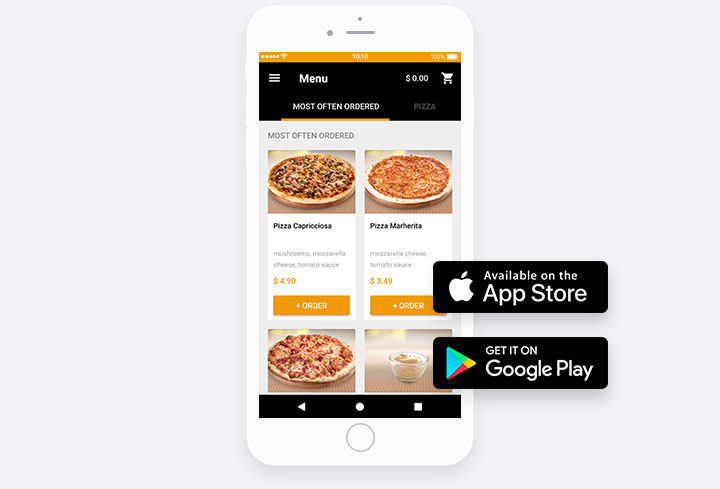 Restaurant mobile app
3. Promotions and discounts online
"Pizza Taxi" knows how important it is to create various promotions and offer discounts to their customers. They are also aware that information about the above should be announced on all their sales channels, both on social media and on the restaurant website with online orders – after all, restaurant online marketing is very important for a restaurant. One of the bonuses that "Pizza Taxi" offers to students is 10% off each order. The promotion is available both at the restaurant and for delivery.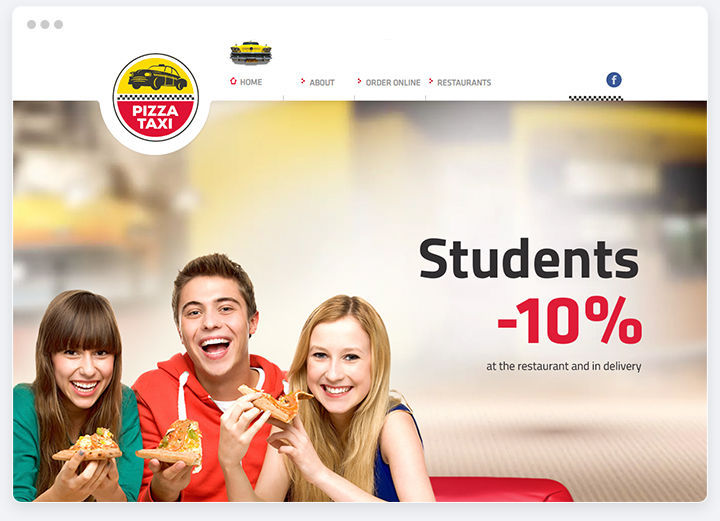 Discount for students 10% off orders
It's important to note that each discount can be generated in the UpMenu system, so that restaurant customers can enter the discount code in the order form, and their cart will be updated automatically.
4. Restaurant offline marketing
While undertaking a variety of marketing activities, "Pizza Taxi" keeps in mind the importance of promoting their restaurant offline. The restaurant features branded packaging for pizzas with their logo, telephone number as well as the website address that can be used by the customers to place orders. Additionally, the packaging features information about the delivery time to the customers. "Pizza Taxi" also features cars for delivering pizza that are yellow and look like New York taxi cabs.
Results
The first online food order placed at "Pizza Taxi" was in 2015. Since then, time has shown how impressive the results of this restaurant are. In 2018 a period until the end of November is taken into account. A clear increase in the number of orders is noticeable at the turn of 2015 when the restaurant started cooperating with UpMenu. In 2017, the number of online orders increased significantly compared to 2016.
This means that ordering food online is still gaining popularity. With the UpMenu system, "Pizza Taxi" has had the opportunity to get closer to its customers for several years now and, more importantly, to increase sales and profits.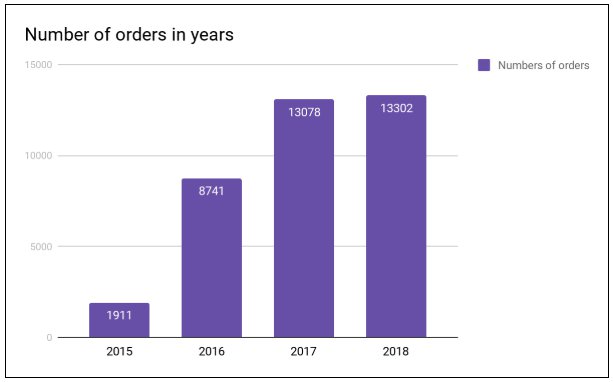 Number of online food orders between 2015-2018
The results for the average number of online food orders are also impressive on a monthly basis between 2015-2018. It is clearly visible that the number of online orders per month has been increasing.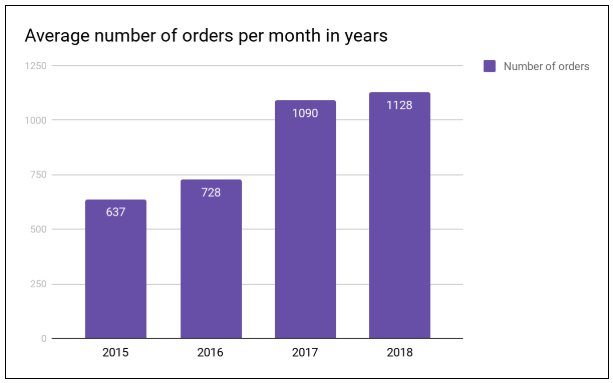 Average number of online food orders per month between 2015-2018
Conclusion
The example of "Pizza Taxi" shows us that thanks to implementing their own online food ordering system, on both the restaurant website as well as the mobile application, the restaurant has been achieving outstanding sales result and, most importantly, this translates into greater profit for the restaurant owner.
Furthermore, the additional features of the UpMenu system help in increasing the number of orders placed by the restaurant's customers, build customer loyalty, and create a conscious brand in the restaurant industry.