Facebook page is a great place for restaurant online marketing. It's an opportunity to present the climate and atmosphere of your restaurant, introduce your employees, and showcase your phenomenal meals. Check our best Facebook page ideas.
1. Post regularly
Regular posts are a very important issue. If you only publish once every few months, you won't gain any new customers. Furthermore, you won't have a positive impact on increasing the reach of your posts.
Best Facebook page ideas require posts to be published at least several times a week. Assume a certain number of posts and follow this rule. At least 3-4 posts per week should appear on your restaurant's profile. Only then will it be up to date and attractive to your customers.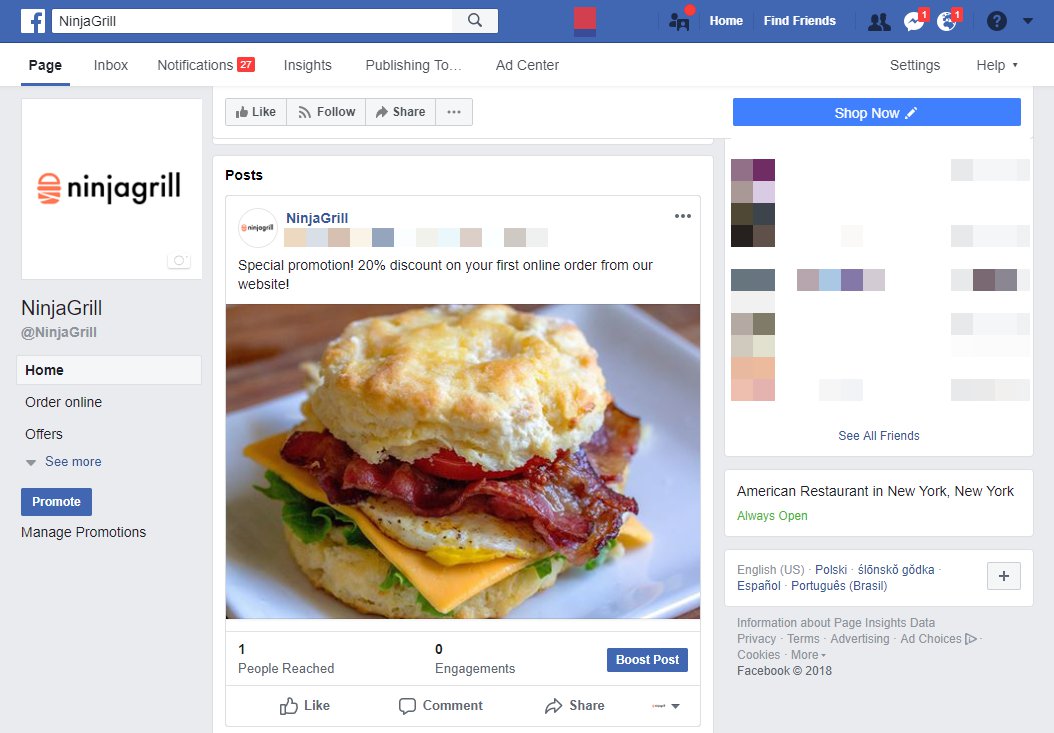 2. Restaurant online marketing and customer reviews
Each review made by a customer is important and you should respond to all of them. Regardless if it is a negative review or a positive one, deleting or ignoring opinions on Facebook will have a negative impact on the reputation of your restaurant.
Before you respond to a comment, think about it carefully. If you offer a free meal to make up for a bad review, then you may face further similar negative comments.
Social media is a new method for communicating with customers. It is significantly closer and more open so, it is worth thinking about every reaction to regain customer trust without losing your good image in the eyes of others. Sometimes, it is a lot more important to offer an apology, conversation, and mutual understanding rather than a free meal.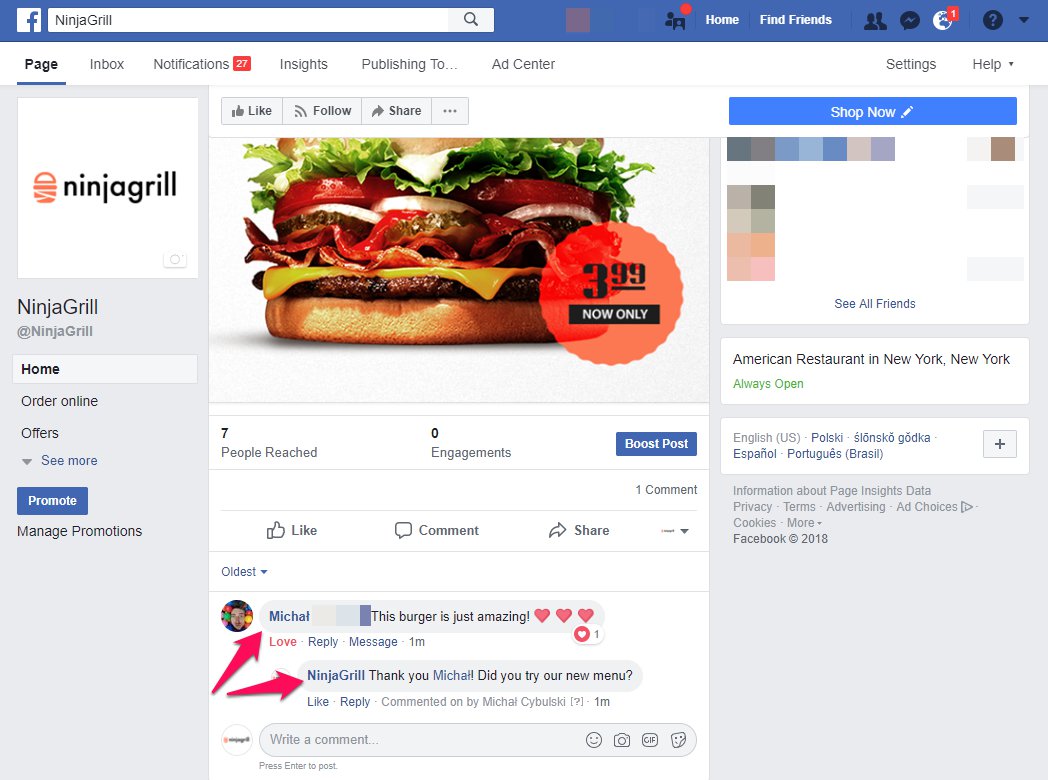 3. Ensure good resolution and naturalness of photos
Restaurant online marketing is largely based on photographs. They affect the senses, activate cravings, and generate curiosity. This is why it is so important to ensure good photo resolution. Food images should be natural, authentic, and attractive.
When you don't feel good enough to take photos by yourself, it is worth employing a professional. If you want to try food photography yourself, make sure you read our article entitled: Professional photos of your dishes without a photographer – is it possible?
What is worth paying attention to when photographing meals?
A fresh dish will look best
Ensure natural lighting
Pay attention to the entire setting around the dish – ensure proper accessories and a matching background.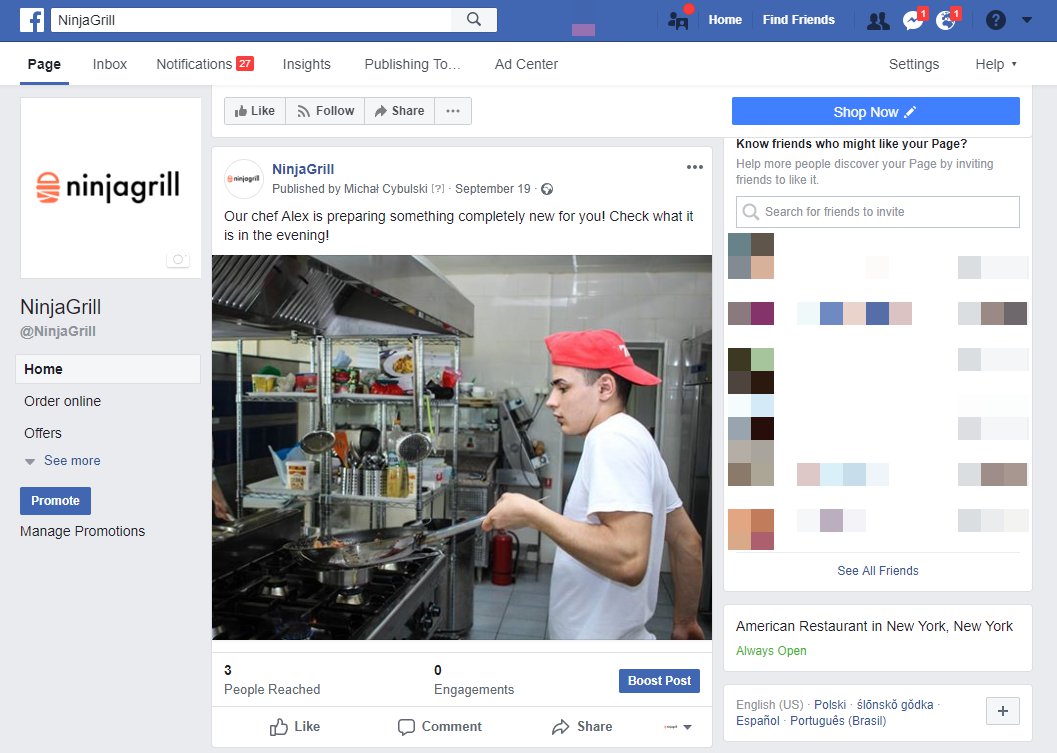 4. Activate your fans
It is important to add calls to action in post content, e.g. "Order now!", "Check our latest promotions", "See new items on our menu". An ideal solution would be to redirect the customer to your own online ordering system on your restaurant's website or mobile application.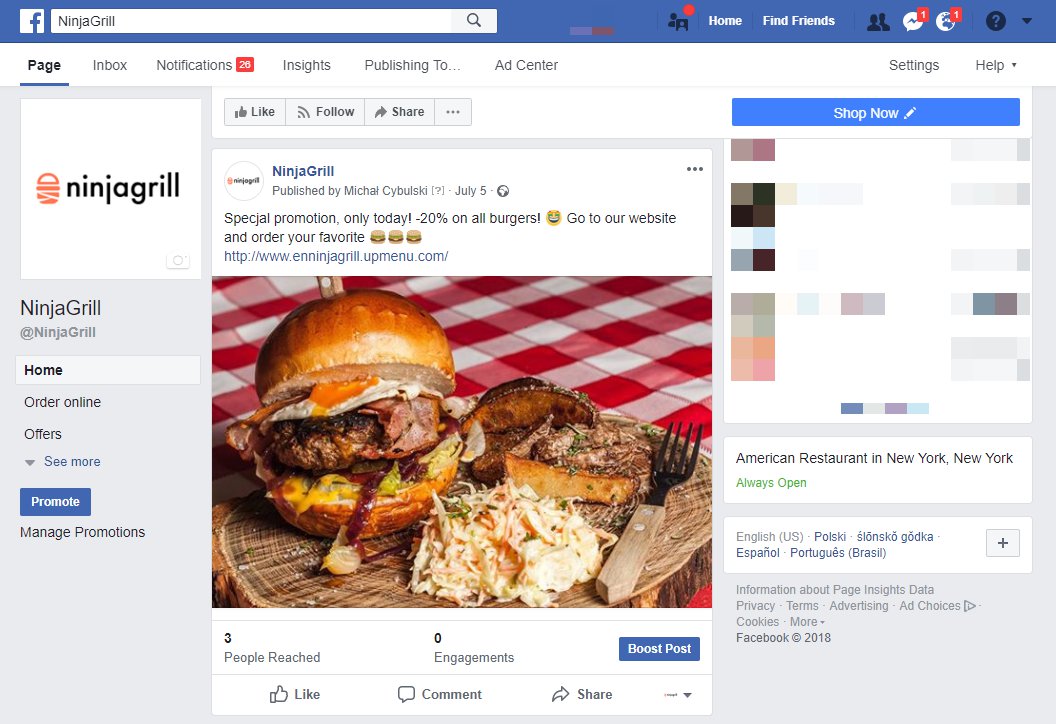 5. Share your restaurant's life
On your Facebook page, show others what happens at your restaurant. All the new products on the menu, changes to the interior, new meals, artistic events, contests, reviews, celebrity visits – it is well worth sharing news about all this on Facebook.
Show everyone how your restaurant works. Restaurant Facebook page ideas require transparency. Whether it's a photo, a shared link, or a short note published in a post. Tell your restaurant's story.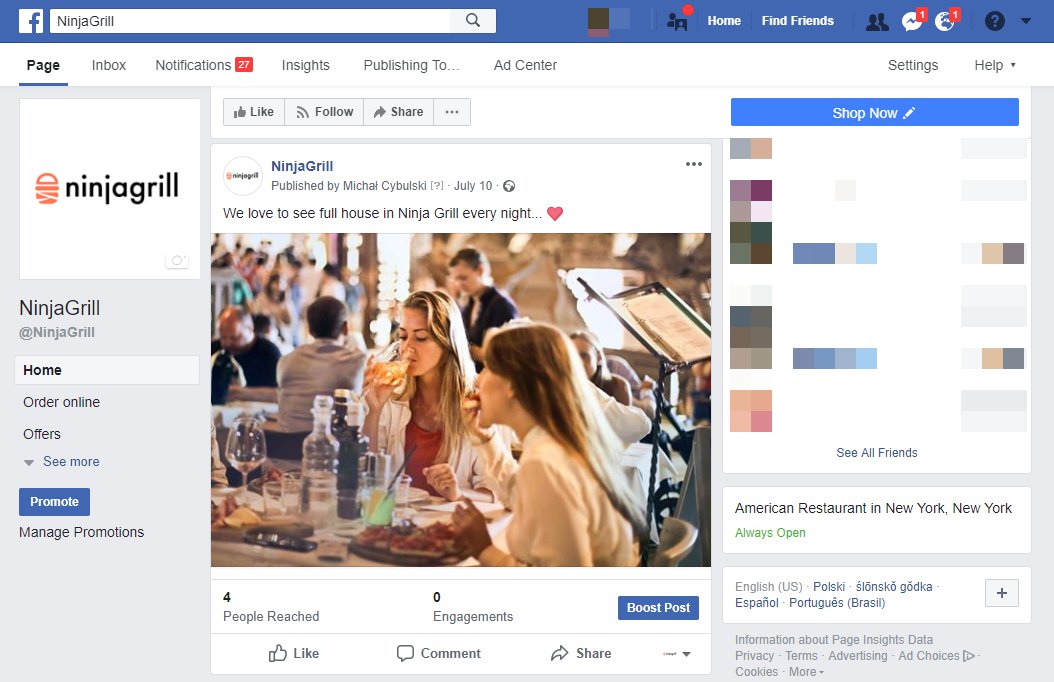 6. Promote the restaurant online ordering system
Facebook is a great tool for online restaurant marketing. Use it for promoting your own online orders.
When you share posts regarding the menu at your restaurant or special promotions, make sure you include links to online orders. If you would like to promote a certain product, you can use direct links!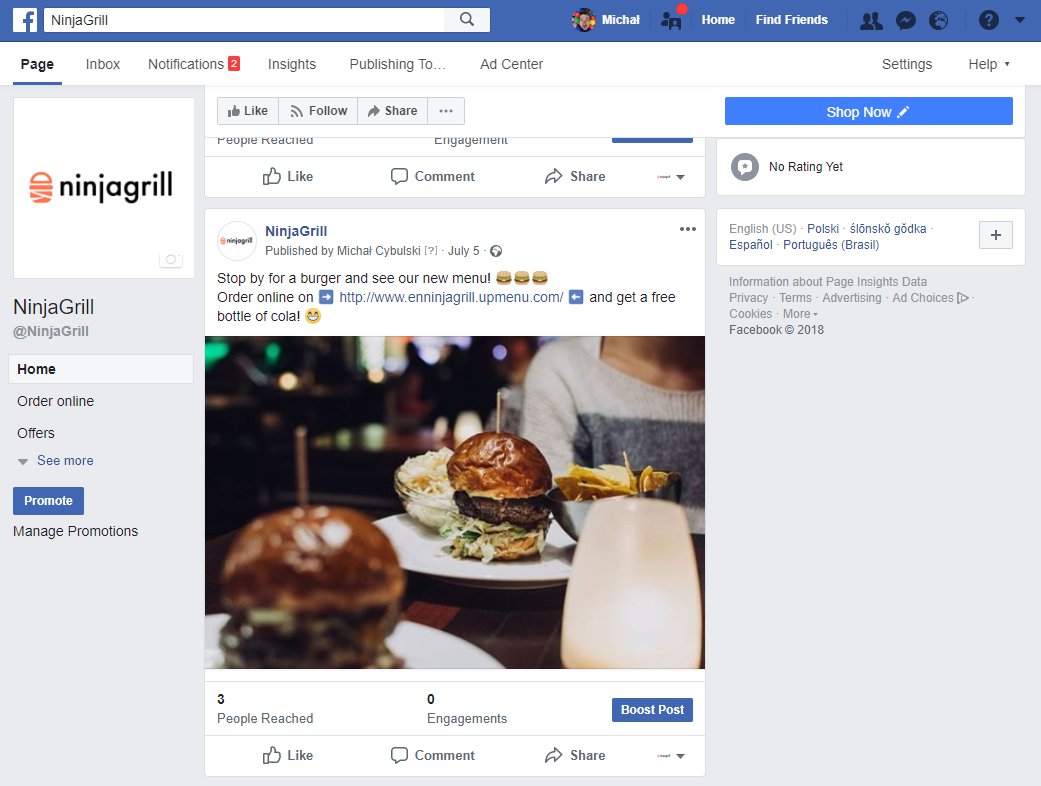 7. Sell online directly on Facebook
Thanks to integration of the UpMenu system with Facebook, you can launch online sales on your restaurant's Facebook page. Due to the above, customers will place orders at your restaurant without leaving social media. This way, the number of orders and your profit will increase. Check out Facebook ordering system.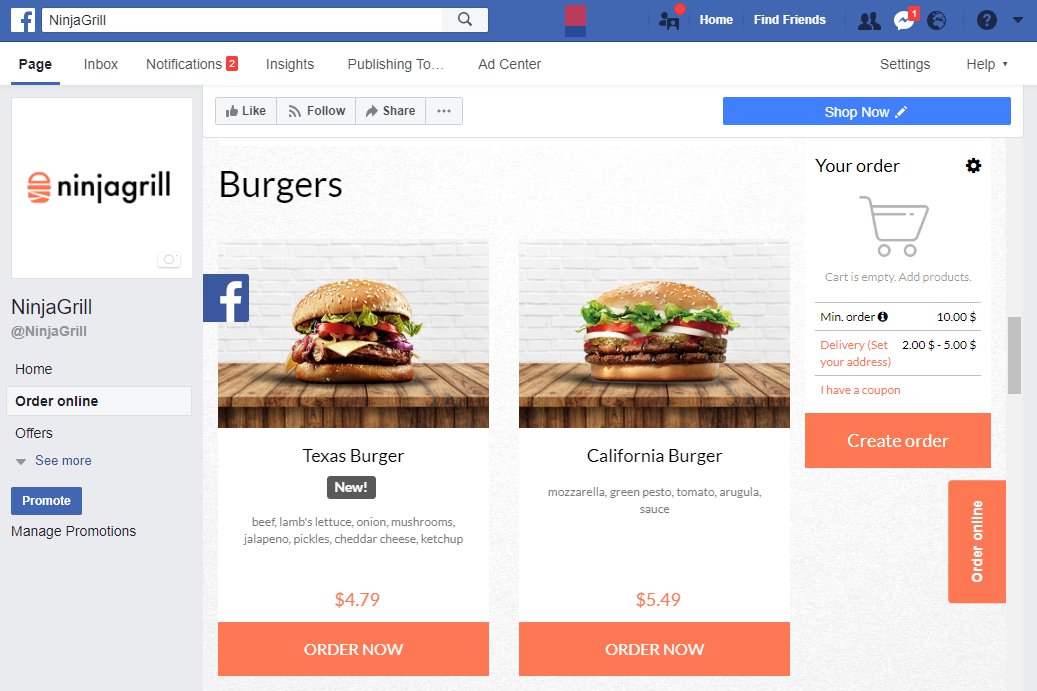 8. Use Facebook Ads
Facebook provides the possibility of promoting posts. A "Promote post" option appears under each published post and, despite the fact that this seems to be the easiest action, you should not activate an advertisement this way. They can be targeting at the wrong recipients.
Each sponsored post should be created from the level of advertisement manager. Facebook provides significantly more advanced settings to companies and, as promoting content on social media is currently the basic rule of restaurant online marketing, it is worth using them.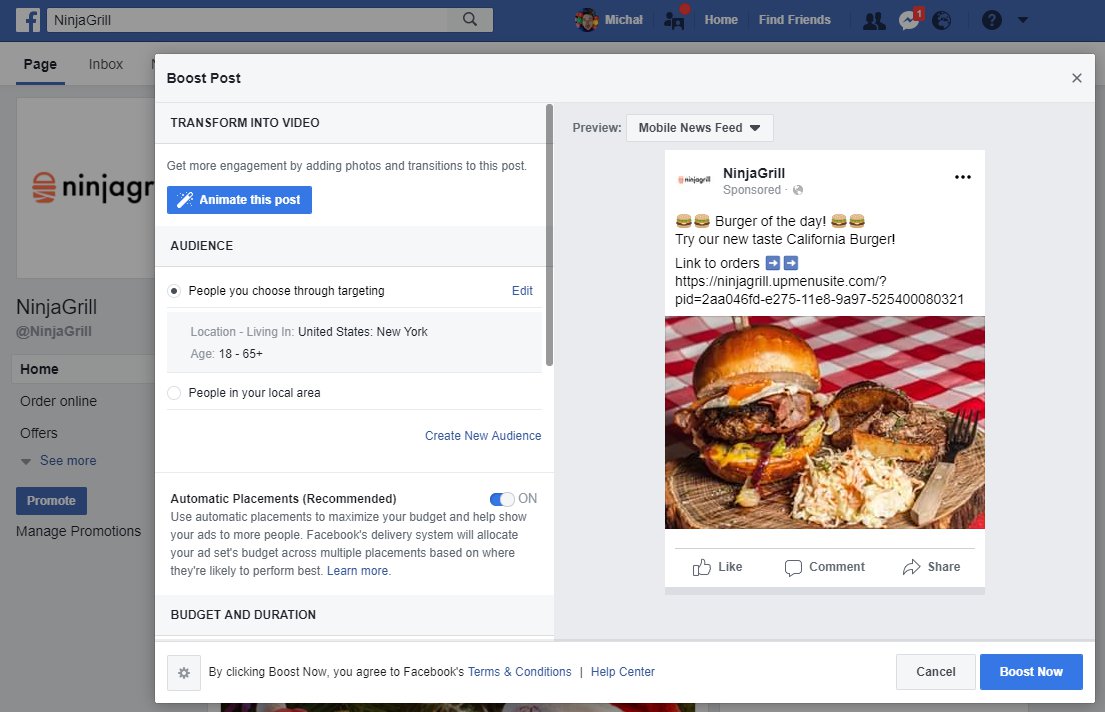 9. Share videos
Videos are an effective restaurant Facebook page idea. Currently, Facebook focuses more on promoting video content and it can have a greater reach than photos. When you add a video directly onto the restaurant's Facebook page, it will be played automatically to your customers.
Initially, this option was only available for private accounts but today, Facebook plays videos automatically when shared by company profiles if a given person likes such a page. This is a great restaurant online marketing tip – thanks to automatic playback of videos, it is much easier to catch the attention of customers.
Nevertheless, video content may often receive fewer reactions; when watching a video, recipients frequently forget about adding a comment or liking the post.
What can appear in the videos? See how your staff prepare the restaurant floor for accepting customers, or how the chef is working in the kitchen. Add a funny comment from behind the camera and you will have prepared an ideal post that shows your restaurant's operation honestly.
Keep in mind that video quality should be satisfactory and video content should be interesting – short, entertaining or funny.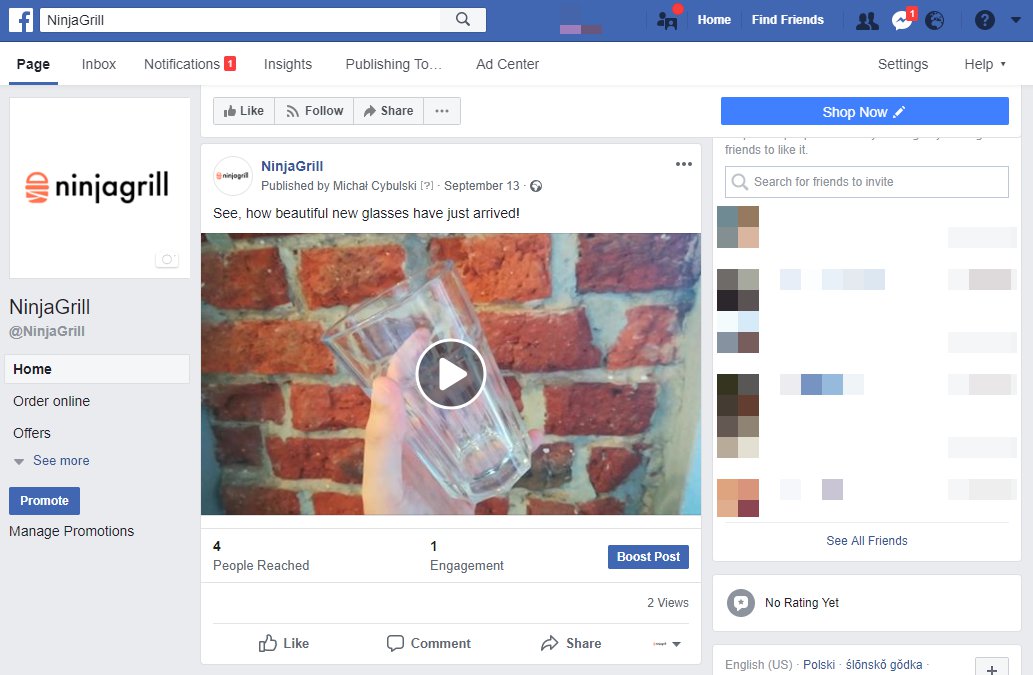 10. Live transmission
Since the launch of Facebook Live, a live transmission has been strongly promoted. When you start your live video, each of your followers will be notified, no content published on your restaurant page will fail to receive such support.
However, in order from your live video to produce effective restaurant online marketing, it has to feature content that provides something to the recipients. Artistic events, special occasions, contests or celebrity visits broadcast live are a great idea. If something interesting happens at your restaurant, be sure to share it on social media.
It is worth remembering about good quality equipment and high-speed internet. Otherwise, you may face criticism and only few recipients of your live feed. Promoting further events of this type on social media may then turn out to be significantly more difficult.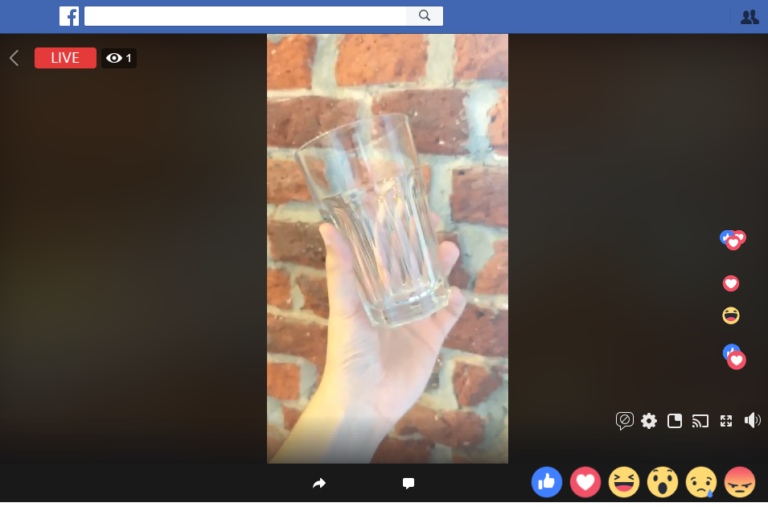 11. Create events
Promoting the restaurant through Facebook events is one of the best ideas for online restaurant marketing, as this way you can build a community around your restaurant.
Similarly to Facebook live, each post added to the event page generates notifications, however; they are only sent to the event participants, not to all followers of your page. Facebook events should, therefore, be published at least one week prior to the event that you plan to organise at your restaurant.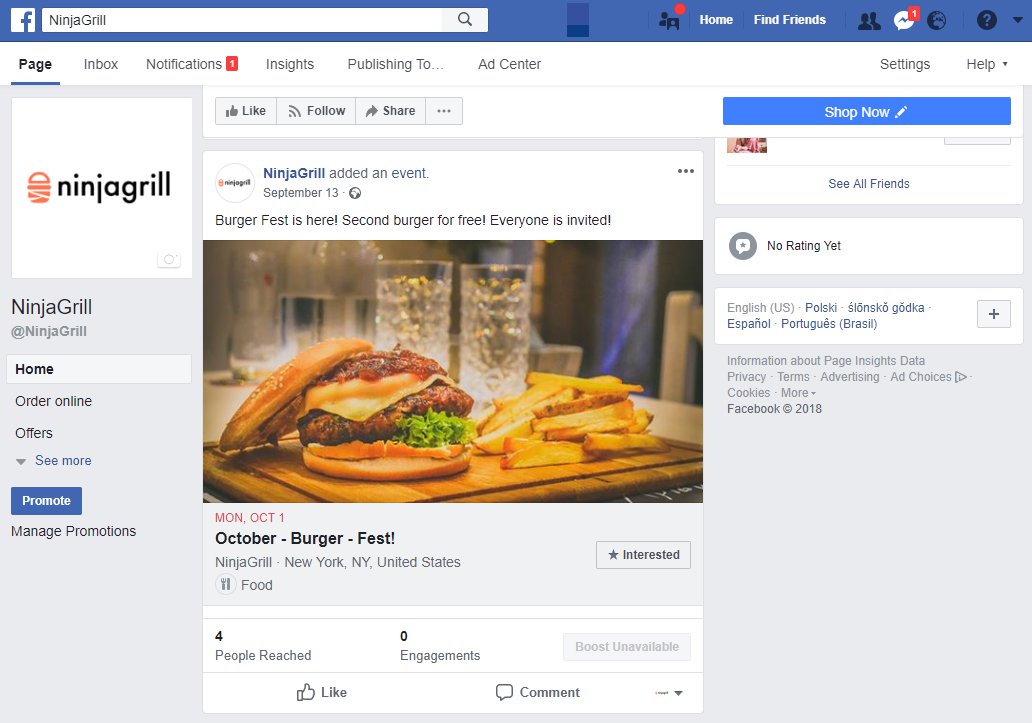 12. Use emojis
Emojis are a universal language of the 21st century. Used in restaurant online marketing they often replace words or even entire phrases. They attract attention and generate positive emotions in their recipients.
Through emojis, Facebook provides the possibility of letting other users know how you feel, what you are eating, what you are celebrating, etc. To see the list of the available options, all you have to do is click the smiley symbol next to the post window. You will see an entire list of possibilities to choose from!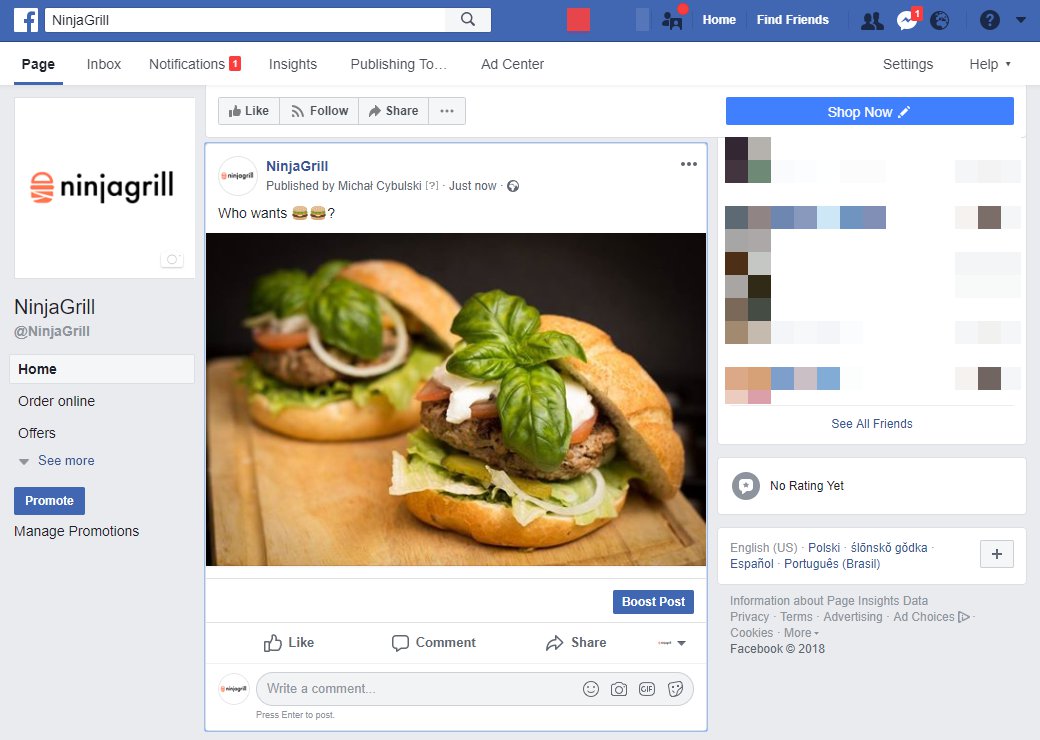 13. Create discounts and promotions
When you offer UpMenu online orders, you can easily set any discount or promotion. Sometimes, customers need a little encouragement to place an order via the Internet. This is why you should include promotions in the restaurant marketing strategy.
It is well worth preparing an interesting offer for them: a discount for the first order, a permanent promotion, or a special discount code that will make it possible for your customers to place orders with a discount.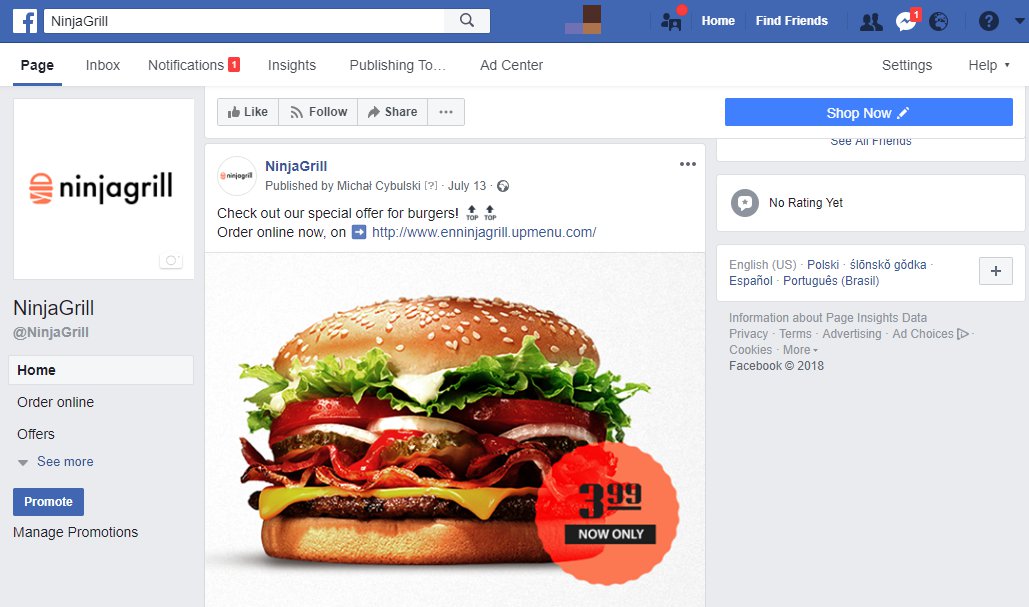 14. Organise contests
Organizing contests is another great opportunity for activating your existing customers and gaining new ones. Inviting others to join the fun, especially where they can win a prize is one of the best practices in online restaurant marketing!
Well-organized contests that are compliant with the Facebook terms and conditions will always attract attention and generate traffic to your page. Keep in mind that when creating a contest, you have to include the terms and conditions and provide them to your recipients. Facebook has clear guidelines on how to manage such campaigns properly.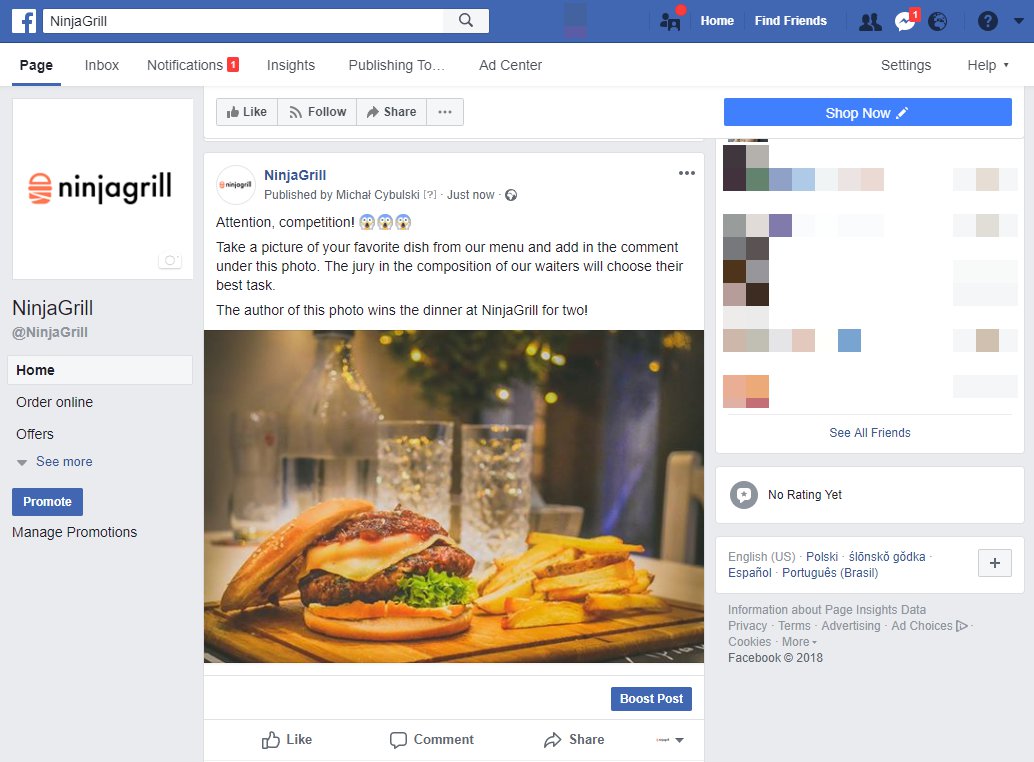 Restaurant online marketing – contest suggestions
Photo contest – ask your followers to take a photo of a meal from your menu. A person interested in the contest must visit the restaurant, order any meal, and take a photo of it. You can suggest that the photos are included in the comment section of the contest post. The winning photo will be the one with the biggest number of votes, or one that was picked by a jury appointed beforehand and composed of your employees.
Contest for a meal name or recipe – suggest your fans come up with a name or post a recipe in the comment section for a dish they would like to have at your restaurant. Submission with the largest number of posts will win.
The above are only a few ideas that you can use in online restaurant marketing. Keep in mind that tagging, sharing or drawing a winner should not be the conditions for choosing winners. Vouchers, free dinner for two or discounts, etc. you can offer as the contest prizes.
Conclusion
When publishing posts on your restaurant Facebook page it is worth considering the above as well as the remaining 8 tips listed in the article entitled 8 of the best ideas for posts for your restaurant's Facebook page. Use the full potential of social media in restaurant marketing!
Combine online activities with offline activities. Along with UpMenu, you will build a trustworthy brand, bypass the competition, and become closer to your customers. We hope that you found this article helpful. If you have any questions, feel free to contact us
Managing a restaurant Facebook page is not a simple task. It certainly requires time, preparation of proper materials, creativity, and planning.
Keep in mind that Facebook page ideas have huge potential. Use it for promoting your restaurant and building a trustworthy brand. We hope that the above tips will help you in managing your profile on Facebook.
FAQ
What is a restaurant online marketing?
Restaurant online marketing is a broad spectrum of activities performed online to advertise a restaurant brand, dish, or new service. The online advertisement uses the internet to approach potential customers with promotional materials. We can distinguish several methods of online restaurant marketing:

Email marketing advertises by sending commercial emails to customers who register on your website.

Search engine marketing is a promotion of a website by an improvement of its visibility in SERPs ( Search Engine Result Page). Employs principles of SEO to increase traffic on site.

Social media marketing utilizes social media platforms to promote your restaurant with public profile pages.

display advertising uses graphic ads presented on websites, social media platforms, search engine results pages, and mobile apps.

mobile advertising refers to ads presented on mobile device displays.
Learn more
Restaurant marketing ideas and trends for 2020