The food industry has seen a considerable transition in the current digital era. The influence of food blogs has developed into a potent tool for restaurant operators as more and more customers turn to the internet for restaurant recommendations and culinary inspiration. These websites, which ardent foodies and business professionals operate, have shown to be crucial in determining the success of restaurants worldwide.
This blog post will discuss the crucial significance that food blogs play in assisting restaurant owners to prosper in a cutthroat industry. Food blogs have transformed how restaurants are found and experienced, from increasing visibility and creating buzz to luring new clients and cultivating a devoted following. Therefore, it's imperative to grasp how food blogs can help your business, whether you're a seasoned restaurateur or an aspirant in the culinary industry.
What is a Food Blog?
Food blogs are online platforms or websites dedicated to exploring, sharing, and celebrating all things related to food. They are typically run by individuals or groups of passionate foodies, professional chefs, culinary experts, or food writers who share their knowledge, experiences, and delicious recipes with their audience.
Food blogs frequently include a variety of content, such as:
Recipes: Food bloggers develop and distribute their own sweet and savory recipes, including step-by-step directions, ingredient lists, and cooking and baking methods.
Restaurant Reviews: Bloggers go to different restaurants and write reviews of them, giving their firsthand observations of the cuisine, service, ambiance, and overall dining experience.
Culinary Techniques: Food bloggers provide advice on cooking techniques, ingredient choices, kitchen hacks, and gastronomic trends.
Food photography: In food blogging, aesthetic appeal is crucial. Bloggers use beautiful food photography to display their culinary delights and draw viewers in with mouthwatering pictures.
Food and Travel: Many food bloggers combine their passion for food with their love of travel, researching various cuisines, regional delicacies, and food cultures worldwide.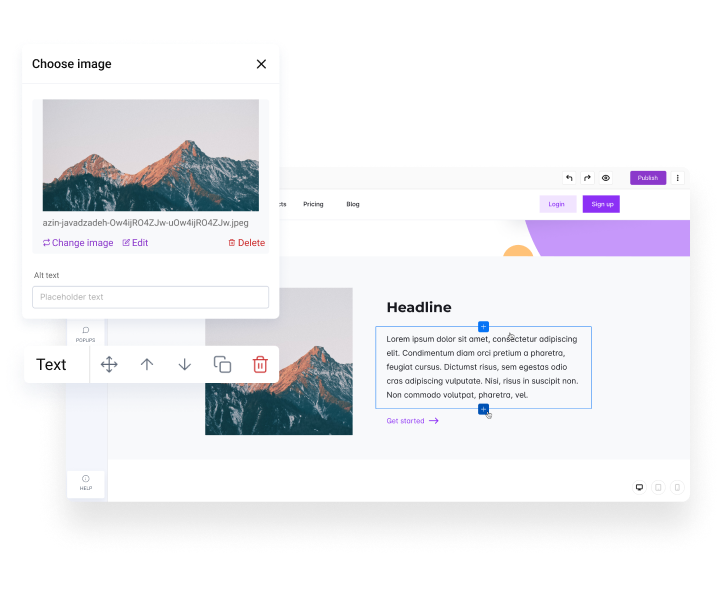 Restaurant Website Builder
Your own branded restaurant
website in minutes
Get a beautifully designed website that converts online visitors into customers and keep them coming back.
What are the Benefits of Food Blogs for Restaurant Owners?
Food blogs offer several benefits for restaurant owners, most of which help to promote their businesses, which include:
Increased Visibility and Exposure: A restaurant's visibility and exposure can be greatly improved by being included on a well-known food blog that works as a restaurant review site. Food bloggers have devoted followers who follow their advice and look to them for culinary recommendations. A restaurant can reach a larger audience by being highlighted in a blog article, bringing in more business and boosting foot traffic.
Positive Word-of-Mouth: Food blogs frequently help restaurants spread good word-of-mouth. Bloggers highlight the distinctive features of a restaurant, such as the caliber of the food, service, ambiance, or standout dishes, by sharing their personal experiences and impressions. They also share the restaurant's website, which brings direct traffic to the business.
Online Reputation Management: Food blogs allow restaurant owners to take control of their online image. Owners can ensure that their business' history and principles are appropriately portrayed by interacting with bloggers and upholding a positive relationship with them. By responding to blog reviews and comments, businesses may engage with customers directly, address their issues, and show that they care about their needs.
Enhanced Online Visibility: A restaurant's online visibility may increase due to being mentioned in food blogs. Links to the restaurant's website or social media pages are frequently included in blogs, increasing traffic and search engine results. When looking for restaurants or learning about regional cuisine, potential customers can identify the establishment thanks to its internet visibility.
Marketing to a Specific Audience: Food bloggers frequently have target markets in mind. Restaurant operators can successfully target their targeted customer base by working with bloggers who align with their establishment's concept or cuisine. For instance, a restaurant that caters to vegetarians may benefit from collaborating with a vegetarian food blogger to reach the right audience.
Culinary Knowledge and Insights: Food bloggers are frequently fervent food lovers or authorities in the business who can offer priceless culinary knowledge and insights. They provide opinions, advice, or helpful criticism that aid restaurant owners in improving their menu, dishes, or overall eating experience.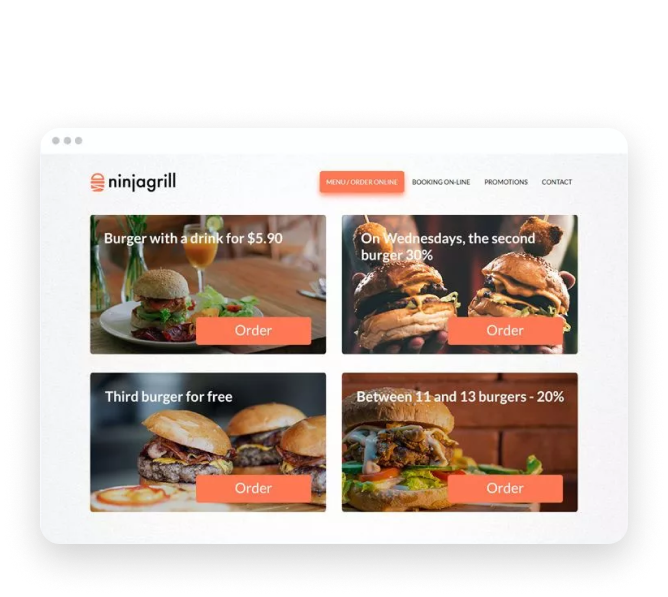 Conduct effective marketing
from one place
Run targeted promotions and increase revenue with restaurant marketing.
What are the 20 Best Food Blogs in 2023?
Food blogs have become a go-to resource for both cooks and restaurant owners alike in the always-changing world of food and culinary discovery. These online resources provide a plethora of inspiration, information, and innovation that the restaurant industry can benefit from—and here are the 20 top food blogs you should be following:
1. Eater
Eater is one of many favorite food blogs in the United States and focuses on tasty food news, restaurant reviews, dining recommendations, and food culture. It includes in-depth coverage of various cuisines, new restaurant openings, chef profiles, restaurant trends, and a wide range of other topics pertaining to the food and restaurant industry. In addition, Eater gives readers current and relevant information on the culinary scene in various cities.
In addition to its website, Eater also has a strong presence on social media platforms, where it shares food-related news, restaurant recommendations, recommendations for family-friendly meals, and other culinary content. Eater's audience includes food enthusiasts, industry professionals, and anyone interested in exploring the vibrant world of food and dining.
2. Food & Wine
Food & Wine focuses on popular and simple recipes, food trends, meal prep, and beverage culture. In addition, the food blog offers a wide range of food and wine-related content, such as articles, stories, interviews, collections of recipes, and reviews.
Food & Wine is widely recognized for its authority and expertise in the food and beverage space. It provides readers with inspiration, knowledge, and a deeper understanding of food culture through its diverse range of content. So whether you're looking for approachable recipes for different tastes, restaurant suggestions, or want to stay updated on the latest food trends, Food & Wine is a valuable resource for culinary enthusiasts.
3. Serious Eats
Serious Eats is a famous and world-renowned food blog and online community focusing on in-depth food knowledge, healthy recipes, cooking techniques, and culinary experimentation. It is known for its scientific approach to cooking and comprehensive exploration of various cuisines and ingredients.
One notable aspect of Serious Eats is its commitment to thorough research and testing. The blog's editors, writers, and contributors experiment with various cooking methods, ingredients, and techniques to provide reliable and practical information to readers. The recipes inspired and backed by science allow readers to create nutritious meals at home. In addition, the publication aims to debunk common food myths, offer expert advice, and share reliable and favorite recipes that have been extensively tested for consistent results.
Along with its website, Serious Eats features a robust community of foodies who participate in debates, post their own cooking adventures, and ask the Serious Eats staff and other readers for assistance when looking to create recipes on their own. The participatory aspect of the blog enhances its appeal and promotes a sense of community among food enthusiasts.
4. The Infatuation
The Infatuation is a well-known restaurant discovery website and food blog that provides ratings, tips, food histories, and suggestions for eating out in different restaurants worldwide. It offers a distinctive viewpoint on the dining experience by fusing in-depth restaurant reviews with a friendly, down-to-earth tone.
The Infatuation assists readers in finding new eateries and informing their dining choices. The blog offers in-depth analyses of restaurants, describing the atmosphere, customer service, and, most importantly, the food. Photos are frequently used in the evaluations to depict the dining experience visually.
Promoting your restaurant on this blog is a great marketing strategy for your business, as it helps you get seen by thousands of readers and makes you stand out as a local, top-rated restaurant.
5. Tasting Table
In addition to recipes, cooking advice, restaurant suggestions, food and beverage trends, and gourmet and delicious treats, the Tasting Table blog is a well-known food blog and online newspaper. It strives to give readers ideas, information, and tools to improve their dining and culinary experiences.
Tasting Table offers a wide range of material, including curated lists of the top eateries, bars, in-depth articles about ingredients and cooking methods, chef profiles, and recipes written by both professional and home cooks. The Tasting Table also provides topics related to the latest news in the restaurant industry—from AI in the food service industry to topics related to budget-friendly recipes and everyday life in the restaurant industry.
6. Grub Street
Grub Street is a well-known food and restaurant blog focusing on New York City and covering other locations' dining scenes. It provides various news, restaurant reviews, chef profiles, culinary insights, and information on current food trends.
Readers may find the most recent information about restaurant openings, closings, and significant events in the culinary industry on Grub Street. The publication includes in-depth critiques of eateries that assess the standard of each dish, the level of service, and the entire dining experience. The site also showcases well-known chefs, their culinary prowess, and the most recent food and beverage trends influencing the restaurant industry.
7. Bon Appétit
This well-known food blog provides culinary information, including great recipes, cooking methods, restaurant recommendations, food culture, and entertaining suggestions to try at home or at your restaurant. The blog motivates cooks and chefs to take on the role of a new recipe developer and experiment with new tastes, novel recipes, and to get a better sense of the culinary arts.
Many authors, chefs, and food critics contribute to Bon Appétit's content. The blog provides ideas for delicious meals for the whole family,including low-carb dishes, as well as vegetarian recipes and gluten-free recipes. To help readers improve their culinary abilities, it offers step-by-step cooking instructions, advice, and interesting twists to classic and creative recipes.
The site also shares top local restaurants, which is an excellent way for marketing businesses. Restaurants showcased on the blog are put in front of thousands of readers, which helps boost their business significantly.
8. Food Network
The Food Network is a well-known television network that primarily focuses on food and cooking-related content. While they primarily operate through television programming, they also have an extensive online presence, including a website that features a section dedicated to food blogs and most recipes found on their channel.
The Food Network's food blog is an online platform where they share a wide range of food-related content, including popular recipes, cooking tips, culinary trends (like how to create delicious meals with a small grocery budget), and restaurant recommendations. The blog features articles and includes recipes written by a team of food experts, chefs, and food enthusiasts who provide insights, inspiration, and information for food lovers.
9. Thrillist
Thrillist is a well-known culinary blog and digital media outlet specializing in offering readers advice, suggestions, and insights about food, drink, travel, and entertainment. Thrillist provides extensive coverage of the culinary world, including restaurant suggestions, food trends, recipes, and travel-related articles related to food, despite being a food site only partially.
Thrillist's food section offers various stories and features that explore different cuisines, highlight unique dining experiences, and spotlight local food scenes. The site covers everything from fast food joints to fine dining facilities to appeal to a wide range of readers with various tastes and spending ranges
In addition to restaurant recommendations, Thrillist offers engaging food-related content such as chef interviews, recipe roundups, and articles on culinary trends and innovations. The blog also provides city guides that offer curated lists of the best dining spots in various locations.
10. Food Republic
Recipes, chef interviews, food news, and stories on food culture and trends are just a few of the culinary topics covered by the well-known food blog and media platform Food Republic. In addition, it strives to present a novel and international viewpoint on the food and beverage industry.
Food Republic explores numerous cuisines and a wide range of themes, including gastronomic experiences from other civilizations. In addition, the blog offers a variety of approachable and creative dishes to try at home, with recipes supplied by well-known chefs, home cooks, and food enthusiasts.
Food Republic offers in-depth interviews with chefs, restaurateurs, and other food industry members in addition to its collection of recipes. These in-depth discussions of these people's creative processes, sources of inspiration, and culinary philosophies provide readers with special insights into the food industry.
11. Spoon University
Spoon University is a renowned food blog and media outlet that predominantly targets young adults and college students. It provides a variety of food-related content, such as recipes, cooking advice, eating recommendations, and lifestyle writing.
To assist young people in navigating their culinary journey, Spoon University focuses on offering material that is both understandable and useful. The blog provides inexpensive, simple-to-make meals appropriate for small kitchens or dorm rooms. Additionally, it includes advice on meal preparation, cooking shortcuts, and how to eat well on a student budget.
Spoon University's focus on community and student-generated material makes it stand out from other sites. Student writers are encouraged to contribute to the site, where they can post their recipes, dining suggestions, and culinary experiences. This strategy promotes a feeling of authenticity and belonging within the Spoon University community.
12. Food52
Food52 is a popular food blog and online community focusing on home cooking, recipe sharing, and culinary inspiration. It is a platform where food enthusiasts can connect, exchange ideas, and discover new recipes and cooking techniques.
Home cooks, chefs, and food journalists have all contributed to the enormous recipe collection on Food52. The site invites readers to experiment with flavors, try out new products, and hone their culinary skills while celebrating the joy of cooking at home.
The active community of food enthusiasts on Food52 is one of its distinctive features. The blog invites readers to participate in recipe competitions, post their culinary masterpieces, and participate in forums and comments. This community-driven strategy promotes collaboration and a lively interchange of thoughts and experiences.
13. The Daily Meal
The Daily Meal food blog offers readers a variety of culinary materials, such as recipes, cooking advice, restaurant suggestions, food news, and lifestyle stories. It aspires to be an all-inclusive reference for anything related to food and drink.
The Daily Meal offers users recipes contributed by chefs, food writers, and home cooks while covering a variety of topics in the culinary industry. The site appeals to a broad readership by featuring a variety of cuisines, cooking techniques, and dietary preferences. Additionally, it provides articles on cooking advice, party suggestions, food trends, health, and nutrition.
In addition to its recipe collection, The Daily Meal provides extensive coverage of restaurants, featuring curated lists of the best dining spots in different cities and regions. In addition, it offers restaurant reviews, travel guides, and recommendations for food and beverage experiences worldwide.
14. First We Feast
Popular culinary blog and media outlet First We Feast examines the relationship between pop culture, lifestyle, and food. It offers a distinctive mix of food-related content, such as interviews, films, recipes, and essays that address a variety of subjects.
First We Feast delves into the world of food from a cultural and entertainment perspective. The blog features in-depth interviews with chefs, food industry personalities, and celebrities, offering insights into their culinary journeys and perspectives. It also covers food trends, food challenges, and unique dining experiences.
The blog's recipe archive includes a variety of classic and cutting-edge meals, frequently with a unique twist. In addition, to appeal to a younger and more experimental audience, it features recipes that reflect modern food culture and trends.
First We Feast explores how food interacts with various forms of entertainment, including music, sports, movies, and television, as it celebrates the confluence of cuisine and pop culture. It provides a novel and engaging approach to food-related information, appealing to a wide range of viewers who value food's cultural significance and entertainment potential.
15. ChefSteps
ChefSteps is a well-known food blog and online culinary platform that offers professional chefs and home cooks many instructional materials, recipes, and cooking techniques. Through its content, it focuses on instructing and stimulating culinary creativity.
ChefSteps provides many recipes, from easy-to-follow instructions to complex and advanced delicacies. The site focuses on precision cooking and offers thorough directions, advice, and visual aids to support readers in producing exceptional outcomes in their kitchens. To accommodate different tastes and cooking abilities, it covers a variety of cuisines, flavors, and cooking techniques.
ChefSteps' emphasis on modernist cuisine and cutting-edge cooking methods is one of its standout characteristics. It examines the usage of molecular gastronomy, sous vide cooking, and other advanced food preparation techniques. In addition, the blog offers readers insights into the science underlying these methods, enabling them to comprehend the basic ideas and explore new culinary opportunities.
16. Saveur
Saveur is a prestigious food blog and magazine known for highlighting international cuisine, culinary customs, and the art of cooking. In addition, it provides a wide range of information on food culture, cooking, travel, and culinary storytelling.
Saveur publishes exquisitely crafted essays and visually appealing pictures that take readers to various locations across the globe. In addition, the blog conserves and celebrates culinary heritage by showcasing authentic recipes, regional delicacies, and conventional cooking methods.
In addition to its recipe library and culinary storytelling, Saveur offers travel itineraries featuring restaurants, local markets, and gourmet attractions worldwide. It inspires readers to embrace culinary exploration and learn about different tastes and culinary experiences while traveling.
17. The Culinary Institute of America's Blog
The blog of the CIA, known for its culinary training and knowledge, is a valuable tool for foodies, students, and professionals in the culinary industry. The CIA blog covers various culinary issues, including business trends, culinary education, cooking methods, and recipe development.
The CIA's blog features opinions and views from its respected alums, faculty, and chefs, all professionals in their disciplines. In addition, it offers in-depth articles, interviews, and features that explore a range of culinary topics, including farm-to-table techniques and the most recent developments in culinary technology.
The CIA blog includes instructional content, recipes, food suggestions, and culinary inspiration. It features a wide variety of foods and cooking techniques, highlighting the innovation and adaptability of the culinary arts. In addition, the site offers readers culinary experiences that reflect modern trends and culinary innovation by frequently using seasonal food, sustainable techniques, and international flavors.
18. Chef's Pencil
The renowned food site Chef's Pencil offers heaps of culinary information, including recipes, cooking advice, and chef content. With its extensive database of culinary knowledge, it hopes to inspire amateur home cooks, seasoned chefs, and food fans.
Recipes ranging from vegetarian and gluten free dishes, to those from different cultures and cooking techniques are available on the Chef's Pencil blog. The food and cooking blog provides recipes appropriate for various dietary preferences, skill levels, and situations. In addition, Chef's Pencil gives step-by-step instructions, fresh ingredients lists, and helpful cooking hints to ensure good outcomes, whether a straightforward weeknight supper or an elaborate gourmet feast.
In addition to chef biographies and interviews, Chef's Pencil offers information about well-known chefs' culinary journeys and experiences worldwide. Readers are encouraged to approach cooking enthusiastically and creatively by reading these interviews, which look into the chefs' culinary philosophies, inspirations, and creative processes.
19. Half Baked Harvest
Tieghan Gerard is the author of several cookbooks and the creator of the well-known culinary blog Half Baked Harvest. Half Baked Harvest, which is renowned for its gorgeous photographs and original recipes, provides a distinctive fusion of comfort food, exotic flavors, and new twists on traditional foods.
The blog offers many dishes from different cultures and cooking techniques. Half Baked Harvest has something to suit every palate and occasion, including decadent desserts, filling main meals, and colorful side dishes. In addition, Tieghan frequently shares recipes and the ideas behind each meal, which often uses seasonal ingredients.
The visually gorgeous food photography on Half Baked Harvest is one of its best qualities. Each recipe is exquisitely photographed, showing the food's vivid colors, textures, and presentations. In addition, the blog's eye-catching design enhances the overall experience and makes it an alluring source for food lovers.
20. Pinch of Yum
Lindsay and Bjork Ostrom are a husband and wife pair that started the well-known food blog Pinch of Yum. Pinch of Yum, famous for its user-friendly and delicious recipes, concentrates on straightforward but flavorful dishes that are simple to make at home.
The blog offers various recipes, from appetizers to main dishes, desserts and even instant pot recipes. The leading recipe creator, Lindsay, promotes her passion for natural, healthy food and stresses the value of nutritious, well-balanced healthy meals.
Pinch of Yum offers valuable tools and advice for aspiring food bloggers and photographers in addition to its numerous recipes. Lindsay and Bjork discuss creating a profitable food blog, employing monetization techniques, and developing food photography talents. Pinch of Yum has established itself as an authoritative source for anyone wishing to enter the field of food blogging thanks to its openness and readiness to share their experiences.
Key Takeaways
Food blogs are a great form of restaurant promotion
You can find local and unique restaurant recommendations on food blogs
Food blogs are a great place to find new tasty recipes and approaches to experimenting with culinary creations
These are great resources for following the latest restaurant trends
Frequently Asked Questions (FAQ)
Writing a blog about a restaurant is a fun and exciting way to express your love of food, dining adventures, and culinary expertise. To get you started, follow these steps:
Choose your niche

: Choose the precise subject matter for your restaurant blog. It could focus on a particular cuisine, region, or dining facet, such as restaurant recommendations, food reviews, recipes, or cooking advice.

Identify your target market

: Determine the group of people your blog should target. Think about their needs, preferences, and areas of interest. You can then adjust your writing style and material as necessary.

Pick a blogging platform

: Opt for a user-friendly and appropriate blogging platform. Blogger, Squarespace, and WordPress are all well-liked choices. Create your blog and pick a theme or appealing design that complements the aesthetic of your blog.

Create a content plan

: To plan your blog entries and guarantee a constant flow of information, create an editorial calendar. To include in your blog, research popular subjects, seasonal ingredients, culinary events, or eating preferences. Consider publishing recipes, restaurant reviews, cooking tips, chef interviews, or travel tales, including food.

Write interesting and educational posts

: Create well-written blog posts that interest readers and add value. Use descriptive language to create a compelling image of your culinary adventures or dishes. Add aspects of storytelling to your blog to make it more intimate and relatable.

Include eye-catching images

: Since food is so visually appealing, you should add appealing pictures of foodstuffs, ingredients, or restaurant interiors to your blog posts. To take photos of the highest caliber, either invest in quality photography gear or consider hiring an expert.

Be dependable and consistent

: Aim to publish blog entries to keep readers interested and engaged. Create a posting schedule that you can stick to, whether it's weekly, biweekly, or monthly.
Blogging has many advantages for a restaurant. A restaurant can gain from blogging in a number of ways, as listed below:
Improved Online Visibility

: Restaurants can increase their online visibility by blogging. Restaurants may enhance their

search engine optimization

(SEO) and drive more organic traffic to their website by continuously producing valuable and exciting content. This may result in better online reach and more visibility in search engine results.
Establishing Expertise and Authority

: A well-written blog allows a restaurant to highlight its experience and culinary skills. A restaurant can establish itself as a respected expert in its business by disseminating knowledge, advice, and market trends. This builds credibility with readers and may draw a devoted group of foodies and future customers.
Engaging the Audience

: Blogging allows restaurants to interact meaningfully with their audience. Readers can provide questions, feedback, and experience sharing through comments and social media activities. A restaurant may create community, improve relationships with its patrons, and learn insightful things by actively participating in these discussions.
Promoting Events and Specials

: A blog is a useful platform for announcing and promoting events, specials, promotions, and new menu items. It enables restaurants to generate buzz, build excitement, and draw clients to come see or take advantage of these offerings. Blog postings can interest readers and motivate them to take action by offering in-depth information, alluring imagery, and exclusive offers.
Building Customer Loyalty

: Consistently publishing valuable and relevant content can help make a loyal customer base. A blog allows restaurants to nurture relationships with existing customers by providing ongoing value and staying top-of-mind. A restaurant can

reward loyalty

and foster a sense of community by offering exclusive recipes, insider tips, or special discounts to blog subscribers.
It can be fun and satisfying to start a food blog. To get you started, follow these steps:
Choose Your Niche: Select your food blog's exact area of interest. Think about your areas of interest and competence and the target audience. You might concentrate on a specific cuisine, dietary choice, cooking method, or geographical area.
Select a Name and Domain: Give your food blog a catchy, memorable name. Make sure the domain name accurately describes your blog and is available. Several domain registration platforms are available for domain registration.
Choose a Blogging Platform: Make sure it meets your demands before setting up your blog. WordPress is a well-liked option since it provides adaptability, customization choices, and many plugins. As an alternative, you may use Squarespace or Blogger. Create your blog, select a theme, and personalize the look to suit your tastes.
Focus on Producing High-Quality Content: Ensure it is informative, well-written, and engaging. Share your love of food, offer fresh insights, and share practical advice, recipes, or reviews.
Develop Your Photography Skills: A successful food blog requires quality food photography. Purchase a quality camera, educate yourself on photography fundamentals, and practice taking mouthwatering photos of your food. When feasible, use natural lighting, and play around with composition and styling.
Create a Recipe Collection: Create a collection of recipes highlighting your culinary prowess and appealing to your target market. Consider starting with your go-to recipes, adding your unique spin, and including step-by-step instructions, ingredient lists, and serving recommendations.
Engage Your Audience: Promote reader contact and involvement by quickly responding to messages and comments. Participate in food-related forums, social media groups, and team up with other bloggers or influencers to create a feeling of community.