A successful restaurant demands its operators to stay abreast of market trends, absorb knowledge from seasoned experts, and continually look for new ideas and ways to innovate and improve. Restaurant blogs are one of the many valuable sources of information and expertise available to owners of eateries in the modern digital age. These online resources provide a plethora of information to assist consumers navigate the ever-changing restaurant sector.
The 20 best restaurant blogs for restaurant owners in 2023 are listed in this post. These websites have established themselves as go-to sources by offering a wealth of knowledge from subject matter experts, seasoned restaurateurs, and foodies. Whether you're one of many industry veterans or just starting your culinary journey, these blogs provide guidance, inspiration, and practical strategies to help you thrive in the highly competitive restaurant landscape.
What is a Restaurant Blog?
A restaurant blog is a digital platform where people or organizations can contribute educational, engaging, and pertinent content about the restaurant sector. It is a central location for information and inspiration for patrons, business owners, and industry insiders interested in food.
Restaurant management blogs discuss various subjects, including menu planning, marketing tactics, customer service, restaurant management, culinary trends, and more. They frequently include articles, interviews, how-to manuals, expert comments, and case studies offering information and direction for restaurant industry employees.
Restaurant bloggers may be run and owned by independent restaurateurs, industry professionals, chefs, food writers, or businesses focusing on restaurant consultancy or marketing. While some blogs offer a wider variety of content, others concentrate on particular facets of the restaurant industry, such as fine dining, fast-casual ideas, sustainable practices, or local food scenes.
What are the Benefits of a Restaurant Blog?
Restaurant blogs have several business advantages, from improved visibility and consumer involvement to business insights and developing a devoted following. The following are some significant advantages of having a restaurant blog:
Establishing credibility and expertise: A restaurant blog demonstrates your understanding of the food sector and your enthusiasm for it. You may set your restaurant as an authority in the eyes of your audience by giving valuable and educational information.
Improved visibility and brand awareness: Regularly posting high-quality blog posts will help you become more visible online. Increase organic traffic and reach a wider audience by optimizing your blog entries for search engines. This may result in more people learning about and visiting your restaurant.
Customer interaction: A blog allows you to interact more deeply with your customers. You can contribute information about your restaurant, including updates, anecdotes, recipes, and behind-the-scenes information. You may promote a sense of community and forge closer ties with your audience by encouraging comments and social media exchanges.
Putting your menu and offerings on display: A blog lets you draw attention to your menu items, special deals, or seasonal meals. You can publish mouthwatering culinary images, thorough descriptions, and even behind-the-scenes tales about how specific dishes are made. This increases enthusiasm and encourages people to go to your establishment.
Educating customers: Use your blog to inform your readers about your cuisine, ingredients, culinary methods, and unique dining experiences. This improves their dining experience and shows your dedication to authenticity and quality. Additionally, educational information might draw foodies and people interested in learning about cooking.
Increasing consumer loyalty: You can develop a devoted following by regularly providing informative content on your blog. Customers are interested in and keep reading content that is interesting and instructive. A blog also lets you give special deals, discounts, or customized content to your devoted clients.
What are the 20 Best Restaurant Blogs?
Whether you're looking for inspiration to enhance your menu, tips on improving operations, marketing strategies to attract more customers, or simply staying informed about the latest culinary trends, restaurant blogs are valuable resources for industry professionals and food enthusiasts alike. Here are 20 restaurant blogs worth exploring:
1. UpMenu
UpMenu is a food ordering system and marketing platform specifically designed for restaurants. It offers a range of digital solutions and restaurant software to help owners and restaurant managers streamline their online ordering process, enhance customer engagement, and increase revenue.
Aside from restaurant tech, UpMenu also has one of the best restaurant management blogs specific to the restaurant and hospitality industry. Here, restaurant owners can find a variety of topics, including:
The latest food news
Restaurant reviews
Food industry trends
Marketing tips
Industry insights
Restaurant management tips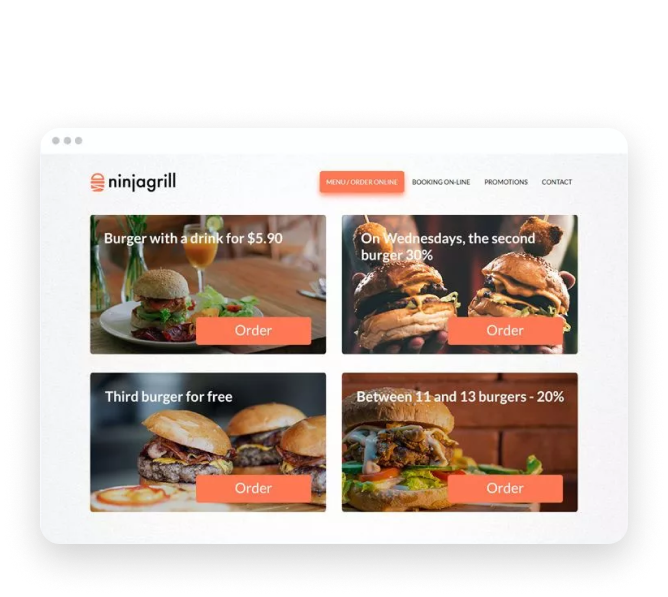 Conduct effective marketing
from one place
Run targeted promotions and increase revenue with restaurant marketing.
2. Eater
Eater is one of the most popular blogs to follow for any restaurant owner looking to boost their business. This influential online publication focused on the food and dining industry. It provides a mix of news, features, reviews, and storytelling related to restaurants, food culture, and culinary trends. Eater covers various topics, including restaurant openings and closings, chef profiles, industry controversies, dining guides, recipes, and in-depth regional and international cuisines explorations.
The blog offers a combination of informative articles, visually appealing food photography, and engaging storytelling. It aims to provide readers with a comprehensive and immersive experience in food and dining. Eater's coverage often extends beyond just restaurant reviews, diving into the food industry's broader cultural, social, and economic aspects.
3. Food52
Food52 features a wide range of content, including recipes, cooking techniques, kitchen tools and equipment recommendations, product reviews, and food-related articles. The platform encourages home cooks to contribute their own recipes, engage in discussions, and participate in various food-related challenges and contests.
One of the notable aspects of Food52 is its emphasis on community-driven content. The platform provides a space for home cooks to share their favorite recipes, ask and answer culinary questions, and connect with others who share their passion for cooking. This sense of community is fostered through features like the "Hotline," where users can seek advice and help from fellow cooks, and the "Recipe Ratings and Reviews" system that allows users to provide feedback on recipes.
4. Serious Eats
Serious Eats is a prominent and highly respected online publication focusing on food, cooking, and the restaurant industry. Founded by Ed Levine in 2006, Serious Eats has grown into a comprehensive resource for food lovers and culinary enthusiasts.
The restaurant blog section of Serious Eats features a wide range of content related to restaurants, food culture, and dining experiences. It offers in-depth restaurant reviews, where the authors share their personal experiences and insights about specific establishments. These reviews often cover a variety of cuisines, price ranges, and locations.
In addition to restaurant reviews, the blog provides features and articles that delve into various aspects of the restaurant industry. This can include interviews with chefs and restaurant owners, discussions on food trends and innovations, coverage of industry events, and explorations of unique or noteworthy dining destinations.
5. The Infatuation
The Infatuation is a popular restaurant blog and online platform that provides reviews, recommendations, and guides for dining out. Founded in 2009 by Andrew Steinthal and Chris Stang, The Infatuation has expanded to cover multiple cities internationally.
The Infatuation's restaurant blog offers restaurant reviews, dining guides, and curated lists of recommended eateries. Their team of reviewers, known as "Infatuation Insiders," visit and assess restaurants, sharing their experiences and insights with readers. The reviews aim to provide an evaluation of the food and the overall dining experience, ambiance, service, and value for money.
In addition to individual restaurant reviews, The Infatuation offers comprehensive city guides highlighting the best dining options in specific locations. These guides can help locals and travelers discover new restaurants, cafes, bars, and other culinary destinations. The platform's city-specific approach allows for localized content, ensuring readers can find relevant recommendations in their respective areas.
6. Bon Appétit
Bon Appétit is an online publication and digital platform associated with the Bon Appétit magazine, known for its food, cooking, and culinary culture coverage. The blog extends the magazine's content, offering additional features, articles, and resources related to restaurants and dining.
The Bon Appétit restaurant blog covers a wide range of topics within the realm of food and dining. It includes restaurant reviews, where writers share their experiences and opinions on specific establishments. These reviews often provide insights into the dining atmosphere, menu highlights, and overall dining experience.
In addition to restaurant reviews, the blog features articles and guides that explore various aspects of the restaurant industry. This can include interviews with chefs and restaurant owners, discussions on culinary trends, profiles of unique dining destinations, and explorations of specific cuisines or food traditions.
7. Grub Street
Grub Street covers a wide range of topics within the food and dining domain. Its restaurant blog features reviews and profiles of restaurants, providing insights into the dining experience, notable dishes, and the overall atmosphere. These reviews may cover a range of cuisines, price points, and locations, focusing on establishments in New York City.
In addition to restaurant reviews, Grub Street offers articles, features, and interviews that delve into various aspects of the food and restaurant industry. This can include coverage of chefs, food industry trends, restaurant openings and closings, dining events, and culinary innovations. The blog also informs readers about relevant food-related news and developments in the local dining scene.
Grub Street aims to provide comprehensive coverage and insider perspectives on the dynamic food culture of New York City. The blog's content is known for its detailed reporting, lively writing style, and ability to keep readers updated with the latest happenings in the city's vibrant culinary landscape.
8. Restaurant Business Online
Restaurant Business Online is a prominent digital publication and platform that covers various aspects of the restaurant industry. The publication offers a blog section that provides timely and informative content on multiple topics relevant to restaurant owners, operators, and industry professionals.
The Restaurant Business Online blog keeps readers updated with the latest news and developments in the restaurant industry, insights, and best practices for effectively managing and operating restaurants, and guidance on marketing strategies and tactics to help restaurants increase visibility, attract customers, and build strong brands.
9. Plate Magazine
Plate Magazine is a culinary publication that celebrates and explores the world of food, chefs, and the hospitality industry. While Plate Magazine doesn't have a traditional blog format, its website is a digital platform where they showcase their content, including articles, features, recipes, and insights.
Plate Magazine provides in-depth, high-quality content that appeals to culinary professionals, including chefs, restaurateurs, food service operators, and industry enthusiasts. Their articles cover various topics related to food safety, beverage trends, cooking techniques, culinary trends, and the hospitality business industry.
10. The Culinary Compass
The Culinary Compass is a helpful resource that offers a variety of recipes across different categories, such as appetizers, main dishes, desserts, and drinks. The recipes cover a range of cuisines and flavors, showcasing Megan's (the owner) culinary creativity and exploration.
In addition to recipes, the blog also includes posts about cooking techniques, kitchen tips, and travel experiences related to food and dining. It provides a platform for the author to share her culinary experiments, insights, and personal experiences in the kitchen. As a personal blog, the content and focus of The Culinary Compass continue to evolve, and the specific topics and recipes covered may vary.
11. Restaurant Experts
The Restaurant Experts log offers guidance and best practices for various aspects of restaurant operations, including front-of-house and back-of-house management, staffing, training, service standards, and quality control. Expect information and strategies on menu planning, design, pricing, recipe development, and menu engineering to maximize profitability and customer satisfaction.
The blog provides insights into the financial aspects of the restaurant business, including budgeting, cost control, inventory management, revenue analysis, profit margins, and understanding financial statements, as well as effective marketing strategies, branding, social media, online presence, customer engagement, loyalty programs, and attracting new customers.
12. The Chefs' Table Society of BC
The Chefs' Table Society of British Columbia (BC) is a non-profit organization that aims to promote and support the culinary community in British Columbia, Canada. Founded in 2004, the society comprises renowned chefs, culinary professionals, and industry partners who collaborate, share knowledge, and advocate for the culinary arts.
The society strives to enhance the skills and expertise of culinary professionals through educational programs, workshops, seminars, and mentorship opportunities. They facilitate knowledge sharing and continuous learning among their members and promote British Columbia's culinary culture, local ingredients, and regional flavors. They actively support sustainable and responsible food practices, culinary tourism, and the growth of the local food industry.
13. The Restaurant Technology Guys
The Restaurant Technology Guys is a resource and advisory platform focused on helping restaurants navigate the ever-evolving landscape of technology solutions in the food service industry. They provide expertise, insights, and guidance to restaurant owners and operators on selecting, implementing, and maximizing the benefits of various technology tools and systems.
The team provides personalized consultations to understand individual restaurants' unique needs and goals. Based on this understanding, they offer recommendations on selecting the right technology solutions for areas such as point-of-sale (POS) systems, online ordering platforms, payment processing, kitchen management, customer engagement, and more. The Restaurant Technology Guys produce and share educational resources in various formats, including articles, blog posts, podcasts, webinars, and videos.
14. Tasting Table
The Tasting Table is a culinary publication and digital platform that offers a variety of content related to food, drink, and dining experiences. Their blog section features articles, recipes, reviews, and recommendations for food enthusiasts and home cooks.
The Tasting Table provides a wide range of recipes that cater to different cuisines, dietary preferences, and skill levels. The recipes are curated and created by their culinary experts and contributors, offering diverse dishes to inspire and guide home cooks. The blog also recommends restaurants, bars, cafes, and other culinary establishments. They highlight memorable dining experiences, food and drink pairings, and places to explore for food enthusiasts seeking unique and delicious offerings.
15. Food Republic
Food Republic is a digital publication and platform focusing on food and drink. It provides a wide range of content, including recipes, chef interviews, culinary travel guides, industry news, and food and beverage trends insights.
Food Republic offers a collection of recipes covering various cuisines, cooking techniques, and dietary preferences. These recipes are created by renowned chefs, home cooks, and culinary experts, providing a diverse range of options for readers to explore. The platform also features interviews and profiles of notable chefs, giving readers a glimpse into their culinary journeys, inspirations, and cooking philosophies. These interviews often provide insights into the chefs' signature dishes, culinary techniques, and their impact on the food industry.
16. OpenTable Blog
OpenTable Blog is an online restaurant reservation platform that connects diners with restaurants worldwide. While OpenTable does not have a dedicated blog on its website, they provide various resources and content to diners and restaurant professionals. These resources include articles, features, and insights covering various topics related to dining, restaurant management, and industry trends.
OpenTable often shares curated lists and recommendations of restaurants in various cities or specific cuisines. These articles aim to help diners discover new dining experiences and famous establishments. They also provide insights into the latest culinary trends, including emerging ingredients, cooking techniques, and dining experiences. These articles give readers a sense of current food and beverage industry developments.
17. ChefsFeed
ChefsFeed is a culinary platform that provides a unique perspective on the food and dining industry by showcasing the recommendations and insights of professional chefs. It serves as a platform for chefs to share their expertise, favorite dishes, and dining experiences with food enthusiasts and fellow industry professionals.
ChefsFeed offers a collection of curated dining recommendations from renowned chefs. These recommendations go beyond traditional restaurant reviews, providing insights into specific dishes, hidden gems, and local favorites that chefs personally endorse. The video blog shares original content created by chefs, such as articles, videos, interviews, and behind-the-scenes glimpses into the culinary world. The content covers various topics, including cooking techniques, ingredient profiles, kitchen culture, and industry trends.
18. ChefSteps
ChefSteps is a culinary education and innovation company that provides online resources, recipes, and cooking techniques to inspire and educate home cooks and culinary professionals. Founded in 2012 by a team of chefs, engineers, and creatives, ChefSteps aims to empower people to cook confidently and creatively.
ChefSteps offers a vast collection of recipes, detailed step-by-step instructions, and instructional videos. These recipes cover various cuisines, techniques, and difficulty levels, catering to novice and experienced cooks. The platform also provides educational resources to enhance cooking skills and knowledge. This includes in-depth tutorials on various cooking techniques, ingredients, and culinary concepts, helping users understand the science and principles behind successful cooking.
19. FSR Magazine
FSR Magazine, also known as Full-Service Restaurant Magazine, is a publication focusing on the full-service restaurant industry in the United States. It provides restaurant news, insights, trends, and analysis tailored explicitly for owners, operators, and professionals in the full-service restaurant sector.
FSR Magazine covers essential news and developments in the full-service restaurant industry. This includes updates on restaurant openings and closings, food trend coverage, mergers and acquisitions, regulatory changes, and other relevant topics. The magazine also offers in-depth feature articles, profiles, and interviews highlighting successful restaurant concepts, industry leaders, chefs, and innovators. These articles provide insights into the full-service restaurant segment's strategies, challenges, and success stories.
20. Modern Restaurant Management
Modern Restaurant Management (MRM) is an online publication and blog that provides news, insights, and resources for the restaurant industry. It's a go-to blog for restaurant owners, as it covers a number of topics related to restaurant management, operations, technology, marketing, and industry trends.
The blog offers guidance and best practices for managing restaurant operations. This can include articles on staffing, training, inventory management, kitchen operations, front-of-house management, and overall operational efficiency. MRM also covers marketing strategies and tactics tailored explicitly for restaurants. They provide insights into digital marketing, social media strategies, online reputation management, loyalty programs, and other marketing techniques to attract and retain customers.
Key Takeaways
Top restaurant management blogs are a great source of ideas for running and managing restaurants effectively.
Some restaurant blogs allow readers to connect in a community of restaurant owners to share stories and advice.
Restaurant blogs are more than just for sharing cooking tips and recipes—they're the perfect source for marketing ideas, tips for restaurant operations, restaurant management system sharing, team building, and much more.
Restaurant blogs are a great source for growth strategies and expert advice from industry-thought leaders on growing a restaurant business.
Frequently Asked Questions (FAQ)