In today's digital age, where TikTok has taken the world by storm, restaurant owners and marketers are finding innovative ways to harness the power of this dynamic social media app for their business.
The app boasting millions of active TikTok users has become a goldmine for restaurant marketing.
This article will delve into the top TikTok restaurant marketing ideas that leverage the platform's engaging TikTok videos to captivate and convert potential diners.
Whether you're a seasoned marketer or new to social media app promotion, these strategies will help you tap into the incredible potential of TikTok marketing to boost your restaurant's visibility and customer base.
What is TikTok?
TikTok is a dynamic social media platform that thrives on short-form video content. Users can explore many TikTok ideas, from dances to comedy skits and educational snippets.
Its engaging features offer an ideal space to create content that captivates audiences. TikTok's algorithm tailors content to users' interests, making it a favorite among younger demographics and providing opportunities for businesses to boost their local exposure.
It's a versatile and influential social media platform for entertainment and marketing, making it a valuable tool for those seeking to create engaging content and expand their reach.
What is TikTok for restaurants?
TikTok for restaurants is a strategic approach to harnessing the TikTok platform for promotion. This entails crafting captivating short-form videos highlighting a restaurant's menu, atmosphere, behind-the-scenes moments, and distinctive offerings.
TikTok is a creative and entertaining restaurant platform to connect with local or global audiences.
By leveraging TikTok, restaurants can enhance brand recognition, draw in fresh clientele, and actively engage with loyal patrons, ultimately bolstering their online presence and business prosperity.
Fast facts on TikTok for restaurants
What is TikTok Marketing?
TikTok marketing involves promoting your brand, products, and services to the TikTok audience through content creation, using hashtags, participating in trending challenges, partnering with TikTok influencers, and engaging with your followers.
What makes TikTok vital for restaurants?
We can distinguish the following benefits of using the TikTok social media platform for restaurant promotion:
New Customer Acquisition: TikTok marketing assists in attracting new customers to your restaurant.
Local Visibility: It enhances your restaurant's exposure within the local community.
Engagement Generation: TikTok efforts generate high levels of engagement with your target audience.
Micro-Influencer Collaboration: The platform facilitates connections with micro-influencers for brand promotion.
Limited Competition: The platform is relatively new, and not many restaurants already use it. In other words, it provides an opportunity for advertising with reduced competition.
How to Use TikTok for Restaurants
To use TikTok for restaurants, go through the following steps:
Add your restaurant name, logo, and link to your restaurant website
Develop a content strategy that aligns with your restaurant's brand
Post regularly on your TikTok account to drive engagement
Show your restaurant menu items and behind-the-scenes moments
Stay current with TikTok trends and use relevant hashtags to increase discoverability
Interact with your viewers by responding to comments and fostering community
Introduce your dedicated staff members and highlight their roles

Share step-by-step cooking tutorials with your followers

Take your audience on a virtual tour of your restaurant

Feature a mix of your restaurant's latest dishes and beloved classics

Capture happy customers on video sharing their dining experiences (but firstly remember to ask them for permission to do so)
10 Top TikTok Restaurant Marketing Ideas
When you begin to create and share videos on TikTok, it might be difficult to determine what to focus on. Below we created a list of restaurant marketing ideas for the TikTok video.
Remember that you don't need to have a camera. You can use your mobile phone to create videos and share them with TikTok users.
1. Launch brand-new menu offerings
Displaying a star dish, brand-new menu item, or a special on TikTok is an excellent method to attract new customers to your restaurant.
There's no more effective way to get your customers excited about your new menu items or daily specials than by visually showcasing the mouthwatering dishes.
2. Include your audience in menu creation
Are you thinking about adding new menu items to your restaurant offer?
Introducing a new dish to a restaurant menu requires time and refinement of the recipe. Why not include your customers in the process?
You can show them how you develop new dishes, how a unique menu item is created, and what tests look like before the dish is added to the restaurant menu.
The recipe is not working? Talk about that, too, people are looking for real stories. Showing that you are successful but have failures makes you more authentic on social media platforms.
3. Market a new promotion or program
Are you introducing a new promotion for your customers? Do you start to offer a loyalty program for your customers?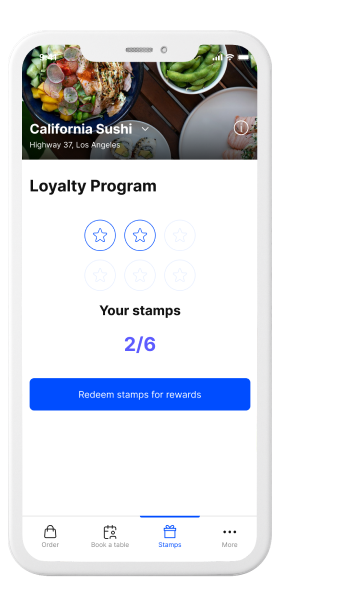 Create a Loyalty Program for Your Restaurant
Boost customer loyalty and transform one-time restaurant guests into regulars with an easy-to-implement loyalty program
TikTok is a great place to inform your followers about it. Promote daily or weekly specials exclusively through TikTok to create a sense of urgency and excitement.
Use TikTok to turn people who watch your videos into email subscribers. Create a video about a special offer, but ask your followers to join your email list to get it.
Think about the incentive that will help you to grab your customers' attention and make them interested, for example, offer:
early access to new menu items before they go live on your menu
extra discount coupon for the next order
Check out the examples of Restaurant Promotion Ideas to get inspired.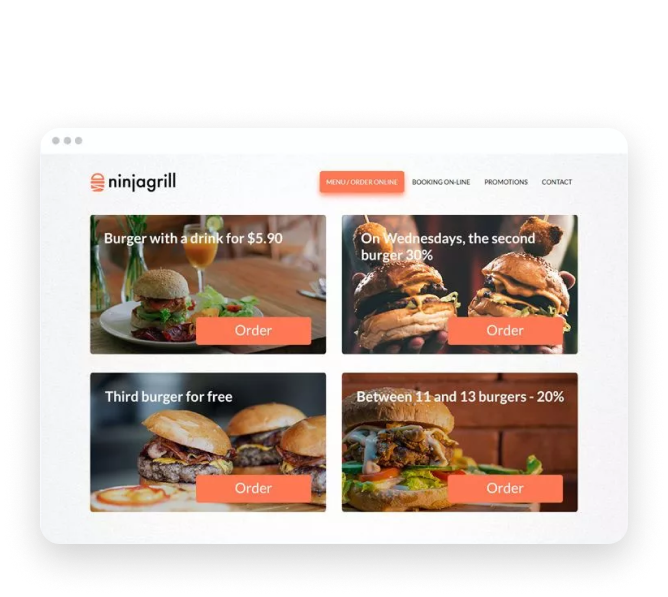 Restaurant Marketing Tools
Market your restaurant with ease
Increase orders by 70% using our all-in-one restaurant marketing tools, no expertise required.
4. Create a cooking tutorial
Teach viewers how to prepare a signature dish from your menu, encouraging them to try it at home or visit your restaurant. You can also create a new recipe and a video showing how to cook a new dish from scratch.
Tutorials provide an enjoyable means to establish trust with your customers and empower them to join in from home, even if they can't visit the restaurant in person.
5. Share Behind-the-Scenes
Sharing behind-the-scenes content on TikTok is crucial as it offers users a glimpse into the restaurant's inner workings, providing transparency and authenticity.
Through such TikTok ideas, users find themselves engaged in a more personalized experience, fostering a deeper connection with the brand.
Showing what happens behind the scenes makes the restaurant feel real and trustworthy, making customers want to return more often and stay loyal.
6. Collaborate with micro-influencers
Collaborating with foodie influencers and bloggers can be a game-changer for your restaurant's TikTok presence.
By partnering with these creators, your restaurant gains exposure to their dedicated followers through engaging videos and posts, reaching a wider audience.
Leveraging these food-focused micro-influencers influence can make your content go viral, attracting more people to your restaurant and boosting your brand's visibility on TikTok.
7. Show the complete dining journey
TikTok provides the perfect canvas to showcase the complete dining experience of a restaurant through engaging video content.
With its visually appealing and entertaining format, TikTok encourages users to explore a restaurant's ambiance, savor its delicious dishes, and witness the overall dining atmosphere.
By capturing and sharing these moments on TikTok, restaurants can draw viewers' attention and encourage them to visit a restaurant in person or place online orders.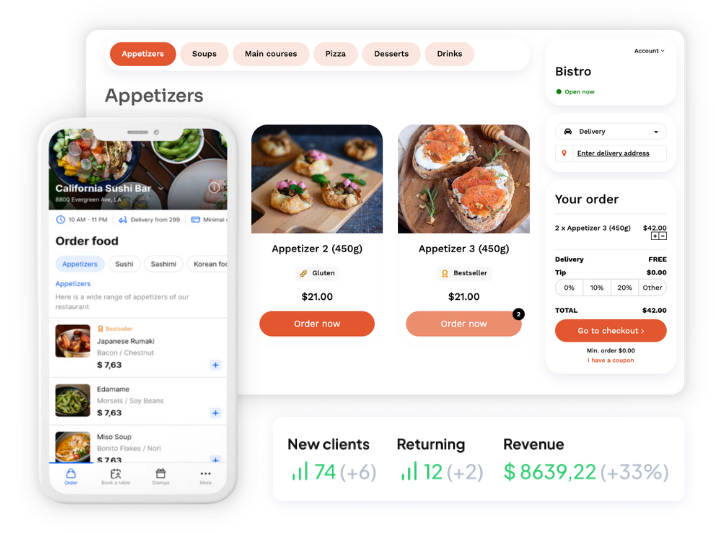 Start selling food online
Set up commission-free ordering for your restaurant's website in minutes. Boost revenue while saving on third-party fees
8. Come up with your TikTok challenge
Invent your restaurant's unique TikTok challenge and encourage customers to participate to win discounts or rewards.
Launching a challenge can motivate customers to order extra. Sharing this challenge on TikTok might inspire people to make a special trip to your restaurant.
Don't forget to use hashtags. You can also start a hashtag challenge by posting a video of yourself (or one of your staff members) doing the challenge and using its name as a hashtag
9. Show your staff
Showcase your talented chefs, servers, and staff to add a personal touch to your restaurant's branding. How to do this? Here are some creative ways:
Create brief videos featuring individual staff members, showing their roles, personalities, and enjoyment of working at the restaurant.
Have casual conversations with staff members, whether in the kitchen or dining area, discussing their favorite menu items or unique talents.
Take viewers through a staff member's typical workday, from preparing ingredients to serving customers, offering an authentic glimpse behind the scenes.
Get your staff involved in TikTok challenges and trends, revealing their playful and creative sides beyond their usual duties.
Present your head chef or culinary team, highlighting their culinary expertise and sharing insights about the restaurant's cuisine.
10. Use special effects and trending sounds
Adding special effects and trending sounds in your TikTok restaurant videos can spice things up. Those effects make your videos visually exciting, and those popular sounds give them a familiar and relatable vibe.
It's all about making your content fun and engaging, and it might just help your videos go big and get your restaurant noticed by more folks on TikTok.
Key Takeaways
Use TikTok videos as a central element of your social media strategy to tap into the platform's immense reach and engagement potential.
Stay updated with TikTok trends and incorporate them into your content to resonate with current audiences and stay relevant.
Regularly post engaging content on TikTok to excite your audience and attract new customers with fresh, relevant material.
Prioritize driving engagement through comments, likes, shares, and interactive content to foster a sense of community and loyalty.
While TikTok is valuable, don't forget to integrate it into your overall social media strategy, ensuring you reach customers on various platforms.
Strategic TikTok marketing aims to attract and convert viewers into customers who are excited about your brand and offerings.
Frequently Asked Questions (FAQ)