Online pizza ordering system – the subject of consideration for many owners of pizzerias, and you probably wonder if running one will pay off. In the meantime, while you postpone such a decision in your daily work, you really miss out on big money.
The pizza online orders market is huge! In 2018, customers in the US spent almost $10 billion on pizza delivery. 60% of all deliveries by Domino's pizza are ordered online! Considering that Domino's pizza revenue in the same year was $3,433 billion, online order income was $2.06 billion!
We live in a digital age. More and more processes are being replaced by online solutions. 69% of internet users declare that they are ordering food delivery online. Customers expect the same from pizzerias.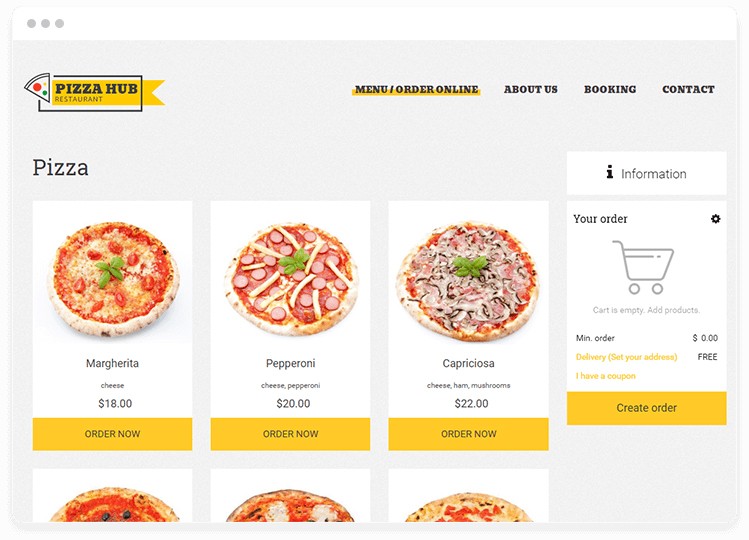 Why pizza delivery software is so effective
Pizza online ordering system was designed to help restaurant owners sell their products. This is not just a simple online store, it has special functions for pizza restaurants to support sales.
Customers can easily personalize their orders. It's very simple, clients choose their add-ons in a matter of clicks. 21% of customers indicate the inability to customize their orders as the reason for dropping the transaction.
You can easily receive your order on your tablet or smartphone thanks to a special online order management application. The customer immediately receives the order confirmation along with the delivery time you have indicated.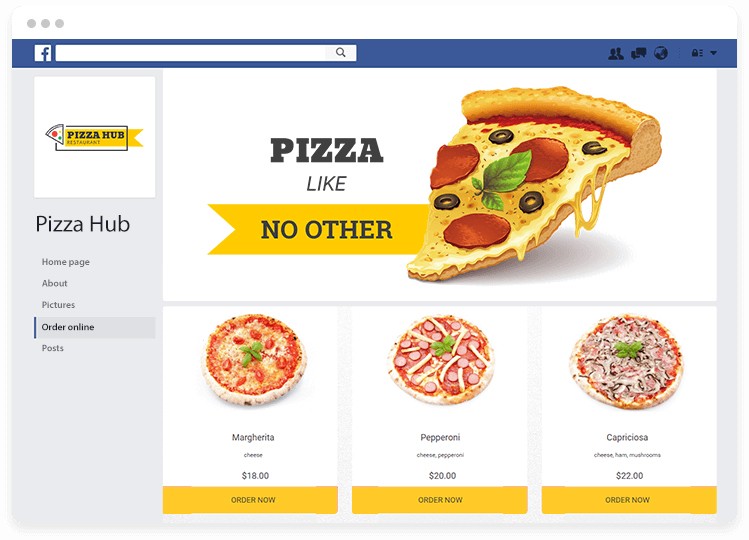 Benefits of ordering software for pizzeria
Increase in sales thanks to online pizza ordering system
Starting online ordering in a pizzeria, of course, brings an increase in the number of orders. However, you will not only process more orders — but they will also have more value. On average, the value of online orders is 18% higher than those placed by phone.
This is because the customer ordering online has the opportunity to view the entire menu on the pizzeria website or mobile app. The more menu items you see, the greater the chance that you will order more. A pizza online ordering system also has special functions to increase sales in pizzerias.
1. Pizza halves
Different toppings makes it easier for customers to decide on the final order. Everyone chooses their favorite toppings.
Customers simply select the option "half pizza" and choose the ingredients for each half of the pie. You can also set what toppings would be recommended for customers.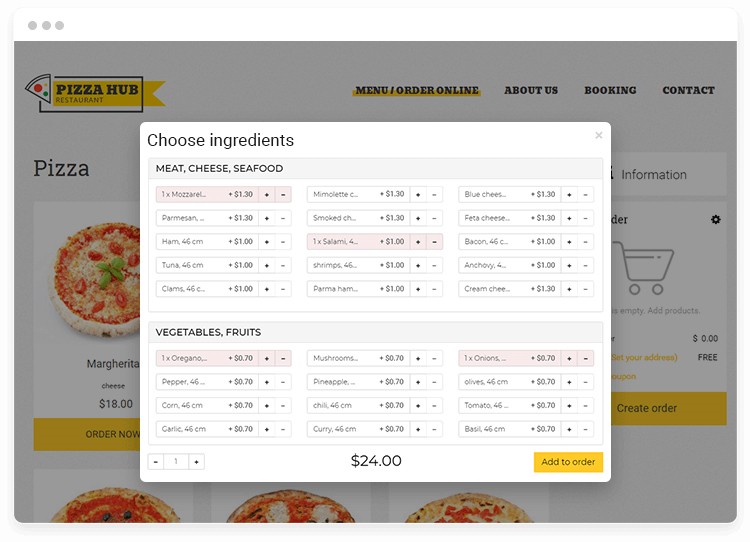 2. Customization and recommending add-ons
You can influence the value of your customers' online orders by also recommending them pizza toppings. Everyone likes to change something. UpMenu allows you to configure toppings as you like.
Just a few clicks in the system and your customers will be able to customize their online orders freely. Of course, you decide what toppings will be recommended for each pizza and how much they cost. So, you increase the value of your orders and allow customers to enjoy the perfect pizza.
3. Recommend products
You can also recommend your customers selected dishes from the menu. Would you like to advertise a new pizza or special products? Or maybe you also serve other dishes? Let your customers know about it thanks to pop-ups.
Configuring product recommendations is very simple. They can appear in your menu or on the home page if you've built a restaurant website with the UpMenu template. You have full freedom here.
Of course, these are just a few UpMenu functions dedicated to pizza online orders.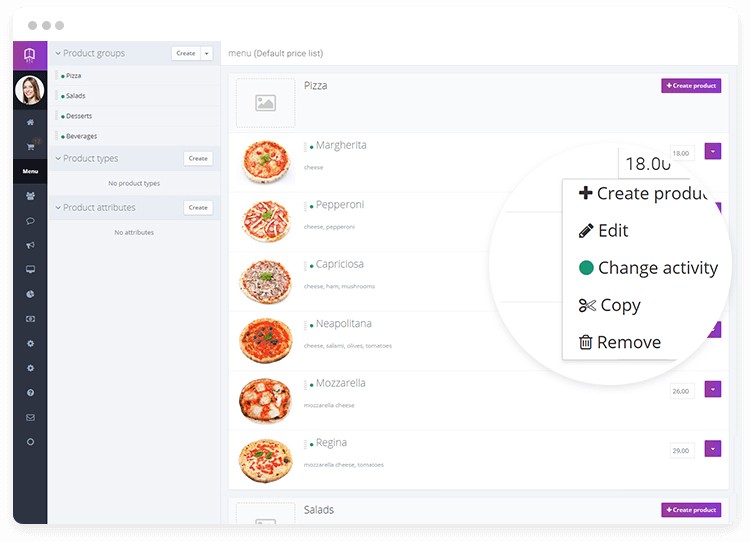 Increase loyalty with ordering software
Customers order more often if a system works well. 28% of customers decide to drop an order if a mobile application or restaurant website causes problems.
The ordering system from UpMenu was created with pizza restaurants in mind. It is not only intuitive and easy to use for both the customer and the restaurant owner, but it also has the aforementioned order customization features, without which it would be impossible to sell pizza online.
Additionally, as part of your subscription, you get extensive marketing tools. All data about your clients' orders are stored in your dashboard. You can use them to create dedicated offers for your clients and further increase profits.
UpMenu will also allow you to launch special loyalty programs for customers of your pizzeria. Completely customizable promotional campaigns will easily match your restaurant brand.
Loyal customers simply order more so, it's much easier to profit from regular consumers than trying to attract new clients. 45% of diners are more likely to choose a restaurant if they belong to its loyalty program.
Better management with ordering software
Thanks to pizza delivery software you will also be able to organize work in your pizzeria more efficiently, and your employees will be more effective. You can say goodbye to unpleasant situations when there was a mistake when a customer ordered by phone.
The time your employees previously spent on answering the phone can be devoted to better guest service on site. Receiving an online order takes literally 3 seconds.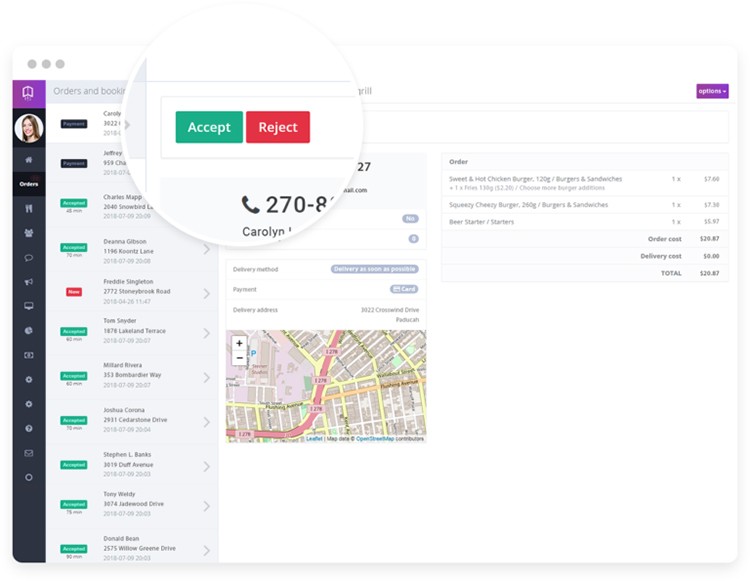 Pizza delivery app
As online ordering becomes standard in the industry, you should explore other sales channels. One of the rising sources of new orders comes from mobile ordering. Facilitating the pizza delivery app will let your customers conveniently purchase favorite dishes with mobile devices.
Take an example from Starbucks in which sales from app are reaching almost 20% of their total revenue. Also, 43% of pizza restaurant clients say that they find online ordering "appealing or extremely appealing," according to a Technomic.
Pizza delivery applications compatible with iOS and Android allows customers not only to place online orders easily. Also, it gives access to loyalty programs and remarketing communication, which enhances even further the mobile ordering experience.
Pizza order app set up and customization
The UpMenu software solution for online ordering lets you easily set-up, customize, and order the pizza delivery app.
To start receiving orders from mobile devices, you just need to set the layout of your pizza online order app, choose a color scheme that represents your brand, and upload the logo. The UpMenu team will prepare and publish the application on iOS and/or Android store within 48 hours.
While setting up a layout for your pizza order app remember about basic principles of design. Choose a layout and color scheme that is corespondent with your brand logo and catches your restaurant essence. Customers will have more confidence in ordering app that is similar to the restaurant they are familiar with.
For instance
, p

izza ordering mobile app.
It has become a standard. Customers expect it. At the same time, cooperation with food portals like Grubhub or Doordash can be troublesome and cost a lot. On the other hand, 70% of customers declare that they would be more likely to order food online directly on a restaurant website, not through a food portal.
Read more about that here: Alternatives to online ordering platform for restaurants.
For this reason, 85% of pizza restaurants already sell online. If you don't let your customers order that way too, you will lose profits.
How profitable is an online pizza ordering system?
Almost 200 pizzerias with different operating profiles cooperate with UpMenu. Some are delivery-only, others offer food on site. How do UpMenu work with them?
For example, the small chain of Tre Orsi pizzerias has seen an 80% increase in online orders in just half a year! They use a restaurant website and a custom mobile app as sales channels. In addition, read more about their cooperation with UpMenu here: A restaurant mobile app that gives you over an 80% increase in the number of online orders.
The online ordering system is also great at the Little Italy pizzeria. They doubled the number of orders from the mobile application within a month. See how they achieved it here: How to make money on pizza ordering – the case of Little Italy.
Pizza Taxi — a restaurant that currently performs over 13,000 orders annually can boast of real success! That's over 1000 orders per month. All of them are implemented with the help of UpMenu. For instance, learn the history of our cooperation here: Impressive increase in the number of online orders at "Pizza Taxi".
FAQ – online pizza ordering system
What are the benefits of the pizza ordering system?
Increased sales – pizza ordering system lets you substantially expand the customer base by providing clients with a quick and easy method of ordering. Moreover, a chance to conveniently view a whole restaurant's menu induces users to spend more.

Pizza customization
With the UpMenu ordering system, you can enable your customers to customize bought pizzas. In conclusion, consumers can choose different toppings for each half of the pizza, or modify the whole dish.

Add-on and topping recommendations
Thanks to the ordering system you can influence the choices of your customers, by recommending particular ingredients.
However, patrons obtain an option to freely modify ordered pizzas and added toppings.

Product recommendation
You can influence the purchase decisions of your customers by recommending a specific menu item. Also, you can pin certain products to the top of a menu or main page to additionally enhance their sale.
What is an online pizza ordering system?
Pizza ordering software is a resolution that makes possible placing orders through a website or mobile app in your restaurant.

The system connects interactive menus with receiving device set in a restaurant to bring convenient and quick ordering process to restaurant customers.

Pizza ordering systems store additional functions designed for handling the pizza pie ordering process. Above all, customers obtain the option to customize toppings and order different ingredients for each half.
How to order pizza online?
The UpMenu online ordering system lets your customers order pizza pies from restaurant with just couple of clicks.

In other words, customers can place orders through interactive menus present on restaurant website or pizza delivery app on mobile devices.

To make purchase, consumer just have to add products to shopping cart, customize dishes, and confirm. In couple of seconds you will receive notification about placed order. After confirming, you can get to preparing the delivery.
Online pizza ordering system summary
Customers of pizzerias expect that they will be able to order easily and quickly online. Pizza restaurants see these trends — 85% of brands already use ordering software. However, basing digital sales strategies only on cooperation with food portals is inconvenient and expensive for restaurants.
That is why restaurateurs more and more often decide to launch an online ordering system on their website or their own mobile app. This solution is completely adjusted to the needs of pizza restaurants.
The UpMenu pizza order system has features that support the sale of pizza. Offer your customers the option to personalize ingredients on halves and customize toppings. Furthermore, you can recommend additional products and side dishes.
Thanks to these additional features you will earn even bigger orders. And, thanks to convenient mobile ordering experience through the app you will grow your customer base with ease.
Restaurants that work with UpMenu achieve great sales results! Join them, and save on cooperation with food portals. Therefore, run your own online pizza ordering system to earn more.
Learn more
11 of the best pizza website templates for online ordering
Restaurant mobile app complete guide