Restaurant Instagram marketing will let you successfully promote your restaurant, dishes, and website through your social media profile.
Food is one of the most engaging content types on Instagram. Use it to your advantage and include this social media channel in your online marketing strategy.
Having an Instagram profile for your restaurant won't necessarily translate into a rapid increase in the number of orders over a short period but it will help you build a community around your brand. If you are consistent, your customers will soon start taking photos in your restaurant and tag them in a specific way. This is how you can build a community around your brand, that being the most desired element of online marketing.
Keep in mind that if you don't manage your profile properly, you won't gain anything. In fact, you can only do yourself harm. So, what needs to be done to ensure that your Instagram profile hits the bullseye?
1. Write an engaging Instagram bio
This seems obvious, but many restaurants fail to fully utilize the potential offered by an Instagram bio. It's the only place on Instagram where you can use links!
Write a few words about your restaurant and include the URL address of the online ordering system. Add your contact details, including the address and telephone number of your restaurant. Use emoticons if this matches your brand's identity.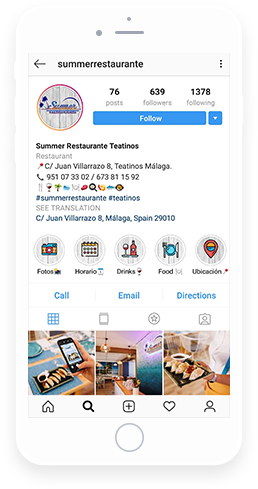 2. Post only high-quality photos
At the very beginning of building an online marketing strategy for restaurant you should assume that you will post only high-quality photos and videos. This is specifically important on Instagram because photos are the key element when posting there.
If you would like to find out more about taking great photos for Instagram, read the following article: Professional photos of your dishes without a photographer – is it possible? A good idea is to retain all photos you publish in the same style so that when users are browsing your profile, they will not have a feeling that they are looking at chaos.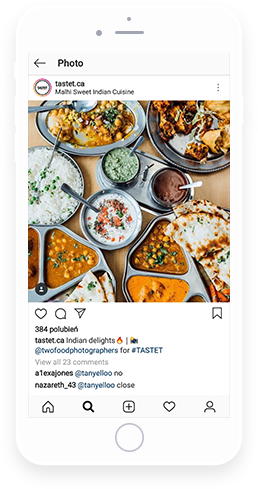 3. Post regularly – ket to successful restaurant Instagram marketing
When conducting any online marketing activities, you must always keep consistency in mind. Also, with Instagram posts, you cannot take breaks between posts lasting several weeks. You should even post more often than on Facebook!
You can publish photos on Instagram every day, and even more often if you think this is necessary. Additionally, in Instastories, you can show the behind-the-scenes story of your restaurant's daily life.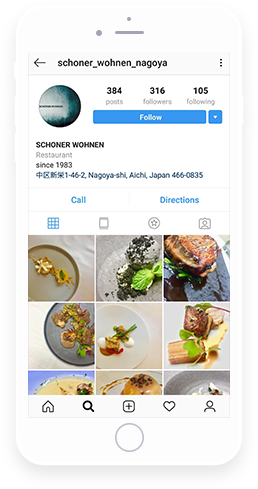 4. Hashtags – restaurant Instagram marketing basis.
Hashtags on Instagram are probably more effective than on any other social media. You can add 30 hashtags to each photo. Use this potential! This is how Instagram chooses content to display to certain people.
Use a hashtag with the type of your cuisine (#sushi, #pizza, etc.), your location (#newyorkcity, #london, etc.),or typical Instagram hashtags for food-related posts (#instafood, #foodporn, etc.). Popularising a hashtag with your restaurant's name is also a great idea! This will make it possible for your guests to tag photos of your products on their profiles.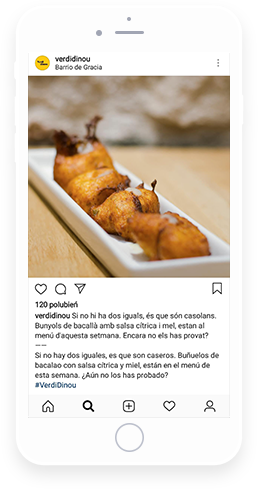 5. Connect your Instagram profile to your Facebook page
By connecting the Instagram account for your restaurant to the Facebook profile, you will be able to handle advertisements with Ad Manager. This is a great simplification that will help you increase sales and save time when creating advertising campaigns.
Conclusions
These 5 simple rules will enable you to manage a really successful profile for your restaurant on Instagram, giving you another element for building your brand online. Instagram will contribute to more recommendations for your restaurant amongst users.
The importance of a professional looking website is especially important for restaurants that offer great and engaging posts on their social media pages.. A website is a great way to showcase not only the menu and dishes available at your restaurant, but also the latest posts from your social media walls. Keep in mind that Upmenu.com can help restaurant owners create a professional looking website.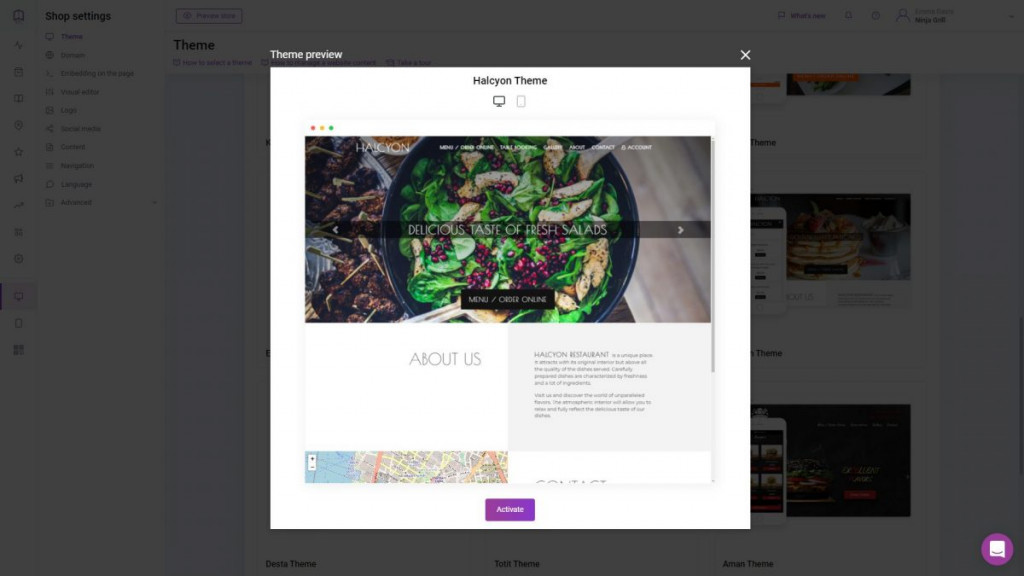 If you would like to conduct marketing activities beyond the scope of profiles on social media, contact us! We will be happy to help you launch an online food ordering system with a wide variety of new marketing tools!
Learn more
The best Facebook page ideas for restaurants
Restaurant marketing ideas and trends for 2020
Restaurant marketing strategies – how to succeed selling pizza online